You've been plugging your wired headphones into your Roku remote's headphone jack, but you hate keeping the remote in your back pocket every time you want to move around the house while listening to content.
You tried connecting Bluetooth headphones to your TV via its Bluetooth settings to listen to your Roku but were unsuccessful.
Is there a way to connect your Bluetooth headphones to your Roku?
Yes, there is!
There are two ways you can connect Bluetooth headphones to Roku devices: using the private listening feature or using an HDMI audio extractor.
The first option is only available for select Roku devices while the second option will work with all Roku streaming devices but not the Roku TV.
Let's get started!
1. Use the Private Listening Feature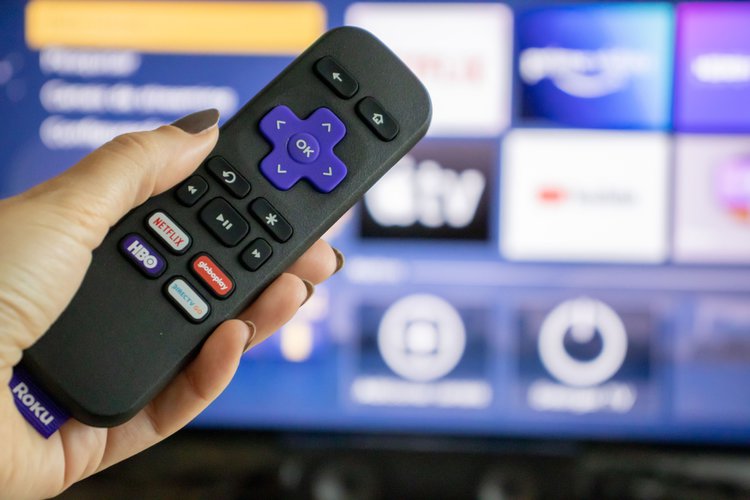 While one Roku remote has a private listening feature in the form of a headphone jack, all other remotes do not. Additionally, this remote is not supported by every Roku device.
Currently, there is no way to connect Bluetooth headphones directly to the Roku device to wirelessly listen to content.
However, you can wirelessly listen to your Roku content using the Roku mobile app.
Let's learn how!
Compatible Roku Devices
Roku Ultra
Roku Streambar
Roku Streambar Pro
Roku Smart Soundbar
Materials Needed
Compatible Roku Device (See above)
Smartphone
Bluetooth Headphones
Installation and Setup
Step 1: First, set up your Roku device's hardware by plugging it into your TV's HDMI port. Then, connect your Roku to power, be it a power outlet or your TV USB port.
If your TV USB port cannot supply enough power, you can use a power adapter like the QFUP USB Power Adapter .
Then, turn your TV on and set it to the correct input.
If this is your first time using your Roku device, you will need to set it up following the instructions on-screen before proceeding to the next step.
Step 2: Now, turn your attention to your smartphone. Connect your Bluetooth headphones to your smartphone via its Bluetooth settings.
To do this, navigate to your phone's Bluetooth settings before turning your Bluetooth headphones on and activating pairing mode (some headphones will do this step automatically).
Then, select your headphones' name from the list of Bluetooth devices to pair them to your phone.
Step 3: Next, download the Roku mobile app on your smartphone. If you have an Android, download it from the Google Play Store. If you have an iPhone, install it from the App Store.
Watch the video below from the official Roku YouTube channel explaining what the Roku mobile app is, how to use it, and how it can elevate your Roku experience.
New wireless private listening is here | Roku OS 10.5
Step 4: Once you've installed the app and paired it to your Roku device by following the on-screen directions, tap Remote from the navigation bar.
Step 5: Then, select the Headphone icon found on the bottom part of the app's screen.
Step 6: Now that you've set up the wirelessly private listening feature, it's time to test it out! Play something on your Roku to see if you can hear it through your Bluetooth headphones.
Watch the video below demonstrating how to use the wireless private listening feature via the Roku mobile app.
How to use private listening on Roku streaming devices
Note:
This solution will only work for Roku devices plugged directly into your TV or an HDMI converter.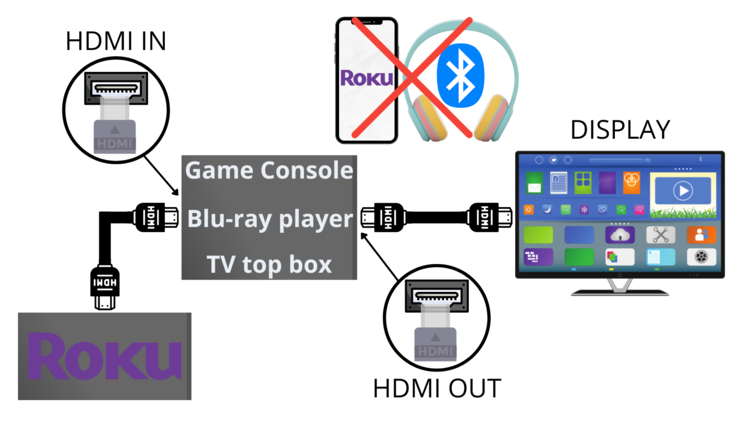 It will not work when used with an HDMI pass-through setup, which describes setups where the Roku device is plugged into an external device that is plugged into your TV (i.e. Roku device → external device → TV).
These external devices include, but are not limited to, gaming consoles (e.g. Xbox, PlayStation, etc.), Blu-ray players, and TV top boxes.
To learn more about HDMI pass-through and how it works, watch the video below.
What is HDMI Pass-Through & when is it useful?
2. Use an HDMI Audio Extractor
The second way you can connect Bluetooth headphones to your Roku is by using an HDMI audio extractor. This external device connects to your TV via an HDMI cable and allows you to pair your Bluetooth headphones directly to it.
It then extracts your Roku's audio and delivers it to your Bluetooth headphones.
Compatible Devices
Note: This solution will not work on Roku TVs
Materials Needed
Roku Streaming Device
HDMI Cable (for connecting Audio Extractor to Display)
Bluetooth Headphones
Diagram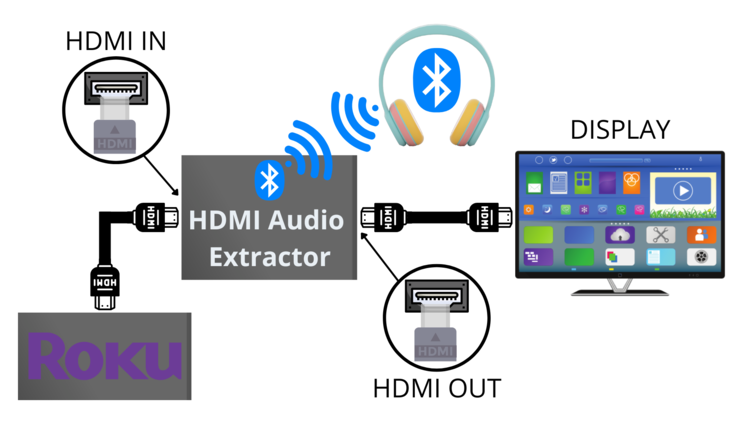 Installation and Setup
Step 1: Plug the Roku into the HDMI audio extractor.
Depending on which Roku device you have, you may be able to plug the stick directly into the HDMI extractor or you will need to use an HDMI cable.
Step 2: Now, plug one end of an HDMI cable into the HDMI audio extractor's HDMI OUT port. Do not plug it into the HDMI IN port.
Then plug the other end of the HDMI cable into the TV or monitor's HDMI IN port.
Step 3: Next, connect the Roku, HDMI extractor, and TV or monitor to power. You may plug these devices into a power strip as long as you are careful not to overload it.
All of these devices come with their own power cables.
You will know that they are sufficiently powered when their LED indicator lights illuminate.
You may use any micro USB port to power the Roku if you don't have its original power cable.
Step 4: Turn on your Bluetooth headphones and ensure pairing mode is enabled. They should automatically find and connect to your HDMI audio extractor.
But if they don't, check all of the other Bluetooth-supported devices in your home to make sure they haven't accidentally paired to your headphones.
We recommend disabling all other Bluetooth devices' until you've successfully paired your headphones to the HDMI audio extractor.
Pro Tip: Some Bluetooth headphones make a ping sound when they've paired to a device.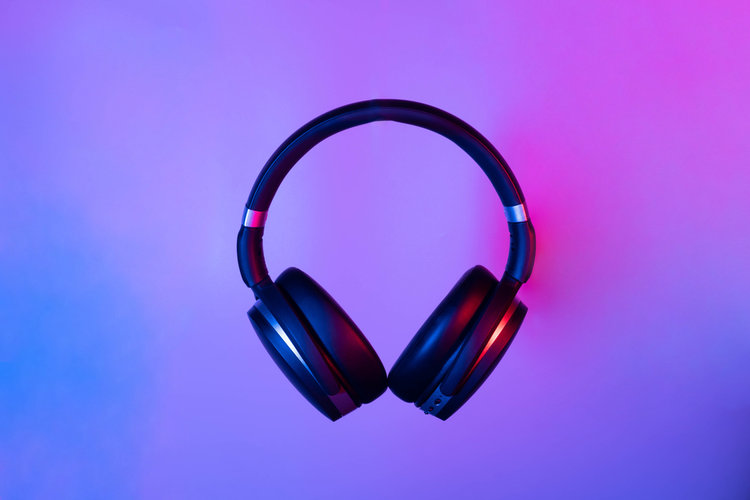 Step 5: Change your TV's source/input to HDMI with your TV remote. You should see the Roku logo pop up on-screen when you've found the right input.
Step 6: Put on your Bluetooth headphones and play something on-screen. If everything's working correctly, you will be able to hear the audio in your headphones.
Depending on the model of your Bluetooth headphones, you may even be able to adjust the volume using its volume buttons.
Now you can sit back, relax, and enjoy privately listening to your favorite Netflix shows.
Good luck!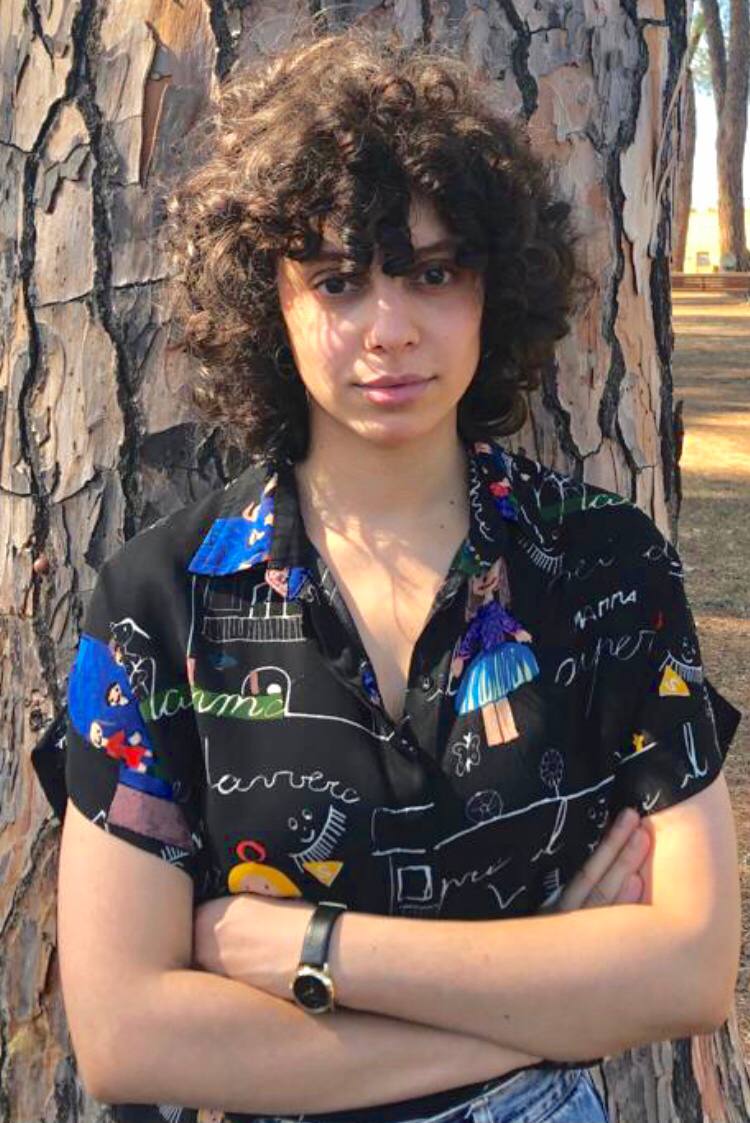 Yesenia Achlim is a technical copywriter and editor with a focus on AV equipment. She aims to break down complicated topics and make technology accessible, no matter your technical expertise. When she's not teaching you how to replace a projector lamp, you can find her reading and baking.