Roku devices are great for getting streaming services straight into your TV. Roku supports the most popular platforms such as Netflix, Hulu, Amazon Prime, and more.
Roku streaming devices come in various forms, small boxes, bars, and stick-types.
While there are many different Roku models, they share a similar feature –– users usually connect them to the TV using an HDMI port.
However, not all TVs support HDMI connections. Is it possible to connect your Roku device without HDMI?
There are two ways to connect a Roku device to a TV without HDMI:
With an HDMI converter and RCA cable
With the 2018 Roku Express+ setup
In this article, we'll give you a step-by-step guide on how to connect your Roku device using these two methods.
Check out our tips on where to find the best deals for your Roku set-up as well.
How Do I Connect Roku To My TV?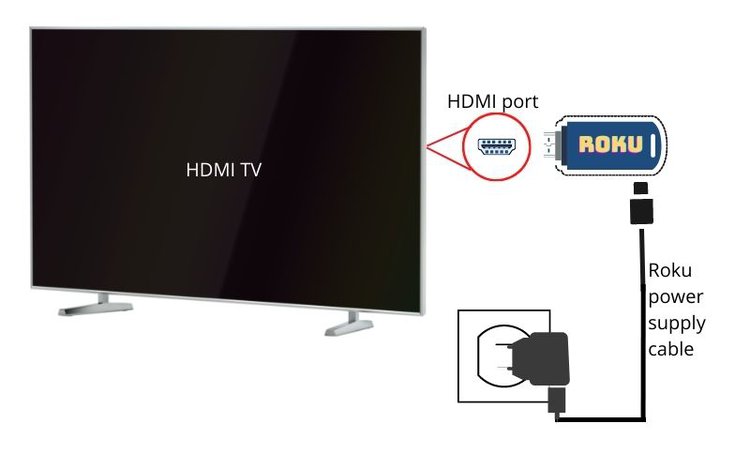 The most convenient way to connect a Roku device to a TV is via the HDMI port.
Use an HDMI cable to connect your Roku to your TV via the HDMI port.
Plug the Roku device into a power source.
Switch on the TV and choose HDMI input.
Follow the instructions displayed on your screen.
That's it! The setup for your favorite streaming services is complete.
Can I Connect My Roku To My TV Without HDMI?
If you don't have an HDMI television at home, there's no need to worry. You can still use that same TV to connect with a Roku device.
To connect a Roku device to a non-HDMI TV, you need to use an HDMI converter and/or an RCA cable.
On the other hand, you can get the Roku Express+ which was specifically designed to use composite inputs instead of HDMI.
How Do I Connect My Roku to my TV Without HDMI
Get ready to watch your favorite streaming services on your non-HDMI TV with our easy-to-follow guide.
We'll give you two methods to choose from:
Method 1: Use an RCA Cable and a Converter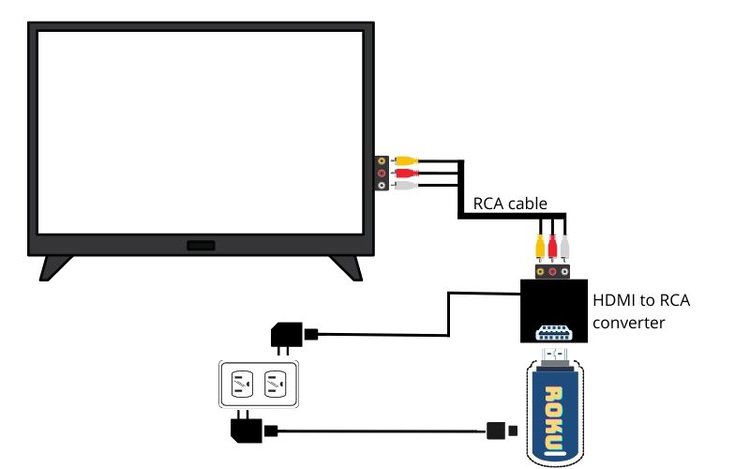 Without HDMI ports, your TV will most likely only recognize an analog signal.
You'll need an HDMI to RCA converter box to successfully connect your Roku device to a non-HDMI TV.
A converter box allows you to connect your TV to a Roku device by converting the HDMI connection to an analog one that your non-HDMI TV can recognize.
The DIGITNOW HDMI to RCA converter box is a portable and compact device that supports HDMI input from 480i to 1080p. We're big fans of the high-definition results of this converter. For the device to work, you'll need to plug it into a power source.
All other Roku devices apart from the streaming stick will need an HDMI cable .
You'll also need an RCA cable to connect the converter box to your TV.
There are many different types of RCA cables, but get the composite one with the red, yellow, and white connection cables. The yellow cable is for the video, while the red and white cables are for the audio.
Alternatively, you can get an HDMI converter with a built-in HDMI cable and RCA cable. . This is the best economical choice since it can successfully convert HDMI to an RCA chipset without the need for multiple components. The device supports 480i to 1080p video transfer and it also needs to be connected to a power source.
Here are the steps to connecting your Roku device to your non-HDMI TV using RCA cables:
Roku Streaming Stick to HDMI Video Adapter by Bleiden
Plug the Roku device into the converter box HDMI port. If it is a Roku stick, plug it directly into the box. Otherwise, use an HDMI cable.
Use an RCA cable to connect the corresponding ports in the converter box and the TV.
Plugin the Roku device into a power source.
Turn on your TV and choose the input under: "Component," "Composite," or "TV/AV."
Follow the instructions displayed on your screen.
That's it! Time to enjoy your favorite shows!
How to set up the Roku Express/Express+ (Model 3700/3710)
For a simpler solution to connecting a Roku device to an analog TV, get the Roku Express Plus. This Roku Express+ was specifically designed to be compatible with new HDMI and old analog TVs that don't have an HDMI port. (Note: Not all Roku Express+ versions are composite-compatible)
It comes with composite cables so that setup is convenient and effortless.
We love that it offers the same limitless versatility as other Roku devices. You can watch Netflix, Vudu, and Hulu, plus over 350,000+ movies and TV episodes across free and paid channels.
Setup is easy –– here's how to connect the Roku Express+ to an old analog TV.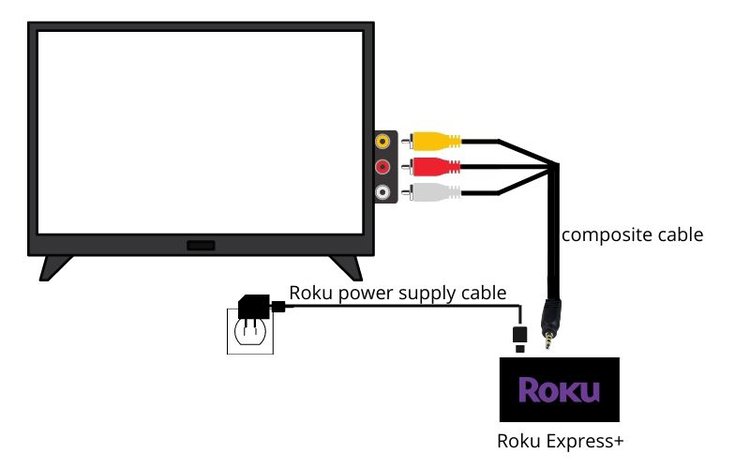 Plug the composite cables into their corresponding input in your TV. The other end will go into your Roku streaming player.
Plug the Roku device into a wall outlet using the power cable and adapter.
Press the input or source button on your TV and select the correct input.
Insert the batteries into your Roku remote. Follow the on-screen instructions to connect to a network and stream your movies.
Conclusion
Are you looking forward to streaming content on your TV using a Roku device? You'll be happy to hear that this luxury isn't limited to users who own an HDMI TV.
It's possible for users who own a non-HDMI TV to connect to a Roku device using an HDMI to RCA converter. HDMI converters are readily available online, and you can choose between converter boxes with or without built-in HDMI and/or RCA cables. Most of these HDMI converters can support video transfer up to 1080p.
Alternatively, you can get a Roku Express+ device that's compatible with both HDMI and composite TVs. The package comes with a composite cable that can be directly connected to the Roku stick.
Which method will you try? Let us know!