What To Know
Ensure your Roku player or TV is compatible with Apple TV by checking the model numbers listed in the article or searching the app on the App Store; if not found, it's unsupported.
Resolve Apple TV issues on Roku by adjusting audio settings, loading the frozen program on another device, reinstalling & restarting the app, or updating the Apple TV channel & Roku firmware.
Alternatively, if Apple TV doesn't work on your Roku, consider screen mirroring from a phone/laptop or using another streaming device like a Firestick.
Having trouble getting your Apple TV app to work on your Roku? You're not alone!
Whether it's your TCL Roku TV giving you grief or a Roku Stick, I've got you covered.
I've gathered top-notch tips and tricks, approved by tech experts and savvy streamers alike, to get your Apple TV up and running smoothly.
How to Know If Apple TV Is Available on My Roku TV/Device?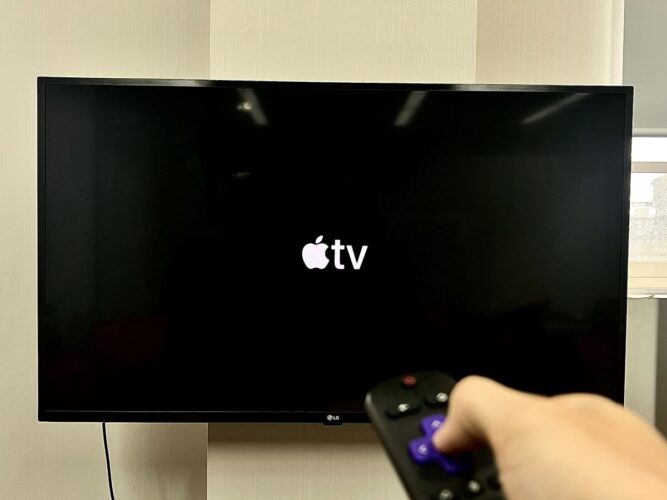 Only select Roku TVs and players support the Apple TV app. So, before proceeding to this article's troubleshooting section, it's a good idea to verify that your Roku TV/player supports Apple TV in the first place.
Supported Roku TVs
Check out the article Apple TV on TCL Roku TV to verify if your TCL Roku TV supports this app. If you don't see your TCL Roku TV model number listed in this article, then your model does not support the Apple TV app.
Unfortunately, there are no available articles or data that specify what other TV brand models support this app.
So, your best bet is to browse your smart TV app store and search for Apple TV within the installed and uninstalled app lists. If you can't find it, odds are that your TV doesn't support this streaming platform and you'll have to find an alternate way to watch it on your TV.
Supported Roku Devices
Apple has confirmed that only the following Roku players support the Apple TV app:
Roku Smart Soundbar 9100X
Roku 4K TV 6000X, 7000X, A000X, C000X, G000X
Roku 8K TV E000X
Roku TV 8000X, D000X
Roku Smart Soundbar 9101X, 9102X
Roku Express 3900X, 3930X, 3940X
Roku Express+ 3910X, 3931X, 3941X
Roku HD 3932X
Roku Streaming Stick 3600X, 3800X, 3820X
Roku Streaming Stick+ 3810X, 3811X, 3821X
Roku Premiere 3920X, 4620X
Roku Premiere+ 3921X, 4630X
Roku Ultra 4640X, 4660X, 4661X, 4670X, 4800X
Roku Ultra LT 4662X
Roku 2 4210X, 4205X
Roku 3 4200X, 4230X
Follow the steps below to verify your Roku's model number and see if it supports Apple TV.
Step 1: From the Home screen, head to Settings.
Step 2: Go to System.
Step 3: Navigate to About.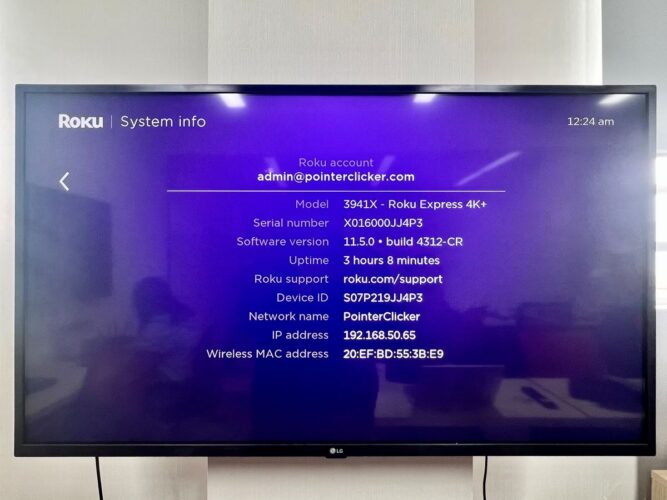 How to Get Apple TV on Old Roku TVs/Devices?
Older Roku devices tend not to support Apple TV, but that shouldn't stop you from binging this streaming app!
There are two main ways you can watch Apple TV on your older Roku TV/player. We recommend:
Navigating to the Apple TV website in a browser on your laptop. You can also open the Apple TV app on your iOS or Android smartphone/tablet. Then, check out our article "How to Screen Mirror Without Wi-Fi? From a Phone or Laptop to a TV" to learn how to cast the Apple TV app to your Roku TV/player.
Investing in a streaming device that natively supports the Apple TV app. A few notable streaming devices with this function include the Fire TV Stick, Apple TV, Chromecast with Google TV, or a Roku player from the aforementioned list, etc. Next, simply connect said streaming device to your Roku TV's HDMI port, set it up, install the Apple TV app, and start streaming!
How to Sign in to the Apple TV Channel on Your Roku TV/Device?
Step 1: Once you've opened the Apple TV channel, head to Sign In, then select Sign In.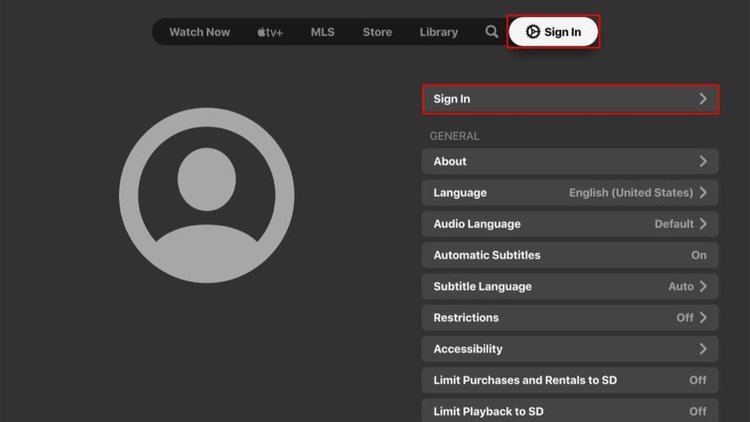 Step 2: Now, you will be given two options to choose from.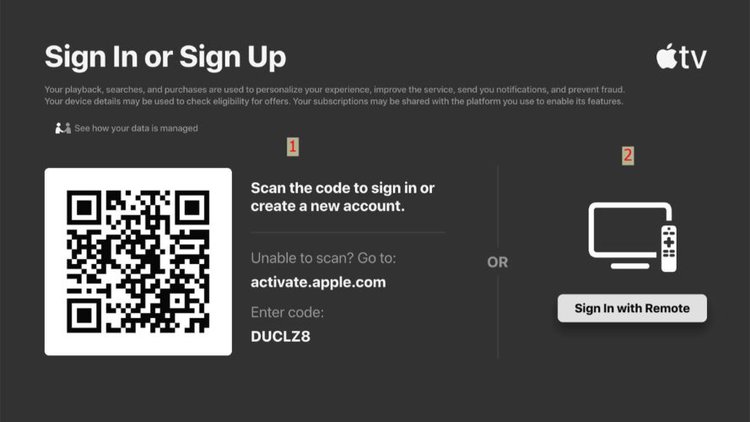 (Preferred) Option 1 (Sign in with another device): Scan the QR code on-screen using your smartphone's camera. Alternatively, you can type the code on-screen into activate.apple.com. Follow any additional prompts to log into your account.
Option 2 (Sign in directly): Select Sign In with Remote. Enter your Apple ID username and password into the login page using the on-screen keyboard.
Step 3: If you haven't set up your Apple ID yet, go to Create an Apple ID. Then, you'll be presented with two sign-up methods using your smartphone: scan the QR code or enter the on-screen code into activate.apple.com. When you finish creating your account, your Roku will automatically log into it.
Note: If you have trouble signing in, verify that your Roku's date and time match your Apple account's.
How to Troubleshoot Apple TV That Is Not Working on My Roku?
Is your Apple TV app not working correctly? Fret not!
We have several troubleshooting tips to fix your glitching Apple TV app in a matter of minutes. Simply identify your problem from the list of common issues below, then follow the suggested solution to resolve it.
1. You Cannot Access Most Apple TV Programs (Adjust Roku's Audio Settings)
Some Roku OS users have reported a bug that stops many Apple TV programs from launching and playing correctly. This bug only affects select programs, and others may work normally.
Luckily, several users reported being able to resolve this problem by adjusting the audio settings.
Follow the steps below to change your Roku audio settings.
Step 1: Navigate to your Roku's Settings.
Step 2: Go to Audio.
Step 3: Select Digital Output Format.
Step 4: Head to Custom.
Step 5: Go to Dolby.
Step 6: Click on Dolby Digital or Dolby Digital Plus.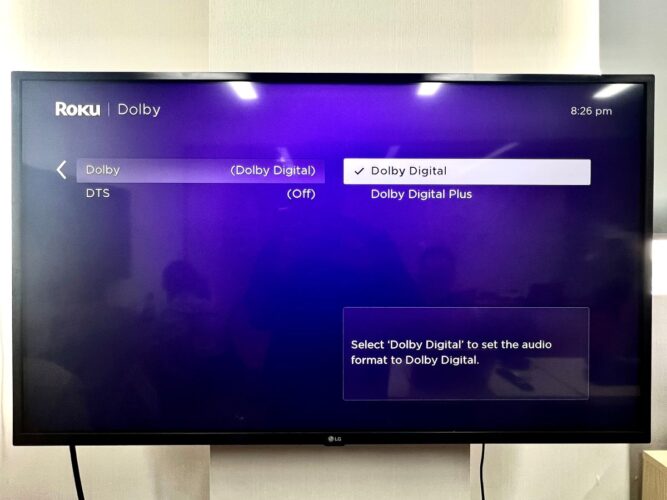 Note: This solution is also effective at fixing an Apple TV app that will not play audio.
2. Apple TV Programs Take Forever to Load
Apple TV programs may not load due to a glitch in the app. However, other Apple TV users have found that loading the frozen program on another device first will help it load on the Apple TV app.
Follow the steps below to fix your frozen Apple TV program.
Step 1: Launch the Apple TV app or website on another device (preferably an Apple one).
Step 2: Find and load the program you'd like to watch on this device.
Step 3: Once the program has loaded on the other device, re-open the Apple TV channel on our Roku and select the same program within the app. Now, it should load and play smoothly.
3. The Apple TV Channel Cannot Load
Are none of your Apple TV programs loading? Or worse yet, is the entire app frozen?
Don't worry. We're here to help.
Several users Apple TV users found that this troubleshooting tip solved their problem in no time.
Please note that in order to be effective, the solution's steps must be followed in order. This method also involves installing and removing a channel from your Roku, which we'll walk you through step-by-step.
Step 1: Remove the Apple TV app.
Hit the Home button and navigate to the right side of the screen to the channel menu.
Find and highlight the Apple TV app. Do not select it yet.
Click your remotes Asterisk (*) button. Then, click on Remove channel from the pop-up menu.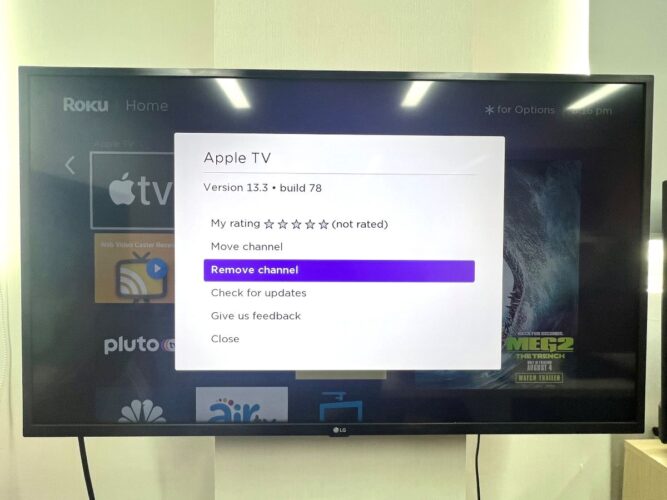 Step 2: Reboot Your Roku from the Settings.
Click on Settings from the left-hand menu.
Navigate to System.
Go to Power.
Head to System restart.
Click on Restart.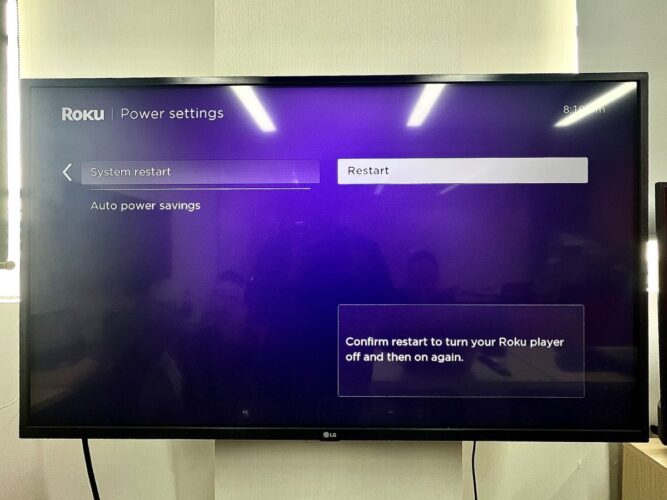 Step 3: Reinstall the Apple TV app.
Go to the Home page, and head to the right of the screen to the channel menu.
Go to the Add channel thumbnail.
Type Apple TV into the search bar.
When Apple TV appears in the results, select it. Then, click on Add channel.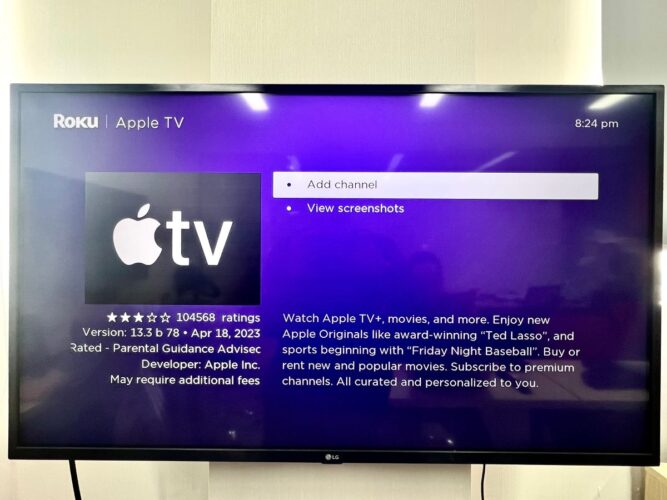 4. Your Router/Wi-Fi Connection Is Flickering
Apple TV is a streaming platform and needs a stable and high-speed internet connection to function properly. So, if its videos are frequently buffering, your Wi-Fi connection could be too slow to support streaming.
Soft reset your router: Performing a soft reset can assign your router a faster IP address.
Connect to the 5GHz band if your router is located close to the Apple TV (approximately 15 feet), and connect to the 2.4GHz band if it is farther away. Keep in mind that the 5GHz band offers faster internet speeds but has limited range, whereas the 2.4GHz band provides broader coverage.
Position your Wi-Fi setup approximately 3 feet (1 meter) from your Apple TV and remove any obstructions if possible.
Ensure that your router is not overheating. If it is, take steps to cool it down. For more information on why routers overheat and how to address the issue, refer to our article on Router Overheating Fix 101.
An outdated router can also contribute to internet lag. Consider updating your router as soon as possible. You can find instructions on how to do this in our article here.
Visit the provided link to check your internet speed and contact your Internet Service Provider (ISP) to inquire about faster plans if necessary.
5. Oudated/Buggy Software
While the Roku OS bug that prevents Apple TV content from playing was spotted a while ago, the same buggy OS could still be installed on your Roku player/TV. Luckily, both Apple and Roku should have released new software updates with the necessary bug fixes.
Follow the steps below to update your Apple TV channel and Roku OS to get rid of any gnarly software bugs.
Update the Apple TV Channel:
Step 1: Navigate to the Home screen and go to the channel menu on the right side of the screen.
Step 2: Highlight the Apple TV app.
Step 3: Press the Asterisk (*) key and click on Check for updates.
Step 4: If there are any updates, install them.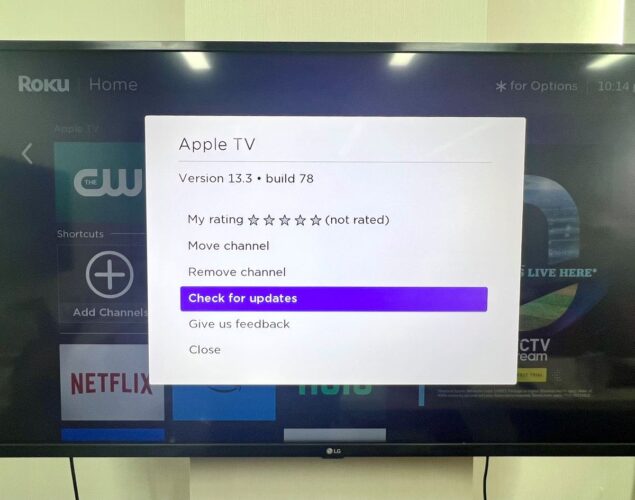 Update Roku Firmware:
Step 1: Open the Settings menu.
Step 2: Head to System.
Step 3: Navigate to Software update.
Step 4: Go to Check now.
Step 5: Install any updates.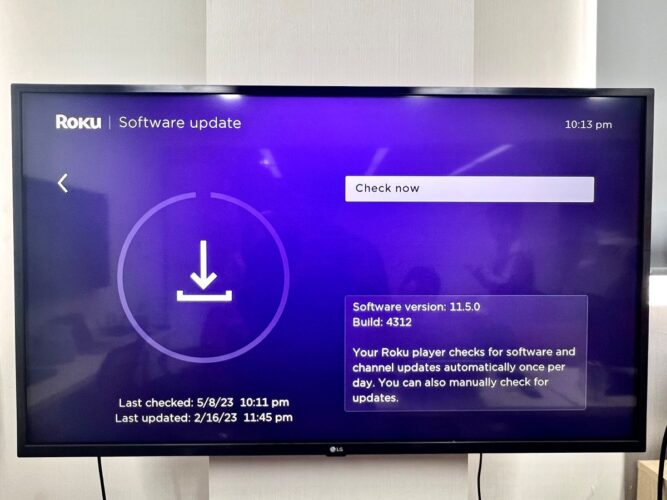 6. The Apple TV Server Is Down
Apps and websites experience outages, and the Apple TV server is no exception. If the app simply will not load or continuously crashes, the Apple TV server may be down temporarily.
All that can be done in this situation is to confirm your suspicions by going to Apple Support's System Status page. If Apple TV is indeed down, wait a few hours until their maintenance team has resolved the problem.
Wrapping Things Up
The Apple TV app is only available on select Roku TVs and players, so it's a good idea to confirm that your model features the app before needlessly scrolling its app store.
If your Roku model doesn't natively support it, consider casting it from your smartphone/laptop instead. This will ensure you can keep up to date on all your favorite Apple TV originals even if your Roku TV/player doesn't feature them.
Should your Apple TV app display any strange glitches, try adjusting its audio settings, reinstalling the app, and checking your Wi-Fi router. We also recommend updating your Apple TV app and Roku OS, and verifying if the Apple TV server is experiencing any outages.
What's your experience with Apple TV not working on a Roku TV/player? Which troubleshooting solutions helped resolve your problem?
Let us know in the comments below!
Yesenia Achlim is a technical copywriter and editor with a focus on AV equipment. She aims to break down complicated topics and make technology accessible, no matter your technical expertise. When she's not teaching you how to replace a projector lamp, you can find her reading and baking.