Getting a Roku has become the go-to solution for cord-cutters looking to stream HD content without upgrading their TV.
But those with projectors are often left asking the question:
Will Roku work with a projector?
Rokus are powerful devices that enable you to watch free content and also stream from paid platforms like Netflix, Disney Plus, and Amazon Prime Video.
And thankfully, Rokus work with projectors flawlessly.
You don't need to get a Roku projector to enjoy content on a larger display.
However, you will need to follow some steps to set up your Roku with your projector to transform it into a Roku projector.
How Do I Connect My Roku Stick To My Projector?
Connecting your Roku Stick to your projector will only take a few minutes, and once you get it right, you don't have to worry about setting it up again.
Here's what you need to do:
Step #1: Plug Your Roku Stick Into Your Projector
Find the HDMI port on your projector – it's usually labeled, but you can also check to see whether the shapes match up.
After you find the right port, connect the stick to the port gently. Make sure you plug it in the right way.
Moving into the next steps, you may find yourself needing to connect a splitter to the Roku – especially if you want to use an alternative audio source.
If you do, it's a good idea to plug in the splitter right away, so you don't have to come back and plug it in later. It's also important to note that not all projectors are built the same way, so you may run into some issues using a splitter.
Regardless, if you aren't using a splitter, you can move on to the next step.
Step #2: Manage Your Projector's Settings
Most projectors come with a "Settings" button on their top or side panel. Pressing it will open up your projector's settings menu.
In the menu, you must change your projector's input to the HDMI port that you've plugged the Roku into.
Again, as mentioned earlier, you must remember that not all projectors are built the same.
If you're having audio issues, you will need to check if the audio source is set appropriately and also if the volume is set correctly. You will also need to toggle the "Automatic HDMI input" setting off in such a case.
You may need to play with some other settings to ensure that the projector is receiving the Roku Stick's input correctly. But the process shouldn't be too challenging and never takes longer than five minutes.
Step #3: Connect The Audio
Just like all projectors are built differently, all Rokus are also built differently. You will likely have connected a splitter if you needed it in the first step.
However, if you aren't using a Roku Stick or the Roku model you're using has slightly different inputs, you may need to connect the audio and adjust the settings a little differently.
Only with the right settings will your projector be able to capture the audio from the show you stream on the Roku.
Not every projector comes loaded with the most updated software and newest hardware. While there's a good chance an older projector will work with your Roku Stick, it may not be capable of capturing and processing the quality of video or audio the Roku supplies it with.
This may result in you needing to use another audio source, like a set of speakers, to enjoy the best quality audio.
So, while you may not need to buy a new projector, you may need to get your hands on a new home speaker system.
In the best-case scenario, your projector, sound system, and Roku Stick can independently connect to the same home Wi-Fi network. If this is the case, you can connect them to each other with relative ease.
However, if any of the components cannot connect to Wi-Fi, you may need to buy an audio extractor so you can connect both your Roku and your projector to your sound system.
But most times, users don't need to deal with these issues, and you'll be able to enjoy high-quality audio originating from the streaming platform of your choice without any hassle.
Step #4: Connect Roku And Other Devices To Your Wi-Fi Router (Optional)
Connecting your projector, your Roku, and your sound system to your Wi-Fi network is the best way to go about managing all of these devices.
However, it's not always possible since there's a chance that one of your devices is not Wi-Fi compatible.
But if you do have Wi-Fi compatible devices, you must connect them to your Wi-Fi router so you can enjoy the ease of management it enables. Make sure you connect it to the same home Wi-Fi network, and if you're using a Wi-Fi extender, connect it to the same extender.
Post that, you can install whatever applications you need to manage the various devices connected to your network on your Roku.
Once everything is connected, you will have one central control device, enabling you to enjoy the live streaming options that the Roku Stick offers a lot more conveniently.
Does Roku Work With Any Internet?
The company recommends that you use an internet connection with a download speed of a minimum of 3Mbps. A 9Mbps connection is ideal for streaming HD content.
Some Roku devices come with an ethernet port, and if you have a Roku that does have the port, we recommend using it to connect to the internet. Wired connections are a lot more stable than wireless connections and can help improve video quality if your Wi-Fi router isn't powerful enough.
The Roku Streaming Stick (HDMI version), the Roku 2, and Roku 3 support dual bands, which means you can connect a 5GHz router to them for faster speeds.
Final Words
And with that, you know everything you need to know about connecting your Roku to your projector.
With this guide handy, your projector will be streaming-ready in minutes.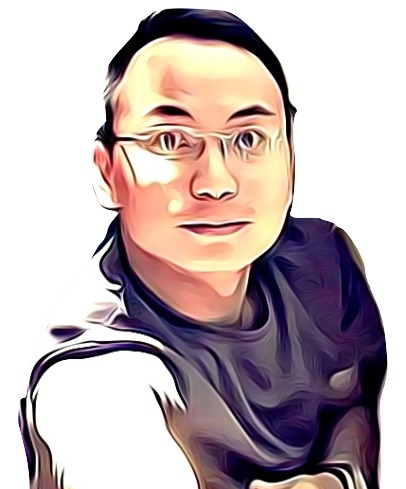 Vance is a dad, former software engineer, and tech lover. Knowing how a computer works becomes handy when he builds Pointer Clicker. His quest is to make tech more accessible for non-techie users. When not working with his team, you can find him caring for his son and gaming.