Streaming your favorite Netflix TV series on a big screen in the comfort of your home, like in a cinema, is a great way to spend a date or even to pass time.
You might be wondering how to do it with a projector and your tablet device and so you look it up on the Internet. But you have encountered tons of tutorials on how to do it and failed miserably.
And now you are at your wit's end and too desperate to find an easy tutorial.
Fret not, because the steps that I will show you will surely help to solve this dilemma of yours.
Wireless Connections
You could get your Tablet device on the large display by using wireless broadcasting connectors and integrated projector mirroring software.
Usually, to get this to run, you would need an application.
So, before you proceed, I highly suggest you download the following applications from Google Play Store if you happen to not have them on your device.
Chromecast Through Google Home Application
What is a Chromecast Device and How to Cast | Chromecast 101
Chromecast has emerged as a strong component of the Google portal, and many apps that have one-click projecting features.
Conversely, by using the Cast Screen icon in the Software browser window, you can broadcast the whole display of your tablet in a projector. The video shown below works for all types of smartphones and tablets.
Here are the steps to follow.
Plug your Chromecast to your projector's HDMI port and Chromecast's power cord into the projector's USB port to the power supply.
Turn on your projector, go to the input setting, and choose HDMI.
Download and install Google Home to set up the Chromecast on your tablet.
Make an account.
Connect your Chromecast to your local wifi network by tapping it using your tablet.
Scroll down and look for the mirror device option.
Tap "Cast Screen". With this, you can now cast your phone's display to your projector.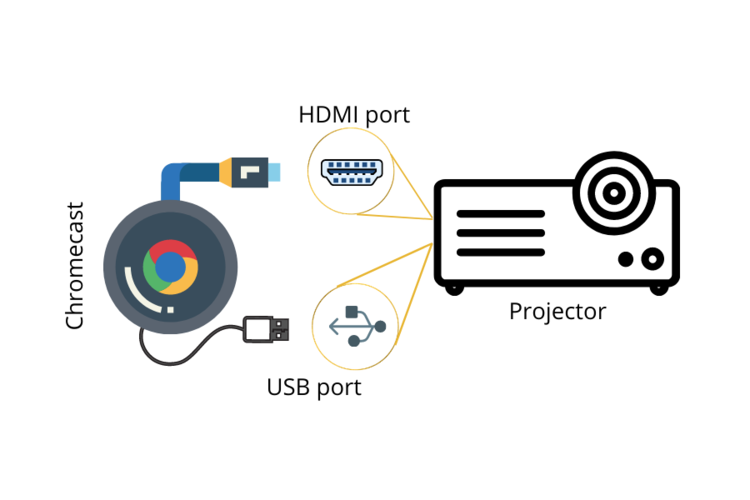 You can buy the Chromecast device here.
Miracast – Wifi Display Dongle
Intel Miracast Demo Using Google Android Tablet and Epson Projector
Miracast lets your tablet device be mirrored. It is one of the standard ways to display your device's screen to another device. To use it, follow the below steps.
Plug Miracast Device via HDMI cable in your projector.
Plug its power cord into the projector's USB port.
Go to your tablet's setting.
Go to the network and search for Miracast Device.
Tap on the Miracast Device.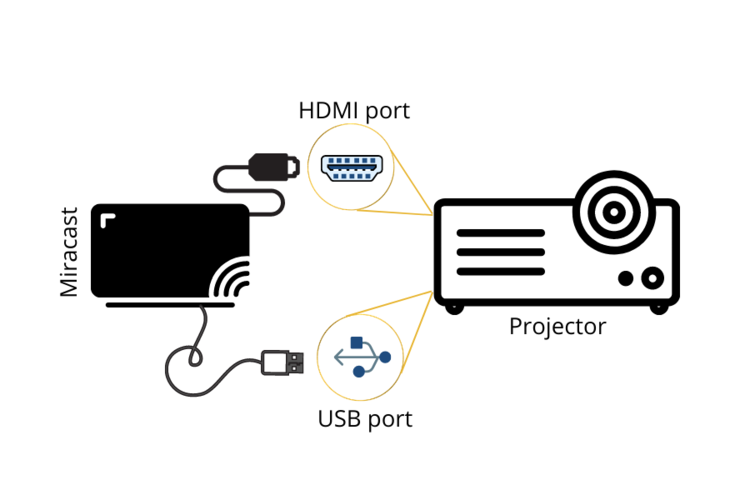 This should now start displaying your tablet's display through your projector.
Wired Connections
The next best option is to have wired connectivity if a wireless approach isn't going to work for you.
Any kind of wired video link would need to be supported by your tablet device. Since most do not.
The following are the most known preferred connections.
Using a USB C to HDMI adapter
To allow hard-wired video connectivity, most projectors do have a built-in HDMI port. And the problem arises if your tablet, say, has a different port connection.
Even though this is common, some tablet devices may have a USB C port, which can be used to mount conveniently to the projector with an affordable USB C to HDMI adapter.
Make sure to follow the instructions below. For this method, you will need an HDMI cable which can be bought here.
Connect the adapter to your tablet at the USB C port.
Connect one end of the HDMI cable to the HDMI port of the adapter.
Connect the other end of the HDMI cable to your projector.
Turn on your projector if you haven't done so.
You should now see your tablet's device cast on the wall through your projector.
Here's our recommendation for the adapter.
Sale
QGeeM USB C to HDMI Adapter 4K Cable, USB Type-C to HDMI Adapter [Thunderbolt 3 Compatible] Compatible with MacBook Pro 2018/2017, Samsung Galaxy...
Plug & play : plug-and-play,No additional driver/software required.Perfectly compatible for your...
Streaming from everywhere : stream sports events, watch movies, gaming, and show photos/Albums...
Wide COMPATIBILITY : compatible for 2016-2020 MacBook Pro,surface Book 2, Surface go, 2017 i Mac,...
Last update on 2023-10-04 / Affiliate links / Images from Amazon Product Advertising API.
This method applies to Mirco USB port tablets. The only difference is that the adapter should support the Micro USB port. Here's the recommended adapter:
Last update on 2023-10-04 / Affiliate links / Images from Amazon Product Advertising API.
How Do I Mirror My Tablet To My Projector?
How-to set up Screen Mirroring on your projector
Here's how you do it (for Epson projectors):
Using the projector's remote, click the Input button. (if your projector don't have a remote, check the setting panel on the projector)
On the popup setting, select "Screen Mirroring". This will show that your projector is looking for a possible pair device nearby.
Once matched, on your tablet device, click Screen Mirroring.
Choose the projector's name on the list of available devices.
And now your projector should project your tablet's display!
FAQs
Can You Connect A Samsung Tablet To A Projector?
Yes, of course! Most of the tablets that are released to the market nowadays support built-in ports/connection to the projector.
How to connect your Samsung Galaxy 10.1 Note 2014 Edition to a Projector
All of the things mentioned above are applicable to a Samsung tablet regardless of its brand or whatnot.
You just have to make sure that the tablet device you bought is of the latest release or up to date.
Conclusion
In all, connecting your tablet is fairly easy.
There are various ways to go. You can go wireless or wired connections.
If you choose to go wireless, make sure that your tablet device has a Chromecast or any application similar used for mirroring. It only takes a little time to set this up.
However, if you insist on going to a wired connection, then make sure that your tablet device has a built-in port suited for making a connection to a projector. HDMI adapters are usually required in this way.
With the right tools and applications, you can enjoy the pleasure of watching your favorite movie or series on a bigger screen.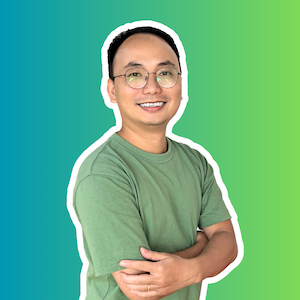 Vance is a dad, former software engineer, and tech lover. Knowing how a computer works becomes handy when he builds Pointer Clicker. His quest is to make tech more accessible for non-techie users. When not working with his team, you can find him caring for his son and gaming.