What To Know
An HDMI splitter allows wired streaming from a single source to multiple TVs by connecting the source to the splitter's input port and TVs to the splitter's output ports.
Using Chromecast devices, you can wirelessly stream from a computer to multiple TVs by setting up Chrome profiles and casting content to each TV.
For optimal performance with HDMI splitters, consider the number of output ports, audio formats supported, and HDMI version compatibility; for Chromecast, ensure all devices are on the same network.
This post takes you through the two most reliable ways to stream content to multiple TVs using a single source- using an HDMI splitter for wired multiple mirroring or using Chromecast to cast wirelessly.
Summary
Solution
Requirements
Steps
Using HDMI Splitter

Source (laptop, media box)
HDMI Cable
HDMI Cable
TV(s)

Connect the source device to the splitter
Connect your TVs to the splitter box
Power on your splitter box, TVs, and source device

Using Chromecast

Chromecast devices
A computer with Chrome browser

Install the Chrome browser on the laptop
Set up Chrome profiles
Set up the Chromecast devices on your TVs
Cast
1. Using HDMI Splitter
An HDMI splitter is a device used to duplicate a single input signal into multiple outputs. It receives signals from a source device, splits them accordingly, and then sends them to multiple output devices simultaneously.
An HDMI splitter can be used to connect several TVs, for instance, in a restaurant or a bar. You can also use it to connect a source device to a TV and projector simultaneously. Or, in the case of a presentation, to multiple projectors.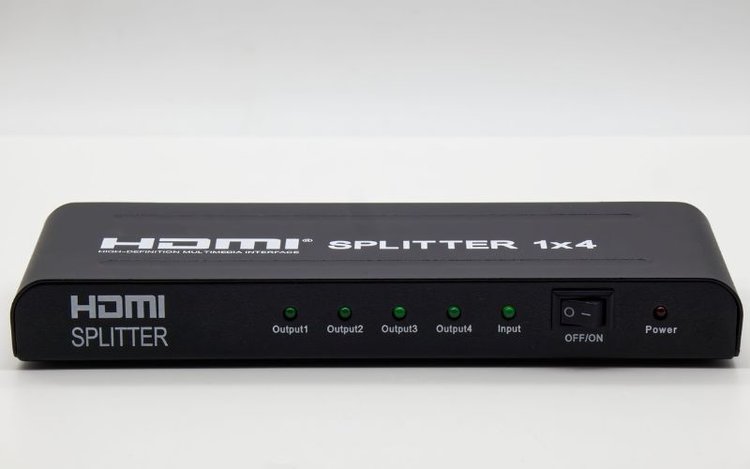 HDMI splitters can either be passive or powered. Passive splitters do not need to be plugged into a separate power feed. And as the name suggests, powered splitters have to be connected to a separate power outlet.
Because digital signals require a lot of energy to split signals and channel them to separate HDMI streams, powered splitters seem to work way better than passive splitters. Passive splitters have been found to cause audio latency, the time lag between when an audio signal is transmitted and when it is actually received. Audio latency is more noticeable when watching videos.
Most HDMI splitters have a single HDMI input on one end and several HDMI outputs on the other.
HDMI splitters work with any device that supports HDMI and can have as many as sixteen output ports.
How To Stream To Multiple TVs Using An HDMI Splitter
An HDMI splitter works in a pretty straightforward way. You simply connect one end of the HDMI cable to the source device and then into the input port on the splitter box, then connect the multiple HDMI cables coming from the output port of the splitter box to your display devices.
Your connection setup should look like this:
Source (laptop, media box) > HDMI Cable > HDMI Splitter > HDMI Cable > TV(s)
To stream to multiple TVs using an HDMI splitter, you will need:
Source (laptop, media box)
HDMI Cables
TV(s)
Step 1: Connect The Source Device To The Splitter
Connect one end of the HDMI cable to the source device. To make it easy to understand these steps, I will use the Blu-ray Disc player as my source device.
So connect one end of the HDMI cable to the HDMI input port of the Blu-ray Disc player, as shown in the image below. It doesn't really matter which end of the HDMI cable you connect unless you are using optical HDMI cables. Either works.
Then connect the other end of the HDMI cable to the splitter box.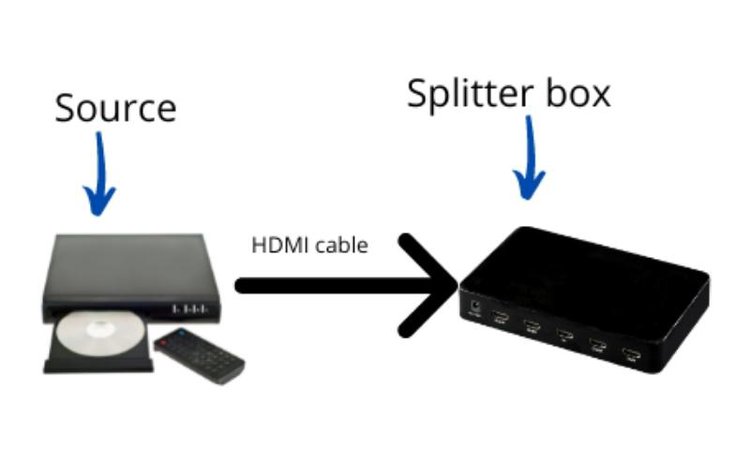 Step 2: Connect Your TVs To The Splitter Box
The number of TVs you could stream to will depend on the number of output ports on the splitter box. If there are four ports, that means you cannot stream to more than four TVs.
In this step, you will simply connect the HDMI cables to the output ports of the splitter and then into the input ports of the TVs, as shown in the image below.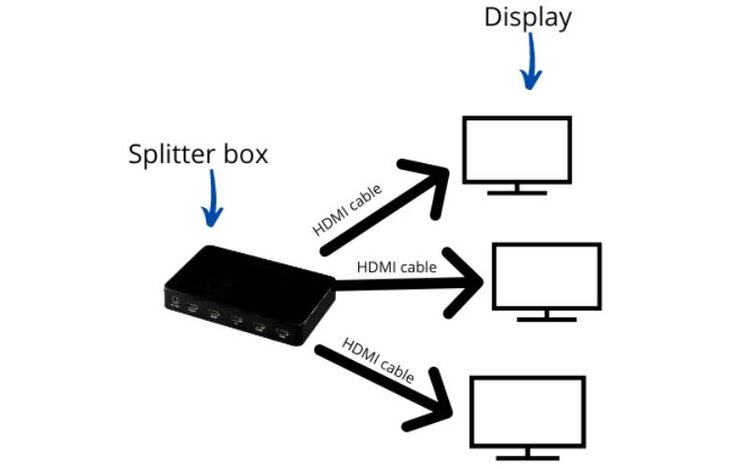 Step 3: Power On Your Devices
Power on your splitter box, TVs, and source device. You should have duplicate content on your TVs.
This is what your full setup should look like:
HDMI splitter boxes are more reliable because they are wired connections. Wire connections are not affected by network fluctuations or outages. The downside, though, is that the signal strength may be affected by cable length.
For HDMI cables, for instance, the signal is impressively strong up to 50 meters. Any length above that, you must use an optical HDMI cable ; otherwise, you will experience signal problems.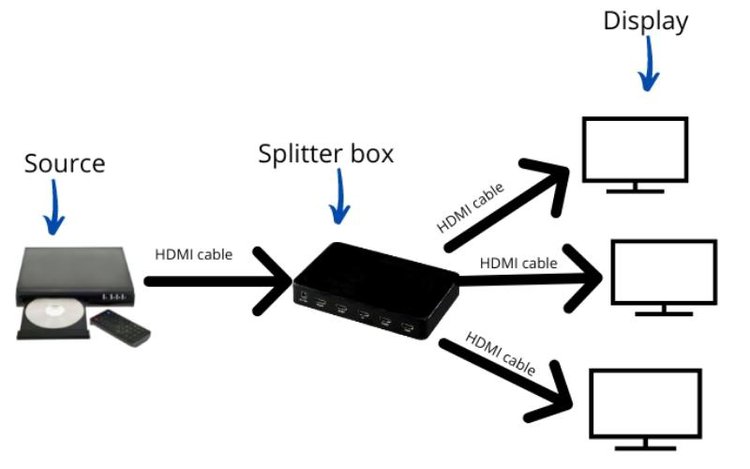 Finding The Right HDMI Splitter
The success of your streaming will depend on whether or not you find the right splitter box. There are countless splitter boxes in the market that it can be overwhelming to choose so here are a few things to keep in mind when shopping for one:
The most basic splitter box type is the 1×2, which means it streams to 2 TVs. Others stream to 3 TVs, 4 TVs, 8 TVs, and 16 TVs. The more the output ports, the more costly the splitter box.
Some splitters come with extras such as 3D capability and 4K resolution. These extras bump up the cost.
Check the audio formats supported before making a purchase.
Also, check the different HDMI versions supported. Each HDMI version comes with its own set of features. For instance, HDMI 2.0 supports up to 4K content, while HDMI 1.4 supports the HDMI ARC feature only. Each splitter model indicates the version of HDMI it supports, so it's up to you to determine what works for you.
2. Using Chromecast
You can also stream content to multiple TVs using a single source by using a Google Chromecast device or Chromecast extension built into your smart TV.
A Google Chromecast device is a small but powerful dongle plugged into any TV with an HDMI port. It is used to stream content from a laptop, tablet, or phone to your TV or projector.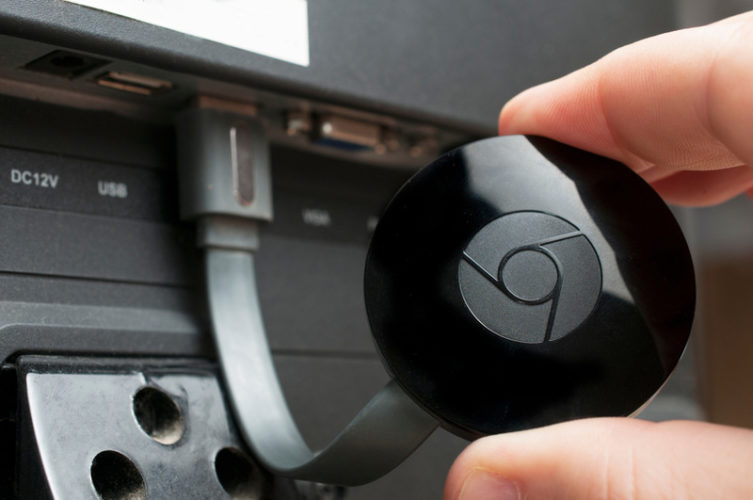 The device is easy to use. You simply plug it in, connect it to your internet and start streaming. While streaming, you can hit play, pause, rewind, and even adjust the volume.
Unlike the HDMI splitter, there is no limit to how many TVs you can stream to. You can stream to as many as you wish. However, the more TVs you stream, the more processing power and data you will use, and therefore the slower the entire process will be.
The other thing you need to know is that all the TVs will have to connect to the same network for this to succeed.
The best part about using Chromecast is that you can cast the same or different content to the TVs.
How To Stream Content To Multiple Tvs Using Chromecast Device
To demonstrate to you how to use the Chromecast device to stream to multiple TVs, we will use the laptop as our source, the Chromecast device as our streaming device, and we will stream to two TVs.
Step 1: Install The Chrome Browser On The Laptop
For you to use Chromecast, you must install the chrome browser. So download Chrome, click to install, and follow along to set up the chrome browser.
Step 2: Set Up Chrome Profiles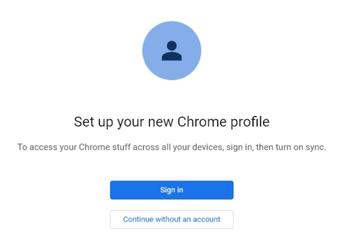 Open the Chrome browser and click on the profile icon. It's in the upper right corner next to the three settings dots.
Click Add to set up a profile.
Click the edit icon to customize your profile. This will be your first profile, so we will name it Profile 1. If you already have a chrome profile, skip this step.
Because we want to cast to two TVs, we will only need two profiles. However, if you want to cast to more TVs, you will add more profiles.
So now we have Profile 1 and Profile 2 to cast from.
Step 3: Set Up The Chromecast Device and Extension
Because we are streaming to two TVs, we will need two Chromecast devices or two smart TVs.
So plug your Chromecast devices into your two TVs and power both the devices and the TVs on. If using a smart TV, it most likely has a Chromecast extension installed so you don't need to set up anything.
Step 4: Cast
Open a web browser from Profile 1 and select content to cast.
On the top-right corner, select and click the three horizontal dots. From the dropdown list, select cast. The cast tab will open, and you will see the options to cast: the TVs or Chromecast device. Choose the option you want to cast to.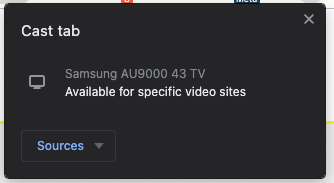 Now on the web browser, select the content you want to stream, and content from this window will show on the TV you've selected.
Repeat these steps to cast to multiple TVs.
A few things you need to know about this setup:
All your devices must be connected to the same network for this to work.
When plugging in the Chromecast devices, take note of the HDMI port allocation. For instance, device 1 should go to HDMI 1, and you should select that device as HDMI 1 when setting up your TV.
To cast similar content to all TVs, you will stream the same content on all web browsers. And to cast different content, you will stream different content on the different web browsers.
You can control your laptop's content and switch between profiles as you wish.
You must switch profiles to cast to different TVs or Chromecast devices.
You open a new web browser to cast from a different profile, not a new tab.
Meet Vance. He's a proud dad, a seasoned Electronics Engineer, and an avid tech lover. His proficiency in electronics and troubleshooting skills were instrumental in crafting Pointer Clicker. Vance is passionate about simplifying tech for those who aren't well-versed in it.