Maybe you want to show your friends a video you shot, stream a movie from your phone to your television, or simply play some music from your phone off your TV while you clean.
There are multiple reasons why someone might want to connect their phone to their TV, the only time this becomes a problem is when the television that you have is a Dumb TV.
This article will touch on how to connect your smartphone to your Dumb TV, while also taking into account that there are two different ways in which a phone can transmit its picture to a television, either casting or mirroring.
First, let's discuss the ways in which you can connect your phone to your Dumb TV and why there are so few options.
Why is this difficult?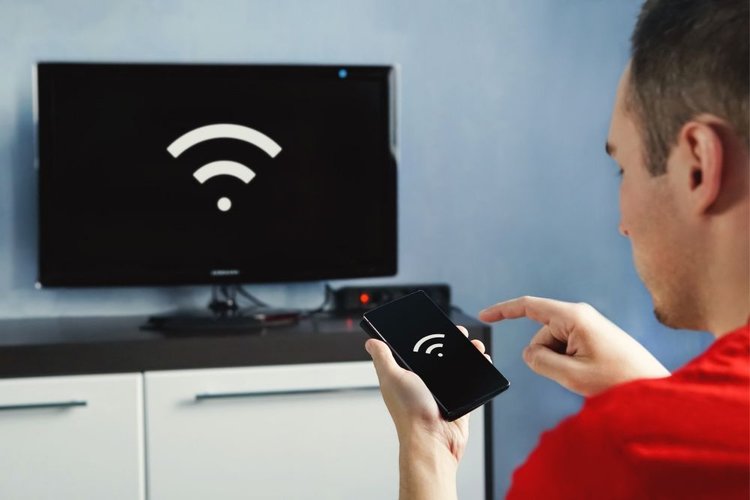 A Dumb TV is a television without an operating system, this means that it doesn't hook up to your Wi-Fi and you do not have the ability to sync your phone or any of your smart speakers to it.
The fact that it has no need to connect to your internet and that there are next to no features included on the TV makes projecting your phone's screen onto it much more difficult.
A Dumb TV is meant for playing whatever external media source is plugged into it, whether that be coax cable, satellite dish, or antenna.
When connecting your phone to your Dumb TV, there will be two different formats in which you will be able to view the displayed media.
The two formats are Casting and Mirroring, let's discuss the differences between the two before we get into your options for connecting your devices.
Mirror Versus Cast
When you connect your phone to any type of television you are limited to two different types of viewing experiences, the more basic of the two is called mirroring.
When you are mirroring your phone to your TV, you are simply taking exactly what is displayed on your smartphone screen and projecting it onto the television screen.
Anything and everything you do is seen verbatim on your TV screen, and in comparison to casting it is the more limited option.
When you are casting, you are actually selecting a mode on your phone which acknowledges the fact you are connecting to a secondary device.
This allows you to stream movies for your friends while continuing to use the other functions of your smartphone.
Now that you have a quick understanding of the different formats available, let's take a look at the two best options for connecting your phone to your TV.
What are my options?
You are basically stuck with two options when it comes to connecting your phone and TV. The simpler option is:
1. Use an HDMI wired connection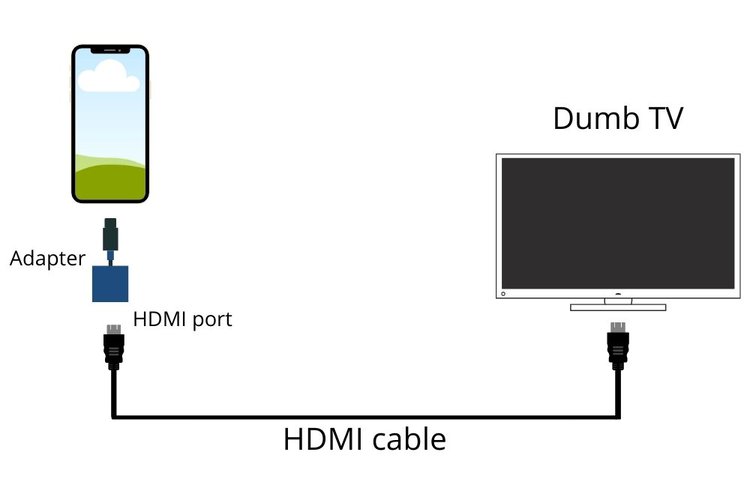 This is the easiest way to connect your phone to your Dumb TV, although it does come with its downsides.
This method is extremely simple, and there are usually two ways to achieve this:
You purchase a cord that has HDMI on one end, and the adapter specific to your phone's charging port on the other.
If you already own an HDMI cable, there are plenty of adapters available which will change one of the ends to your phone's specific port.
Once you have your hands on an HDMI cord that is going to work, you simply plug it into a port on the back of your Dumb TV.
Keep in mind when using this method you will be limited to mirroring your phone. This will also limit the distance you are able to get away from your TV to the length of said HDMI cable.
2. Purchase a Streaming Stick
The second option offers you more freedom than just projecting videos from your phone to your television.
The ability to cast a video from your phone to your Dumb TV is available on multiple eternal streaming devices.
Some of the more popular options being the Chromecast by Google or the Fire Stick by Amazon. With one of these devices, you are able to cast your media onto your Dumb TV from the comfort of your sofa.
Another advantage to the external streaming device, in comparison to the HDMI cable, is that the device actively pulls the media off your phone and plays it on the TV.
This is convenient for two reasons, the first is that you are able to continue using other features on your phone while you stream the content to your TV.
The second being that your TV is grabbing the media from your phone and absorbing a large majority of the work your phone would usually be subjected to while streaming, thus allowing the phone's battery to deplete slower.
While the external streaming device seems like the obvious choice, it does have one major downfall. After plugging the device into your TV, you are basically turning your Dumb TV into a Smart one.
Nowadays if a person owns a Dumb TV this is usually on purpose, and the thought of plugging an external operating system into their current set could be a dealer breaker.
If this isn't the case, you then have the option of firing up the device as well and taking advantage of its numerous features and apps.
In Conclusion
As we have reviewed in this article, there are a few good options for connecting your phone to your Dumb TV.
Figure out what resources you already own, decide if you would prefer to cast or mirror, and make the decision which best suits your needs.
In the end, whether it be as simple as an HDMI cable or taking the plunge of equipping your Dumb TV with an external operating system, you can rest assured that there is a simple and easy way to achieve this task.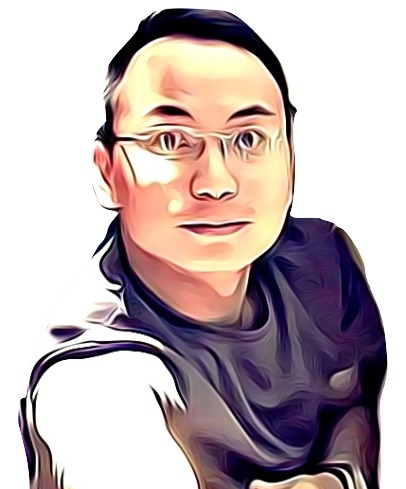 Vance is a dad, former software engineer, and tech lover. Knowing how a computer works becomes handy when he builds Pointer Clicker. His quest is to make tech more accessible for non-techie users. When not working with his team, you can find him caring for his son and gaming.