A flash drive is one of those inventions that you will be thankful for. Also known as a USB memory stick, a thumb drive or a pen drive, this little device stores important information securely. It allows you to carry large amounts of data around.
The flash drive is said to have been invented around the year 2000 but has had to compete for patent claims over the years.
Initially, flash drives only had a data storage capacity of 8 megabytes (MB). This was barely enough to contain a presentation file with images. However, flash drives have grown in capacity over the years, with 32 gigabytes (GB) and 64 GB drives now sold in most electronics stores.
For those who frequently need to do presentations for work or school, Google Slides should be a familiar program. This program allows you to create and edit presentation slides online. It has a relatively intuitive and user-friendly interface and does not confuse new users with too many options.
A common question most users ask is this – Can Google Slides be saved to a flash drive? The short answer is a resounding, "Yes"!
But first, why should you even consider saving Google Slides to a flash drive, since you can open it from your Google account anyway?
1. How to Save Google Slides to a Flash Drive?
Saving Google Slides to a flash drive is just the same as saving it to your computer, or to any other memory device that is detected by your computer.
If you have never tried it before, take a look at the steps below, and you will become an expert in no time!
1. Open Google Slides and create your presentation slides.
2. After editing your slides, once you are satisfied, you may proceed to download it.
Menu File > Download as
3. Select the format you wish to save it in.
You may choose from PDF (Adobe Acrobat), PPTX (PowerPoint), and other formats.
However, take note that PDF files may have limited functionality for presentations. A PPTX or PowerPoint file will be more suitable if you have to present the slides in a room or office setting.
4. If you are using the Google Chrome web browser, the PowerPoint file should automatically be saved to your computer's Downloads folder .
Open the Downloads folder by clicking on the file's drop-down arrow > Show in Finder (macOS) / Folder (Windows)
5. Look for the file in your Downloads Folder, then drag-and-drop it into your flash drive's folder.
For macOS:
For Windows:
If you do not see your flash drive appearing in the list, ensure that it is plugged in and has been detected by your computer.
Alternatively, you may open the presentation file, then save it to your flash drive by clicking on "File", then "Save As".
Now try opening your slides from the flash drive, to see if it works!
2. Why You Should Save Google Slides to a Flash Drive
One reason for saving your Google Slides offline is in case the Internet connection becomes unstable. Imagine being halfway through a presentation, when your Internet gets disconnected!
This is especially true if you are presenting in an unfamiliar place, such as a client's office. The embarrassment of not being able to present your slides according to plan is just not worth the risk.
Next, you never know when you might lose access to your Google account. As much as we hate to admit, there are hackers out there, and sometimes we may even forget our own email passwords. Saving the slides to a flash drive acts as a back-up in such situations.
Moreover, saving your slides projects an image of professionalism. You would signal to clients, bosses, and co-workers that you are prepared for contingencies, making yourself appear more dependable and trustworthy.
Summary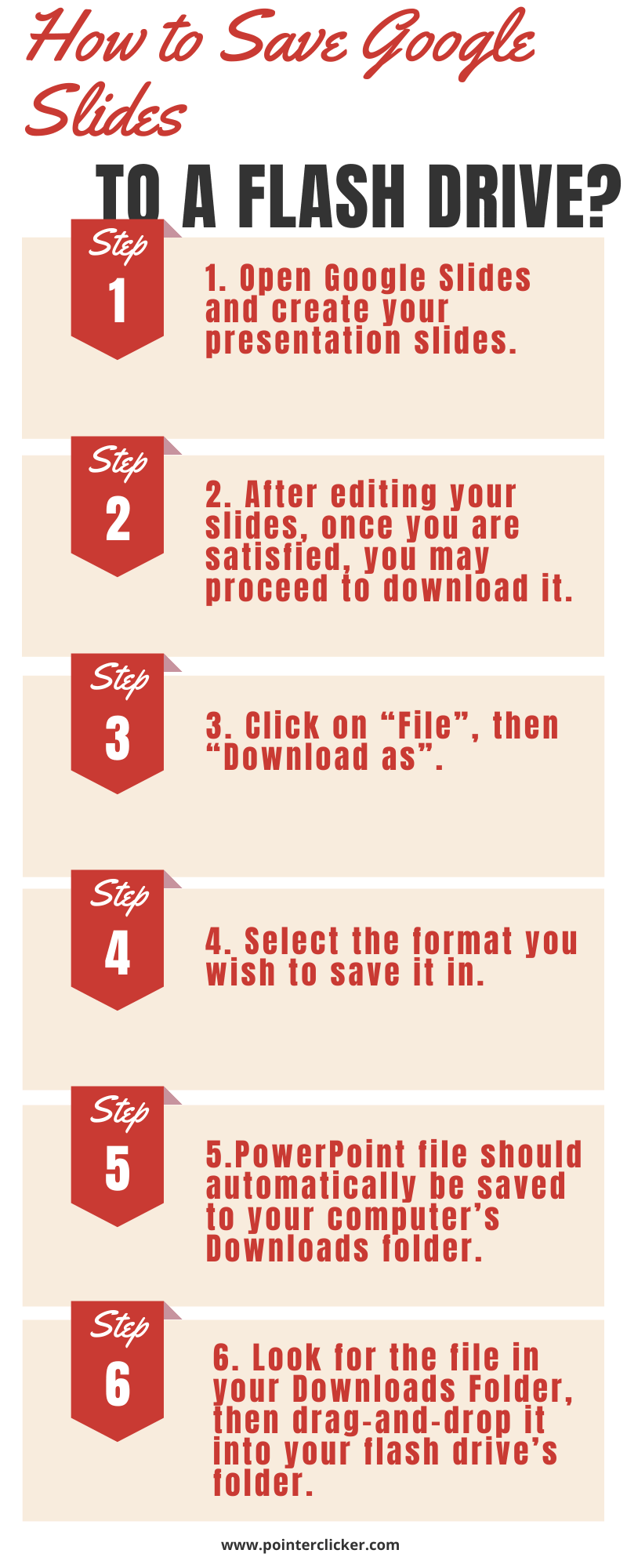 Saving your Google Slides to a flash drive acts as a very important back-up measure. It also helps you appear more professional.
Follow the steps to save your Google Slides, and you will not have to worry about unstable Internet connections or locked accounts!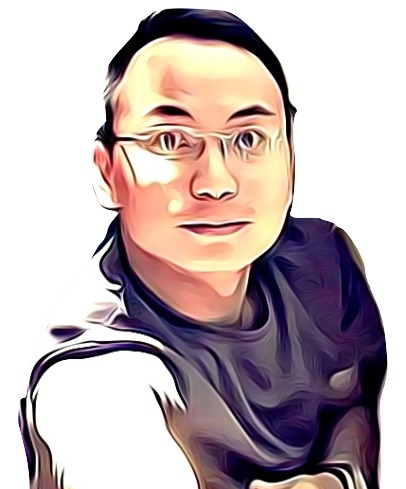 Vance is a dad, former software engineer, and tech lover. Knowing how a computer works becomes handy when he builds Pointer Clicker. His quest is to make tech more accessible for non-techie users. When not working with his team, you can find him caring for his son and gaming.