Presentation programs have come a long way since their invention in 1981. In the early days, these programs used slide projectors to show presentation slides.
Later in the 1990s, LCD screens became commonplace. Microsoft's PowerPoint presentation program became a standard feature in all new computers, including Mac and PC (Windows).
Google Slides, meanwhile, is a relatively new solution offered by Google. It was first released in 2006 as part of the Google Drive package.
This allows users with Google accounts to easily create, edit and share presentations online. Users are also able to collaborate with one another in real-time, minimizing the need for lengthy file transfers.
One exciting set of functions within the Google Slides program is the Animations and Transitions. This set of functions allows you to customize the type of animation and transition you get between slides. Needless to say, automatic slide transitions are a major part of this functionality.
How to Make Slides Advance Automatically in Google Slides?
Making slide transitions in Google Slides is easy. There are two main processes for adding slide transitions.
If you have not done it before, see the walkthroughs below and you will be able to learn it quickly!
Process #1: Customizing Transitions for Each Slide
This process will not enable your slides to advance automatically. However, you can create some really fun and unique transitions as a first step!
First, create your slides in Google Slides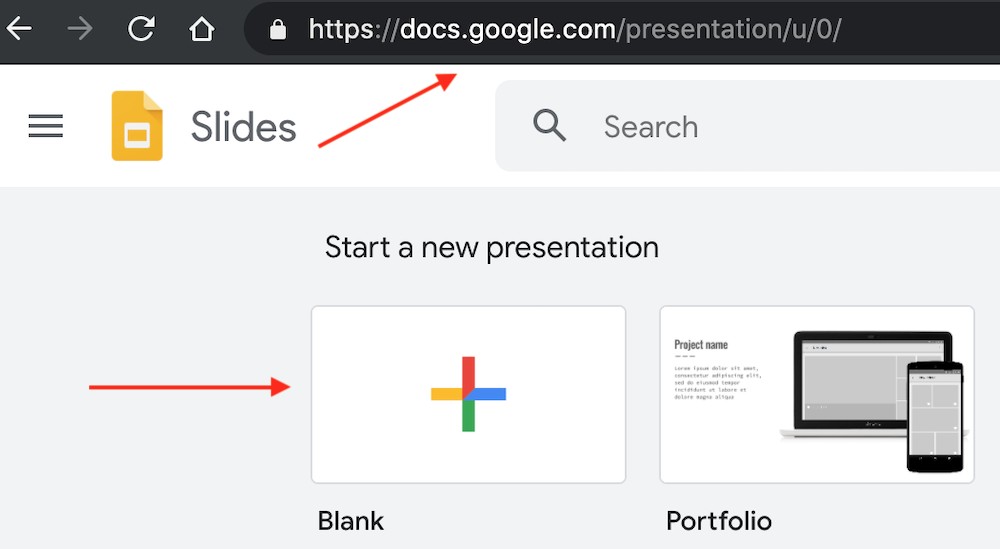 Next, select the first slide
Click the tab labeled Slide at the top, then Change transition.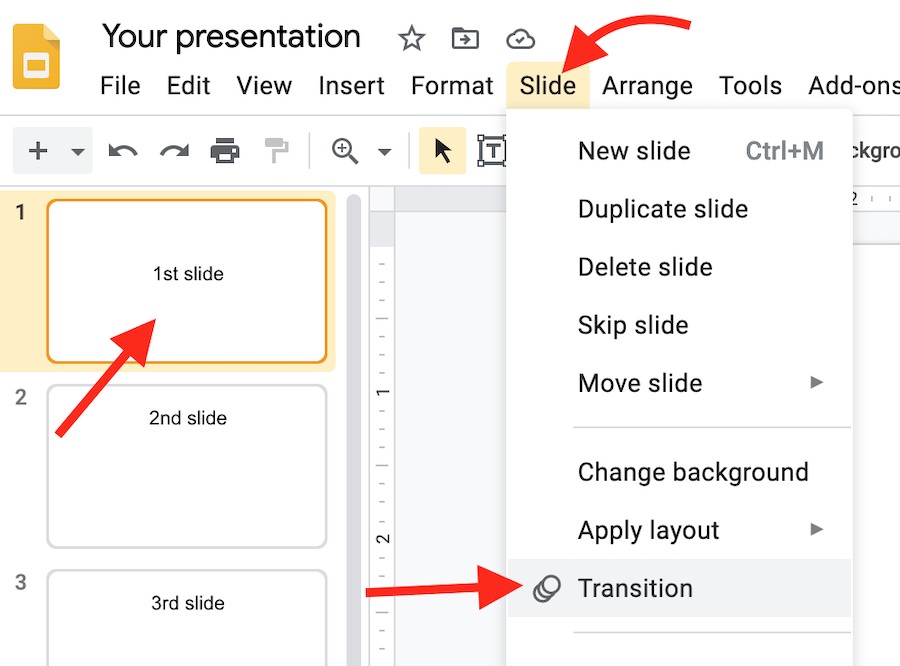 A column will appear to the right side of your screen.
Under the dropdown menu that says No transition, click to open the other options
You should see a list of transition types, including Fade, Slide from Right, Slide from Left, Flip, Cube, and Gallery.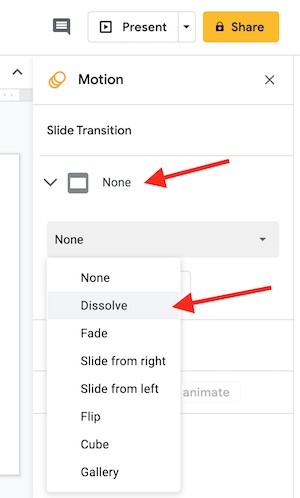 Select your preferred transition type
You should now see a slider with the speed settings: Slow, Medium, and Fast. Drag the slider to your preferred speed setting.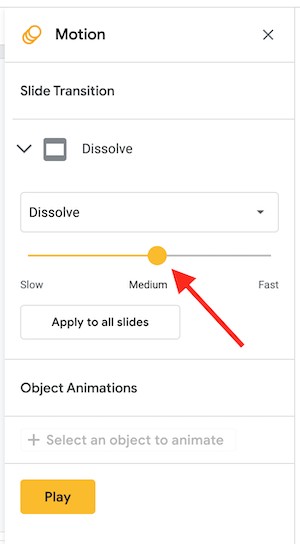 * Notice the button "Apply to all slides"? Click this button if you wish to have the same transition for all your slides.
If you want to have different transition types for different slides, simply repeat the process with each slide. Right-click on one slide at a time to edit its transition type. Just take care not to click "Apply to all slides" by mistake!
Process #2: Choosing "Auto-Advance Slides" (Web Presentations Only)
This process entails choosing the option to Auto-Advance Slides. It allows you to set the timing to play between slides. However, it only works if you are presenting over the Web.
First, click on the File menu
Select Publish to the web, then Auto-advance slides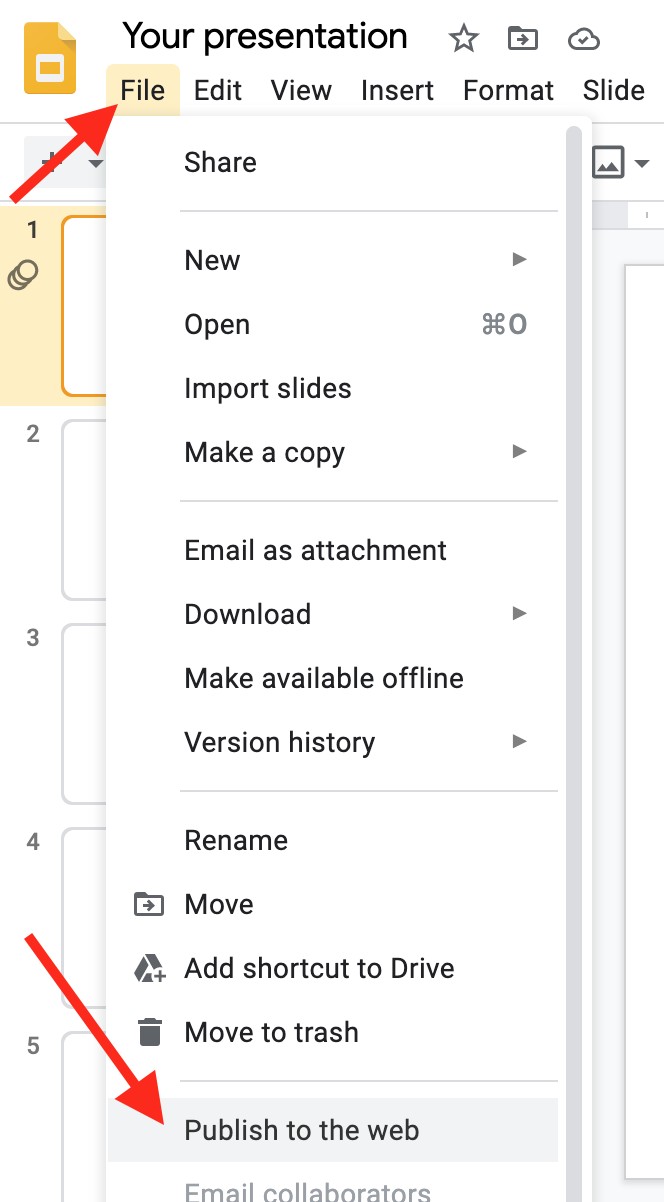 Choose the timing for the pause in between slides. Also, remember to select the option Starting the slideshow as soon as the player loads for auto-start. If you want the slideshow to loop, be sure to check the option Restart the slideshow after the last slide.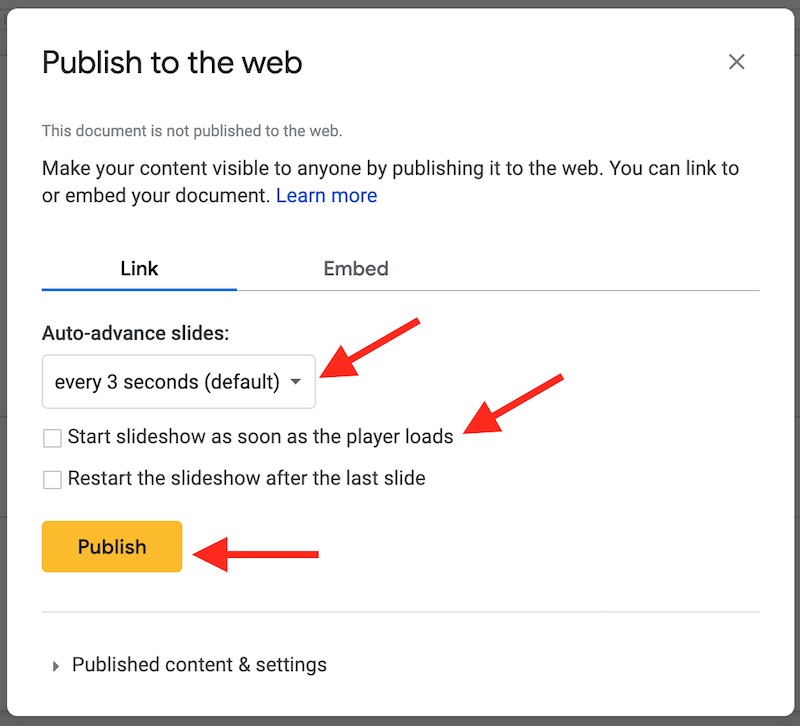 You will see a link for sharing this presentation. You could also click on the "Embed" tab if you wish to copy the presentation's custom HTML code to a website.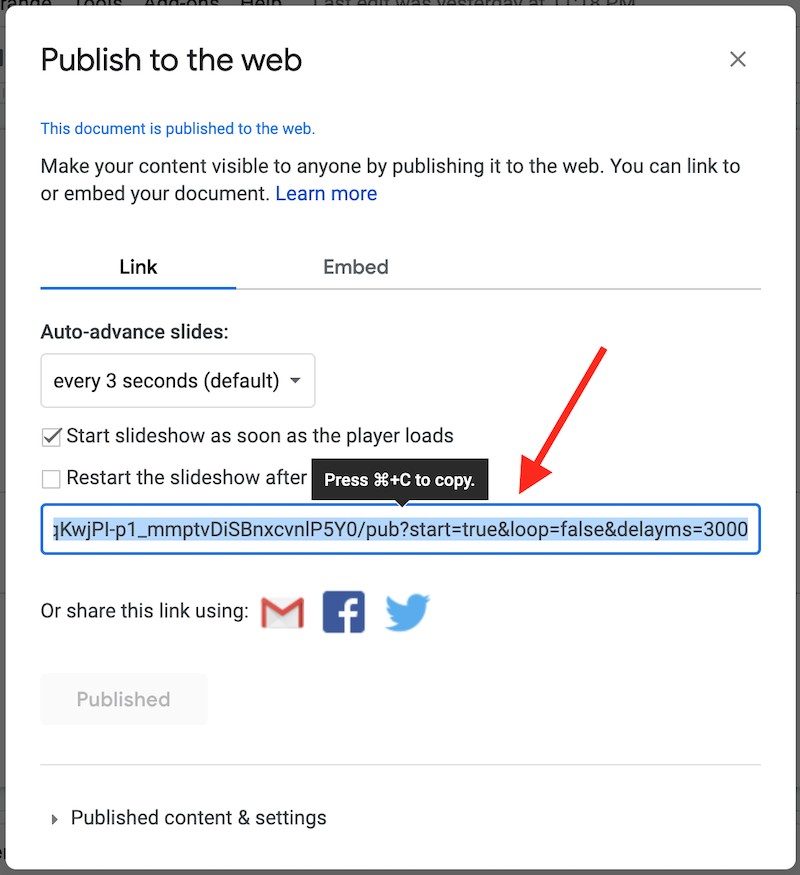 When you open the presentation's link, make sure to press the "Play" button so that the slides will move automatically.
That's it for automatic slide transitions – as you can see, Google Slides is a really user-friendly program!
Adding automatic slide transitions is not a difficult task at all. All it takes is for you to practice and become familiar with the process. Also, if you wish to appear more professional, consider getting a laser pointer that is compatible with Google Slides.
Now, time to get to work on your presentation slides!
Demo
Infographic