What To Know
To use an Epson projector remote to change slides, connect the projector to your computer using HDMI or a Computer port, and link the projector's USB-B port to the computer.
Then, adjust the settings on the projector menu to enable remote control as a wireless mouse, allowing you to use the Page Up and Page Down buttons to navigate slides.
Wondering if it is possible to use your Epson projector remote control to click through slides when presenting?
Yes, it is possible to use your projector's remote control to change the slides when doing a slideshow-style presentation from up to 20 feet away. This range may, however, be shorter if your remote batteries are weak.
Using your remote control to advance and click back to slides gives you the freedom and flexibility of moving around. This allows you to interact with your audience.
You also don't have to keep running back to your PC to change the slides. Or worse, asking one of your attendees to do it for you!
In this post, we will take you through how to set up your projector's remote control so that you can use it to click through slides when making a presentation.
How to use an Epson Projector Remote to Change Slides- Step by step guide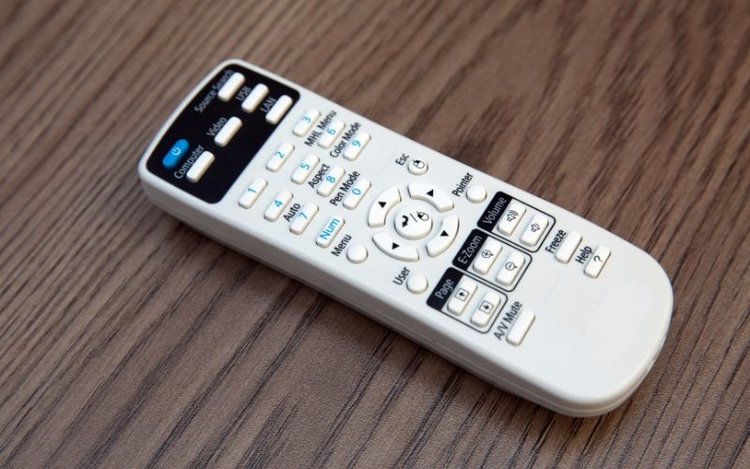 To use your Epson projector remote for your slideshow presentations like Powerpoint, Google slides, or Keynote presentations, you will first need to connect your projector to your computer.
Secondly, you will need to adjust the settings on your remote control.
Here is a step-by-step guide on how to go about with the setup.
Switch on your projector and computer and connect your projector to the computer using the HDMI port or the Computer port on your projector.
Then connect your projector's USB-B port on the computer to use your remote as a wireless mouse.
On your remote, press the Menu button.
Select Extended from the menu drop-down list, then select the USB Type B setting and press Enter.
Drop down to Wireless Mouse/ USB Display and press Enter. This is the setting that will allow you to use your remote wirelessly like a mouse.
Lastly, select the Menu button to exit.
You can now use your remote to change the slides or move through pages when presenting, by pressing the Page Up and Page Down arrows.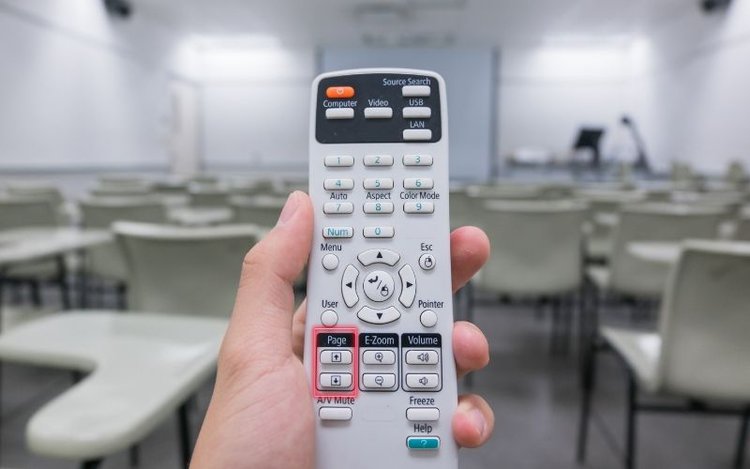 Press the Page Up button to move to the next slide and press the Page Down button to move a slide back.
You can also perform other controls that may be necessary when presenting. For instance, you can move the cursor around the screen by using the Up/Down/Right/Left arrow buttons.
You can also double click or single click by simply pressing the ↵ . If you want to drag and drop images, hold the ↵ and using the arrow buttons, move the image to where you want it to be then release the ↵.
Additionally, you can right-click by pressing the Esc button.
Here is a great video tutorial from Lauren Flynn showing the above process.
Using Projector Remote to Advance Slides
Other ways to change slides when making a presentation
Aside from using your projector remote control to change slides, you can also use a laser pointer or a presentation slide changer/clicker.
Both of these allow you the flexibility to move away from your laptop or projector while presenting so that you can focus on engaging with your audience.
Let's have a look at each:
Laser Pointers
Last update on 2023-12-06 / Paid Link.
Laser pointers or laser pens are similar to projector remote controls. They are compact and lightweight handheld devices that help presenters click through slides effortlessly.
They come in a variety of shapes and sizes and are incredibly portable.
They are used for controlling volume, pointing, highlighting text and images, and switching between slides during presentations.
Laser pointers are the best alternatives to remote controls since you can perform multiple functions that make the presentations more interactive.
They often plug and play devices. They don't require any software installation or complicated setup.
They are compatible with Windows and Mac systems and have a longer wireless range compared to projector remotes.
If you are entirely new to laser pointers, you may want to start with a simple one like the Logitech Professional Presenter R800 . It's super easy to use, powerful and has an LCD screen display with a timer to help you manage your presentation time.
The slideshow controls will help you navigate through your presentation seamlessly and confidently.
When shopping for laser pointers, there are two critical factors that you should consider:
Compatibility to the projector- even though most laser pointers work with major brands, it's good to confirm if it is compatible with your Epson projector.
Wireless range- consider the size of the room you present in often. Choose a longer range if the room is more extensive. Laser pointers have a wireless range of up to 300 feet.
Bear in mind that laser pointers can cause severe vision damages when accidentally pointed at a person's eye. If you can't trust your hands when holding a laser pointer, you may want to consider non-laser presentation pointers.
Mouse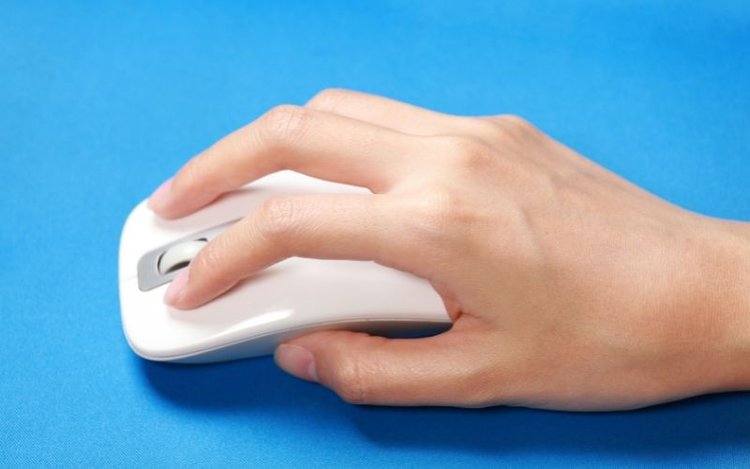 You can also turn your mouse into a laser pointer and use it to wirelessly click through slides and draw attention to specific areas of your presentation.
To turn your mouse into a laser pointer, open up your Powerpoint 2013/2016 presentation.
Press and hold the CTRL key so that your audience won't see the mouse pointer. Then while clicking, drag the mouse to the slide you want to begin advancing from. You will see a red laser pointer inside the presentation.
You can also change the color of the laser pointer to red, blue, or green in addition to recording the pointer movements.
For a video tutorial on how to use your mouse as a laser pointer, check out this video.
How to turn your mouse into a laser pointer in Microsoft PowerPoint 2010
Conclusion
If you regularly give Powerpoint or Google Slide presentations, you may find it convenient to move around to engage with your audience rather than sitting down in one spot the entire time.
But this can only be possible if you can navigate through the slides without sitting next to your computer.
In this post, we have taken you through how you can achieve this using your Epson projector remote control. As a bonus, we have also given you two convenient alternatives to using your projector remote in case you ever lose it or it gets spoiled.
Meet Vance. He's a proud dad, a seasoned Electronics Engineer, and an avid tech lover. His proficiency in electronics and troubleshooting skills were instrumental in crafting Pointer Clicker. Vance is passionate about simplifying tech for those who aren't well-versed in it.