When making a presentation with a huge crowd or planning to binge-watch a tv series with your favorite buddies, a projector comes in handy. You can bring it anywhere and make use of its large cinematic screen.
However, non-techy people may find it difficult to set up a projector and anything it connects to. After all, not all projectors and laptops or computers are compatible.
So how should projectors be set up?
4 Common Connectors For A Projector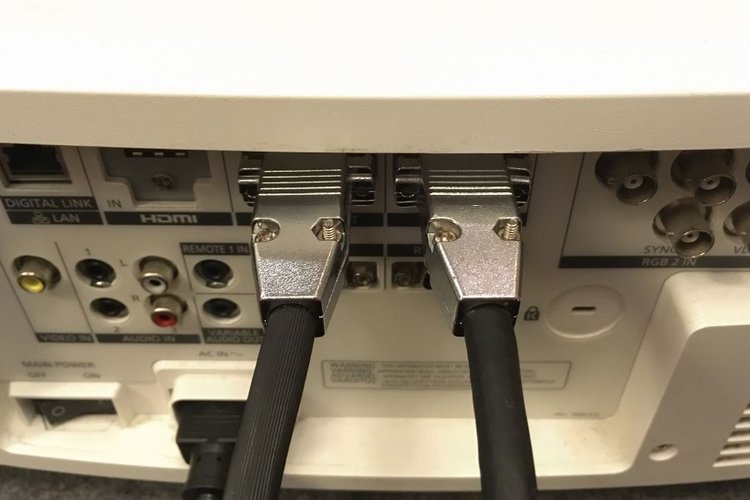 Not all projectors are wireless and laptop-friendly. In fact, most projectors require different types of connectors, converters, or mediums.
These connectors can be USB or video cables such as HDMI, DVI, and VGA.
Universal Serial Bus (USB) – the most popular connector for computers and other devices, including cameras, printers, and external hard drives. It can also offer other functionalities.
High-Definition Multimedia Interface (HDMI) – aside from USB, is the most common connection for laptops, computers, and projectors. It can carry high-quality video and audio signals. This is compatible with the latest technology and projectors in the market.
Video Graphics Array (VGA) – it has a 15-pin connector on each plug and was first introduced in 1987 as a standard plug in for computers and monitors back then. But most modern technology no longer supports VGA.
Digital Visual Interface (DVI) – has the sharpest image among the three and could only be compatible with some desktop computers or projectors.
In some cases, other laptops like the MacBook require a USB and HDMI portable converter box that works well for both ends. You might need to download necessary software to make it work.
But before making a choice, identify the available connections for your projector and laptop.
Most newly-released projectors are made with several portables at the back. You can connect your usb flash drive with or without the converter as long as your projector has the 'USB TYPE-A Port'.
This port allows you to insert your flash drive, and display certain files from the USB including movies, photos, and even audio files.
Now if you think your USB suits both devices well, then how can you connect a laptop to a projector with USB?
3 steps to connect a laptop to a projector with a USB cable
Epson Projectors | USB Plug 'n Play Instant Setup
When you think about it, connecting a laptop to a projector can be a little bit complicated.
However, USB cables make everything easier with a simple setup and plug-ins.
Here are the relatively easy steps to follow:
Step 1: Turn on both your laptop and the projector.
It'll be easier for you to check whether things are working effectively when both things are turned on.
Step 2: Get your USB cable (one which your laptop and projector are compatible with).
In this case, we use a USB-type-A to USB-type-B cable (as below).
Last update on 2023-05-29 / Affiliate links / Images from Amazon Product Advertising API.
Plug the standard USB type B to your projector and the other end (USB type A) into your laptop.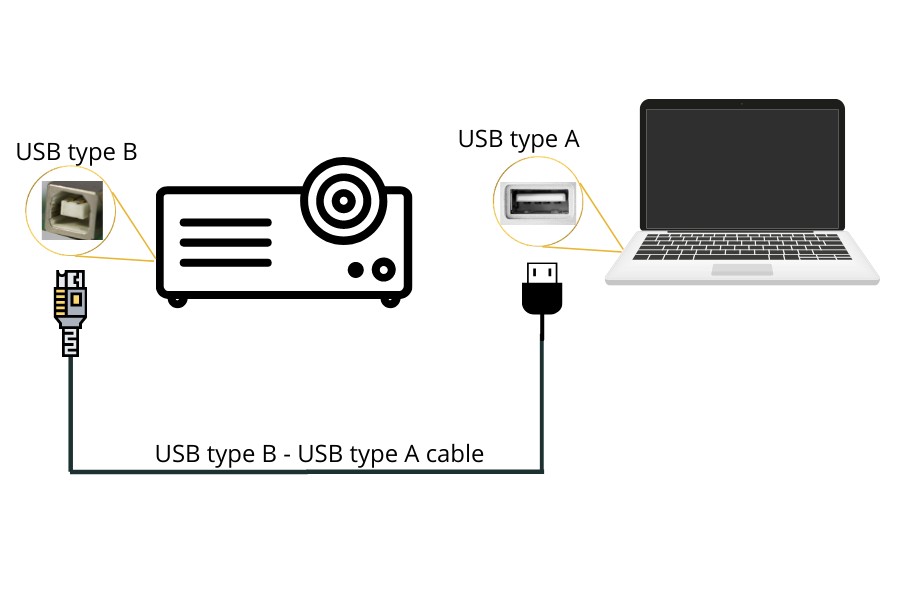 For first-timers, your system might ask you to install or update your drivers to set up the projector and laptop together.
In some cases, the process may not work well easily. If this happens, try updating your drivers, and resolve the necessary problems asked.
You can also uninstall the USB controller drivers and install it back again by (for Windows)
a) Clicking on the Control Panel, then Device Manager, and look for the Universal Serial Bus Controllers.
b) Click the Universal Serial Bus Controllers to Expand.
c) Right-Click every device on the section and click Uninstall.
d) Restart the system, and reinstall, and plug the USB controllers again.
Once you've set up the connection, you may want to change your computer screen display, which is also considered Step 3 below.
Step 3: Change the display screen on your laptop
Sync your laptop and the projector by simply clicking the FN key + F key. From here, you'll see the choices of display for your screen. Some laptops have different display keys.
After clicking these keys, there are display options you can choose from, such as:
Disconnect projector
Duplicated
Extend and;
Projector only
Once you set up the display mode, you might adjust your laptop resolution for a better experience.
Do this by:
Right-clicking on the Desktop Background
On the pop-up, choose the Display Settings.
Look for the 'Display Resolution', and click your preferred screen resolution. Preferably, choose '1020 x 1080'.
Now you only have to set up your projector, adjust the image size, and choose the video's best quality. Doing these steps would help you enjoy your projector's use while it is connected to a laptop.
What if a USB type B port is NOT on your projector?
Then, you may need a new adapter. I recommend a USB-to-HDMI adapter cable as below:
Sale
Last update on 2023-05-29 / Affiliate links / Images from Amazon Product Advertising API.
Besides, you should have an HDMI cable to connect from the adapter to the projector.
Nowadays, every projector embeds an HDMI port. This way should be always working.
Below is an HDMI cable that you can buy from Amazon.
PowerBear 4K HDMI Cable 10 ft | High Speed Hdmi Cables, Braided Nylon & Gold Connectors, 4K @ 60Hz, Ultra HD, 2K, 1080P, ARC & CL3 Rated | for Laptop,...
4K HDMI Cable: Male to Male HDMI Cable Supports 4K Video @ 60Hz, 2K, 1080P, 48 bit/px HDR color...
Premium Quality HDMI Cable: This HDMI cable has 30WG copper wire, triple tin shielded in a double...
Full Compatibility: Ultra high speed 4K HDMI cable supports 18Gbps transfer and is backwards...
Last update on 2023-05-29 / Affiliate links / Images from Amazon Product Advertising API.
Steps to connect:
Plug the adapter USB end to your laptop.
Plug the HDMI cable into your projector.
The 2 left HDMI ends can plug in together.
That's it.
You should be able to see your laptop displaying on the projector's screen now.
Frequently Asked Questions (FAQs)
How do I connect my laptop to my Epson projector using a USB cable?
Epson Projector usually has a USB port (just like in the video). You can easily connect an EPSON projector and a Laptop by turning on your computer, connecting your USB cable to your laptop, and connecting the other end to your projector.
In most cases, an EPSON projector requires you to install an "EPSON USB Display Software" to make the connection compatible.
How do I connect my laptop to a projector without HDMI?
Since HDMI serves as another cable connector, it is necessary to find a replacement for it, or else you won't get to connect your laptop and projector.
If you don't have an available HDMI port or cable, you can use other connectors like USB, VGA, and even DVA to make it work.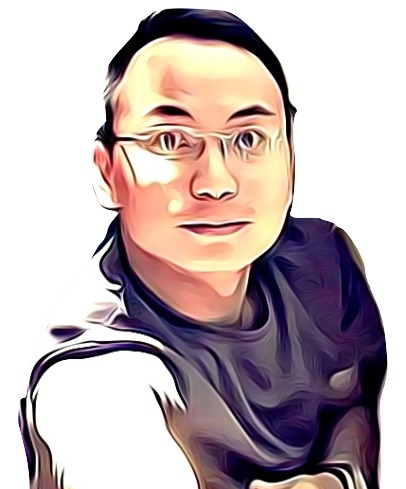 Vance is a dad, former software engineer, and tech lover. Knowing how a computer works becomes handy when he builds Pointer Clicker. His quest is to make tech more accessible for non-techie users. When not working with his team, you can find him caring for his son and gaming.