The ability to deliver strong presentations, whether in school or office, has been a valuable skill for ages and continues to be so.
Although the various technologies and tools have made presentations easier to manage, they've not rendered the art of dispensing information to people en masse obsolete.
Solid content, well-put-together slides, and a confident speaker are paramount for an excellent presentation. Enabler tools matter too.
If you like to emphasize key points on the slide from a distance, maintain a seamless flow, etc., during a presentation, a presentation pointer is a more-than-handy device.
But not all pointers work the same. How they help traverse the slides, feel in hand, the features they have, etc., are key areas of differentiation.
If you're looking to buy a presentation pointer and are unsure which one to buy, this article will help you.
Here are our top three presentation pointer recommendations to cut to the chase.
1. Logitech R400 Presentation Pointer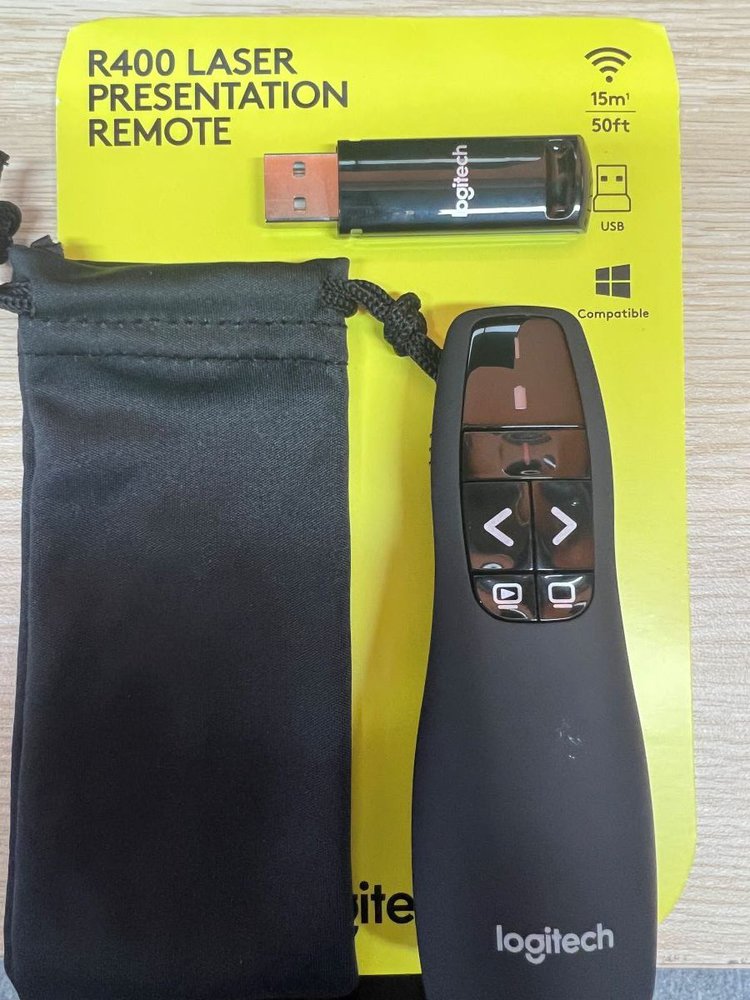 The Logitech R400 has a bright red laser pointer that can travel up to 15 meters or 50 feet. It uses a 2.4 GHz wireless receiver that plugs into your computer's USB port. The pointer uses two AAA batteries.
The device is plug-and-play, meaning you need not install any software. When the presentation is done, put the receiver into its slot in the remote.
By the way, the R400 is Windows-only. Although using it with a Mac is not impossible, the experience won't be as seamless.
For instance, if your MacBook Pro only uses a USB-C port, you must use a USB-A to USB-C adapter to plug in the pointer device. The compatibility concerns are, however, mostly software-related.
What we like
A lightweight device
Affordable
Ergonomic design
The 50 feet range means free movement during presentations
No separate software needed
Can connect via Bluetooth or its receiver
What we don't like
Doesn't come with an integrated time management feature, meaning the presenter has to manually track the time.
The laser doesn't pair with Viewboard (an interactive whiteboard)
The rubber build can get sticky over a period of use, and no amount of cleaning undoes that.
Tracking time during presentations is handy so that the presenter doesn't spend too much time on a particular slide(s) and maintains pace.
2. Logitech R500 Presentation Pointer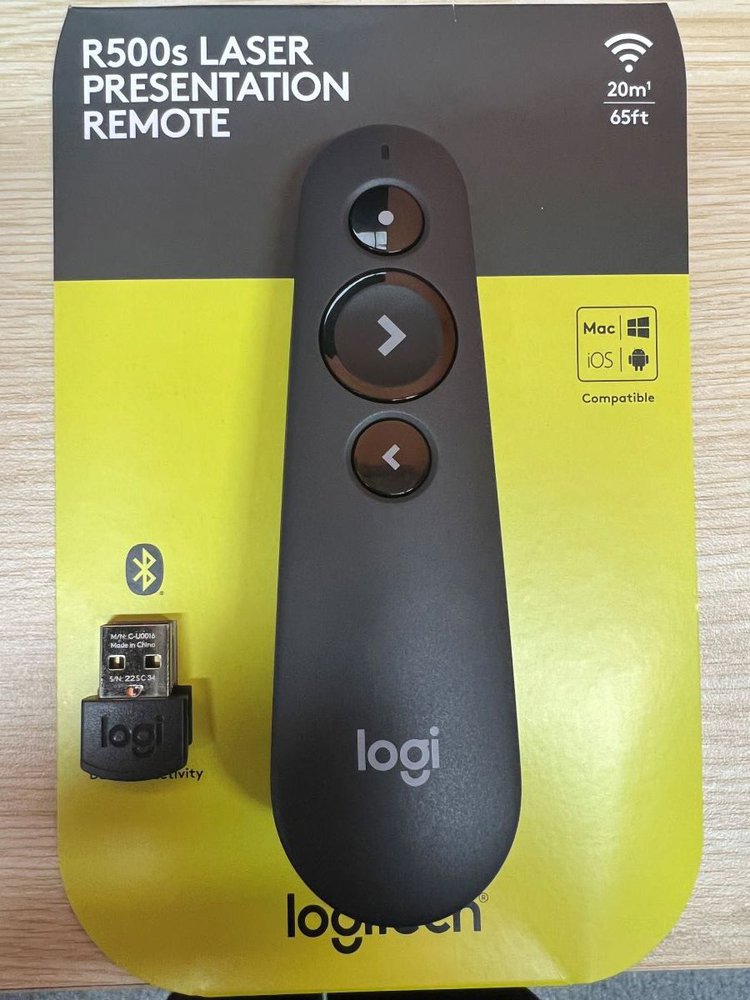 The Logitech R500 is yet another wireless pointer with a red laser. It's compatible with both Mac and Windows. The pointer can be connected to your laptop via a USB receiver or Bluetooth.
The R500 is a three-button pointer. The primary button helps move to the next slide. The smaller button below lets you go to the previous slide. The top button helps activate the pointer.
The device uses the companion Logitech Presentation app to supercharge presentations.
The app's user-friendly interface lets you manage time, set toggle pointer mode, put up a blank screen, customize actions, etc.
You can use the pointer without the app but only to change slides. For more advanced controls and interactions, you need the app. Customize the pointer's function buttons to your liking if you want.
What we like
Simple and straightforward button layout
Maximum 20-meter (65 feet) Bluetooth range
Battery sipper
What we don't like
The receiver is tricky to remove
You cannot enable the various features without the app
No multi-feature buttons
Using the pointer on a different computer means re-downloading the app and setting it up again
3. Logitech R800 Presentation Pointer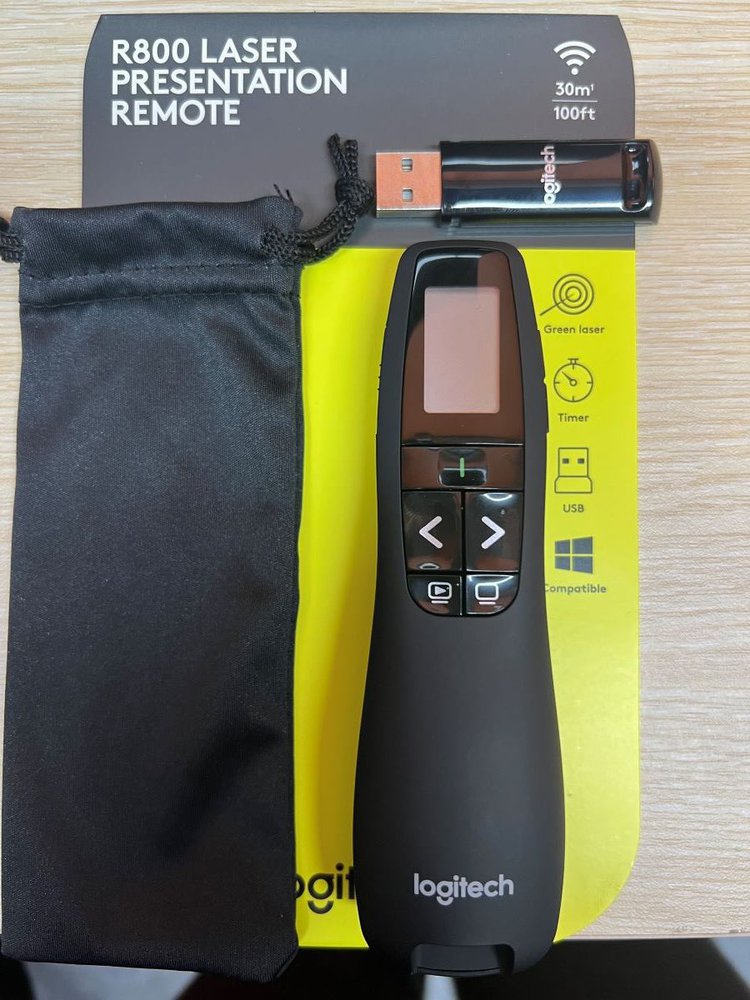 If you don't like red lasers, look at the Logitech R800. The green laser pointer has a wireless range of up to 30 meters (100 feet), the highest of all the three devices listed here.
The few additional feet of wireless range means slightly more flexibility in controlling slides from different areas in a room. That also means moving closer to or interacting with many more people in the audience.
Moreover, the green laser is not just another color. Green light is proven to be more visible or far brighter than red, particularly in varied ambient environments or lighting conditions. In fact, human vision is much more sensitive or finds green light four times brighter than a red laser.
To learn more about the differences, check out our comparison article Green vs. Red Laser: What are the Differences?
Like the R400, this pointer is also Windows-compatible only. But the R800 has an LCD screen that the other pointers do not. The LCD helps manage presentation timings, offering essential information such as a timer and a pointer battery indicator.
Even if you don't keep an eye on the display, the pointer will vibrate slightly when you're nearing the presentation allotted time.
You can program the vibrating alerts to go off at particular intervals in the presentation, such as when it's time to proceed to the subsequent slide.
What we like
The 100-feet operating range is a big plus
Time alerts can be set to go off at ten, five, and two-minute intervals
LCD timer countdowns
The ability to check the battery level via the LCD
The LCD screen blinks to alert when you've breached or near the 100-feet range
What we don't like
The remote is a bit too long for comfort
Slightly on the pricier side
The laser isn't as robust and big, particularly when compared to the R400
Buyer's Guide
All three work as great presentation pointers. But each has certain unique features or capabilities that make them stand out.
The Logitech R500, for instance, is the only pointer on the list to be officially compatible with macOS and Windows. The other two pointers can be paired with a Mac, but the connection won't be the most seamless.
The R800 and R400 have several feature-enabling buttons but are also pricier. Not to mention, they work without issues with a Windows computer.
Products
Pros & Cons
Price
R800

Sends vibration alerts when time runs out
LCD screen shows battery level and time
The LCD screen is information-packed, eliminating the need to look at the monitor or laptop screen
No software required
Slightly pricier and officially compatible with Windows OS only

Logitech Professional Presenter R800
R500

Works with both Mac and Windows
Straightforward to use
Minimal battery usage
Connects wirelessly via a receiver or Bluetooth
Light on the pocket

Logitech Professional Presenter R500
R400

Good enough wireless range
Budget price
No extra software needed
Officially compatible with only Windows
Lack of built-in time management features

Logitech Professional Presenter R400
If you don't want the LCD screen and want the most affordable pointer, look at the R500. If you don't mind paying a bit more for some added features, the R400 is a solid bet.
If there's no budget constraint, you make presentations in relatively large spaces, require the freedom to move around, and want a laser pointer that caters to all that and more, go for the R800.
Conclusion
Ultimately, all three presentation pointers mentioned above are capable devices. The right one for you depends on your requirements and preferences.
The price difference between the R400 and R500 is not big. But the R800 represents a significantly higher price jump. If you're buying the pointer, ensure you find value in most of its features.
If you don't go around the room during a presentation or do not require an extensive wireless range, the R800 will be an overkill and an unnecessary splurge.
Regardless, you won't go too wrong buying any of the three laser pointers.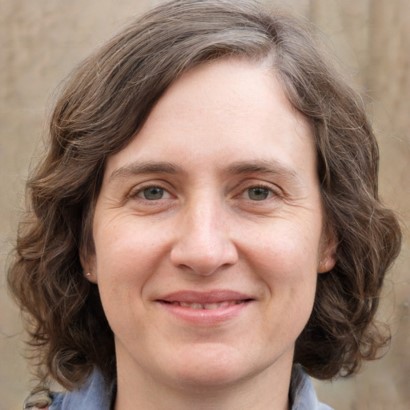 Catherine Tramell has been covering technology as a freelance writer for over a decade. She has been writing for Pointer Clicker for over a year, further expanding her expertise as a tech columnist. Catherine likes spending time with her family and friends and her pastimes are reading books and news articles.