The cloud-based solution Google Slides is so popular and convenient in presentation nowadays. There are several ways to present your slides remotely in which you don't have to stay in front of your laptop.
If moving back and forth between computer and projector screen is not what you like, then this tutorial is for you.
How to present google slides remotely?
Today we will show you 2 affordable and professional ways to interact with your presentation slides without standing close to the laptop.
Control your Google Slides from any phone, no need extra accessories.
For this method, we're gonna install a Chrome extension called Remote for Slides and an Android application named Remote for Slides Lite Android App. If you are an Apple guy, no worries, we do have a flawless solution for you also.
By the way, both applications are developed by a Malaysian developer named Lim Henry (thanks to Henry).
Features of the application:
Next / Previous slide controls with minimal design, large buttons with ease of use
Built-in timer to keep track of presentation time, which is at the bottom of the application on your phone
Embedded speaker note with adjustable font size, so you won't forget any points you want to present
Many languages support (8 languages): Català, English, Español, Euskera, Français, Polski, Simplified Chinese, and Traditional Chinese
Dark mode / Black mode (best for OLED)
Follow the instructions below to install the applications on your computer, then smartphone:
Step 1: In the Chrome browser, open the link https://chrome.google.com/webstore/detail/remote-for-slides/pojijacppbhikhkmegdoechbfiiibppi?hl=en.
Click on Add to Chrome button to install the extension Remote for Slides.
You do need to own a Google account to install and use the extension (you do, right?).
Step 2: After installing the extension successfully, access your Google Slide website by following the link https://docs.google.com/presentation/u/0/.
Open your next presentation slides like the below.
Step 3: Now on the top bar of the Google Slide, you will see a button named Present /w Remote.
Click on that button to start your presentation.
Step 4: At the bottom of your google slide-show, there is a black bar showing a Slide ID which is used to access the slide control panel from your phone.
In this case, it's 684442 (this number is just an example).

Step 5: Now you have finished the preparation on your computer.
Next, you will need to install an Android application OR just open a website if you are on an iPhone.
In both ways, you're gonna access the screen below to enter the slide ID in step 4. Type the slide ID code into the input and hit Connect, a minimal control board will appear to help you control your slides seamlessly. There is also a timer to manage your time effectively.
Well done! You have successfully set up your remote control for the next presentation. Now you can try to test how the application is working.
Check if you can include your speaker notes, turn on a timer or change to a language that you're comfortable with.
Getting Started | Remote for Slides
Control your slides with a presentation laser pointer
A laser pointer not only controls your slides but also highlights the area desired to focus. You have more flexibility with a remote laser pointer than a smartphone, at an affordable price.
Some superior features of a remote pointer:
Focusing on a specific area on the projector screen
Intuitive controls with up, down, scrolling buttons, full-screen mode, sleep button, exiting a program, switching between modes
Supporting a longer range of control than a phone (up to 300 feet)
LED screen embedded displaying wifi connection, battery level, time and a timer that you can program and set to countdown
Wide support & compatibility including Window, Mac, Linux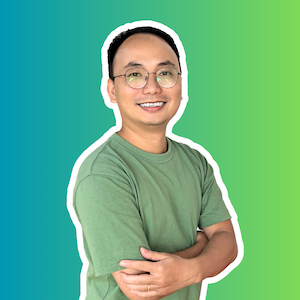 Vance is a dad, former software engineer, and tech lover. Knowing how a computer works becomes handy when he builds Pointer Clicker. His quest is to make tech more accessible for non-techie users. When not working with his team, you can find him caring for his son and gaming.