You find yourself in a situation where you're temporarily unable to reach any Wi-Fi network.
Luckily, you've recently registered for a cellular plan, and you wonder if it's possible to connect your Roku device to a mobile hotspot.
Well, the answer is a resounding yes! Connecting your Roku to a mobile hotspot is not only possible but also quite straightforward.
Whether you're using an iPhone or an Android device, we'll guide you through the step-by-step process, ensuring a seamless streaming experience on your Roku device.
How to Connect My Roku to an iPhone Hotspot?
The method to connect your Roku and iPhone is quite direct, simply follow our instructions below.
Make sure your iPhone has enough cellular data for streaming shows on Roku.
Turn on your iPhone's data connection and mobile hotspot. Make sure you allow others to join your hotspot in the settings!
On your Roku, navigate to the Settings menu and select Network.
Choose Set up connection, and click on Wireless.

You should be able to see your iPhone's hotspot name. Connect to it, input a password if you have one, and you're all done!
It also helps to be mindful of your phone battery. Keep your iPhone charged. Having a hotspot will consume more battery than usual.
How to Connect My Roku to an Android Hotspot?
The steps are quite similar to how you connect your Roku to an iPhone hotspot.
Before turning on your Android hotspot, check your cellular data (just in case your data is limited).
Enable the cellular data and hotspot functions on your Android phone.
For security purposes, we recommend setting a password for your hotspot to prevent unauthorized access.
On your Roku, go to the Settings menu and select Network.
Choose Set up connection and click on Wireless.
Locate your Android hotspot in the list and select it. Then, enter the password you created for your hotspot.
Now you should see your Android hotspot appears on the list, select it and enter the password you've just created before.
What to Do If My Roku Won't Connect to My Hotspot?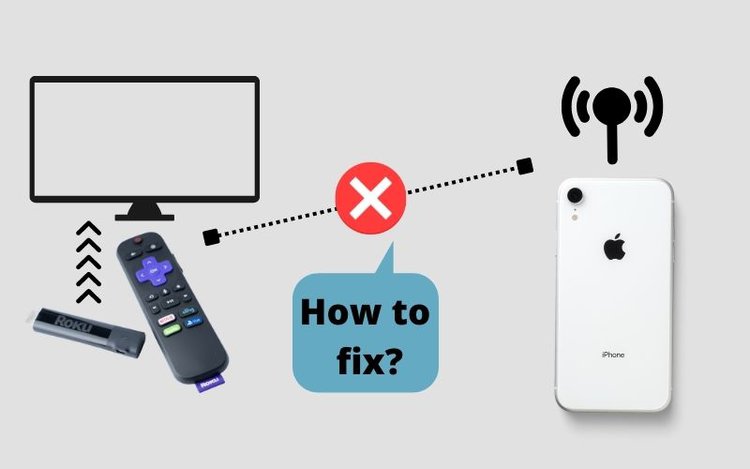 It's frustrating when your Roku can't seem to connect to your hotspot. You've followed all the right steps repeatedly, but something doesn't seem to work.
If you continuously get an error message or can't access Roku services while on your hotspot, we've got solutions.
#1 Reset Network Settings on Your Roku and iPhone
On Your Roku
Go to Settings, and select System.
Navigate to Network connection reset, and choose Reset connection.
Once you've reset your Roku network connection, you'll need to re-enter the password for your hotspot.
On Your iPhone
Open the Settings app on your iPhone and go to General.
Scroll down to the bottom and select Transfer or Reset iPhone.
Choose Reset, and then tap on Reset Network Settings.
Then, type in your lock-screen password and confirm Reset Network Settings.
Note: Resetting your iPhone's network settings will clear up all of its saved Wi-Fi passwords, you'll need to enter them all again after that.
On Your Android
Go to the Settings app on your Android device and navigate to System.
Look for an option called Reset phone (the exact wording may vary depending on your device model).
Select the option related to resetting your mobile (it may include Wi-Fi and Bluetooth options as well).
Note: Resetting your Android's mobile settings will erase all saved Wi-Fi passwords and some specific settings. After performing the reset, you will need to re-enter and configure all of the settings again.
#2 Restart Your iPhone/Android Hotspot
Try disabling your SIM card by activating the flight mode on your smartphone, and then turning it off. This action will help restart your hotspot and cellular connection.
Once done, attempt to connect your Roku to the hotspot again and see if the issue has been resolved.
#3 Change Your Hotspot's Password
Go to the hotspot's settings on your smartphone and look for the option that allows you to change the password.
When changing your password, make sure not to use any special characters. According to the Roku Community Forum, special characters may not work well with the Roku device.
Use lowercase letters and numbers instead.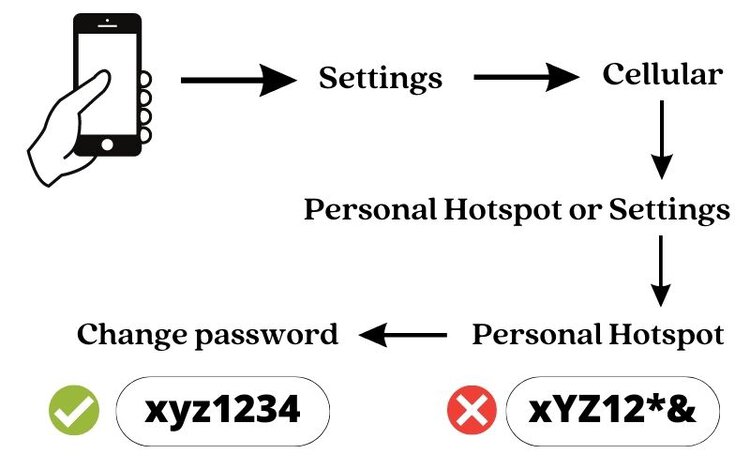 Once you're done, follow the steps to connect your Roku to your hotspot again. Make sure to input the new password this time!
#4 Update Your Roku Device
To update your Roku, follow the simple instructions below.
In the Settings menu, head to System.
Navigate to Software update, if there is any available update, select it. Your Roku will then, shut down for a while and automatically restart when it finishes updating.
Once your Roku is updated, try to connect to your hotspot again.
Is It Okay to Use My Mobile Hotspot for Roku?
Yes, it's absolutely fine to use your hotspot for your Roku! It's convenient, especially if you're bringing your Roku device somewhere or your Wi-Fi is currently unavailable.
However, you have to keep in mind that the following may happen:
Your connection may not be as stable. Check your phone signal and cellular data when your streaming buffers or slows down.
Streaming shows will consume a lot of data. You might need to top up your cellular plan if you plan to keep using your hotspot in the long term.
How to Check Roku's Data Usage From Your Hotspot
Luckily, you can check how much data your Roku is using from your hotspot directly on your smartphone just by following these simple steps:
For iPhone
Go to Settings and select Cellular.
Check the Cellular Data section to compare the data usage before and after connecting your Roku to the hotspot.
For Android
Go to Settings and find the SIM & network settings (this may vary depending on your Android device, but look for any feature related to SIM).
Navigate to a section like Data settings & Data usage to view your Roku's data usage.
Can I Limit the Amount of Data Roku Will Consume From My iPhone Hotspot?
Yes, absolutely! If you want to be able to use your cellular data for more than just Roku, you have to find a way to conserve it.
You can try to limit your hotspot data usage through the following:
#1: Make Sure You Have Turned on Bandwidth Saver on Your Roku
Luckily, Roku already has a Bandwidth Saver installed for you to use.
If you've been streaming for four hours, Roku will detect this as inactivity.
As a result, it will send you a prompt. You have to confirm that you are still watching, and playback will continue. If not, Roku will exit the channel after some time.
After exiting, it won't be using your data anymore.
If you have disabled Roku's Bandwidth Saver before, now's the time to turn it back on again. It'll save you data for your mobile hotspot!
Follow these steps to activate the Bandwidth Saver on your Roku:
On your Roku, open its Settings, and select Network.
Choose Bandwidth saver, and toggle it On.
#2: Lower Your Roku Video Resolution Rate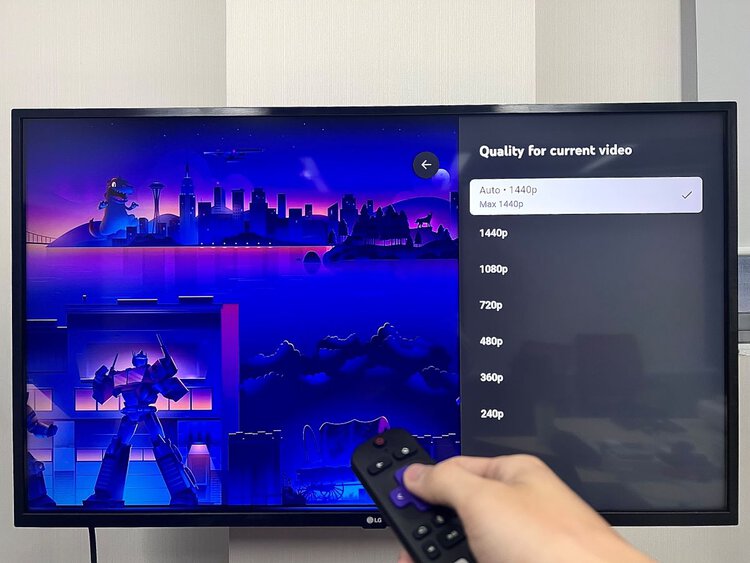 When it comes to streaming your favorite Netflix, Hulu, or YouTube videos and movies on your Roku device, it's important to consider the impact it can have on your cellular data usage, especially if you have a limited data plan.
To ensure a seamless streaming experience without exceeding your data limits, we recommend taking a simple yet effective step: lower the video resolution.
All you need to do is when on the playback screen, hit the Settings icon, and select the lower video quality.
#3: Limit Data for Your Hotspot
To check data usage on your smartphone, you can also set limits on data usage to manage your hotspot if your plan does not include unlimited data. The process varies for iPhone and Android devices:
For iPhone
iPhones do not have a built-in data limit feature. To limit data usage for your hotspot, you will need to download a data saver app from the App Store. Some recommended apps include:
Once downloaded, you can use these apps to set data limits for your hotspot.
For Android
Go to Settings and find a feature labeled something like Hotspot & tethering.
Select One-time data limit or a similar option (the exact label may vary among Android phones, but it should refer to data limit).
Activate the feature and set the desired data limit for your hotspot.
By setting data limits, you can effectively manage and control the amount of data consumed by your hotspot on both iPhone and Android devices.
Wrapping Things Up
In conclusion, if you find yourself unable to access a Wi-Fi network, connecting your Roku device to a mobile hotspot is a viable solution.
Whether you're using an iPhone or an Android device, the process is straightforward and easy to follow.
However, keep in mind that using a mobile hotspot for streaming may result in a less stable connection compared to Wi-Fi.
It's important to monitor your phone signal and cellular data usage, as streaming shows can consume a significant amount of data.
Additionally, you can take steps to conserve data by enabling Roku's Bandwidth Saver, lowering video resolution, and setting data limits for your hotspot.
What are your personal experiences or additional insights regarding this topic?
Feel free to share your thoughts and let us know in the comment section below!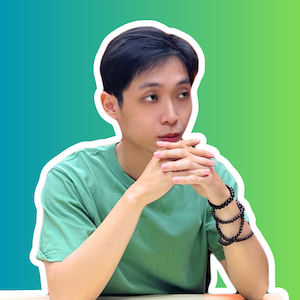 Duy Anh is a tech editor who has always had a keen interest in logical pursuits. During his free time, he typically works out while listening to philosophy podcasts and delving into profound contemplations. His aim is to thoroughly examine matters from multiple perspectives, maintaining a completely neutral mindset. These greatly contribute to his proficiency in technical tasks.
How was content created? This piece is created collaboratively, with tech editors generating ideas, conducting testing, and proofreading meticulously, while AI assists in fine-tuning.