Apple TVs are, arguably, the sleekest streaming devices on the market. They combine the convenience of streaming players with Apple's iconic OS style. However, it's been difficult to enjoy your Apple TV recently due to the constantly flickering or dark screen.
Your network connection is pretty stable so you don't think it's due to slow Wi-Fi.
So, why is your Apple TV flicking or blacking out? How can you fix it?
Keep reading to find out!
1. Check Your HDMI Connection
An unstable HDMI connection can cause your display's video to flicker and cut out. Before checking your HDMI cable for damage, follow the steps below to see if your Apple TV's settings reveal any discrepancies in the HDMI connection.
Step 1: Head to the Settings.
Step 2: Click on Video and Audio.
Step 3: Select Check HDMI Connection.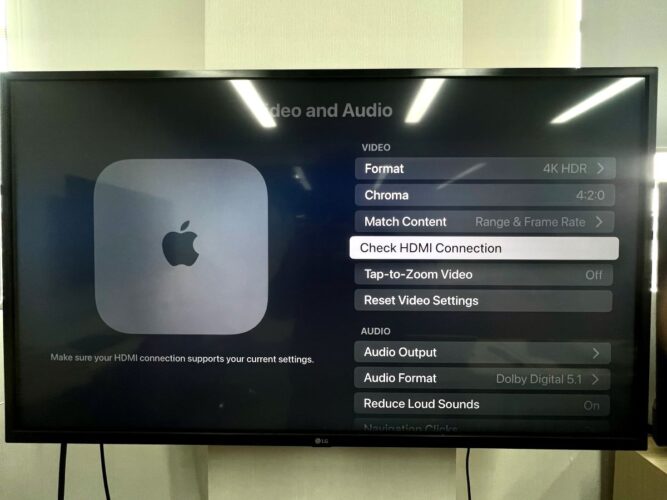 If the test does reveal any problems with your HDMI connection, try the following basic troubleshooting solutions below to fix it:
Check the HDMI cable for any signs of damage.
Check if all the cables are securely connected.
If any other HDMI devices are plugged into the same smart TV your Apple TV is connected to, unplug all of them except for the Apple TV device.
Try flipping the cable around (switching the two connectors).
Try another one of the TV's HDMI ports.
Try that HDMI cable with another HDMI device (like a laptop) to see if the connection is stable.
Replace the HDMI cable if needed.
2. Adjust Video Settings
Certain video settings can negatively affect your Apple TV's video quality. So, going through and disabling all these settings is a good way to mitigate and prevent future image issues.
Let's learn how!
Disable the "Match Content" Feature
Different films, TV shows, and sports games use various dynamic ranges and frame rates, Apple TV developed the "Match Content" feature.
This nifty function automatically adjusts the Apple TV's format according to the content you're currently watching, saving you the trouble of adjusting these video settings manually.
However, since "Match Content" changes the dynamic range and frame rate, which can make the image appear to be flickering. So, it's a good idea to disable it to keep the image as smooth as possible.
Follow the instructions below to turn off the Match Content feature.
Step 1: Go to the Settings.
Step 2: Navigate to Video and Audio.
Step 3: Open Match Content.
Step 4: Toggle off Match Dynamic Range and Match Frame Rate.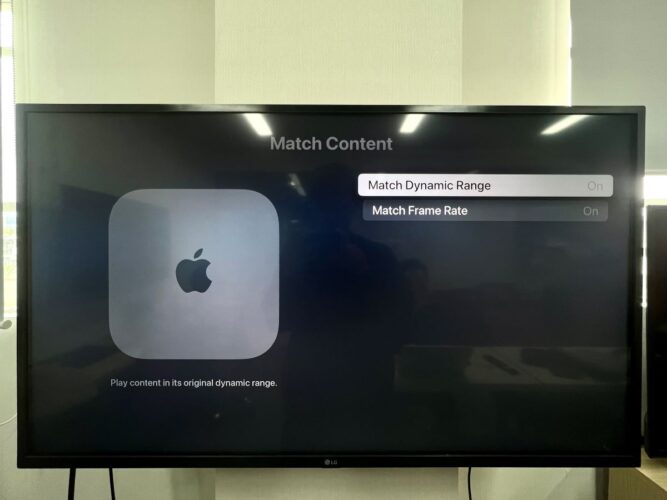 Switch to SDR or Disable HDR
Several Apple TV users have noticed that their Apple TVs start flicking after they've activated HDR. Luckily, they've also found that this problem quickly resolves itself once they switch to SDR.
Proceed to Solution #3 to learn how to use SDR on your Apple TV.
Adjust Chroma to 4:2:0
If you're unsure what Chroma (chrominance or color) is, how it affects the image, and what is the different between Chroma 4:2:2 and 4:2:0, check out the article Apple 4K Chroma Settings Explained.
In essence, while Chroma 4:2:2 promises a more colorful video, it also needs a high-speed HDMI cable to function properly. So, if you're using a slightly lower-quality cable, the image may flicker in response.
Therefore, it's best to change your Apple TV to Chrome 4:2:0 to ensure that the video settings, cable, and Apple TV are all compatible and can function correctly.
Follow the steps below to change your Apple TV to Chroma 4:2:0.
Step 1: Go to the Settings.
Step 2: Head to Video and Audio.
Step 3: Find and open Chroma.
Step 4: Select the 4:2:0 option.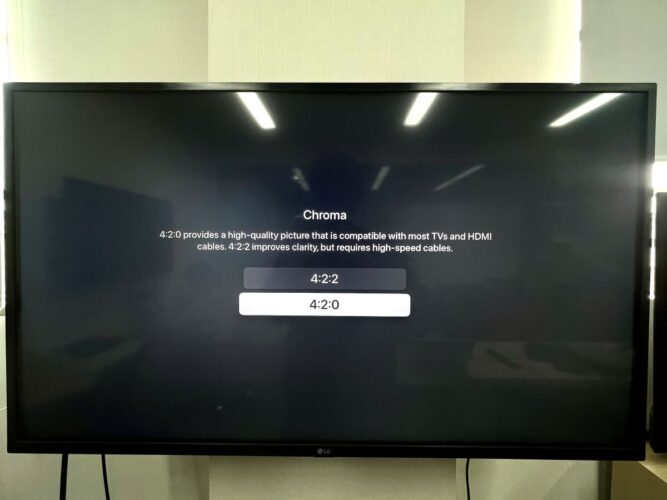 3. Match the Resolution Between Your Smart TV and Apple TV
In order to produce a high-quality and steady picture, your smart TV and Apple TV must be emitting the same resolution.
First, find your TV's spec list online and make a note of which resolutions it supports (e.g. Full HD, 4K, etc.). Then, take a look at your Apple TV's manual to verify which resolutions it can output.
Alternatively, you can use a lower frame rate, which should limit your Apple TV's flickering.
Below, we've listed two effective ways to change your Apple TV's resolutions.
We also suggest selecting the SDR format if any dark areas of your TV are flickering.
First Method
Step 1: Open the Settings.
Step 2: Navigate to Video and Audio.
Step 3: Go to Format.
Step 4: Select your desired resolution (followed by SDR if dark areas are flickering).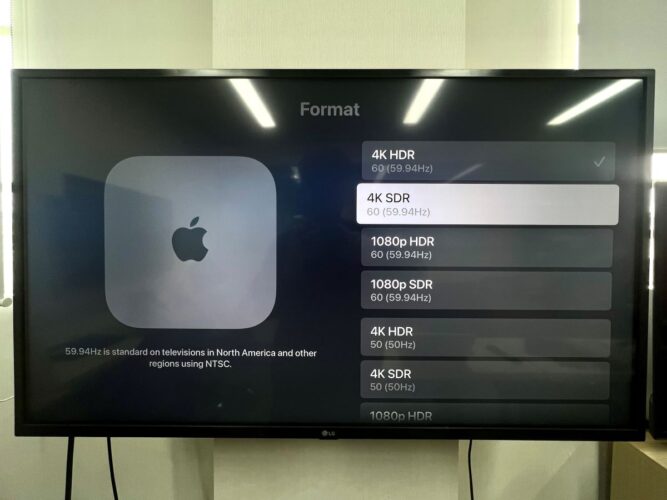 Second Method
Step 1: Simultaneously press the Back and Volume Down buttons for six seconds. If this sequence doesn't work on your Apple TV, try simultaneously pressing the Menu and Up buttons OR Menu and Volume Down buttons for the same amount of time.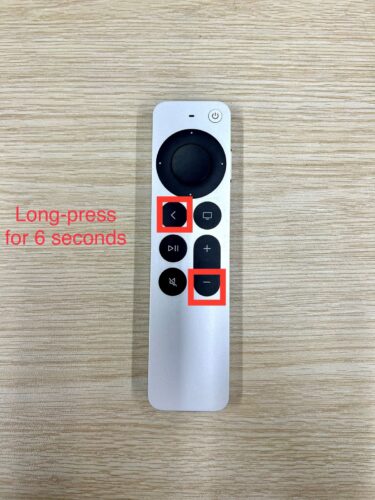 Step 2: Next, your Apple TV will shuffle through all the resolution options, displaying a new resolution every 20 seconds.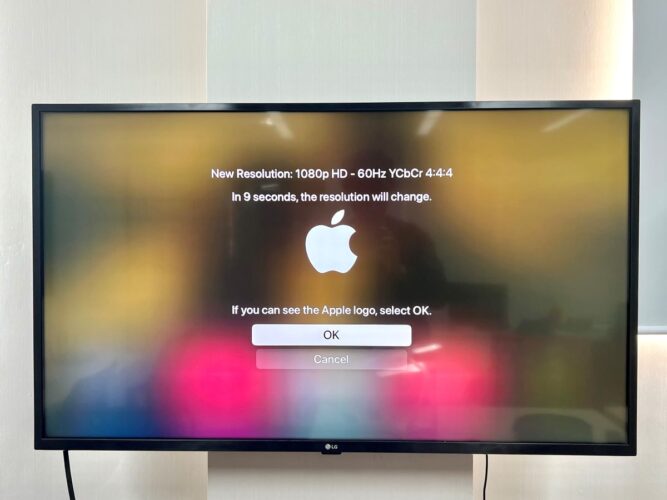 Step 3: When your Apple TV displays a resolution that best matches your TV's, press the OK key on your remote.
4. Soft Reset or Restart Your Apple TV
Soft resetting and restarting your Apple TV may be efficient ways to fix minor image issues.
Follow the steps below to reboot your Apple TV's software.
Soft Reset
Step 1: Unplug your Apple TV from power.
Step 2: Wait for at least 30 seconds.
Step 3: Reconnect it to power and see the results.
Restart
Step 1: Navigate to the Settings.
Step 2: Go to System.
Step 3: Choose Restart.
5. Update the tvOS
Bugs in software versions can cause your Apple TV's video to flicker. Luckily, Apple usually notices these software bugs pretty quickly and releases updates with the necessary patches. So, there's a good chance that updating your tvOS will resolve the problem.
Step 1: Go to the Settings.
Step 2: Open System.
Step 3: Head to Software Update.
Step 4: Select Update Software.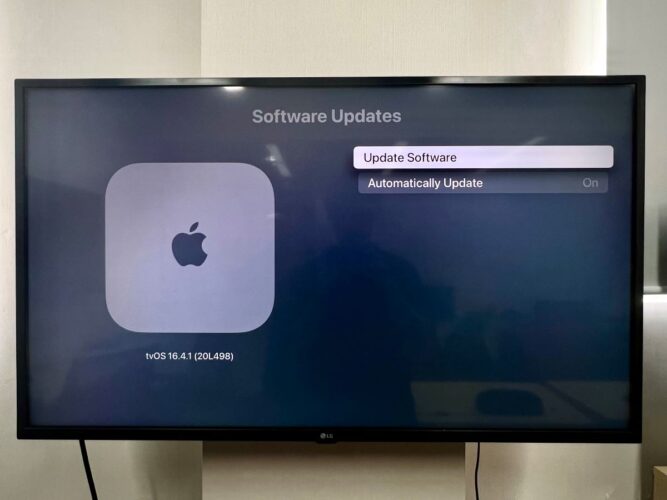 6. The Issue May Come from Your Smart TV
An Apple TV must be connected to a TV to display its content. So, it's very possible that these image problems could be a result of your smart TV, rather than your Apple TV's settings.
This is not an uncommon issue, and we've already written several articles guiding you on how to troubleshoot notable TV brands.
For Samsung TVs, check out Samsung TV Flickering: Causes and Solutions.
For LG TVs, check out Why Is My LG TV Flickering?
For TCL Roku TVs, check out Why Is My TCL Roku TV Screen Black but It Has Sound?
7. Contact Apple Support Center
There may be something seriously wrong with your Apple TV's software or hardware that cannot be resolved at home. So, it's best to go to the professionals for more help.
Head to the Apple Support website and select Apple TV under the Devices menu. Go to Troubleshooting Apple TV, and when prompted, log into your Apple ID.
Now, you'll be able to make an appointment with a nearby Apple Store where an in-person technician can inspect, fix, or in some cases, replace your Apple TV device. Apple may also sell you a new Apple TV device at a discount.
If you don't have an Apple store near you, try calling Apple Support instead. Their dedicated agents may suggest some other troubleshooting solutions and will recommend the best course of action depending on your location.
Wrapping Things Up
An Apple TV setup includes not only the actual Apple TV device but also the HDMI cable and TV. So, if your Apple TV is flickering, the first course of action is to find the culprit.
Check your HDMI connection and replace the HDMI cable if needed. You may also need to adjust a few of your Apple TV video settings along with its resolution. It's also a good idea to soft reset/restart your TV before updating the tvOS should there be any bugs in the current software.
If the problem still persists after troubleshooting the HDMI cable and Apple TV device, there may be something wrong with your TV. Remember to check out our helpful troubleshooting articles to fix your TV's image issues.
Last but not least, reach out to customer support for additional help. You may need to take your Apple TV device to a nearby Apple Store, and if you're lucky, Apple may even send you a free replacement.
What's your experience fixing an Apple TV that's flickering or blacking out?
Let us know in the comments below!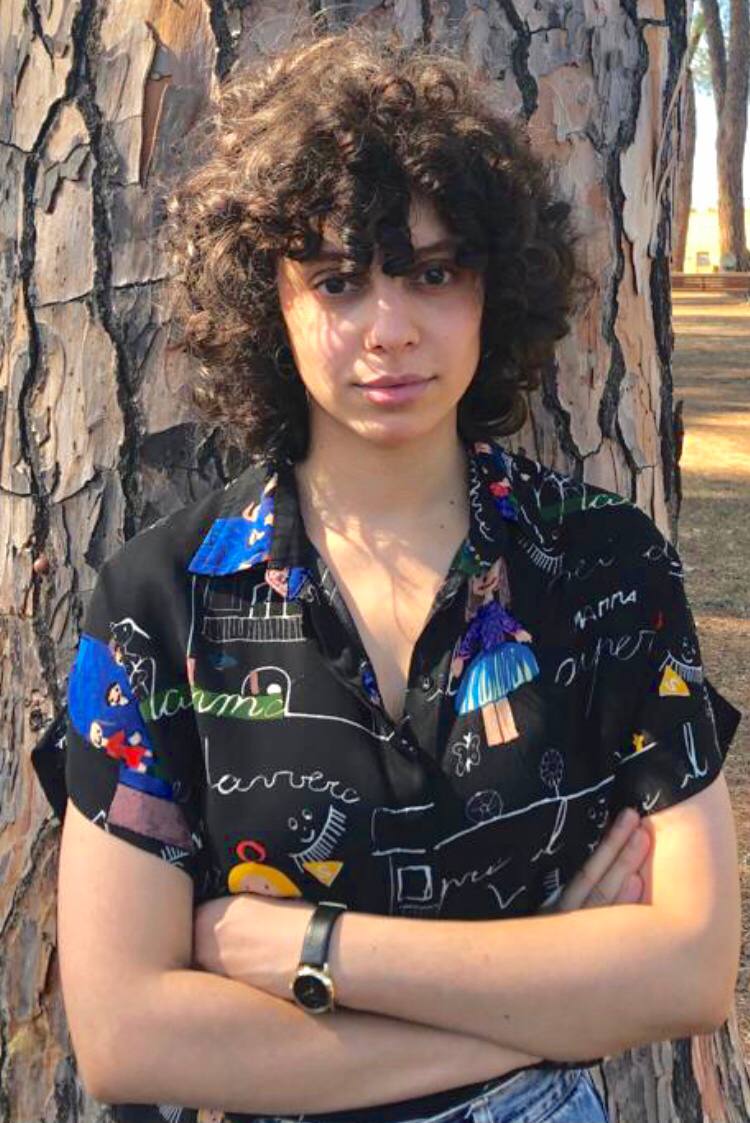 Yesenia Achlim is a technical copywriter and editor with a focus on AV equipment. She aims to break down complicated topics and make technology accessible, no matter your technical expertise. When she's not teaching you how to replace a projector lamp, you can find her reading and baking.