I hate clutter. And if you're anything like me, you're always trying to minimize the number of things lying around your living room. That includes obsolete tabletop decorations, dirty glasses, and yes, remotes.
Not to mention, juggling remotes can become frustrating, especially if you need to quickly mute or turn down the volume to avoid waking up your snoozing partner.
Luckily, there's an easy way to change your TV's volume using your Roku remote.
You don't need any additional supplies and it only takes a few minutes.
This process will work with both the Roku simple remote, which works with infrared, and the Roku voice remote, which functions wirelessly.
Let's learn how!
Note: This process will only allow you to directly control your TV's volume. You will be unable to directly control the connected audio devices' volumes, such as a speaker, AV receiver, soundbar, etc.
However, there is a way to indirectly control your HDMI-compatible soundbar or AV receiver's volume, if your TV and all connected devices are HDMI-CEC compliant.
To see if your TV and audio devices are HDMI-CEC compliant, consult their manuals. A TV's HDMI-CEC may be labeled differently depending on its brand.
Step 1: Open the Settings
First, go to your Roku's Settings. This can be found on the left of your screen at the bottom of the drop-down list.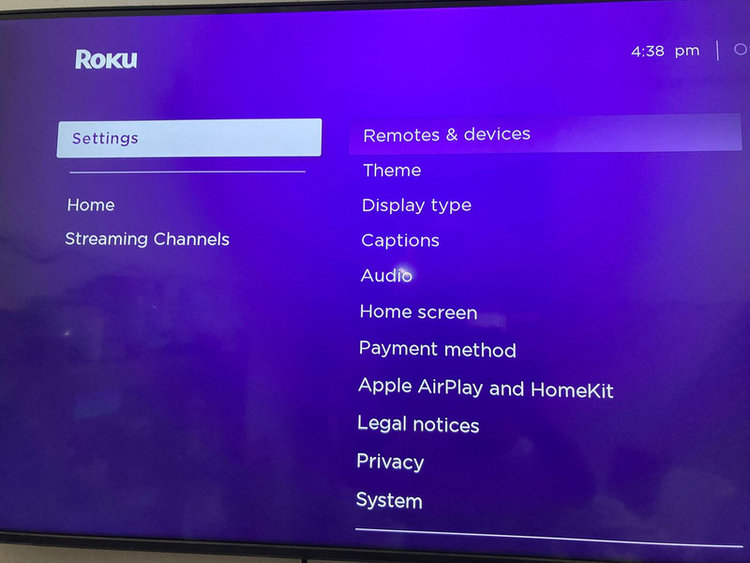 Step 2: Go to Remotes & Devices
This setting is your hub for controlling all remotes (Roku, universal, app on your smartphone) from your Roku.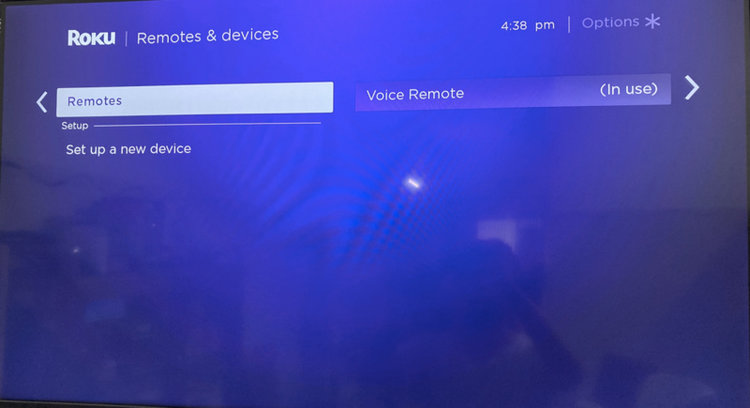 Step 3: Click on Remotes
Next, head to Remotes found on the right-hand side of the screen. You will need to use your remote's right arrow button (→) to highlight it and select it with the OK button.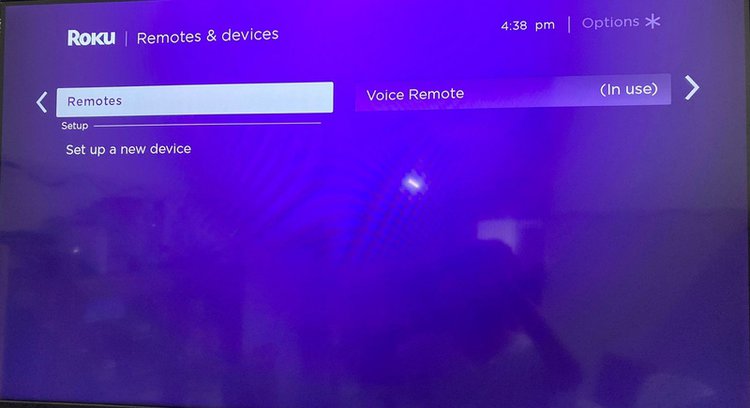 Step 4: Select Your Remote
You will see all of the remotes paired to your Roku. Select the one you want to control your TV volume with by pressing the right arrow button (→) and then the OK button.
If you want to control the TV volume with the remote you're currently using, select the remote name with (In use) next to it.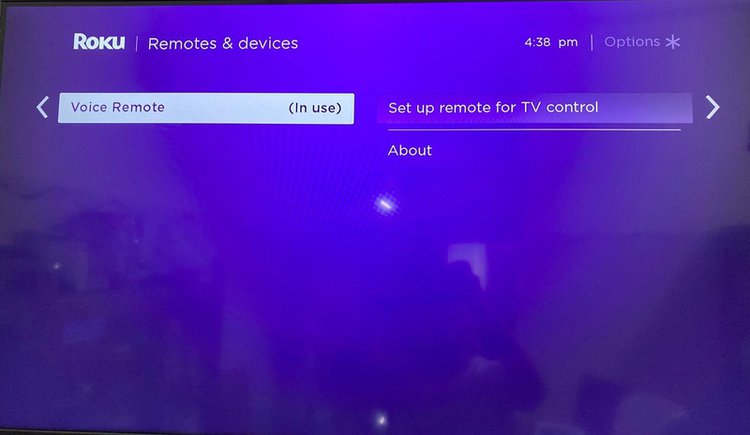 Step 5: Click on Set Up Remote for TV Control
Using the right arrow button (→) to highlight Set up remote for TV control, then select it.
You will see a pop-up window on-screen. Double-check that Roku has correctly identified your TV brand. If it has, click Continue. If it hasn't, click Change TV brand and follow the on-screen instructions.
Some Rokus will ask you to type your TV brand's name and select it from a list. If you cannot find your TV brand in the list, please contact Roku customer support.
Step 6: Answer On-Screen Questions
Now, your Roku will ask you some questions about your TV's audio.
First, answer the question: Is music playing audio? Your Roku should begin to play some music to test your TV's speakers.
Click Yes, music is playing and you hear playing audio from your TV. Press No if there's no audio playing.
If music was playing, your Roku will try to pause it. This process is testing your Roku's control of the TV commands. If the music suddenly paused, click Yes, the music stopped playing. If the music continues playing, then press No.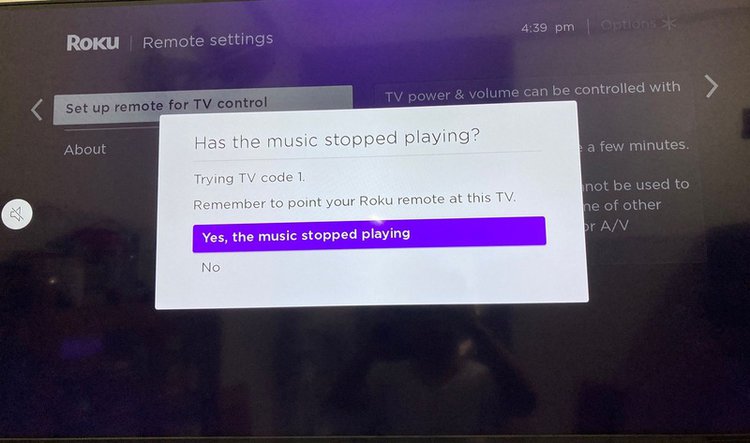 If all has gone well, you should see a confirmation message on-screen. Click OK to exit this message and begin using your TV.
Step 7: Test Your Roku Remote's Functions
Now, your remote should be able to control your TV volume. Try to adjust your TV volume using the remote's volume +/- buttons.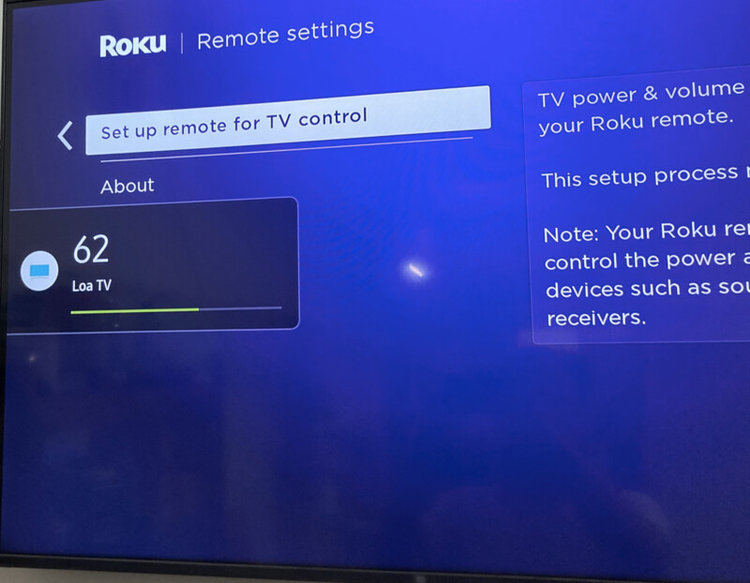 Then, try to mute and unmute your TV using the Roku remote's mute button, found on the side of the remote.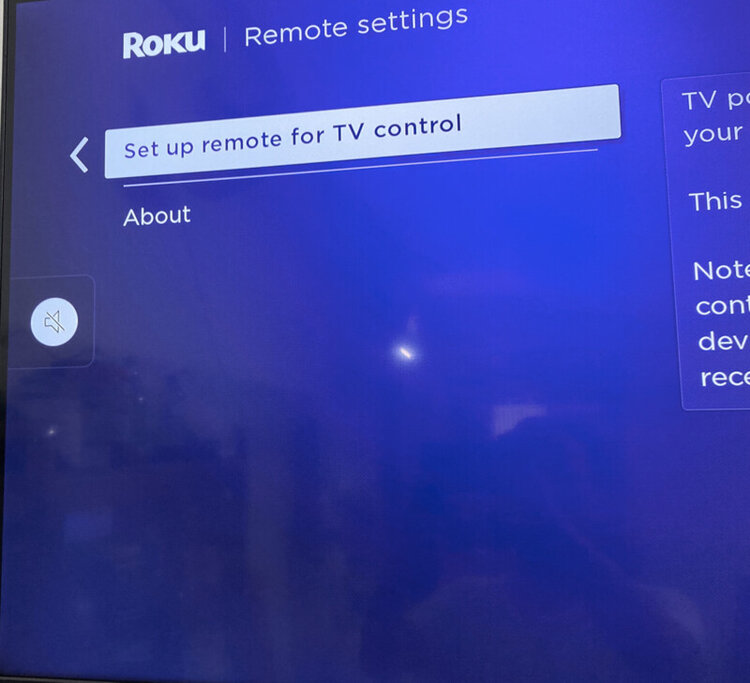 Congratulations, you did it! Now you're ready to browse apps and change your TV volume all from one remote!
If you need some extra guidance, watch the video below demonstrating how to make your Roku remote change your TV volume.
How To Sync a Roku Remote to a TV To Turn It On/Off? (also Change Volumes)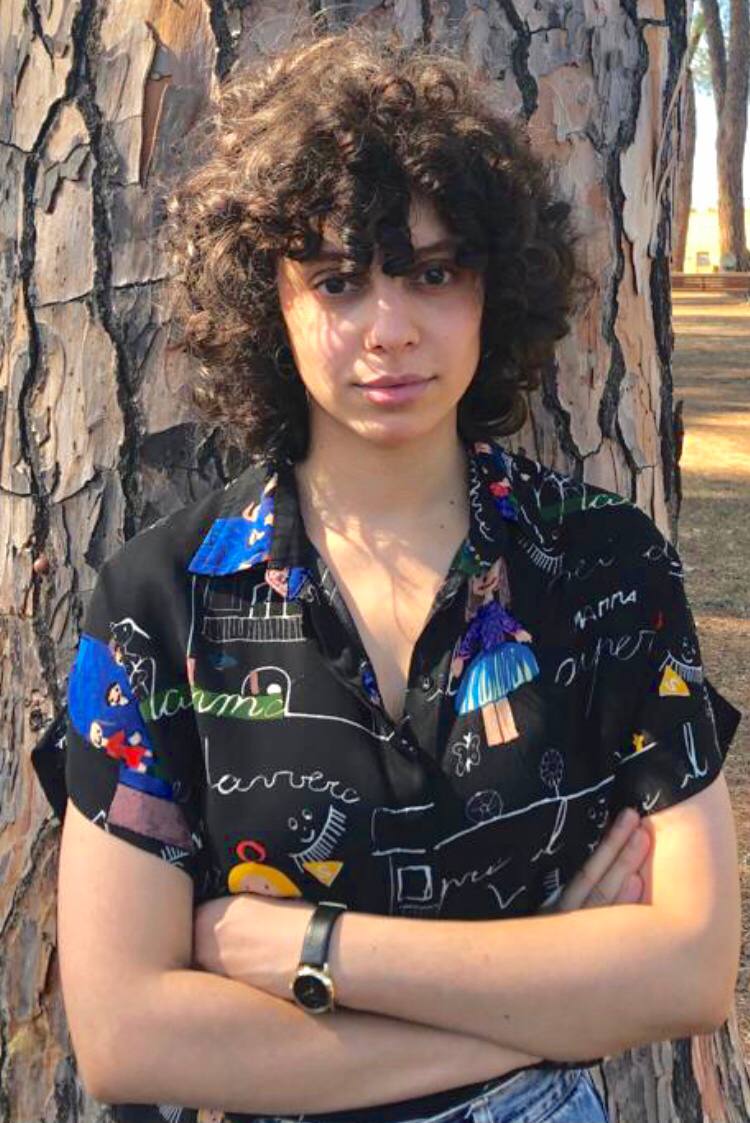 Yesenia Achlim is a technical copywriter and editor with a focus on AV equipment. She aims to break down complicated topics and make technology accessible, no matter your technical expertise. When she's not teaching you how to replace a projector lamp, you can find her reading and baking.