What To Know
Samsung TVs made in 2016 or later support the Hulu app; check your model's release date on the Samsung Developers website.
To watch Hulu on supported Samsung TVs: Access the app store > Search for Hulu > Install > Launch app > Log in and activate on your TV or a computer.
To watch Hulu on older Samsung TVs, you can stream Hulu using streaming devices or by mirroring smartphones, tablets, or laptops.
Navigating the world of streaming on Samsung TVs? Wondering about Hulu's compatibility?
This guide is here to simplify the journey for you.
Discover if your Samsung model supports Hulu, learn the straightforward installation process, and explore alternative methods for older TVs.
Our solutions are informed by tech experts and users alike, ensuring you'll soon be binge-watching your favorite shows.
Note: As of 2023 Hulu is only available in the US. You can bypass the geo-blocking restrictions by installing a VPN on your router. We recommend ExpressVPN, known for its superior quality and reliability.
How to Know If Your Samsung TV Supports Hulu?
On October 3rd, 2022, Hulu officially stopped supporting their app on old Samsung models manufactured in 2015 or before. This means that only Samsung TVs released in 2016 or after will natively support the Hulu app.
If you're not sure when your Samsung TV model was released, find its model number on the back of the unit or in its settings. Then, search for it on the Samsung Developers website.
If you find that your TV is too old to support Hulu, proceed to On Samsung TVs That Don't Support Hulu in the next section.
Otherwise, you're ready to install and use the Hulu app on your TV!
How to Watch Hulu on Your Samsung TV?
Let's learn how to watch Hulu on both new and old Samsung TVs!
On Samsung TVs that Support Hulu
Follow the instructions below to install Hulu on your Samsung TV.
Step 1: Hit your remote's Home/Smart button.
Step 2: Head to the Apps option.
Step 3: Click on the Search bar (or magnifying glass icon).
Step 4: Type Hulu into the search bar.
Step 5: Click on Install/Download.
Follow the steps below to activate Hulu on your Samsung TV:
Step 1: Once you've installed the Hulu app on your TV, launch it.
Step 2: If you already have an account, click Log in. Otherwise, click Sign up now to create one.
Step 3: Next, you will see two options on-screen. The first option is Activate on a computer. If you choose this option, proceed to Step 4. The second option is Log in on this device. If you select this option go to Step 6.
Step 4: Open a web browser on your computer and head to hulu.com/activate. Then, enter your Hulu login credentials.
Step 5: Enter the code you saw on-screen in Step 3 before clicking Activate.
Watch the video below demonstrating how to activate your Hulu account on a computer.
How to Activate Hulu Device on Computer
Step 6: Type your login information into your Samsung TV to access your account.
On Samsung TVs That Don't Support Hulu
Since older Samsung TVs no longer support Hulu, you'll need to stream your favorite Hulu content on an external device.
There are two ways to do this: using a streaming device or using your smartphone, tablet, or laptop.
Let's learn how to do both!
1. Streaming Devices
Many streaming devices (e.g. Roku, Fire TV, Chromecast) support Hulu. These devices connect to your TV's HDMI ports, allowing your Hulu-incompatible Samsung TV to display the Hulu app.
These streaming devices connect to the internet and support thousands of apps, including Hulu. So, they're a great investment if you're looking to revive your old TV.
You can see all Hulu-compatible streaming devices on the Hulu Help Center website.
Once again, Hulu will not work on any streaming devices outside of the U.S. unless you have a VPN installed on your router.
Because Hulu is so popular, many streaming device brands have teamed up with them, and have the app pre-installed on the devices. Many streaming device remotes also include a Hulu shortcut button.
However, if your streaming stick doesn't have Hulu pre-installed, you can download it from the app store.
The instructions outlined in the video below are for Roku devices but are very similar to other streaming devices' steps.
How to set up Hulu on a Roku Device
2. Smartphones, Tablets, or Laptops
Before you can watch Hulu with your smartphone or tablet, you must ensure your device meets its criteria.
Android phones must have Android 5.0 or above and a screen size of at least 800×480 pixels. If you're not sure how many pixels your phone has, Google its model number followed by "pixel size."
iOS devices must be fitted with iOS 13.4 and above. You can find this information by going to Settings, General, and then Software Update.
Once you've confirmed that your mobile device is Hulu-compatible and installed the app from the app store, you're ready to start casting it to your TV.
To do this, follow the steps below for Android and iOS devices.
Android
Step 1: Download the SmartThings app on your Android phone.
Step 2: Ensure your TV is turned on and connected to the internet. Then, select its name within the SmartThings app.
Step 3: Go to Mirror screen (Smart View).
Step 4: Your TV should now be displaying your phone's screen. So, open the Hulu app and play a video you want to watch on your TV.
iOS
Step 1: Turn your TV on and double-check that it's connected to the same Wi-Fi as your phone.
Step 2: Then, open your TV's Settings or All Settings. Head to General, and then to Apple AirPlay Settings. Toggle this feature on to make your Samsung TV discoverable by your iOS device.
Step 3: On your iOS device, swipe up and select the Screen Mirroring icon (see image below).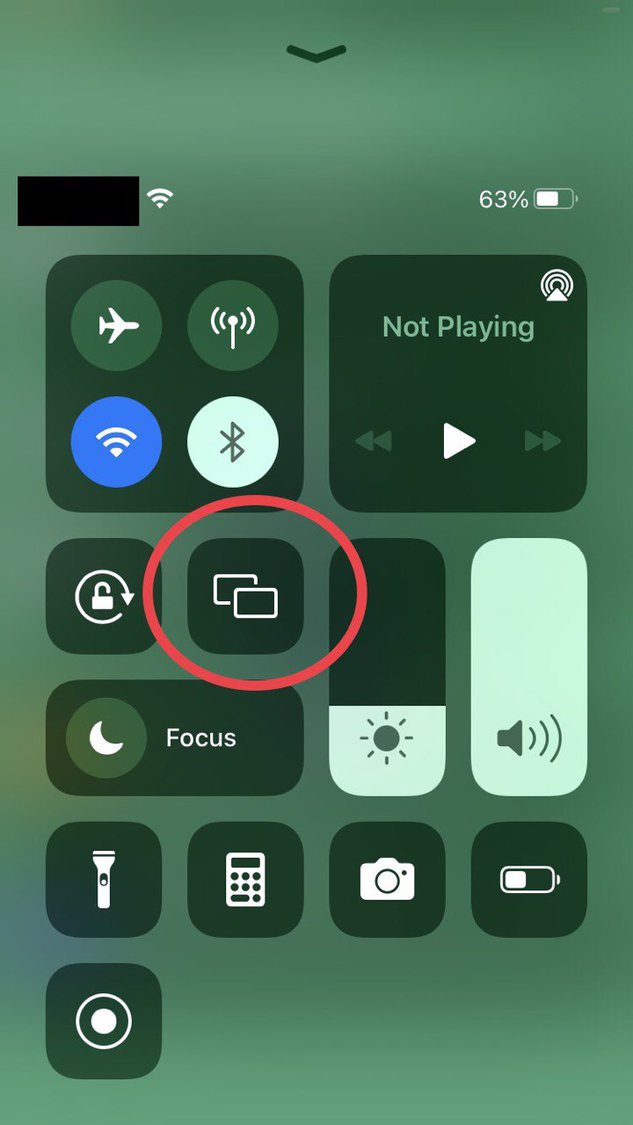 Step 4: Find and tap your Samsung smart TV name.
Step 5: If prompted, type the code shown on your Samsung TV into your phone. Then, select OK.
Step 6: Now, your iOS device's screen will be mirrored on your TV. So, open the Hulu app and start streaming!
Some web browsers that meet Hulu's requirements can also cast content to your Samsung TV.
Windows
Step 1: On your Windows computer, go to the Settings menu.
Step 2: Open Bluetooth & Devices.
Step 3: Head to Devices.
Step 4: Click on Add Device.
Step 5: Select Wireless display or dock.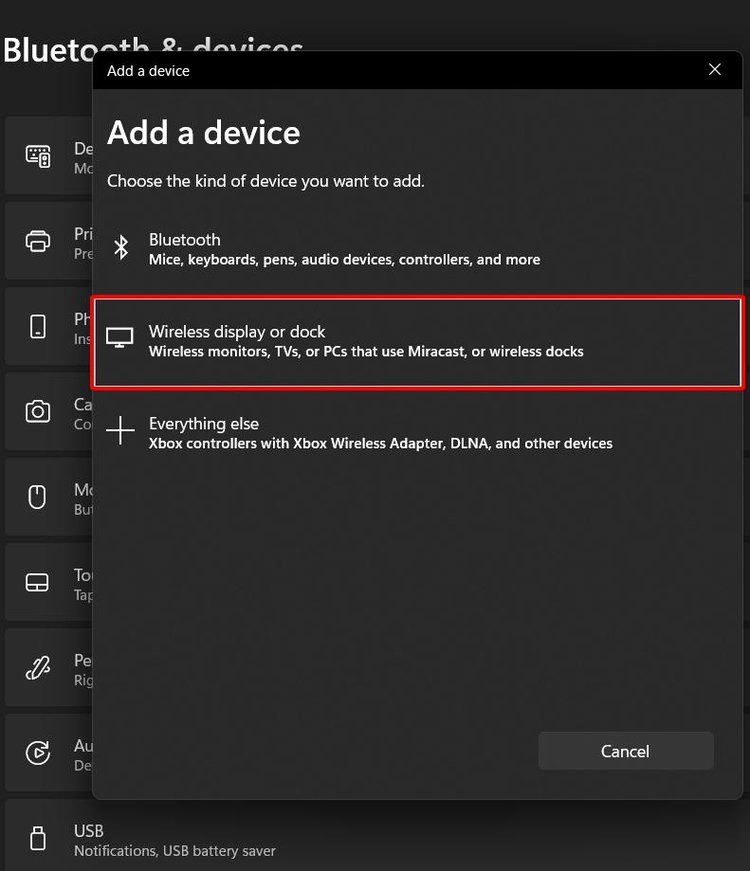 Step 6: Wait a few moments for your Samsung TV to appear in the list of devices before selecting it accordingly. Now, you should see your Windows laptop screen on your Samsung TV.
Step 7: In a web browser, head to the Hulu website, log into your account, and start watching content on your TV!
MacBook
You can also mirror compatible MacBook screens to your compatible TV using AirPlay by following the steps below.
Step 1: Ensure that AirPlay is enabled on your Samsung TV. (See Step 2 in the previous section for instructions).
Step 2: Open the Control Center in the top-left corner of your screen.
Step 3: Click on your Samsung TV name.
Step 4: If your TV displays a PIN, type it into your MacBook.
Step 5: Presto! Now your MacBook's screen is on your TV! Open Hulu in a browser and get back to watching your favorite Hulu originals!
Wrapping Things Up
Samsung TVs manufactured in 2016 and after natively support the Hulu app, which can be installed from the app store. You must also activate your account either on a computer or the TV.
If your Samsung doesn't support Hulu, you can connect it to a Hulu-compatible streaming device or mirror your mobile device or laptop screen. Android smartphones can be screen mirrored using the SmartThings app. iOS devices and MacBooks can be screen mirrored using AirPlay, while Windows laptops can be screen mirrored via Miracast.
So, you'll still be able to stream Hulu on your Samsung TV even if it doesn't support that app.
What's your experience watching Hulu on a Samsung TV?
Let us know in the comments below!
Yesenia Achlim is a technical copywriter and editor with a focus on AV equipment. She aims to break down complicated topics and make technology accessible, no matter your technical expertise. When she's not teaching you how to replace a projector lamp, you can find her reading and baking.