What To Know
Certain settings on Android phones, like the 'Disable Wi-Fi' feature or 'Allowed networks for apps', can prevent apps from accessing Wi-Fi.
Apps can malfunction on Wi-Fi due to software glitches or outdated OS. Solutions include restarting the app, reinstalling it, or updating the OS.
VPNs or third-party apps can limit some apps' Wi-Fi access. Disabling the VPN can help, but be cautious on public networks.
You've been scrolling Instagram the entire morning on your commute to work. The app was working perfectly fine, but as soon as you connected to the office Wi-Fi, the network cut out. Your phone is connected to the Wi-Fi network, so why can't you access the app?
This problem has been happening on a few other apps as well, and you can not figure out why.
Why do some apps work on mobile data but not Wi-Fi?
Keep reading to find out!
The Applications/OS Might Be Bugged
Sometimes social media apps (e.g. Facebook, Instagram, WhatsApp, TikTok, etc.) may have bugs that limit certain functions. The app may buffer, crash, and at times, be unable to use Wi-Fi.
To fix this, you may need to restart your device and app, or completely reinstall the app.
iOS
Properly close the app to shut it down. This process differs depending on which iPhone you have, so head to the Apple website for the complete instructions.
If your iPhone is glitching, you may need to restart it. This process can be done using your iPhone's buttons. Since these keys vary from model to model, head to Apple's article Restart your iPhone for a comprehensive guide on restarting any iPhone.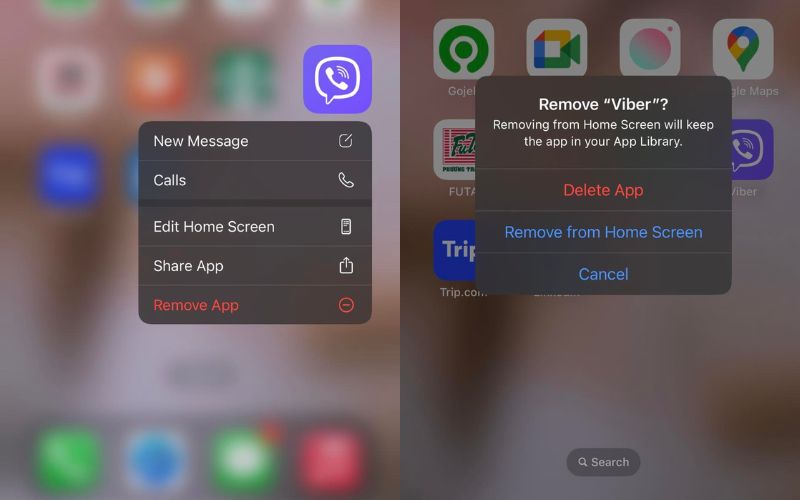 If the app is still glitching after you've restarted it and your iPhone, you may need to reinstall it.
Step 1: Long-tap the app's icon.
Step 2: Then, select Remove App.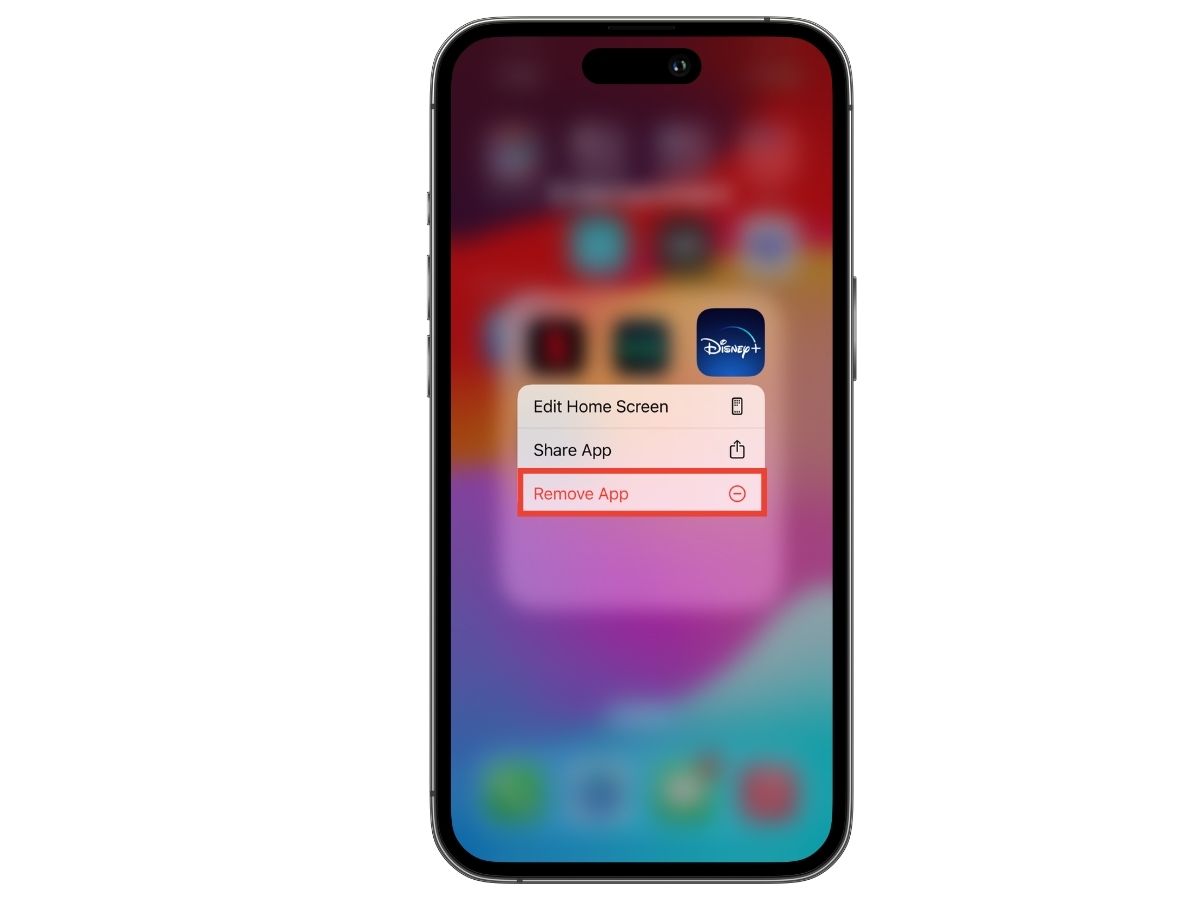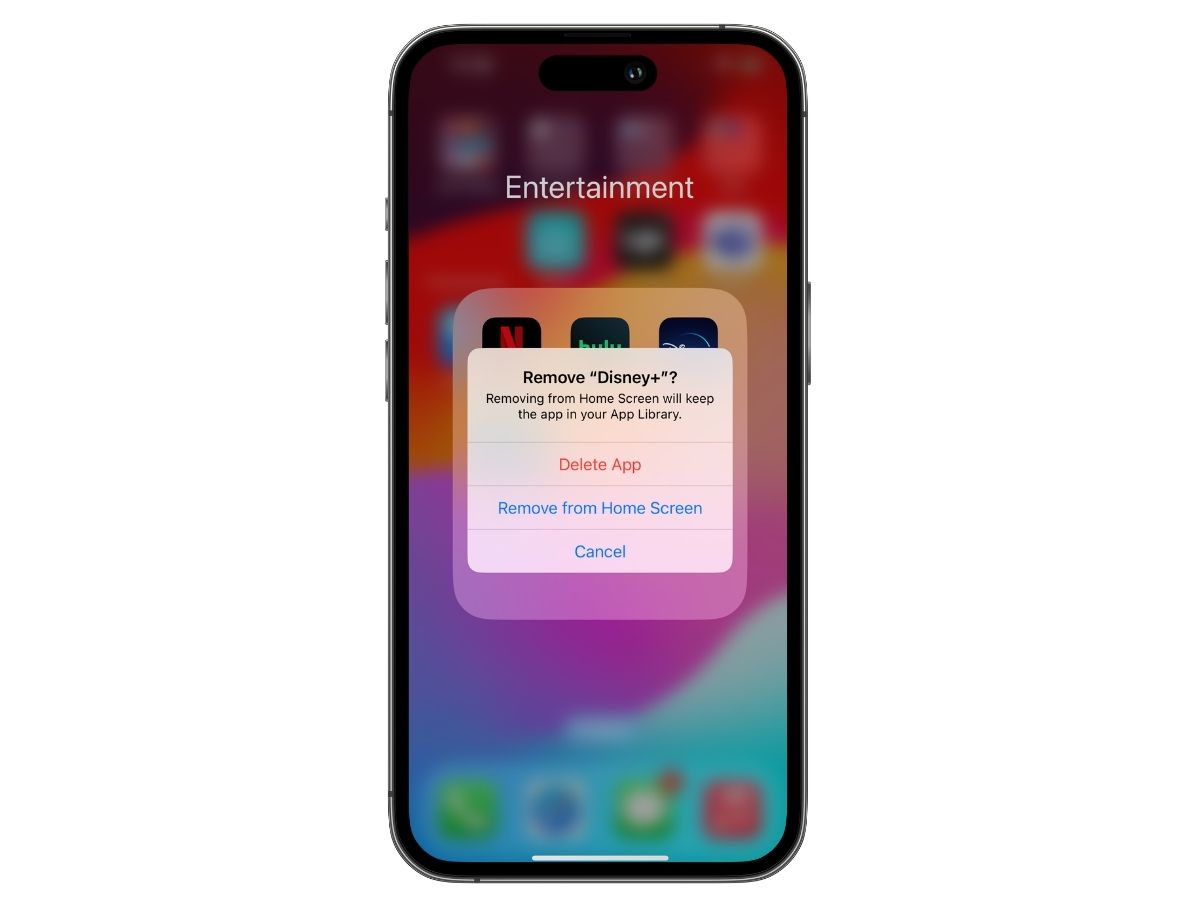 Step 3: Confirm your choice by selecting Delete App.
Android
Close the malfunctioning app by following the steps below.
Step 1: Swipe up on the bottom of your screen and hold your finger in one place for a second or two.
Step 2: Close the app by swiping it up.
Update Your Phone's OS
Your phone's OS may be bugged or out of date, so it's best to update it if possible.
iOS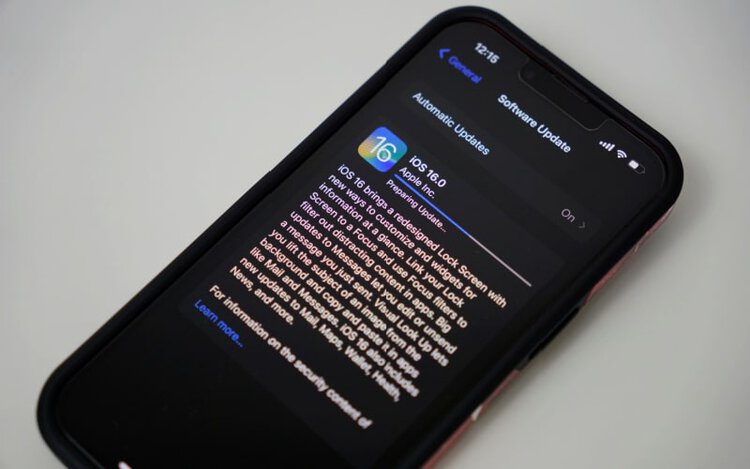 Step 1: Launch the Settings.
Step 2: Head to General.
Step 3: Select Software Update.
Step 4: If there are any available updates, Download and Install them. You can also toggle Automatic Updates on.
Android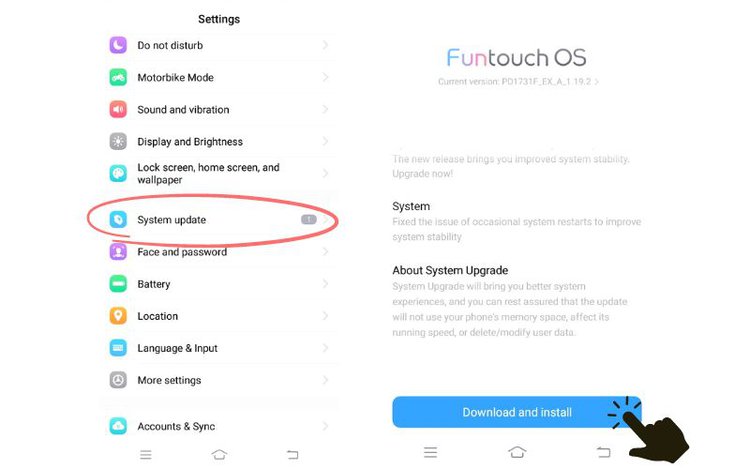 Step 1: Head to the Settings.
Step 2: Open System.
Step 3: Go to System Update.
Step 4: Install any pending updates.
Some Apps On Some Samsung Phones Are Not Working Over Wi-Fi
Many Samsung users, including myself, occasionally face this issue. Despite trying the quick fixes mentioned earlier, my social media apps still wouldn't work over a Wi-Fi connection.
Fortunately, I found a solution provided by Samsung: the Clear Cache and Repair App features from Recovery Mode.
Here is how:
Step 1: Turn off your Samsung phone completely.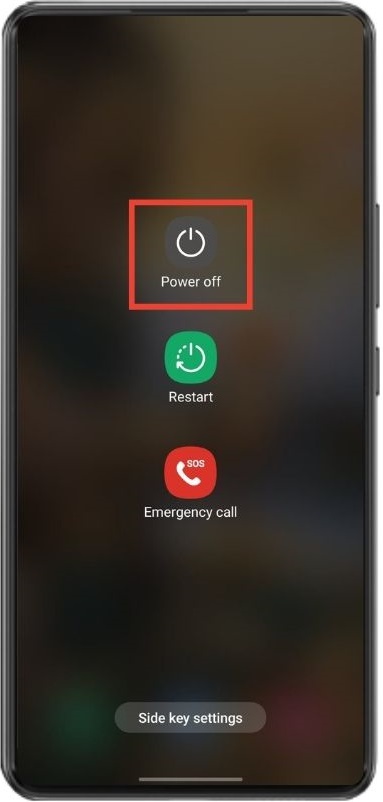 Step 2: Plug in the power cable to charge your phone.
Step 3: With your phone powered off, simultaneously press and hold the Power and Volume Up buttons. Release them once the Android logo appears. Your phone will boot into Recovery Mode.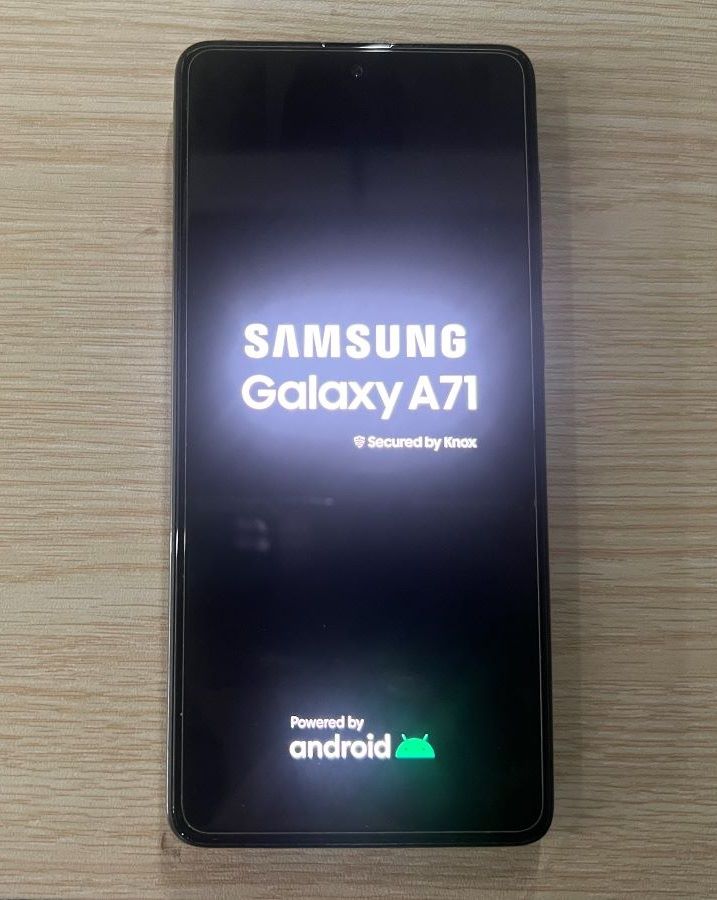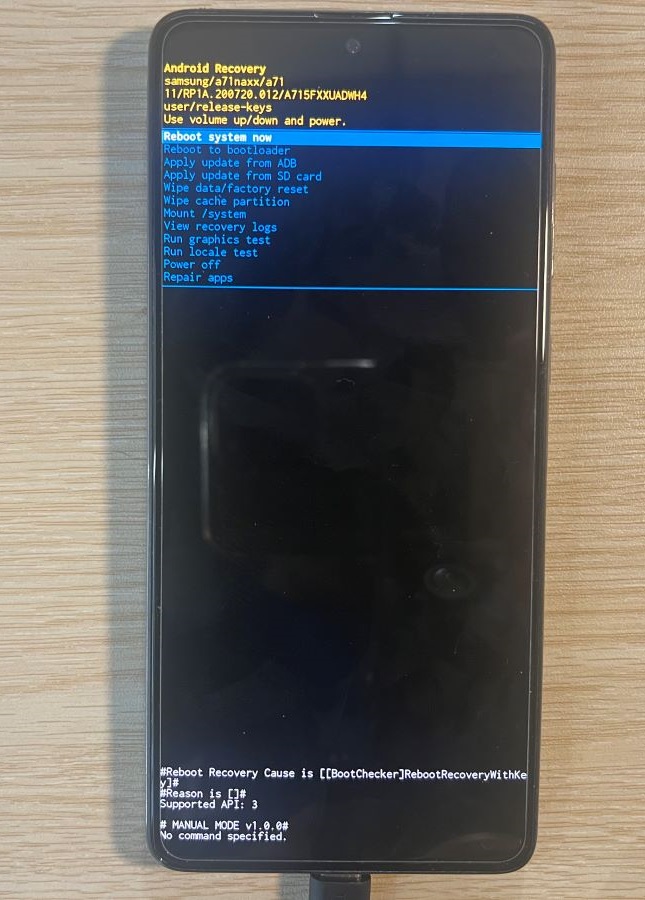 Step 4: Use the Volume Up and Down buttons to navigate to the Clear Cache or Wipe Cache Partition option.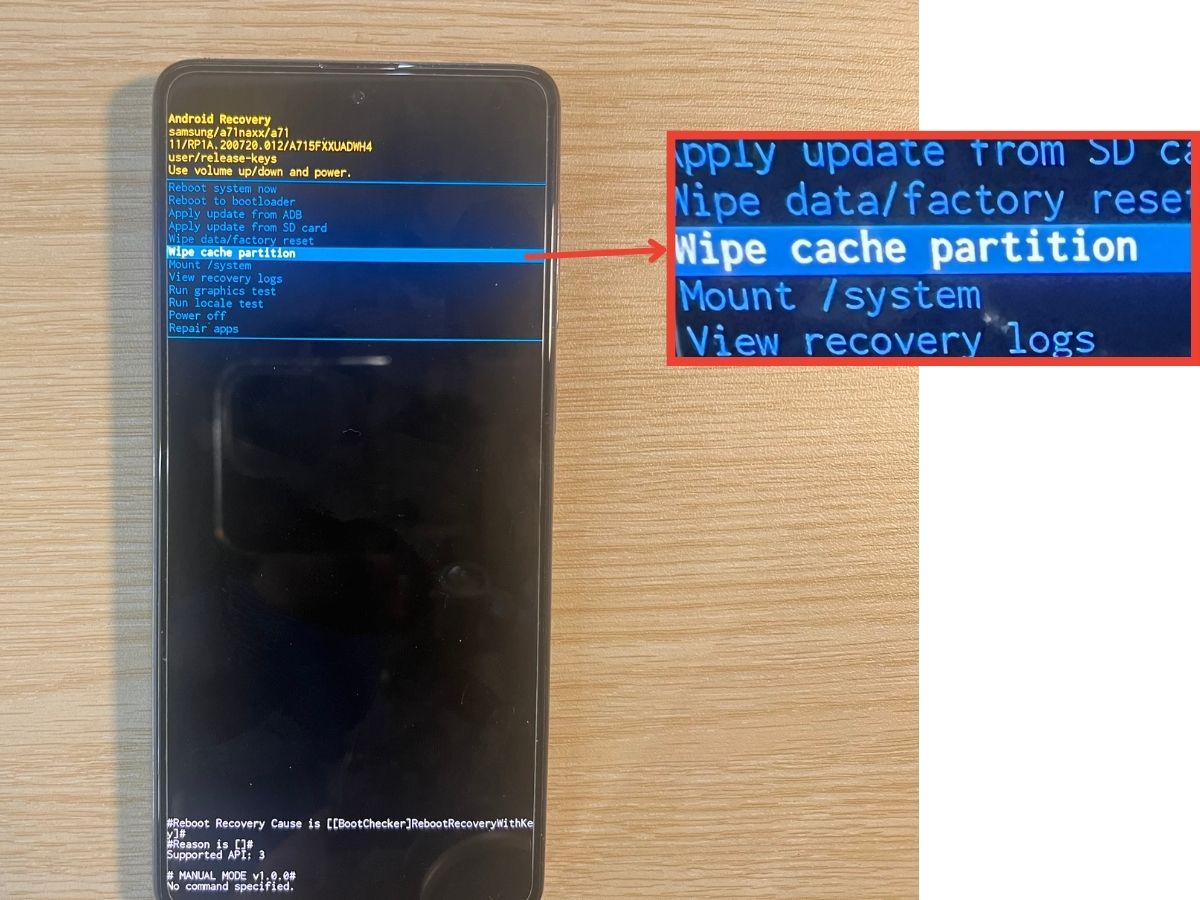 Press the Power button to confirm your choice, then select Yes to begin the process (this usually takes under 2 seconds).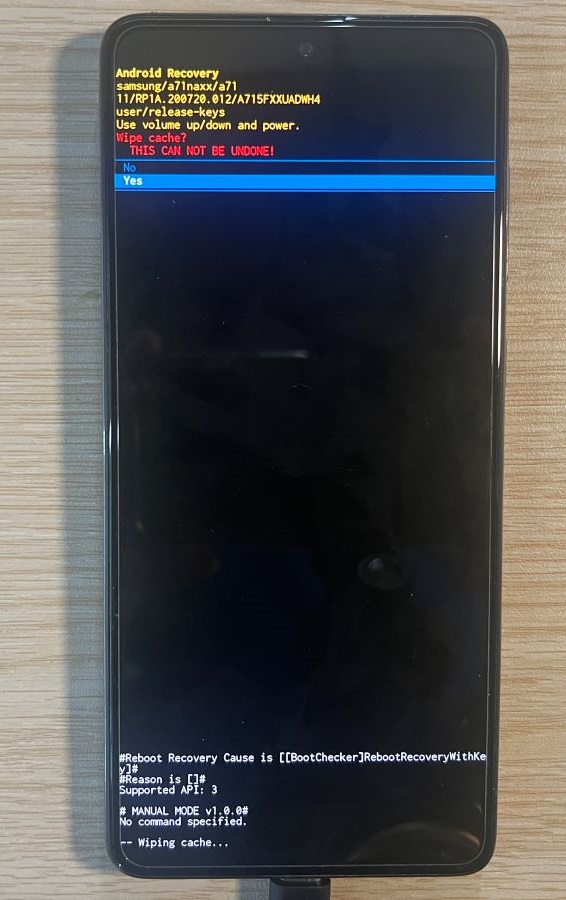 After clearing the cache, you'll return to the Recovery menu. Next, select "Repair App". Your phone will run the function and then automatically restart.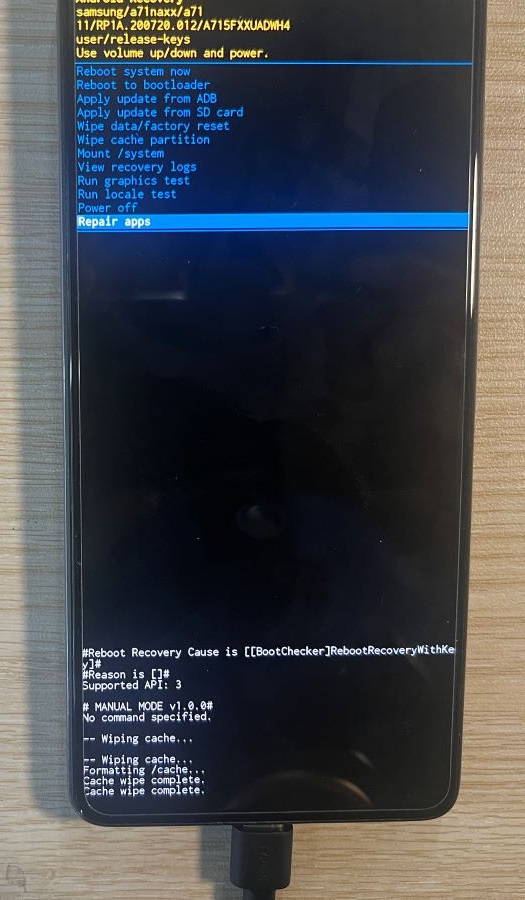 Step 5: After the restart, reconnect to Wi-Fi and try running the malfunctioning app again.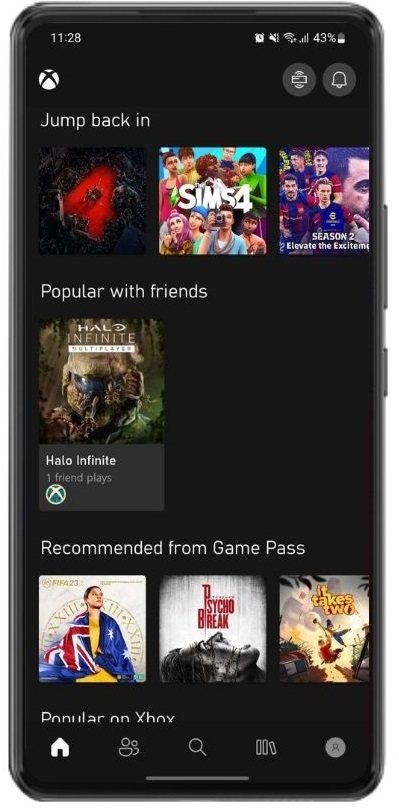 The Applications' Wi-Fi Function Is Disabled
Your phone's Wi-Fi function may be disabled for certain apps, preventing them from using it. So, it's a good idea to check that Wi-Fi is enabled for the glitching app.
iOS
This function is not available on iPhones.
Android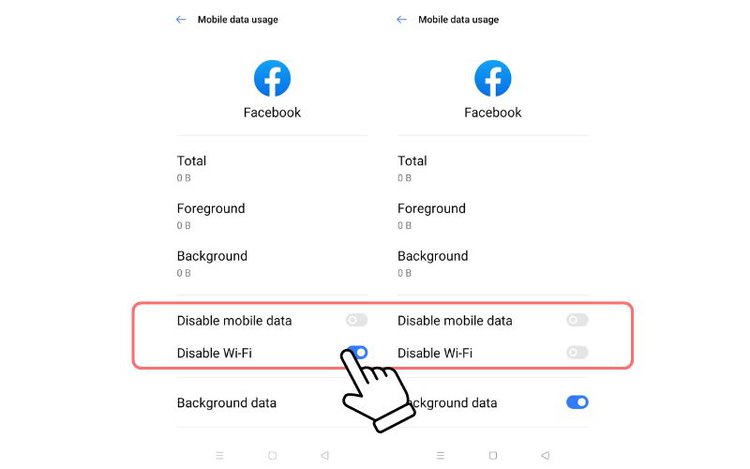 Step 1: Navigate to the Settings.
Step 2: Go to App.
Step 3: Select the malfunctioning app from the list.
Step 4: Ensure that Disable Wi-Fi is toggled off.
If your phone doesn't have the 'Wi-Fi disabled' feature, it might have 'Allowed networks for apps' settings, similar to my Samsung A71.
Within the 'Allowed networks for apps', there are three options:
Mobile data or Wi-Fi
Wi-Fi only
Mobile data only
Ensure that the app you are using is not set to Mobile data only. If set to this option, the app will only function when your phone is using mobile data.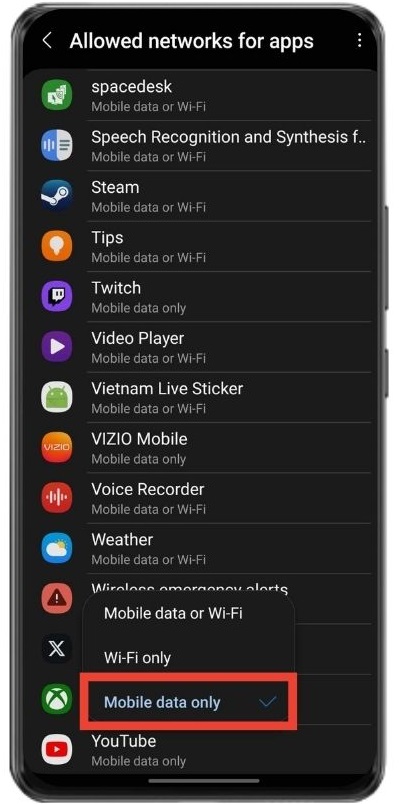 To change this setting:
Step 1: Go to Settings → Connections → Data Usage → Allowed networks for apps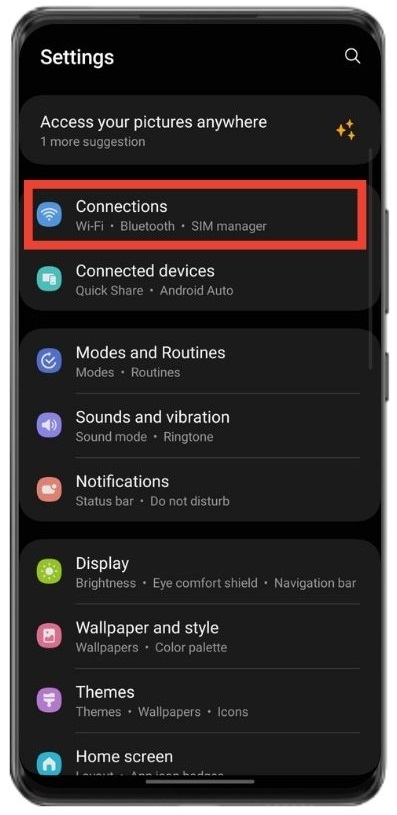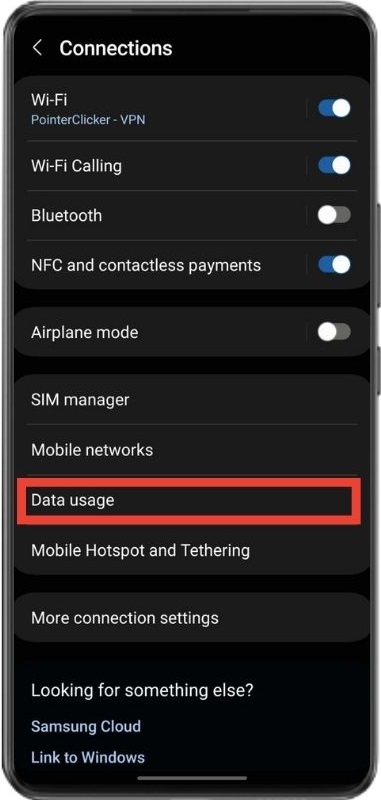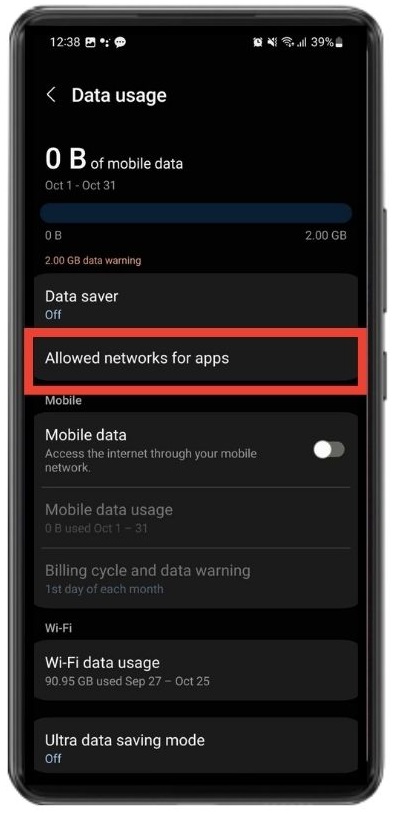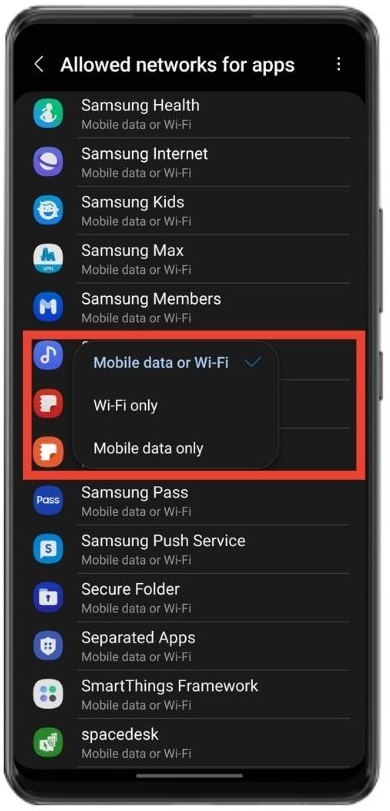 Step 2: Choose the specific app that isn't working properly. A menu will pop up. Ensure the app is not set to "Mobile data only". Instead, select either "Wi-Fi only" or "Mobile data or Wi-Fi".
Too Many Devices Connected to One Internet/Wi-Fi Network
Your Wi-Fi router may be working but be overcrowded with too many devices. This will cause the network speed to slow dramatically, causing your apps to buffer or struggle to load.
If you're using a public network, there may be little you can do to fix this problem.
However, if you're using your home Wi-Fi router, try disconnecting any other devices currently connected to it. Devices like streaming sticks, smart TVs, tablets, and phones are still consuming bandwidth in standby mode. So, it's a good idea to temporarily disable their Wi-Fi.
It's also a good idea to restart your router by unplugging it for 30 seconds. Then, re-connect it to power and, if needed, turn it on.
The Wi-Fi Connection May Be Blocked by the VPN/Third-Party Software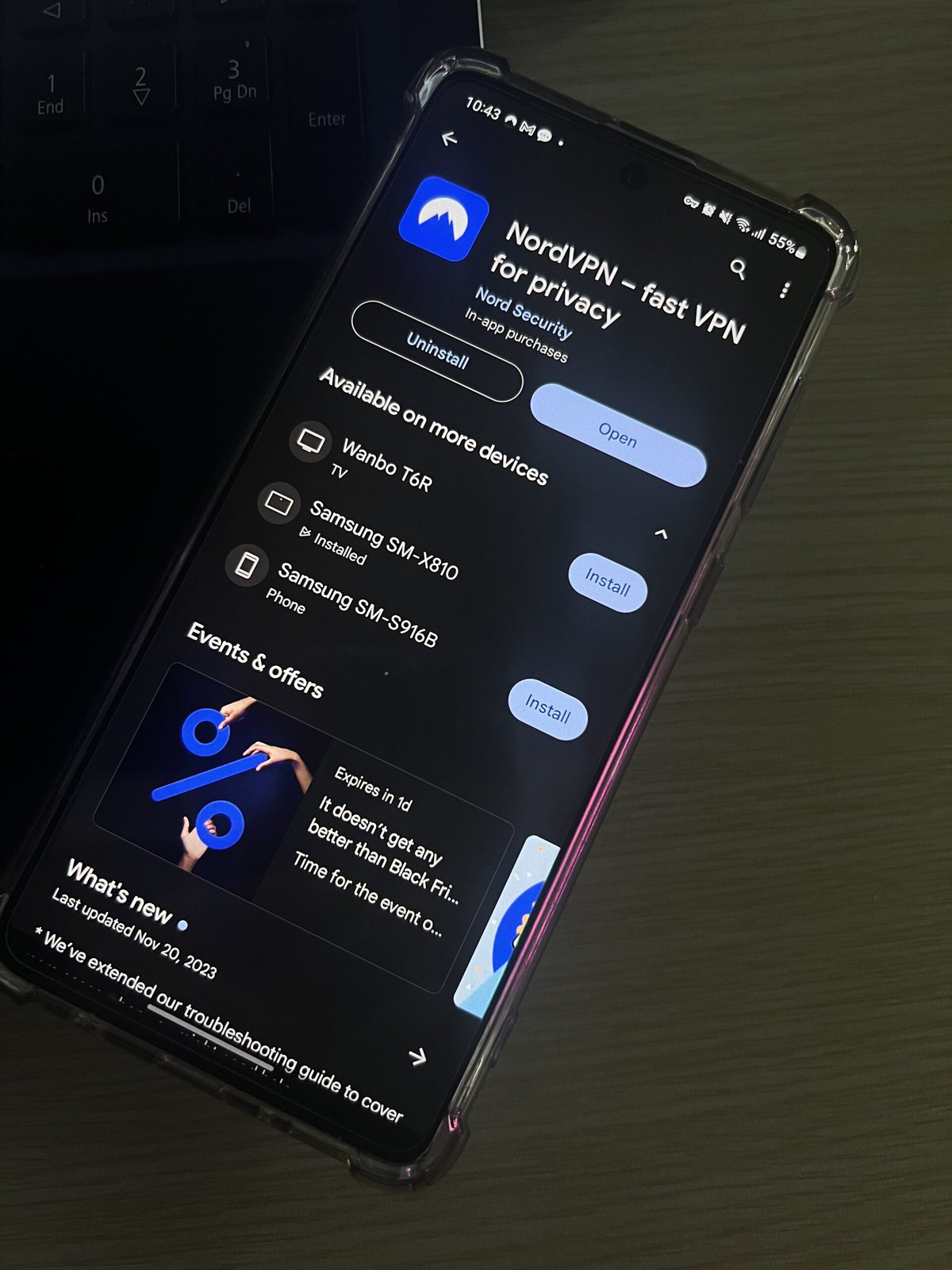 VPNs or third-party apps on your smartphone may limit certain apps' Wi-Fi connections. This issue is more prevalent when using apps with highly sensitive information, like banking apps.
So, temporarily turn off your VPN when you need to access these apps.
We strongly recommend avoiding this when using public networks, as it could make your sensitive information vulnerable to hackers. If you do need to access banking apps or your email when in public spaces, it's safest to use your cellular data.
Wrapping Things Up
Apps not working on Wi-Fi can be confusing, especially if they're working on cellular data.
The issue could be related to the app's software glitching or bugs in your smartphone's OS. Android devices also have a Disable Wi-Fi setting which prevents certain apps from using Wi-Fi, so make sure this setting is disabled.
The Wi-Fi network may also be overcrowded, causing your apps to stagger. Your smartphone's VPN could also prevent certain sensitive apps from accessing Wi-Fi.
What's your experience with apps not working on Wi-Fi?
Let us know in the comments below!
Yesenia Achlim is a technical copywriter and editor with a focus on AV equipment. She aims to break down complicated topics and make technology accessible, no matter your technical expertise. When she's not teaching you how to replace a projector lamp, you can find her reading and baking.