What To Know
Chromecast relies on a Wi-Fi internet connection for its functionality, independent of your phone's data connection.
Chromecast can consume a substantial amount of data, especially when streaming videos.
To reduce data usage, you can set Chromecast to low-bandwidth mode, direct it to use images from your Google Photos for wallpaper, or simply turn it off when not in use to conserve data.
In this article, we'll discover how Chromecast uses data and why having an internet connection is vital. We'll explore whether it can tap into your phone's data and share tips on managing its data consumption wisely.
How Does a Chromecast Work With Data?
A Chromecast is a dongle-like device that streams online content onto your TV with assistance from a phone or laptop. The streaming device helps your TV and phone communicate with each other seamlessly.
To the uninitiated, it may seem the smartphone sends content to the Chromecast, which the latter outputs via a TV. But that is not how it works.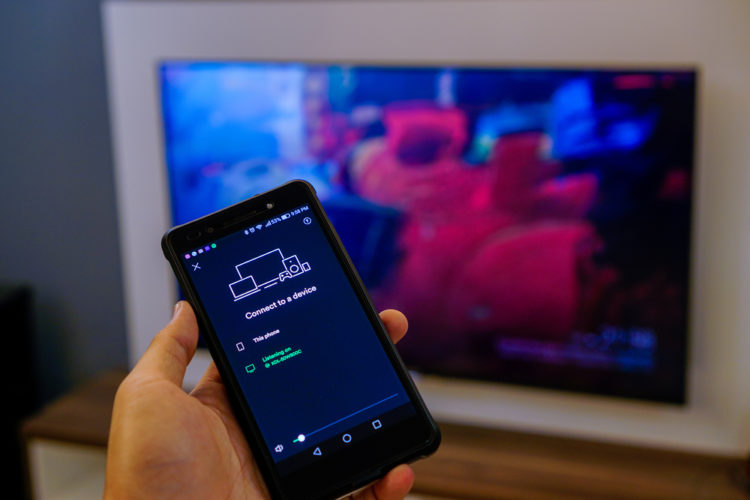 The smartphone or casting device only tells the Chromecast what it wants to play. The Chromecast takes the inputs and streams media content accordingly, leveraging the internet. There's no direct file transfer between the casting device and Chromecast and onto the TV.
The device allows streaming video and audio content from a smartphone or computer to your TV. It can cast a browser tab, the entire device, or a specific file stored on the source device.
When you cast a video to your TV via a Chromecast from an app and switch to another video in the same app, the TV will play the other video. But if you play a video from another app, the original video will continue to play via Chromecast while the video from the other app plays on the phone.
The Chromecast mirrors anything on the source device to your TV. It can cast pictures on your phone to the TV. Mirroring requires more active participation from the phone. You cannot put it to sleep or lock it while it's mirroring its contents.
Chromecast is platform and device-agnostic. The operating systems supporting Chromecasts include Android 6 (or later), iPadOS or iOS 12.0 (or higher), Windows 7 (or higher), and Mac OS 10.9 (or higher).
Linux compatibility with the device is contingent on the platform's distribution, available drivers, and desktop support.
Does Chromecast Use Phone Data or Wi-Fi Data?
Chromecast can use wireless broadband or mobile data. It can also be tethered to the router for a wired connection.
To allow a Chromecast to use phone data, enable the "mobile hotspot" feature on your phone. The phone shall then serve as your makeshift router and transmit Wi-Fi signals. The phone can be an Android or Apple device.
The streaming performance will be based on the mobile hotspot data's signal strength and speed.
If you're using a hotspot on your phone, you cannot use the device to control the Chromecast. You'll need a separate device—maybe another phone or a tablet computer. Ensure the other phone is also connected to the same mobile hotspot network as your Chromecast.
Chromecast with Google TV doesn't require a separate smartphone for casting and controlling the Chromecast, thanks to its dedicated remote.
How to Check Chromecast Data Usage?
Your Chromecast uses data when in use and also when it's idle. An idle Chromecast uses internet data to display the wallpaper on your TV screen and change it regularly.
Chromecasts do not locally store wallpapers. They download the images from their servers every few seconds to showcase a never-ending image stream. Not to mention, the wallpapers are high-quality images, requiring more data to download.
If you leave your Chromecast idle throughout, the monthly data consumption can reach 15 GB (or more). And the more the number of Chromecasts you have, the greater the overall internet data use will be.
The home page usually also displays weather information, which requires an internet connection too.
As far as checking exact Chromecast data usage goes, there's no provision for that in the Google Home app, the TV interface, or anywhere else. For now, you'll have to make do with the above estimations.
How to Keep a Tab on Your Chromecast's Data Consumption?
If you are worried about your Chromecast gobbling data by the dozens, here are a few things you could do to calm it down.
Unplug the Chromecast/Turn Off the TV
Turn off the Chromecast. Sever its power supply so that it can't access the internet.
Remove its adapter brick from the power outlet or unplug it from the TV's USB port, depending on how the device is powered.
Do not unplug it from your TV's HDMI port, mainly if you use the device daily. You risk stressing and eventually breaking the HDMI port or connector by taking the Chromecast out and putting it back in every time.
Moreover, keeping the Chromecast plugged in makes it easier to locate the device, or you'll not have to look for a proper storage place for your Chromecast when it's not being used.
If the Chromecast uses the TV's USB port for power, don't unplug it. Turn off the TV instead. The Chromecast will shut itself down too.
Some TVs keep their USB ports powered on even when turned off. In that case, unplug the TV to cut out the power source completely.
To check whether your TV's port remains powered even after you turn off the TV, try to cast to the streaming dongle from your smartphone or tablet.
If the Chromecast shows up on the Google Home app when the TV is off, the port is not off. If the Chromecast doesn't appear, it's completely turned off.
If your TV lets its USB port remain powered even after a shutdown, look for an option in the TV's software settings to disable that function. Check the user manual for assistance locating the option.
Turn On Data Saving Mode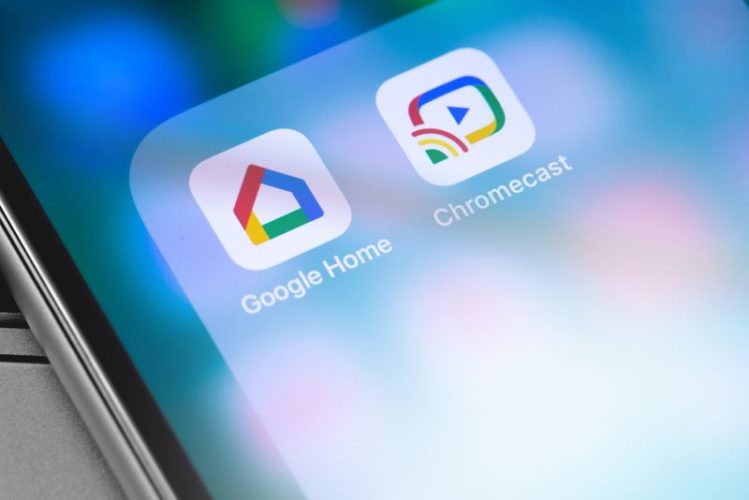 If you'd like the Chromecast to stay plugged in and there's no option in your TV's settings to disable USB port power, set the Chromecast on "low-bandwidth" mode to minimize the data consumption. Here are the steps:
Step 1: Launch the Google Home app on your phone or tablet.
Step 2: On the home page, tap on the linked Chromecast to open its page.
Step 3: Tap on the three dots on the top right of your screen and choose "Ambient mode settings."
Step 4: Under the option, tap on the "Experimental" option.
Step 5: Toggle on the "low-bandwidth mode" option to enable data-saving.
To further lower data use, scroll down to "Slideshow speed" on the "Ambient Mode" page. Set the ambient page change to take place every 10 minutes. The default is five seconds.
Direct the Chromecast to Use Images from Google Photos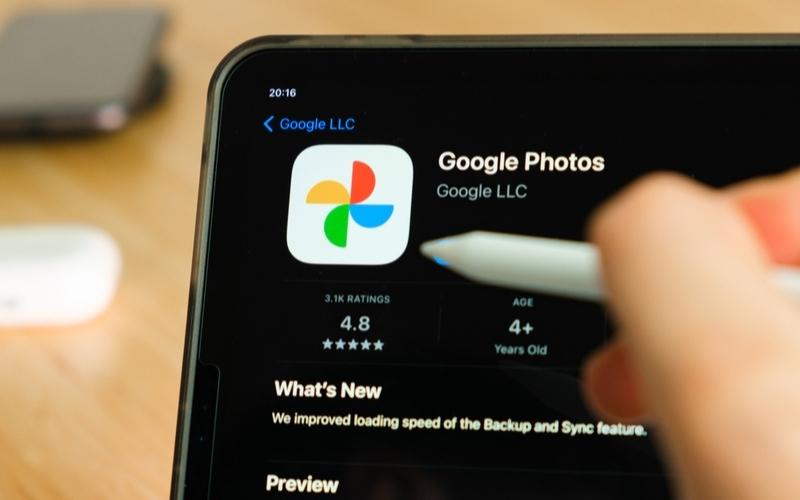 To decrease data use further, make it not source random wallpaper images from its servers. Instead, direct it to source the photos from your Google Photos. Here is how you do it:
Step 1: Log into your Google Photos account.
Step 2: Create a folder in Google Photos and throw in a few lightweight images. Give the folder a relevant name for easy identification.
Step 3: On your phone or casting device, launch the Google Home application.
Step 4: Touch and hold your device's tile on the home page.
Step 5: At the top right corner, tap on Settings
Step 6: Scroll down. Then tap on Ambient Mode and then Google Photos.
Step 7: Select the photo folder created for Chromecast wallpaper. Unselect every other folder. Scroll down and disable all "Backdrop Settings" options. Turn off the weather option too to keep things uber-minimal.
Your Chromecast is now set to circle through the images you chose when idle. It may look drab, but the trade-off is worth it if data is precious to you.
FAQs
How Much Data Does Chromecast Use?
Your Chromecast's data consumption purely depends on your usage.
Since we are talking about streaming large video files, expect to use at least 25 GB of data per month even if you use the device sparingly.
As mentioned above, Chromecast can consume up to 15 GB of data when idle. Add three to four movie streams monthly, taking the total data use further.
But those are very conservative numbers. In the real world, expect your Chromecast to consume a few hundred gigabytes of data.
One user on Reddit claimed their living room Chromecast Ultra consumed 232 GB in a month. The person has one Chromecast each in their basement and bedroom, which used 337 GB and 170 GB, respectively, during the same period.
By the way, merely mirroring your phone or laptop screen to the TV doesn't require data.
Conclusion
Google Chromecast and similar devices that facilitate online video streaming are becoming increasingly popular.
Although most TVs available on the market now are "smart" or have their OS with preinstalled apps, their relative newness or unfamiliarity with buyers has allowed the Chromecasts and Rokus of the world to stay relevant.
Chromecast is so popular that some TVs have built-in Chromecast or Google TV OS—notably the Sony BRAVIA XR A80J.
Last update on 2023-12-03 / Paid Link.
The only rub with Chromecast is its notoriety for guzzling data. The streaming device's data-hungry nature won't sting much if connected to a router with unlimited bandwidth. But you've clearly got a situation if it's gulping precious phone data.
Luckily, there are ways to turn a Chromecast into a data-sipper from a data hogger. You just need to be shrewd with how you use the streaming device.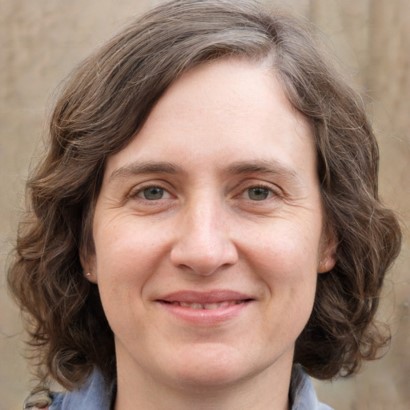 Catherine Tramell has been covering technology as a freelance writer for over a decade. She has been writing for Pointer Clicker for over a year, further expanding her expertise as a tech columnist. Catherine likes spending time with her family and friends and her pastimes are reading books and news articles.