I would just like to put this out there: there is no such thing as a TV that is TOO big for you.
While it's true that you will be limited to the size of whatever room you plan on putting that TV in, your TV can be as big as your budget will allow.
We all know friends and family who have complained about not going bigger when they were shopping for a TV, and I don't want you to have the same regret!
But if there is no such thing as a TV that is TOO big, how do you choose the perfect one for your bedroom?
I'll guide you through the best tips on finding the perfect-sized TV for movie nights at home.
It's showtime!
What Are Good TV Sizes for the Bedroom?
Bedrooms come in different shapes and sizes. This means that the size of your TV doesn't have to be the same size as a friend's living in a larger apartment.
While it's true you can get a TV as big as your room allows, it's not exactly practical.
You want space for a console and sound system too. You may even want to have a few plants around to help keep the air in your bedroom clean and fresh.
You may even be after a specific aesthetic that a gigantic TV will only disrupt.
So what size should you get? That's not a simple question to answer. What we can do is talk about some of the common bedroom dimensions and the best TV sizes for each one.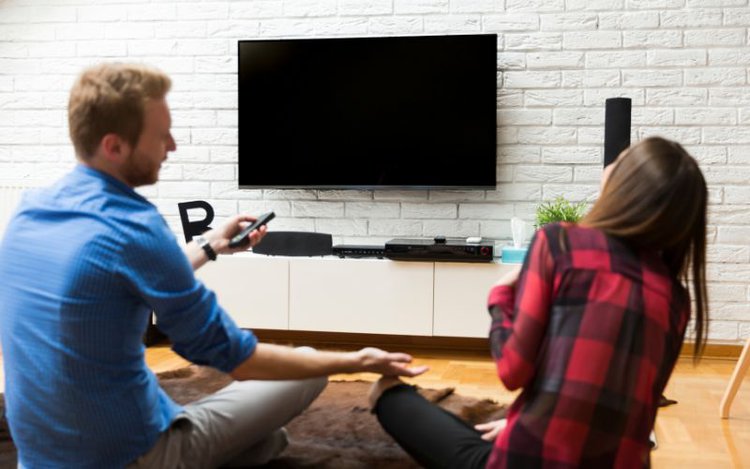 10 ft x 10 ft Rooms
For bedrooms that are about 10 feet by 10 feet, a 55-inch TV would be the perfect size for you.
The TV is not too small that you have to strain your eyes just to watch a movie and it's not too big that you keep having to strain your head just to see all the details.
Bigger than you expected, right? Yes!
Many people think that just because they have a small room, they should only settle for TVs that are 40 inches or less. But that's not true.
So, go get that 55-inch TV!
Amazon Fire TV 55" Omni Series 4K UHD smart TV, hands-free with Alexa
Brilliant 4K entertainment - Bring movies and shows to life with support for vivid 4K Ultra HD, HDR...
Scenes that leap off the screen - 4K Ultra HD, HDR 10, and HLG deliver a clearer and more vibrant...
Hands-free TV with Alexa - With built-in microphones, just ask to turn on the TV, and find, launch,...
Last update on 2023-10-04 / Affiliate links / Images from Amazon Product Advertising API.
16 ft x 16 ft Rooms
For those who have larger bedrooms about 16 feet by 16 feet, you can get away with 70-inch TVs, or even up to 85-inch units!
You probably thought that the biggest you can go is 50 to 60 inches, but in actuality, you can get a unit that is much, much bigger.
Have you ever wanted your own movie theater at home? Well, now you can!
Because your room is quite large, you can sit farther away from the TV screen, hence the perfect excuse to splurge on an 85-inch TV.
Last update on 2023-10-04 / Affiliate links / Images from Amazon Product Advertising API.
Things to Consider Before Getting a Bedroom TV
"How do I know the perfect TV size for my bedroom?"
Well, to find the right TV, you need to consider the screen size and viewing distance, the TV's location/position, the size of the TV mount, and your TV's resolution.
Let's talk about them:
Screen Size and Viewing Distance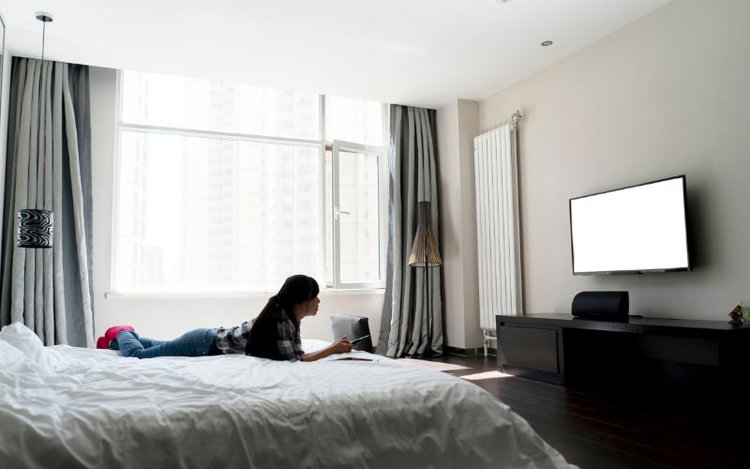 As I mentioned above, each TV size has different ideal viewing distances. You will find that it is easier to watch your favorite movies on a bigger screen from a distance than if you were to watch them close up.
To calculate your ideal TV sizes, all you have to do is measure from the point where you want to mount your TV and where you will be seated, then divide the distance by 2.
It should look like this:
Viewing Distance (in inches)/2 = your ideal TV size.
Here's an example:
Your viewing distance is typically around 15 feet from the TV. 15 feet is 180 inches.
180/2 = 90
Therefore, your ideal TV size is 90 inches.
Okay, that's a huge TV, but it's only an example. So don't worry, you don't really need a 90-inch TV. Although, you can get one if you have the budget and room!
I've also highlighted the common TV sizes and the suggested watching distance above, so feel free to refer to it as many times as needed.
TV's Position/Location in the Room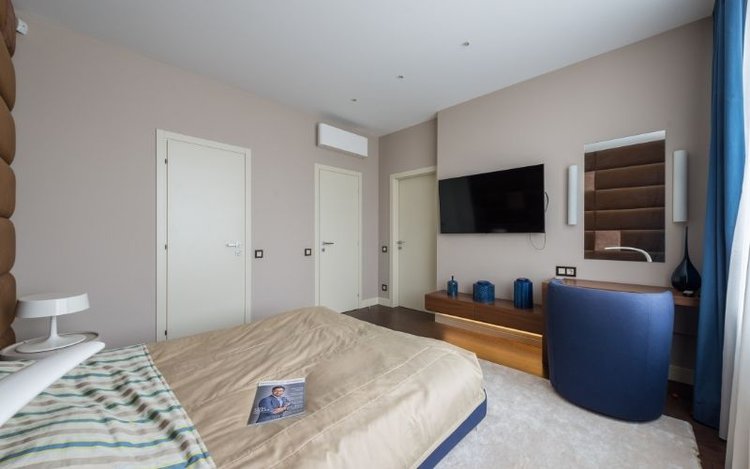 This one also has something to do with the size of your TV. If you have a larger TV, you will naturally want to put it farther away from your bed. If you have a smaller TV, you might want to mount it closer.
The size of your TV will determine where it will be mounted inside the bedroom.
Size of the TV Mount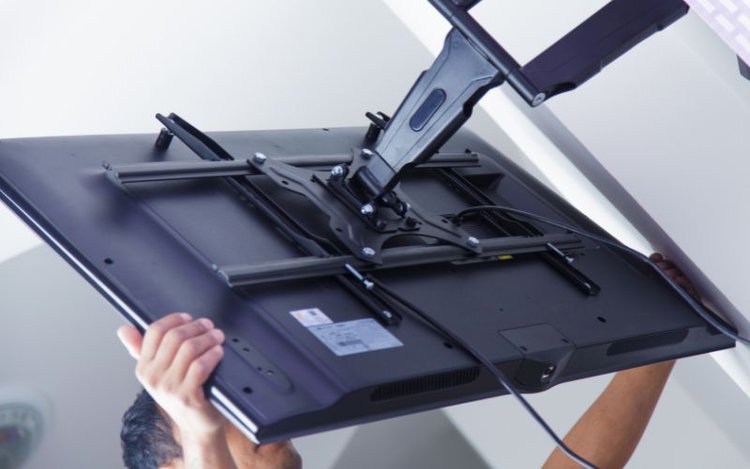 How you choose to mount your TV will dictate how big your TV should be. Do you have a console?
Do you prefer your TV to be on the floor? Perhaps you have limited bedroom space and you're planning on using a wall mount instead.
For the usual console mounts and floor TVs, you can get any TV sizes you want. 55-inch? Sure! 80-inch flat-screen? No problem!
The floor and a flat table top are both secure enough to handle larger appliances.
But for wall mounts, you will need to consider more things besides the size of your TV. Getting a TV that is too big or too heavy for the mount will result in a lot of headaches and hundreds, if not thousands, of dollars in repairs.
Your Own Safety
Thinking of mounting your TV directly above your bed? You might want to reconsider that.
Things can happen, braces and brackets can break, screws can come loose, and a strong earthquake may suddenly appear.
These can lead to the TV falling right on top of you and injuring or even killing you. So maybe stick to wall-mounted, medium-sized TVs!
Your TV's Resolution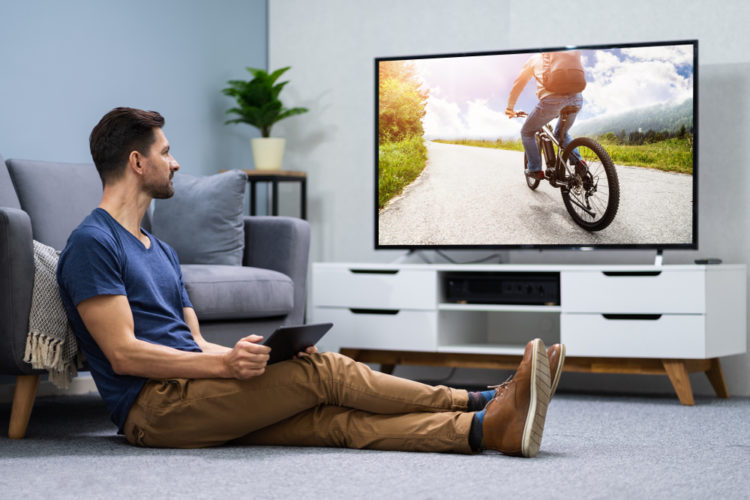 If you are someone who likes to watch Blu-ray DVDs or likes to play high-speed console games before bedtime, then a 4K or Ultra-HD TV will be your best friend.
But getting a higher-tier TV also means that you will need a larger screen to take full advantage of what 4K UHD can offer you.
What if you just want to watch Netflix or stream YouTube videos from time to time? Then smaller, non-UHD TVs will be more than enough for that!
Transportation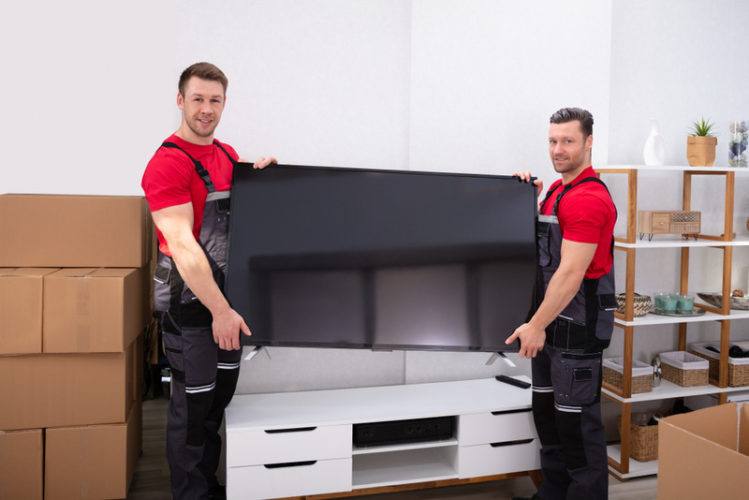 This last one is a no-brainer, but we always tend to forget about it: transportation.
Yes, we still need to bring our TV from the store, into our house/apartment, to our bedroom, and lift it onto the TV mount.
If you drive a large car and can fit a 50-60 inch TV with no problems, go for it! If you have people to assist you in installing your TV, even better!
You can also rent a car for when you decide to get your TV, but that can cost a pretty penny.
If you're on a tighter budget, we suggest sticking to smaller, UHD TVs that you can safely tuck inside a taxi or Uber.
Conclusion
And those are the best bedroom TV sizes, the perfect viewing distances, and things to consider when looking for a TV!
To recap, the best TV sizes for bedrooms that are 10 feet x 10 feet range from 40 inches to 50 inches. While the best TV sizes for larger 16 feet x 16 feet rooms range from 70 inches to 80 inches!
Before you make your TV purchase, you also need to consider the screen size, TV mounts, where you're going to put your TV, and the screen resolution.
However, you don't have to stick to the list we gave you. You can technically get any TV size just as long as it can fit your budget and bedroom!
These are only a few suggestions on how to make the most out of your unit and how to choose the perfect size for your movie night needs.
Have a great shopping trip!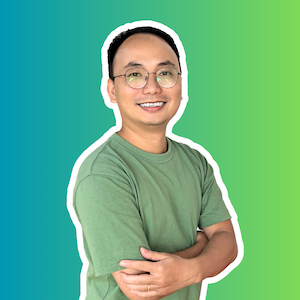 Vance is a dad, former software engineer, and tech lover. Knowing how a computer works becomes handy when he builds Pointer Clicker. His quest is to make tech more accessible for non-techie users. When not working with his team, you can find him caring for his son and gaming.