Hey there, fellow design enthusiasts!
If you're anything like me, your bedroom is more than just a place to rest your head at night – it's your personal sanctuary, a cozy corner of the world where you can unwind and be yourself.
And what better way to make your bedroom truly your own than by transforming that plain old TV wall into a stunning focal point that reflects your unique style and personality?
In this post, we're diving headfirst into the exciting world of bedroom TV wall designs, offering you 30 inspiring ideas that will have you itching to revamp your space.
So, get comfy, and let's make your bedroom the ultimate relaxation and creativity spot!
1. Simple Style

When it comes to creating a cozy and inviting living space, sometimes, less is truly more.
Simple TV wall designs offer a refreshing breath of minimalistic elegance to your home decor.
With their timeless charm and versatile appeal, they not only make your room feel more spacious but also provide a serene backdrop for your entertainment center.
The best part?
Simple doesn't mean dull. From sleek floating shelves to uncluttered, clean lines, we'll explore the art of understated design that packs a punch.
For those who appreciate the beauty of simplicity, here's a straightforward approach: just position a sleek, minimalistic TV stand in front of a solid-colored wall.
I'd opt for a stand color that seamlessly blends with the overall theme's color palette.
Choosing the right hue can work wonders in creating a harmonious and visually pleasing atmosphere.
I suggest you avoid overwhelming your room with excessive details and a multitude of colors.
This can hinder your TV wall from standing out as the focal point, and ultimately, it may lead to a lackluster and less visually appealing space.
If a traditional TV stand isn't your cup of tea or you simply don't have one, worry not!
Give some thought to the idea of mounting your TV on a sleek and minimalist floating shelf.
It's a fantastic alternative that not only saves space but also adds a touch of modern elegance to your setup.
And if you're all in for minimalism, let your TV take center stage, soaring solo on the wall.
It's a design choice that exudes simplicity and sophistication, allowing your television to further stand out as a stylish focal point in your living space.
Nothing around it, just pure simplicity.
Now that's the minimalist dream come true!
If you're working with a smaller room, the trick is to pop a shelf, about 4-5 feet high, at the foot of your bed and set your TV on top of it.
And of course, feel free to jazz it up and style it any way you like.
2. Modern Style
If you're all about that modern vibe, you're in for a treat.
Modern-style bedrooms are all about those bright lights, sleek lines, and a clear departure from your typical, simpler designs.
So, what's the scoop when it comes to your TV setup?
You've got options, my friend!
You can hang it right on the wall for that minimalist look, or if you've got a slick TV cabinet, it can go above or sit snugly on top.
Here's a pro tip for you: try to match that cabinet color with the overall bedroom theme. It's like dressing up your space!
Just remember, less clutter is the name of the game. Keeping it clean and chic is the key to nailing that modern, elegant look
The designs I'm about to show you are all about clean lines and a touch of luxury.
Picture lots of sharp angles and smooth walls with minimal texture. Your bedroom will feel like it just strutted off a fashion runway!
But if you're after something with a bit more zest, the designs below might be your jam.
They bring a livelier vibe, with textured walls to balance out those crisp angles.
The winding patterns inside some rooms have helped to ease the edgy feelings from the sharp-cornered counterparts.
These are modern designs, but they come with a twist. You won't feel like you're living in a geometry textbook!
3. Designs With a TV Cabinet
You know, even though I've talked about designs that include a TV cabinet, I thought, "Why not give bedroom designs with a TV cabinet their own spotlight?"
So, here we are.
TV cabinets, let me tell you, are like the Swiss Army knife of bedroom furniture.
They can fit right into any bedroom style.
The trick, though, is to make sure the cabinet design jives with your room's vibe.
If it does, you're in for an aesthetic treat!
Take a look at this sleek cabinet in the picture above.
Doesn't it ooze luxury when paired with the rest of the room's interior?
It's such a stunner!
In this design, the cabinet sports a light yellow, white, and black color combo, which harmonizes perfectly with the rest of the room.
And that dark wall behind the TV?
It's just the cherry on top, rounding off the whole stylish theme.
And let's not forget about the LED lights. Fixing them behind your TV can work wonders, trust me. It's like having your very own mini theater – bringing in a cool, chill-out vibe right into your sanctuary.
4. Designs With a Fireplace
There are a couple of good reasons to mount your TV above a fireplace.
First up, it's a nifty space-saver. If your room is a bit on the small side, freeing up some floor space is always a good idea.
Second, it can jazz up your room a bit. With your TV above the fireplace, it makes a cool centerpiece and gives the room a warm, together sort of feel.
But keep in mind, unless it's one of those electric fireplaces, it might not be the best idea. The heat and smoke from a regular fireplace can give your TV a hard time.
5. Designs With a Floating Shelf
Mounting your TV above or on a floating shelf in your bedroom design is a pretty smart move.
It's a practical way to save space while showcasing your favorite decorations.
If you prefer a minimalist aesthetic, a single shelf beneath your mounted TV could be ideal.
Alternatively, if you want to give your room a fuller look, consider a box-styled shelf.
This design helps to fill the space effectively and adds a touch of style to your room.
By doing this, you're not wasting any valuable floor space, and you can keep all those annoying cables and wires tucked away neatly.
A mounted TV or one on a floating shelf just looks super cool and modern with some decorations like statues, books, or small plants.
It gives your room a sleek, contemporary vibe that's hard to beat.
So, go for it!
Bonuses:
How Big Should a TV Stand Be?
When it comes to the size of your TV stand or shelf, there are no strict rules to follow.
Just make sure it can support the weight of your TV, and you're all set.
If you're aiming for that sweet spot where style meets functionality, you might want to check out our TV Stand Size Guide.
It's designed to help you find the perfect stand size that not only works seamlessly but also adds a touch of flair to your TV setup.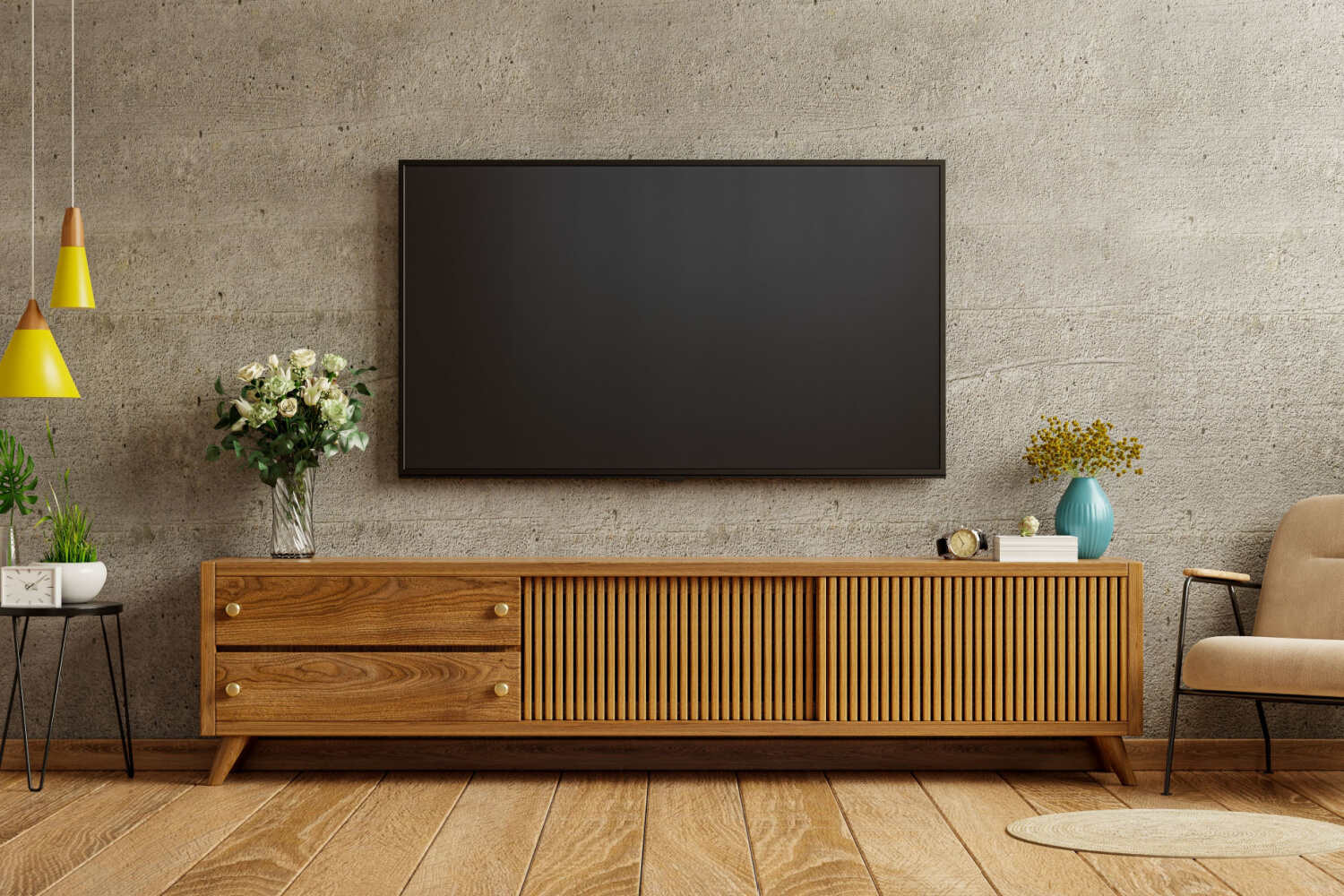 Things To Put On Your TV Stand
Here's a little tip for your TV wall decor or TV wall design – don't let your TV stand sit there empty and looking lonely.
We've got some great suggestions on what you can add on top of it to give your room a touch of elegance and charm.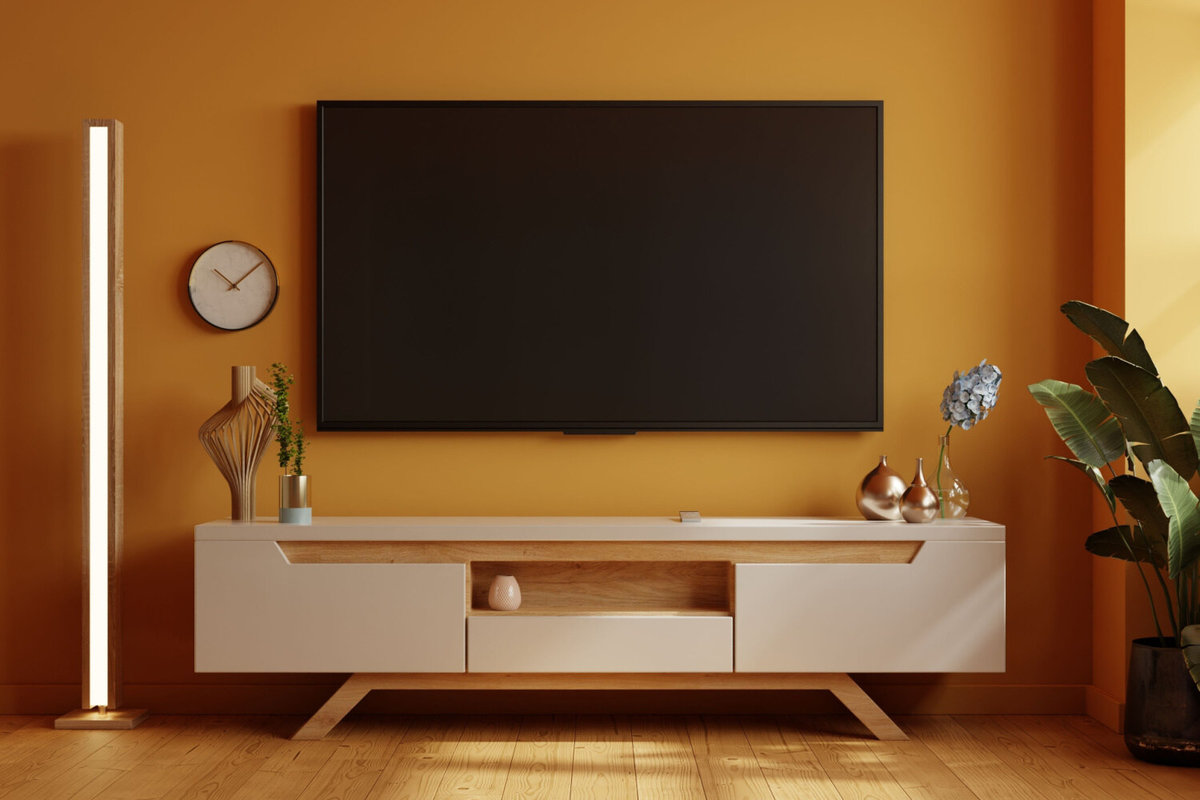 Wrapping Things Up
There you have it, folks!
Eight fabulous ways to revolutionize your bedroom's TV wall and turn it into an awe-inspiring spectacle.
I hope these ideas have got you thinking of fun ways to give your bedroom a fresh new look.
Don't forget, your bedroom is your special place, and it should look great. So, whether you like things simple and neat, or bold and colorful, there's a design just for you.
Here's to making your bedroom more comfy, stylish, and totally 'you'!
Catch you next time!
Huy 'Anyxel' Pham is a Pinterest marketer and writer. He's curious about how the human mind works and how people grow mentally. These interests shape his writing, making it useful and valuable. When he's not working, Huy enjoys the peace he finds at his favorite Buddhist temple or while reading a good book.
How was content created? This piece is created collaboratively, with tech editors generating ideas, conducting testing, and proofreading meticulously, while AI assists in fine-tuning.