Finding the perfect balance between aesthetics and functionality when it comes to decorating your TV space can be quite a challenge.
Having a wall-mounted TV opens up opportunities to utilize the space underneath effectively and creatively.
This guide will introduce you to 15 items that you can consider placing under your mounted TV.
These options not only enhance the visual appeal of your living space but also add significantly to the overall TV viewing experience.
Whether you're a home design enthusiast or a tech-savvy individual, you'll find these suggestions practical, appealing, and easy to incorporate.
Furniture Items to Put Under Your TV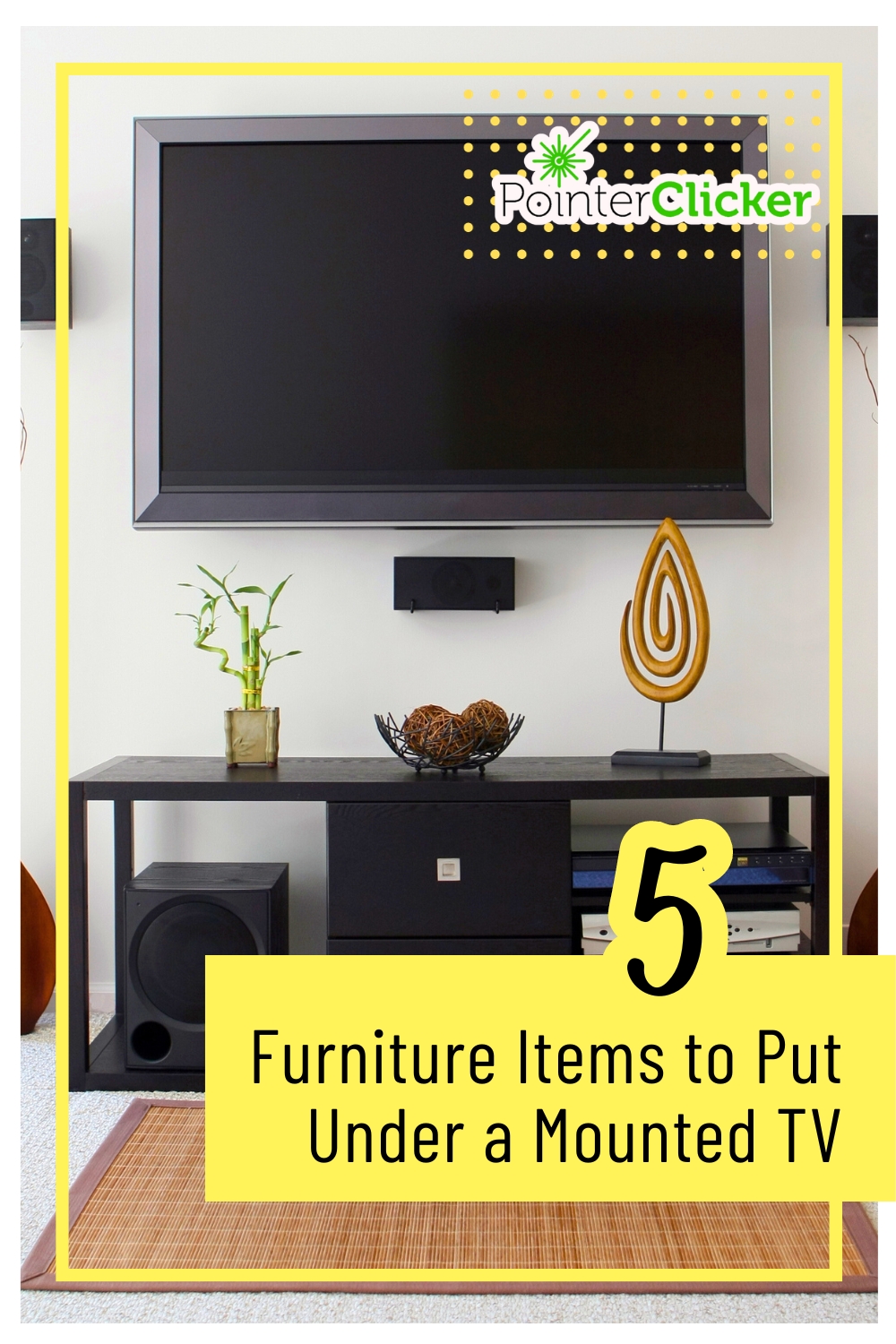 Choosing the right furniture to put under your TV can dramatically enhance your viewing experience and add an aesthetic appeal to your living space.
The options are diverse, ranging from minimalist TV stands to sleeky floating shelves.
When picking furniture, consider essential factors such as the size of your TV and the available space, the need for storage, and your room's overall decor.
Moreover, prioritize functionality and style, ensuring the furniture complements your interior design while meeting your practical needs.
1. Floating Shelves
If I'm looking to add some charm under my wall-mounted TV with decor like books, figurines, and a few gadgets, hiding them inside a cabinet may defeat the purpose.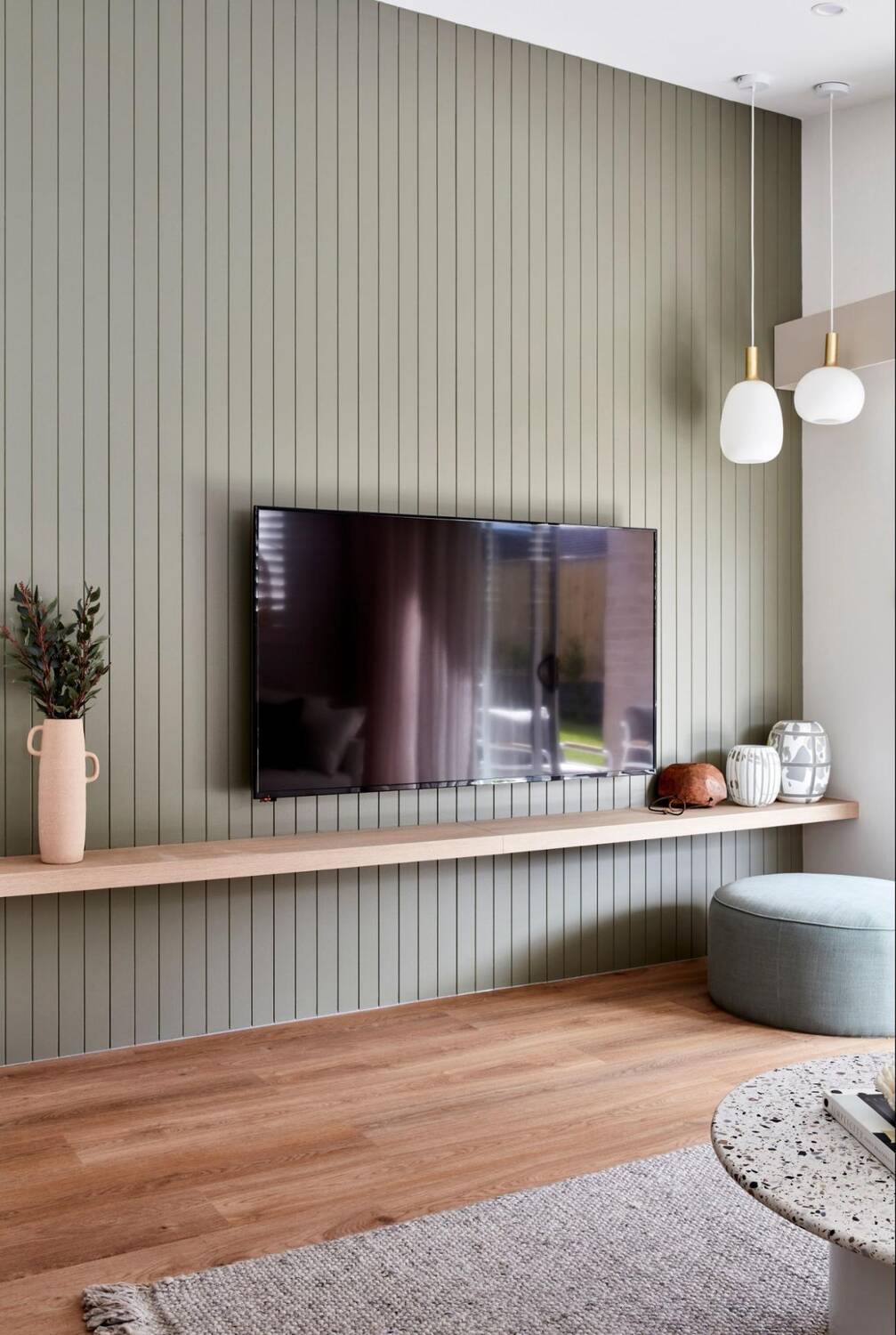 Sure, placing items on top of a cabinet might work, but in my view, it doesn't appear as tidy as a floating shelf.
There are many shelf designs on the market, so make sure to pick the one that fits your interest.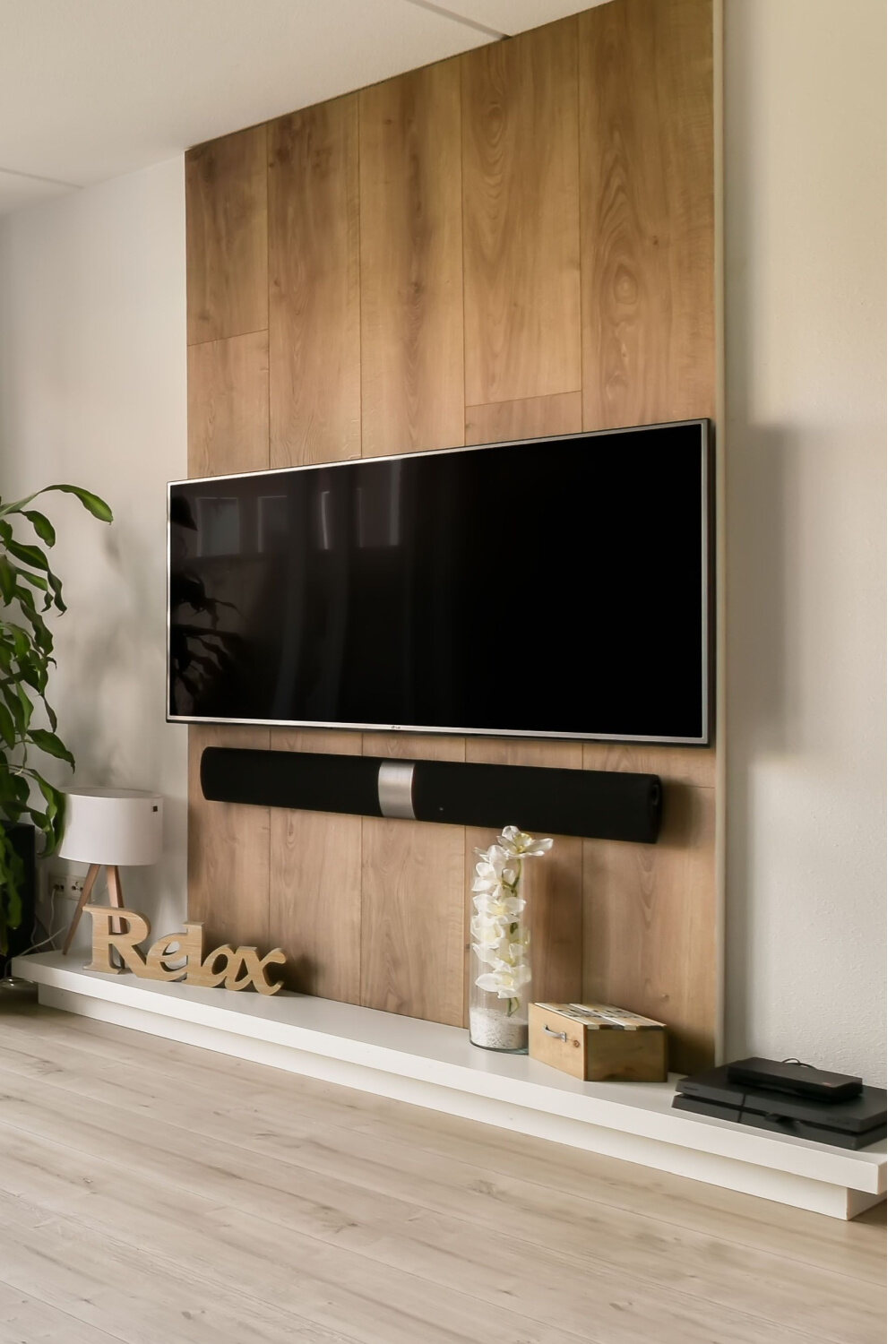 You have the option to mount your shelf right under your TV. If you like, you can also leave a bit of space underneath for a nifty soundbar.
A box shelf can make your room look fuller and provide extra space for your books and gadgets.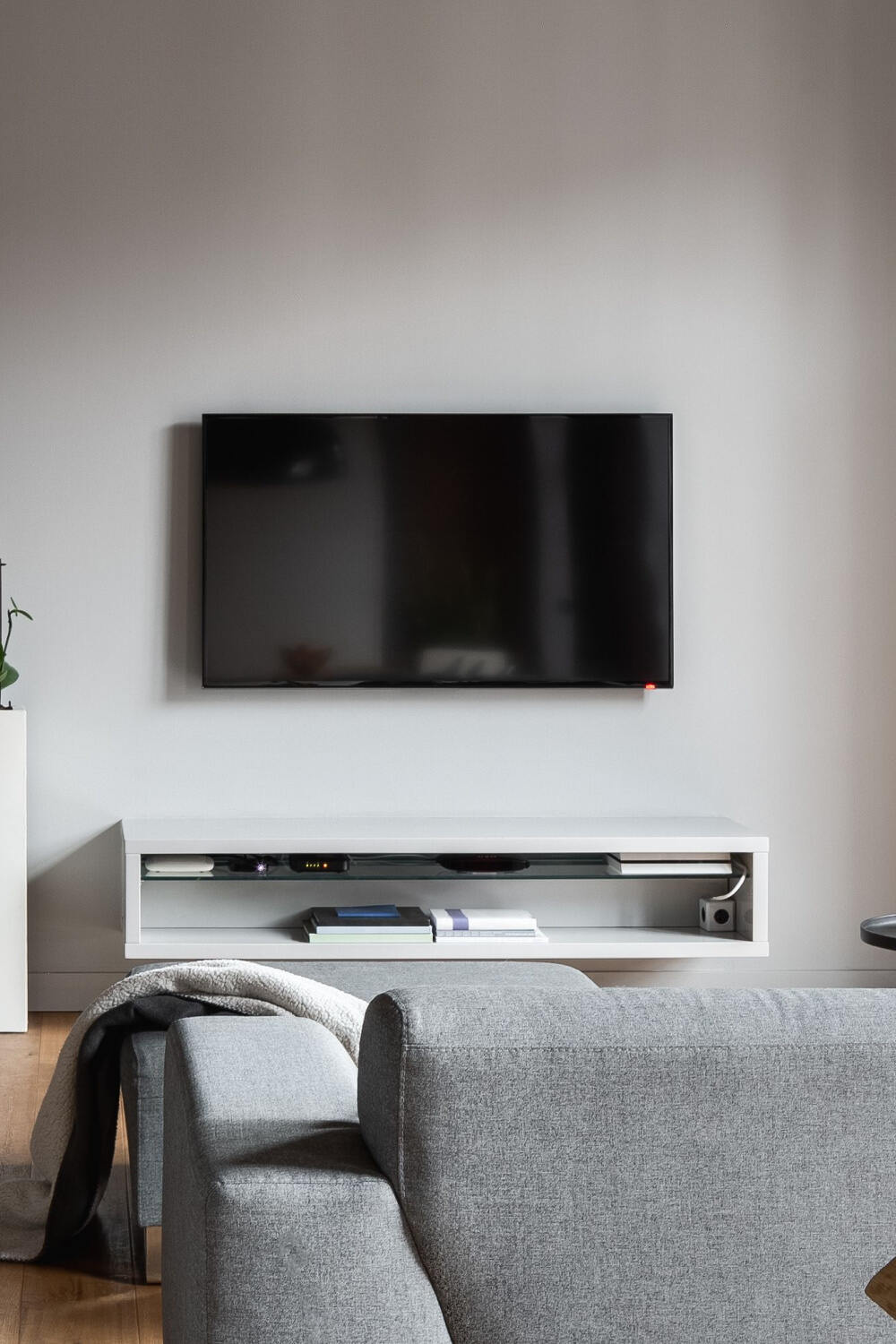 On the other hand, a single shelf offers a more simplistic look and is easier to clean up.
Take a look at these two shelves from BAMEOS , when you mount them side by side, they give the illusion of a single, large floating shelf.
It's the perfect size to fit under your mounted TV and blends in seamlessly, ensuring your setup doesn't look out of place.
Choosing to keep the top of the shelf uncluttered for a clean and modern aesthetic is my preferred choice.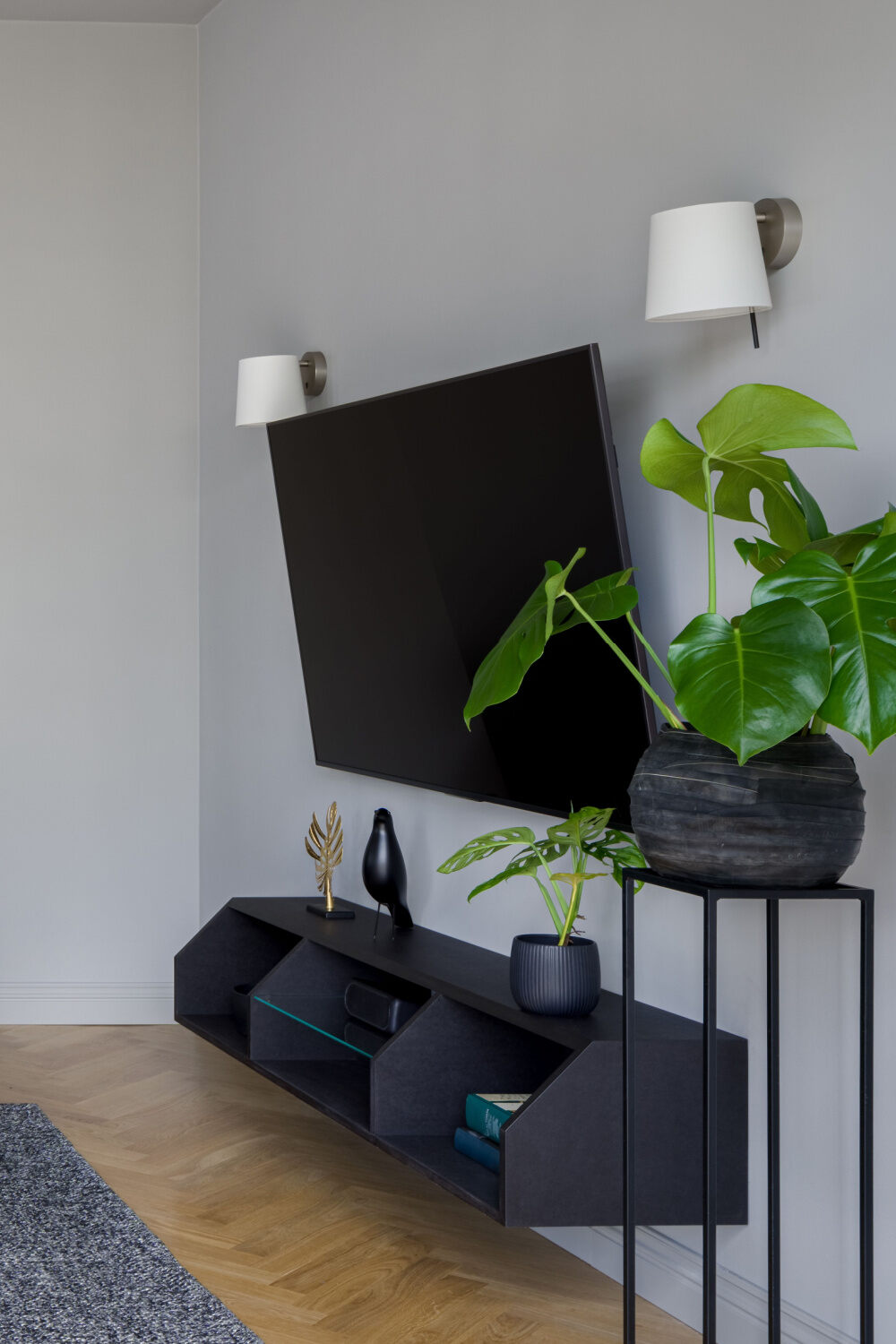 Enhancing its appeal with minimalistic decor and petite plants could be a great idea.
2. Floating Cabinets
Now, floating shelves and floating cabinets are similar.
The most distinguishable thing that sets them apart is that cabinets have doors to store and keep things hidden, while shelves don't.
Floating cabinets are fantastic for sprucing up your room. They're not just simple and sleek, but they also create a sense of extra space.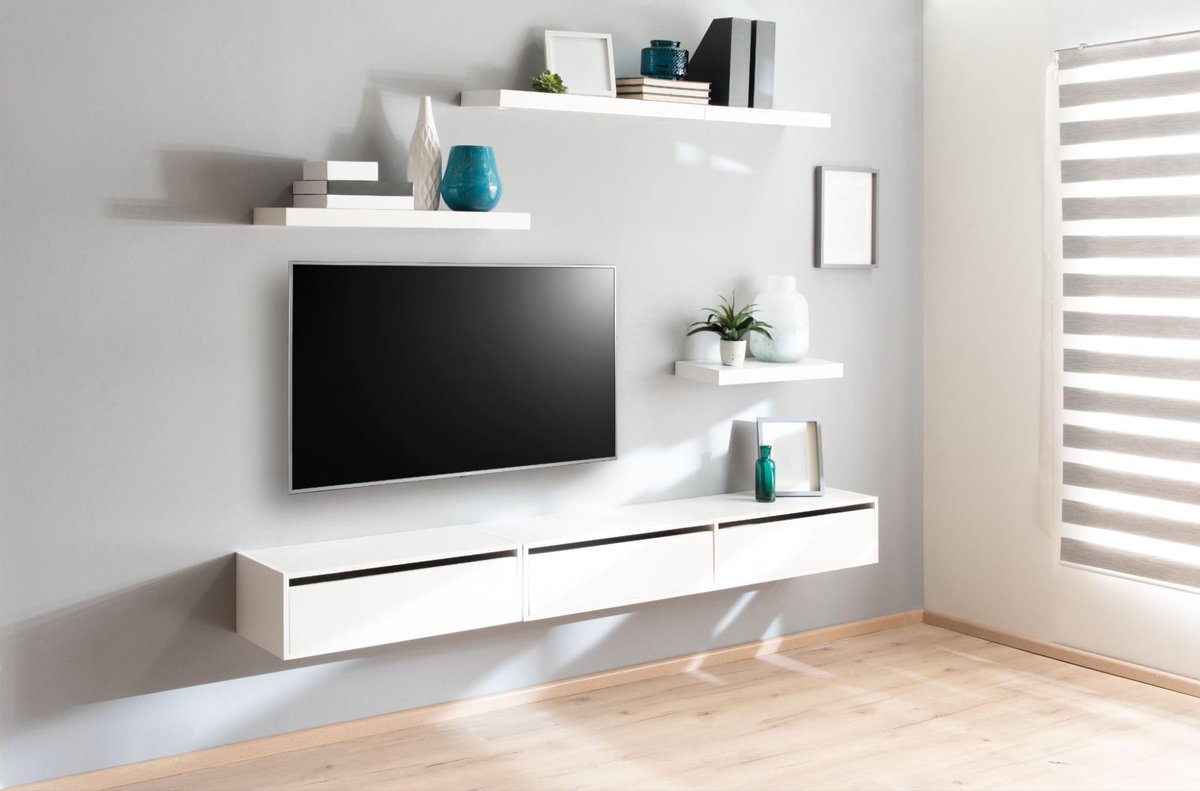 You can pick the color of your floating cabinet based on the color scheme of your room.
It's a good idea to match the cabinet with your walls and interior design.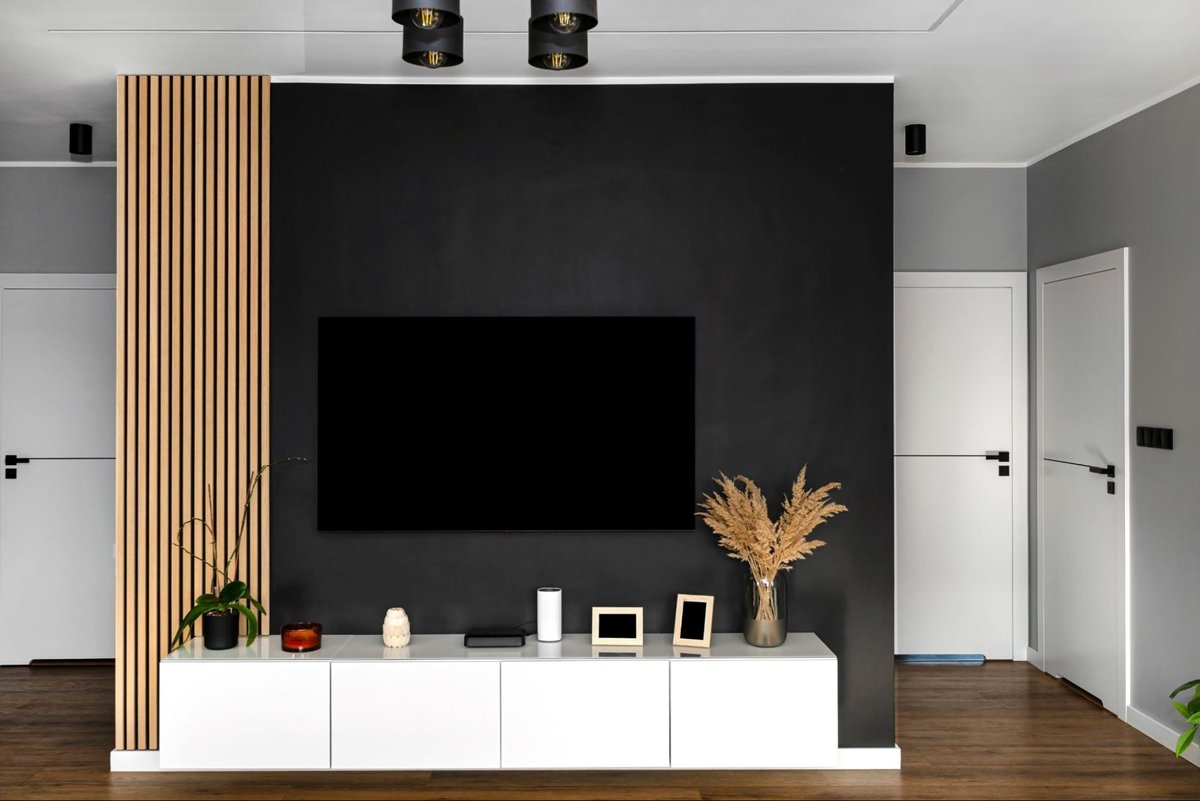 You could also pick a shelf color that goes well with your wall color.
For example, choose a white cabinet if your wall is black. This will make the cabinet stand out.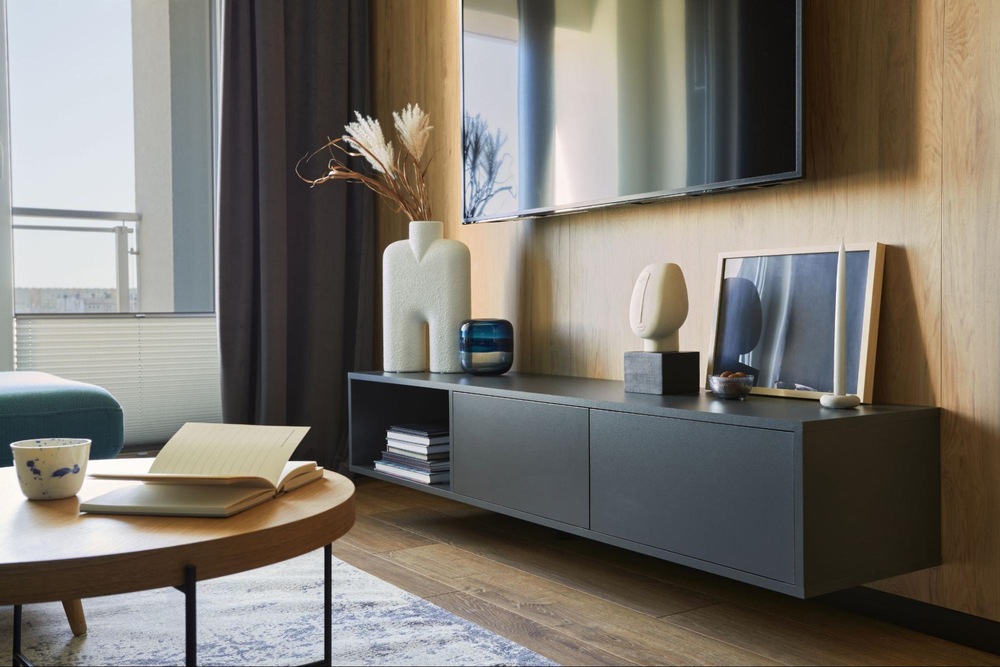 Adding a few basic decor pieces to your cabinet can truly transform your room.
They make the overall mood less dull and more interesting.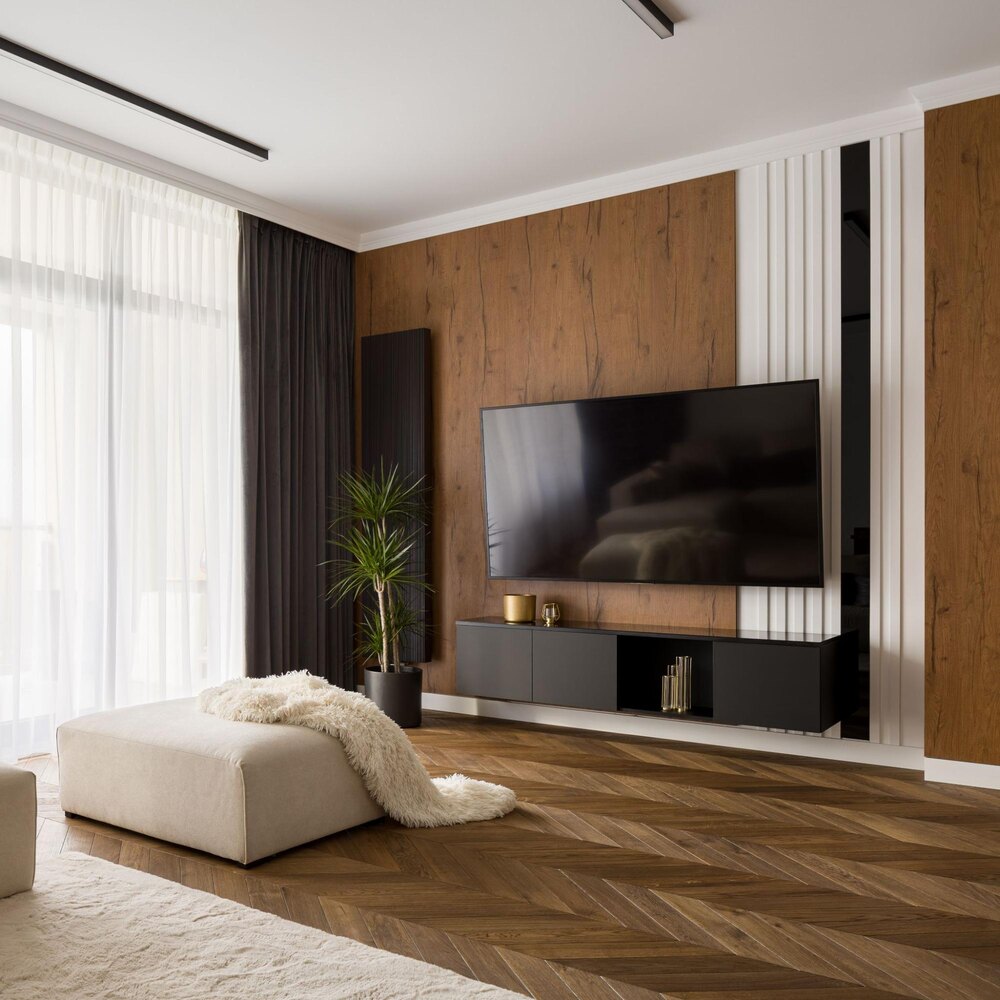 Just a quick tip: Make sure your TV cabinets, whether they're floating or not, are wider than your TV.
This helps everything look more visually pleasing.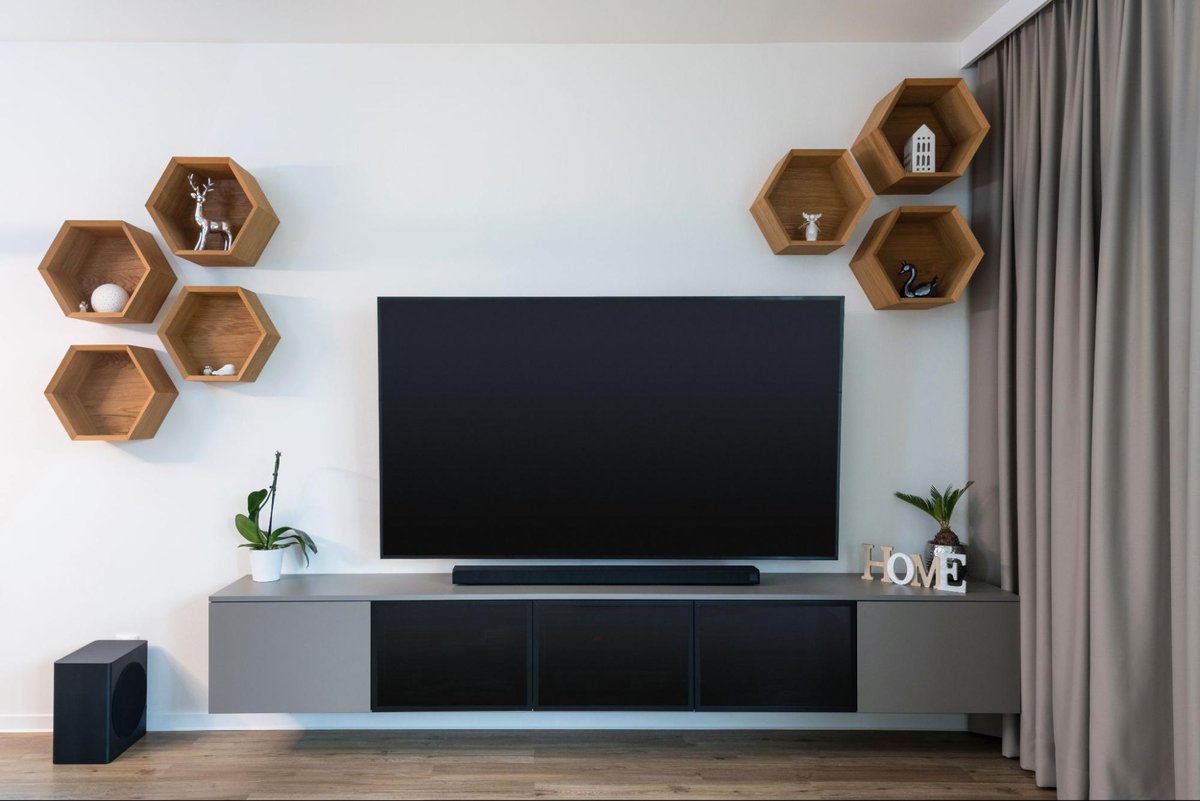 And you just can't go wrong with a soundbar mounted under the TV.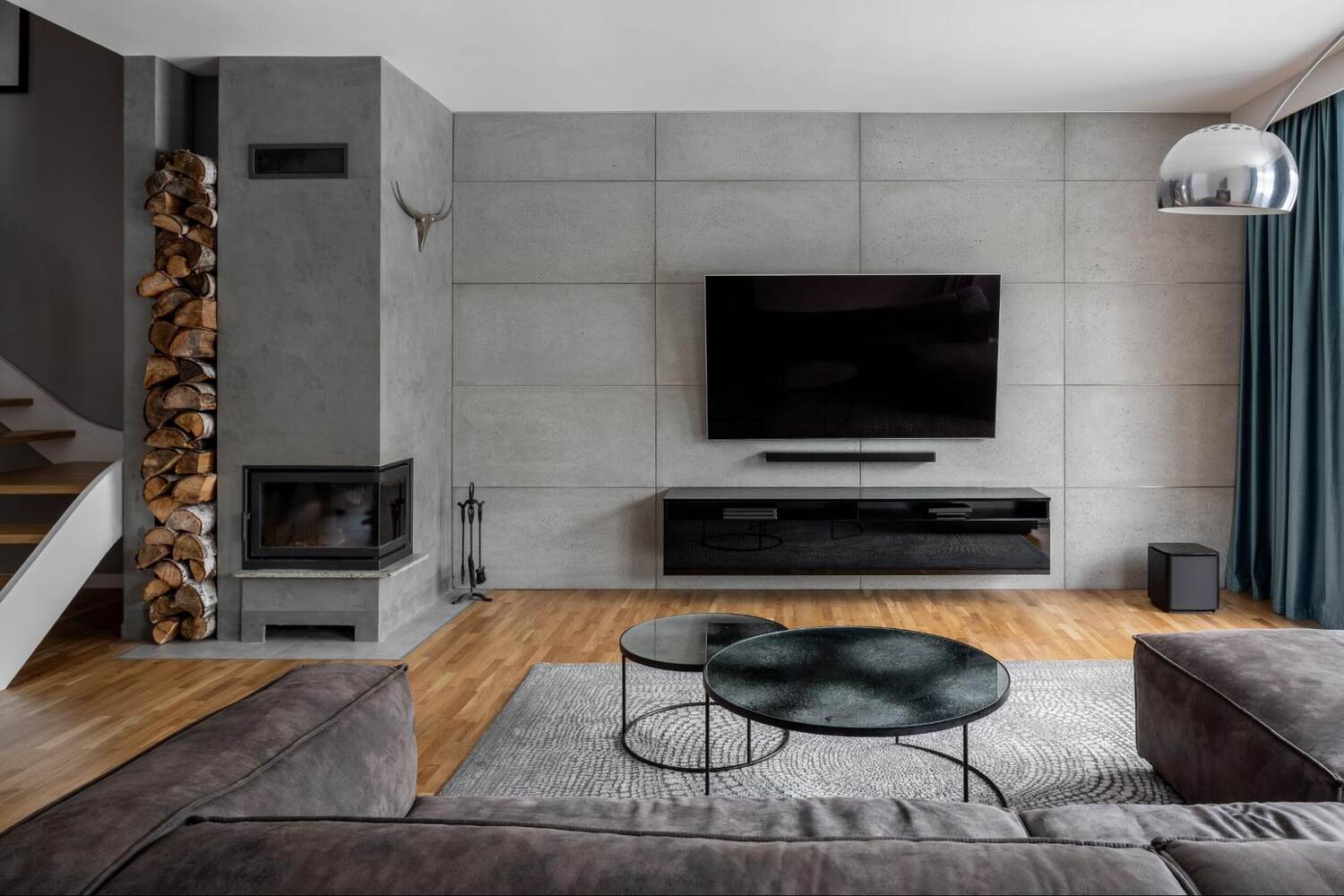 Make sure your soundbar, when set up under your TV, is either the same length as your TV or shorter.
The soundbar shouldn't be longer because it can mess up the room's overall style.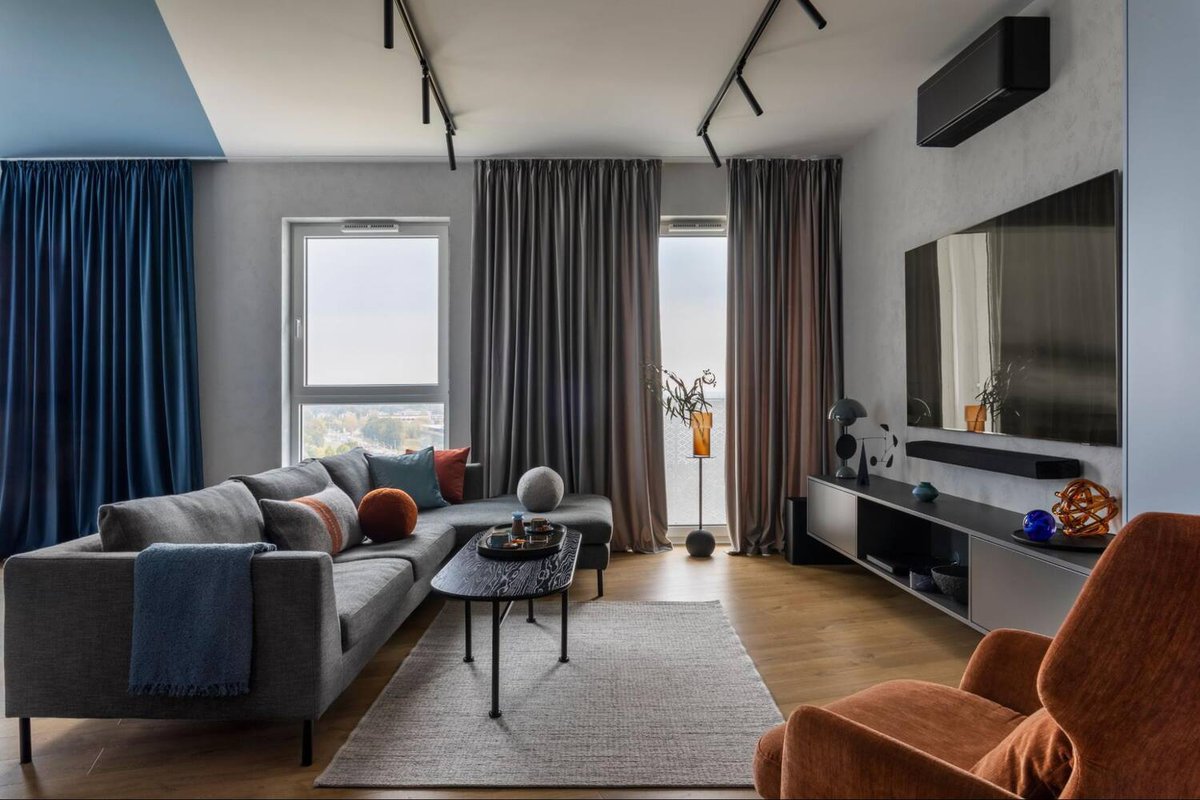 Putting together all the elements I've talked about can truly change the way your living room looks.
3. Traditional Cabinets
Ah, those good old four-legged TV cabinets.
They not only improve the appearance of your living room, but they're also practical.
Thanks to their sturdy legs and storage spaces, they're reliable for keeping things out of sight.
The same principle holds true: For an aesthetically pleasing room, your cabinet or TV stand should be wider than your TV.
I suggest choosing a cabinet color that matches your wall to ensure it doesn't stand out awkwardly.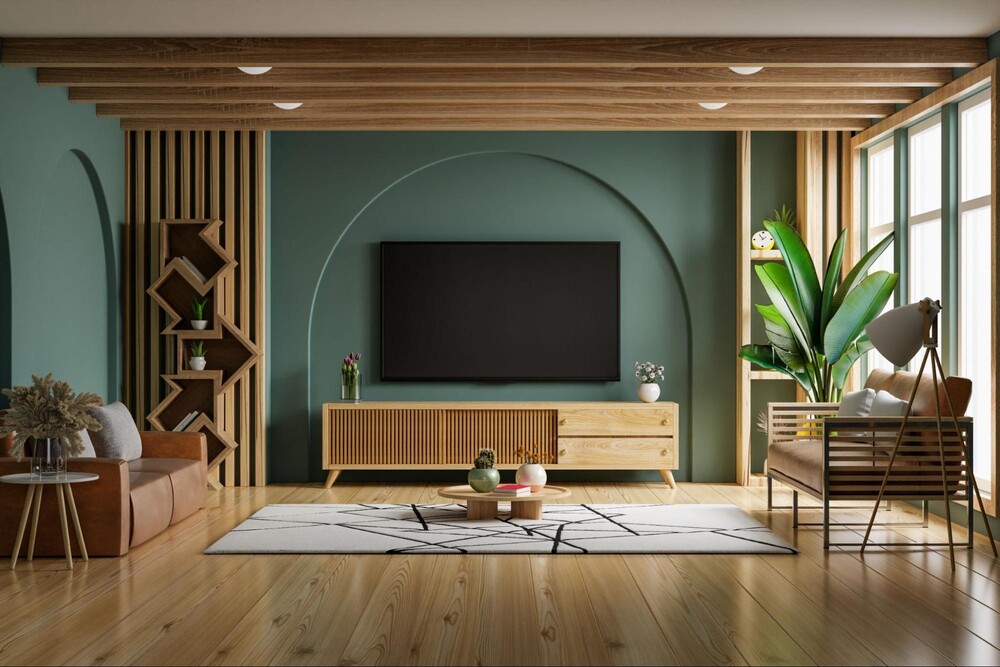 Alternatively, you can pick a color that complements your room's color scheme, creating a harmonious blend that's easy on the eyes.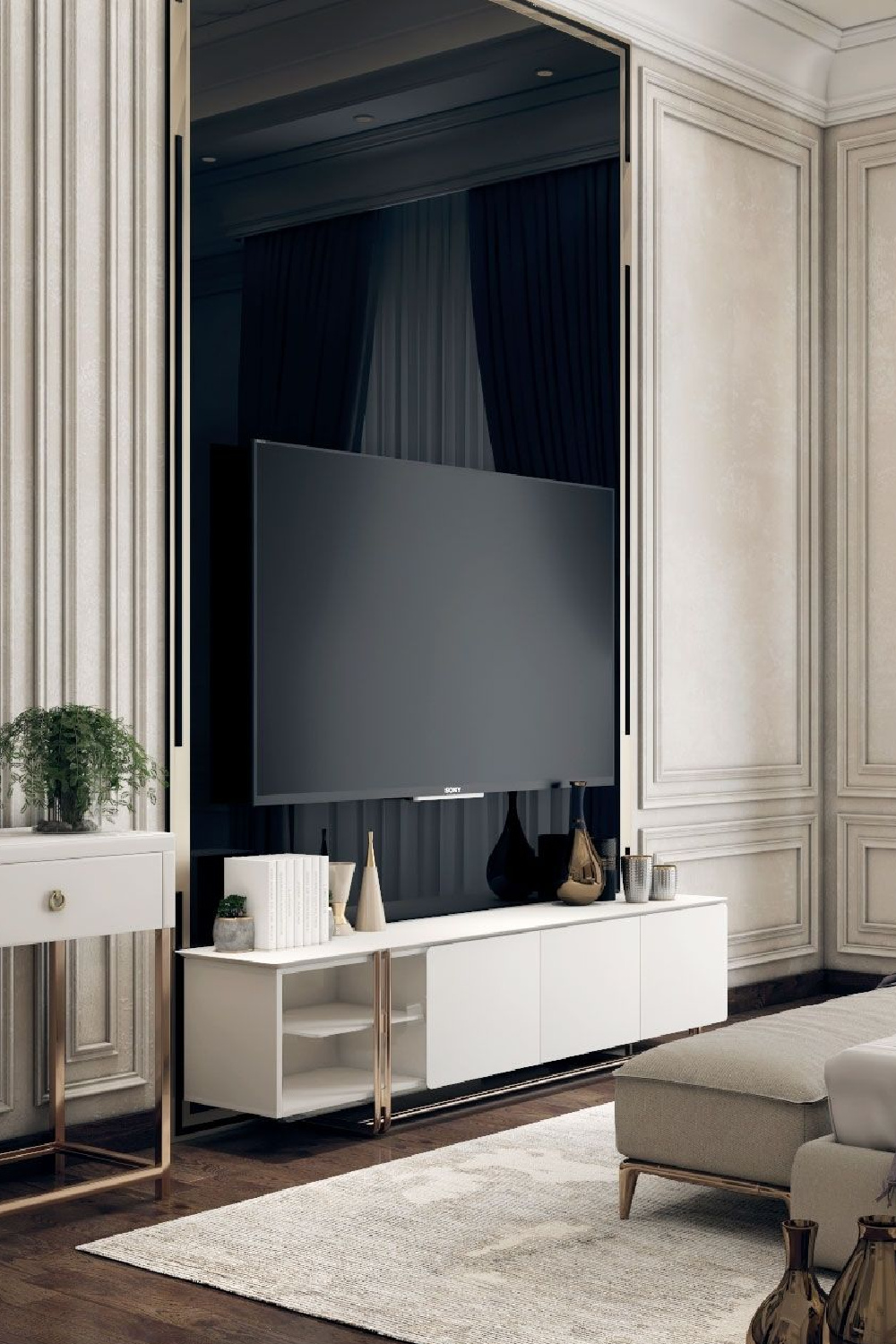 There are two exceptions to this: black and white.
Even though they sit at opposite ends of the color spectrum, they exude an elegant charm and are aesthetically pleasing to the eye.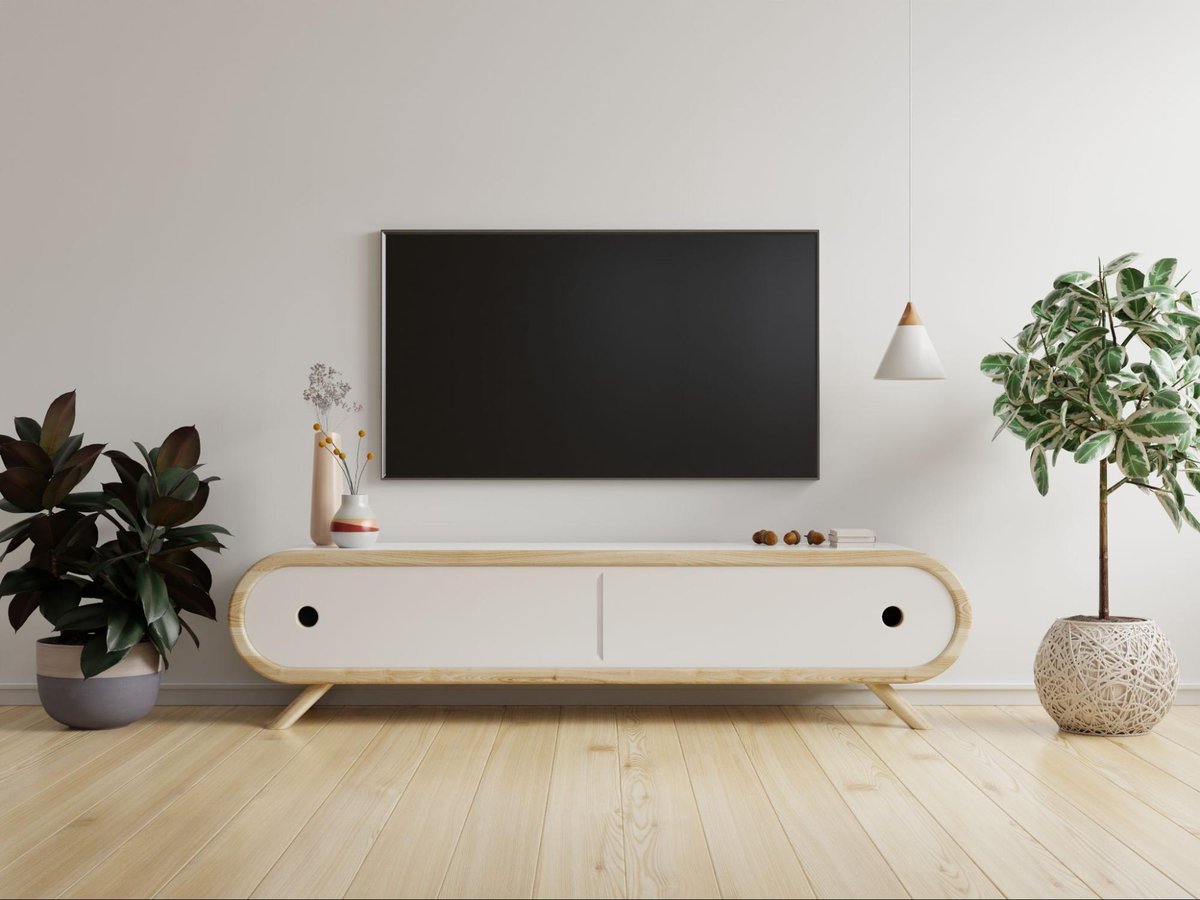 And you don't have to resign yourself to cabinets with sharp corners, especially when most of your interior design lacks rounded or smooth features.
I believe that sharp edges can look striking in certain designs.
However, it's been scientifically shown that sharp and pointy features can make some people feel tense. This is especially true if they're in a room filled with interiors that have a lot of sharp, pointy features.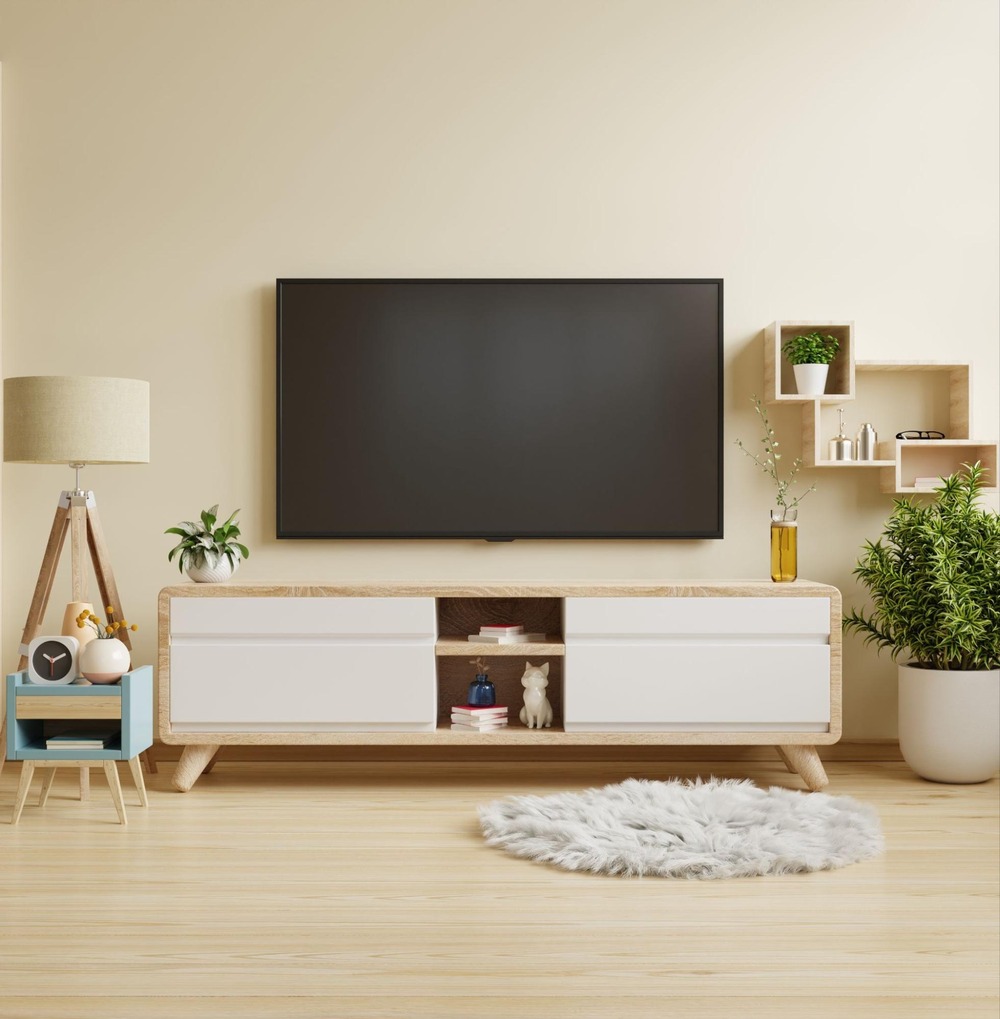 You might consider choosing cabinets crafted with curved corners to create a more inviting atmosphere.
Personally, I enjoy blending sleek, angular interiors with round and smooth accents for a well-rounded aesthetic.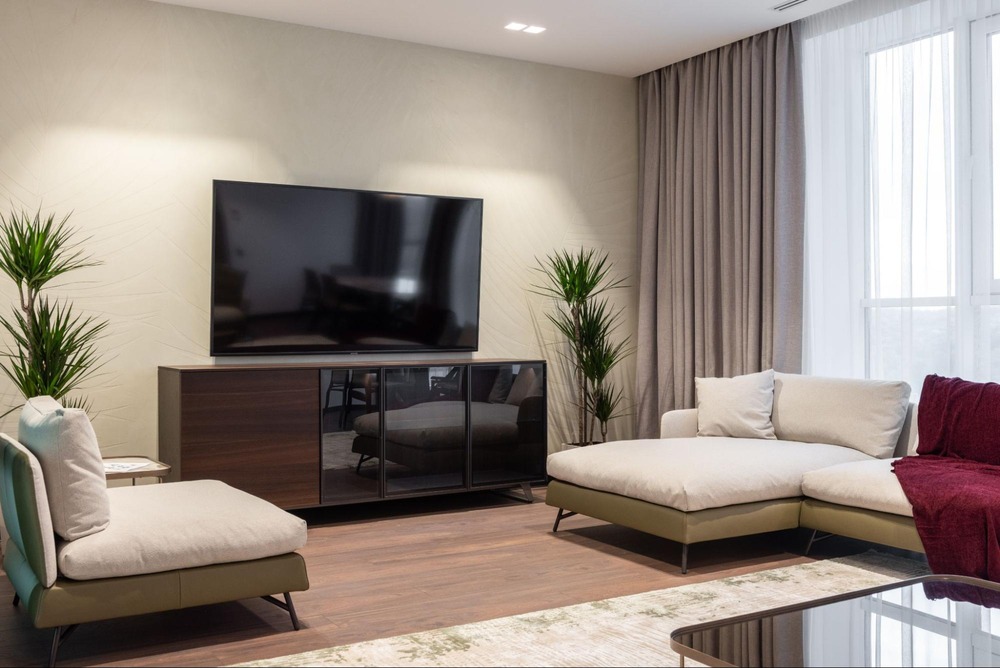 While brightly colored cabinets, particularly white ones, tend to blend seamlessly with most interior designs, dark-colored cabinets also have their unique advantages.
Dark-hued cabinets can enhance your home's interior design by adding a layer of sophistication and depth.
They often exude a luxurious and rich aura, making them a perfect fit for modern and contemporary homes.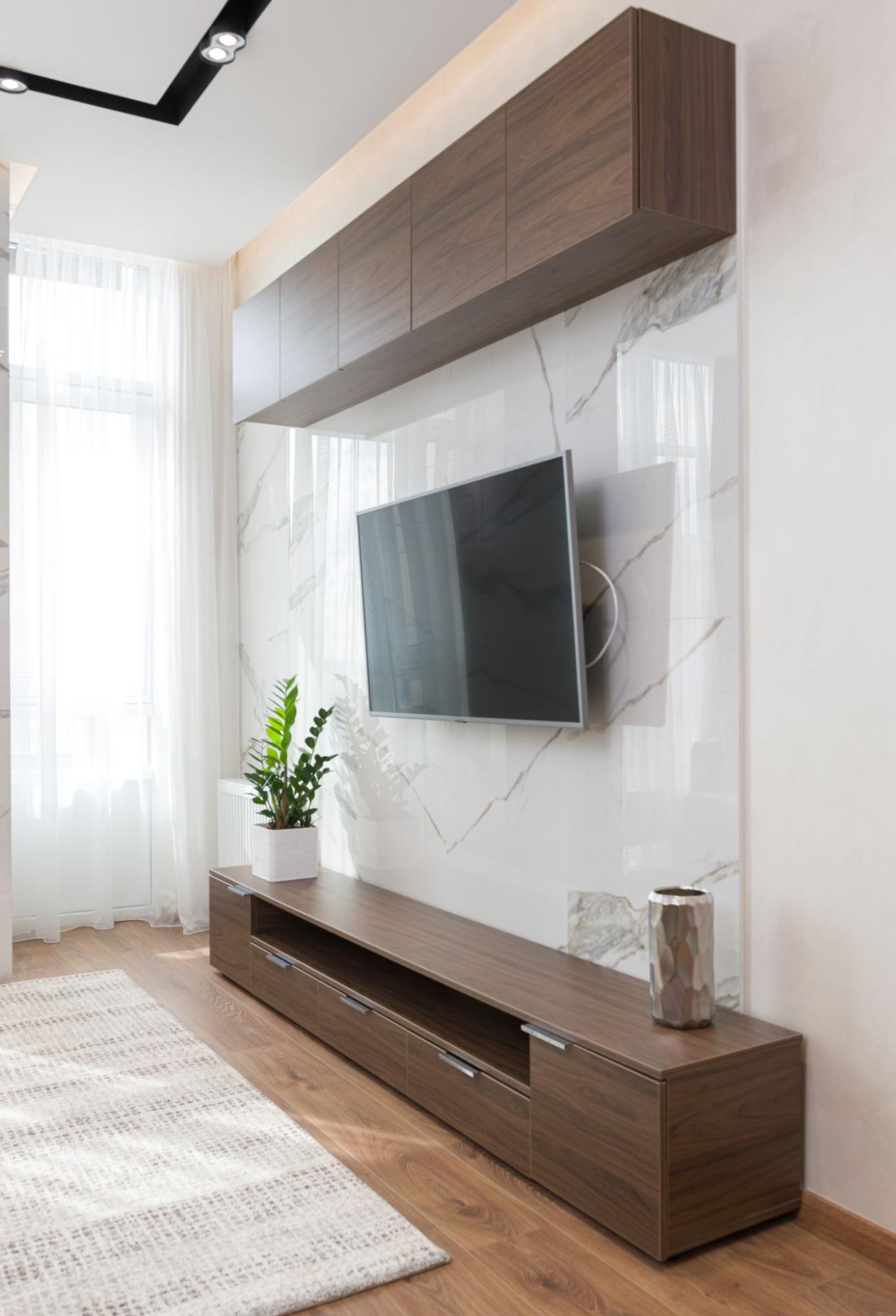 Furthermore, dark cabinets have the added benefit of concealing dirt and fingerprints, making them an excellent choice for bustling areas or homes with kids.
They orchestrate a dramatic and moody atmosphere, providing a warm and inviting ambiance that makes any room more welcoming.
Moreover, dark cabinets can offer a striking contrast to lighter-colored walls and floors.
4. Working Desk
My bedroom is quite small, so I always try to utilize every bit of available space.
This includes the area beneath my wall-mounted TV.
I noticed that many hotels mount their TVs above the desks.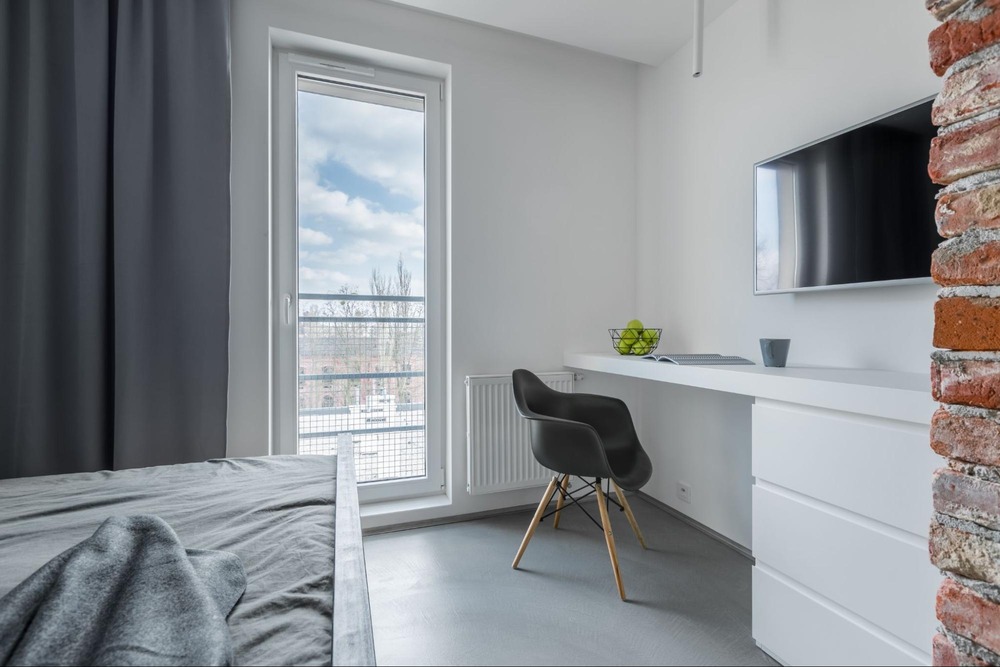 When you really stop to consider it, it all adds up.
Initially, I assumed that having a TV situated above would be bothersome.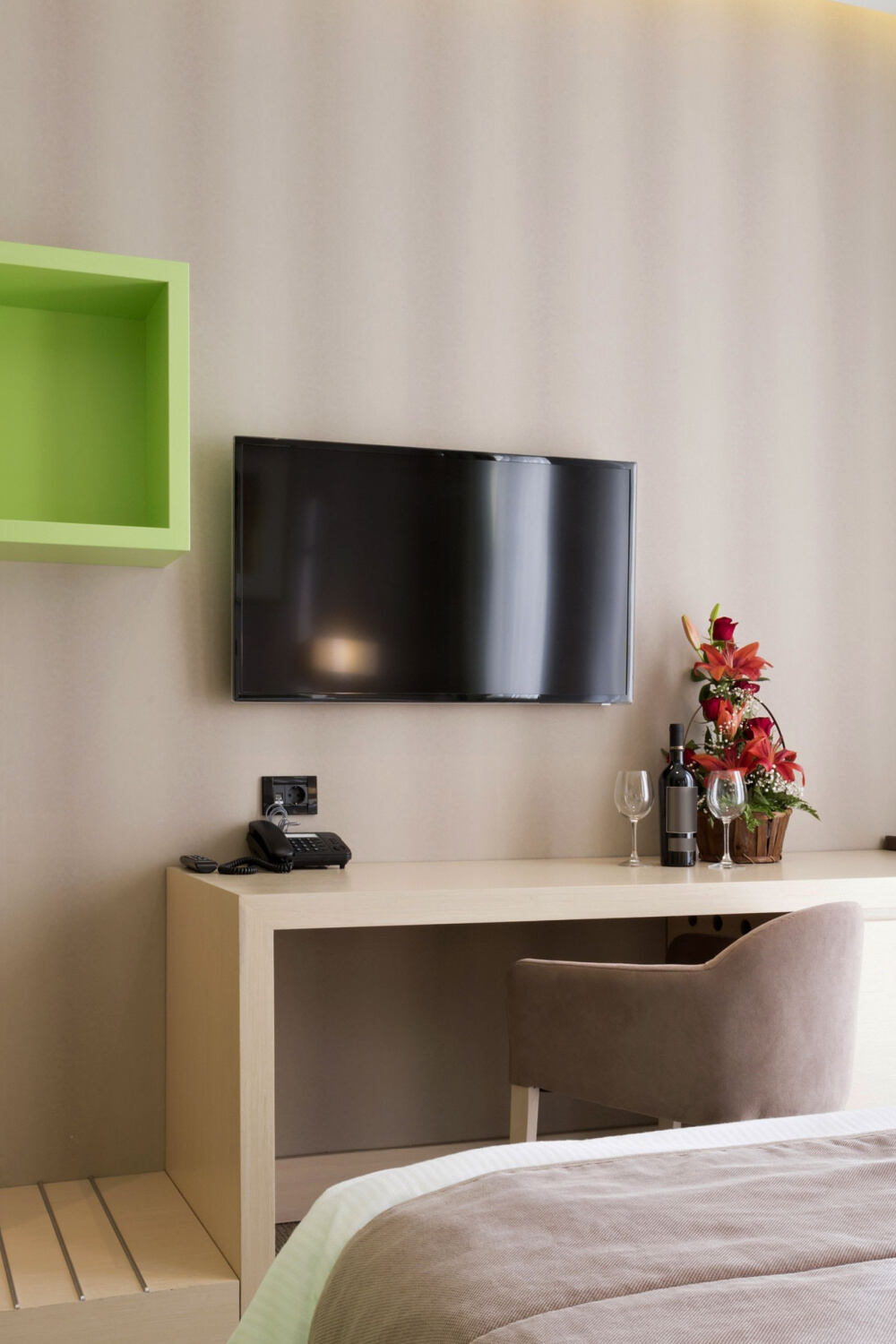 The constant movement and noise emanating from the TV could easily become irritating.
However, I soon questioned, 'Who, in their right mind, would watch TV in such an awkward position?'
Normally, when I watch TV, I relax comfortably on my bed; I certainly wouldn't choose to strain my neck by sitting on a chair and craning my neck upwards to the screen.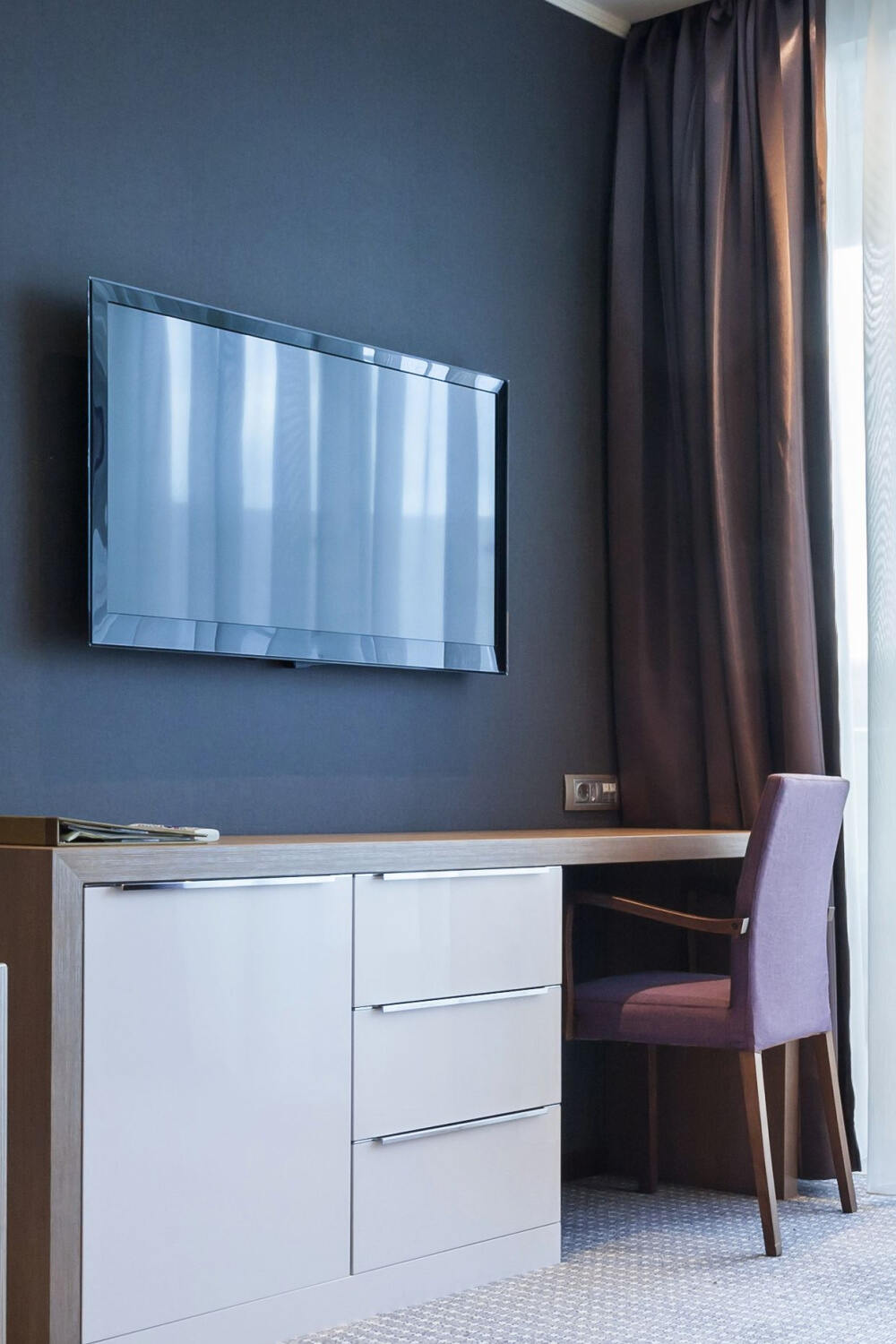 I understand that placing a desk under your TV may not be the most visually appealing setup, but it's quite practical and space-efficient.
Consider selecting an office desk like the one from CubiCubi for an efficient and easy home office setup.
Or you can opt for something similar to a minimalist desk if you're going for a clean and stylish look.
To further enhance your setup, consider adding shelves for storing books and other items.
It would also be handy to install a power outlet and a few switches near the front of your desk for easy access.
Adding a small potted plant to your desk could infuse your workspace with a touch of greenery, enhancing the overall ambiance with a sense of freshness.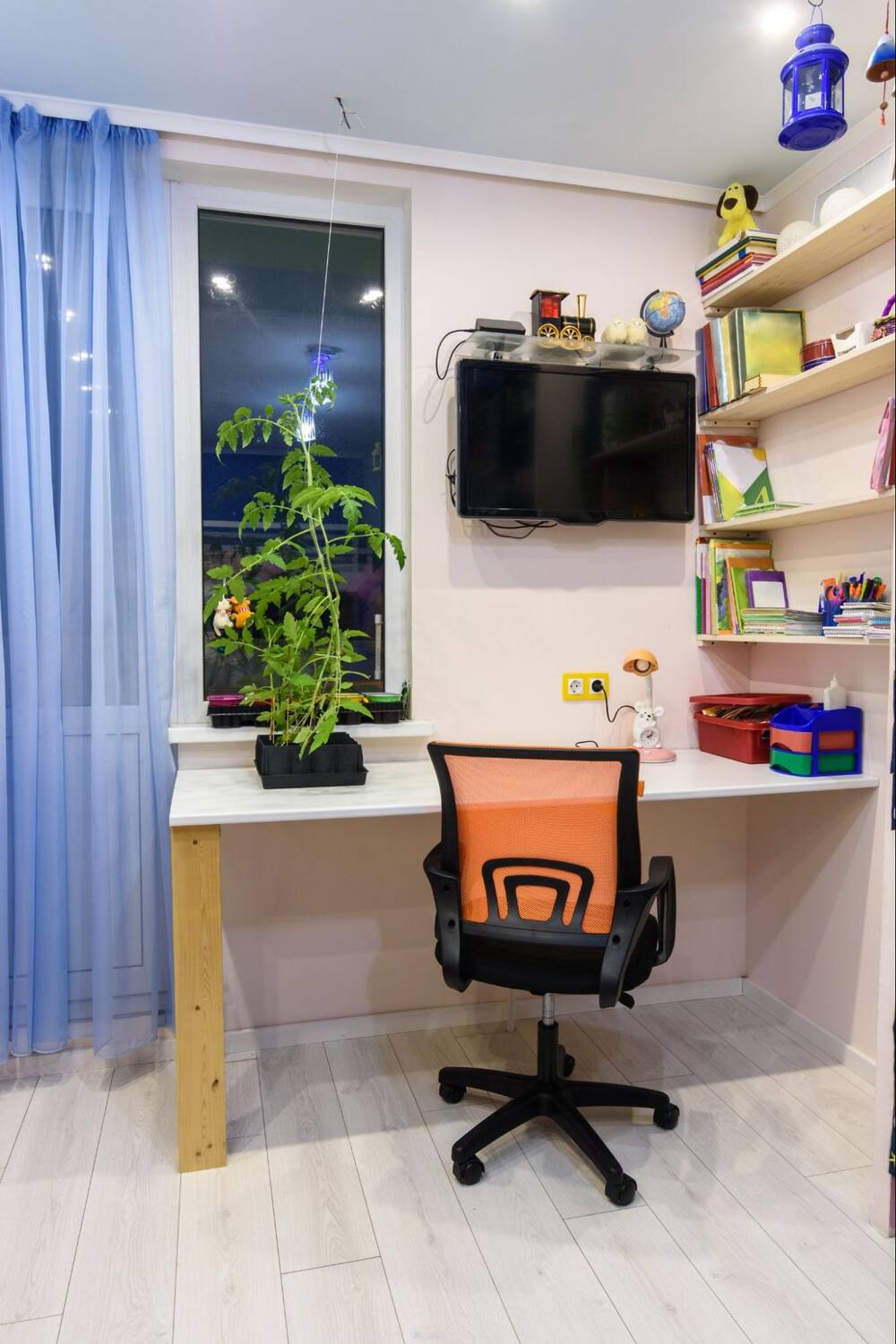 5. Fireplace
A fireplace can truly be the heart of a home, offering both aesthetic appeal and a cozy ambiance when positioned beneath a mounted TV.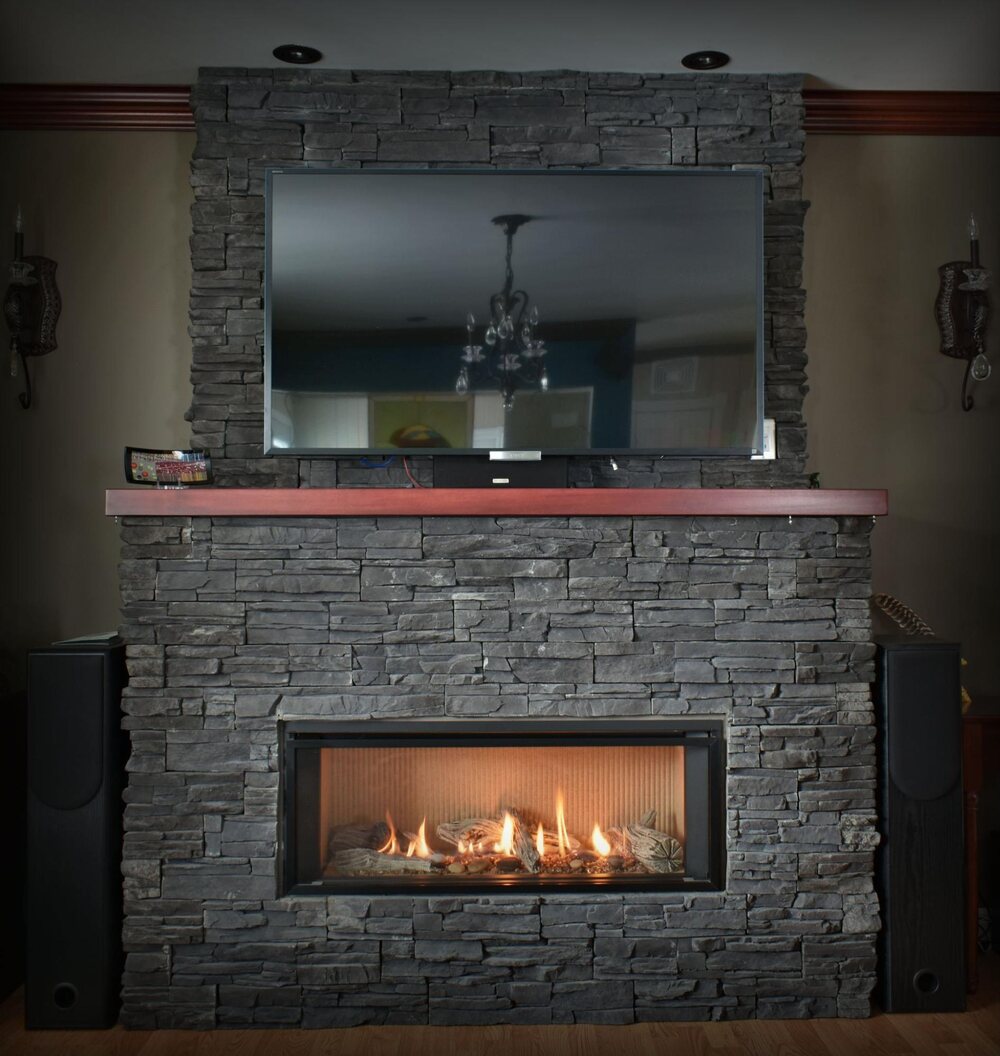 However, the practicality of this option may be limited if you don't have a pre-existing fireplace or if you reside in a predominantly warm climate.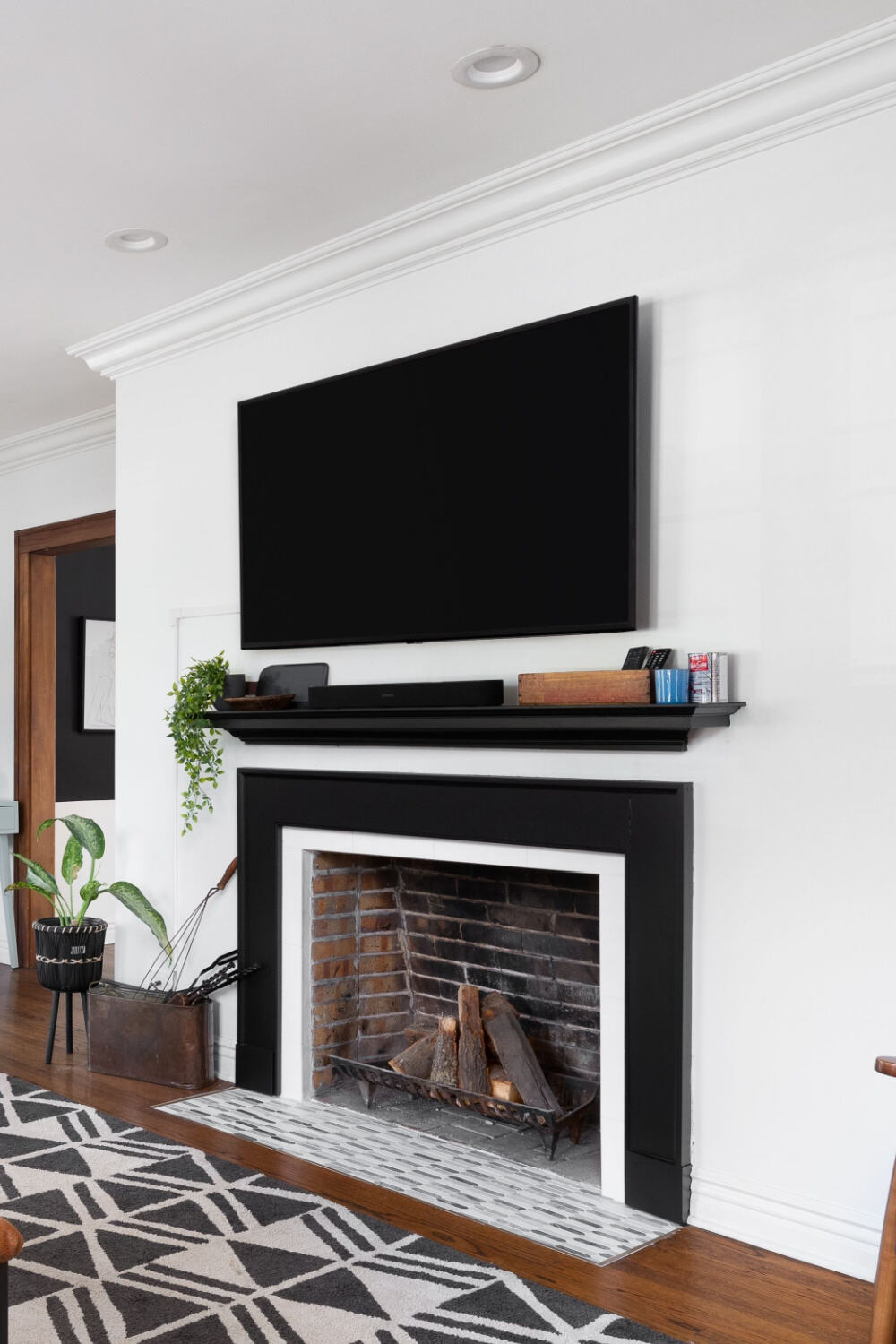 In such cases, an electric fireplace may be the ideal solution.
Some cabinets like this cabinet , offer the added allure of color-changing fire.
Alternatively, for those not interested in cabinets, standalone electric fireplace units are also available.
Other Recommendations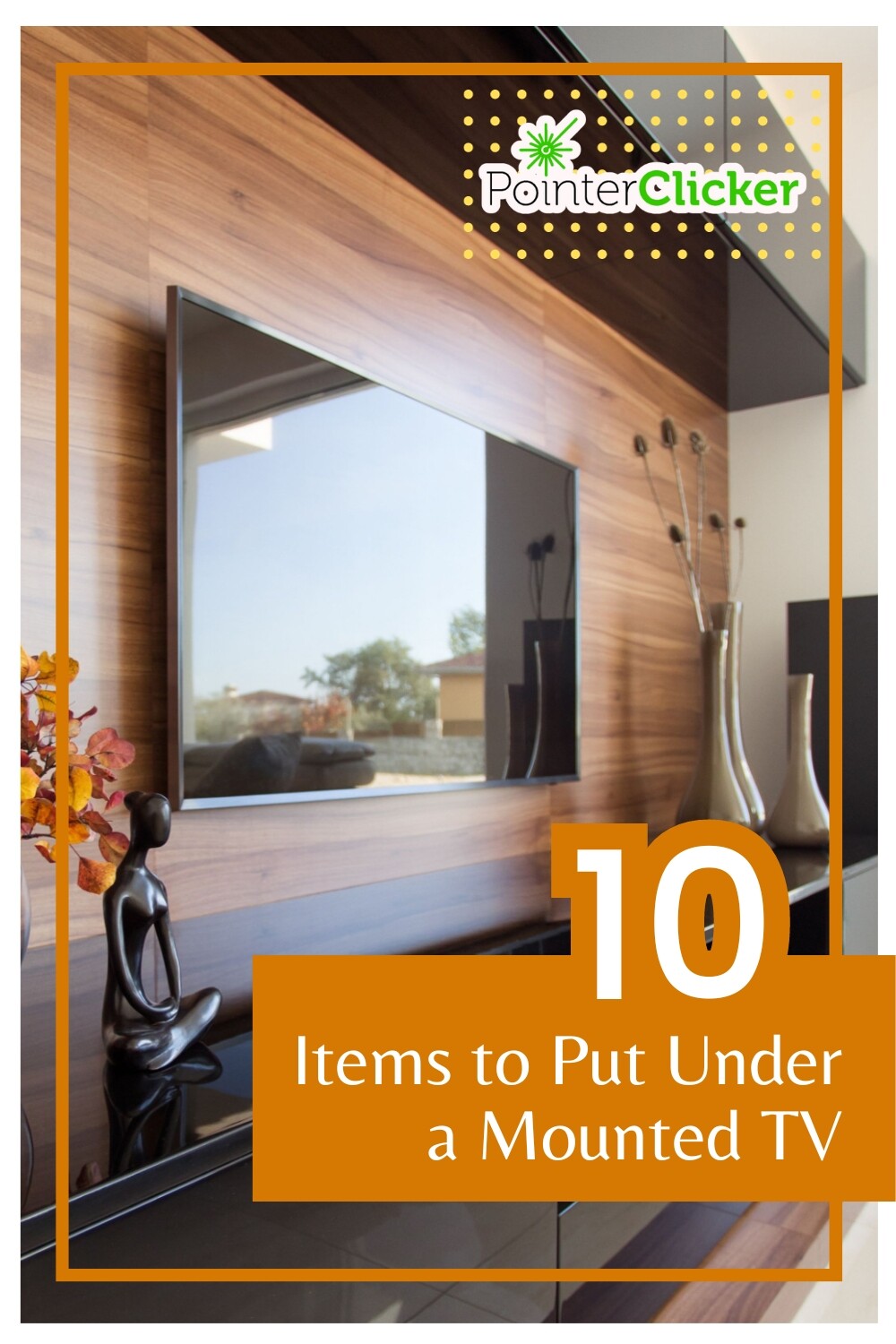 Next, let's turn our attention to smaller items that serve dual purposes: functionality and decoration.
When positioned on a shelf or cabinet, these pieces can inject a personal charm and elevate the ambiance of your home.
6. Books
Books, when put under a wall-mounted TV, ideally on a shelf or stand, can add both aesthetic appeal and practicality to your home.
You have the option to organize your favorite books by genre, author, or even color, adding a unique personal touch to your living room.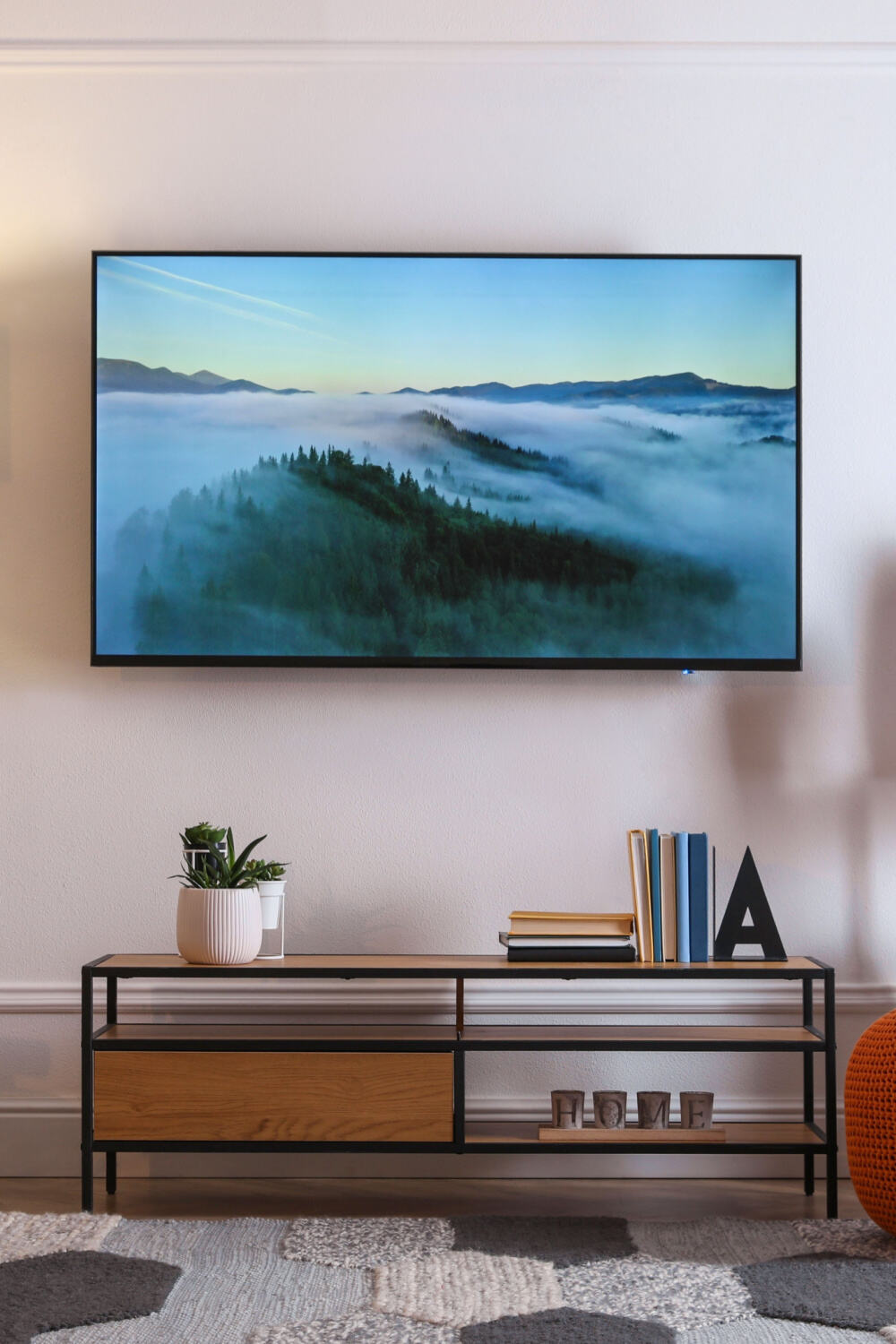 This arrangement not only infuses a literary vibe to your space but also keeps your books conveniently accessible.
Books lend a distinct charm and sophistication to any area. They can spark conversations or simply boost the visual appeal of your room.
You can opt for hardcover books with eye-catching spines or cover designs that complement your room's theme or color palette.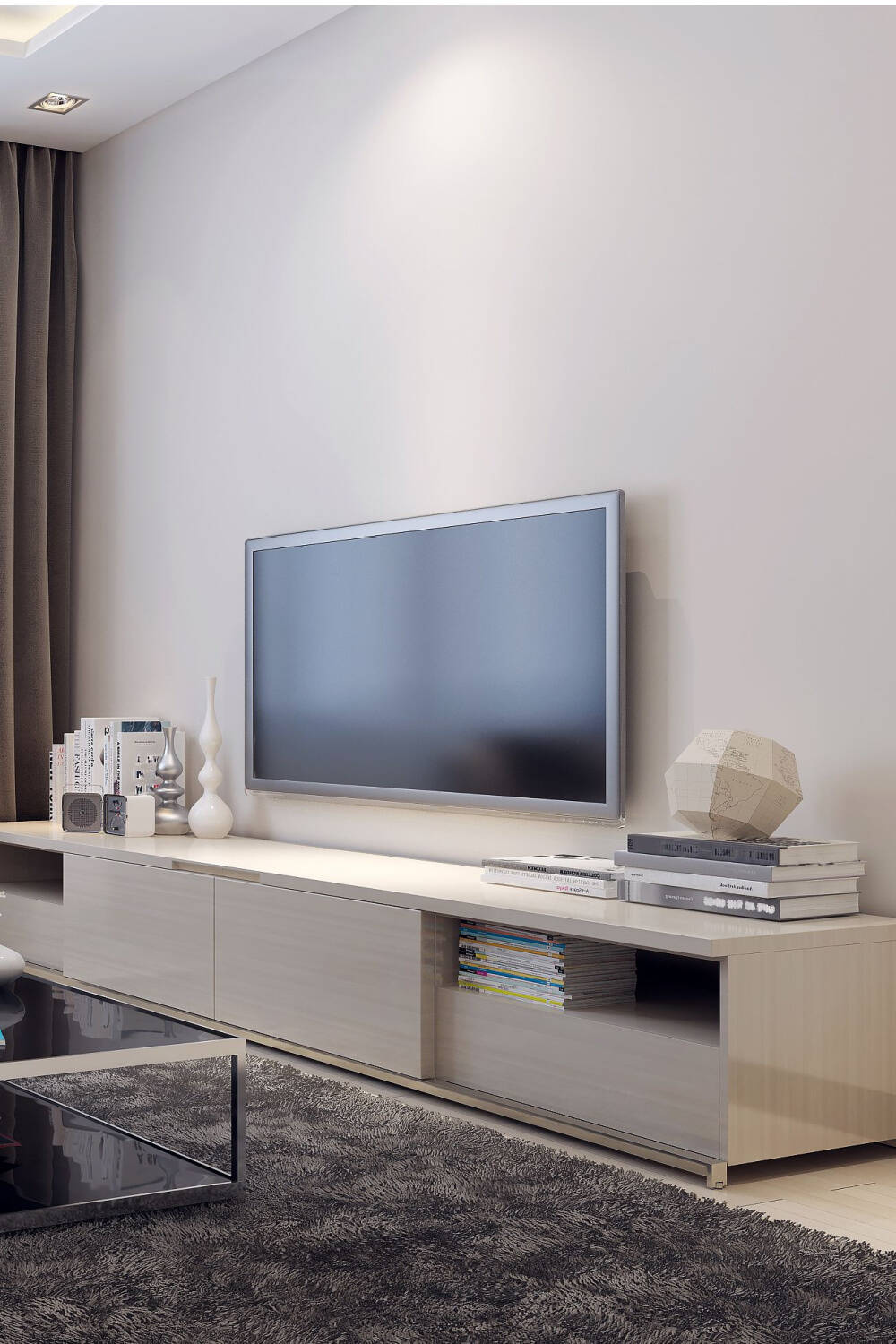 Depending on your personal style, you can experiment with a variety of book display designs.
You might select a sleek, modern shelf, or for a more country-style vibe, consider stacking books on repurposed wooden planks.
Alternatively, floating shelves offer a minimalist, clean design, allowing your books to appear as if they're hovering in mid-air.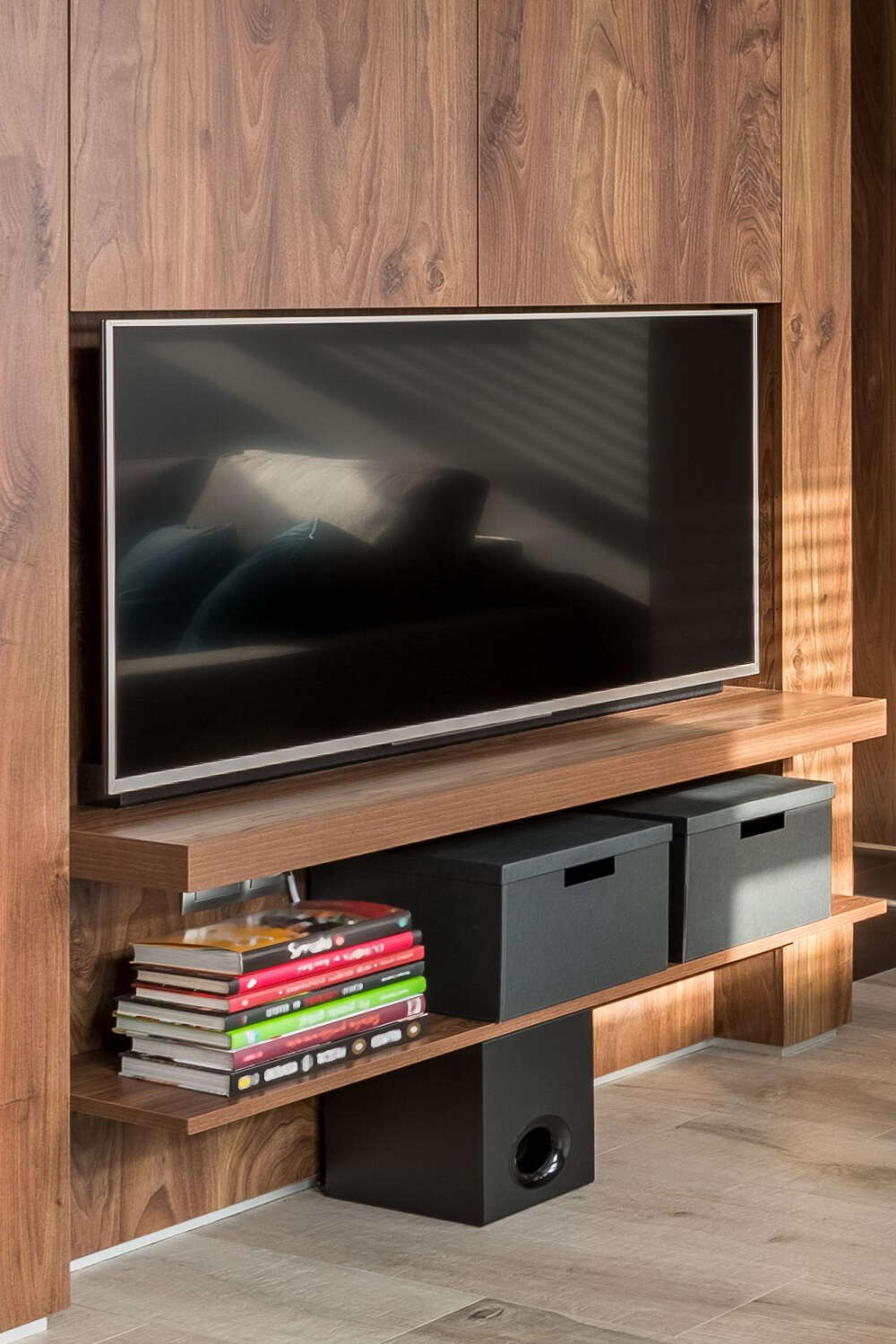 7. Game Consoles
Placing your gaming console like a PlayStation 5 or an X-Box Series X beneath a wall-mounted TV provides a clean, organized look.
Gaming consoles, famed for their smooth designs and bright colors, can boost the modern charm of your interior.
In terms of usability, this setup improves your gaming experience. Keeping the console near to the TV reduces wire clutter, making it easier to control.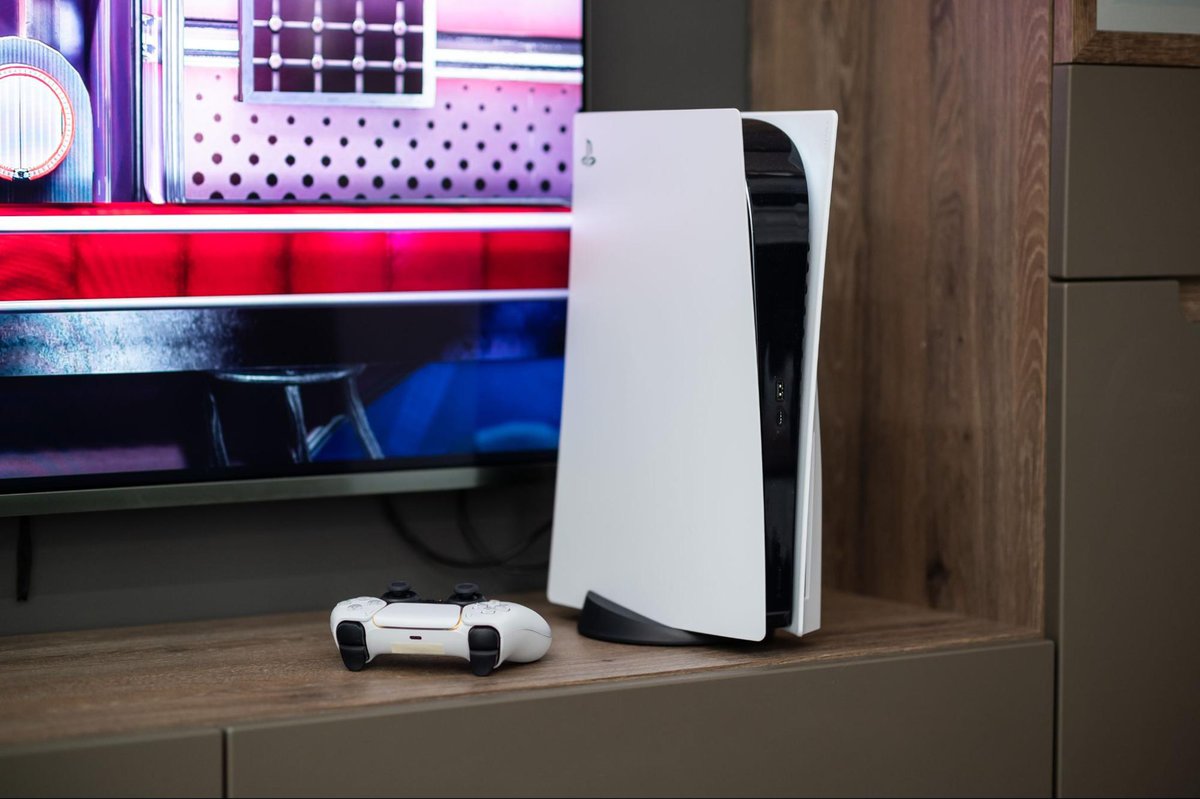 This also allows for faster, more effective switches between gaming and watching TV.
The convenience offered by this arrangement provides another persuasive reason for situating your gaming console under a wall-mounted TV.
It allows easy access to the console, simplifying tasks like inserting or removing games, connecting controllers, or carrying out maintenance.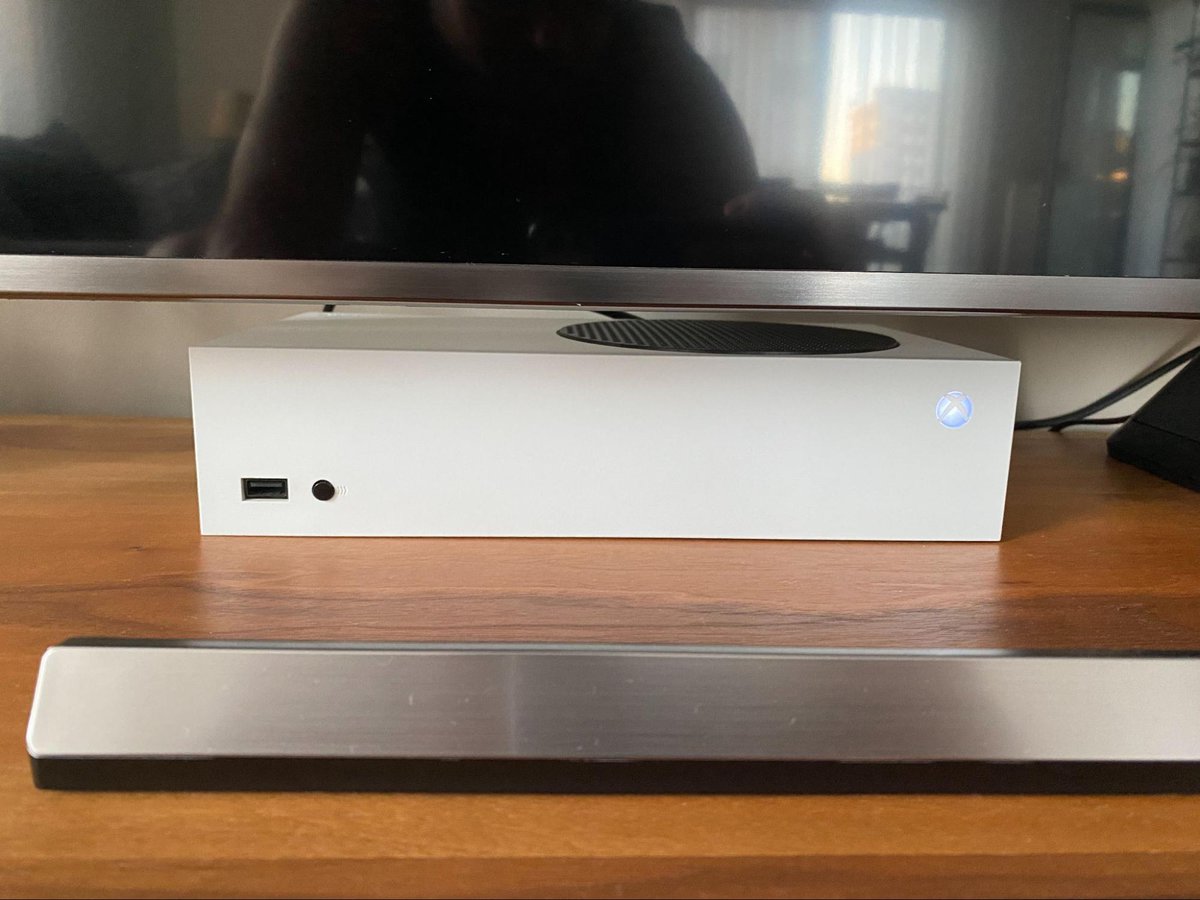 8. A Wi-Fi Router
Your Wi-Fi router can be used as a decorative piece along with its own functionality.
Modern routers are sleek and modern in design, so when placed beneath your mounted TV, a Wi-Fi router can be the final touch of aesthetic for your room.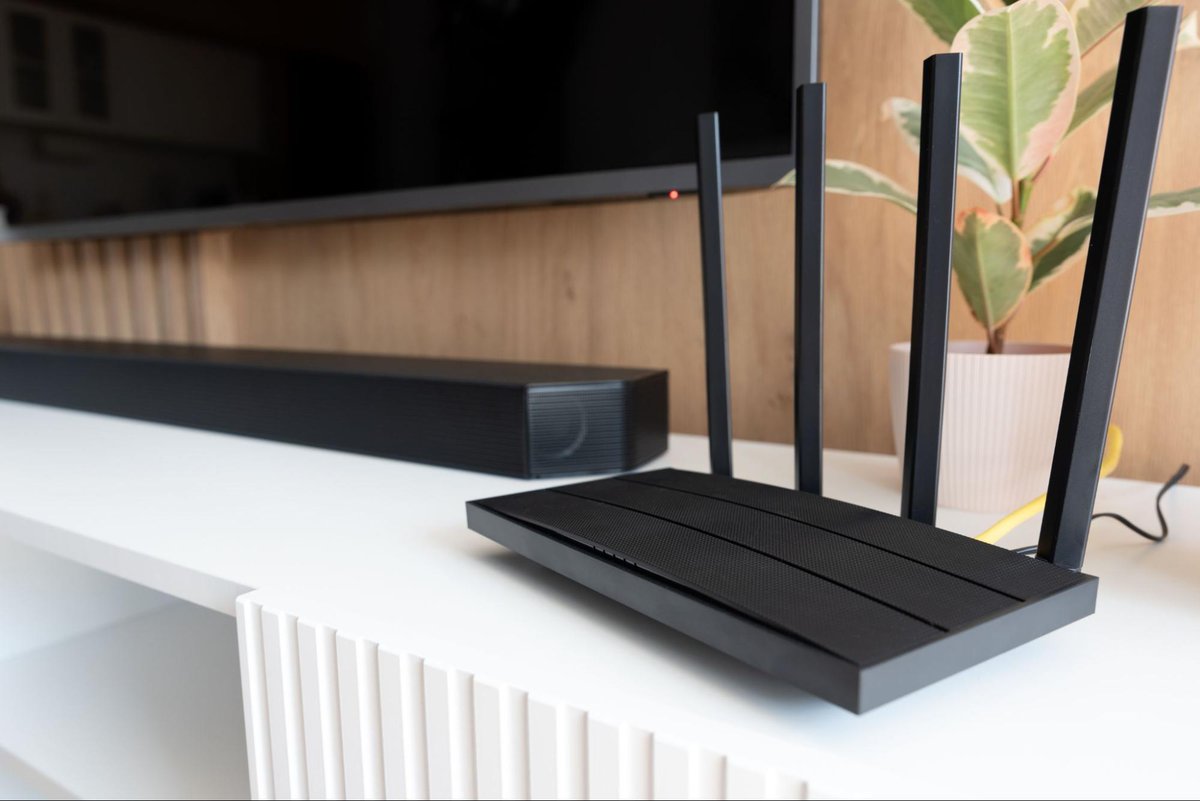 9. Small Statues
Putting small statues beneath your wall-mounted TV can certainly make your living area more attractive.
Make sure the statues you pick match the overall design and color palette of your room.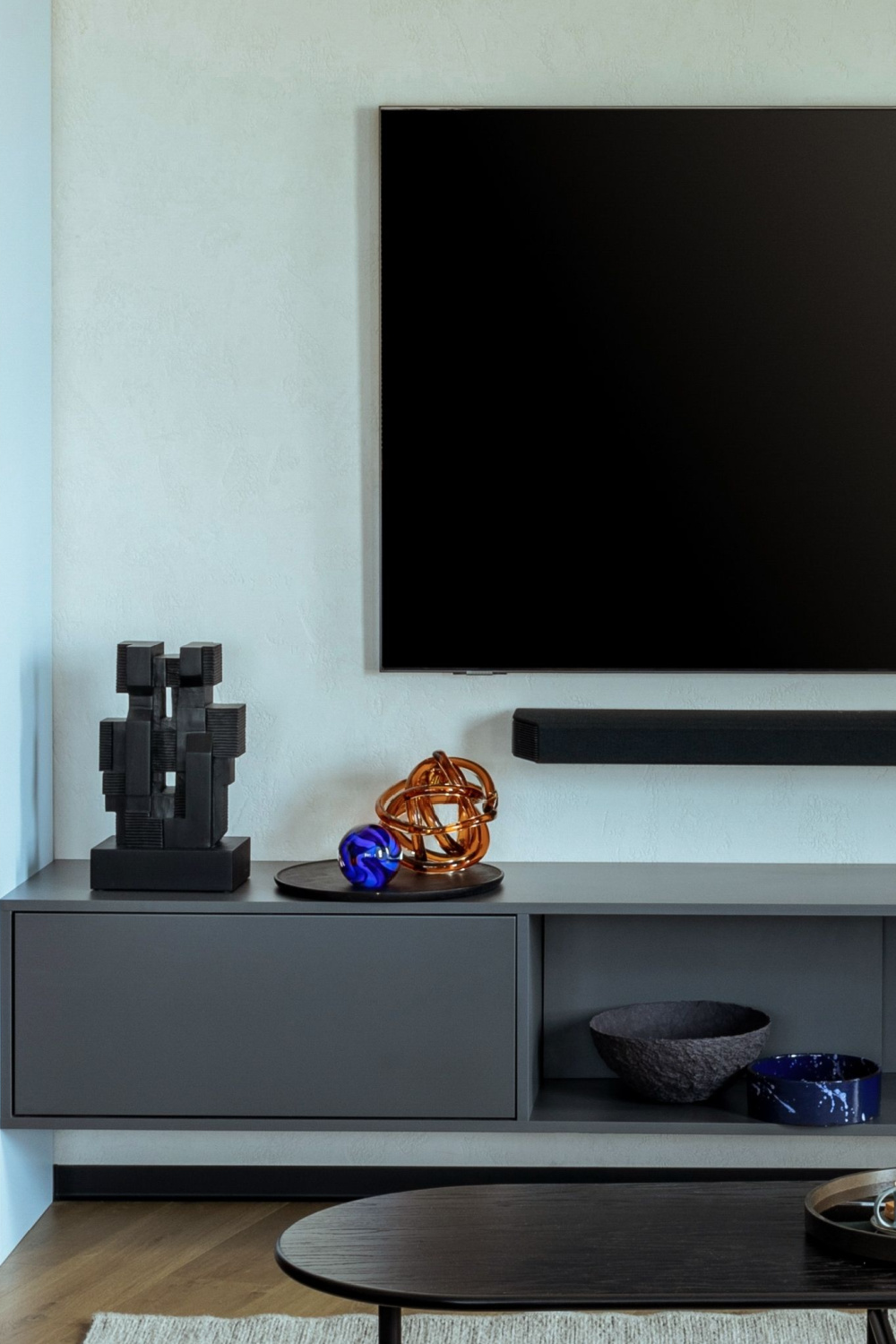 For example, simple sculptures can give a classy feel to a contemporary living room, while old-school statues can add charm to a more classic space.
Also, keep in mind the statues shouldn't be too big or too high so that they take the focus away from the TV. Instead, they should serve as subtle, artistic highlights.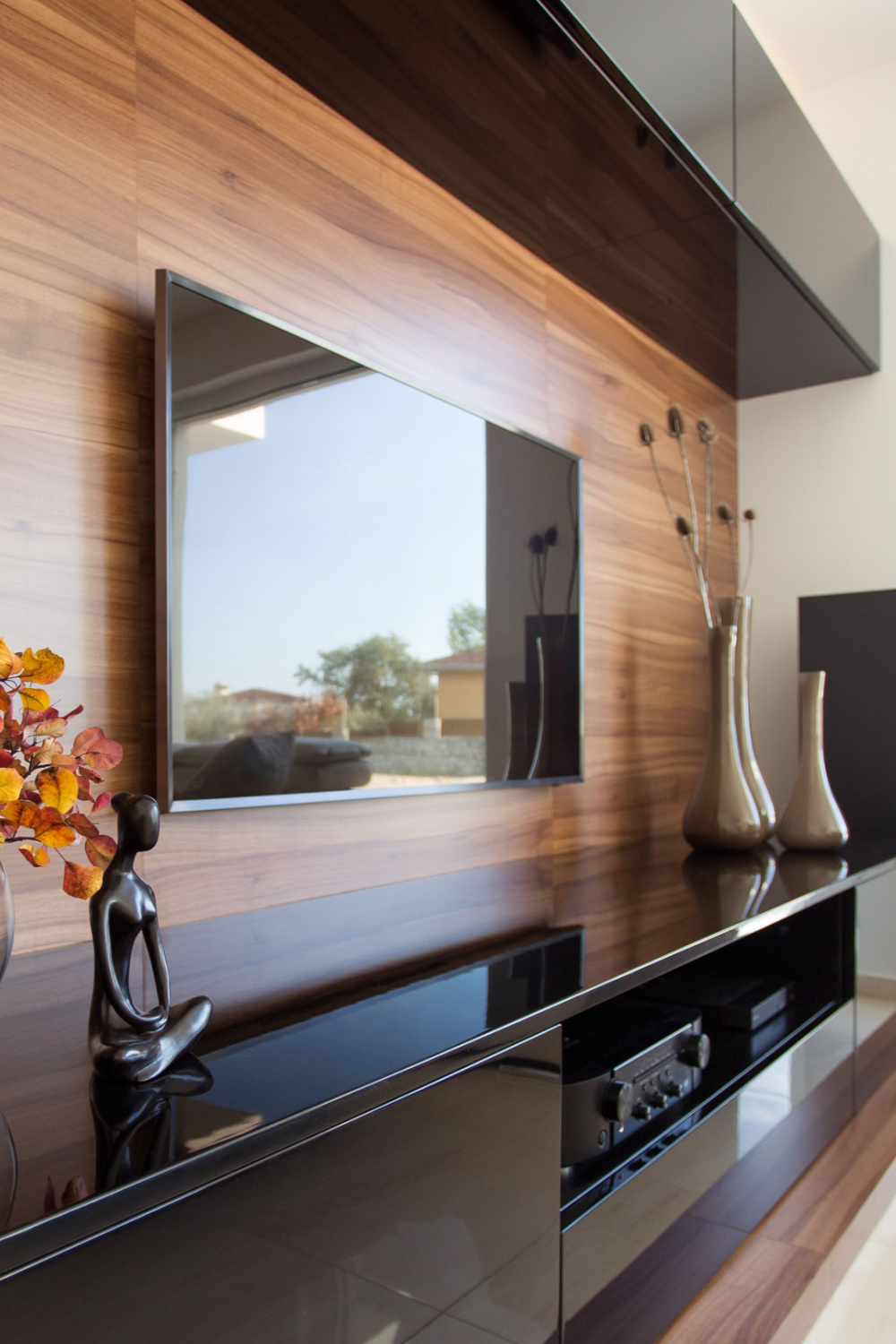 Plus, try to steer clear of statues that are too bright or glossy as they might bounce off the TV light and become a distraction.
10. Figurines
Same with small statues, figurines can help make your TV corner look more aesthetic and interesting.
The key is to select figurines that complement your room's decor and reflect your personal style.
They could be works of art, your favorite anime, or superhero movie characters.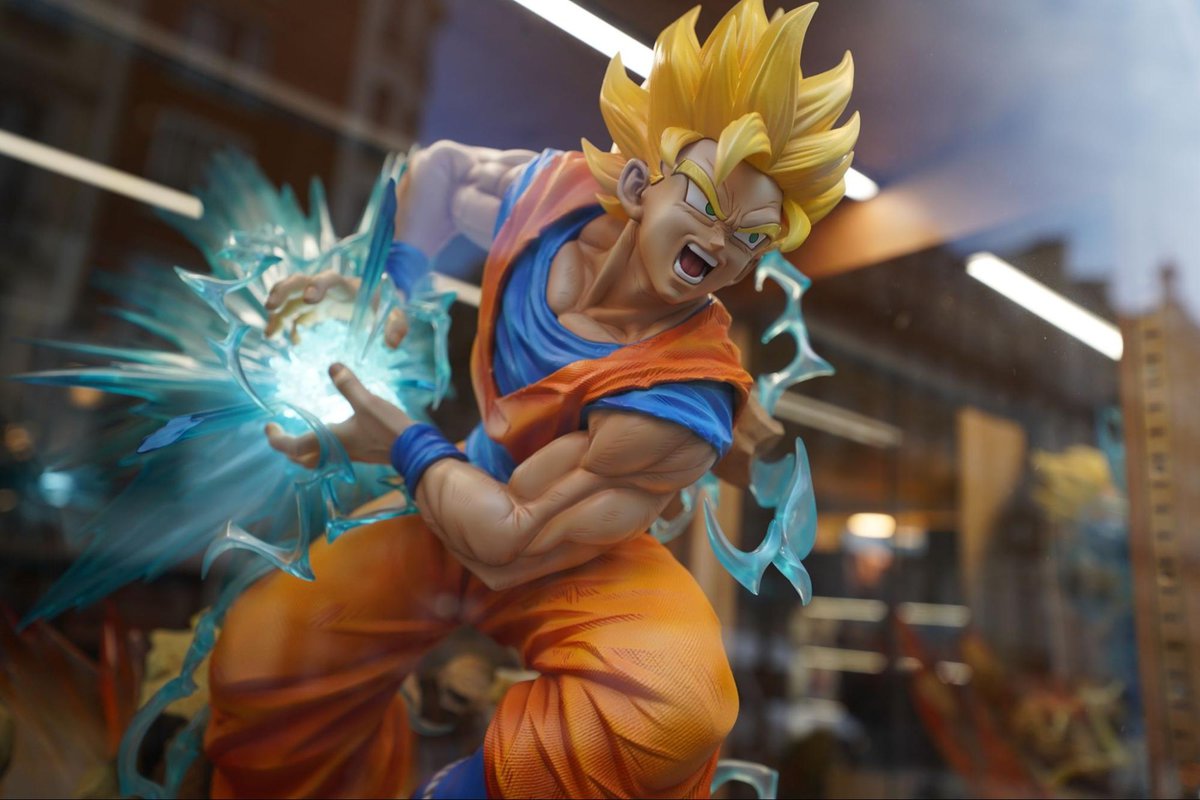 Arrange them in an eye-catching way without overcrowding the space. You could place them on a console table or floating shelf beneath the TV.
Remember, the goal is to create a harmonious balance between the figurines and the TV, not to detract from the viewing experience.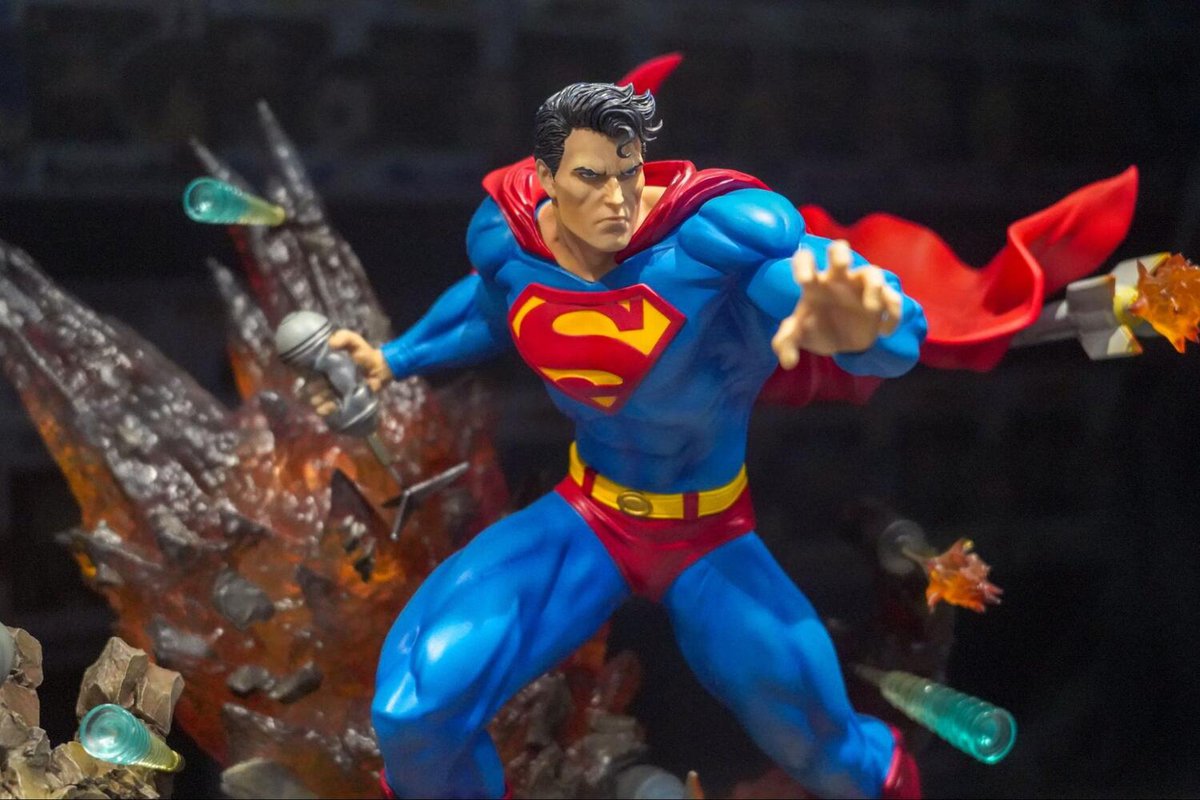 11. Small Pots of Plants
Adding small potted plants on your TV stand, right under a wall-mounted TV, can really jazz up your room.
These little plants bring a hint of nature and peace, making the room feel more welcoming.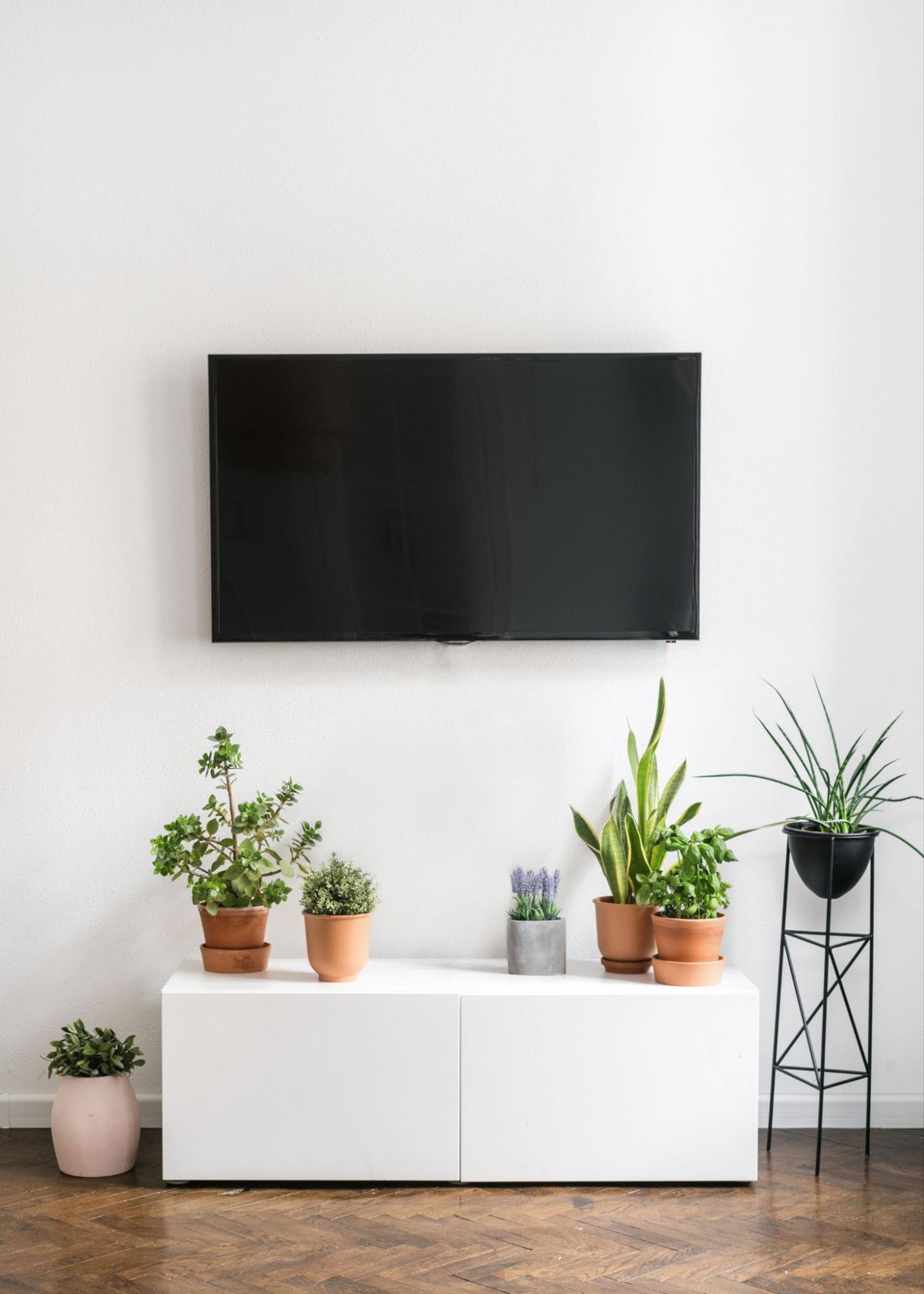 They also balance out the high-tech look of the TV and make the TV stand and wall seem less harsh.
Go for indoor plants that don't need much light and are easy to take care of, like succulents or snake plants.
Or you can choose fake plants if you don't have the time and effort to take care of the real ones.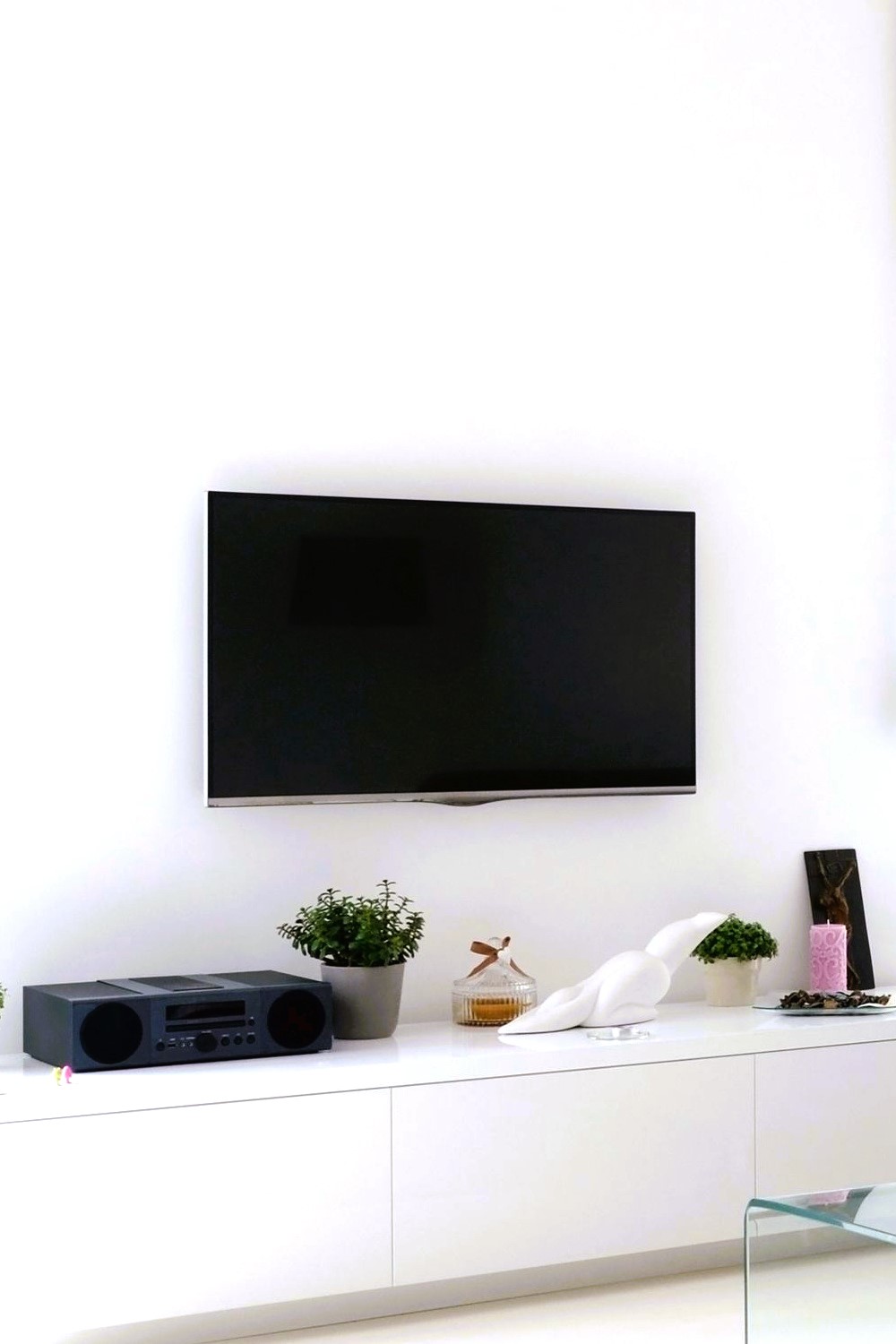 You can pick pots that match the style of your room, from country-style terracotta to modern ceramics.
This easy change can turn your TV stand from just a handy piece of furniture to a cool centerpiece in your room.
12. A Soundbar
If you're looking to boost the look and function of your room, a soundbar is a fantastic choice.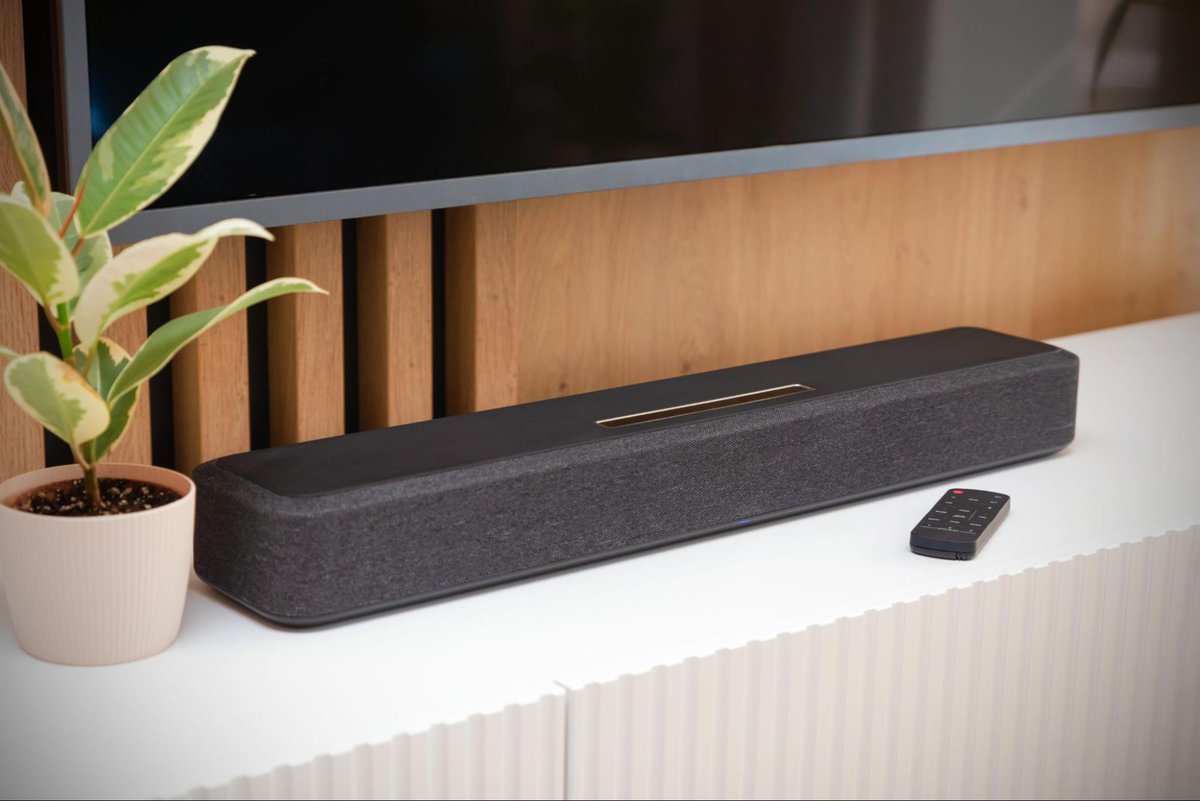 A soundbar with a sleek, modern design that fits perfectly beneath your wall-mounted TV will keep the area uncluttered.
You can pick a soundbar that complements your TV's style, creating a cohesive look in your entertainment space.
A soundbar also provides full, immersive sounds that drastically improve your viewing experience.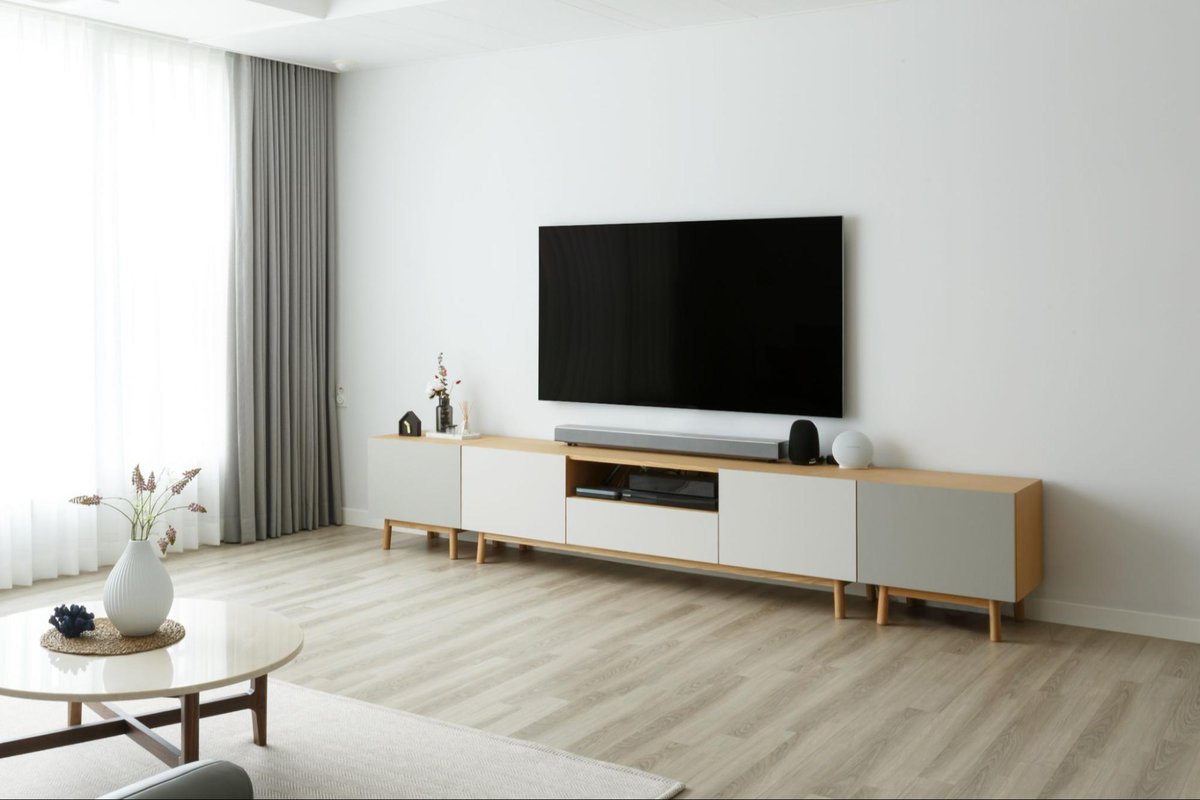 Whether you're enjoying a movie, gaming, or jamming to music, the soundbar offers top-notch audio quality and depth.
You have the option to mount your soundbar below your TV or simply set it on a cabinet.
13. An Audio Amplifier and Speakers Setup
If the simplicity of a soundbar doesn't appeal to you, an audio amplifier and speakers setup might be just what you need.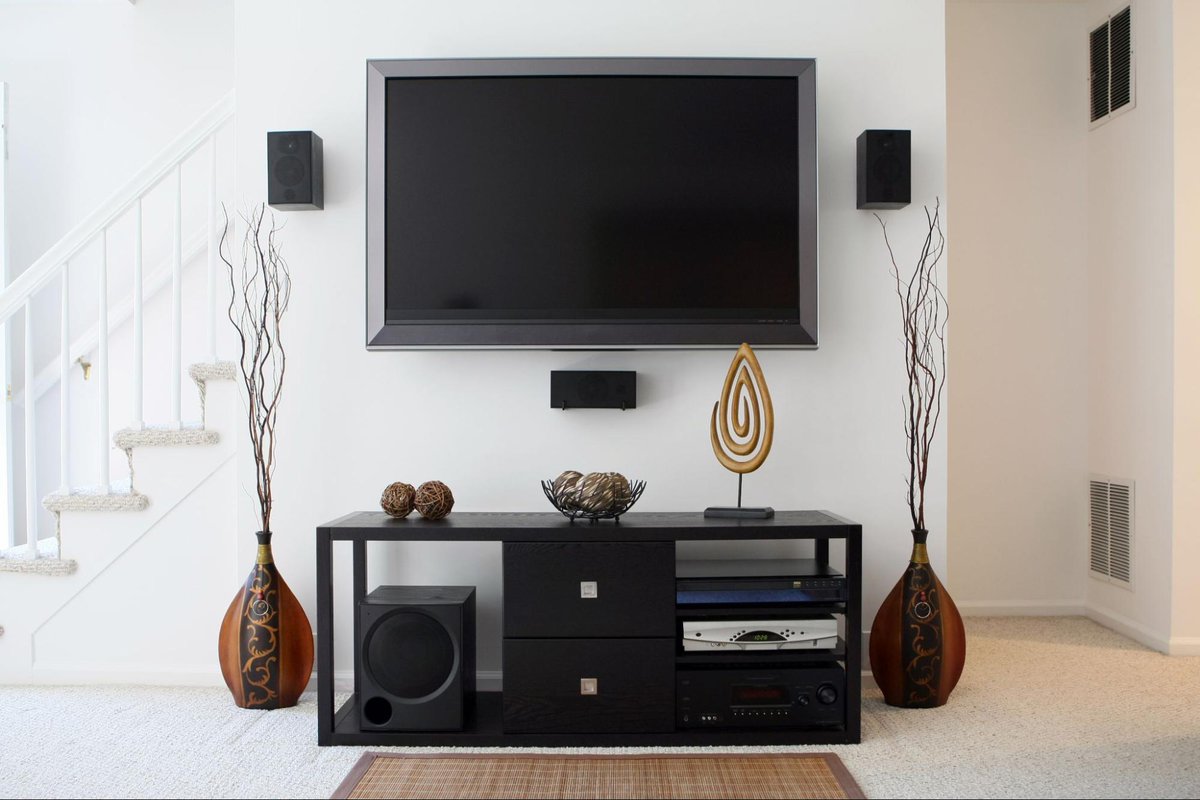 This setup allows you to customize your sound system for an enhanced audio experience.
Plus, in my view, a complete audio setup looks much more impressive than a simple soundbar.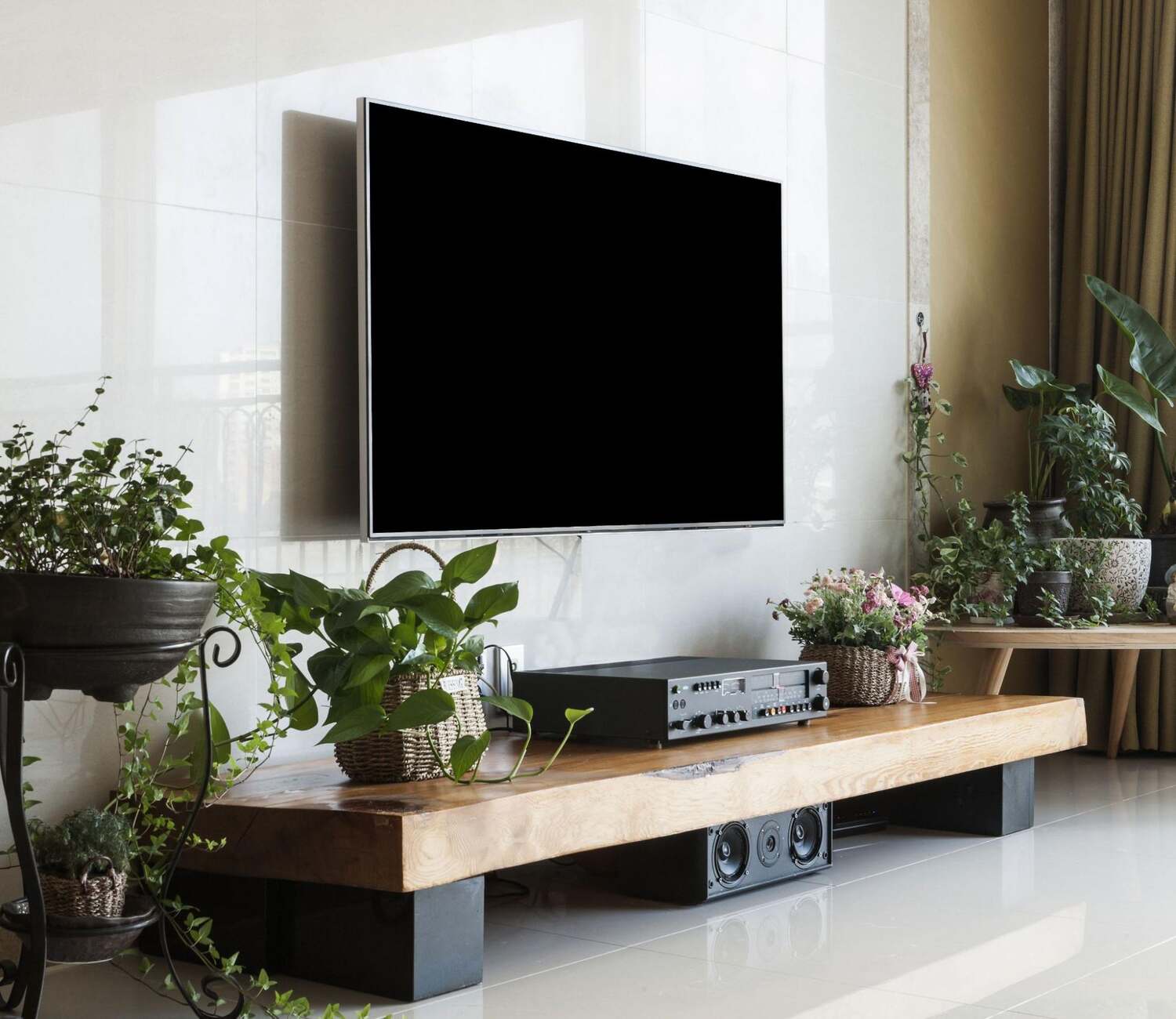 14. A Clock
Adding a clock on top of a TV cabinet placed under a mounted TV serves both aesthetic and functional purposes.
Aesthetically, a clock introduces a classic element into the modern setting, creating a harmonious blend of traditional and contemporary styles.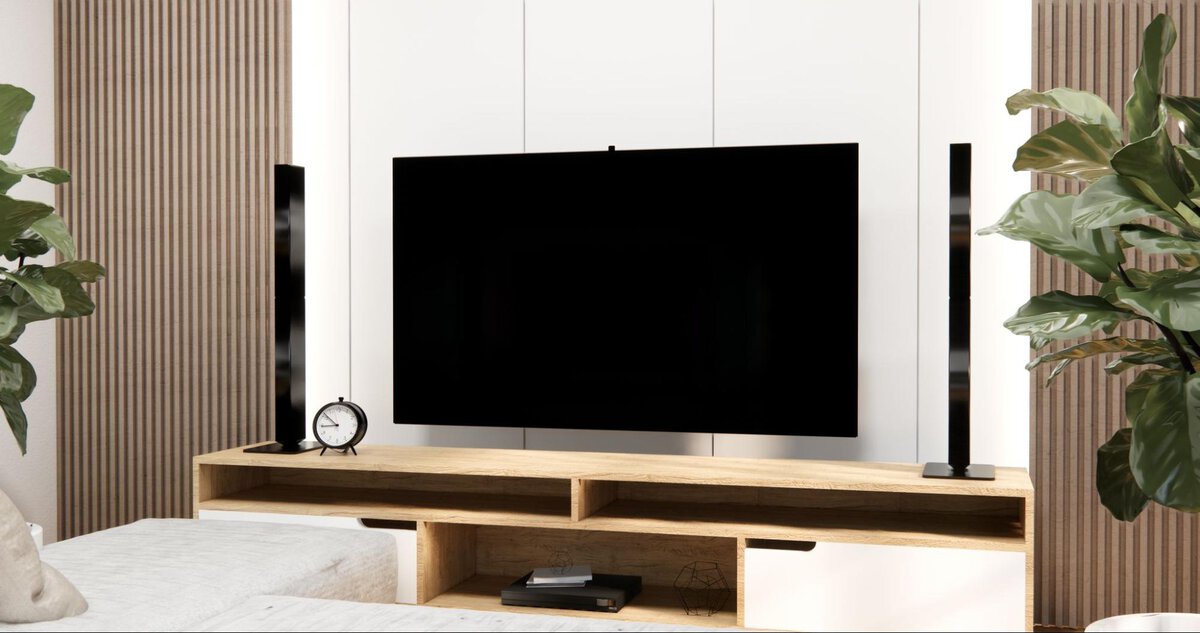 A clock, whether it's analog or digital, can act as a focal point, drawing the eye and breaking up the monotonous expanse of the wall.
Additionally, a clock is functional, allowing you to keep track of time easily without having to check your phone or other devices.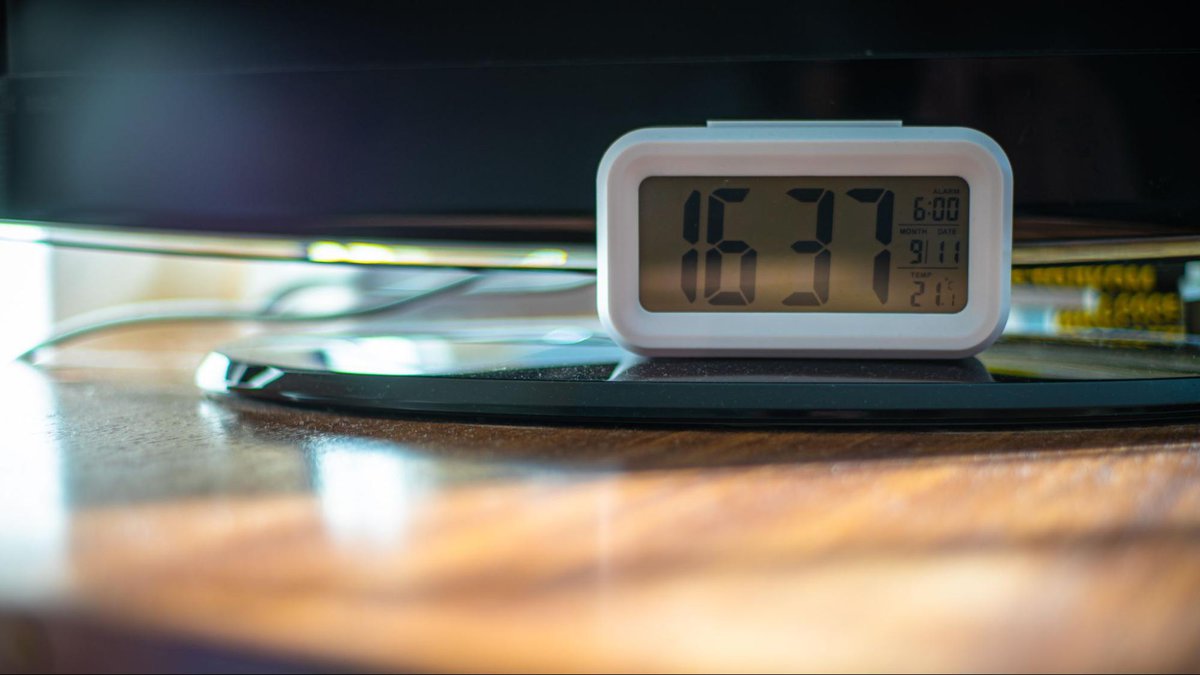 This is particularly useful during long binge-watching sessions or when keeping track of time spent on gaming or other activities.
You can choose whatever kind of clock you like, just make sure that it fits with your room theme.
I recommend a digital clock for a modern room setup and an analog clock for a vintage design.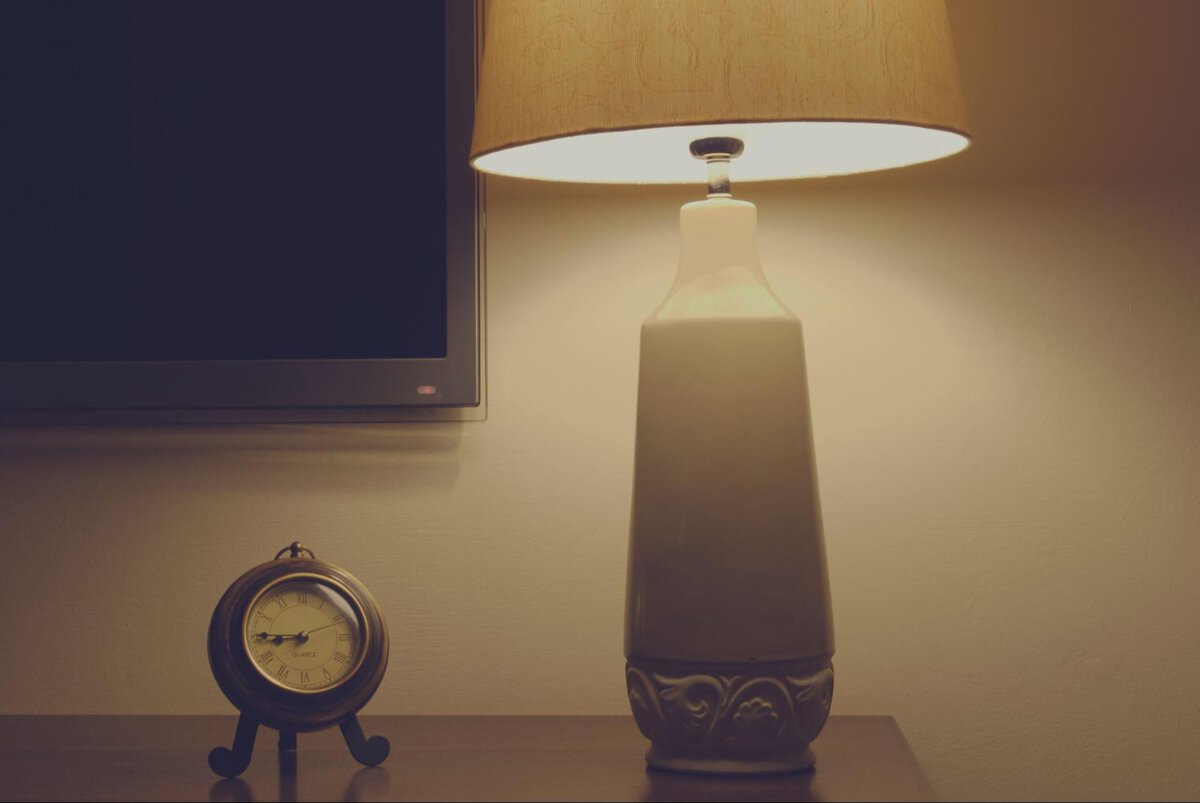 15. Photo Frames
Photo frames can add a personal and cozy vibe to the often stark and impersonal TV area.
They disrupt the uniformity of the TV wall, offering an eye-pleasing contrast and bringing dimension to the space.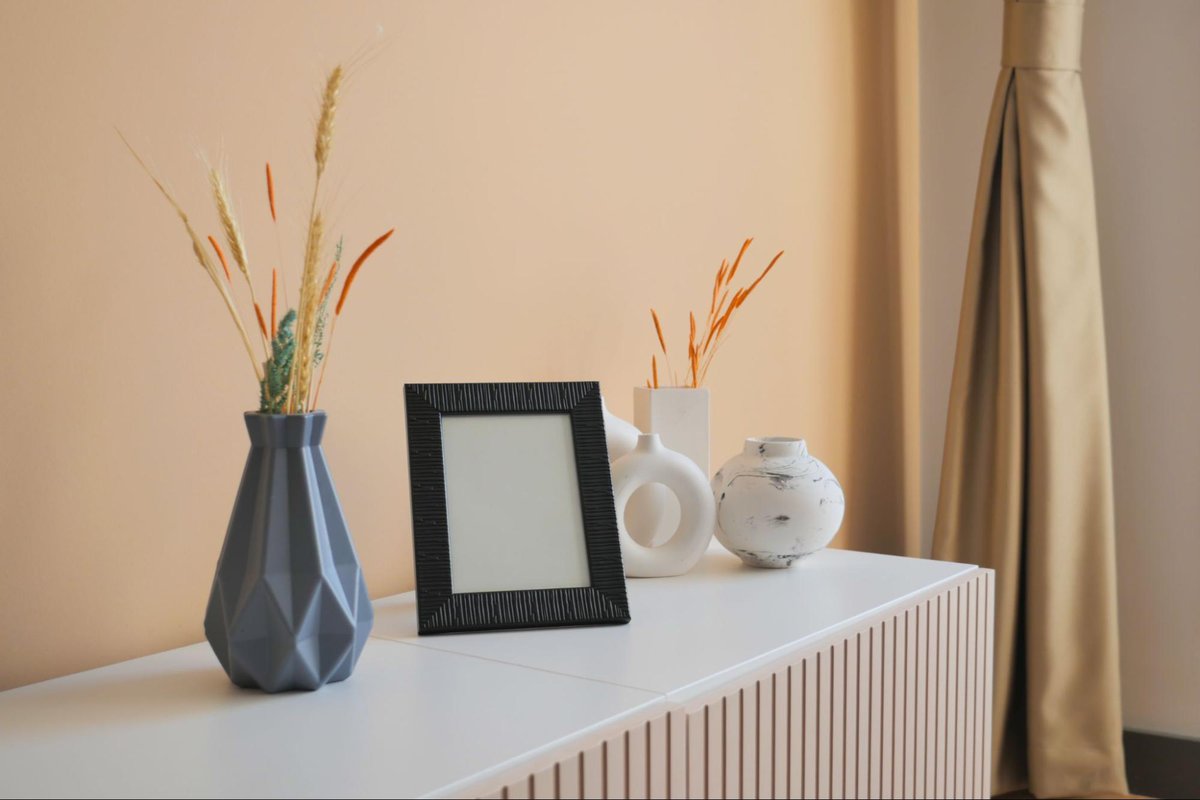 Photo frames can also serve as a keepsake of cherished memories or loved ones, prompting a smile each time you catch a glimpse while watching TV or gaming.
This minor tweak can make a major impact, turning a simple TV space into a warm, welcoming, and uniquely yours setting.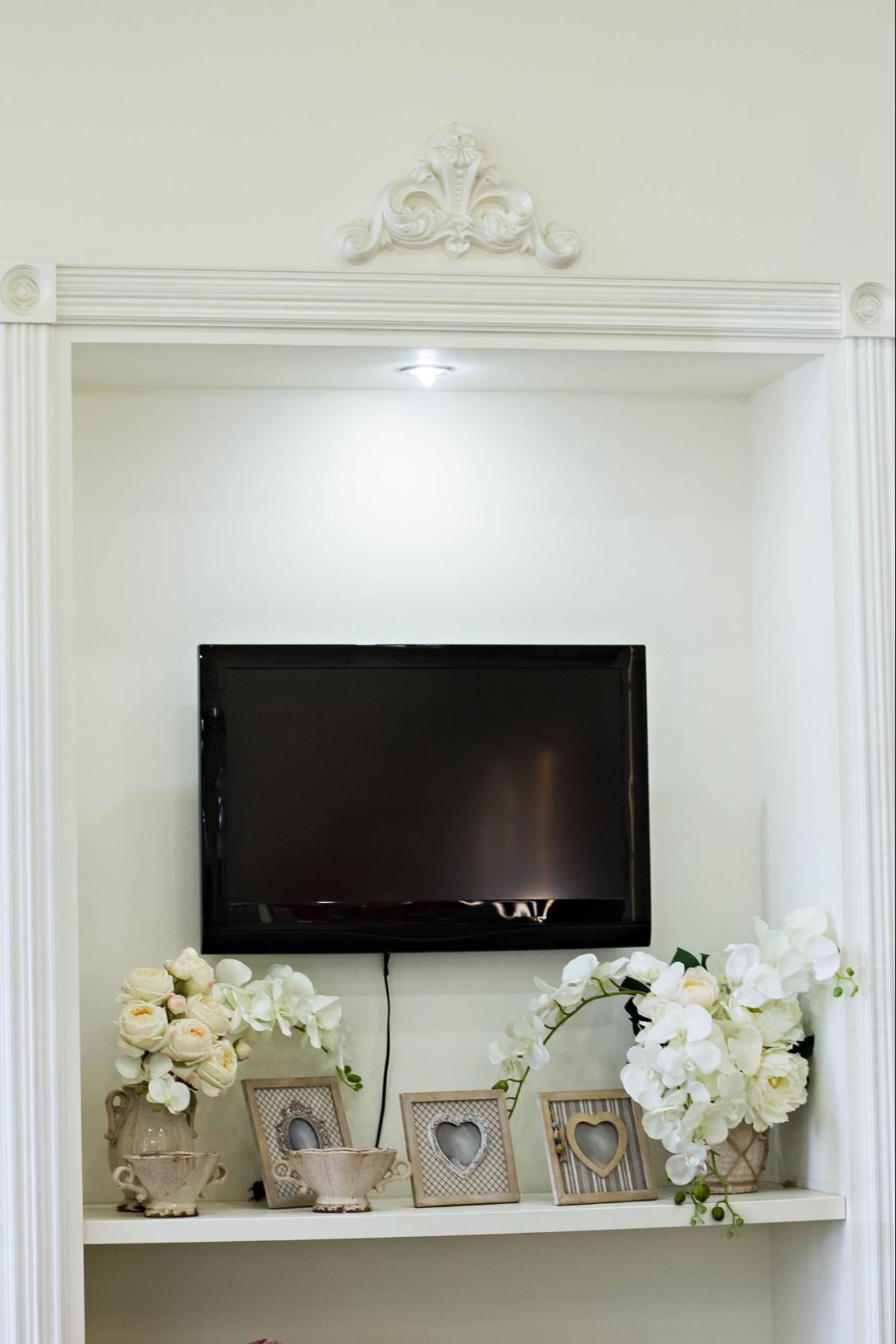 Bonus: 15 Christmas TV Stand Decor Ideas
As the festive season rolls in, why not give your TV stand a merry makeover?
In this bonus section, we'll share some whimsical and easy-to-implement Christmas decor ideas that'll bring the holiday spirit right into your living room.
From twinkling lights to charming little Santas, get ready to transform your TV area into a cozy winter wonderland!
1.A Christmas Tree
A full-sized Christmas tree, adorned with sparkling lights and ornaments, can create a stunning focal point under your mounted TV.
I remember the joy of decorating our tree last year, its grand presence bringing an unmistakable warmth to our living room during the festive season.
2. Stockings
Adding a row of festive stocks underneath the TV adds a whimsical touch.
I love filling them with tiny surprises for my family to discover each morning – it's a small tradition that brings us a lot of joy.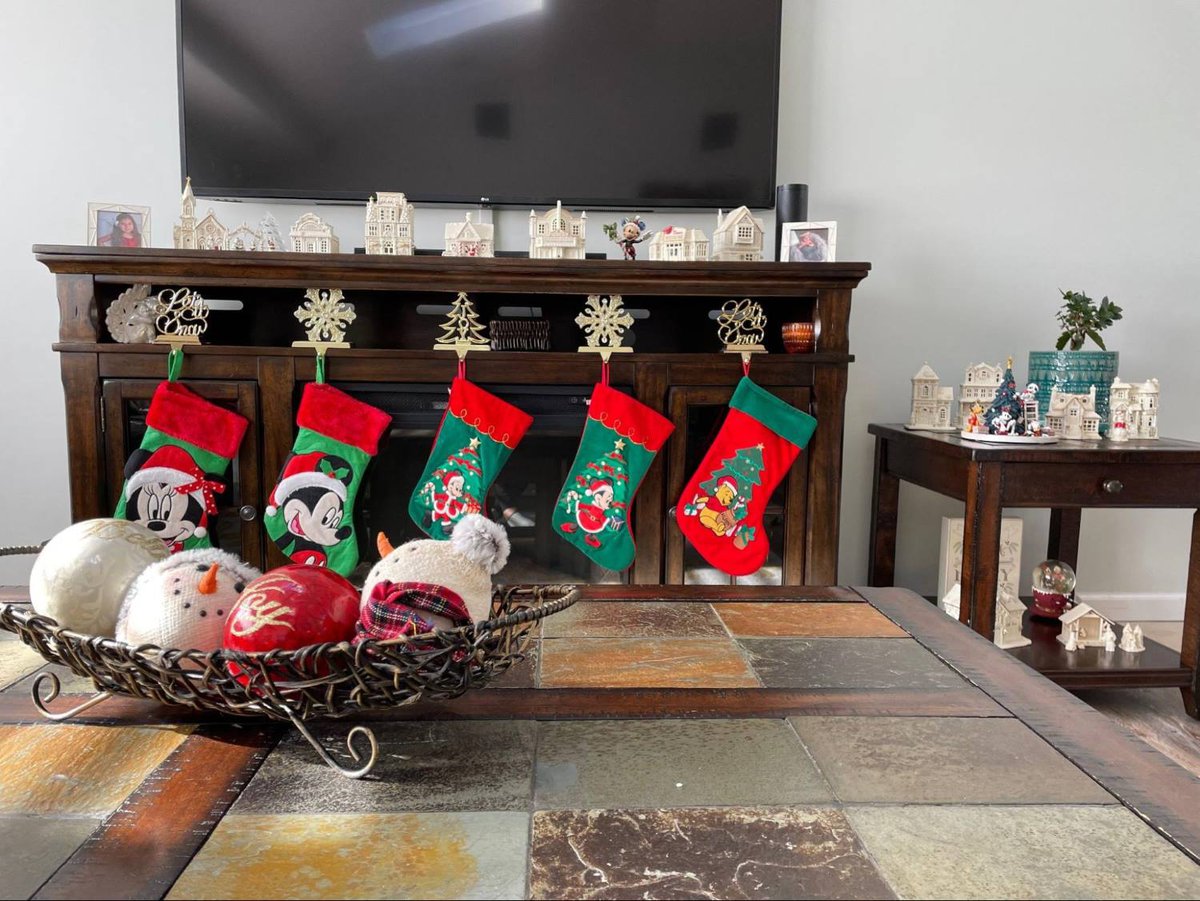 3. Small Wooden Christmas Trees
Wooden tree ornaments bring a rustic charm to your TV area.
I have a few that are hand-carved, and they always remind me of the wonderful Christmas markets I visited one winter.
4. Artificial Candles
For a safe yet warm ambiance, artificial candles are a must.
I set up a few last Christmas, and their gentle flicker made my movie marathons extra magical.
5. Elegant Garland
Draping an elegant garland along the TV stand transforms the space instantly.
I remember how the one I used a few years back, with its silver and gold accents, added a touch of luxury to our living room.
6. Nutcracker
A classic nutcracker figurine can stand guard under your TV, adding a traditional Christmas feel.
Mine has been with me for years, and it's always a talking point when guests come over.
7. Snow Gnomes
Snow gnomes, with their cute hats and beards, are adorable additions.
I placed a couple next to my speakers last year, and my mom really seemed to love the gnomes.
8. Deer Figurines
Graceful deer figurines can create a serene winter scene.
I love how mine look as if they're wandering through a snowy forest, right in my living room.
9. Christmas Lantern
A vintage-style Christmas lantern can cast a soft, welcoming light.
I found one at a flea market, and it's become one of my favorite pieces to display each year.
10. Snowflakes
Hanging delicate snowflakes around the TV area can mimic a gentle snowfall.
I like making my own with paper – it's a fun, creative activity that really gets me into the holiday spirit.
You can make your own snowflakes with the tutorial below:
Paper snowflake tutorial - learn how to make snowflakes in 5 minutes - EzyCraft
11. Mistletoe Wreath
A mistletoe wreath is not just for doorways.
Placing one near the TV invites unexpected moments of holiday affection – I've stolen quite a few kisses under mine!
12. Fairy Lights
Stringing fairy lights around your TV stand adds a starry-night feel.
I remember the soft glow they gave off last Christmas, making everything feel more magical.
13. Santa Claus
A jolly Santa Claus figurine can be a cheerful reminder of the season's joy.
Mine always makes me smile, reminding me of childhood excitement for Christmas morning.
14. Snowman Decorations
Snowman decorations bring a playful touch.
I have a small collection that I display every year, each with its own quirky personality.
15. Christmas-related Scented Candles
Finally, scented candles with Christmas aromas like cinnamon or pine can set the perfect holiday mood.
Lighting one always fills the room with memories of past Christmases and the anticipation of the celebration to come.
Wrapping Things Up
And there you have it – our top 15 picks for what to place under your mounted TV and 15 Christmas decoration ideas for your TV stand.
Remember, your TV space doesn't have to be just about the electronic box; it's a canvas for your creativity.
Whether you opt for chic storage units, personal mementos, or a pop of greenery, the perfect balance between aesthetics and functionality is entirely possible.
So go ahead, experiment with these ideas, and make your TV area a real showstopper.
After all, the best space is one that feels like home, right?
Happy decorating!
Huy 'Anyxel' Pham is a Pinterest marketer and writer. He's curious about how the human mind works and how people grow mentally. These interests shape his writing, making it useful and valuable. When he's not working, Huy enjoys the peace he finds at his favorite Buddhist temple or while reading a good book.
How was content created? This piece is created collaboratively, with tech editors generating ideas, conducting testing, and proofreading meticulously, while AI assists in fine-tuning.