Looking for a fresh and stylish way to revamp your entertainment area? Then you're in the right place!
This article will take you through eight floating TV stand and shelf design ideas that will not only save space but also add a modern touch to your living room.
Floating TV stands and shelves are a fantastic way to declutter your space and showcase your TV and other precious knick-knacks stylishly.
So, buckle up and get ready to be inspired!
Floating TV Stands/Consoles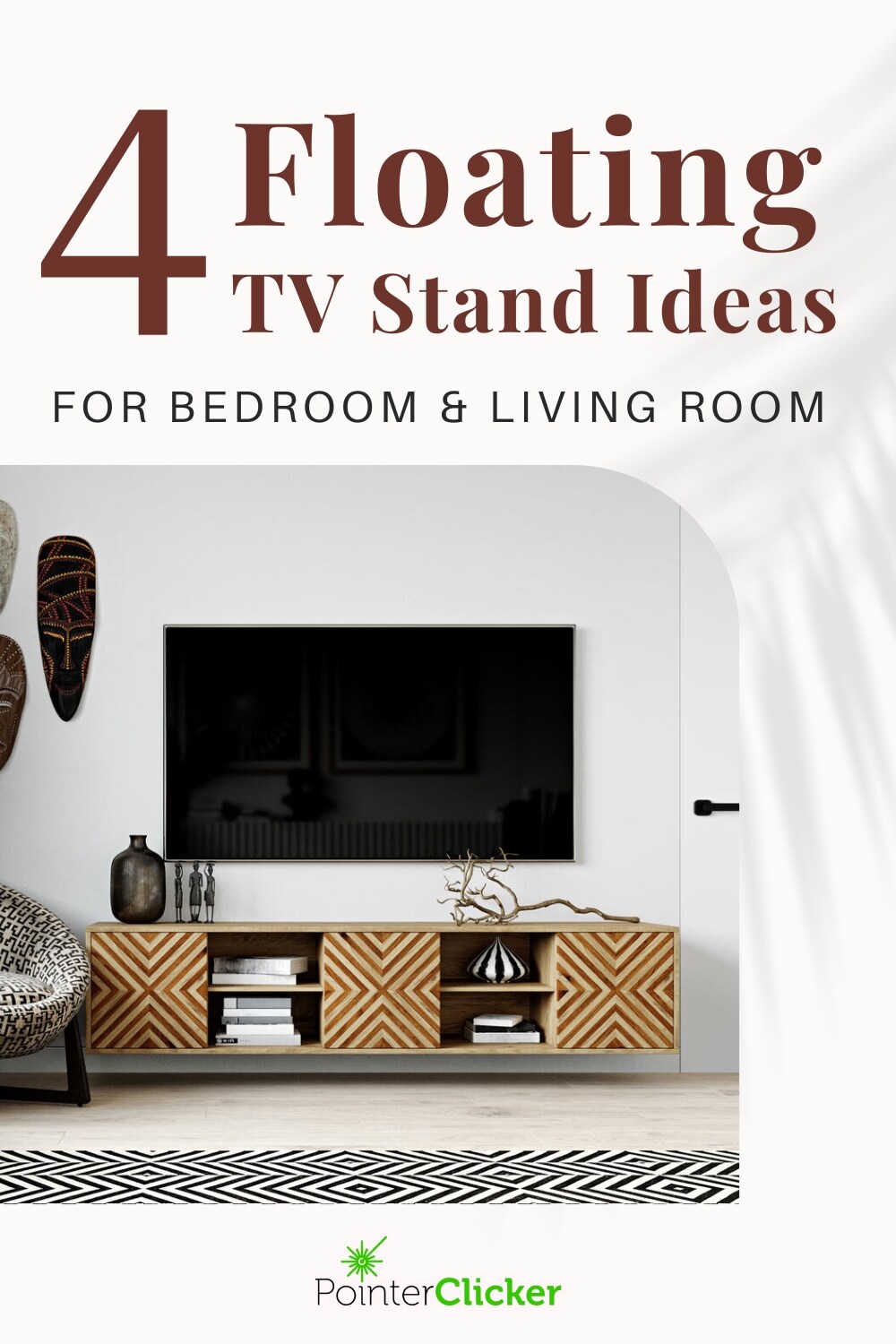 Let's clear something up before we delve into the subject.
Floating TV stands and consoles share many similarities.
For instance, they're both mounted on the wall (hence the name!), and they offer storage options like drawers, shelves, or cabinets.
The main difference lies in their dimensions – consoles are typically slimmer but longer.
Given this slight variation, I'll refer to both as 'floating TV stands' for simplicity's sake throughout this article.
1. Modern Designs
Modern floating TV stands add a sleek and stylish touch to any living room or bedroom.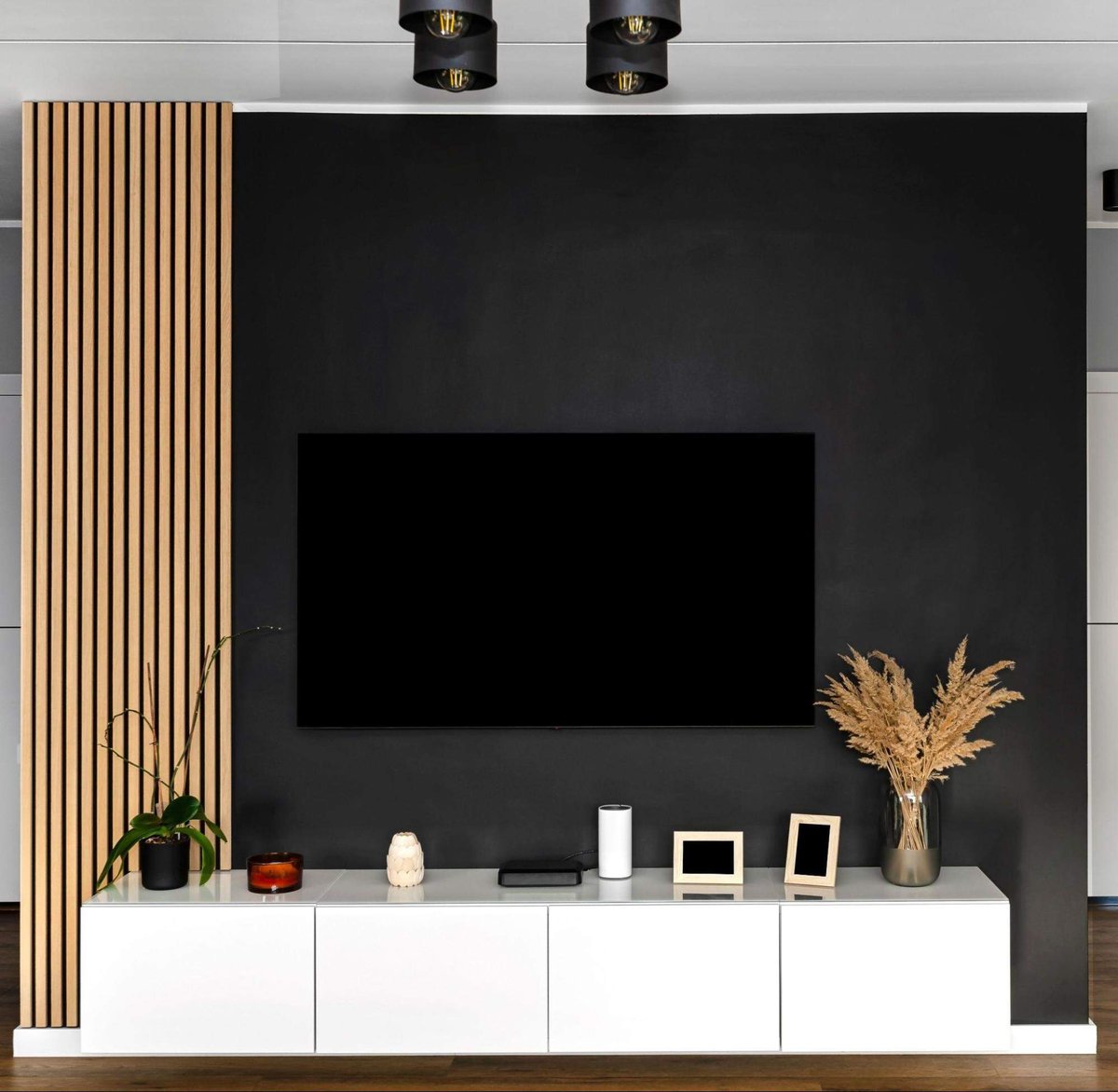 These stands not only serve as a practical solution for housing your TV but also enhance the overall aesthetic appeal of the room.
The contemporary style of these TV stands can seamlessly blend with various interior decors, giving a minimalist yet sophisticated look.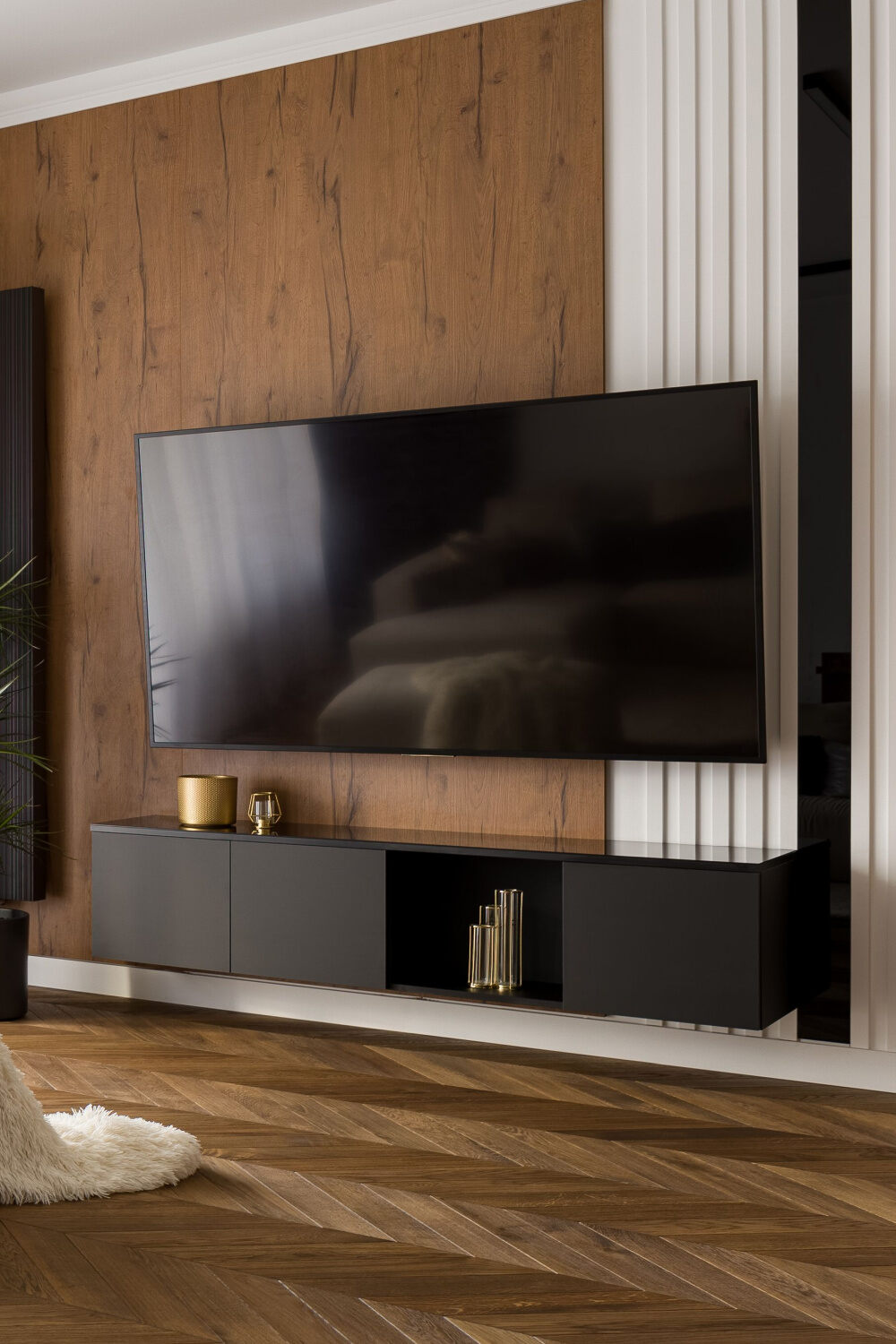 The FITUEYES Floating TV Stand , with its two cabinets and one shelf, can add both practicality and style to your room.
You can either set your TV right on the floating stand or hang it up.
I like to mount it and leave a bit of room between the TV and the stand for a soundbar.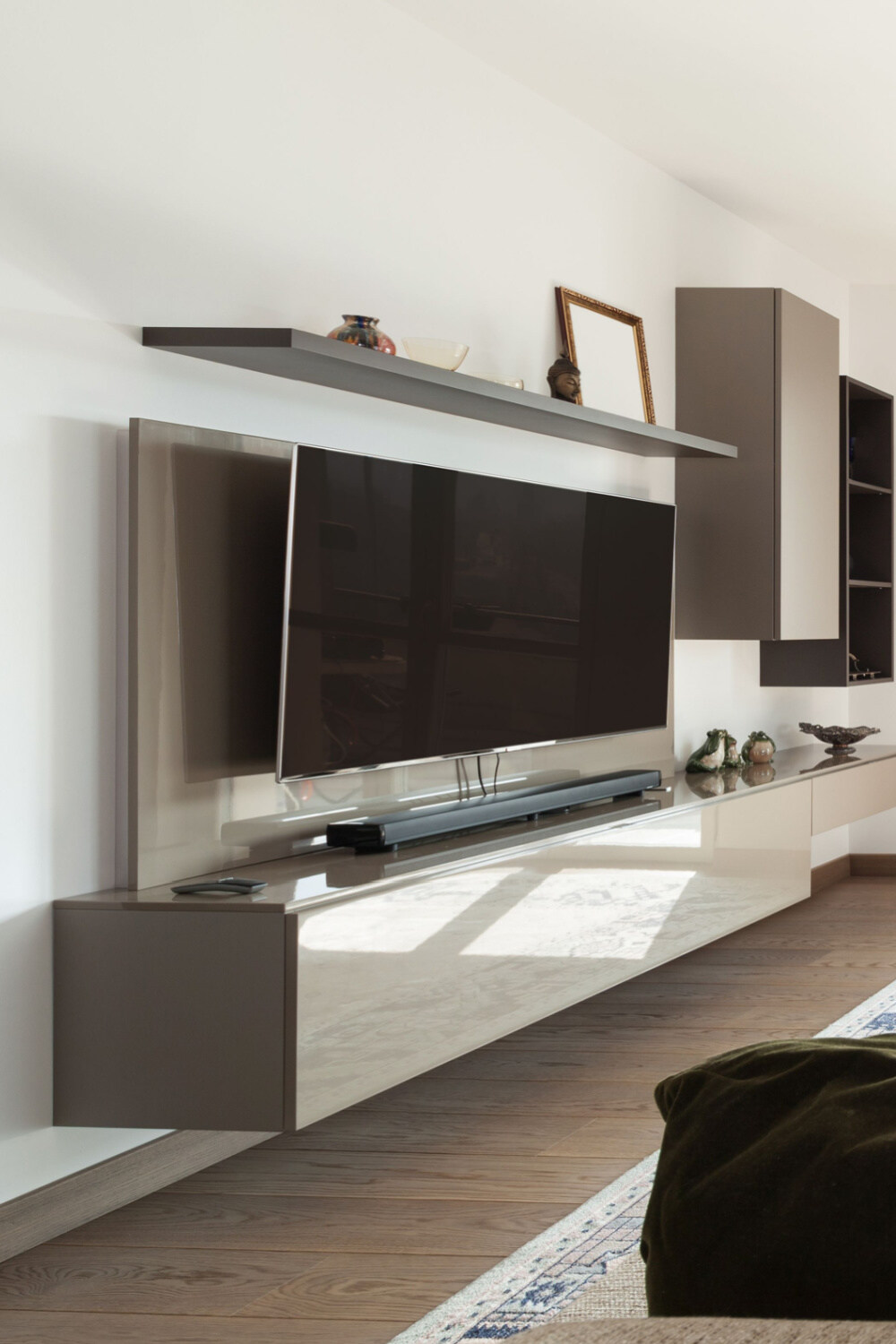 To give your room a modern touch, consider choosing a white or black TV stand.
These two colors are versatile and can seamlessly match any modern interior.
Other colors can also work, but they often need a keen eye for design to fit in perfectly.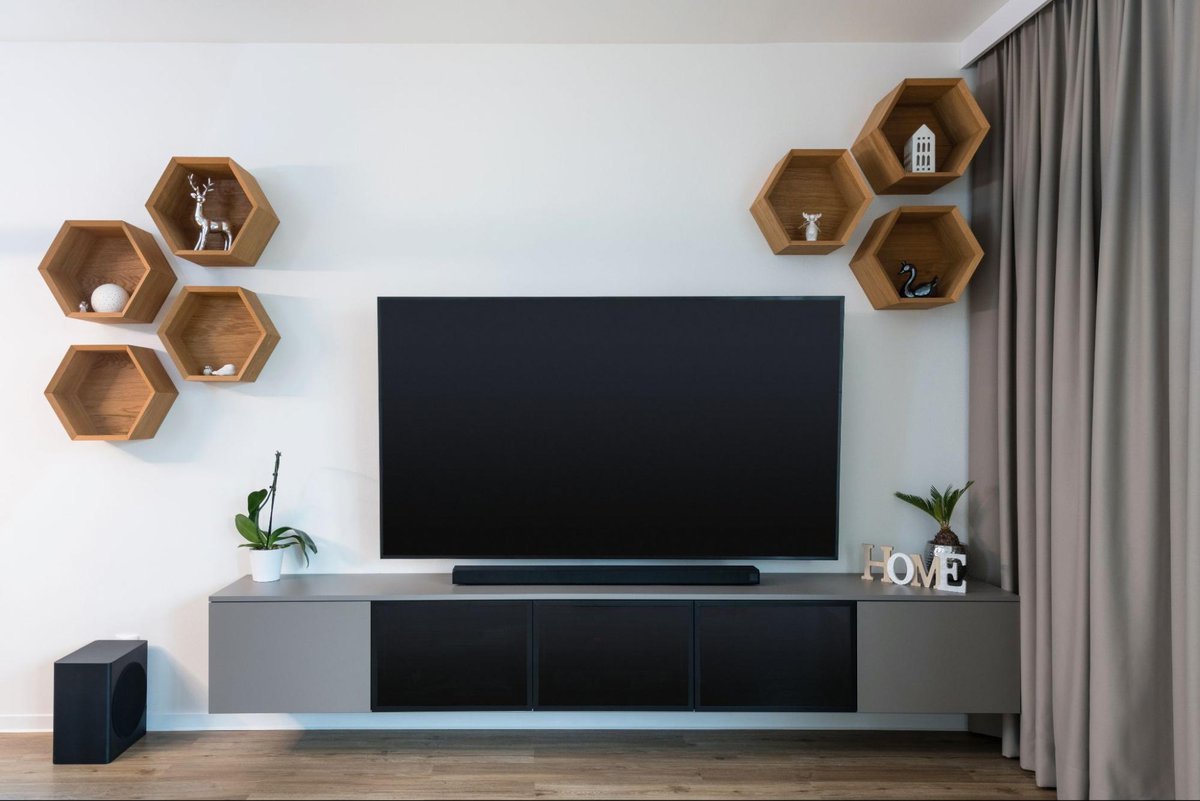 2. Wooden/Farmhouse Designs
If your room features a lot of wood elements or has a farmhouse vibe, I recommend opting for a TV stand in a wood tone.
You can also add a pop of color like black or white, depending on the overall color scheme of your room.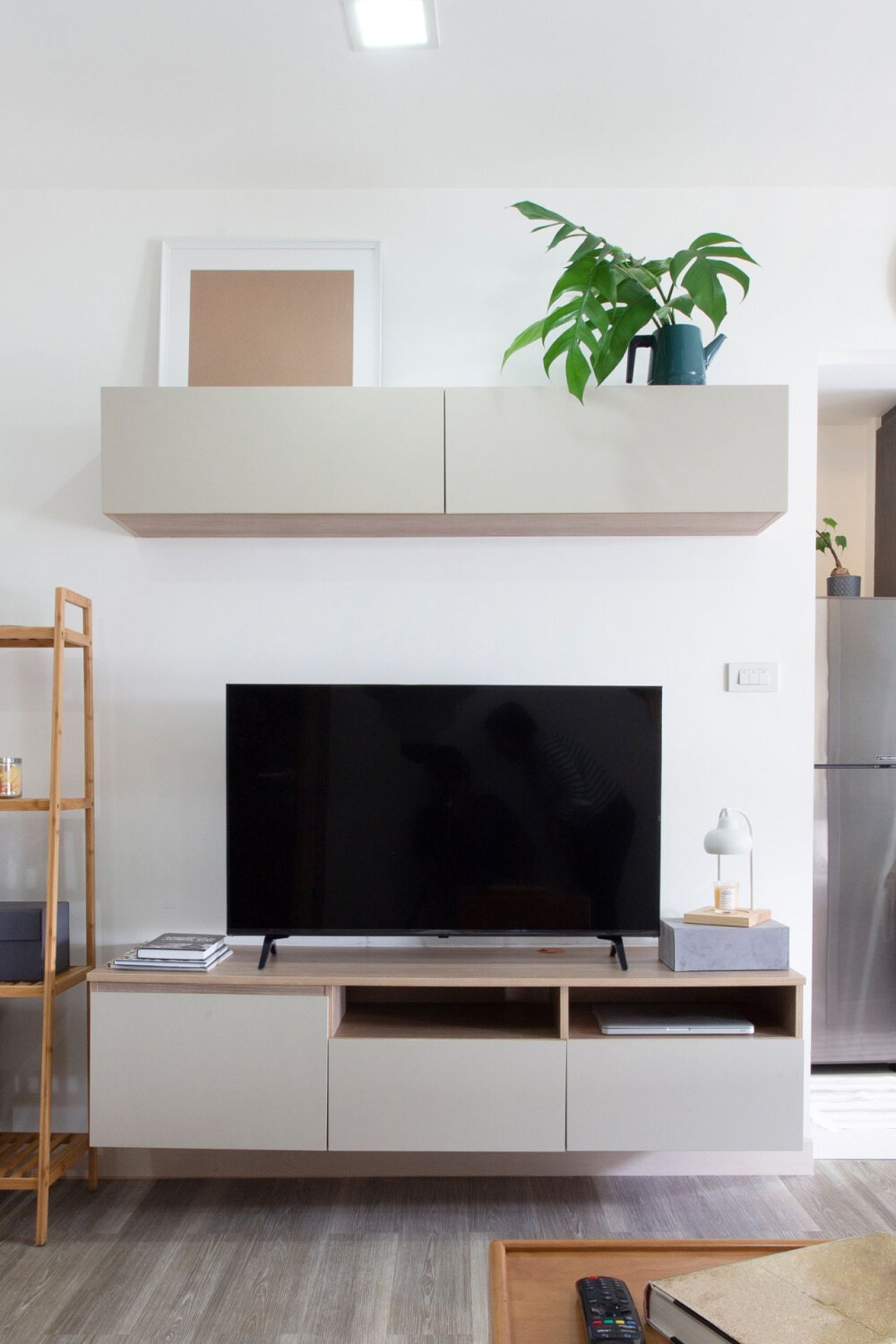 In my opinion, adding some decor to the TV stand could really bring your room to life and enhance its overall feel.
You might consider plants, small figurines, or even framed photos; these are my personal favorites for sprucing up any space.
For a wooden or farmhouse design, I would recommend a TV stand with a design similar to this South Shore Floating TV Stand .
Or this Floating TV Console from Martin Furniture with a minimalistic design and multiple color choices.
3. Designs with a Fireplace
What I'm referring to as a "Design with a Fireplace" isn't a TV stand that matches an actual fireplace.
Instead, I'm talking about floating TV stands that have an electric fireplace built into them, like the Amerlife Floating TV Stand .
The electric fireplace insert doesn't need an electrician – just plug it in, and you're set to enjoy a cozy, stunning fire.
Its mix of usefulness and beauty makes it a top pick for a floating TV stand with an electric fireplace.
4. Designs with LED Lights
If you find regular floating TV stands too mundane, or if you're looking to add a focal point to your room, consider a TV stand with built-in lights.
A floating TV stand with lights, like this one from FITUEYES , is a practical yet stylish piece of furniture.
This type of TV stand is mounted on the wall, which not only frees up space on the floor but also gives a tidy, uncluttered look.
The built-in lights add a dash of elegance and drama, boosting your room's ambiance.
I like to use them to spotlight decor, set a calm mood, or just offer extra lighting. It's a great option for anyone aiming to amp up their modern or contemporary home style.
Floating TV Shelves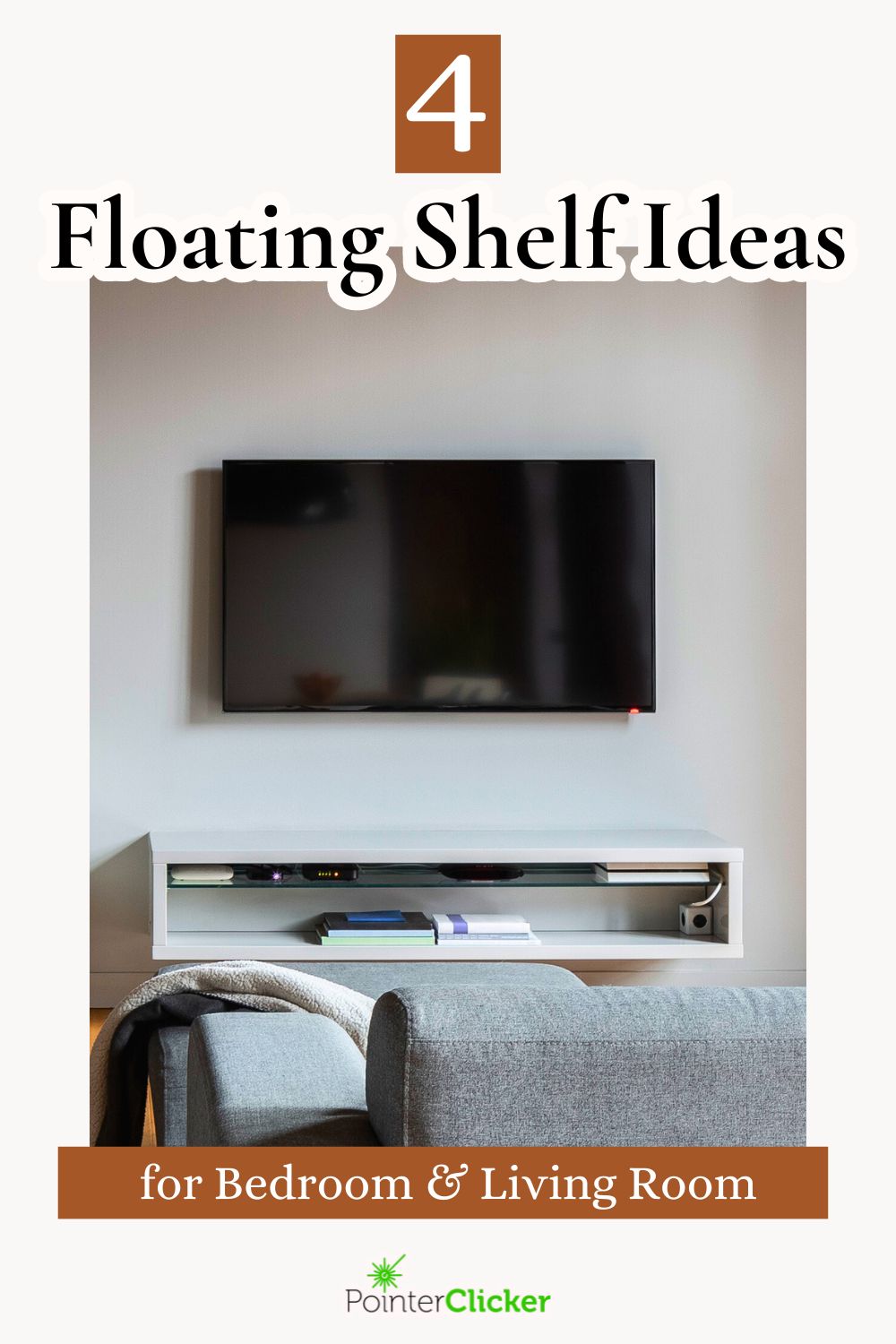 1. Small Designs
Small TV shelves are ideal for compact spaces, such as a typical bedroom or kitchen. Certain shelves, like the WALI one , are designed specifically to hold items like game consoles and TV remotes.
Meanwhile, the BAMEOS floating shelves lend a clean, minimalist touch to your space.
When mounted side by side, they give the illusion of a large, singular floating shelf.
There are also shelves available with additional storage space for any items you'd like to display or store. The Martin Furniture shelf is a perfect example of this.
Generally, for a pleasing appearance, a TV stand or shelf should be wider than the TV itself.
However, this can vary depending on the shelf's design and the overall room decor.
2. Modern Designs
For a modern room aesthetic, opt for a floating shelf that boasts a minimalistic design and clean lines.
This shelf design from Martin Furniture with two shelves and extra room for decoration on top is a great example.
A nicely-built and well-designed shelf can enhance the unique charm of your living space.
Two foolproof color choices are black and white – it's hard to go wrong with these colors for modern styles.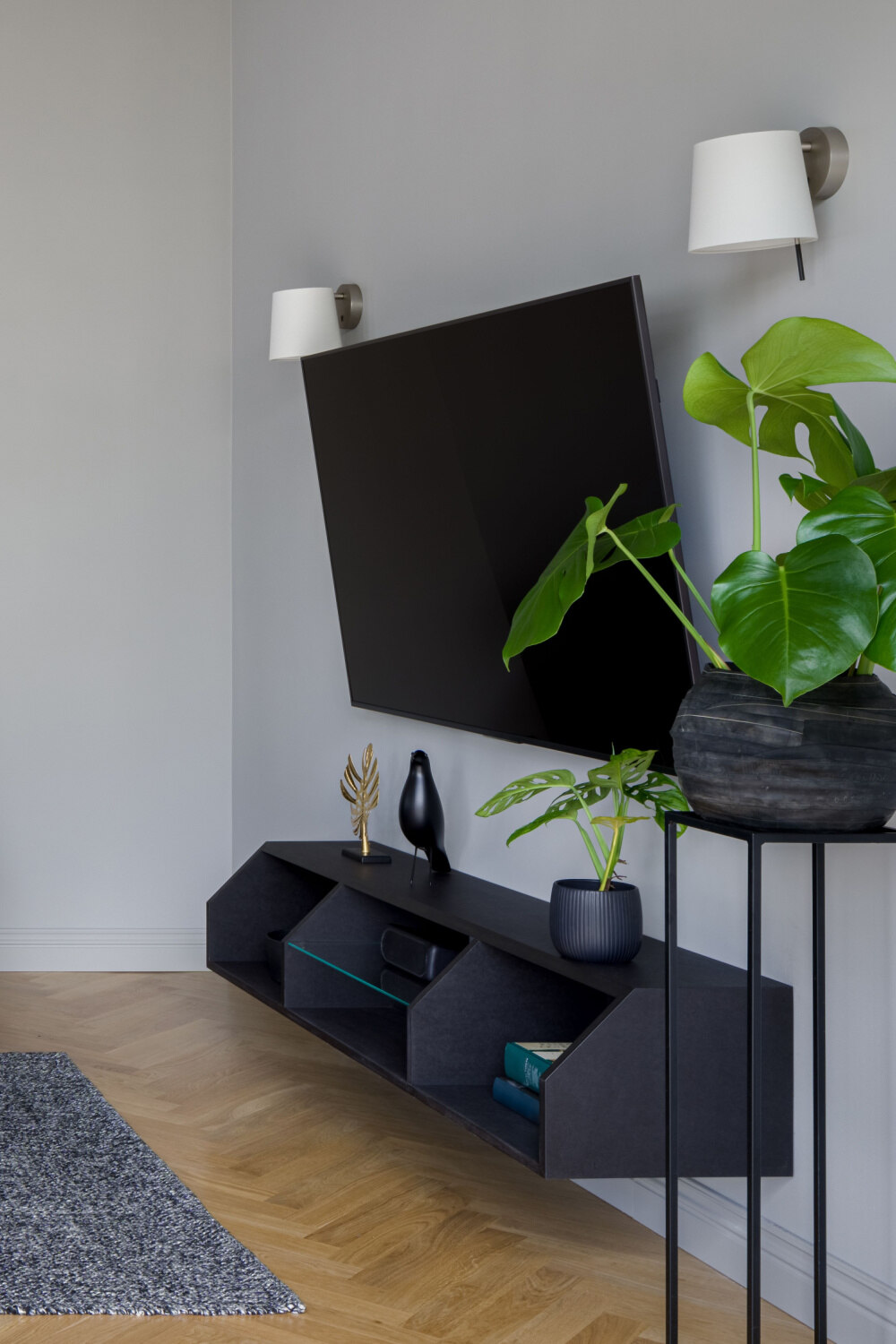 Consider a white floating shelf on a dark or black wall, or use a dark shelf on a white wall.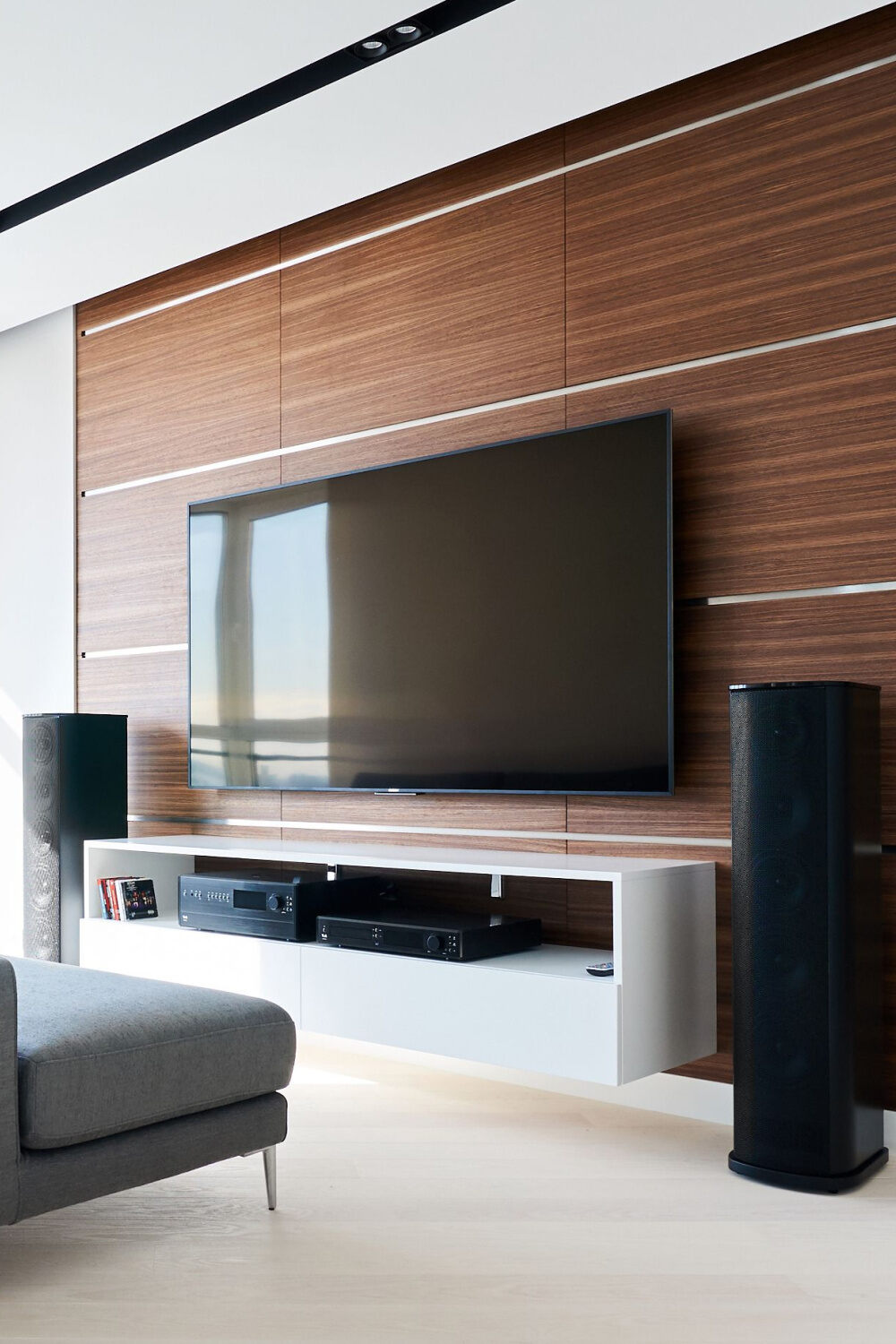 Or match your shelf color with the wall.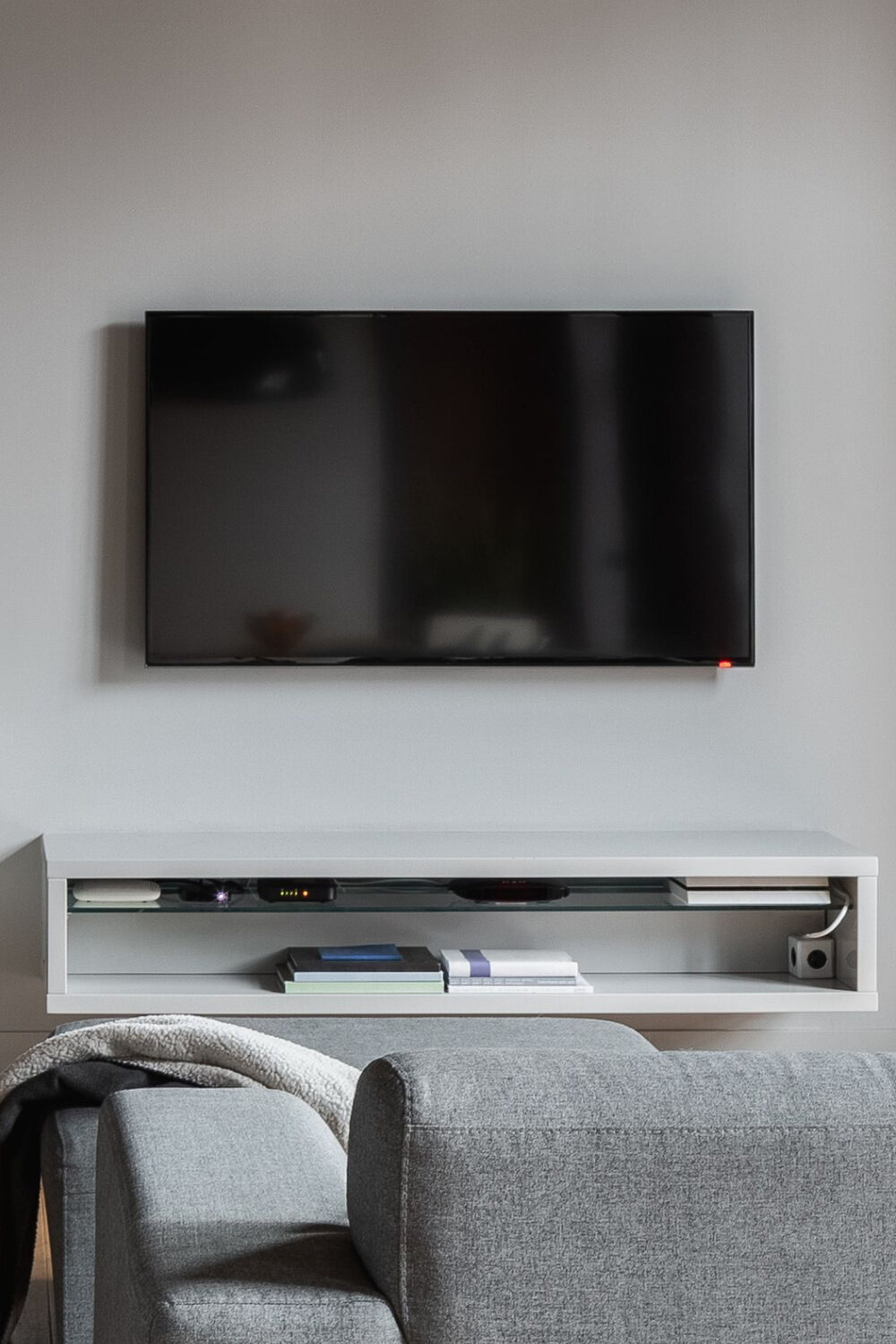 Whichever way you choose, your room will end up looking sleek and luxurious.
3. Wooden/Farmhouse Designs
As I mentioned before – If your room is full of wooden features or has a farmhouse style, I suggest using a floating shelf that matches the wood tones like this shelf from FITUEYES .
The shelf designs should be low-key, nothing too showy.
Consider placing potted plants and books on the shelves to add more charm to your living area.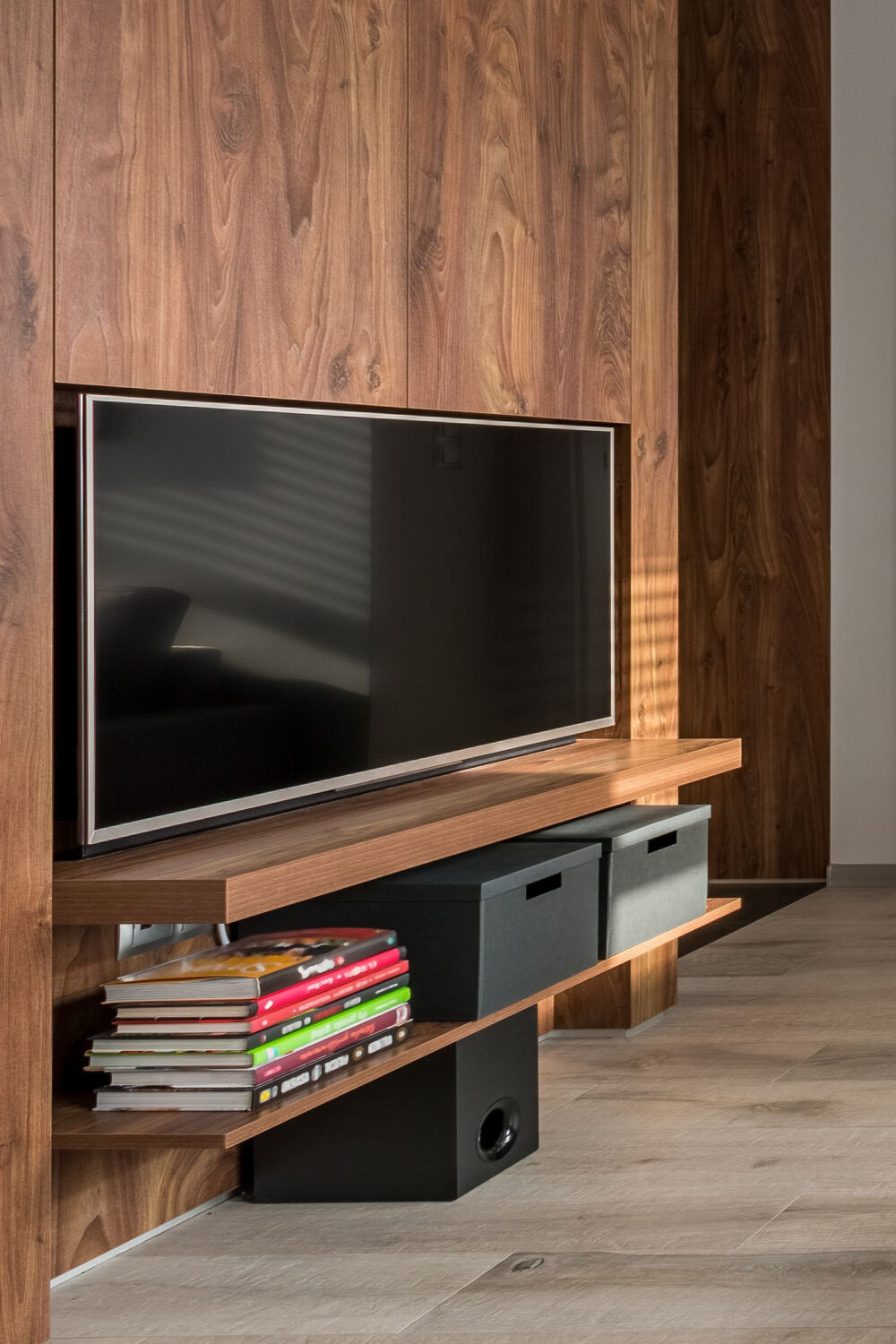 4. Designs with LED Lights
A floating TV shelf with LED lights can add a modern and chic touch to your living space. The LED lights not only provide extra illumination but also bring a luxe and stylish ambiance.
The Rolanstar Floating TV Stand can be a great option if you opt for a shelf with LED lights.
It has built-in RPG LED lights with 20 colors that you can change remotely.
The shelf is designed to hold a TV along with other media devices and accessories.
The sleek black finish can complement any decor style, and the LED lights add a futuristic touch.
Bonus: How Big Should a Floating TV Stand Be
Honestly, there isn't any rule for how big a floating TV stand should be.
However, if you want your room aesthetically appealing, size matters!
This pertains to both the size of your TV and the stand itself.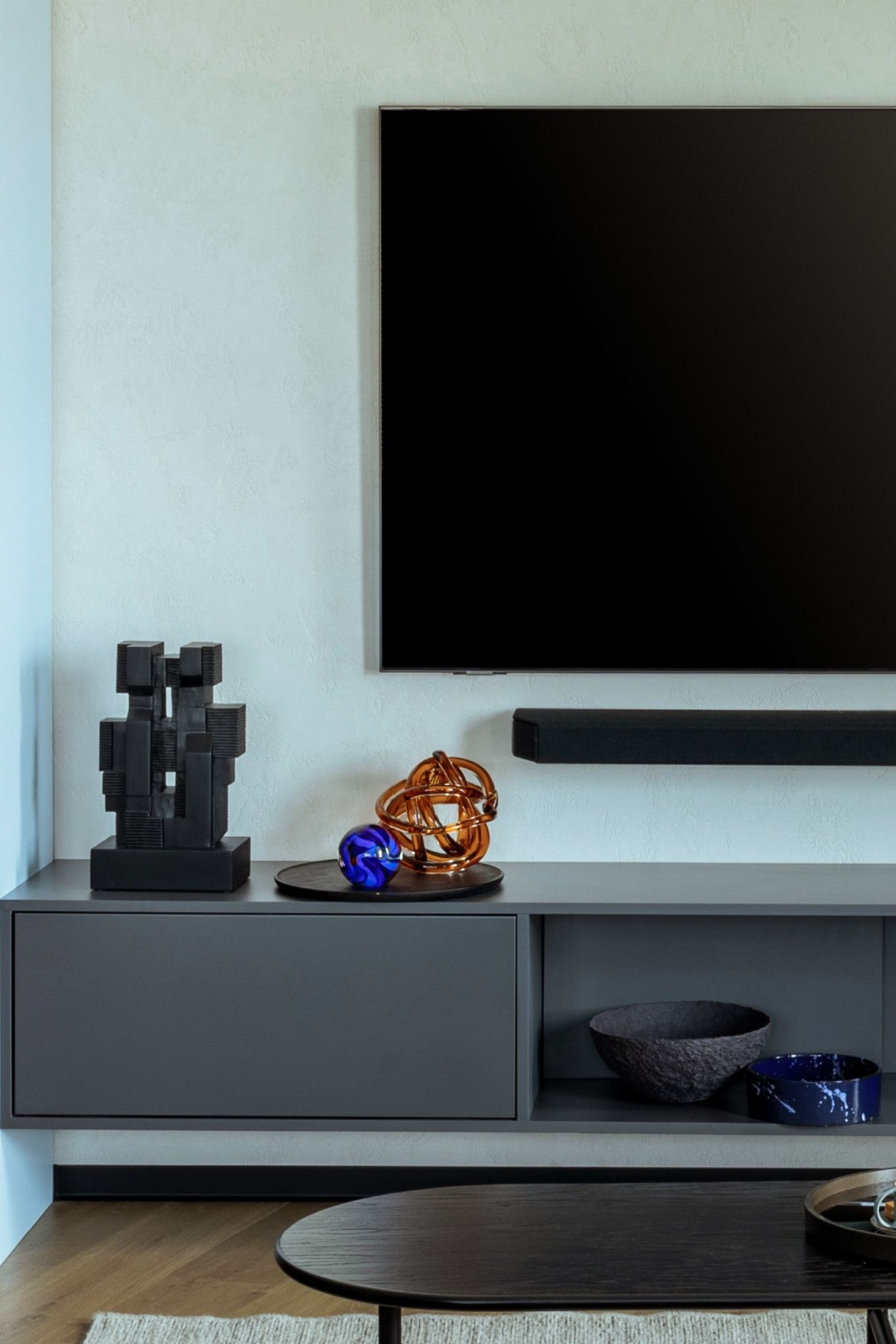 The size of a TV is determined by measuring the screen diagonally, excluding the frame.
To choose the correct TV stand, we should take into account the total width of the TV, with the frame included.
This way, we can get the accurate measurement we need.
Size
Width
Height
32"
27.9 inches

70.9 cm

15.7 inches

39.9 cm

40"
40 inches

101.6 cm

19.6 inches

40.8 cm

43"
37.5 inches

95.25 cm

21.1 inches

53.6 cm

50"
43.6 inches

110.7 cm

24.5 inches

62.2 cm

55"
47.9 inches

110.7 cm

27.0 inches

68.6 cm

60"
52.3 inches

132.8 cm

29.4 inches

74.7 cm

65"
56.7 inches

144.0 cm

31.9 inches

81.0 cm

70"
61.0 inches

154,9 cm

34.3 inches

87.1 cm

75"
65.4 inches

166.1 cm

36.8 inches

93.5 cm

80"
69.7 inches

177.0 cm

39.2 inches

99.6 cm

85"
74.1 inches

188.2 cm

41.7 inches

105.9 cm
To make your TV look good on the floating stand, it's best if the stand is at least 3 inches wider than the TV on both sides.
If you mount your TV on the wall and the stand is smaller, that's okay – it's just not my preference.
However, if you want to place your TV on a floating stand, ensure the stand is strong enough to support the TV's weight.
Also, make sure that your TV is narrower than the stand, or else the TV could tip over if it gets bumped against the sides.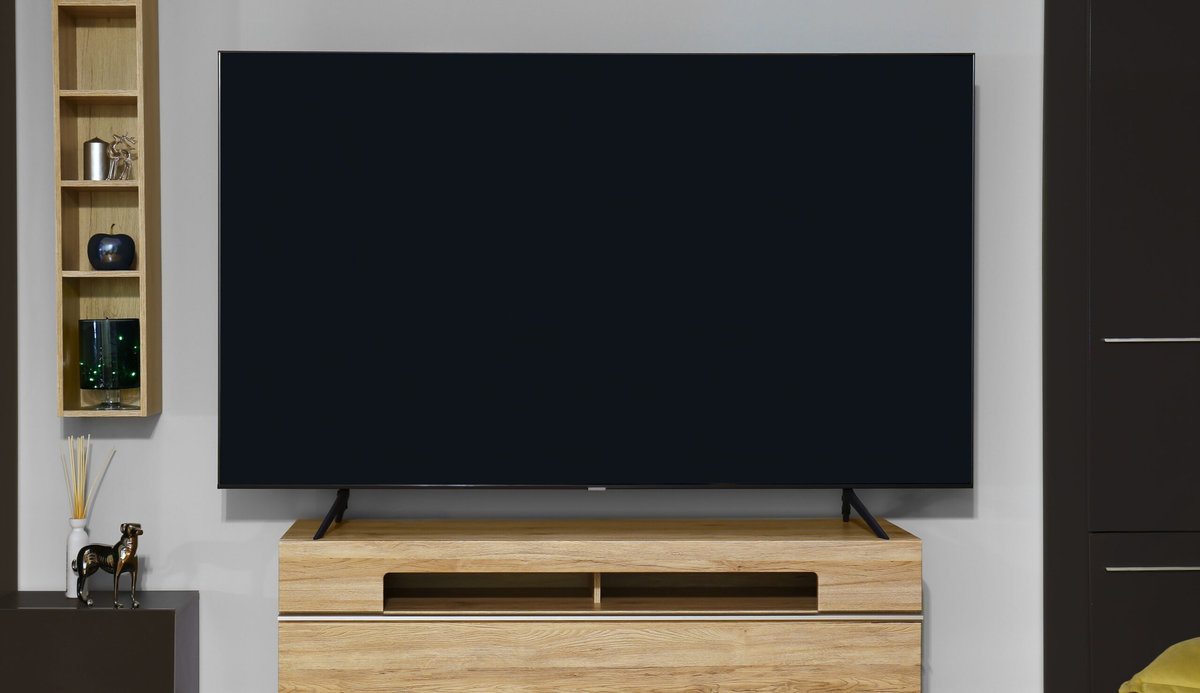 A broader floating TV stand not only enhances the room's look but also offers extra space for decorative items, further sprucing up your space.
TV stand sizes can greatly differ to accommodate various tastes and room dimensions.
Wrapping Things Up
So there you have it, folks!
Eight floating TV stand and shelf ideas that can help transform your living spaces.
Whether you're a fan of the flashy LED-lit shelves or prefer something more minimal, there's something for everyone.
Remember, your TV stand isn't just a place to park your remote, it's a chance to put your style on display.
So go ahead, pick a design that speaks to you, and start creating a space you love.
After all, it's your living room – make it awesome!
Huy 'Anyxel' Pham is a Pinterest marketer and writer. He's curious about how the human mind works and how people grow mentally. These interests shape his writing, making it useful and valuable. When he's not working, Huy enjoys the peace he finds at his favorite Buddhist temple or while reading a good book.
How was content created? This piece is created collaboratively, with tech editors generating ideas, conducting testing, and proofreading meticulously, while AI assists in fine-tuning.