Imagine cozy movie nights in bed, stargazing from your ceiling, or even turning your bedroom into a private home theater.
With the right setup, you can make these dreams a reality by mounting a projector above your bed.
In this article, we'll explore ten creative ideas to help you elevate your bedroom entertainment game and create a relaxing haven for cinematic adventures and more.
Depending on your personal preferences, as well as the size and layout of your bedroom, one of these ideas might just be the perfect fit for your needs.
It's also worth considering factors such as cost, functionality, and practicality when deciding which approach to go with.
Headboard Projector Mount Options
If you happen to have a headboard, these options could be a great fit for you.
Making use of the space on top or above your headboard to mount your projector can be a clever way to free up some extra space in your room.
1. Headboard Projector Stand
The headboard projector stand – as the name suggests – is positioned in the space between the headboard and the wall.
The AiFeeLife stand is equipped with a 1/4-inch screw, making it compatible with the majority of projectors available on the market.
Plus, it's capable of supporting up to 2 kilograms of weight.
On the flip side, the HVAYING Projector Stand effortlessly combines both of these features. With its sturdy metal base and EVA non-slip cotton padding, you can rest easy knowing your wall is protected.
And before you set it up, do remember to verify your projector's screw size at the base to ensure a perfect fit.
2. On The Headboard
Headboards come in a variety of materials and designs, which means the method for mounting your portable projector may differ as well.
If your headboard has a broad top surface, you can easily position your portable projector there and begin enjoying your favorite shows in the bedroom instantly.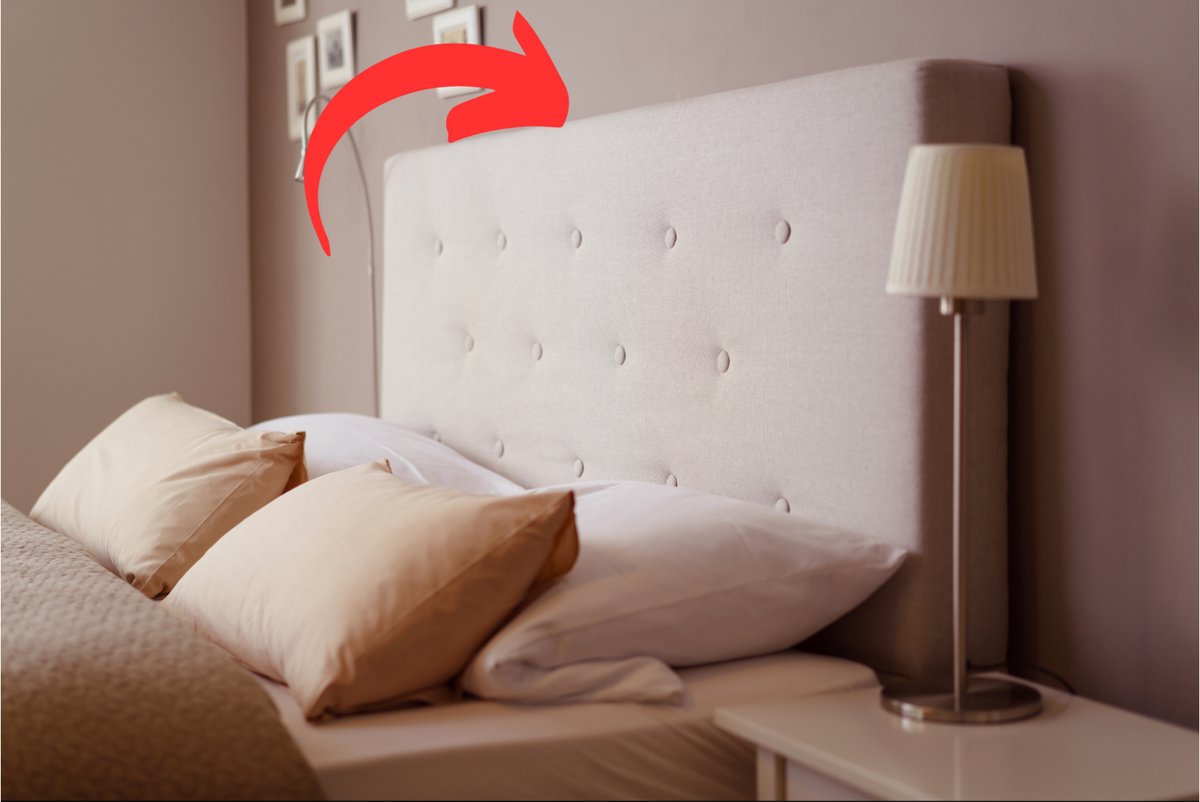 To raise the projector's height, you can use books as makeshift supports as needed.
Conversely, if your headboard's top surface is narrow, I suggest you explore alternative mounting options.
3. Wall Mount Above The Headboard
Another option worth considering is mounting your projector on the wall above your headboard.
This way, you can ensure a secure attachment, providing a stable projection experience.
The only drawback here is that if your projector tends to be a bit noisy, it might disrupt your movie night as it'll be right above your head.
However, this issue can be easily resolved by investing in a good soundbar or audio setup.
For those on a budget, I recommend going with L-brackets to mount your projector.
When it comes to picking the right bracket length, it will depend on the size of your projector.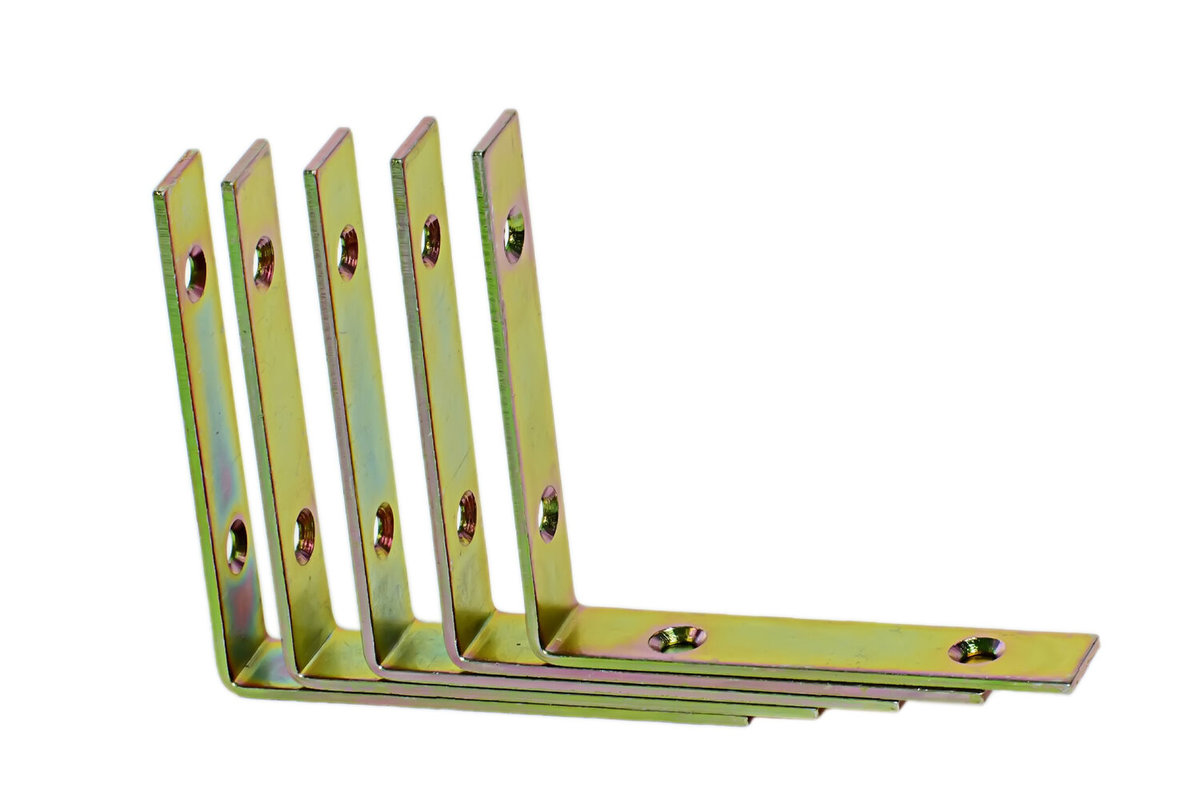 Projector on Ceiling Options
If you're thinking about installing a projector on your bedroom ceiling, it's important to consider your room's structural integrity.
This way, you can ensure that your mount stays securely in place without causing any lasting damage to the ceiling.
4. Ceiling Mount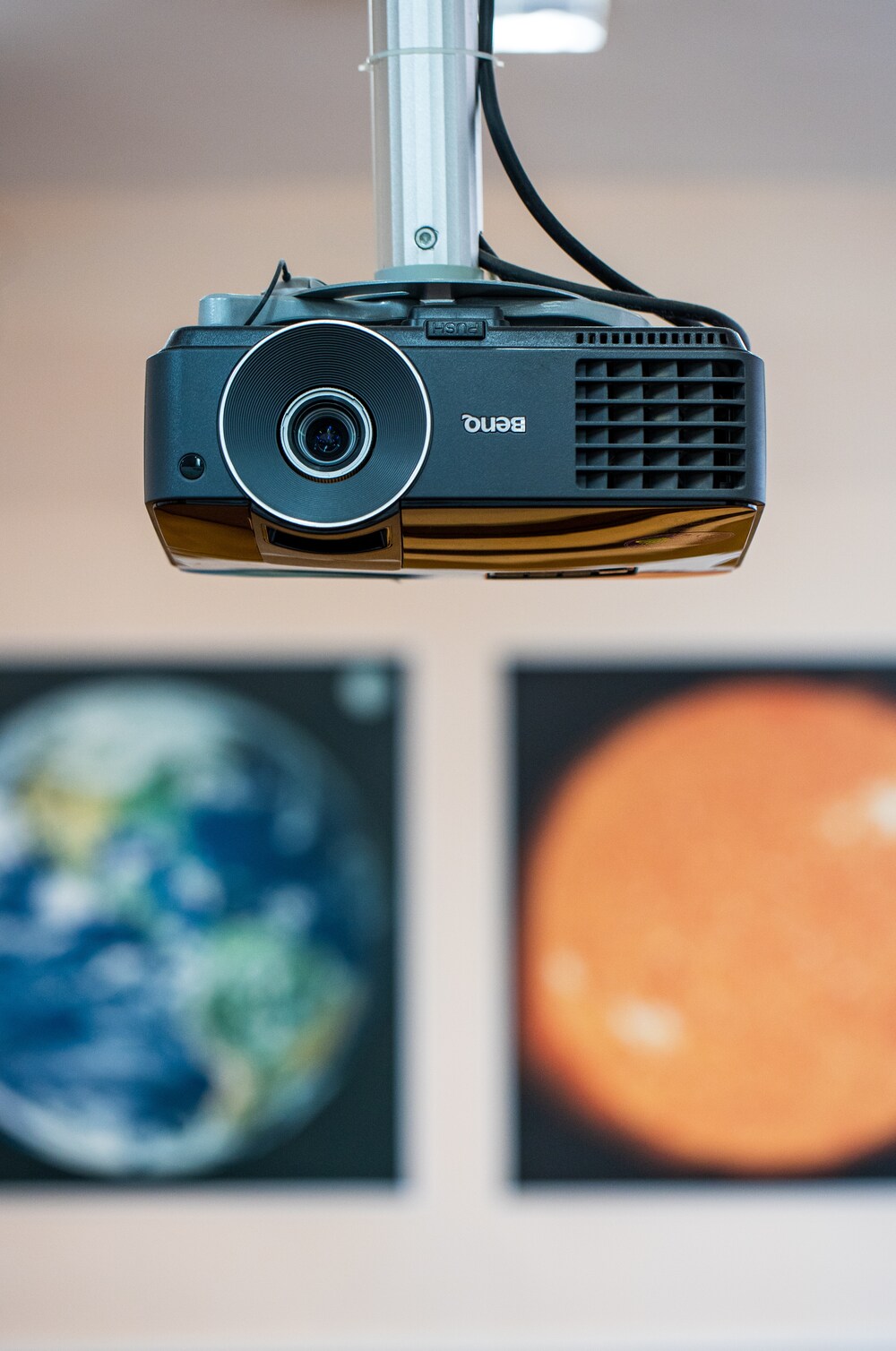 To get your projector up on the ceiling, you'll want to find a trusty mount.
Before you break out the drill, take a little time to picture where your projector will look and work best.
Make sure it's centered and at that ideal distance from your screen or wall.
Remember the old carpenter's adage: measure twice, drill once. That little tip can save you from some unexpected headaches.
And don't forget to consider your room's layout and, of course, your own viewing comfort.
5. Projector Lift
Projector lifts add a touch of minimalist, high-tech charm to any room.
While the market offers a variety of projector lift options, many tend to come with a hefty price tag.
That's why I'd advise you to opt for one that won't break the bank.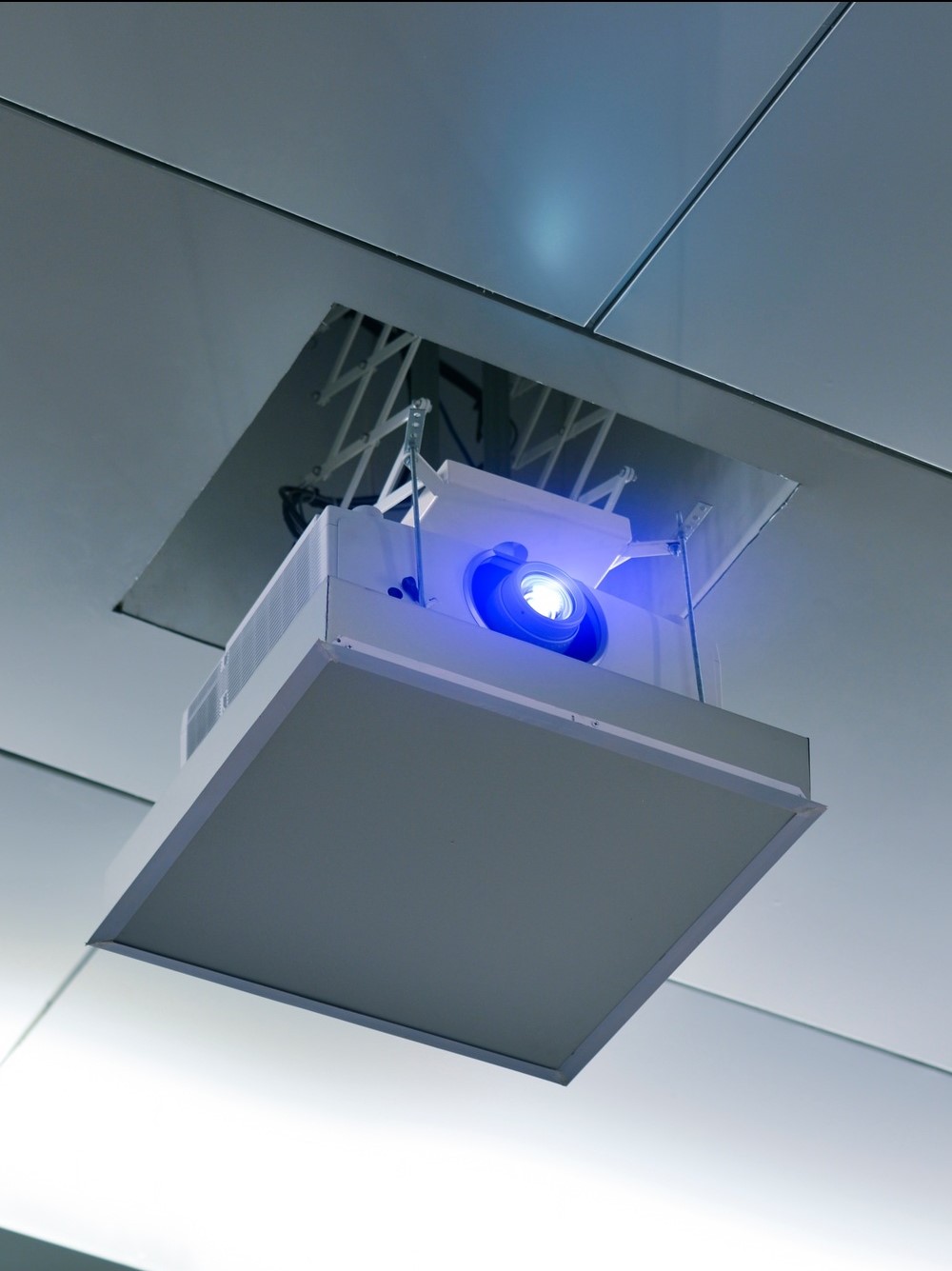 If you're considering this option, it's best to have a decent amount of space above your bedroom.
Ideally, you should plan for this when you're in the process of redesigning your room. Otherwise, you'll need to get creative in finding a way to discreetly conceal the motor.
Projector Shelves Above Bed
I personally find this option to be quite ideal. Having some lovely shelves positioned above your bed headboard can be quite handy.
Not only can you use them to place your projector, but they also offer a great space to display decorations or store your favorite books.
7. Modern Style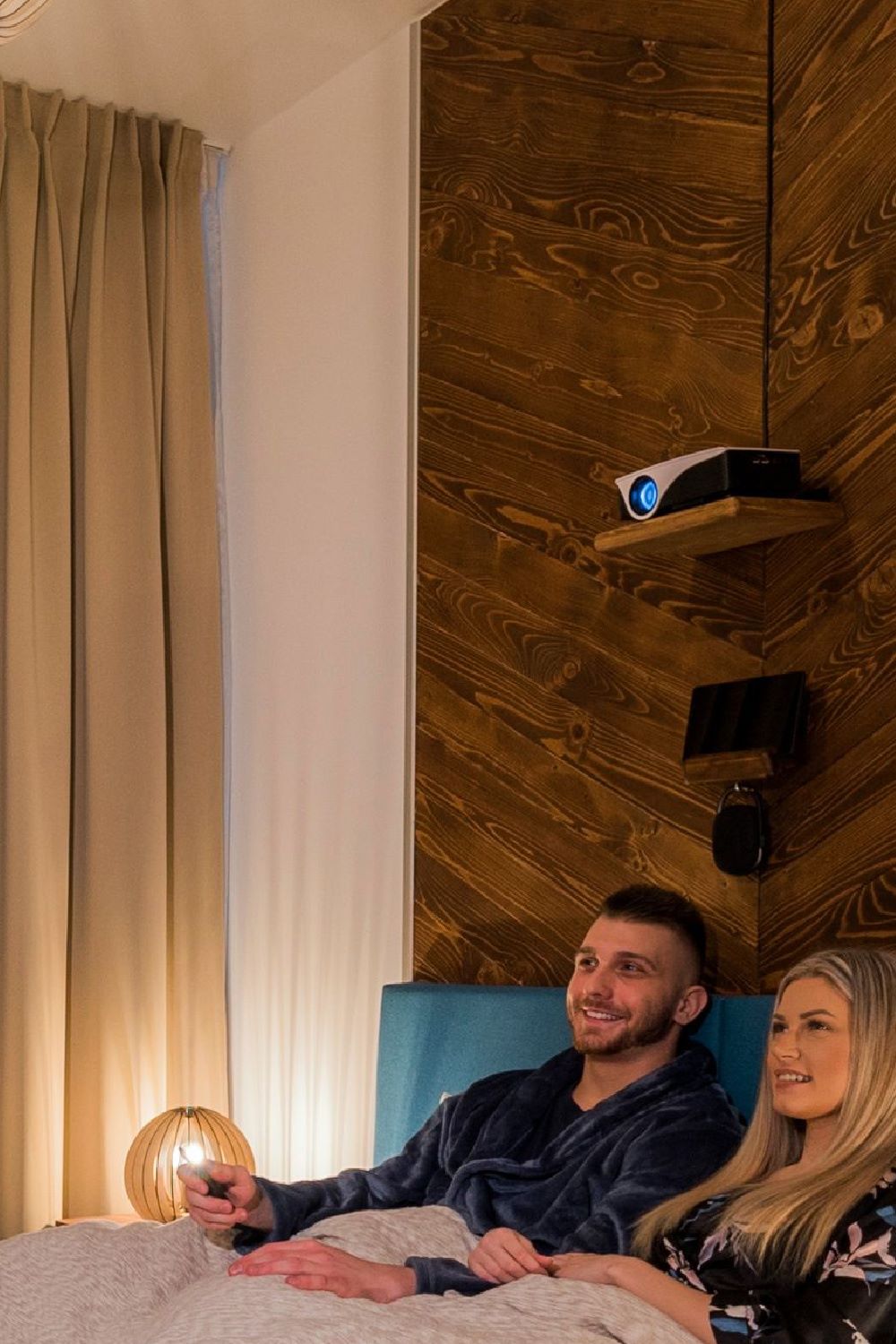 If you're fond of a more modern style, then black and white will be your best friend when it comes to choosing a color for your interior.
You can opt for shelves with simple designs or something with more details
8. Farmhouse Style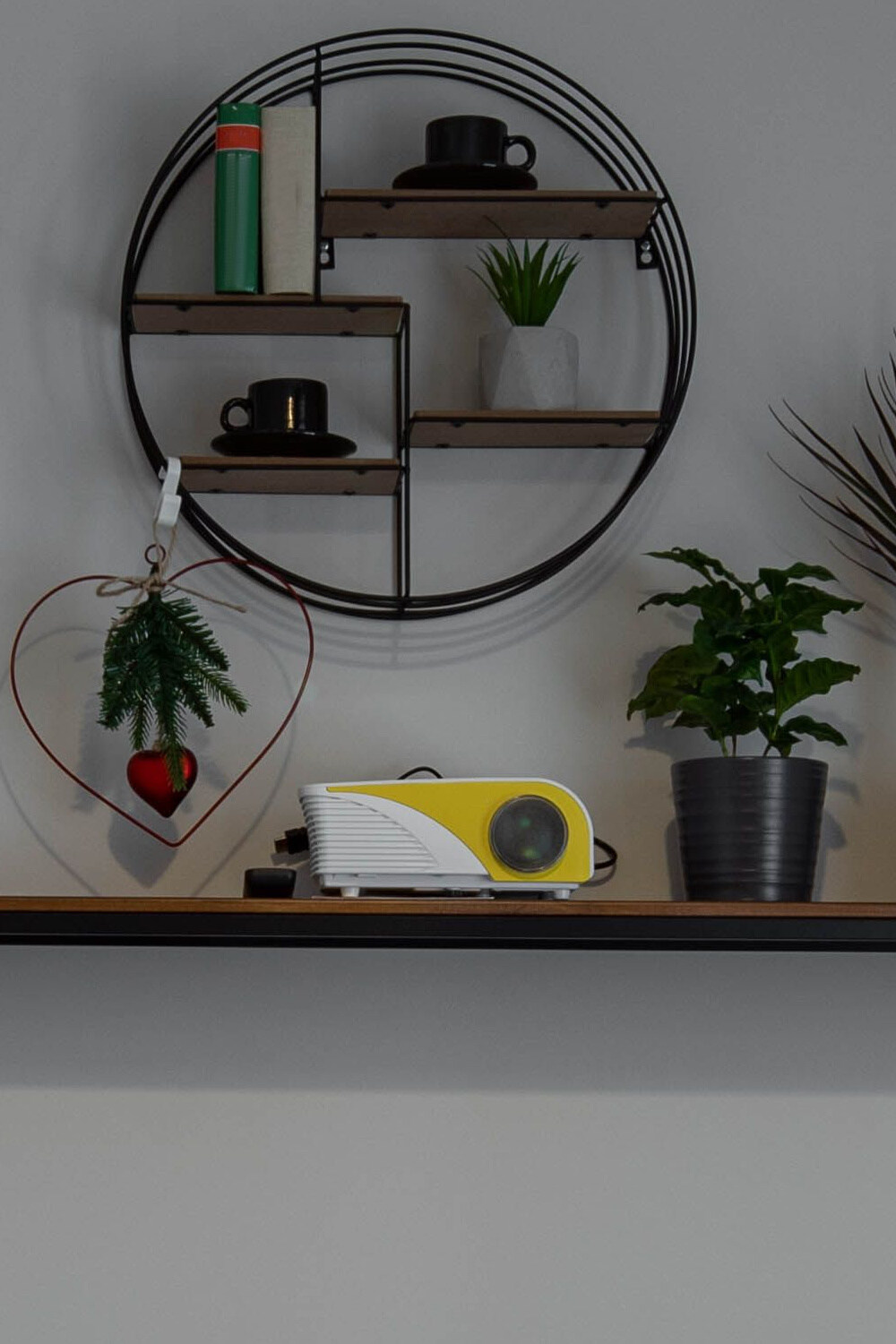 If you're aiming for that cozy farmhouse vibe, I'd suggest going for shelves that embrace the warm, rustic charm of wood textures.
They'll effortlessly blend in with the rest of your room, creating that relaxed and inviting atmosphere you're looking for.
You can choose shelves supported with brackets or those with hidden brackets
Renter-Friendly Mount Options
Besides placing your projector on your bed's headboard, there are three other options that are renter-friendly that I'd like to mention.
8. Bed Canopy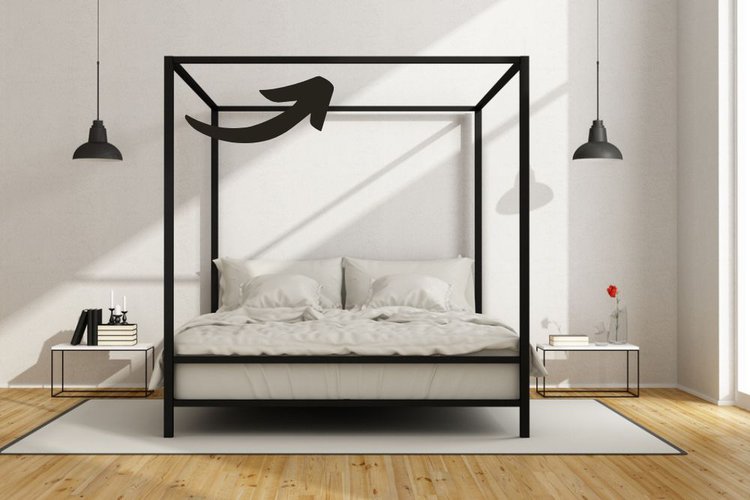 If you have a bed canopy, then there is another way you can mount your projector to your bed. This is with the use of a truss ceiling mount .
A truss ceiling mount can easily slip onto your bed canopy, allowing you to hang your projector from your bed with little trouble.
We highly recommend the QualGear Pro-AV Truss Ceiling Kit for bedroom canopies.
They're secure, easy to install, and come at a relatively affordable price.
9. Tripod Stand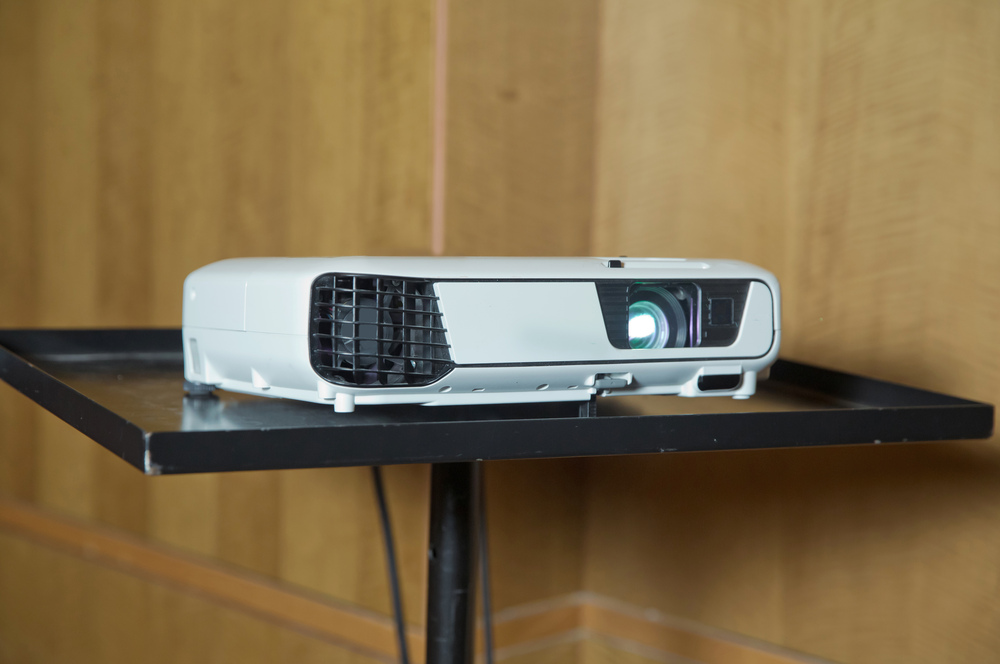 A simple yet effective method is to use a dedicated tripod stand for your projector.
It's both cheap and easy to move around.
Make sure to choose a stand with decent reviews, you don't want your projector to topple over while enjoying a movie night.
10. On a Nightstand or Bedroom Bench
Placing your projector on a nightstand or bedroom bench can be a smart choice for added convenience and comfort.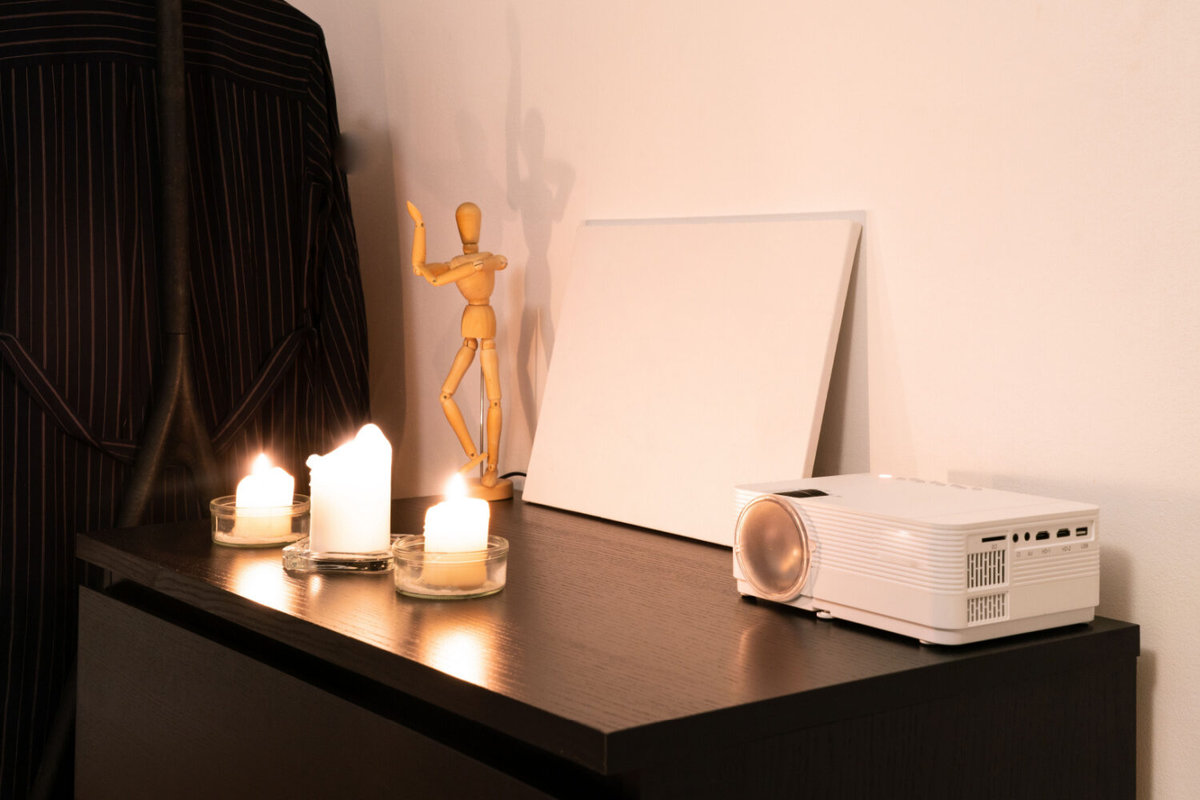 It provides the benefit of a quick and hassle-free setup, allowing you to enjoy movies or shows from the comfort of your bed.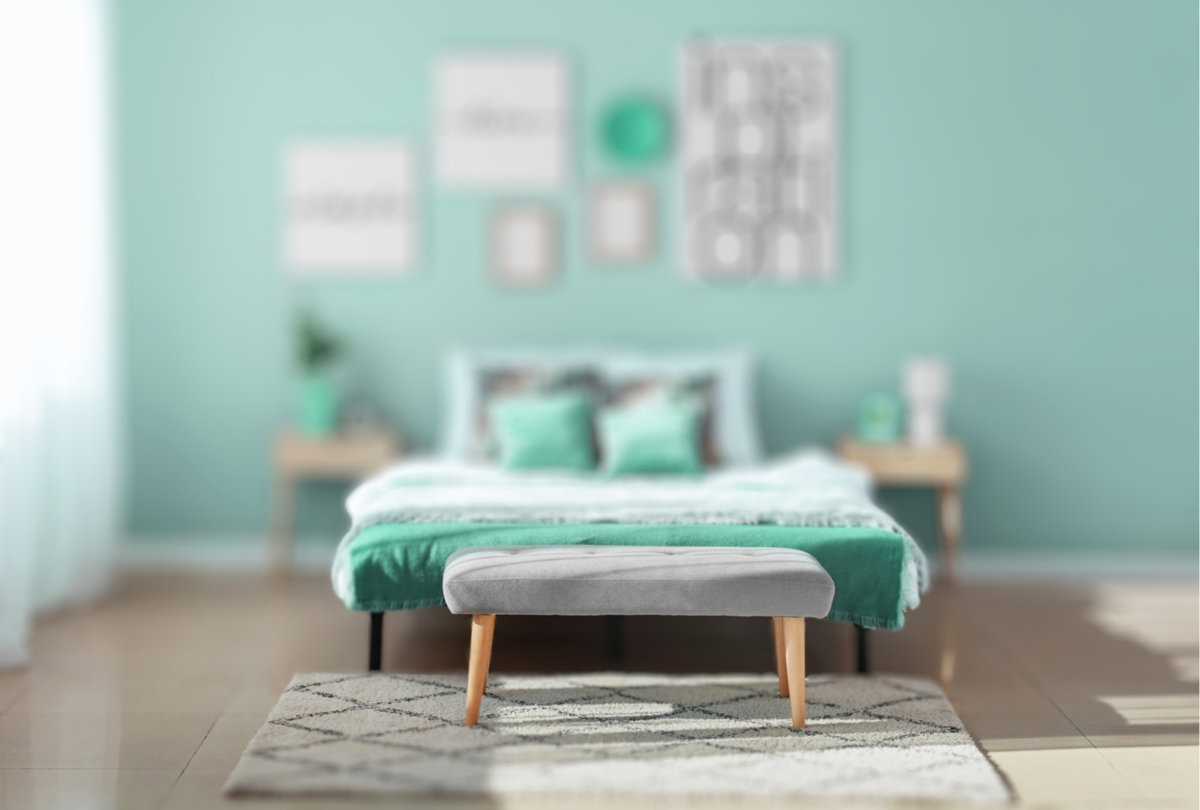 This setup option is particularly great for those cozy movie nights when you want to unwind without the fuss of an elaborate installation.

Where To Put the Projector in My Bedroom?
When pondering the perfect spot for your bedroom projector, you've got a few comfy options to consider.
You can opt for a floor stand for your projector, making movie nights a breeze to set up.
Alternatively, place it on the headboard for a cinematic feel right from the comfort of your pillows.
If you're aiming for a space-saving solution, why not place your projector on a shelf above your bed?
It's all about creating the ideal atmosphere for your movie escapades without compromising your bedroom's precious space and relaxation vibes.
How Do I Set Up My Projector for Bedroom Viewing?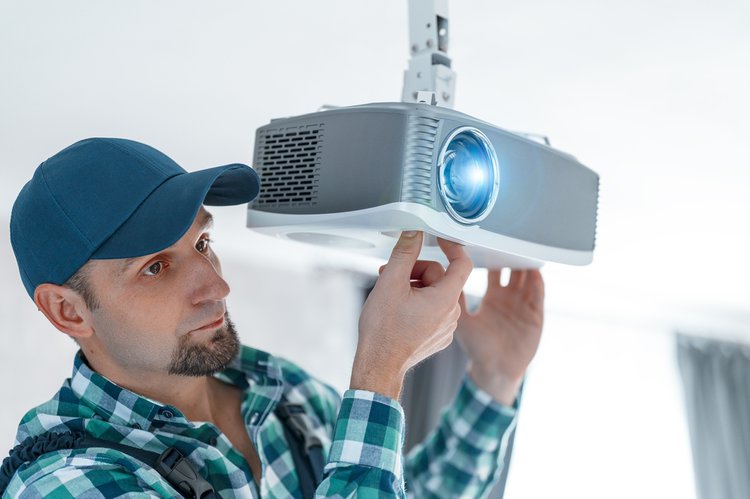 Mounting is only one of your problems when trying to hook up your projector to your bed. You also have to think about the wiring.
It's easy if you have an outlet near your bed. Then all you'll have to do is plug and play.
However, powering the projector can be a little tricky for those who don't have an outlet near their bed.
You can use extension cords to connect your projector to a power source. However, this can be a fire risk in many homes. Plus, depending on which state you live in, it can also be against building codes.
So, what's the safest thing you can do?
Install a Power Kit
Power kits can be handy, especially if you don't want to install a new outlet from scratch. Something like the On-Q in-wall power kit is an excellent choice, as it comes with all the wiring and hardware for the project.
It's the easiest option for those who want to take the DIY route. The On-Q Power kits come with pre-cut wires, so all you need to do is attach them to the appropriate outlet, and you're good to go.
Connecting the electrical components of your power kit can be intimidating. Luckily, most power kits come with a detailed installation manual. So, you have something guiding you every step of the way.
Note: If you're not confident with your DIY skills, it's best to contact an electrician to ensure the work is done right.
Now, if you got the On-Q in-wall power kit as we suggested, here's a brief guide that will help you out with installation:
On Q: Installing the Legrand In-Wall Power Kit
Wrapping Things Up
And there you have it, a delightful array of bedroom projector ideas to inspire your next home entertainment project.
Whether you prefer the cozy ambiance of a movie night or the immersive gaming experience, these ideas offer a blend of creativity and functionality to transform your bedroom into a captivating entertainment haven.
So, go ahead, pick your favorite, and start enjoying the magic of the big screen from the comfort of your own bed.
Happy projecting!
Huy 'Anyxel' Pham is a Pinterest marketer and writer. He's curious about how the human mind works and how people grow mentally. These interests shape his writing, making it useful and valuable. When he's not working, Huy enjoys the peace he finds at his favorite Buddhist temple or while reading a good book.
How was content created? This piece is created collaboratively, with tech editors generating ideas, conducting testing, and proofreading meticulously, while AI assists in fine-tuning.