What To Know
55-inch TVs offer a 21% larger viewing surface than their 50-inch counterparts, adding an impressive 224.3 square inches to the display area.
When comparing features, apps, and ports, 50 and 55-inch TVs are largely identical, with the size being the standout difference.
Despite the size difference, the price gap is minimal. As noted in the article, there's sometimes just a six-dollar difference between the two sizes
You're shopping for a new TV, and given your living room's small size, you know you need a moderately sized TV to match. After some research, you decide that a 50 or 55-inch TV would fit your living room nicely.
However, you can't quite figure out the difference between these two common TV sizes. Sure, the 55-inch model is a tad bigger than its 50-inch counterpart, but what else?
Believe it or not, there are several notable differences between 50 and 55-inch TVs that can impact their overall viewing experience, usability, and price point.
So, what are the differences between 50 and 55-inch TVs?
Keep reading to find out!
Size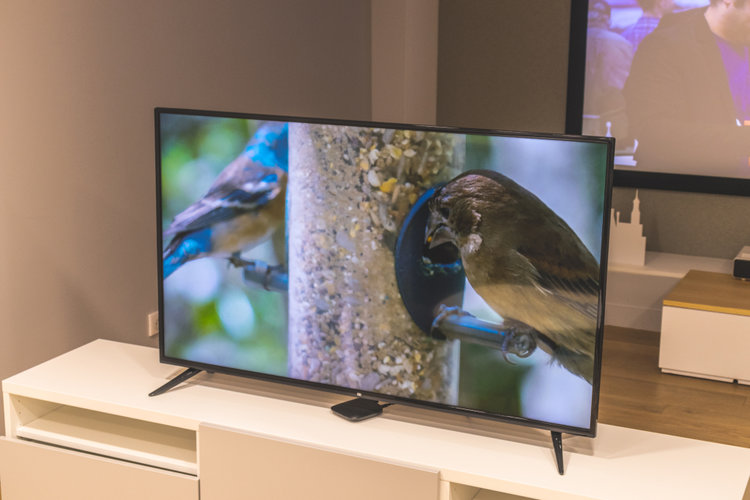 50 and 55-inch TVs' size difference is more substantial than a measly five inches. In the table below, we've outlined how these two TV sizes differ in their horizontal and vertical measurements and total surface areas.
Statistics (16×9 Aspect Ratio)
Fifty Inches (50"/127cm)
Fifty-Five Inches (55"/140cm)
Horizontal Measurements

(WIDTH)

Forty-Three Inches (43.58"/100.68cm)
Forty-Seven Inches (47.94"/121.76cm)
Vertical Measurements

(HEIGHT)

Twenty-Four Inches

(24.51"/62.25cm)

Twenty-Seven Inches

(26.96"/68.48cm)

Total Surface Area

(SQ. INCH)

1068.3 square inches
1292.6 square inches
From these measurements, we can conclude that 55-inch TVs are 4.36 inches wider and 2.45 inches taller than 50-inch models. This added width and height contribute a whopping 224.3 square inches of viewing area, which can significantly impact the way your TV looks in a room.
In short, 55-inch TVs are 21% bigger than 50-inch units, even if their official screen sizes may lead most consumers to believe their differences can be chalked up to a simple five inches.
Naturally, larger screen sizes will foster a more immersive and engaging viewing experience as they will occupy more of your field of view.
Viewing Distance
While larger TV screens are more immersive, you must consider their optimal viewing distance to avoid straining your neck or giving yourself a headache by watching a TV that's too big for your space.
While 50 and 55-inch TVs differ greatly in size, their recommended viewing distances are very similar.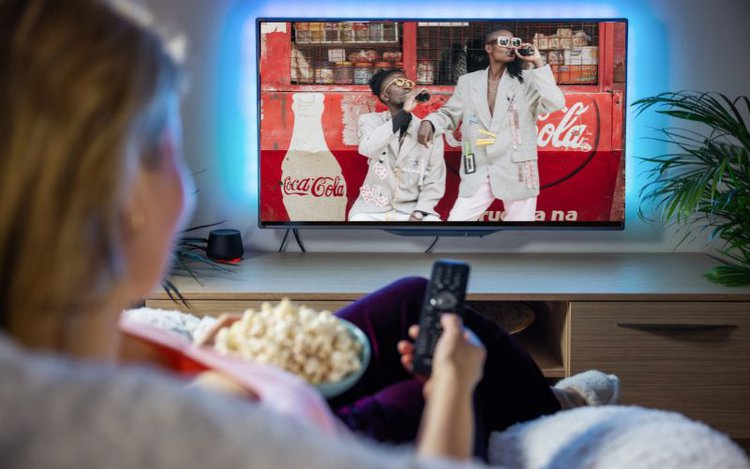 The optimal viewing distance for 50-inch TVs is seven feet, while 55-inch TVs require a 7.7-foot viewing distance. If the distance between your couch and TV stand/mount is between seven and eight feet, both 50 and 55-inch TVs will work relatively well for your space.
Since there's only a slight difference between these two sizes' viewing distances (0.7 feet), there's no reason not to take your entertainment setup from good to great with a 55-inch model!
Features & Apps
A TV's features and apps will vary widely depending on the TV brand and model. However, the units' size will have little to no impact on these functions.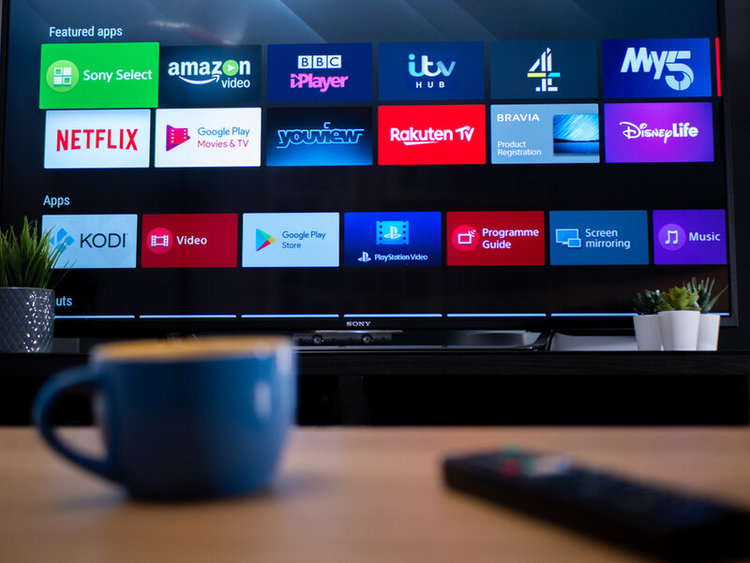 If you're TV shopping, we recommend carefully studying the TV models' specs to find any notable differences between them (e.g. Android/Google/Roku TV, voice command function, customization options, etc.).
Additionally, both TV sizes should boast the same number of HDMI ports, visual and audio technologies, Ethernet ports, etc.
With both TV sizes boasting the same incredible apps and features, there's nothing holding you back from investing in an awe-worthy 55-inch TV!
Affordability
These TV sizes come at extremely similar price points, especially given that most consumers will not perceive a notable difference between the TV.
For instance, there's only a measly six-dollar difference between TCL Class 5-Series 50 and 55-inch (2022 model) TVs.
Given that this small upgrade can make such a big difference, why wouldn't you want to opt for a bigger TV for your space?
43 vs. 60 Inch TVs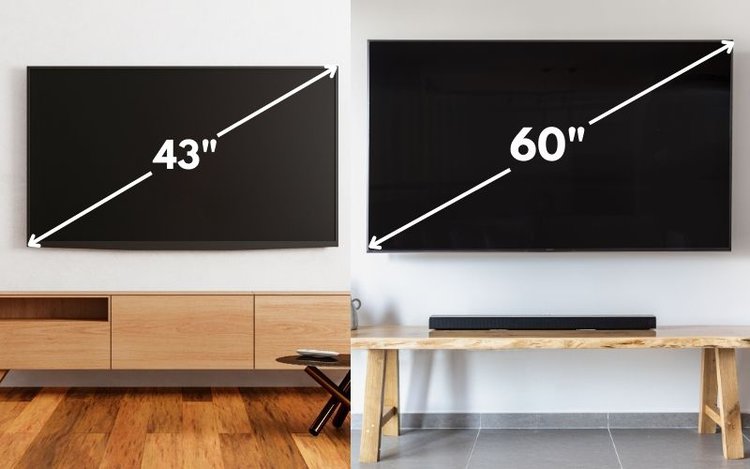 Now that we understand the fundamental differences between 50 and 55-inch TVs, let's compare them to a few different TV sizes.
43-inch TVs are quite cheaper than their larger counterparts, with the Sony X80K Series 43-inch model retailing for $448. Meanwhile, this series' 50-inch TVs are sold for $548 and their 55-inch TVs are sold for $598.
If you're considering upgrading from a 43-inch TV to a 50-inch model, you'll be paying roughly $14.2 per added square inch. Meanwhile, you'll only pay $10 per inch if you upgrade your 50-inch TV to a 55-inch one.
While these exact values will vary depending on the TV brand and model, it's clear that there's usually a smaller price difference between 50 and 55-inch TVs than there is between the next smallest model and 50-inch TVs.
Now, let's look at the next biggest TV size.
We see a similar pattern when comparing 60-inch TVs to these sizes, especially when looking at the Samsung TU7000 LED 4K UHD's price points. This snazzy model's 50-inch version retails for $379.99, with its 55-inch version not far ahead at $399.99.
However, you can expect a larger price difference in 60-inch units that sell for $479.99.
While you'll only have to spend an additional $20 to upgrade your 50-inch TV to a 55-inch model, you'll have to spend four times that amount ($80) to purchase a 60-inch TV!
Of course, if you feel that a 60-inch model will complete your space better than its smaller counterparts, you should absolutely go for it. But, if you're unsure if a 50 or 55-inch TV will be right for you, why not splurge the extra $20 for a bigger model?
Our Verdict
On average, people keep their TVs for two to ten years. However, some units may last longer depending on the brand, how often they're used, and how well they're taken care of.
So, your TV is going to be a long-term investment and, most likely, the center of your living room.
55-inch TVs don't require a significantly larger viewing distance than 50-inch models and create a more immersive viewing experience that's hard to beat. Not to mention, these sizes' price points are almost identical, making the decision of which one to get an absolute no-brainer.
So, which one will it be? Did you know how different 50 and 55-inch TVs actually are?
Let us know in the comments below!
Yesenia Achlim is a technical copywriter and editor with a focus on AV equipment. She aims to break down complicated topics and make technology accessible, no matter your technical expertise. When she's not teaching you how to replace a projector lamp, you can find her reading and baking.