Tis' the season of the witch, ghosts, goblins, and every other character that can send chills down your spine! You do not want to miss out on digital decorations.
Thanks to projection technology, Halloween decorations have gone past jack-o'-lanterns and creepy skeletons. You can now project convincing life-sized images and videos backed up with audio.
Halloween projectors allow you to decorate your yard, windows, and home with 3D hologram-like illusions that seem to materialize from thin air.
This article describes the type of projector to use for Halloween. It also includes a guide to set up a Halloween projector. Hang on tight and let the spook begin!
Can You Use a Regular Projector for Halloween?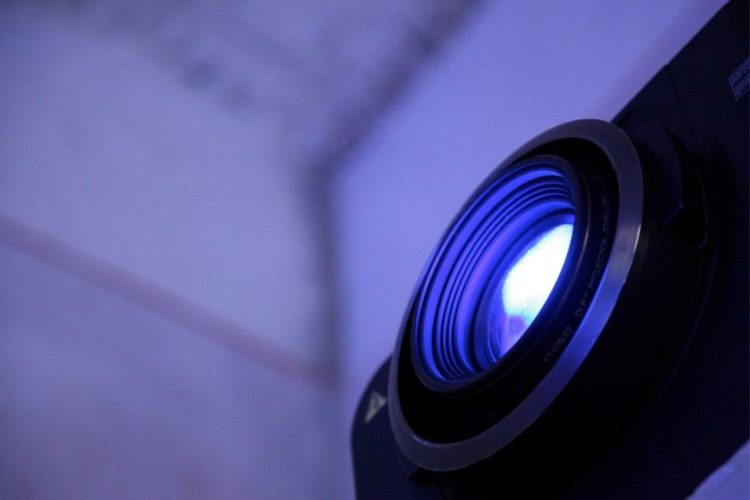 The answer to this question is YES. A regular store-bought projector can display your Halloween decorations. However, it may not give you your desired Halloween effect.
Want to scare a few unsuspecting neighbors? You can project lifelike Halloween decorations that look like 3D holographic illusions.
We consider projectors fit for Halloween if they meet certain requirements, which we will explore in this section.
Your Halloween projector should be 3D enabled to accurately display 3D videos. It should also have an HD native resolution for high video quality.
A regular projector may have few video input connectors and limit your options for projecting high-quality digital images.
On the other hand, a Halloween projector is often HDMI-enabled. It is also compatible with internal storage devices like USB drives and SD cards to help users avoid the clutter of video cables.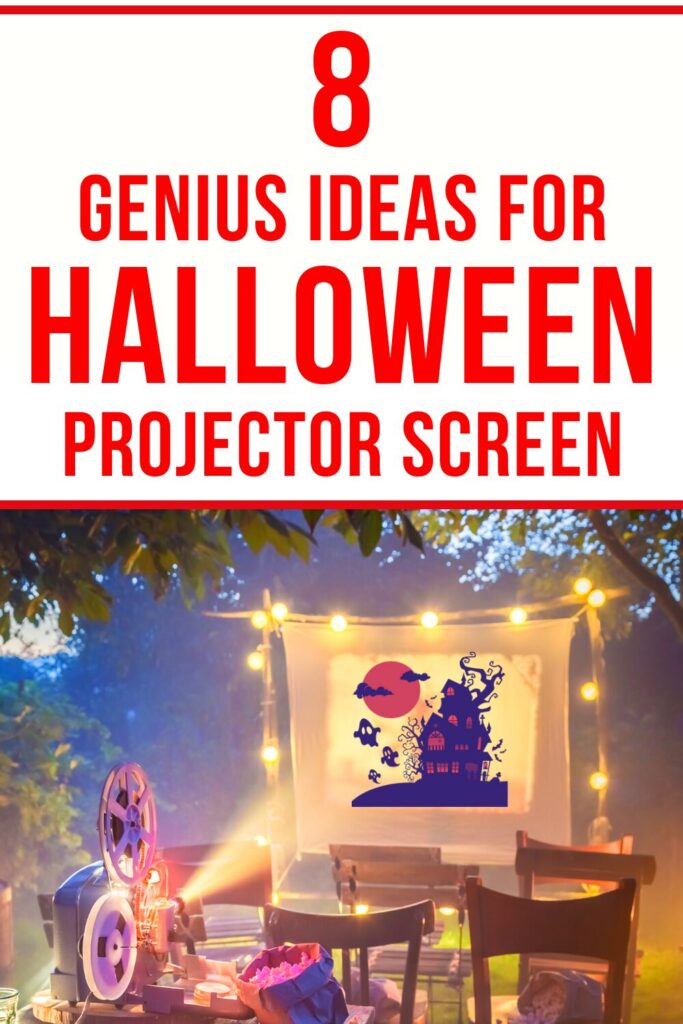 Halloween projectors should be easy to set up, move around your house, or chuck right back into storage. They are designed to be light and portable.
Designated Halloween projectors must possess three other things: a loop or repeat function, a strong battery life, and a high lumen count.
Brightness is very important for Halloween digital decorations. Most of your audience will be far away, and your decoration needs to be bright enough to horrify from a distance regardless of the chosen screen material.
We recommend 1800 lumens (or more) for your Halloween projection. The brightness is paired with strong battery life to avoid interruptions while projecting — you need at least 2 hours of unplugged battery life.
If your projector possesses all these features, it is a good Halloween projector.
A regular projector can project Halloween decorations but with less impressive results. The image may be dim, and of poor quality, the dog may keep chewing the video cables, and you may have to press repeat on your projector every few minutes.
If you want a mid-budget Halloween projector for short-distance projection, we recommend the ViewSonic MI+ . You can also check out our selection of the best Halloween projectors in 2021.
What Can I Use For A Halloween Projector Screen?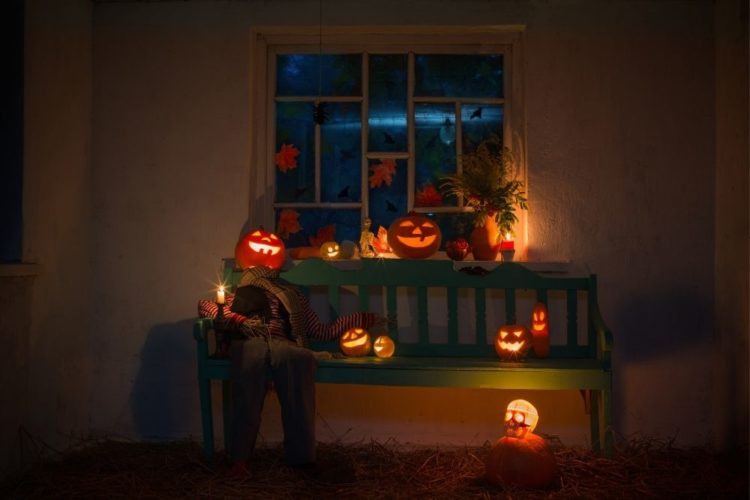 Your projector screen forms the background of your Halloween projection. Without one, your digital decorations will not be displayed in the desired location.
It is very important to choose a screen material that matches your intended decoration.
Certain Halloween projections require transparency (i.e., ghost or shadow scenes where characters appear suspended in thin air), while others require a strong background color.
There are different materials you can use for Halloween projection screens. This section provides a guide to help you choose.
1. Tulle
Last update on 2023-09-14 / Affiliate links / Images from Amazon Product Advertising API.
Tulle is a very fine, light, stiff netting material. It is commonly made of polyester, but it may also be silk, nylon, rayon, or other fibers.
Tulle is very transparent, and you can use it for window or door-frame hologram illusions. The recommended colors for projection are white and grey.
The downside to Tulle is that the image created on it may appear grainy or pixelated. However, it is very affordable, so it is ideal for low-budget setups.
2. Mosquito Netting
Sale
Last update on 2023-09-15 / Affiliate links / Images from Amazon Product Advertising API.
Mosquito netting is very transparent and can be used to create illusion projections. However, it is quite shiny, and the reflectivity makes it a bit obvious even at night and may distract from the illusion.
The gray or black mosquito netting works for Halloween projection, but it has average image quality. On the upside, it is a cheap and readily available option.
3. Platinum Chiffon Material
Light Gray 5 Yards 60" Wide Sheer Fabric Chiffon Fabric by The Yard Continuous Solid Color Draping Fabric for Wedding Party Backdrop
Soft, high quality 60" wide chiffon fabric. Available in 5 yards, 10 yards, 20 yards.
Perfect uses for your wedding, backdrop, window, table, party, baby shower, birthday shower,...
Use it to make your draping, arch, reception and table runner, ribbon, wedding tent, wraps, jackets,...
Last update on 2023-09-15 / Affiliate links / Images from Amazon Product Advertising API.
This fabric is smoother, softer, and more opaque than Tulle or mosquito netting. It captures the light perfectly and is almost as good as standard projection fabrics.
Chiffon material is a good background for window or door-frame holograms. It displays a bright image and still lets the viewer see through it.
It is not as inexpensive as the former options, but it is cheaper than most standard projection fabric.
4. AtmosFX Hollusion Material
AtmosFX Projection Materials: What's the Difference?
This material is produced and sold by AtmosFX for displaying hologram-like illusions. It has an opaque appearance and is quite similar to Chiffon.
AtmosFX hollusion material has good transparency and displays quality images. However, its images appear darker than images on the Chiffon material.
The hollusion material from AtmosFX is the most expensive screen material on our list.
5. AtmosFX Window Projection Material
This material is a white and semi-translucent woven polyester. It is designed for the rear projection of AtmosFX digital decorations.
The AtmosFX window projection material provides an even surface for realistic window decorations. It is reusable and durable in storage.
The window projection material has very little hot spotting and is easy to set up. AtmosFX offers this material in XL size for larger windows.
6. RoseBrand Projection Fabrics
Halloween Hollusion fabric comparisons
There is a wide range of projection screen fabrics sold by the Rose Brand. They have great edge finishing and come in various shapes.
The fabrics include muslin, silk, and others. White is the common color, but many of them also come in grey, better suited for nighttime Halloween projection.
Most Rose Brand projection fabrics are for front projection. However, if you're in the market for a rear projection material, you'll find great options too.
7. Decorating Discs
Scare Hollow Product Review AtmosFX Decorating Disc
The decorating discs are 32-inch circular polyester screens offered by AtmosFX. The screens are designed to capture and display brilliant digital decorations for Halloween and other holidays.
They are lightweight, foldable, and easy to store. There is also an XL 43″ version for larger decorations. All you have to do is unfold, hang them up, and project your scary scenes.
8. Frosted Shower Curtain
Sale
Last update on 2023-09-15 / Affiliate links / Images from Amazon Product Advertising API.
These curtains have a semi-transparent quality which makes them great for rear projection. However, you cannot see through or behind them.
Light-colored shower curtains are ideal. They are a great option for people who don't want passersby to see into their houses.
The downside to frosted shower curtains is that they crease easily, so you may need to iron or stretch out the creases before use.
NOTE: You can also use white bed sheets and other semi-translucent materials for your Halloween projector screen. Just make sure your screen material is not too thick, dense, or dark to avoid loss of visibility.
The easiest way to test the projection materials before buying one at the store is to point a flashlight through them.
How To Set Up A Halloween Projector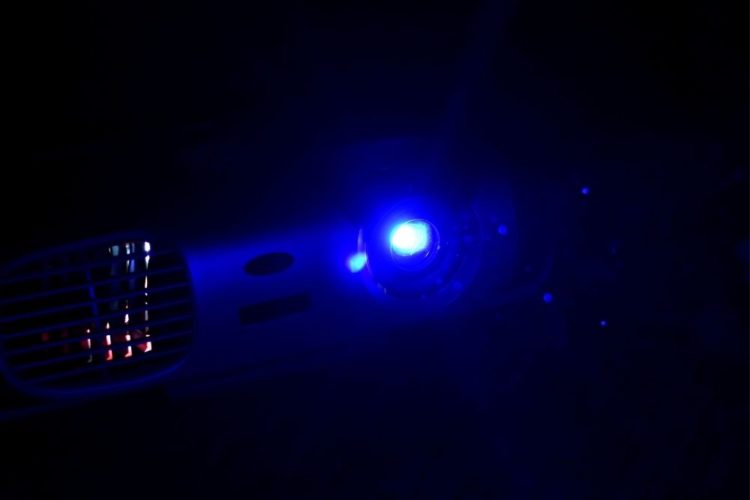 It is quite easy to set up your Halloween Projector, but you need to know what you're doing to get the right results.
You can set up your Halloween projector indoors or outdoors. It is best to project your decorations at night, but you can also control the lighting indoors for daytime projection.
This section provides a step-by-step guide to help set up a Halloween projector for your digital decoration.
Materials Needed
1. Halloween projector
To get the best results, make sure the projector meets brightness and HD native resolution requirements.
2. Halloween Digital Decoration DVD or MP4 video file.
AtmosFX sells a variety of Halloween decorations that you can choose from. You can choose between kid-friendly and extremely spooky Halloween projections.
3. DVD player
4. SD card or USB drive
5. Projection screen material
For a holographic projection, purchase a material that is translucent but doesn't allow much loss of light.
6. Colored LED lamps
These lamps need to cast a warm eerie glow. We recommend the Hekation LED Night Lights and the Fire and Ice LED Spotlights. They both have beautiful effects and soft lighting.
7. Quality external speakers
Steps To Set up Your Halloween Projector
How to Make a Hologram Illusion for Halloween - Step by Step Tutorial for AtmosFearFX!
Step 1: Measure out your desired size of screen material and seam the edges.
Step 2: Add clips on the edges to help hang the material up.
Step 3: Hang the projection screen material over a glass window, a door-frame, or other open spaces.
Step 4: Set up your colored LED lights to softly illuminate the area behind the screen
Step 5: Turn off any bright lights around the setup.
Step 6: Mount your projector at a good distance from the screen.
Step 7: Plug the Halloween projector into an electrical outlet and power it on.
Step 8: Connect your DVD player, media player, or USB drive to the projector.
Step 9: Select the right input source on the projector and project your digital Halloween decoration onto the screen.
Step 10: Test your decoration and adjust the projector until the image is angled correctly.
Step 11: Connect the external speakers to your projector to get amplified sound.
Step 12: Activate the Repeat function to keep replaying your decorations automatically.
In the dim lighting, grey screen materials are almost invisible, the displayed image appears very realistic, and you can see behind the screen due to the lights behind it.
NOTE: If you're setting up an indoor window projection, you will need rear-projection to prevent it from appearing backward outside the house.
Some projectors have a rear projection mode which reverses the projected image, making it appear upright from the other side of the screen.
Here's how to access those settings: Go to Menu > Projection. Select Rear projection from the listed options.
It's hard to tell if most Halloween digital decorations are backward because there isn't enough to indicate left-from-right. However, it's good to know that you can reverse the projector's image if it eventually looks off.
Conclusion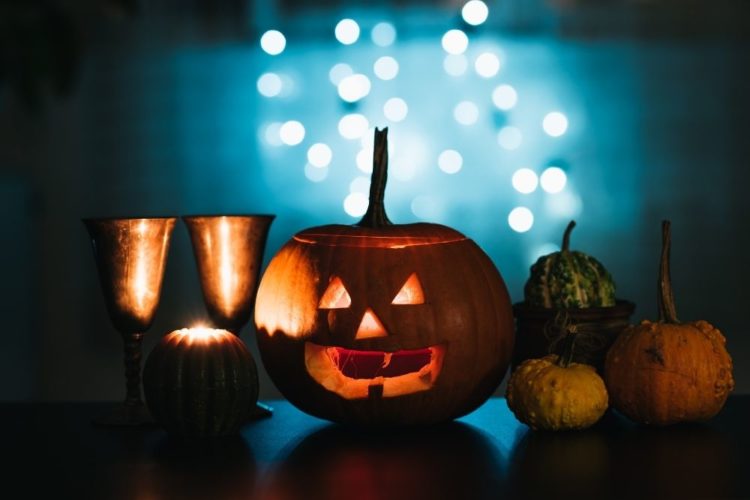 Digital decorations are now quite popular during holidays and celebrations. They're easy to set up and don't require as many materials as physical decorations; no paper cuts, paint spills, or glue accidents.
Halloween is a celebration of life that shows us how we can overcome our fears and even have fun with them to an extent. We hope we've provided you with enough knowledge to spice up your Halloween celebrations this year.
There are many great Halloween projectors; get one and take your spook game up two notches. Have a wonderful Halloween, everyone!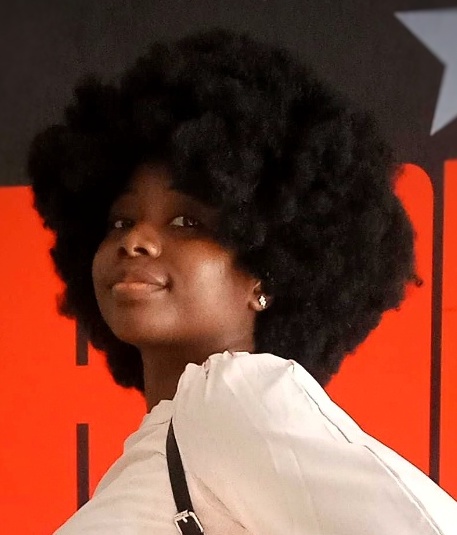 Gabriella 'Diogo is a content writer with a vested interest in tech hardware and equipment. She shares her knowledge and processes in an easy-to-grasp, lighthearted style. When she's not testing or researching device performance, you'll find her writing short stories or rewatching episodes of her favorite sitcoms.