One of the best things about Halloween is putting up those creepy decorations. This year, you want to use your projector. You've researched how to use it and where to find creepy videos. But now you want to know how to hide a Halloween projector?
As you would expect, there are many ways to hide it. It's an important part of the process considering you want trick-or-treaters to see the projected image, and not get distracted by the projector itself. So what do you do?
The easiest thing to do is use more Halloween decor. However, you want to make sure it's sturdy and projector-appropriate. In other words, you don't want to harm your projector in the process.
In the following paragraphs, we'll flush out a few ideas you can use to hide a Halloween projector this year.
A Few Ground Rules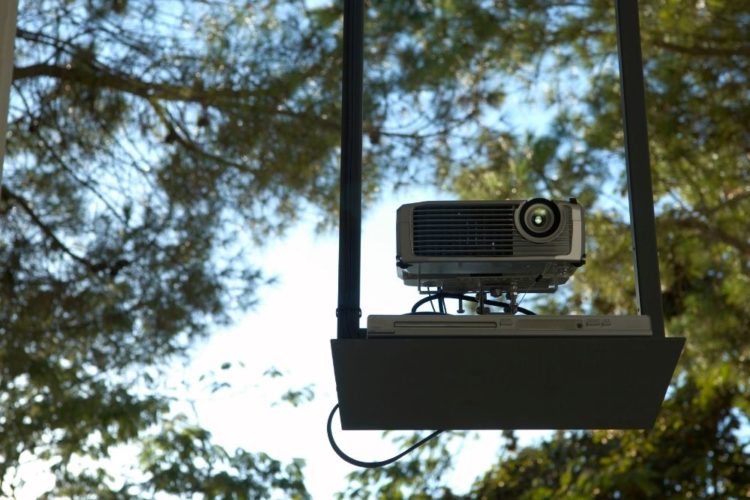 In this section, we'll mention a few rules you should follow when hiding your machine. Hiding it correctly depends on where you have it placed.
Is it on the ground? Or is it outside?
Is it ceiling mounted?
Depending on where you place your projector, hiding it will differ.
Also, placing your machine on the floor should be a last resort. That's because anything in front of the projector will block the image and destroy the illusion. This includes people walking in front of it.
Keep in mind that even though you're hiding your projector, never cover your projector's fan. Otherwise, you run the risk of overheating it.
Ideally, the higher it's placed, the easier it is to hide.
Also, never point it at people or keep it at eye level. The lamp is too bright for direct eye contact. At that level, it quickly becomes a hazard.
Now that we have those few rules out of the way let's get to the real topic at hand: how to hide a Halloween projector.
A Home Theater Set Up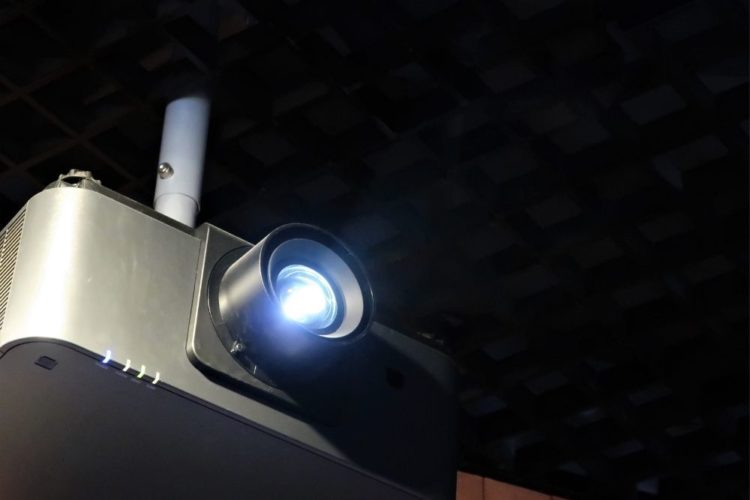 If you have a ceiling-mounted projector in your living room or in the room you're using as your Halloween decoration room, hiding your home theater projector is an easy-to-do project.
Many people who mount it on their ceilings already have a wooden box that hides it. But you can add a temporary box that hides your projector easily.
For example, a simple cardboard box that allows your projector to breathe works well.
Cardboard is not as boring as you think. Especially during Halloween, you can paint it black or put creepy stickers on it.
If you want to make it more elaborate, you can pin curtains and other spooky decorations from the box.
Use Halloween Decor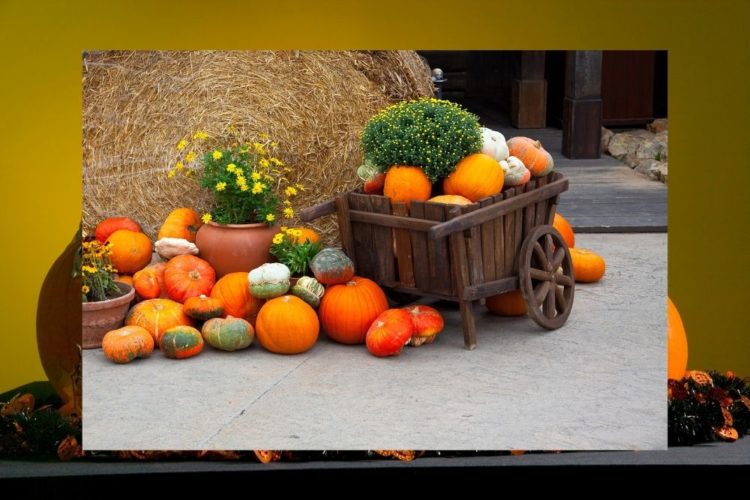 The great thing about Halloween decorations is that they come in all shapes and sizes. This means hiding your projector is easy, depending on your decor.
You can use almost anything to hide your machine as long as you're following the rules mentioned above.
For example, if you decide the best place for your projector is on the ground (indoor or outdoor), you can cover the projector with a fake jack-o-lantern .
As long as there are holes that allow the projector to ventilate (which a jack-o-lantern has), then you are good to go.
Many people also opt for cemetery decor. Cemetery tombstones are great items for hiding your projector. For instance, you can place tombstones on all sides of your projector to hide it. As long as you're not blocking the lamp itself, the projector should work perfectly.
If your projector is indoors and on the ground, you could use your Halloween decor to hide it. For example, you can build a creepy altar around it that exposes the lamp to project your spooky image.
Even if it's mounted to a wall or ceiling, most Halloween decorations will help you hide it perfectly.
Ghostly White Sheets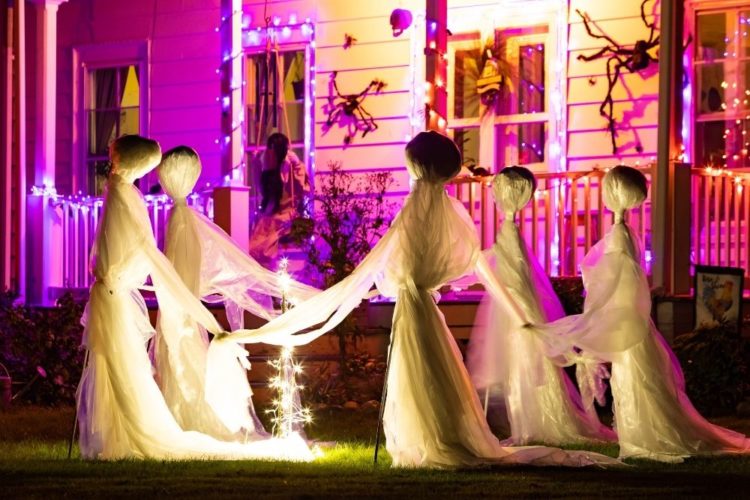 Another way to hide your Halloween projector is to use white sheets .
For this to work, we have to be creative. Don't just engulf it within a white sheet. That's not good for the projector. In other words, take your white sheets and create spooky scenery.
A good idea is to create ghosts out of your white sheets. Depending on how many sheets you have, you can create one or multiple ghosts that surround it.
This idea will give your room a great look for Halloween, but it's also projector-friendly. It allows your "video box" to breathe and hides it at the same time.
However, there are a couple of ways to improve upon this idea.
The first way is to use white shower curtains instead of white sheets. The shower curtains are more durable than the sheets, and they're easier to clean up.
The second way to improve this idea is to get into the spirit of Halloween and add some red food coloring onto the sheets.
Red food coloring gives it a bloody look that's perfect for Halloween. Although if you're using white sheets, it might be tough to get out. That's why shower curtains work better.
Regardless of which material you go with, the outcome is the same. So let's project some spooky scenes your neighbors will love.
Some Final Thoughts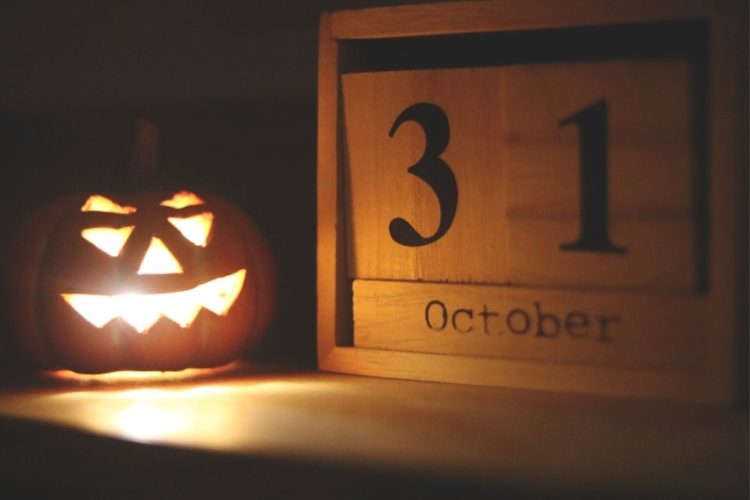 With the above ideas, you begin to understand how easy it is to hide a Halloween projector. Whether you choose to hide it with Halloween decorations or white sheets, or even a cardboard box, you'll notice it's simple as long as you use your creativity.
There are many ways to hide your projector for Halloween, it just requires a little imagination. Most Halloween decorations will work.
Hiding your Halloween projector is another fun project you and your kids will enjoy doing together.
As long as you follow the rules mentioned above and keep your projector from overheating, it's all fair game.
So let's unpack some creepy skeletons, open the bags of spiderwebs and start spreading them around. Today you're going to have the best Halloween projection on the block!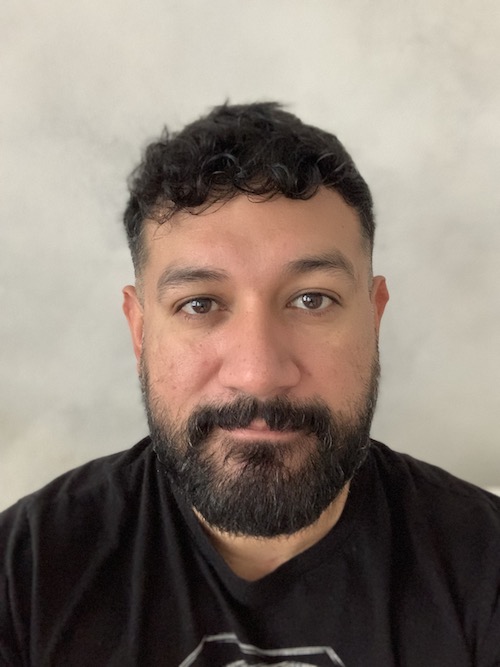 James Quintanilla is a technical copywriter. Although his experience allows him to write on many topics, he loves to focus on tech and travel. As a freelancer, James has worked on projects with Pointer Clicker, Lonely Planet, and the Travel Channel. When he's not writing or planning his next adventure, he's watching a scary movie.