Samsung is a household name in the TV realm, alongside LG and Sony. Similarly, on the smart TV software front or in the streaming hardware world, Roku is easily recognizable. For many, a marriage between the two would be a match made in heaven.
But like how Roku OS comes preinstalled on many smart TVs, Samsung uses its proprietary TV operating system, Tizen OS.
If you're a Roku OS fan, that isn't the end of the world, as you can plug in a Roku streaming stick and switch to the Roku TV interface even on your Samsung HDTV.
But what if you don't mind the Tizen operating system but also want a taste of Roku—specifically, the Roku Channel app?
In such a situation, the question arises, "Do Samsung smart TVs natively support the Roku Channel application? If not, what are the alternatives? Let's find out.
Roku Channel App: A Brief Introduction
Launched in 2017, the Roku Channel app is an avenue providing free, freemium, and paid content services. It dishes out a constantly updating platter of original series, TV shows, hit movies, round-the-clock live news, etc.
Moreover, the app has a rich library of musicals, films, reality shows, classic television shows, kids' entertainment, mini-series, etc. Live programming consists of news channels, sports, and several other genres.
The app offers various premium add-on channels. The options include Showtime, Starz, Paramount+, etc. Do note that the app and contents could be region-restricted. Live news broadcasts are available in the U.S. and Canada (as of March 2023).
The app is available for download (no surprises) on all Roku devices, such as Roku TVs and Roku streaming devices. Third-party platforms/hardware, such as Amazon Fire TV and Samsung TV, also support the Roku Channel app.
How to Know If Your Samsung TV Supports Roku Channel App?
The Roku Channel app is available on all Samsung smart TVs running on Tizen OS 2.3 or later versions (2.4, 3.0, 4.0, 5.0, 5.5, 6.0, 6.5).
To find your Samsung TV's Tizen OS version, follow these steps:
Press your remote's Menu button.
Scroll to Settings and choose Support.
In the About This TV section, look for your TV's model code.
For example, in the image below, you can see the particular Samsung AU7000 series' model is UA43AU7002KXXV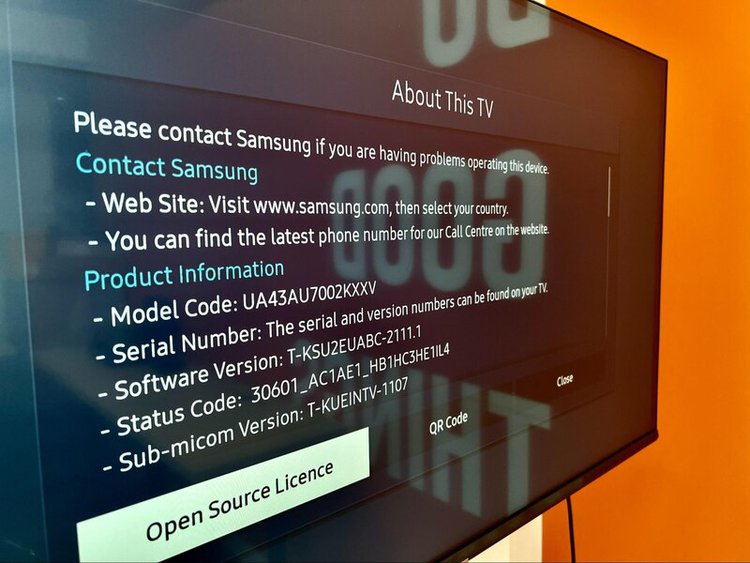 You can then check the Tizen OS version by visiting this web page. In our case, we have pressed the Ctrl and F keys on our keyboard and type "AU7000" in the search box to find out our Samsung TV model, as pictured below: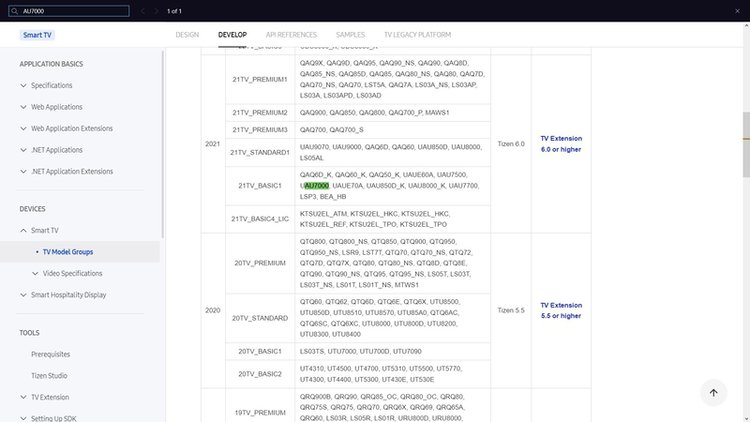 What If My Samsung TV Doesn't Sport a Compatible OS?
Tizen OS 2.2 was launched in July 2013. Therefore, if you bought a Samsung smart TV after that, your TV should run Tizen OS compatible with the Roku Channel. If your Samsung TV is older, check if there's a software update available.
By the way, you can always plug a Roku streaming stick into the TV and use the Roku Channel app from there.
However, a better alternative is buying a new Samsung TV since the pre-2013 device could be outdated.
A new device will provide a much-improved experience (thanks to the 4K panel and better audio performance) and help you enjoy Roku Channel app content better.
How to Install the Roku Channel App on Your Samsung TV?
To install the Roku Channel application on your Samsung TV, follow these steps:
Press the Home or Smart Hub button on the remote control.
Head to Apps, and navigate to and enable the search bar denoted by the magnifying glass icon.
Type "Roku channel" in the search box. Choose the app when it appears below and install/download it following the prompts.
Here is a video showing how to install any app on a Samsung TV using Smart Hub:
Install Apps from Smart Hub on your TV | Samsung US
After installation, the Roku channel will get added to your Samsung TV Home screen alongside other channels.
FAQs
Is the Roku Channel App the Same as Roku OS?
No, the Roku Channel app and the Roku platform are discrete entities.
Roku OS is Roku's proprietary Operating System on its smart TVs, streaming devices, soundbars, etc. It offers an interface that lets users access different streaming services and apps.
The Roku Channel app is one such standalone application that you can install on a Roku device or any platform that offers the channel for download.
Is the Roku Channel App Experience Different on Samsung TVs?
No, the Roku Channel app looks and works identically across the board—be it on a Roku device or a Tizen-powered Samsung TV.
Samsung or other platforms that support the Roku Channel application do not fiddle with or customize the application to make it appear and function a certain way.
For instance, the premium content will remain locked behind a paywall, irrespective of where and how you access the app.
In other words, if you've loved the Roku Channel app experience on your Roku TV or the company's streaming hardware, it should not be any different on a Samsung TV.
Conclusion
Samsung smart televisions are home to a plethora of entertainment. And by including the Roku Channel app, it also exhibits its all-encompassing nature.
Installing the app on your Samsung TV is straightforward or like downloading any third-party application. You don't need special permissions, hardware, or software to use the app.
And if your Samsung TV is brand-new or you've never accessed the integrated app store and downloaded apps from it, the above step-by-step instructions will help.
Just accept that the Roku Channel app comprises free (ad-supported) and premium content. And using it on a Samsung TV will not transform the app experience, irrespective of how advanced the TV hardware is.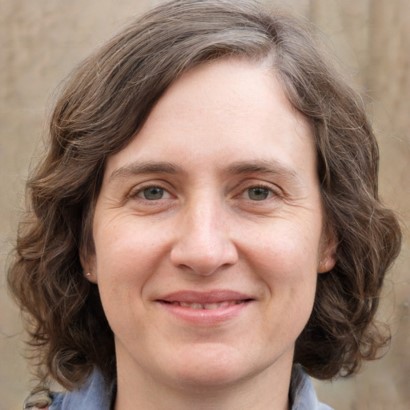 Catherine Tramell has been covering technology as a freelance writer for over a decade. She has been writing for Pointer Clicker for over a year, further expanding her expertise as a tech columnist. Catherine likes spending time with her family and friends and her pastimes are reading books and news articles.