What To Know
VPNs are the most common and user-friendly method for bypassing Wi-Fi restrictions, allowing users to change their IP address and appear as if they are accessing the internet from a different location.
Using an alternate DNS or a proxy can also circumvent Wi-Fi restrictions, though these methods might not be as secure or robust as VPNs, and in the case of proxies, they may not encrypt data end-to-end.
This guide swiftly equips you with the knowledge to bypass Wi-Fi restrictions and freely access any website.
We'll navigate through options like VPNs and proxies to find your path to unrestricted browsing—no advanced tech expertise is required.
Let's begin your journey to online liberation.
How to Bypass Wi-Fi Restrictions?
There are a few commonly used methods that are completely legal to use and only take some basic tech skills to employ.
Let's learn how to access blocked websites!
1. Use a VPN
The most widely used and easiest method for bypassing Wi-Fi restrictions is to use a VPN (or Virtual Private Network).
VPNs change your device's IP address by rerouting your data to the VPN server and accessing the website for you. This "tricks" your Wi-Fi router into believing that your device is only connecting to the VPN server instead of the blocked website.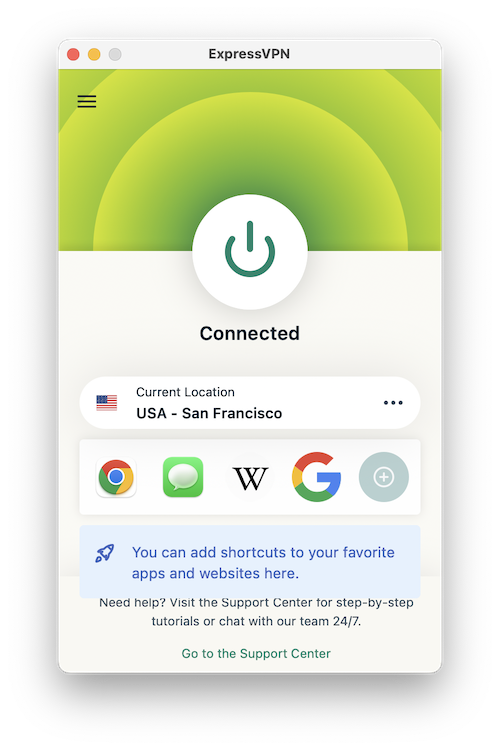 VPNs are popular among users who want to access geo-blocked content since they hide your IP address, making it look like you're in another country.
When enabling a VPN, you can often choose which country you'd like to "appear" in, allowing you to travel the world from your living room. This means that you can stream American geo-blocked content, even if you're in Indonesia.
All of this considered, only a few high-end VPNs can mask your device's IP address from services that require paid subscriptions, such as Netflix and Hulu. Additionally, these high-end VPNs often require a monthly subscription fee, so be prepared to reach for your wallet when signing up for them.
Some people use VPNs for their end-to-end encryption, which keeps your device secure from hackers and malware, especially when visiting websites that are not secure.
While the other solutions on this list require you to install new browsers or adjust your device's settings, installing a VPN couldn't be easier.
Just go to the VPN provider's official website, sign up, and install the VPN. Once installed, choose the location you'd like your device to appear in before turning it on.
We recommend ExpressVPN for readers seeking a top-tier VPN with exceptional speed. It's user-friendly and comes with the added benefit of three free months when you opt for their annual plan.
2. Use Tor Network
If you're willing to download and use a separate browser to access blocked content, consider installing a Tor (or The Onion Router) network.
A Tor network is a free browser that, like a VPN, encrypts your data and reroutes it to random nodes around the world. This masks your IP address and makes it difficult for websites to track it, allowing you to bypass Wi-Fi restrictions and avoid data tracking.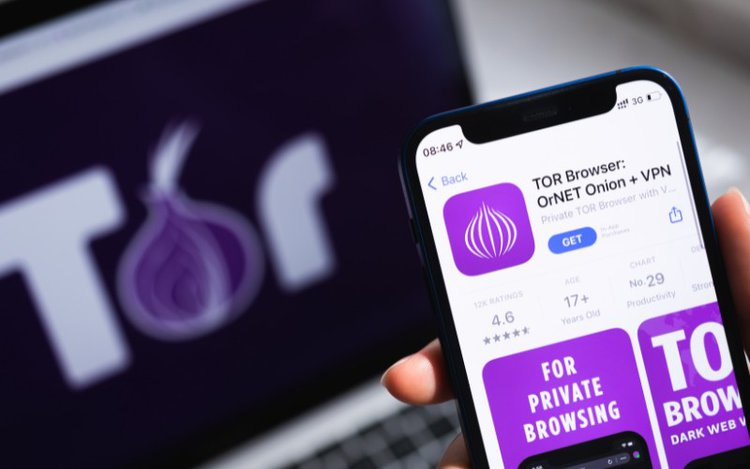 This means you can access geo-blocked content and keep your online identity safe, ensuring your computer's connection is secure.
To access the Tor network on your device, head to the official Tor Projector website, select the device you want to install the browser on, then download it.
However, there are two main downsides to this solution.
The first downside is that the Tor network does not work on iOS devices, such as iPhones and iPads. It is, however, available on MacBooks.
The second downside is that this browser is noticeably slower than other browsers, such as Chrome and Safari. This may make it difficult to do things that require high bandwidth, like streaming content.
So, if you're looking to access blocked streaming services, it may be best to use another one of the methods listed.
3. Use an Alternate DNS
Many organizations employ their Wi-Fi restrictions through the use of a DNS (or Domain System Name) server. While this restriction method may sound foolproof, it can easily be bypassed by using an alternate DNS server.
Setting up an alternate DNS server requires adjusting the Ethernet settings on Windows 10 or the Network settings on Mac.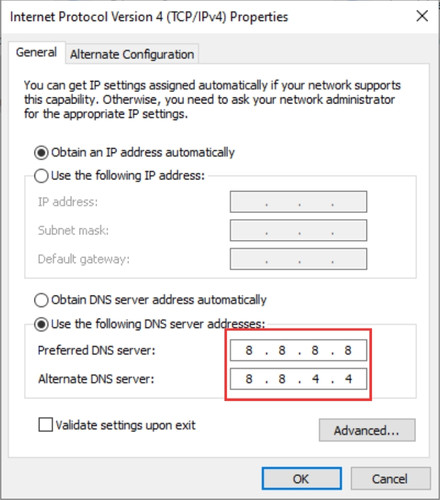 While this is completely legal, it may go against your school or work's internet browsing regulations.
Please note that this method will only work if your organization's restrictions are enforced via their DNS server. This solution will not allow you to access blocked content if the organization uses another method of restricting internet access.
Let's learn how to use an alternate DNS on Windows 10 and Mac!
Set Up an Alternate DNS Server on Windows 10:
Step 1: Click on the Windows Start button or select the Search button found on the taskbar at the bottom of your screen.
Step 2: Search for and select Ethernet Settings.
Step 3: Navigate to Change Adapter Options.
Step 4: Find your device's current internet connection and use your mouse or touchpad to right-click on it. Then, select Properties from the drop-down list.
Step 5: From here, click on Internet Protocol Version 4 (TCP/IPv4).
Step 6: Click on Properties.
Step 7: Then, select Use the following DNS server addresses from the list of options.
Step 8: On the Preferred DNS server, type 8.8.8.8.
Step 9: Then, go to the Alternate DNS server, and enter 8.8.4.4.
Step 10: To complete the process and save your changes, click OK.
How to change DNS server in Windows 10
Set Up a DNS Server on Mac:
Step 1: Click on the Apple Menu, marked by an Apple icon in the top-left corner of your screen.
Step 2: Select System Preferences from the drop-down menu.
Step 3: Head to Network, marked by an image of a blue globe.
Step 4: Navigate to Wi-Fi.
Step 5: Go to Advanced.
Step 6: Head to the DNS tab.
Step 7: Under the DNS Servers, find and select the plus (+) sign found on the lower left of the screen. Then, when prompted, 8.8.8.8 and 8.8.4.4.
Step 8: Select OK.
Step 9: To save your changes, click on Apply.
Watch the video below demonstrating how to connect a Mac to an alternate DNS server.
4. Use a Proxy
Proxies are similar to VPNs in that they access blocked websites for you and mask your IP address.
However, unlike VPNs, they do not feature end-to-end encryption and can only be used in a single browser or tab. This means that you will only be able to access blocked websites in one tab, restricting your ability to multitask.
Additionally, many free proxies come with several security risks as they are often prone to malware and do not offer secure browsing. They are also usually slower, leading to buffering.
So, we recommend avoiding accessing any personal information when using one.
Instead of installing them like you would a VPN, you must enable a proxy on your computer via its settings.
As examples, we will outline how to set up a proxy for Google Chrome on Windows 10 and Safari on Mac. However, it is possible to set up proxies for other browsers on these OSes.
Set Up a Proxy for Google Chrome on Windows 10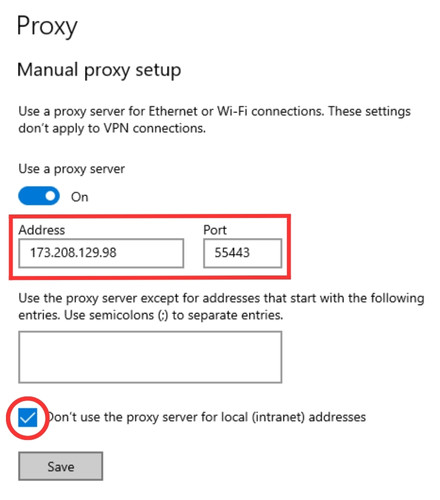 Step 1: Launch the Google Chrome browser on your laptop.
Step 2: Click on the kebab menu, marked by three vertical dots and located in the top-right corner.
Step 3: Click on Settings from the drop-down menu.
Step 4: Go to Advanced.
Step 5: Navigate to System.
Step 6: Then, click on Open your computer's proxy settings.
Step 7: Click the toggle button next to Automatically detect settings to toggle it on.
Step 8: Next, toggle Use setup script on.
Step 9: Find the Manual proxy setup option and enable Use a proxy server.
Step 10: Refer to your proxy server to find your proxy's address and port number. Then, enter this into Chrome's proxy server.
Step 11: Ensure that the checkbox next to Don't use the proxy server for local (intranet) addresses is ticked.
Step 12: Click on Save to apply your changes.
Watch the video below demonstrating how to use a proxy server for Google Chrome on Windows 10.
How To Setup PROXY SERVER Settings In Google Chrome | Proxy Settings On Windows 10 PC
Set Up a Proxy for Safari on Mac
Step 1: Open the Safari browser.
Step 2: Select Safari found in the top-left corner of the browser.
Step 3: Navigate to Preferences.
Step 4: Head to Advanced.
Step 5: Scroll until you find Proxies and select the Change Settings option beside it.
Step 6: Then, select the protocol you want to use from the list of available options.
Step 7: Find your proxy's address and port number on your proxy server. Then, enter it under Web Proxy Server. Ensure you enter these values correctly.
Step 8: If you're using a private proxy (which must usually be paid for), tick the checkbox beside Proxy server required password. Then, correctly enter the private proxy's username and password.
If you're connecting to a public proxy, you can skip this step.
Step 9: Finally, click OK to complete the process.
Watch the video below demonstrating how to use a proxy for Safari on Mac.
How to set up a proxy for Safari on MacOS
What are Wi-Fi Restrictions?
Wi-Fi restrictions limit users' access to specific content or websites found on the internet.
These restrictions may be implemented by different organizations for a variety of reasons.
Let's go over a few of the top reasons why your favorite websites may be blocked.
Blocking Access to Sensitive Content
It's no secret that the internet is chock-full of shocking pictures and videos that are sure to traumatize unsuspecting viewers, especially children.
This content is often described as "sensitive" and can include adult-oriented media and violent images. Since a large portion of this sensitive content includes illegal activity, it's often blocked to protect users.
Government Policies
Many governments place their own restrictions on their residents to censor what kinds of content they can access. While some governments implement these restrictions to prevent cybercrime, others do so to stop free speech.
Countries like Iran restrict access to websites like Facebook, Twitter, and Netflix to prevent their residents from viewing content that goes against the countries' strict "moral codes."
Other countries may restrict content that speaks poorly of the current government in an effort to preserve civil peace.
Geo-blocking
Have you ever tried to access certain popular streaming websites outside of the United States only to be met with a message reading, "This service is unavailable in your region"?
This is a perfect example of geo-blocking.
Geo-blocking technology uses your IP address to verify your location before granting you access to a website or its content.
Some organizations (like Peacock TV, Hulu, etc.) choose to only make their services available in certain regions.
Alternatively, you may be able to access the service but will only be able to watch content available in your country. In this case, while the service is not geo-blocked, certain content is.
Organization (Work and School) Regulations
Last, but not least, certain websites could be blocked by the organization's Wi-Fi. Institutions like schools and places of work limit access to social media, adult-oriented, and other "time-wasting" or inappropriate websites.
For instance, you may have noticed you couldn't check Facebook when using the school's Wi-Fi.
This is becoming an increasingly popular practice as schools and companies seek to prevent their students and workers from wasting their most productive hours of the day online.
Wrapping Things Up
Wi-Fi restrictions can be used to limit access to sensitive or geo-blocked content and are often employed by governments or organizations, such as schools or businesses. They will prevent web pages from loading and, sometimes, display a message from the organization stating why the website is blocked.
However, there are ways these limitations can be blocked.
Users can use a VPN, Tor network, alternate DNS, or proxy to bypass these restrictions by rerouting their data through separate servers or nodes.
VPNs are the easiest of these solutions to use, though using a Tor network is also very straightforward.
Using a proxy is the least secure method of bypassing Wi-Fi restrictions. So, be mindful not to input any private information into the browser/tab when the proxy is enabled.
Have our solutions helped you bypass those pesky Wi-Fi restrictions? Do you have any additional tips to bypass these limitations?
Let us know in the comments below!
Yesenia Achlim is a technical copywriter and editor with a focus on AV equipment. She aims to break down complicated topics and make technology accessible, no matter your technical expertise. When she's not teaching you how to replace a projector lamp, you can find her reading and baking.