Your Samsung TV has been acting a little funky lately. The screen has been flickering and its built-in apps have been randomly closing.
After some research, you decide that the best plan of action is to restart it. You've restarted your computer before but have never done the same process for a TV. Are the two really that different?
Although restarting a TV is a little different than restarting a computer, they're both equally easy.
So, how do you restart a Samsung TV with and without its remote? How can you restart its built-in apps?
Keep reading to find out!
How to Restart Samsung TV With Remote
The easiest way to restart your Samsung TV is with its remote's Power button.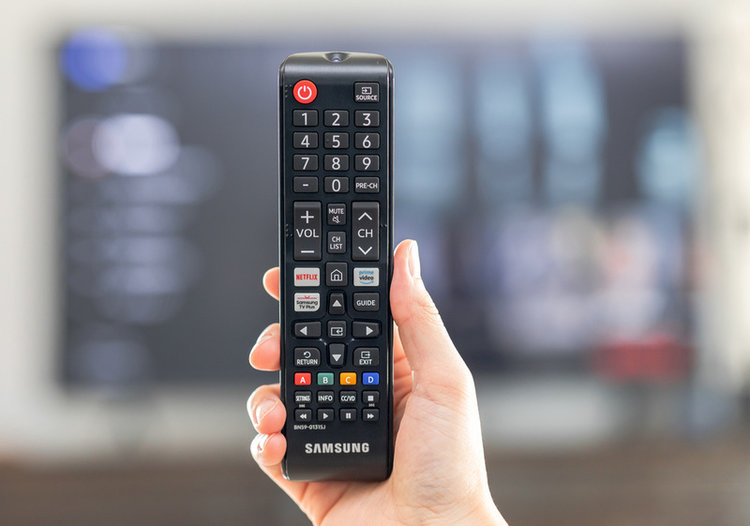 Step 1: Find your remote's Power button, marked with the universal power symbol.
Step 2: If your TV's remote uses infrared (IR) point it at the TV's infrared sensor. Then, press and hold the Power button.
Step 3: Wait for your TV to turn off and on again before releasing the Power button.
How to Restart Samsung TV Without Remote
Have you lost your Samsung TV remote?
Don't worry. There are still two ways you can restart your Samsung TV without it: power cycling your TV or using its control button.
Let's learn how to do both!
Method 1: Power Cycle
Power cycling your TV involves cutting off its power for a specific amount of time to reset the hardware.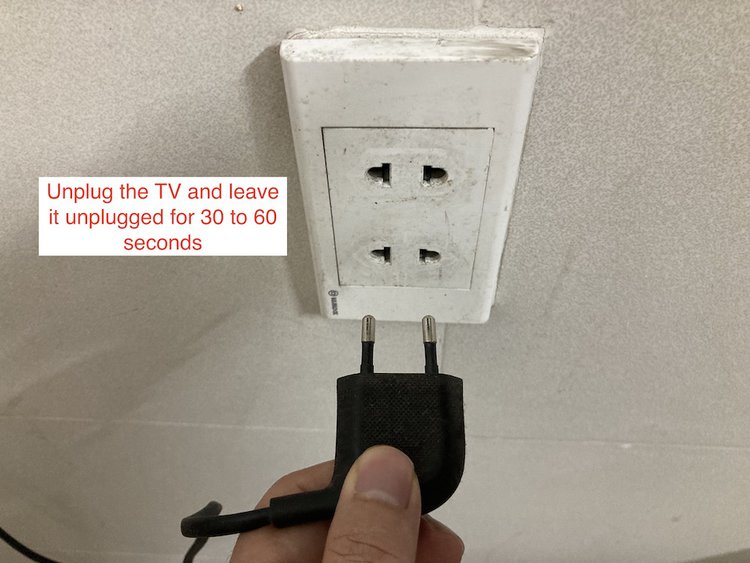 This is the fastest way to reboot your TV without its remote and will work on both smart and non-smart Samsung TVs.
Step 1: While the TV is on, unplug the power cable from its wall outlet.
Step 2: Allow it to remain unplugged for at least 30 seconds.
Step 3: Connect it back to the wall outlet and turn it back on
Method 2: Control Button
Many Samsung TVs have a control button, which when pressed, allows you to move the highlight and select options on-screen. These actions are determined by how long the control button is pressed.
To learn how to use different Samsung TVs' control buttons, check out the Samsung article How to control a Samsung TV without a Remote.
This allows you to adjust certain TV functions, such as the power, volume, and input source.
The control button is commonly found either on the back of the TV or the bottom bezel.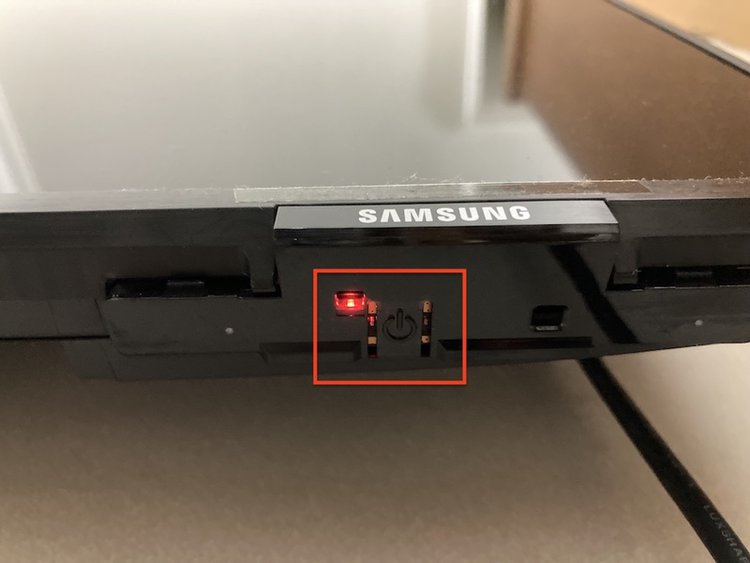 Let's learn how to use it to restart your TV without a remote.
Step 1: Ensure your TV is turned on. Then, find and press the Control button.
Step 2: Once pressed, the Control button will reveal a menu on-screen. Press the button to highlight Power Off.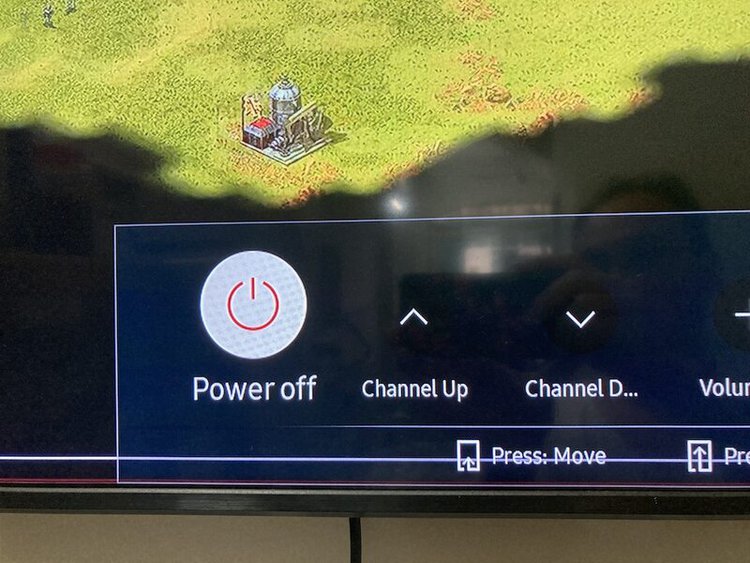 Step 3: Once you've highlighted Power Off, press and hold the Control button to select this option and turn your TV off.
Step 4: Wait for the TV screen to turn black before unplugging the TV's power cable from the wall outlet for, at least, 30 seconds.
Step 5: Then, plug the TV back into power and press the Control button once more to turn your TV on.
Watch the video below demonstrating how to restart a Samsung TV using its Control button.
How To Turn On Samsung TV Without Remote & Adjust Settings
How to Restart Samsung TV Apps
Are your Samsung TV apps glitching? If so, it's a good idea to restart them.
This process will close the app and shut down its activity before rebooting it.
Step 1: Find and click the Edit/Back/Return button, marked with a U-shaped arrow, on your Samsung TV remote.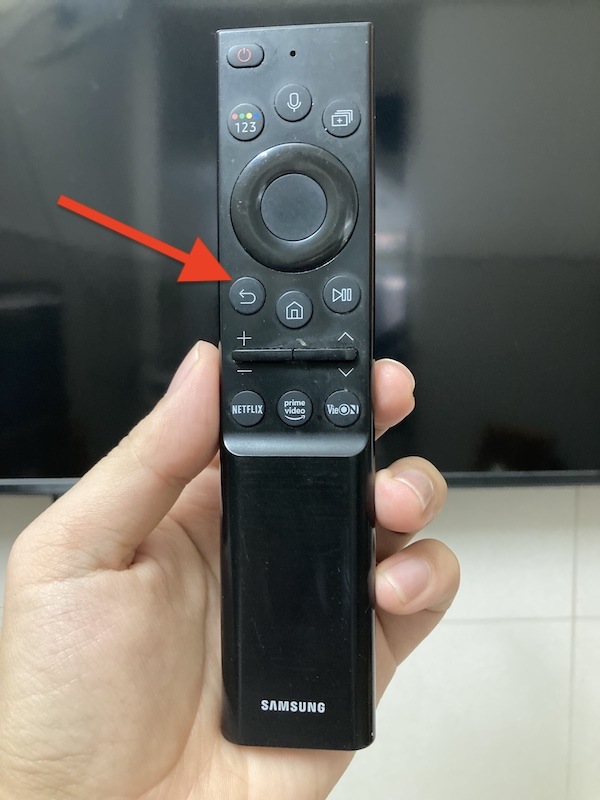 Step 2: Once you've navigated back to the Smarthub, search and select the app you just closed to restart it.
Samsung TV Bootloop
Sometimes, Samsung TVs may automatically restart repeatedly, even when you're in the middle of watching something.
If this occurs on your TV, Samsung suggests the following solutions.
Step 1: Unplug the TV from its wall outlet for, at least, 30 seconds to power cycle it. Then, plug it back into power.
Step 2: Check the power cable for any damage, such as tears. The cable may also be bent, preventing the TV from receiving power.
Step 3: Instead of plugging the TV into a power strip, plug it directly into the wall outlet. Power strips can lose efficiency and break over time, causing the TV to malfunction.
Step 4: If your TV has any pending updates, try updating its software. This will help to fix any bugs in the software and ensure maximum compatibility.
However, you risk damaging your TV further if it shuts down in the middle of installing the new updates. So, if your TV restarts every few minutes, it's best to skip this solution.
Step 5: Then, you can disable the Power On with Mobile setting.
To do this, head to the Settings, followed by General.
Click on Network and navigate to Expert Settings.
Then, toggle Power On with Mobile off.
Step 6: Anynet+ (HDMI-CEC) may cause your TV to randomly reboot when enabled since it allows HDMI devices to control one another. The connected HDMI devices could incorrectly understand a command, causing your TV to suddenly restart.
To disable it, open the Settings or All Settings. Then, go to General or Connection, followed by External Device Manager. See if Anynet+ (HDMI-CEC) is enabled, and if it is, click it to disable it.
If none of the above solutions work, consider bringing your TV to be repaired by a professional technician. Also, consult your warranty policy, as it may cover the cost of repairs.
How to Fix Factory Reset Not Available on Samsung TV
If you decide to factory reset your Samsung TV, but find that this option is unavailable, you may need to restart the app.
Exit the Settings app by clicking the Edit/Back/Return button. Then, navigate back to the Reset option to see if it's available now.
Watch the video below to learn how to fix the factory reset option on your Samsung TV.
Factory Reset is GREYED OUT on Samsung Smart TV? Easy Fix!
How to Contact Samsung Support?
You've tried all of the above troubleshooting tips but still cannot get your Samsung TV to function properly. So, it may be time to contact Samsung customer support for additional help.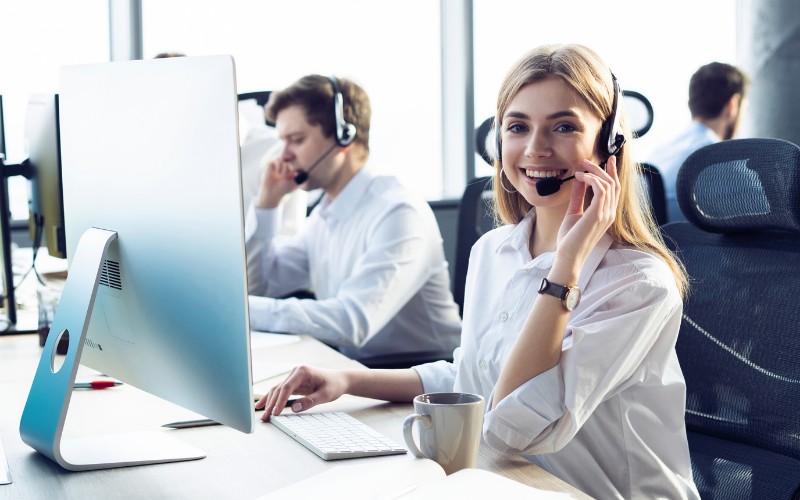 Customer support will be able to guide you through any additional troubleshooting tasks and inform you about your warranty policy's coverage.
To contact Samsung customer support, head to the official Samsung support website. Then, select the product you need help with. In this case, you should select TVs & Home Theater.
Finally, select your contact method.
Please tell the customer support agent which solutions you've already tried, so they can better assist you.
Wrapping Things Up
Restarting your TV with and without its remote couldn't be easier, and can help fix your TV's glitches.
You can also restart certain apps by closing and then reopening them.
Make sure that your TV's power cable is in good condition and try plugging your TV directly into a wall outlet if it's bootlooping.
If your TV is continuously restarting, be mindful when updating it as you could damage your TV further if it shuts down in the middle of the update.
Have our troubleshooting tips helped you fix your Samsung TV?
Let us know in the comments below!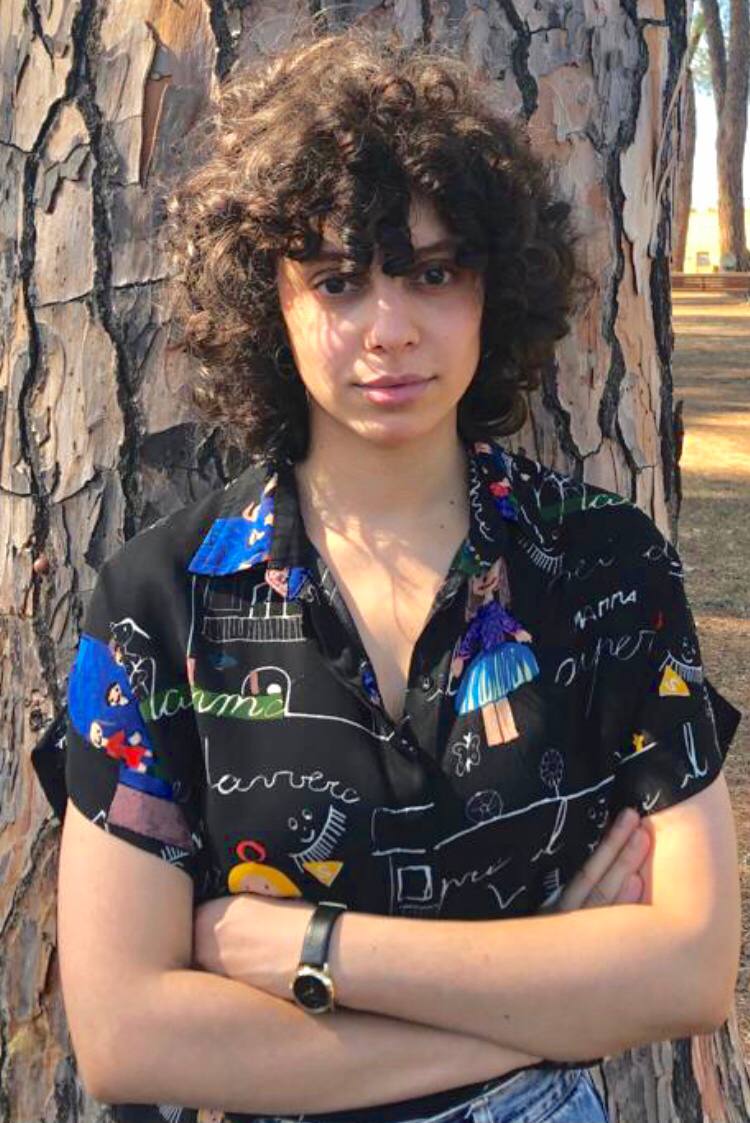 Yesenia Achlim is a technical copywriter and editor with a focus on AV equipment. She aims to break down complicated topics and make technology accessible, no matter your technical expertise. When she's not teaching you how to replace a projector lamp, you can find her reading and baking.