Mobile phones are definitely not the best way to go if you wanna do a live share of the things you see on your little screen. What if you're having a movie marathon with friends and family? Or what if you're presenting a slideshow in a meeting?
Well, thank heavens projectors exist. And we're here to teach you how to mirror your iPhone to an XGIMI projector.
The good news? You can mirror your iPhone screen to an XGIMI projector. Download the 'AirScreen' app from your projector, connect both devices on the same WiFi, enable AirPlay on your iPhone—and you're good to go!
Do XGIMI projectors work with iPhones?
XGIMI projectors run Android TV, so native apps and other integrations are limited to what you can access with their operating system.
But what's great is that they support screen mirroring from virtually any operating system, including iOS. This is why you can mirror your iPhone to the projector as long as you download an app that opens up the iOS screen mirroring feature to Android.
Step-by-step instructions
Again, XGIMI projectors run on Android software. This allows you to access the Google Play Store, where you can download the app needed to make the screen mirroring feature work on the iPhone.
Below are the detailed instructions for connecting your iPhone to the XGIMI projector:
Open Google Play Store from your projector
Download then open the AirScreen app
Once you see the welcome screen from the AirScreen app, select the button that says 'Start Now'
Alternatively, you can select the 'How to Use' button for further instructions
Once you've selected 'Start', go to your iPhone's control center, then choose Screen Mirroring
Select the projector from your iPhone
From the projector's remote control, press and hold the 'OK' button to start the mirroring, and that's it!
*Note: your iPhone and projector must be connected to the same WiFi network, or Screen Mirroring won't work.
For a step-by-step visual instruction, check out the following video:
Airplay Function--#XGIMIPortableProjector#MoGoSeries#Halo
Alternatives to AirScreen
AirScreen is software that allows your Android TV device—like your XGIMI projector—to become a screen mirroring receiver.
We highly recommend sticking to AirScreen because it's recommended by XGIMI. But if you're looking for other apps that can stream your iPhone to your projector, here's a small list of alternatives:
What is screen mirroring?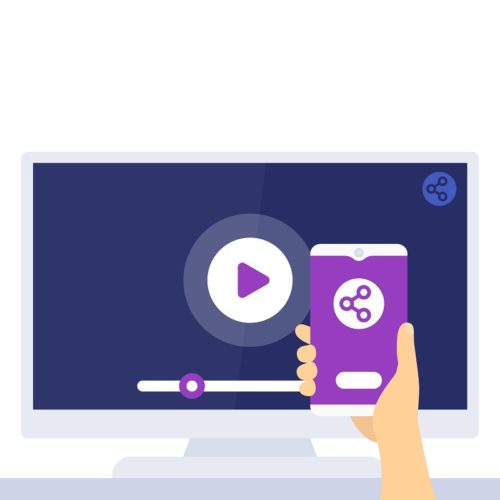 Screen mirroring works exactly like how you look at yourself in the mirror. Everything you do is replicated—from your facial expressions and body movements, down to the clothes you wear.
Apply that analogy to when you connect your phone to a projector. Whatever is on your phone will show up on the screen as well.
In short, screen mirroring is when you can sync audio-visual content from one screen to another in real-time. This can only happen between devices that support screen mirroring.
Note: screen mirroring is different from screencasting and screen sharing.
Screen sharing, mirroring, and casting are all interchangeable. But technically speaking, they have slight differences, in layman's terms.
While screen mirroring shows the exact activity on a screen, down to every scroll and app switch you make, screencasting exclusively shows content. What you do with your phone once content is cast won't be recorded and replicated.
Screen sharing is similar to screen mirroring; the only difference is the audience. Screen sharing is usually reserved for a video chat audience, while screen mirroring is usually used for sharing something on a big screen.
When to use screen mirroring?
Screen mirroring is very useful. It has become embedded into modern life and the iPhone is a huge enabler. You can use it for play, work, and leisure.
Let's say you have a presentation for an upcoming meeting and you have only your phone with you. Gone are the days when you would bring a thumb drive to connect to a work computer, only to find that a virus has been passed on to your drive.
Now, you have to connect your phone wirelessly to a display, and the screen mirroring feature will do the rest.
Fast, convenient, and most of all, safe!
Here's another scenario: you're a content creator shooting a video. You're using the back camera of your phone to film yourself. The caveat is that you can't see what you're recording.
The solution? You use the screen mirroring feature as your separate viewfinder. You hook up your phone to another display (say, your laptop) to see the exact framing position of your camera.
Problem solved!
Wrap Up
Mirroring an iOS device to an Android TV device is made possible through AirScreen, a software app that allows Android devices to become receivers for screen mirroring technology.
The app is free but comes with in-app purchases. If you have no problems encountering ads, AirScreen is perfect if you're looking to connect your iPhone screen to your XGIMI projector.
AirScreen isn't a native Android TV app, but you can find it on the Google Play Store.
By installing AirScreen, you're half a step away from mirroring your iPhone to your projector!
Innovation is at our fingertips and they come in the form of apps. Connecting your iOS device to a non-Apple receiver is slowly becoming more seamless and convenient thanks to these tiny cubes of coded software.
Work or play, the opportunity to enhance the quality of your day-to-day life is within reach!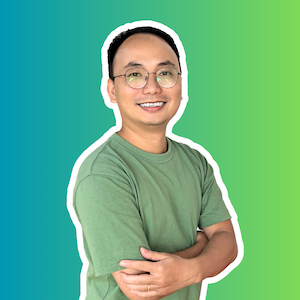 Vance is a dad, former software engineer, and tech lover. Knowing how a computer works becomes handy when he builds Pointer Clicker. His quest is to make tech more accessible for non-techie users. When not working with his team, you can find him caring for his son and gaming.