Are you someone who travels a lot and enjoys watching many movies and TV shows? Then you may have asked yourself once or twice in your life:
Can I take my Apple TV to a hotel?
The answer is slightly more complicated than a simple yes or no.
In this article, we take a closer look at the technicalities of traveling with an Apple TV.
We also discuss some of the alternatives you can choose if your Apple TV doesn't pull through.
Read on to learn more!
Traveling with an Apple TV
The Apple TV is a compact device, so it's completely possible to travel with it in hand.
But before you can enjoy Apple originals and other streaming services on Apple TV, there are several requirements you need to meet.
A TV that's compatible with your Apple TV mode
A high-speed HDMI cable
A wireless or ethernet network connection
An Apple ID
Traveling with an Apple TV also gives you access to a large world of content that would otherwise not be available. You can watch your favorite movies from anywhere you're staying (as long as it's available in the location).
Good things aside, there are also a couple of downsides to traveling with an Apple TV.
For one, consider that not all TVs will be HDMI-compatible. You might have to carry an HDMI-to-VGA adapter with you on your travels, plus a variety of other things such as an extra HDMI cable, an extra ethernet cable, and the Apple TV power cord and lightning cable (if any).
Can I Take My Apple TV to a Hotel?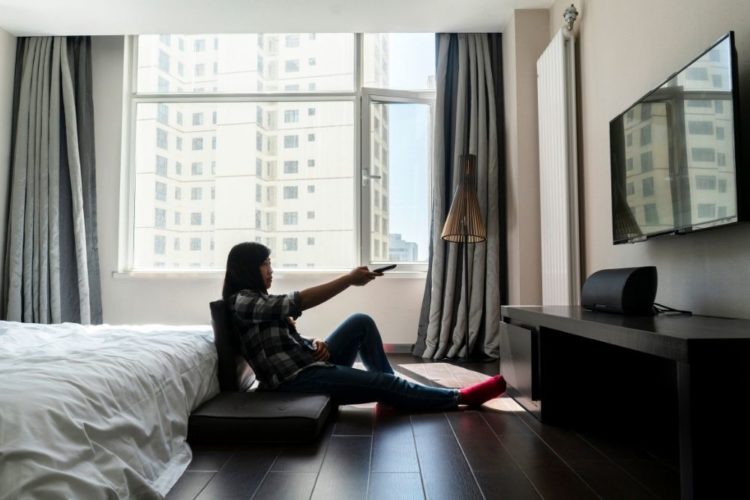 Yes, you can take your Apple TV to a hotel and you can hook it up to the TV — unless hotel policies forbid you from doing exactly that.
However, there's also a possibility that the hotel you stay at won't have a TV or WiFi connection available. In which case, your Apple TV would be completely useless.
To avoid experiencing such an event, make sure to check with your hotel ahead to confirm if they offer a WiFi network and TV with your accommodations.
How to Connect Apple TV to Your Hotel Network?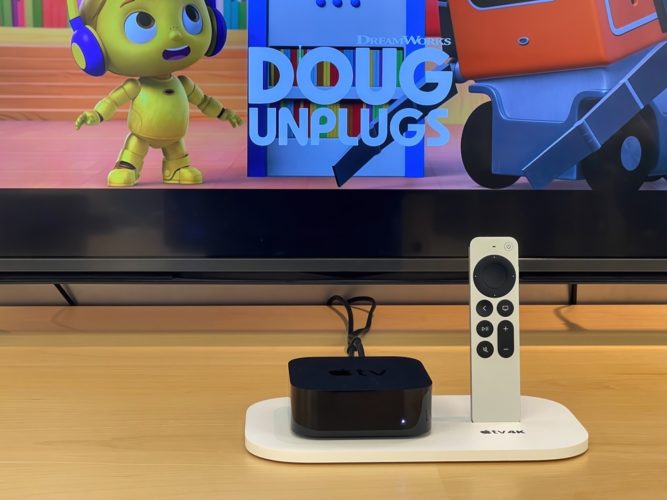 The process of connecting your Apple TV to your Hotel's WiFi is pretty much the same as how you connect to your home WiFi.
You go to "Settings", select "Network" and choose from the list of available options which network you want to connect to.
Once you've selected the appropriate WiFi network, you'll be brought to a new window where you have to encode the WiFi password. Press "Done" and you should be automatically connected to the hotel's networks.
How do I log into my hotel network if they require log-in authentication?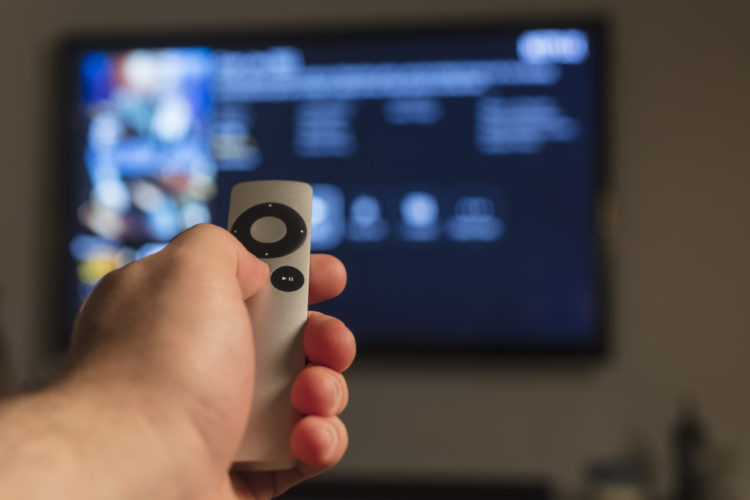 It's not uncommon for hotels and other destinations to require their guests to log into their network to enjoy the facility WiFi. While this can be accessible for most devices, you may run into a couple of issues with the Apple TV.
Since the Apple TV doesn't have a native web browser, you won't be able to access the log-in page that the hotel provides. In other words, you can't connect to the WiFi network manually.
But don't worry, you can still connect without a web browser using this nifty trick we're about to show you.
Using a WiFi extender
For this, you'll need a WiFi extender like the TP-Link AX1500 or any other WiFi extender of your choice; however, for this example, we'll be using TP-Link.
Download the TP-Link companion app and create a new account by following the on-screen instructions. You'll be given options for Operation Modes during this process. Make sure to select "Hotspot Router" as your operation mode.
After choosing an operation mode, you'll be brought to a page with a list of all the available access points in your area. Select your hotel's network and input the password.
Calling IT support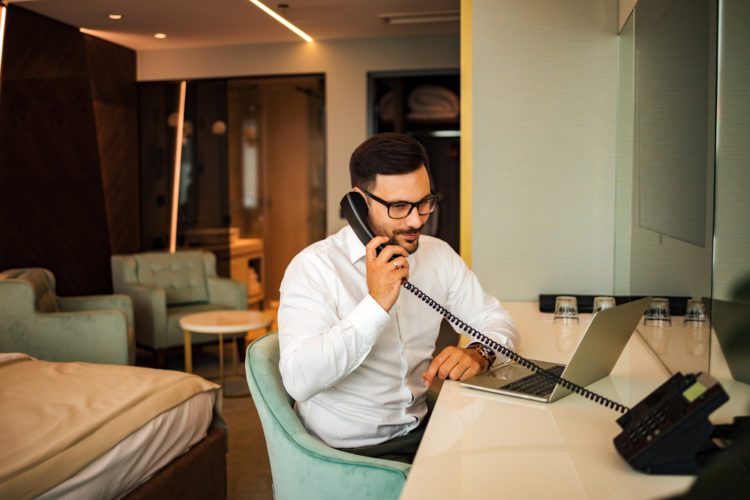 In some cases, you may need to get in touch with the hotel's tech support crew to get your Apple TV connected to the network.
Here's what you should do:
Dial the hotel's IT support team and inform them that you'd like to connect your Apple TV to the hotel's WiFi network
The hotel's tech support crew or internet provider will want to know what your Apple TV's MAC address is. You can find your MAC address by going to "Settings" on your Apple TV. Once there, go to "General" then choose "About."
Your MAC address should be listed as either "Wi-Fi Address"
Take note of the address and relay the details to the hotel's tech support crew.
What Other Options Are There Besides the Apple TV?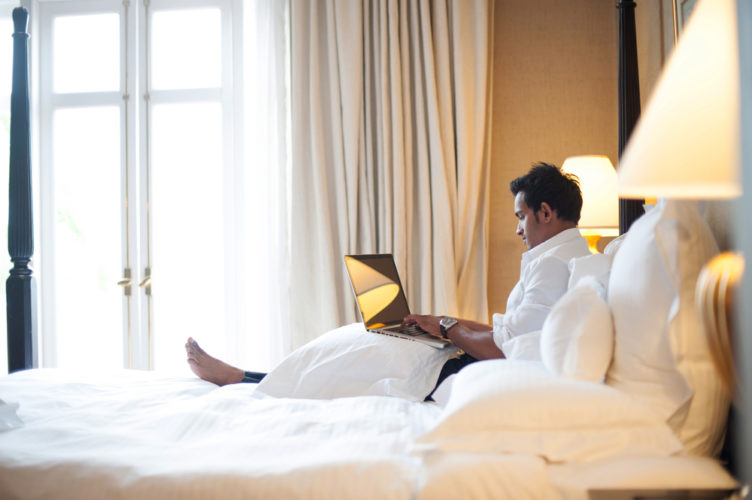 In case things with your Apple TV did not work out, there are a few other options you can try so you can still enjoy your favorite movies on your hotel room's TV.
For instance, you can connect your iPhone or iPad to your TV (or any other big screen) using an HDMI cable with a Lightning Digital AV Adaptor.
Depending on how fast the hotel WiFi is, you can stream dozens of movies, videos, and TV shows all from your Apple TV app or other streaming apps on your iPhone or iPad.
Final Thoughts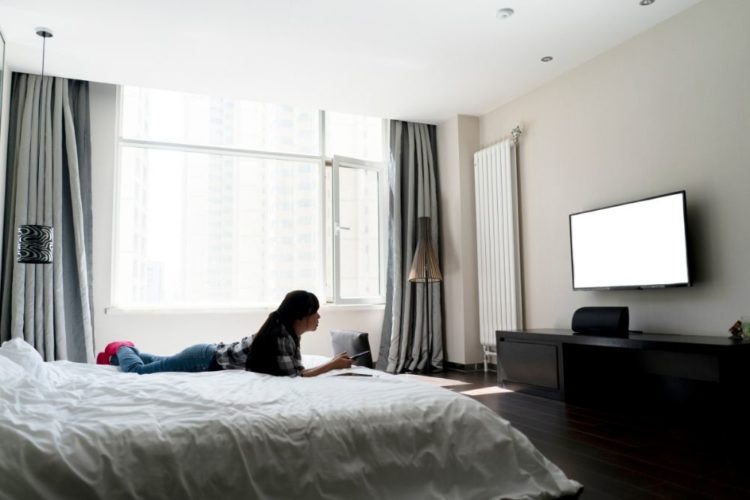 If you want to keep your indoor time as exciting and active as your outdoor time, then bringing your Apple TV with you while you travel is a great idea.
Not only can you connect it to your hotel room network and TV, but you can also connect it to an RV entertainment system — if you're traveling that way.
However, keep in mind that, although traveling with your Apple TV can have its upsides, it also comes with a couple of downsides.
Before finalizing your booking, make sure that you check with your hotel if they provide guests with an internet connection and a TV in their room. Otherwise, it would be useless to bring an Apple TV with you.
Additionally, be prepared to bring a lot of wiring and other connectors with you. You'll need this to connect your Apple TV to your hotel room's internet network and TV system.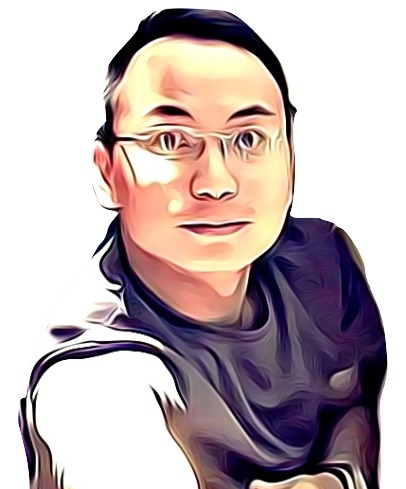 Vance is a dad, former software engineer, and tech lover. Knowing how a computer works becomes handy when he builds Pointer Clicker. His quest is to make tech more accessible for non-techie users. When not working with his team, you can find him caring for his son and gaming.