What To Know
Your Fire TV Stick is portable and works globally with any HDMI-compatible display and internet connection, but content availability may vary by country.
To access geo-blocked content or use your Firestick in unsupported countries, set up a VPN by connecting to Wi-Fi, downloading a VPN app, logging in, and selecting the desired country.
Your data and apps remain on your Firestick when unplugged, it can easily connect to new Wi-Fi networks and navigate through the hotel's captive portals for internet access.
Planning a vacation abroad or a movie night at a friend's place?
Are you wondering if it's possible to use your Fire TV Stick anywhere, not just your house?
The good news is that you can use your Fire TV Stick wherever you go, as long as you have an HDMI-compatible display (like a TV with HDMI IN ports) and an internet connection.
What Countries Does a Fire TV Stick Support?
If you're considering purchasing a Fire TV Stick and plan to use it in a specific country, it's important to check its compatibility beforehand; while the Firestick works in any country normally worldwide, Amazon does not support it in every country.
The Fire TV Stick is supported in the following countries: United States, Canada, United Kingdom, Germany, Austria, Japan, India, France, Italy, Spain, Mexico, Brazil, Australia, Netherlands, Poland, Sweden.
Additionally, the Fire TV Stick Basic Edition (international version) works in: Albania, Barbados, Belgium, Bermuda, Bolivia, Bosnia and Herzegovina, Bulgaria, Cambodia, Chile, Colombia, Costa Rica, Croatia, Cyprus, Czech Republic, Denmark, Ecuador, Estonia, Finland, Ghana, Greece, Hong Kong, Hungary, Iceland, Ireland, Jamaica, Kenya, Latvia, Liechtenstein, Lithuania, Luxembourg, Macao, Malta, Namibia, Netherlands, New Zealand, Norway, Panama, Peru, Philippines, Poland, Portugal, Romania, Serbia, Singapore, Slovakia, Slovenia, South Africa, Sri Lanka, Sweden, Switzerland, Taiwan, Thailand, Trinidad & Tobago, Uruguay, Venezuela.
Moreover, it's worth noting that content varies by country, so some apps and games may not be available in your region.
Even if you're in an unsupported country, your Fire TV Stick will still work. Therefore, bringing it along during a domestic or even foreign holiday is not a bad choice.
However, many apps and games, especially Amazon services, may not be available in those locations.
To break through the fence and get access to geo-blocked content, you can set up a VPN connection. Here's how:
Step 1: Connect your Fire TV Stick to an available Wi-Fi network.
Step 2: Download a VPN app like ExpressVPN (you can save 49% on its annual plan).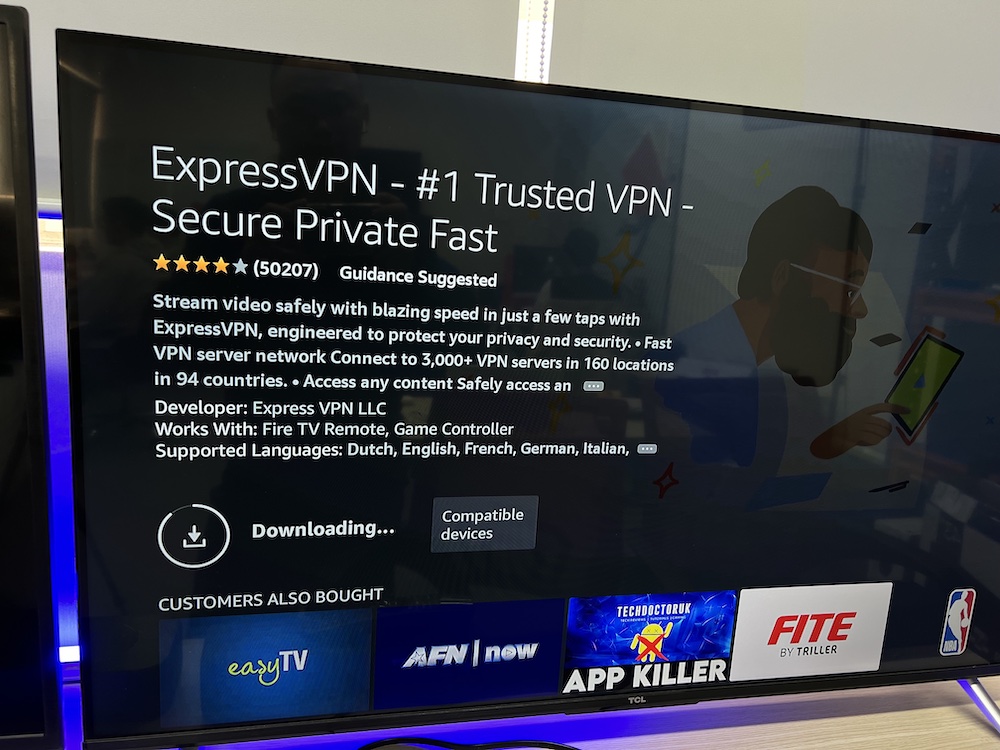 Step 3: Register an account and log in (you can also register an account on your mobile device).
Step 4: Navigate to the country selection part and choose the country that supports the apps or games you want.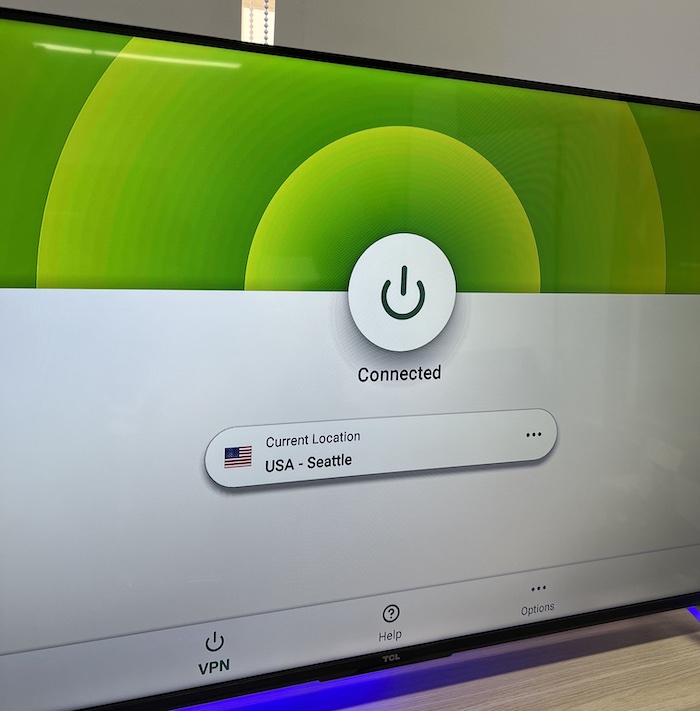 Step 5: Then, simply download your favorite game or app.
Alternatively, you can also set up a VPN network using your smartphone:
Download a VPN app on your smartphone.
Register an account and log in.
Navigate to the country selection part and choose the country that supports the apps or games you want.
Turn on the Hotspot feature of your phone.
On your Fire TV Stick, navigate to Network, and then connect to your smartphone's network.
Then, simply download your favorite game or app.
Can You Take Your Fire TV Stick Abroad?
Yes, you can take your Fire TV Stick abroad or anywhere in the world.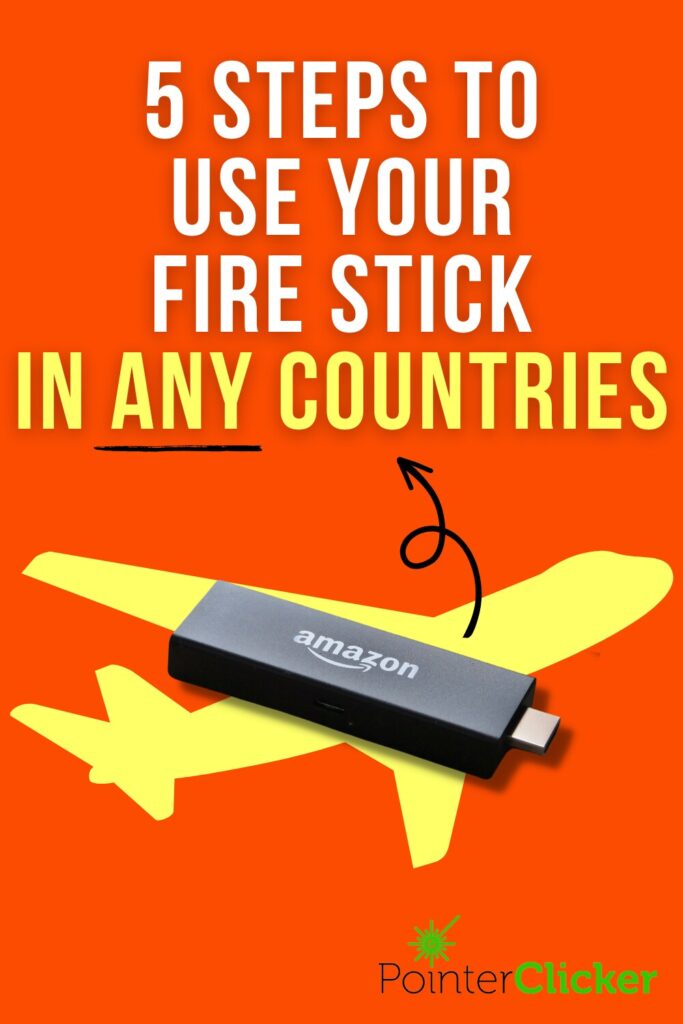 When taking it abroad, keep in mind that you need a display with an HDMI IN port, such as a TV, to work with your Fire TV Stick.
Also, some apps and games may no longer be available in a different country. It's advised to change the country settings for your Amazon account.
However, if you modify the country settings for your Amazon account, you will lose access to all of your Prime Video rentals and purchases.
Your purchases will remain accessible if you switch back to your original country settings, but any rentals will become unavailable.
The Movies and TV Shows categories on Fire TV also automatically update to include "Watch While Abroad" rows, which display all Prime titles that can be watched while traveling outside of your home country without altering your account settings.
If you don't want to change country settings while on your foreign holiday for only a short period of time, simply follow the instructions above to set up a VPN connection and choose your country (the one you've registered your Amazon account for).
Note: European Union residents are able to access the same titles available in their country of residence while traveling within the EU.
FAQs
Will I Lose Data and Apps If I Unplug My Fire TV Stick?
No, you won't lose any data or apps when you unplug your Fire TV Stick, unless you perform a factory reset.
The device is designed to save your installed apps and settings, so you can simply unplug it from one TV and plug it into another one without losing anything.
Can I Take My Fire TV Stick To Another House (With Another TV)?
Yes, you can take your Fire TV Stick with you to your friend's or family member's house and use it on another TV.
The process of connecting it to another TV is straightforward and similar to setting it up on your own TV.
Simply plug both the TV and the Fire TV Stick into a stable power source.
Connect the Fire TV Stick to the TV's HDMI IN port.
Use the TV's remote to select the input.
Set up the stick with a new Wi-Fi network, and you're ready to use it.
Can My Fire TV Stick Get Through Captive Portals of Hotels and Dorms?
Yes, any Fire TV Stick can now get through captive portals due to a feature called captive portal access.
This feature is unique to Fire TV Sticks among streaming devices, such as Roku or Chromecast with Google TV.
Once you select the Wi-Fi network of a hotel or dormitory with a captive portal, you may encounter a basic survey (about age, gender, etc.) that will appear directly on your Fire TV Stick, thanks to its captive portal access feature.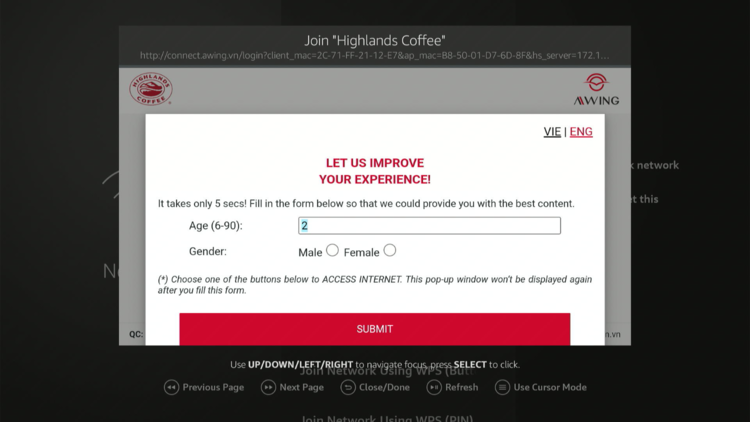 Simply complete the survey, and you will gain access to the internet—just like the process you can do with your phone.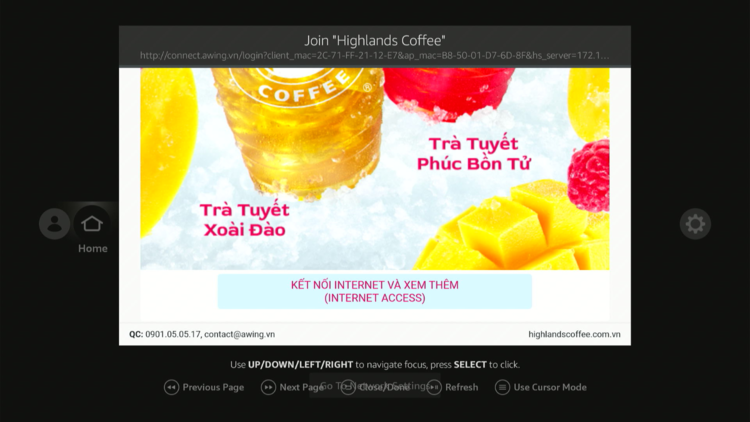 So, if you're planning to travel and want to stay entertained with your favorite shows and movies, make sure to pack your Fire TV Stick.
With its easy portability, seamless connectivity to different TVs, and captive portal access, you'll always have access to your streaming platform anywhere you go.
Duy Anh is a seasoned technical editor specializing in helping readers troubleshoot TV, projector, and Wi-Fi issues. He's always been drawn to logical problem-solving. His ability to approach matters from various angles with a neutral mindset enhances his technical expertise.
How was content created? This piece is created collaboratively, with tech editors generating ideas, conducting testing, and proofreading meticulously, while AI assists in fine-tuning.