I'm excited to announce that BenQ is allowing me to review the GS50.
In other words, they've sent me their cute, portable projector so I can try it out and give you a sense of how it works, what we really liked, and what needs improvement.
If you're not already aware, BenQ is a leader in the projector industry. They make an array of products for every occasion.
From high-tech projectors for museums to office and school projectors, BenQ is covering all bases.
Therefore, it's exciting that I was allowed to play with the cute, stylish, and portable projector BenQ has released.
So, let's get to the nitty-gritty of it all.
Who is the BenQ GS50 For?
The BenQ GS50 is a portable projector. The dimensions are roughly seven inches wide, six inches tall, and five and a half inches deep.
It's roughly five pounds, making it easy to carry and transport.
It comes with a travel case that protects it and contains enough compartments for your control and other items. Although the case is good for protection, the GS50 is drop-proof with a thick exterior to help with any accidents. It's also splash-proof which makes it perfect for outdoor use.
This cute and stylish projector is perfect for college students or customers on a budget.
Its easy functionality and fairly simple setup make it perfect for first-time projector buyers. Therefore, non-projector users will find the GS50 easy to handle.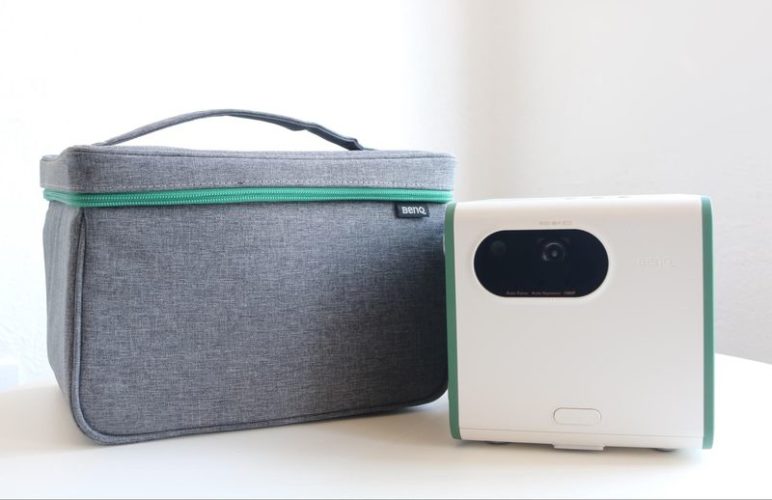 It's also great for families wanting a movie night or campers who want a fun activity.
However, if you're looking for a high-end projector for your designated home theater, this projector is not for you.
It's also not a gaming projector. Even though you can use it for video games, BenQ makes specific gaming models that function better than the GS50.
BenQ GS50 Specifications
The easy portability of the GS50 allows you to take it anywhere. You can charge it with a USB-C (as well as a DC adaptor) and it allows you to cast using Chromecast and Airplay.
Its built-in 5W speakers and 10W woofers project powerful sound.
It has a native resolution of 1080p with a projection size of 30 to 110 inches. And its lamp life is 20,000 to 30,000 hours.
However, some of my favorite features include its truly portable nature. For example, once charged you can use it without a power cord for 2.5 hours.
The ambient lighting adjustment gives you the perfect color in any setting, regardless of where you use it.
To top it off, it's water-resistant. So party goers can relax around spilled soda.
One slightly negative feature is that it does not come with a protective lens cap, so be careful when handling your machine.
Other BenQ Product Lines
BenQ has a projector for every occasion. Some product lines include the Home Theater series, large space projectors, gaming projectors, and other portable projectors.
Let's take a look at a couple and compare what you can get, in case you're not happy with everything the GS50 contains.
GV30
BenQ makes more affordable portable projectors, like the GV30.
Last update on 2023-12-09 / Paid Link.
This projector is just as stylish, with a look resembling an old-fashioned alarm clock.
However, since you're paying less, you're also getting less.
The GV30 contains 300 ANSI lumens in comparison to the GS50's 500 ANSI lumens.
If you're trying to watch anything with the curtains open, I suggest sticking to 500 lumens and above.
On a side note, the GV30's native resolution is 720p which is a step down from the GS50.
Therefore, you really have to ask yourself if you're willing to sacrifice lumens and resolution for its price.
Last update on 2023-12-09 / Paid Link.
On the plus side, BenQ's portfolio allows you to choose specs perfect for your needs.
Take the X1300i, for example. Its 8.3ms at 120Hz low latency allows you to play video games without losing a winning battle due to slow output from your device.
The 3,000 lumens and HDR compatibility immerse you in your game.
The built-in sound quality revolutionizes anything the GS50 might come with.
So, if you're not happy with the specifications of the GS50, getting something exponentially powerful out of the box is what BenQ excels at.
The Install
Now we can get to the exciting part, the installation.
As eager as I might have been, I held back from ripping the box apart because I understand projectors are finely tuned items. Therefore, I wanted to make sure I didn't accidentally break anything.
The GS50 comes inside a travel bag made out of thick cloth. It almost resembles denim.
This protective casing is great if you want to take it to a friend's house for movie night.
What's Inside the Box?
Once you open the travel case, you'll notice it has many items.
This projector comes with:
The projector
A DC outlet
A European power cord
A North American power cord
A Remote Control
Two AAA Batteries
A QS01 Streaming Stick
And of course, its carrying case
This might sound complicated, but the installation isn't that difficult.
The installation process involves the manual installation of a streaming dongle. It's an interesting choice on BenQ's part.
Why not build the projector, so it streams natively, out of the box?
This streaming stick is by far the most complicated part. I'm only saying that because it requires you to remove a well-integrated flap, plug into an existing wire, and finally plug the HDMI portion into its port.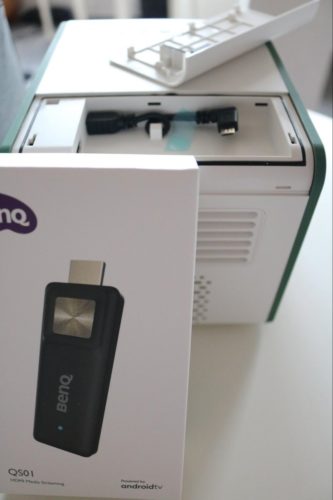 But who am I to question the makers?
Regardless, once you've plugged in your DC power outlet, placed the batteries inside the remote control, and connected the streaming stick, you can begin the next steps.
But I have to say. As a clumsy individual, this is a recipe for disaster. Nevertheless, it was easy enough.
Setting Up Your Theater
Once you've plugged everything in, you're ready to set up your home theater.
One of the many great things about the BenQ GS50 is its built-in kickstand that's about an inch tall. You push a button in front of the projector, and it springs out.
This kickstand tilts the projector 14.5 degrees upward, so your image projects slightly higher.
However, even if you do not use this feature, the projected image displays slightly above the projector's baseline.
I purposefully chose to set up with my windows open. I wanted to see how bright it looked. To my amazement, the image is bright enough to handle lots of ambient light.
But that's not to suggest you can use it during peak brightness on your outdoor patio.
Next, I closed my curtains and turned off all the lights. The image was dramatically brighter.
I thoroughly enjoyed playing around with this projector, but I loved that I could have the windows open while I watched.
Turning on the BenQ GS50
Pushing the "On" button doesn't power on the projector. Instead, you must hold the "On" button for three seconds before it turns on.
From here, the GS50 uses its autofocus feature to locate your screen and give you the best image possible.
Then the auto-keystone takes effect.
Keystoning allows your projector to correct the angles on all sides of the image. For instance, if your projector is not perfectly aligned to your wall, the image will be slightly askew.
The quick auto-keystone feature snaps it into place. You'll also notice the difference, especially if you use the projector's built-in kickstand.
All of this happens within seconds.
You're then prompted to pair your remote control by pushing the "OK" button for five seconds until it pairs.
The control allows you to finish your setup.
Since the projector uses Android software, it allows you to log into your Google account for easier password accessibility and Google Play store functionality.
The control also allows you to log into your WIFI network. It's easy and intuitive.
Although setting up a new projector is always fun, you're then prompted to name it anything you want. I chose a fun yet descriptive name for mine.
This name allows you to find it easily for casting purposes.
As far as safety features go, it has a "kids safety" setting, you can enable or disable during the setup. This feature blacks out your projector's light when kids walk in front of it to protect against eye damage.
I chose to disable this feature because I don't have kids.
Playing Content
I was excited to start playing video content after my initial setup. Therefore, I started logging into my accounts.
I tried YouTube as my first test. The sound is great. The picture is better than I imagined.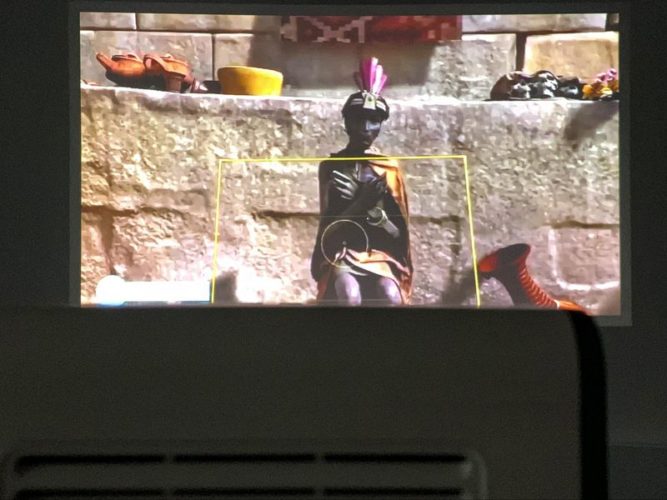 Although, if I'm being critical, a good screen goes a long way.
After YouTube, I logged into my Amazon Prime account, which is pre-installed.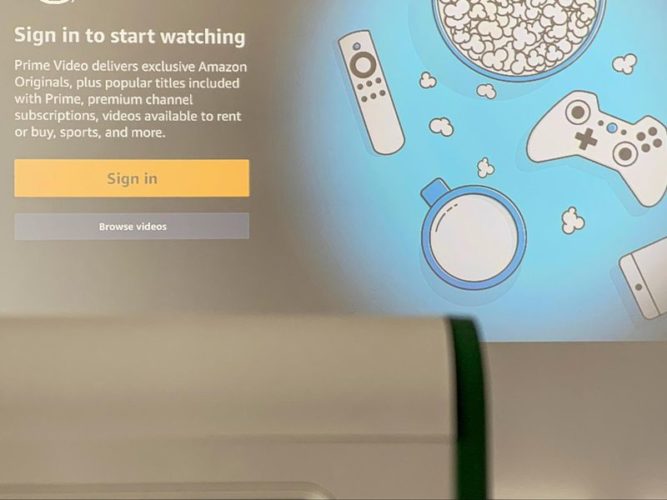 Then I searched for Netflix.
I couldn't find Netflix on the Google Play Store, which I thought was weird.
But then I remembered Netflix doesn't allow BenQ to use its app natively.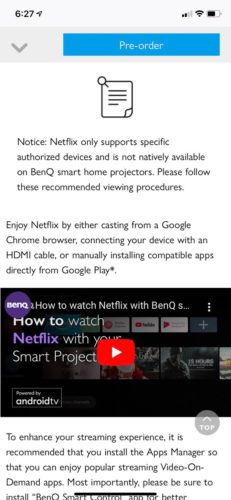 Therefore I researched it, and it turns out you cannot watch Netflix directly on the GS5O.
As per BenQ, you can cast Netflix via the Chrome browser or plug your laptop via HDMI.
So I decided to plug my laptop in and play some Netflix because the cast feature did not work.
Visually, this did the trick.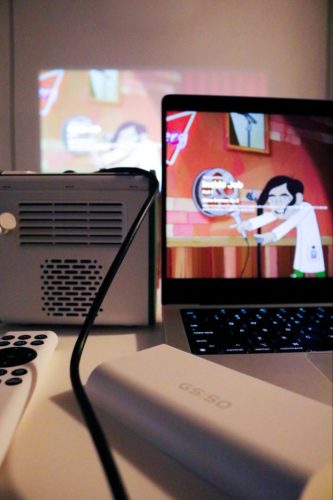 However, the projector used my laptop speakers. And some laptops do not have great audio components.
So can you watch Netflix on your BenQ? Yes, it adds more steps than I would like. And it also makes me wonder why its internal speakers stopped working.
In any case, pairing Bluetooth speakers to your machine is easy.
Customer Reviews
What are others saying about this projector? I looked at some reviews to see if others enjoyed it as much as I did.
I found a bag of mostly positive reviews, but not all users are happy with it.
It turns out many users are happy with the sound quality. Its bass and powerful speakers boom, immersing you in your movie.
Other users noted that it helps drown out the sound of the fan, which, if I'm being honest, I didn't notice.
Like me, some users are impressed by the picture quality. The fact that you can watch it with your window blinds open is a huge plus.
The design of the projector is another aspect users loved. Although I find it cute, it's basically just a cube. However, many users agree that this cube is stylish.
When it comes to the negative reviews, it appears that the "child safety" mechanism is too sensitive and often "blacks out" inappropriately.
According to some users, the safety feature often confuses projected people on screen with real people, blacking out whenever a person appears in your movie.
Another negative review revolves around its price. Although it's relatively inexpensive, it's not as budget-friendly as some would like.
Alternatives or Competitors
The Jireno Cube4 directly competes with the GS50. Let me explain how.
Last update on 2023-12-09 / Paid Link.
The Jireno is more affordable and weighs roughly five pounds.
Its native resolution is 1080p but supports 4K decoding.
With 500 ANSI lumens, the Jireno is equal to the GS50. However, the image size is bigger than BenQ's, at 30 to 200-inch.
The Jireno also comes with a more durable and stylish carrying case. And it's completely sealed so dust cannot enter.
The auto keystone and auto-focus features work just like the GS50. You'll have the perfect image in seconds.
However, it allows Netflix to stream natively while the GS50 does not.
Although the Jireno is physically portable, it does not have a chargeable battery. Therefore you cannot use it without a plug.
The setup is also easier as it's basically a plug-and-play system.
Therefore, the Jerino comes out on top solely for its easy functionality and intuitiveness.
Conclusion
The BenQ GS50 is a fantastic portable projector. In my opinion, the best specifications are its true portable nature and its automatic ambient light detection. It makes the viewing experience flexible in any setting.
On the flip side, the price could be lower for a budget model. And Netflix is NOT a native app. Therefore sometimes, watching your favorite Netflix show requires more finagling than I'd like.
Do I recommend the GS50? I like it, and I think users will be happy with it. However, I wish installation was a tad easier without installing the streaming dongle ourselves.
But once you power it up and start streaming, most of that goes out the window. Now, all that's left is to enjoy.