What To Know
The Jireno Cube4 is a great choice for those new to projectors, offering ease of setup and use, making it accessible even for non-tech-savvy individuals.
While the Cube4 performs well in darker environments and on plain walls, its 500 ANSI Lumens brightness is not optimal for use in brightly lit rooms.
The Jireno Cube4 provides good value for its price, offering a decent movie-watching experience and portability, though it requires a power source for operation, unlike some higher-priced competitors with built-in batteries.
In this article, I'll provide an in-depth Jireno Cube4 review, covering its brand positioning, product range, installation process, competition comparison, and customer service insights.
Geared towards budget-conscious movie enthusiasts, Jireno aims to deliver a high-quality portable projector experience.
Let's get started.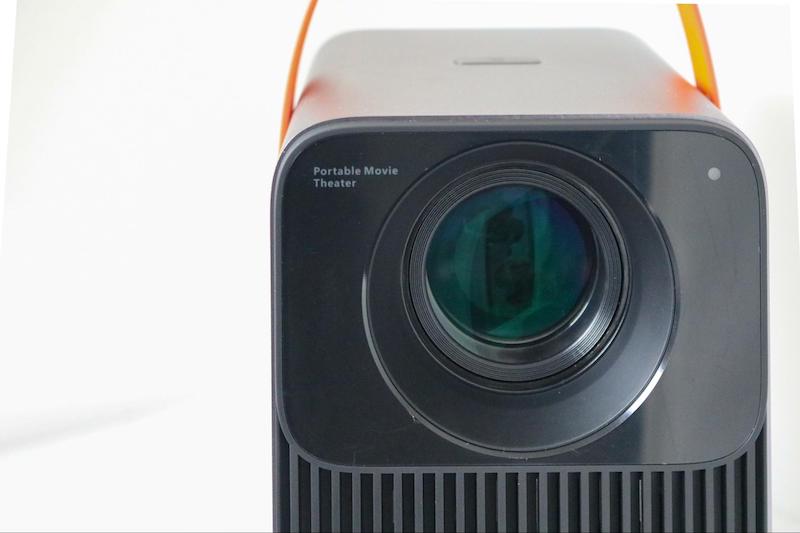 (10% OFF with our coupon code: POINTERCLICKER)
Who Is the Jireno Cube4 For?
Suppose you've never had a projector but thought about buying one recently. If that's the case, you're in luck because the Jireno Cube4 is the perfect product for any person trying to get a projector but finds the research and technicalities intimidating.
In other words, if you're new to the world of projectors, this projector makes everything easy.
I say this is because the setup is effortless. Anyone can do it, even if you're not a techy individual.
Also, their price is so good. You don't have to worry about losing thousands on a projector you think is mediocre. Jireno's price tag offers a great deal on an excellent projector.
Jireno created a projector you can use anywhere you wish to take it. It's perfect for a college student or a young family trying to have a movie night in their backyard.
Although if there is a demographic this projector does not cater to, it's someone looking for a pricey stationary projector for your newly built home theater set up. It's also not suitable for campers trying to make a projector screen out of their tent.
Let's read on to see what I mean.
Jireno Products and Their Features
The Jireno group currently has one product, the Jireno Cube4. However, they sell a couple of accessories that definitely help the overall experience.
The Jireno Cube4
The Jireno Cube4 "bundle" comes with the projector and its necessities. I can tell you from experience that the projector comes with a few vital components.
These items include:
A manual (includes cute stickers)
A remote control
Triple-A batteries for the control
A power cord
A detachable carrying strap
The Jireno Cube4 With A Travel Case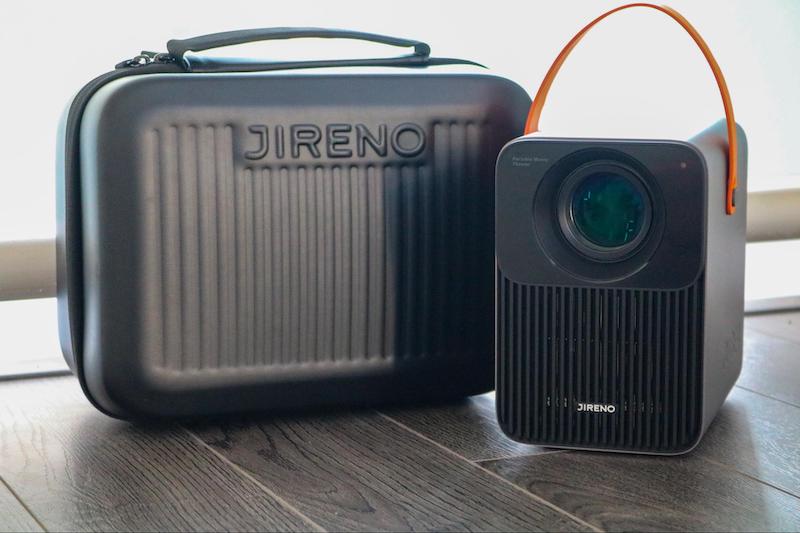 I received the Jireno Cube4 Travel Case bundle. This bundle comes with everything we mentioned above. However, it's neatly nestled inside a sturdy travel case.
The case has a handle for easy transport, and it protects from dust or other harmful air impurities.
The travel case also has a compartment for the other necessary components.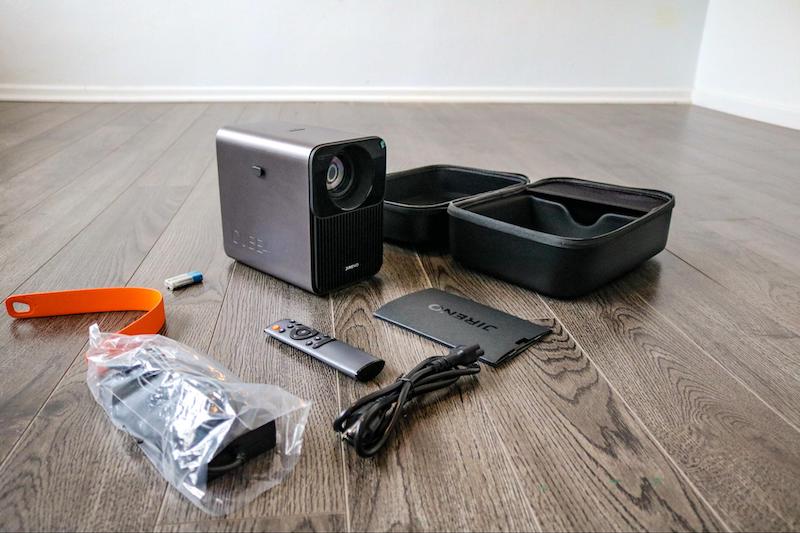 The Cube4 Delux Bundle
The last tier in their bundles is the ultimate projector starter pack. It includes everything mentioned above, a tripod, and an 84-inch projector screen.
This bundle is the ultimate setup for someone intimidated by all the research and hassle of trying to figure it all out.
I should mention that the tripod is necessary because the projector emits its image about two feet below the projector line. So if you're placing it on a low coffee table, half of your image will be on the floor.
Jireno Cube4 Specifications
To understand what makes this projector what it is, we must understand the individual specifications.
So, we will run through them one by one and compare them with our experience.
Lamp Type
The Jireno Cube4 is built around an LED-style light source. This means it lasts about 30,000 hours before it dies. In other words, you'll have this projector for a very long time.
The machine contains 500 ANSI Lumens, which makes the lamp bright.
ANSI lumens are brighter than LED lumens and regular lamp source lumens. It's what makes the Cube4 so bright.
So we put this to the test. We used it in the daytime, at night, with a projector screen and on a regular white wall.
To give you an important snippet of information, a daytime projector should have 1,000 lumens or more for good visuals to compete with any sunlight coming through.
For our test, we used a room with fabric curtains that allow sunlight to shine through.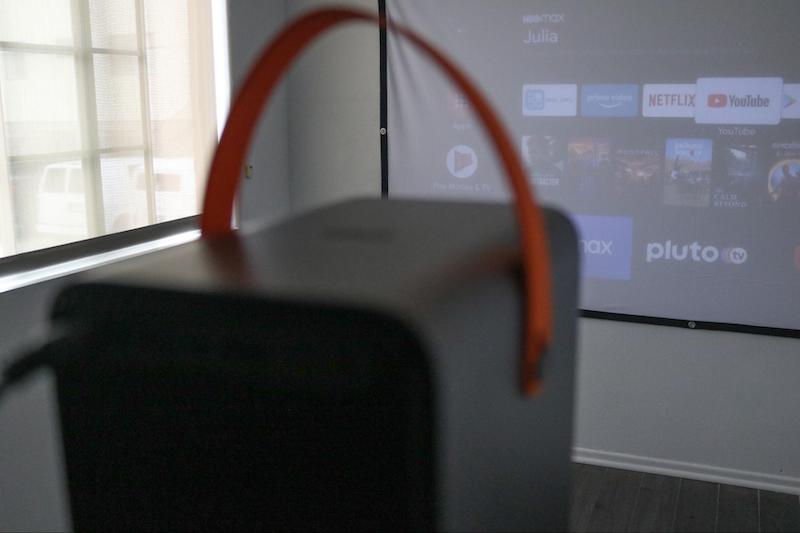 (10% OFF with our coupon code: POINTERCLICKER)
And although we could see the picture, it was hard to see what we were selecting. The image was too faint to watch a movie comfortably.
Since I'm in the process of remodeling, the only projector screen I have available is a very inexpensive yet lower-grade projector screen, like this 100-inch portable projector screen.
We then set up our screen and closed all the curtains.
The picture is fantastic. It's a beautiful movie-viewing experience.
However, it appears there's a glow around the whites of the images. But that has more to do with the low quality of the projector screen.
Therefore, for our final test, we used a regular white wall.
Surprisingly, the image popped even more. The colors are bright. The whites no longer contained a glow around them. It's amazing.
The only drawback of projecting on your wall is that you can see all of the wall's imperfections as you watch your movie. Nevertheless, I had a fantastic time viewing World War Z.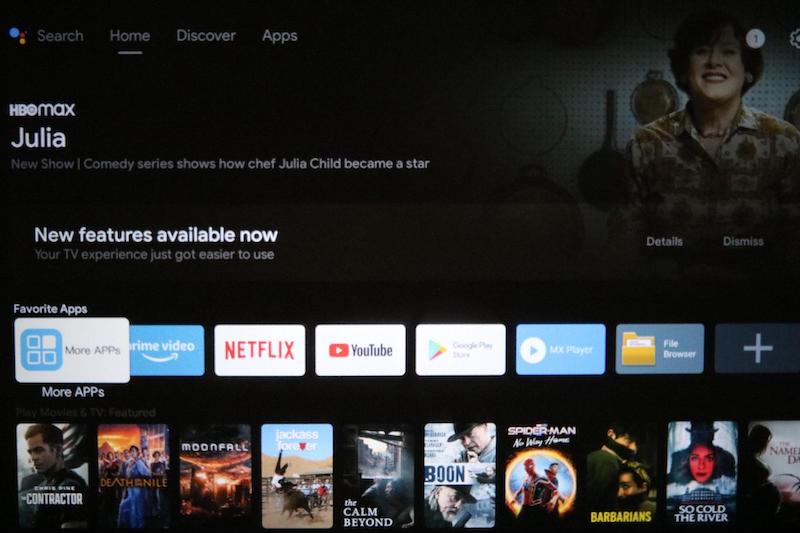 It's like having a 100-inch TV you can move around your house with ease. I'm impressed.
One more awesome tidbit of information is that the Jireno Cube4 looks great at 30 inches to 200 inches.
Although my walls are not big enough to see a 200-inch picture, I can testify that 100 inches proved to be fantastic.
This gives me confidence that a high-quality projector screen, like a black-backed screen or ALR, will make the image fantastic.
If you want to see a real representation of what the Jireno Cube4 looks like while viewing, check out this video below.
Real Shoot! If you have a CUBE4 projector...
Contrast
Contrast is a specification many newbies shy away from or simply don't understand. Usually, you'll notice a number that looks like this: 1,000:1.
The number means that the whites are 1,000 times brighter than your blackest black (the 1 in the equation.)
The Cube4 has a contrast ratio of 3,000:1. Meaning the whites are 3,000 times brighter than your blackest blacks.
If you're purchasing a higher-end projector like the Epson Home Cinema 4010 4K, you'll notice it has 200,000:1 contrast ratio. That's incredibly intense brights and deep blacks.
Sale
Last update on 2023-11-29 / Paid Link.
However, it's also about five times more expensive.
What did we think? The brights are good, not theater quality good, but good enough for date night, family movie night, or kids watching their favorite cartoons.
The blacks are dark and just black enough to make the movie experience fantastic.
Quality
This cute portable projector has a standard 1080p image quality. Although, it can decode 4K content.
The 1080p quality is good. Unfortunately, I do not have any 4K content to test it with.
Either way, I'm happy with the quality of the video. Is it AMC Theater quality? No. Is it still awesome? You bet!
Aspect Ratio
The machine is equipped with two different aspect ratios. You have a standard movie 16:9 ratio. You can view movies or YouTube videos with this one.
It also contains 4:3, which is almost square in size. This aspect ratio is best for PowerPoint presentations.
This means you can use this projector at work.
Audio
The Jireno Cube4 comes with two built-in 5-watt speakers.
You can use your remote control to raise and lower the volume.
The speakers are impressive. They're loud enough to allow everyone in the room to listen but not loud enough that your grumpy next-door neighbor will complain.
Although, I have to say if you're outdoors or in a place with more ambient noise, it might not be loud enough.
The fan makes some noise, but not enough to distract from your experience. It makes about the same amount of noise your desktop computer fan makes.
Portability
Having a stylish projector around with its own strap makes it easy to transport. Having a travel case makes you want to take it to your backyard, a friend's house, your mother's barbeque, or anywhere really.
I personally showed it to everyone and tested it on every room in my house.
Once my remodel is over, I will be installing an outdoor home theater that the Jireno Cube4 will call home.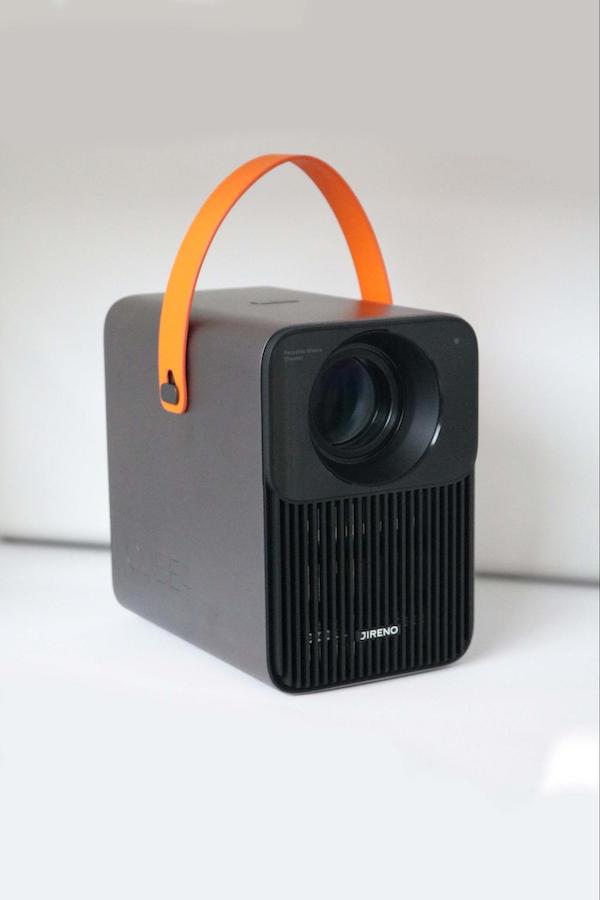 (10% OFF with our coupon code: POINTERCLICKER)
Software
The cute portable projector runs on Android-based software, which means every app on the Google Play store is available for download. However, they're calling it JI-OS as in Jireno Operating System. Cute, right?
Streaming with your favorite apps is easy with the Cube4. And, don't worry about downloading too many apps. It contains 16 gigabytes of storage as well.
Now let's get into the setup and give you a tutorial of the machine itself.
Tutorial and The Installation Process
Eager to get the projector up and running, I excitedly opened the package. It was like Christmas all over again.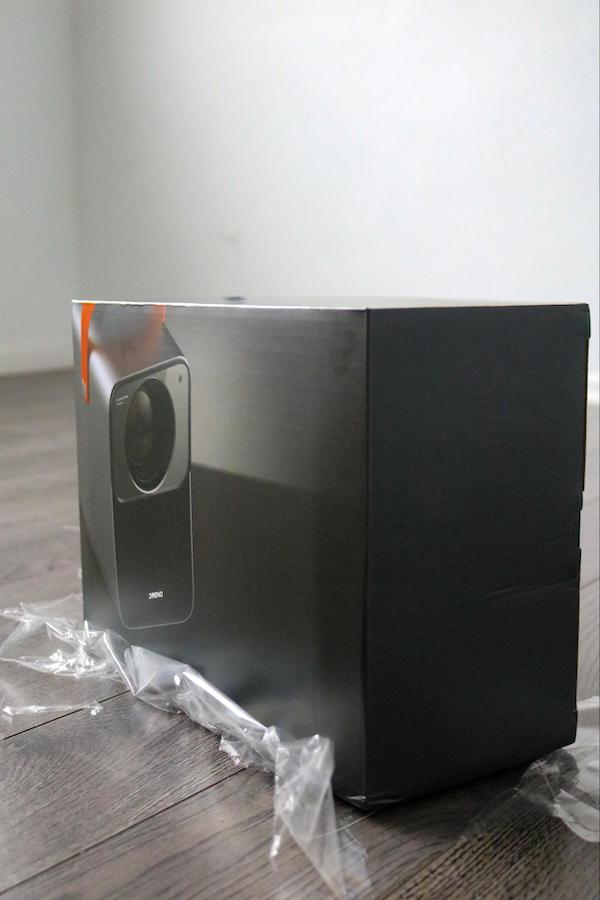 I popped the included batteries into the controller, set up my "home theater" area, plugged in the power cord, and hit the On button.
The Jireno logo lights up in amazement.
From here, the projector auto-detects the surface it's projecting on and autofocuses itself, which is fantastic. There's no need to mess with any settings.
From here, it gives you a small but informative tutorial. But if you have a smartphone, you already know most of this information. Let's just say it's easy and intuitive.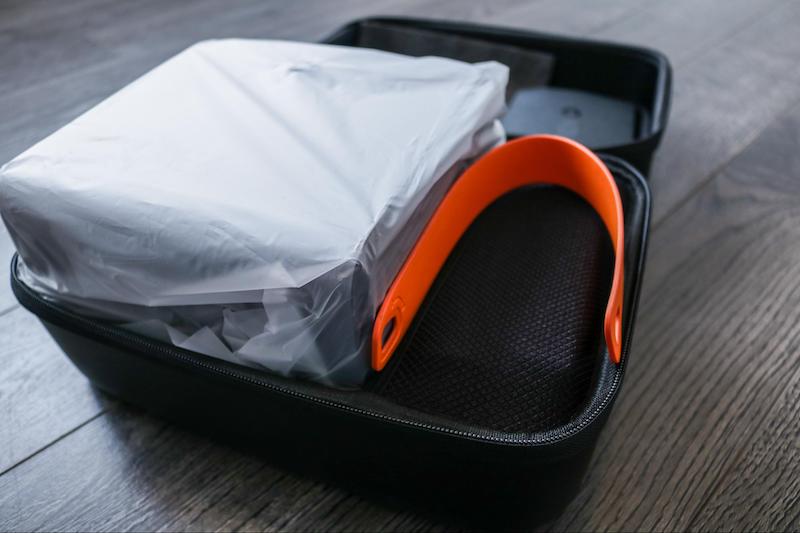 (10% OFF with our coupon code: POINTERCLICKER)
I chose to log in with my Google account, making the setup super easy.
Once I landed in the home area, there are many apps prepopulated for you.
The only issue I have is signing into all my apps. Netflix, Amazon Prime, and others. Spelling out my name and email and password on each is frustrating because who can remember their password to all these things?
However, one great thing about logging in with your Google account is that it prepopulates any passwords you've saved on your laptop, but only if you use Google Chrome.
It makes other apps easier to log into. You just click the icon, and you're done.
I should probably mention that the control works perfectly, but you have to pair it later on. It will give you a message and an image tutorial.
Press both < and > arrow keys near the projector and done. This allows you to search with your voice.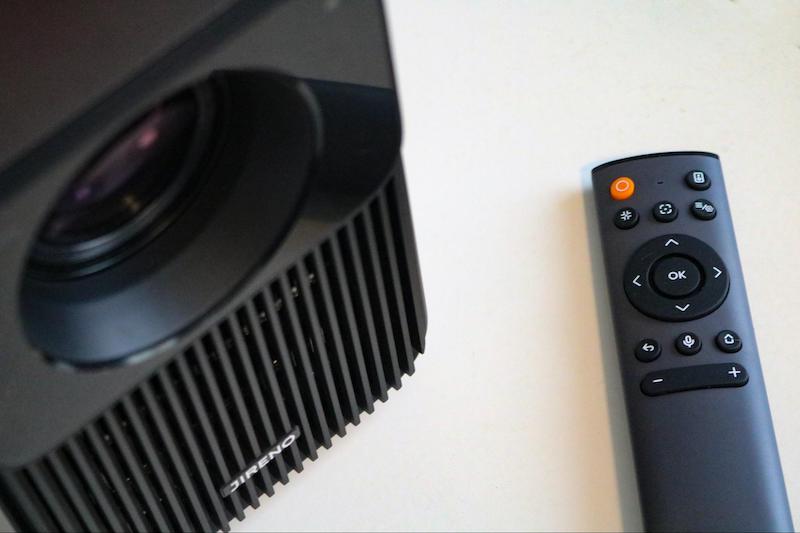 (10% OFF with our coupon code: POINTERCLICKER)
Once all of that was done, I eagerly played music videos on YouTube and watched Netflix and Amazon Prime movies. They worked perfectly.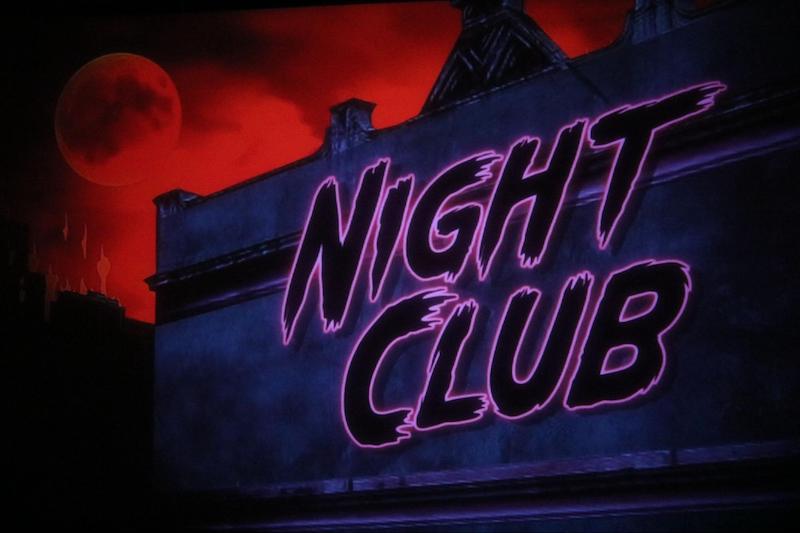 The setup is so easy. Anyone can do it.
Hardware Specs
The machine is built for modern times. It includes an earphones jack, HDMI, USB, USB Type-C, and the DC power adaptor.
It's also Bluetooth compatible and has dual-band wifi (2.4 and 5GHz.)
The company also considered the hardships every user faces when buying a projector. For example, the outer shell is one hundred percent sealed. This means dust will not get through.
They've also added two internal fans, so it never overheats.
However, I wish it also came with a protective lens cap. We all know how delicate the lenses are.
Testing it out and User Reviews
As previously stated, I've tested it out and loved every minute of it. And, even though it has just completed crowdfunding on Kickstarter, multiple users have already chimed in and given their opinion.
For example, Mad Little Pixel on Youtube reviewed it and stated that the image is good at 500 ANSI lumens but not as bright as he wished. Nevertheless, it's great for a movie night with the family.
Watch the well-made and very truthful video review below.
This $200 "Portable" Projector Is IMPRESSIVE! The Jireno Cube4 Review! Automatic Setup Projector!
Alternatives or Competitors
When you think of projectors, we always think of the powerhouses in the field. We think of BenQ or Nebula.
So, how does the Jireno Cube4 compare to their portable projectors?
The Nebula Portable Projectors
Nebula has several small portable projectors that directly compete with the Jireno Cube4. For example, they have the Capsule, Capsule II, and Capsule Max.
However, the Jireno Cube4 is better than all of them.
For starters, the Jireno Cube4 has 500 ANSI Lumen, whereas the Capsul Max and Capsule II have 200.
The Nebula Capsule has 100 ANSI lumens, which means it's hardly bright enough to watch anything on it.
The only one we can directly compare it to is the Nebula Mars II Pro.
Sale
Last update on 2023-11-29 / Paid Link.
The Mars II Pro has a cute handle, just like the Jireno. It also has 500 ANSI Lumens.
And it has something the Jireno does not have. It has three hours of stand-alone battery life. That means it's truly portable.
The Jireno Cube4 needs to be plugged in at all times. Therefore, even though you can transport it anywhere, the portability is limited by your ability to power it.
On the other hand, the Mars II Pro images only go up to 100 inches, whereas the Cube4 can get as big as 200 inches.
The Mars II is also twice the price.
BenQ Portable Projectors
BenQ is another big name in the industry. They make projectors for every type of situation, including portable projectors.
Superficially, BenQ gets points for their cute portable projector designs. Although the Jireno Cube4 is cute, it's not as cute as the BenQ GV30 or GS50.
However, the BenQ GV30 only contains 300 ANSI lumens, which is insufficient. Your room has to be pitch black for a great image. The native resolution is also 720p.
A more direct competitor is the BenQ GS50. It contains 500 ANSI lumens and a native resolution of 1080p.
Last update on 2023-11-29 / Paid Link.
It also has a contrast ratio of 100,000:1 which means those blacks are so dark, and the whites will pop beautifully compared to the Jireno.
But the light source gives you 20,000 hours in normal mode (10K less than the Jireno.)
Therefore you get a nice compact portable projector that's stylish but with a price tag that's more than double the Jireno.
Let's Wrap It Up
To wrap up a long but needed review of the Jireno Cube4, I have to say I'm very impressed with the projector overall.
Although other small portable projectors contain 500 ANSI lumens with better contrast ratios, this makes the Jireno about par with others in terms of brightness.
However, if you add up everything you get for the amount of money you spend, the Jireno Cube4 is the best deal for a great projector.
It's also a fantastic starter pack for anyone trying to learn more about projectors and their technicalities. It's a perfect piece of technology.
Do I recommend the Jireno Cube4? Absolutely. It's cute, small and you can take it to your friend's house or anywhere with a power outlet.
James Quintanilla is a technical copywriter. Although his experience allows him to write on many topics, he loves to focus on tech and travel. As a freelancer, James has worked on projects with Pointer Clicker, Lonely Planet, and the Travel Channel. When he's not writing or planning his next adventure, he's watching a scary movie.