What To Know
Projectors can be used outdoors while camping, with weatherproof options available that have high IP ratings for dust and water resistance.
For outdoor projection, ensure you have a portable projector, an appropriate screen, Bluetooth speakers, a media source, a Wi-Fi device, and a reliable power source.
Portable power solutions for camping include gas generators, car batteries with power inverters, portable power stations, compact battery packs, and solar power setups with backup batteries.
In this article, I'll guide you on how to power a projector while camping, ensuring your outdoor movie nights are a hit, even without a traditional power source.
Let's light up your campsite cinema with ease!
Can You Use a Projector When Camping?

Projectors are often used indoors. They are common in offices, classrooms, and even in houses of worship.
However, you can take your projector outdoors. The main obstacles you would face are the weather and ambient light.
Many projectors are built to withstand conditions like rain and dust. They are weatherproof and come in water-resistant designs.
If you have one of such projectors, our answer is YES. You can take it camping.
Most of the water-resistant projectors have an IP (Ingress Protection) specification. This spec shows that they meet the electronic device standard for dust and fluid resistance.
The higher the IP value, the better they are at resisting damage from dust and water.
You can purchase an outdoor projector that outputs enough brightness to defeat ambient light. Alternatively, you can decide to use your projector only at night.
We advise that you look out for projectors that specify 'Drop Protection.' They are more durable and better for the rough terrain of a campsite.
If you wonder what else you need on your camping trip, we'll get into that in the next section.
What Do You Need to Project While Camping?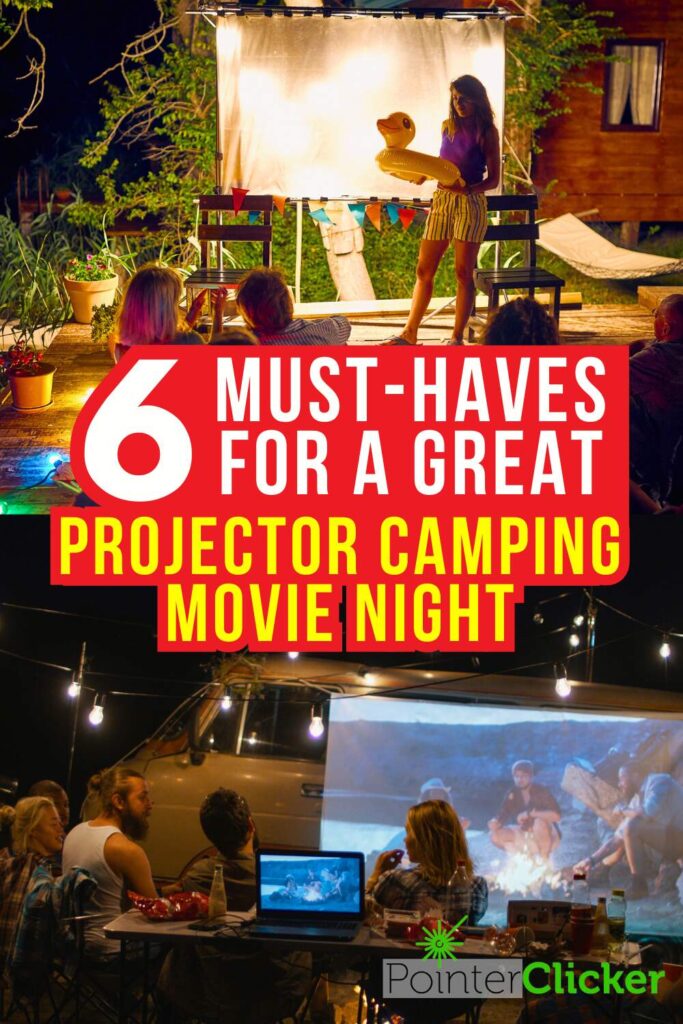 If you want digital entertainment on a camping trip, here's our list of must-haves:
An Outdoor Projector
Projectors come in a range of sizes. It is best to get one that is convenient for your means of transport and easy to set up on the go.
A Projector Screen
There are about 15+ types of projector screens to choose from. We advise that you go for simple and retractable screens.
Fixed screens are very inconvenient because they pose the same problem as a TV.
Inflatable screens are also excellent options. They are lightweight and can be deflated and folded when moving camp.
Bluetooth Speakers
You will need external speakers if you're projecting for a large audience. Projector-inbuilt speakers aren't powerful — especially with small projectors.
We recommend Bluetooth speakers due to their portable size. They don't need cables except for recharging their batteries.
Media Source
Your home theater allows you to use a vast range of media devices. However, many of them are unideal for outdoor use (i.e. computers).
The best options are USB sticks, streaming sticks, or your smartphone.
These devices are very portable and can also be plugged into the USB or HDMI ports on the projector.
Wi-Fi Device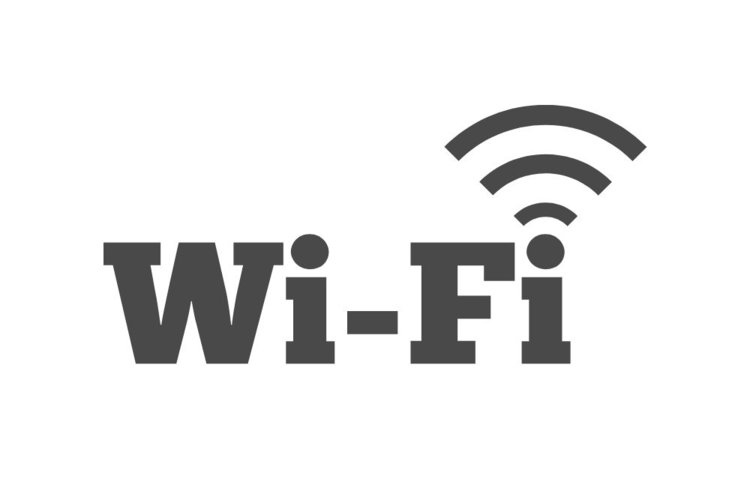 To use a streaming stick, you need a Wi-Fi connection. You may use your phone's hotspot, but this is guaranteed to drain your battery.
We recommend you purchase a mobile hotspot.
Power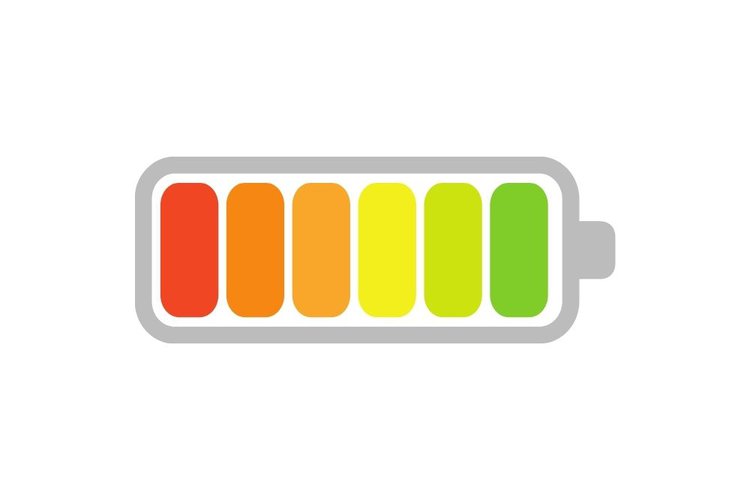 Electricity is necessary for your projector, Bluetooth speaker, and even Wi-Fi device.
These devices do not last very long on a full charge. Small projectors may last up to two and a half hours, after which you'll need to plug them into a power outlet.
5 Solutions: How Do You Get Power When Camping?
Let's get into how to power a projector when camping.
From generators powered by heat to water and wind turbines, there are many ways to get electricity. However, only a handful are practical solutions.
We have put together a few options that would work for you. They include the following:
1. Gas Generator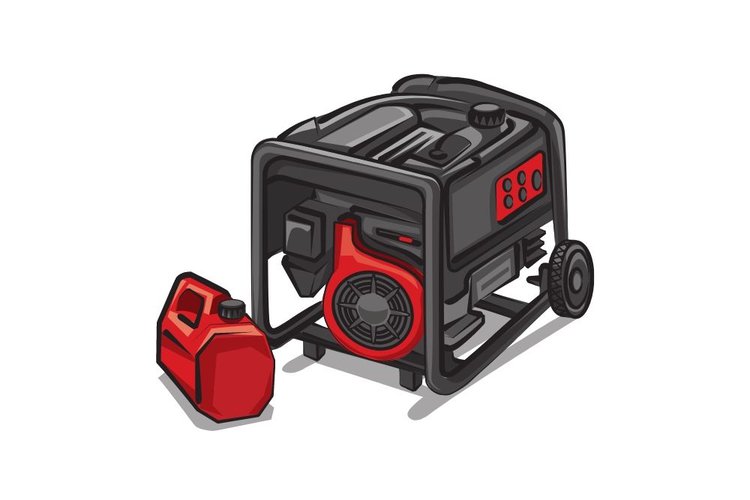 Gas-powered generators are the next best thing when you're in an off-the-grid location. They are easy to use and will supply power as long as there is gas.
The two downsides to gas-powered generators are noise and air pollution.
They emit carbon monoxide fumes which take the freshness out of your camp air.
If you're at a campsite, you may not be allowed to use a gas generator. Good thing you have many other options.
2. Car Battery
You must have charged your phone with your car battery many times. The good news is that it can also charge your projector.
For a portable projector using between 200 – 300Wh of power, the 12V car battery would power it for a couple of hours.
That's enough time to watch one or two of your favorite movies.
However, there's a big downside to this; the battery may become too low to start the car. Do not use the car battery to power your projector for a long while.
To use your car battery, you'll need a car power inverter such as the BMK 200W Car Power Inverter .
This inverter includes two sockets and 4 USB ports. It has a car AC adapter that fits into the cigarette lighter port.
3. 12-Volt Backup Battery (Portable Power station)
Instead of using your car's battery, you can purchase a portable 12-volt battery for charging your devices.
These batteries have power outlets and indicators that show how much power is left in them.
They are capable of charging your projector, laptops, and other devices. You can recharge them after use.
Jackery Portable Power Station Explorer 500 is one of the best-reviewed power stations in the market.
Power stations like the No products found. can be used to jumpstart a car.
Portable 12V batteries are common in RVs (Recreation Vehicles). RVs contain one or more of these batteries separate from their car battery.
4. Compact Battery Packs (Power Banks)
This solution is more lightweight and less expensive than power stations. They contain lithium-ion batteries of different capacities.
They can charge a few electronic devices like phones and Bluetooth speakers.
Powerful models like the HALO Bolt 58830 mWh Portable Phone Laptop Charger may power your projector, but only for a short while.
They come with USB ports and AC outlets for charging your devices.
We also recommend the Goal Zero Sherpa 100 Power Bank . It weighs about 2lbs. but still holds enough power to keep your projector working.
5. Solar Power
Solar power is clean, quiet, and cost-effective. After the initial purchase and set-up, it's free to use.
You can set up a portable solar panel at your campsite. Some have stands and you can prop them up to face the sun.
They require sunlight to charge up, so on a cloudy day, you may find yourself without power.
We recommend you use your solar panel in combination with a backup battery. The battery will save power for when there's no sunlight.
If you want a solar panel, check out the BALDR 120W Portable Solar Panel and ALLPOWERS Mini Power Station with Portable Solar Panel .
While the initial cost of solar panels may be steep, they are easy to use and require little maintenance.
How to Manage Your Power Source While Camping
The most important tip is to use devices with replaceable batteries. Reducing the number of devices that require electricity will save power for your projector.
Keep your projector in energy-saving mode. New projector models are better for camping because they consume less energy than older models.
Use only portable sources of power. You never know when you might need to move camp.
Use your power source safely. Don't use generators or batteries in damp areas. Keep them properly shielded from the elements.
Use water-resistant connectors and sockets to prevent damage and reduce shock hazards.
FAQs
What is the best outdoor projector for camping?
Many projectors would work for you. The trick is to decide what qualities are most important.
On a camping trip, you would probably battle weather changes. A projector that is water-resistant and portable is your best option.
If you want to project during nighttime, you can get a mid-budget projector with less than 3000 lumens of brightness.
You need a brighter projector like the Optoma HD146X High-Performance Projector to project during the daytime or for a large audience.
Want more recommendations? We have a list of the 5 best projectors for camping here.
How do I get my projector to work outside?
It is easy to use your projector outside. All you need is power, your projector screen, and your media source.
Choose the time of the day that suits your projector. A projector with less than 3000 lumens of brightness should be used at night.
Protect your projector from the elements by setting it up in a shaded area. If all you have is open space, avoid rainy and windy days.
Plug your projector into a power outlet. If there's no electricity, power your projector with a generator or a power station.
If you're projecting in the daytime, use a white projector screen. This will maintain the reflectivity to combat the ambient or harsh light and keep your image visible.
If you're in the market for an outdoor projector screen, check out our review of the best outdoor projector screens. You may find the right one for you.
Conclusion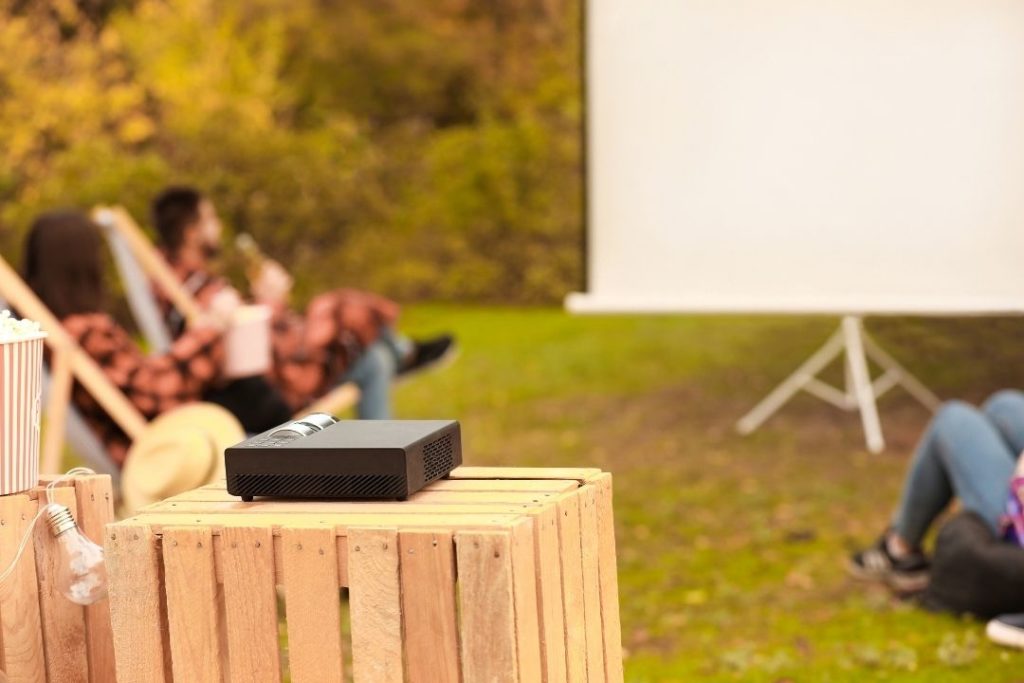 If your projector stops working while you're on a camping trip, it's probably in need of a charge.
Not all campsites provide electricity — it defeats the purpose of camping, after all. Also, you may be camping out on your own and have no access to electricity.
You can use a generator, backup batteries, or solar panels to supply power and keep your projector working. Happy camping!
Gabriella 'Diogo is a technical writer with a vested interest in tech hardware and equipment. She shares her knowledge and processes in an easy-to-grasp, lighthearted style. When she's not testing or researching device performance, you'll find her writing short stories or rewatching episodes of her favorite sitcoms.