Your TV is almost a decade old and is probably the dumbest thing in your home. Sure, you can hook up your laptop to it via an HDMI cable to stream your movies and connect it to a satellite or cable, but that's about it.
So, when you heard about Chromecast you wondered if it would be a good way to make your non-smart TV a bit more high-tech.
What exactly is a Chromecast? And can you use one on a non-smart TV?
Is it possible to use a Chromecast on a TV without an HDMI port?
Keep reading to find out!
What Is a Chromecast?
A Chromecast allows you to cast content or screen mirror to your TV.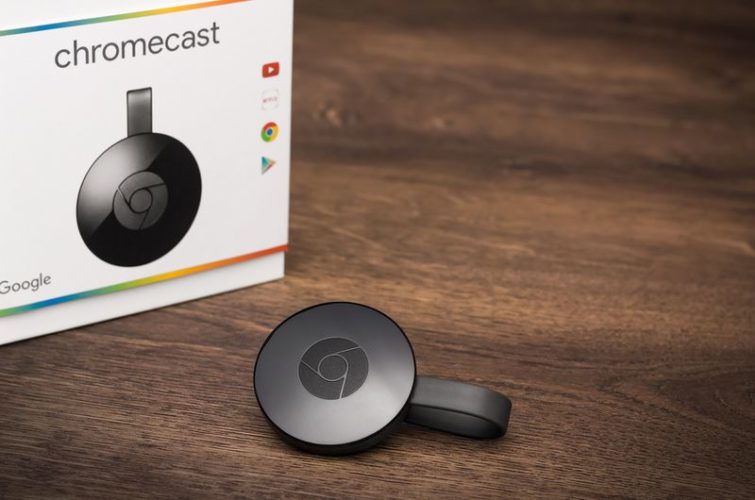 Unlike streaming sticks which have built-in apps that transform your TV's interface, Chromecasts exist for the sole purpose of wirelessly displaying content from your phone, tablet, or laptop on your TV.
This means that you can open any app on your phone and cast or mirror it to your TV for all to see. You can not use it without another device to cast from.
Chromecasts connect to your device via the internet, which means all you have to have to use one is a compatible TV, phone/tablet/laptop, and an internet connection.
This also allows you to take your Chromecast on the go since it's a lightweight dongle that requires very little to function properly.
The only exception to this is Chromecast with Google TV, which features built-in apps, allowing you to browse content directly from your TV. This version of Chromecast is more similar to streaming sticks and does not need other external devices to work.
What Is a Non-Smart TV?
A non-smart TV does not connect to the internet or have built-in apps.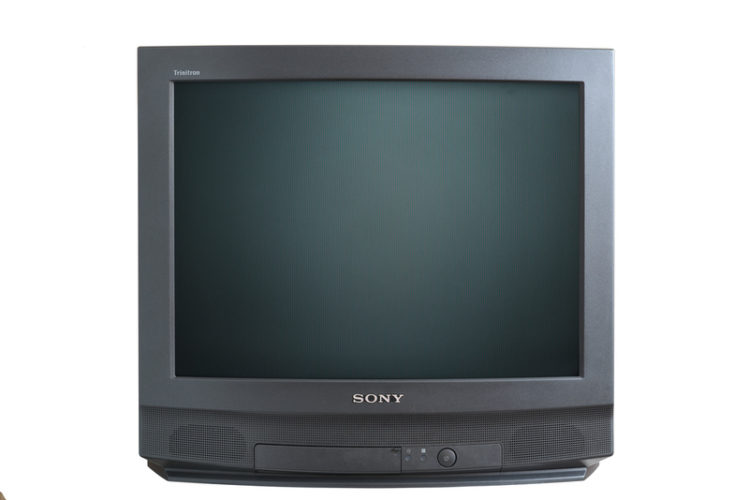 Non-smart TVs do not have most of the capabilities that smart TVs possess.
The most prevalent of these capabilities is the ability to connect to the internet. This allows you to download apps from the TV's built-in interface and in some cases even surf the web.
Many smart TVs also natively support casting and screen mirroring, with a few Hisense, Samsung, and LG TVs even having built-in Chromecast.
Non-smart TVs, on the other hand, do not possess any of these capabilities.
They can not connect to the internet, or natively support built-in apps or casting.
Instead, they can only be connected to cable or satellite, allowing you to watch broadcast TV. They can also connect to other devices via a wired connection, like your computer or phone via an HDMI cable.
So, if you can't connect your TV to the internet and can only mirror your device's screen with a wired connection, then your TV isn't smart.
However, that doesn't mean there isn't a way to get your normal TV to function like a smart TV!
Do I Need a Smart TV for My Chromecast?
No, you do not need a smart TV for your Chromecast.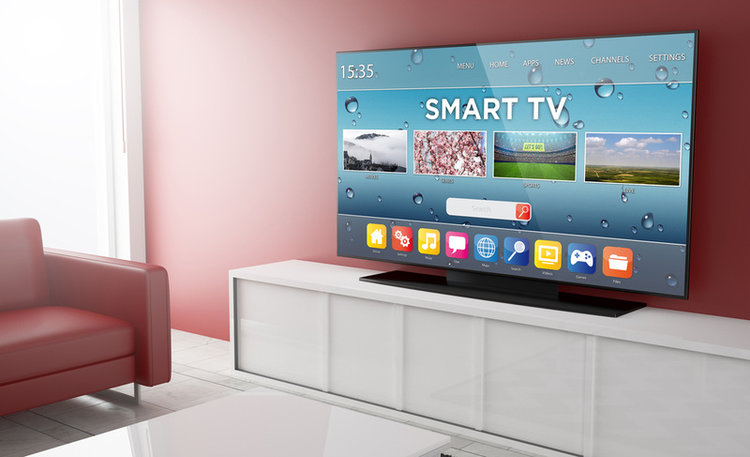 Many smart TV's can already wirelessly connect to your phone to cast content, so although Chromecast works with them, it wasn't designed to be used with them.
Instead, Chromecast is one of the many TV accessories that give normal TV's the ability to function like their smarter counterparts.
The only thing your Chromecast needs to work is a functioning audio-video output port. Though they were designed to be plugged into your TV's HDMI port, you can also use them with other ports with the appropriate converters.
Let's learn how to make your Chromecast work on a non-smart TV!
Your Chromecast Just Needs an HDMI-Compatible TV To Work Seamlessly
Your TV only needs an HDMI port for the Chromecast to work as intended.
Don't worry. It's easier than it sounds!
Materials Needed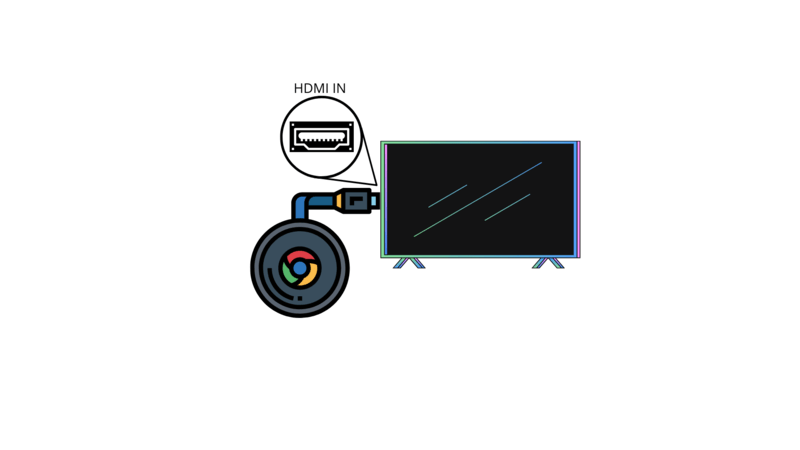 Step 1: Plug Your Chromecast into Your TV's HDMI Port
Find your TV's HDMI port and plug the Chromecast's HDMI cable into it. Now is also a good time to take note of which HDMI port you're plugging it into (e.g. HDMI 1, HDMI 2, etc).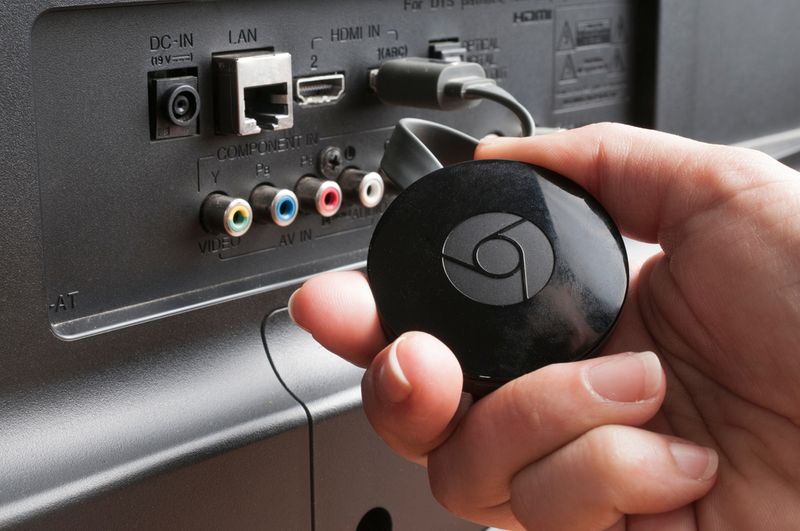 Make sure it's securely attached to your TV to ensure proper connectivity.
Step 2: Connect the Chromecast to Power
All Chromecasts must be connected to a stable power source.
While Chromecasts (generations one to three) can be plugged into your TV, given that its USB port can supply enough power, other versions must be plugged into a wall outlet.
If you'd like to plug your Chromecast or Chromecast Ultra into your TV's USB port, we recommend using the Mission USB Power Cable for Chromecast and Chromecast Ultra .
If you have a Chromecast with Google TV, you may plug it into a wall outlet or into your TV's USB port using a Mission USB Power Cable for Chromecast with Google TV .
Your Chromecast's indicator light should light up when it's properly connected to power.
As always, make sure all cables are securely fastened in place.
Step 3: Change Your TV's Input
Now you must change your TV's input so it can display your Chromecast on-screen.
You will need your TV remote to do this.
Search for a button labeled Source or Input, and press it until you see the Chromecast's page on-screen.
If you took note of which HDMI port you plugged it into, you can also see the current input channel in the top corner of your screen, and repeatedly click your remote's button until you get to the correct channel.
Once your Chromecast is on-screen, you're ready to proceed to the next step.
Step 4: Connect Both Devices to the Same Network
Your device and Chromecast must be connected to the same network to establish a connection.
See which network your phone is connected to then connect your Chromecast to the same network in the Google Home app.
You may also connect both devices to another phone's hotspot. You cannot use the same phone, tablet, or laptop you're casting from.
Your TV will display a code on-screen that should match the code on your phone, notifying you that you're connected to the right Chromecast.
Step 5: Cast Videos to Your TV
Once you've successfully connected your device to your Chromecast, you should be able to start casting videos.
Open a streaming app like Netflix or YouTube, play a video, and click on the cast icon in the top-right corner. Select your Chromecast (which you can rename in the Google Home app) from the list of devices.
Presto! You're watching videos from your phone on your non-smart TV!
Watch the video below demonstrating how to set up a Chromecast device and connect it to your phone in a few steps.
How to Use Google Chromecast: A 5-Minute Setup Guide
You Can Even Use Your Chromecast on a Non-HDMI TV (an Old TV)
If you're TV is very old, the HDMI port may not be working or your TV may not even have one!
In that case, you will need to purchase an HDMI converter.
In the following steps, we will explain how to connect your Chromecast to your TV using an HDMI to RCA converter. However, you can also connect it to other ports (e.g. SCART, DVI, etc), using the appropriate adapters.
Materials Needed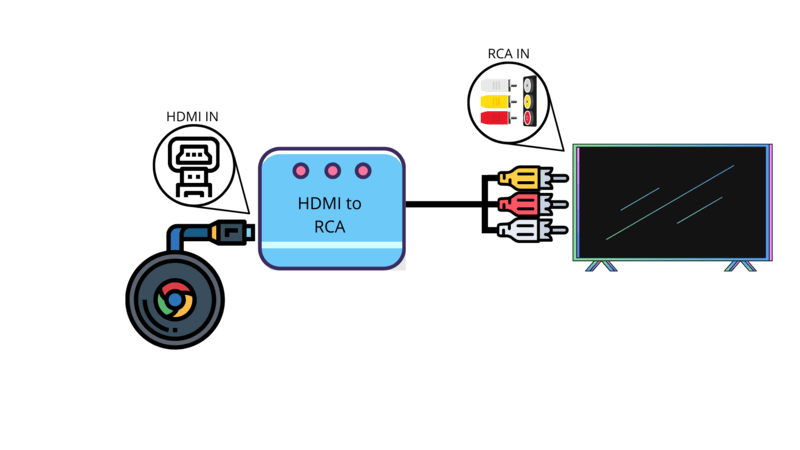 Step 1: Plug Your Chromecast into the Converter
Plug your Chromecast's HDMI cable into the HDMI to RCA converter's HDMI IN port.
Make sure it's properly plugged in or else the converter will not work properly.
Step 2: Connect the RCA Converter to your TV
Now you can plug the converter's RCA cables into your TV.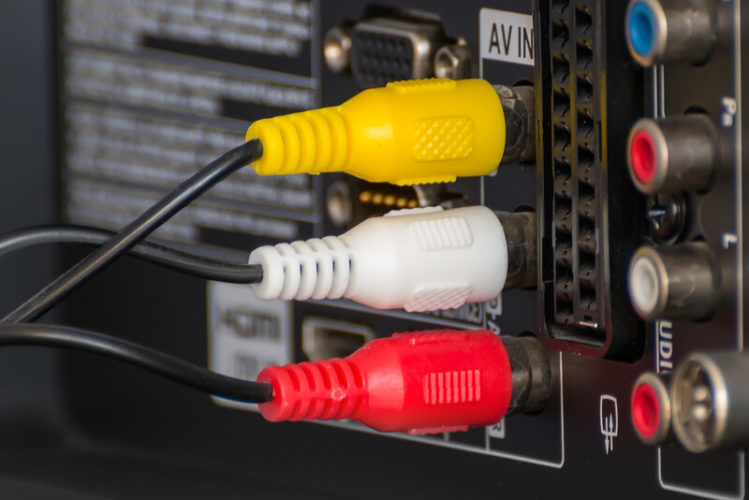 RCA cables are color-coded and it's important to plug them then into ports of the corresponding colors.
Apply some pressure when plugging in each RCA cable to make sure it's secure. You may even listen for a small clicking noise, notifying you it's properly connected.
Although converters can just hang from your TV's ports, the cables could be damaged from the constant strain and you risk them slipping out of the ports.
So, if possible, place your converter and Chromecast on a nearby table or shelf so they're not tugging on the cables.
Step 3: Connect the Chromecast and Converter to Power
Both the Chromecast and converter must be connected to power.
Using their appropriate power cables, connect them to electricity. Some Chromecasts and converters may be connected to a TV's USB ports if they have enough power, while others need to be plugged into a wall socket using a USB adapter.
Check your converter's specific instructions to see how it can be connected to power.
Step 4: Change Your TV's Input
Use your TV remote to change your TV's input. Because you're using an RCA adapter, you will need to change it to RCA or Component (depending on your TV's make and model), instead of HDMI.
Your Chromecast should pop up on-screen when you've found the right input.
Step 5: Connect the Chromecast to the Internet
When given the option to, connect your Chromecast to the same network as your phone or tablet, allowing them to wirelessly connect via Wi-Fi.
We recommend double-checking which network your tablet or phone is connected to so you can ensure you're connecting your Chromecast to the correct network.
Step 6: Get Casting!
Once you've followed all of the instructions in Google Home and been notified that your Chromecast is connected to your device, it's time to get casting!
You can cast specific videos or mirror your whole screen. Note that screen mirroring may not work when watching copyrighted content on a streaming app, so you will have to cast the video instead.
If you've never used a converter before and require additional guidance, watch the video below demonstrating the entire process from start to finish.
Chromecast to AV on an older TV with no HDMI
Wrapping Things Up
Chromecast can instantly make your TV several times smarter, so it's completely fine to use one on a non-smart TV.
Although Chromecasts are easier to use on TVs with an HDMI port, you can also use them on a non-HDMI TV with the appropriate converter.
Remember to check that your TV's ports are working since they often malfunction on old TVs.
Whenever using a Chromecast or converter, ensure it's properly connected to power and consider plugging it into a wall outlet if your TV's USB ports can't provide enough electricity.
What's your experience using a Chromecast on a non-smart TV? Do you prefer to use smart TVs or non-smart TVs with streaming devices?
Let us know in the comments below!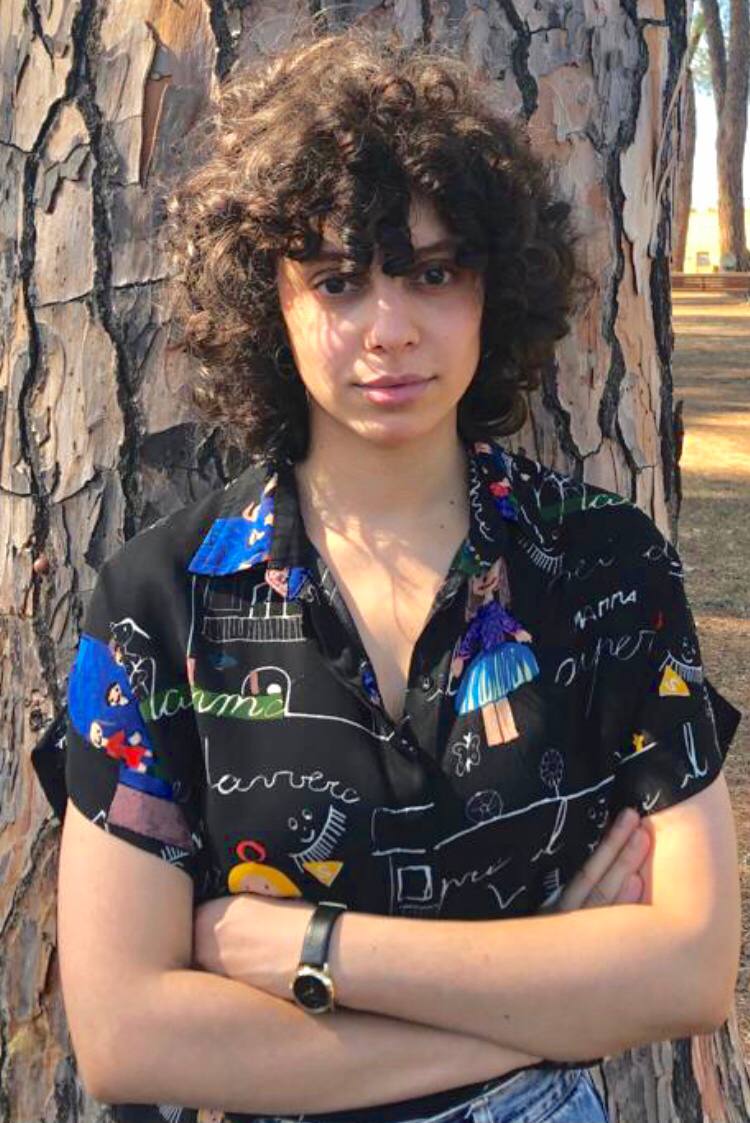 Yesenia Achlim is a technical copywriter and editor with a focus on AV equipment. She aims to break down complicated topics and make technology accessible, no matter your technical expertise. When she's not teaching you how to replace a projector lamp, you can find her reading and baking.