You have learned to connect your cable boxes, laptops, DVD players, and other media devices to TVs and projectors. The display devices accept media and display them on their large screens.
Do you wonder if you can connect your TV to your mobile phone to enjoy a large display? The answer is yes.
There are various ways to watch a movie from your phone on an HDTV, and this article explores one of the oldest of them — the MHL.
This article will let you in on what Samsung phones are MHL compatible. We have also included a guide to help you set up an MHL connection.
What is MHL?
Mobile High-Definition Link (MHL) is a media transfer interface that transmits digital audio and video signals. You can see it as a modification of HDMI for mobile phones and tablets.
In 2010, the MHL consortium (Nokia, Samsung, Sony, Toshiba, and Silicon Image) designed and released this interface.
Apart from its ability to cast content from your phone to your TV, MHL has some other great features.
The MHL connection allows your display device (TV or projector) to charge your phone. This function is essential if you are watching a lengthy film.
What's even more convenient? You don't have to get up from your comfortable couch at any point.
This technology allows you to control the volume on your phone and skip to another movie using the TV's remote.
Depending on the MHL version of your smartphone, you may also receive calls and SMS while still connected to your TV.
NOTE: MHL-compatible phones can also connect to other devices like AV receivers and projectors.
How Do I Know if My Samsung Phone is MHL Compatible?
Are you wondering if your Samsung phone supports MHL? We can help with that.
There is no unique port dedicated to the MHL interface. Instead, MHL (in compatible phones) is integrated into the micro-USB charging port.
MHL compatible phones use MHL adapters which convert the USB output to MHL.
You cannot identify compatible devices through their appearance or ports. Hence, it may be hard to determine compatibility if you don't know where to look.
Below are a few things you can do:
Visit the official MHL website and search for your device model. The website will bring up the names of MHL-enabled phones. If your phone appears on the list, you're good to go.
Do a quick Google search to find the full specification sheet for your device.
Conduct an MHL test. Connect your phone to your TV using the necessary equipment (MHL adapter and HDMI cable) and see if it takes.
MHL Adapters
The MHL adapter has two ends. One end is a micro-USB plug that goes into your smartphone, while the other end is an HDMI port.
The HDMI port supports MHL functions. It is the only way to connect your smartphone and TV.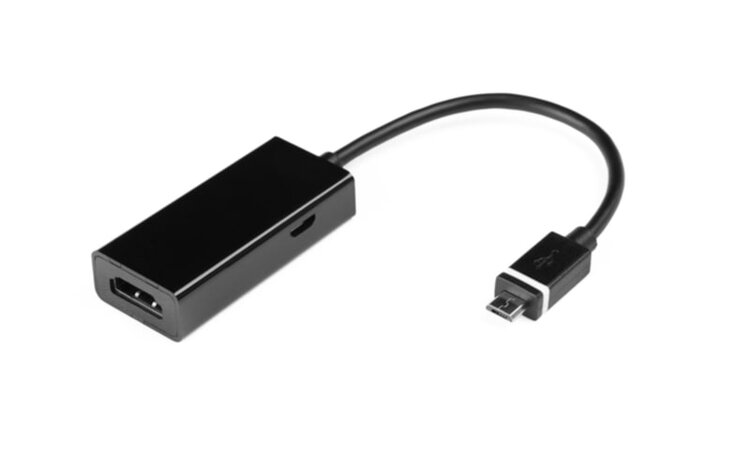 Compatible smartphone devices use the standard (5-pin) micro-USB to HDMI MHL adapter. However, Samsung manufactures its adapters.
Samsung MHL adapters are exclusively for Samsung phones — they cannot work on any other phones.
These adapters often come as accessories with new phones. If you no longer have yours, you can purchase one online or at a phone store.
Types of Samsung MHL Adapters
There are three types of MHL adapters common to Samsung devices. They include:
The

5-pin MHL Adapter

for Samsung phones with 5-pin micro USB ports. Examples include the Galaxy Note and the Samsung Galaxy S2.
The 30-pin MHL Adapter for early Samsung Galaxy Tablets (7.0, 7.7, 8.9, Plus 7, etc.). Samsung discontinued it because tablets now use the same micro-USB as smartphones.
The 11-pin MHL Adapter for 2012 – 2014 Samsung phones like the Galaxy S3 and Galaxy S4.
In 2015, Samsung stopped including MHL compatibility in their most advanced phones and tablets.
What Samsung Phones are MHL Compatible?
Samsung is arguably the best smartphone brand in the world. In the first quarter of 2020, it recorded almost 1 billion active Samsung smartphones.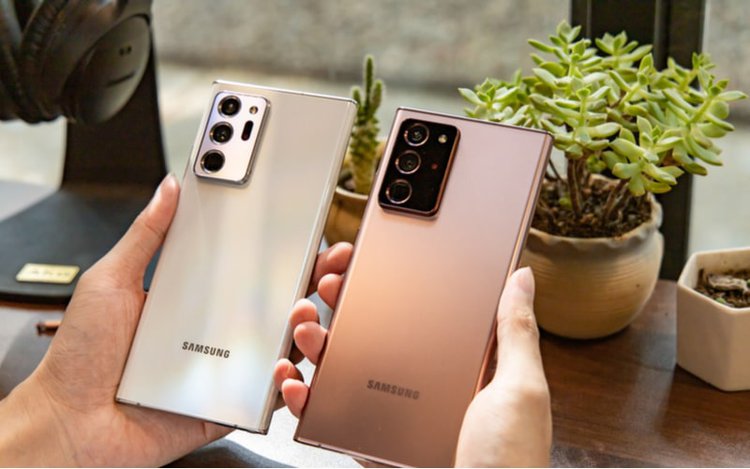 Samsung was one of the developers of MHL. Hence, many Samsung smartphones and tablets are MHL compatible.
However, most new-generation Samsung phones are not MHL-compatible.
They use wireless screencasting options instead, like Miracast and Google Chromecast.
We have compiled a list of MHL-compatible Samsung phones below.
MHL Compatible Samsung Phones
Samsung (AT&T) Galaxy Note LTE 5.3″
Samsung (AT&T) Galaxy S II
Samsung (AT&T) Galaxy S II Skyrocket
Samsung (AT&T) Galaxy S III
Samsung Captivate Glide
Samsung Cricket Galaxy S III
Samsung Epic 4G Touch
Samsung Galaxy Express
Samsung Galaxy K Zoom
Samsung Galaxy Mega (6.3 and 5.8)
Samsung Galaxy Nexus
Samsung Galaxy Nexus 2
Samsung Galaxy S2
Samsung Galaxy S3
Samsung Galaxy S4
Samsung Galaxy S4 Zoom
Samsung Galaxy S4 Active
Samsung Galaxy S5
Samsung Galaxy S5 Mini
Samsung Galaxy Note
Samsung Galaxy Note 2
Samsung Galaxy Note 3
Samsung Galaxy Note 4
Samsung Galaxy Note 8
Samsung Galaxy Note Edge
Samsung SC-01F
Samsung SC-02F
Samsung SCL22
Samsung SGH-M819N
Samsung SHV-E470S
Samsung SM-G900T3
Samsung SM-G906S
Samsung SM-G910S
Samsung SM-N9002
Samsung SM-N9005
Samsung SM-N9006
Samsung SM-N9008
Samsung SM-N9009
Samsung SM-N900A
Samsung SM-N900D
Samsung SM-N900J
Samsung SM-N900K
Samsung SM-N900L
Samsung SM-N900P
Samsung SM-N900R4
Samsung SM-N900S
Samsung SM-N900T
Samsung SM-N900V
Sprint Galaxy Nexus
Sprint Galaxy S III
Straight Talk Galaxy S III
T-Mobile Galaxy S II
T-Mobile Galaxy S III
U.S. Cellular Galaxy S III
Verizon Galaxy Nexus LTE
Verizon Galaxy S III
NOTE: This is not a comprehensive list. If your Samsung phone isn't on this list, search for it on the MHL website to be sure.
How To Connect Your Smartphone To Your TV With MHL
This connection can only work if your mobile device is MHL compatible. You'll also need an HDMI-enabled TV.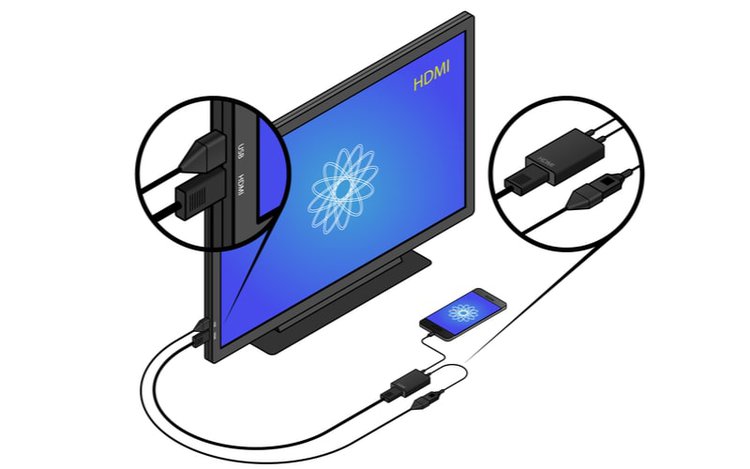 Step 1: Plug the USB end of the MHL adapter into the smartphone.
Step 2: Connect the other end (HDMI port) of the adapter to the TV's HDMI port — with an HDMI cable.
Step 3: Turn on both devices.
Step 4: Look out for the MHL icon on the notification bar of your smartphone to confirm the connection.
Step 5: Switch the TV's input source to HDMI.
Step 6: Once the cast action launches, follow the on-screen instructions to navigate and access the media files on your smartphone.
NOTE: You can set some TVs to switch automatically to MHL whenever a compatible device is connected.
Go to the Settings menu and activate "Auto Input Change (MHL)" if it's available on your TV.
Conclusion
Before wireless screencasting became a thing, MHL was an essential feature of smartphones.
If you use an older model Samsung phone, you may be missing out on an exciting wide-screen experience. Find out if your phone is MHL compatible today.
Follow our guide to set up an MHL connection with your TV or projector. Why manage your phone's screen when you can have so much more!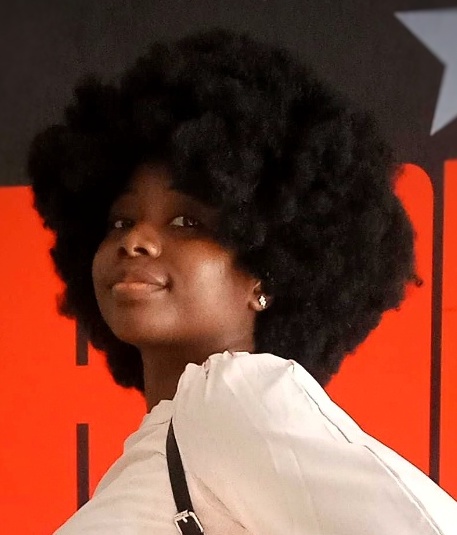 Gabriella 'Diogo is a content writer with a vested interest in tech hardware and equipment. She shares her knowledge and processes in an easy-to-grasp, lighthearted style. When she's not testing or researching device performance, you'll find her writing short stories or rewatching episodes of her favorite sitcoms.