Today, DIY projector screens are already common. Instead of people buying an expensive screen, they turn to make it themselves. This not only saves money, but it's also a fun project for anyone.
If you decide to take the project, it's best if you make it look and function like the real deal. How do you do that?
You'll need to choose the best projector screen material. You'll need to get a screen material that provides clear and high-contrast images.
However, it can be hard to find the best one. There are so many different screen materials available.
Here, we'll help you by naming a few of the leading screen materials. You'll then be able to choose a material that gives you a real high-quality projector screen experience.
We're going to talk about the 5 best projector screen materials, what it's made of, and what it can do.
IN A HURRY? HERE'S OUR TOP PICKS
5 Best Projector Screen Materials for your DIYs
Now, let's talk about the 5 best projector screen materials that you can find for your DIY screen project. (Also, you might wanna check: How to Make a DIY Projector)
1. Blackout Cloth
Blackout cloth is 70% polyester, 30% cotton, and coated with layers of thin rubber. This combination gives it unique properties for projecting images.
Each side of the blackout cloth serves two different purposes. The smooth side reflects light, while the foamed side absorbs or blocks light.
Because one side reflects light and the other absorbs it, you get the right amount of light reflection and absorption. These properties produce high-quality images when projected on.
Still, since you can only project images on the smooth side, you'll need to use it in a dark room. Ambient light can wash out the colors, even though the other side blocks out light.
Another great thing about blackout cloth is that it's very sturdy. It isn't the kind of material that easily wrinkles or creases.
Blackout cloth gives you great images for a very affordable price. It doesn't even reach half the cost of a projector screen.
If you choose blackout cloth for your DIY screen, we recommend you go for Carl's Blackout Cloth. It's made for the specific purpose of DIY projector screens. You can expect it to have the best quality, the right sizes, easy installation, and so much more.
Last update on 2023-05-28 / Affiliate links / Images from Amazon Product Advertising API.
2. Spandex Fabric
Another great material for a DIY projector screen is spandex fabric. It's made from 80% nylon or polyester and 20% spandex.
The 20% spandex in the fabric is what makes it so stretchable. You can stretch it four ways, crosswise and lengthwise.
Its stretchability offers many benefits.
For one, you don't have to worry about wrinkles and creases. A good stretching can remove any of that.
For another, you no longer have to frame this projector screen material. You can hang it up by stretching it on all four corners. This makes it a portable screen you can put up and take down at any time.
Since it's so stretchable, you might have some worries. Will you be able to see the thread weaves, disturbing the images?
It won't. Spandex fabrics have fine and uniform thread weavings. No matter how far you stretch it, you won't see it.
The 80% nylon or polyester is what makes this fabric reflect and bounce light. With its high reflectiveness, you'll get the best out of this fabric in dark rooms only.
Unlike blackout cloth, spandex fabric has the front and rear capability. This means that you can flash the projector on any side you want and still enjoy great images.
If you want something like perforated screens, then spandex fabric is the right choice. Sound can travel through the nylon or polyester and spandex. This means it's acoustically transparent even with many layers of fabric.
You'll be able to hide your speakers behind this kind of screen material.
We recommend Ylife's take on this DIY projector screen material. It comes with ready-installed borders, holes with fabric grommet, and everything else you need to install it.
Last update on 2023-05-29 / Affiliate links / Images from Amazon Product Advertising API.
3. Fiberglass Fabric
Made from 100% fiberglass with a PVC coating, you won't get any other projector screen material like this one.
It has a special matte surface that's made to enhance the image details. It has a smooth stiffness that offers precise definition with a black and white contrast.
Like the blackout cloth, it works to reflect and absorb light at the same time. The fiberglass gloss counters the black PVC coating at the back. This is what makes the material matte.
Unlike the other screen materials, though, fiberglass fabric works great in bright rooms. This is because of its matte surface that shows high-contrast even with ambient light.
Fiberglass fabric was built to last. It has mold, mildew, and fire resistance properties that protect it.
Not only that, but it's also washable. You can wash it with water and soap. Washing won't cause any wrinkles or creases because of fiberglass stiffness.
Bear in mind that fiberglass fabric is going to cost you more than the other screen materials. If you think it's worth it, then go ahead.
Our recommendation for fiberglass fabric is from ProScreens. This particular one is great because it's gray, meaning contrast will be much higher. It has a 110-degree viewing angle for everyone to enjoy. And it has a gain of .8.
Last update on 2023-05-29 / Affiliate links / Images from Amazon Product Advertising API.
Cheap Projector Screen Material
Compare the prices of the 3 best screen materials to an actual projector screen. You'll see right away that the alternatives are much cheaper.
But there are even cheaper projector screen materials that you can use. And these are the ones that are very budget-friendly.
It won't provide the quality like an actual screen. But it does provide a good enough surface to enjoy the projected images.
4. Sheets
A white, thick sheet can work as a projector screen. Just make sure that you smooth out any folds that could ruin the images.
The reason why you need thick sheets is that a thin sheet will allow the light to pass through it. Thick sheets will keep the light on it.
If you don't have a thick sheet, then layer many thin sheets together. Or, you can place a dark sheet at the back of a white thin sheet. Do this to keep the light on the sheets so you can actually see the images.
This is the best way to use sheets as a projector screen.
5. Wrapping Paper
Yes, you can even use wrapping paper as a projector screen. You'll need a lot of wrapping paper, though. And a lot of setting up.
The white side of the wrapping paper is glossy. As you already know, this reflects light, a great property of any projector screen.
The colorful side is for adding some darkness so that the light doesn't pass-through the paper.
What are Projector Screens made of?
It's important to know what projector screens are made of. With this knowledge, you'll get a better idea of what to look for in screen material.
There are 3 types of projector screens. There are vinyl screens, perforated screens, and rigid screens.
The vinyl screens are the most common. Its smooth surface and magnesium carbonate coating allow it to be very reflective.
The reflectiveness bounces off the light that hits it. This makes it viewable at any angle or distance. But it also reduces image contrast.
The perforated screens have very tiny holes in them. It's made of some sort of strong PVC material.
These tiny holes allow you to mount your speakers behind the screen. It's great because you can have the sound come right out with the images.
The downside is that you'll lose some of the light from the holes. Also, you'll be able to see the tiny holes if you stay too close to the screen.
Then finally, the rigid screens, made from acrylic and technology embedded processes. These are the gray or black projector screens you can find.
Rigid screens have a different effect as it absorbs light instead of reflects it. This absorption allows great visuals even in bright rooms. Furthermore, you get a better contrast between dark and light colors.
Conclusion
So now that you know about the projector screen materials out there. You can choose what fits your needs and preferences, as well as your budget.
Start creating that projector screen for movie nights, meetings, or any other presentations.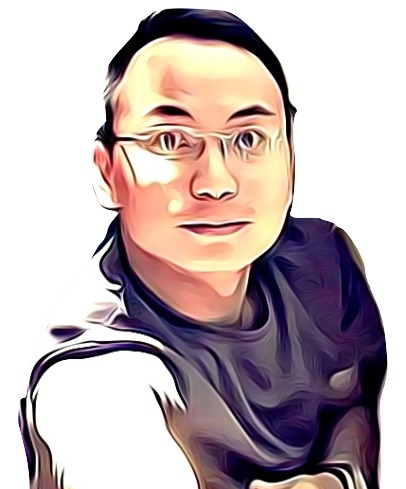 Vance is a dad, former software engineer, and tech lover. Knowing how a computer works becomes handy when he builds Pointer Clicker. His quest is to make tech more accessible for non-techie users. When not working with his team, you can find him caring for his son and gaming.