Do you know the viewing experience reduces drastically when visuals are not well complemented with a good sound system if you are watching a video with a projector?
So, even if your projector has the highest HDR (high dynamic range) or it renders at 4K resolution, the quality of the sound you get when playing videos decides your final satisfaction.
To understand the importance of having quality sound, consider watching your most anticipated blockbuster movie without a sound or with very poor audio. You don't want to stay long in that imagination, right? Yes, it is very boring!
Just as important as the sound system is the sound system setup – Yes, I mean where you put your speaker goes a long way in the final audio output of your projection.
We want to know if the idea of placing our speaker behind a projector screen is a good idea. Therefore, if you want to know about the best quality speaker that can be used with your projector, check here.
What are the different ways of setting up a speaker with your projector?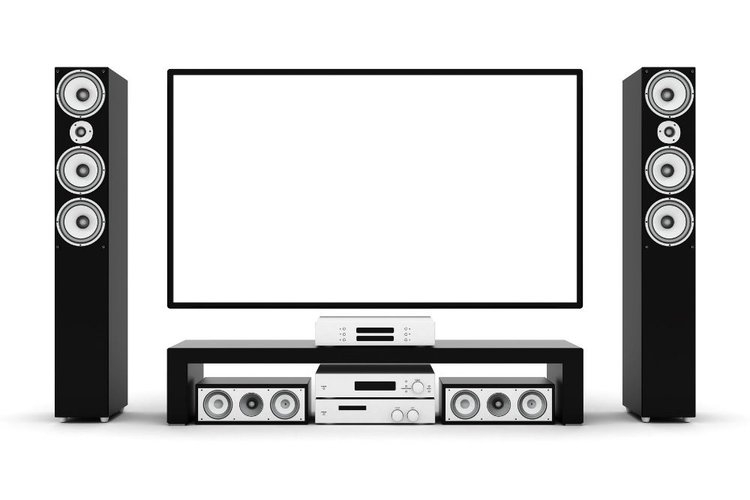 Speaker setup is very essential in delivering top quality and pure sound from any media player. Missing the right setup can give you undesirable sound irrespective of your sound system.
The choice of your setting is dependent on two major factors. These are:
The size of the room
The type of speaker
The list above is an intentional order because it is essential to know the size of your room before purchasing a speaker.
Symmetry
When the speakers and the listener form a triangle where the listener is at the apex of the symmetry. The purpose is to achieve an acoustic symmetry with the two speakers. It is achieved by having equal distance between the speaker and the wall surrounding it
This type of setting is good for people looking for equal loading of sound from every corner of the room.
Top corners
This type of sound system setup allows sounds coming from the corners of the room to meet at the center of the room. The sound achieved with this type of setting doesn't balance with the ear level.
If you intend to use this type of setup, you will require a minimum of four speakers to cover the room. So instead of using this setting to achieve equal loading of sound in the room, consider the symmetry setup.
Centering
This article is centered around this type of setup. It involves putting your speaker directly in front of you (audience) and the screen.
In the case where your screen is a projector screen, the speaker can be put behind the screen or in front of the screen.
Can you put speakers behind a projector screen?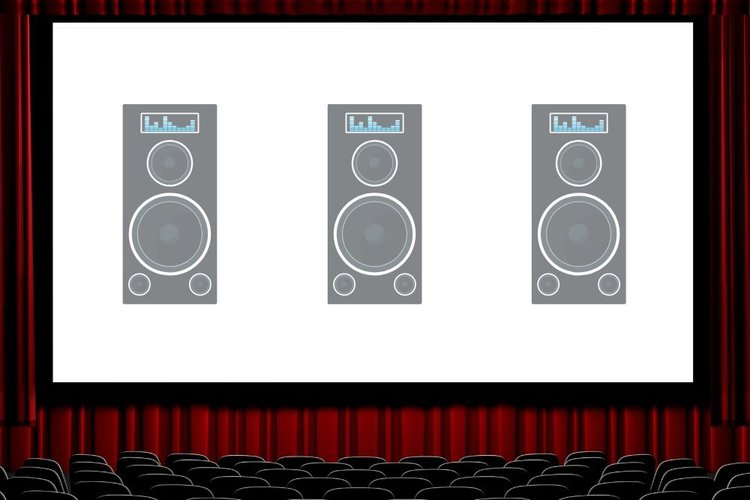 From the different sound system setups we have considered; it is very possible to place your speaker behind your projector screen.
So, if you have the required screen type, you can consider moving your speaker behind your screen.
Is it a good idea?
Projector screens are mostly placed at eye level or a little above eye level which is also at the same level as the ear.
Sound travels in a straight line, so, having your speaker behind your projector screen, places you at an advantage of sound traveling directly into your ear. Having sound travel directly into your ears has helped you pick every detail of the audio.
I know you are probably thinking of moving your speaker behind your screen to improve the sound. Wait! The type of screen you have will decide if this is a good option for you.
If you have a plane screen don't even try this out because you are going to mess up the sound. When sound hits a plane surface, it echoes.
There are special screen types that are made for this type of purpose. This type of screen is known as an acoustically transparent screen.
What is an acoustically transparent screen?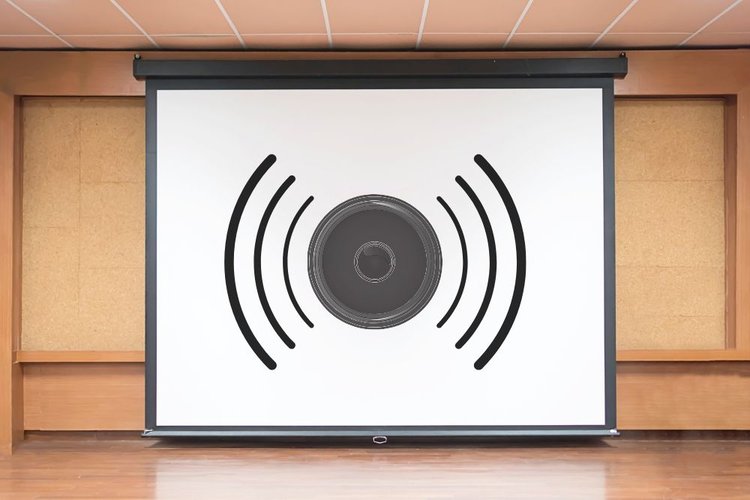 These are screens that allow sound to travel through them without reflection (echo). These types of screens are either woven or perforated.
These screens add more fun to your projector viewing experience by hiding away your speakers. The hidden speaker makes the sound experience feel like the screen has a built-in speaker.
Some of the best acoustically transparent screen in the market include:
Elite Screen Sable Frame AcousticPro: This is one of the best perforated acoustic screens on the market. It measures a diagonal length of 100-inch and an aspect ratio of 16:9. One significant advantage of Moiré-Free screen material is the gain of 1.
Last update on 2023-05-31 / Affiliate links / Images from Amazon Product Advertising API.
Silver Ticket Products STR-169120-WAB: This is a popular and high quality woven acoustic screen. It measures a diagonal length of 58.875-inch tall and 104.5-inch wide. The screen gain is about 1.15.
Last update on 2023-05-31 / Affiliate links / Images from Amazon Product Advertising API.
Due to their special features, acoustically transparent projector screens are quite expensive. If you want to enjoy this feature but you don't have the money, you may consider watching this DIY video.
Building a flip up 135" projection screen - Silver Ticket Acoustically Transparent Klipsch Speakers
Pros and Cons of putting your speaker behind your screen
Acoustically transparent screens have about 10% of the screen with holes. This is the feature that enables it to allow sound to pass through it without an echo.
This feature gives it the acoustic advantage but substitutes with image projection quality. Let's see some of the advantages and disadvantages of having your speaker behind the screen.
Pros:
Hidden Speaker: Your speaker is hidden from the eyes. This gives a sense of sound coming out from the screen.
Perfect sound output: Sounds are heard perfectly when they are at the ear level. Since your projector is on the eye and hearing level, the sound output is perfect for the room.
Improve sound and projection experience: Having your image and sound coming out from the same source makes your viewing experience better. This is one of the reasons why most people choose theater over watching in the home.
Removal of projection obstruction: putting your speaker in front of your screen can obstruct the line of projection.
Cons:
Less sound passage: Sound has a limited perforated hole to pass through, so, some of it is still reflected back.
Low color temperature: Bright colors are not well projected with the perforated or woven screen.
Imperfect image projection: A condition known as "Doubling image" will occur. Image doubling is a factor in which light from the projector is projected to the surface behind the screen.
Moire effect: Moire effect is an image distortion due to uneven weaving on the screen. This effect is very common to perforated and woven screens.
How to improve this setup
To improve on this setup, you may consider doing the following:
Use material with Moire-free effect.
Use material with higher acoustic property
Conclusion
Having your speaker behind your projector screen will exponentially increase your viewing experience when using your projector as a home theater.
But before you can enjoy this fun, you will need an acoustic transparent projector screen. If you have got one, then it is time to improve your viewing experience.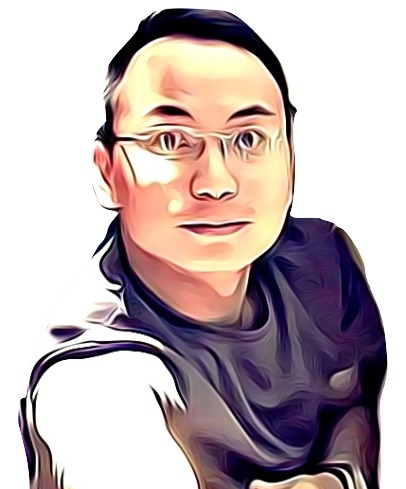 Vance is a dad, former software engineer, and tech lover. Knowing how a computer works becomes handy when he builds Pointer Clicker. His quest is to make tech more accessible for non-techie users. When not working with his team, you can find him caring for his son and gaming.