Are you new to using your projector? You may still be having a hard time with feeding video files into it for projection.
To use a projector, you have to provide it with data. The data may be video or image media which you want to project.
There are many ways to supply your projector with data. You can enable wireless connections on your projector.
Wired connections are more common. They involve the use of connection ports visible on the body of your projector and other media devices.
One of these ports is the VGA port. It enables video streaming between devices.
If you're wondering, what a VGA port looks like, this article is for you. It describes the VGA port, its functions, and how to use it.
What is a VGA port?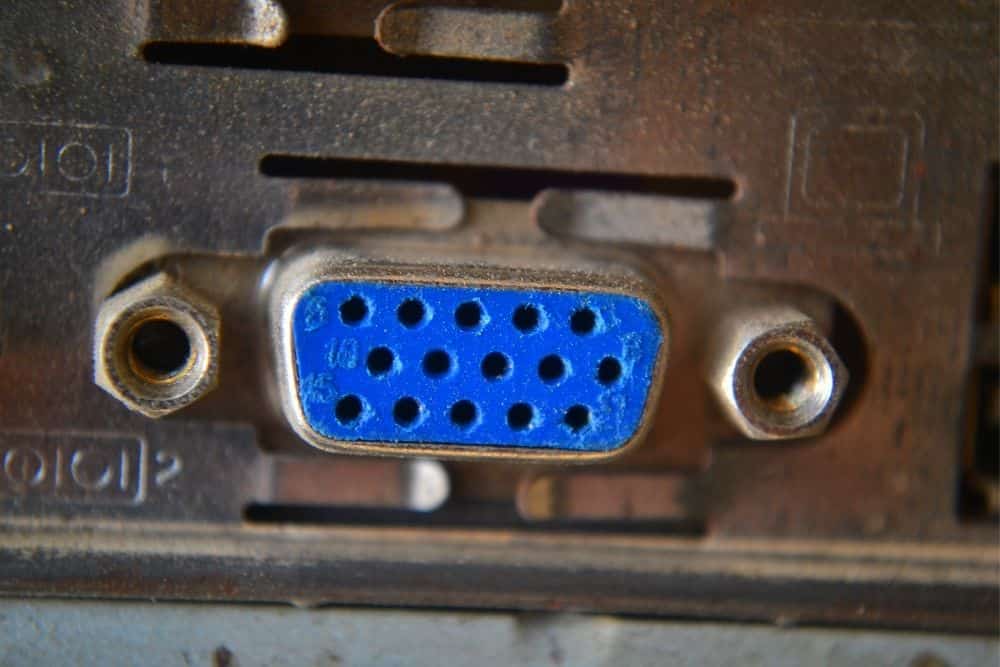 The VGA connector is used for connecting your computer and laptop to display devices.
It can be used for receiving video signals from a computer output and into a projector for display.
VGA stands for video graphics array. It was first developed in 1987 and was developed by IBM.
As time went by, it became a common feature of display devices like desktop and laptop computers, HDTVs, and projectors.
The VGA connection used to be very common. Now, it is being replaced by more efficient connection types.
This does not mean that it is now scarce. It is still common in older devices today.
The VGA connection makes use of analog RGB signals. For this reason, it displays at a native resolution of 640 × 480.
It supports higher resolutions, up to HD. However, it displays them in a lower quality on large screens.
To use the VGA port, you will require a VGA cable.
Last update on 2023-05-29 / Affiliate links / Images from Amazon Product Advertising API.
VGA cables come with two male ends. These ends are plugged into the VGA port on both devices to create a connection.
What Does a VGA Port Look Like?
The VGA port is also referred to as the female connector. It is a receptacle and is found in display and media devices.
The VGA cable is plugged into the port. The port can serve both input and output functions, depending on the device.
The VGA connector on your device is a 15-pin port with a D shape. It often comes in the colors blue or black.
Due to the shape of the port, your cable can only fit in one way. Take care to turn it right before pushing it in.
The cable male connector also has 15 pins to fit into the port. If pushed in wrongly, the pins may bend.
There is another way to identify the VGA port. There is usually a symbol close to it.
The symbol is a rectangle bracketed by two lines on each side.
The 15 pins on the VGA cable all serve various functions. Together, they transmit video and sync signals.
Pins 1, 2, and 3 transmit the RGB component video signals. Pins 6 – 8 transmit the RGB analog grounds.
Like that, all the other pins serve their own individual functions. Some are in charge of horizontal and vertical sync.
How Do You Use the VGA Port on Your Projector?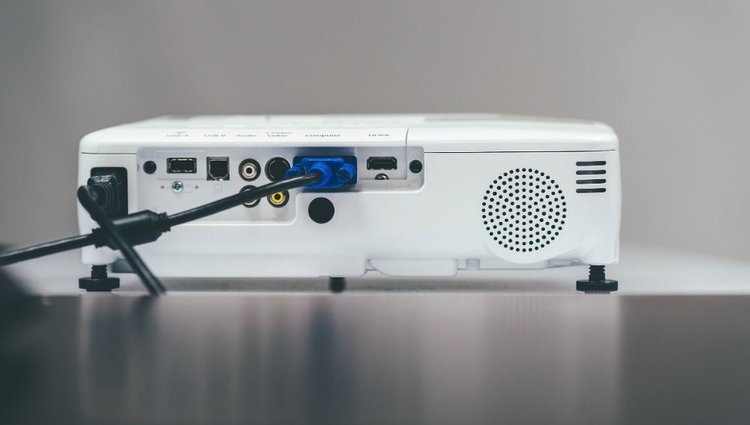 You can use the VGA port like the HDMI, to receive videos for projection. You can connect the projector to a laptop or computer.
The connection is easily made with a 15 pin dual male VGA cable.
Follow these steps to connect your devices with VGA:
Step 1: Turn off both devices
Step 2: Connect one end of the VGA cable to the computer's output port
Step 3: Plug the other end of the cable into the projector's VGA port
Step 4: Plug the projector's power cable into the power outlet.
Step 5: Press the 'Power' button to turn on the projector
Step 6: Switch on your computer or PC
Step 7: For audio, connect an audio cable to the AUX port on the computer.
Step 8: Plug the other end of the audio cable into the projector or an external speaker.
There are four options showing what kind of display you can have with your connection.
PC screen only
Duplicate
Extend
Second screen only
To select your desired option, press 'Windows + P' on the computer.
The Menu will be displayed. Then, you can choose the option that suits you best.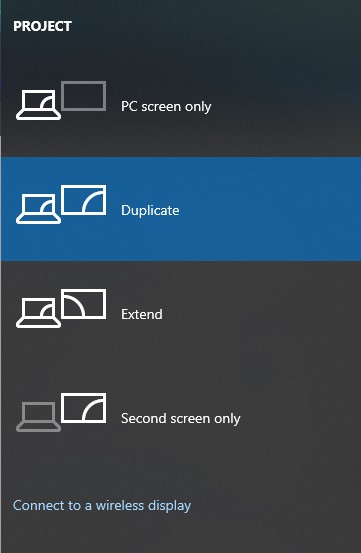 NB: Unlike some other connector types, VGA should not be hot-plugged. This means you should not connect or disconnect while your computer is running.
Doing this may result in complications with the graphics card. Modern systems come with protection against that, but some manufacturers don't go to the trouble.
FAQs
1. How do I know my VGA port?
The VGA port is quite distinctive on the projector or computer. It is a D-shaped receptacle with 15 pin ports.
The shape is so that you can only insert a cable one way. It is also usually black or blue in color.
Usually, there's a symbol above the VGA port. This symbol is a rectangle with a vertical line on each side.
Find the port matching these descriptions and you have found your VGA port.
2. Is VGA as good as HDMI?
VGA connections transmit analog video signals. HDMI on the other hand, transmits digital signals.
This means that HDMI can access a higher amount of transferable data. As a result, it displays pictures in higher resolution and quality.
VGA has its advantages. It experiences less lag because it doesn't have to process analog signals before displaying.
However, HDMI is the more modern and convenient choice. It transmits both audio and video signals.
3. Is a VGA port the same as a serial port?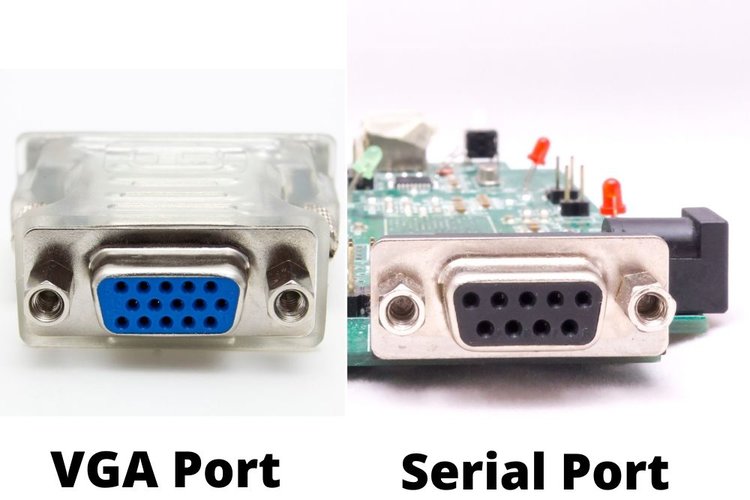 A serial port is an interface for serial communication. Information is transferred in or out of it in sequence.
Serial ports on computers can be used to transmit data between the computer and certain peripherals like printers and mice.
The serial port cannot transmit video signals. This makes it very different from the VGA port.
The only similarity between VGA and serial ports is in their appearance. They have a similar D shape, but the serial port has a 9 pin arrangement.
Conclusion
Your projector may come with different ports for different purposes. It can be trying to figure out the function of each one.
The connector aids the streaming of analog video signals but it has its limitations.
Some modern devices still come equipped with VGA ports. However, it is increasingly being replaced by newer interfaces.
Digital transmission interfaces like the HDMI and DisplayPort are becoming more common.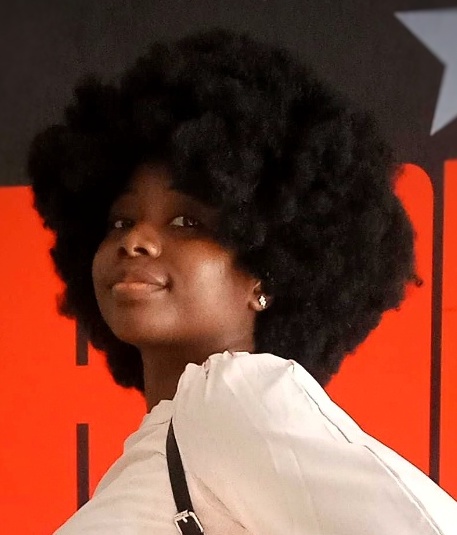 Gabriella 'Diogo is a content writer with a vested interest in tech hardware and equipment. She shares her knowledge and processes in an easy-to-grasp, lighthearted style. When she's not testing or researching device performance, you'll find her writing short stories or rewatching episodes of her favorite sitcoms.