Any top-of-the-line home spa is not complete without a luxurious bath, scented candles, and of course, a TV.
TVs in bathrooms can be a hit or miss, so you want to make sure your bathroom's digital addition blends seamlessly into its surroundings. But, can you install just any old TV in your bathroom?
In this article, I'll walk you through how to safely put a TV in your bathroom and share our top TV ideas for your lavatory, be it big, small, or modern.
Are you ready to soak in the tub while watching your favorite shows, and take your bathroom from economical to extravagant?
Let's get started!
Is It Safe to Put a TV In My Bathroom?
Yes, it's safe to put a TV in your bathroom as long as you use a waterproof TV.
Regular TVs, like the ones you'd find in your bedroom or living room, are not fit for use in a humid setting, like a bathroom.
So, you'll need to use a special waterproof TV that can withstand your bathroom's moist and hot climate.
Standard TVs will eventually break after being exposed to your bath or shower's steam.
Not to mention, you could even electrocute yourself by touching the TV with wet hands or instantly break the TV after accidentally splashing some water on it.
When mounting a TV, you also want to be wary of your bathroom's pipes and wiring, since the last thing you want is a flooded bathroom after trying to mount a TV directly above your toilet.
If you do decide to recess the TV inside the tile so its screen is flush with the wall, make sure you have a very experienced tiler to help you. They'll ensure that your TV is securely fitted into your wall and isn't compromising your bathroom's aesthetics or its plumbing.
While waterproof TV brands aren't as widespread as standard TV manufacturers, there are a few notable ones I recommend checking out.
One prominent waterproof TV brand is Ocea TV. However, there are several other trusted bathroom TV brands that produce high-quality, waterproof TVs, like this Soulaca 22-inch Bathroom Smart Magic Mirror LED TV.
Whichever brand you decide to go for, make sure the TV product description expressly says it's "waterproof," as "water resistant" TVs are still prone to water damage if overexposed to moisture.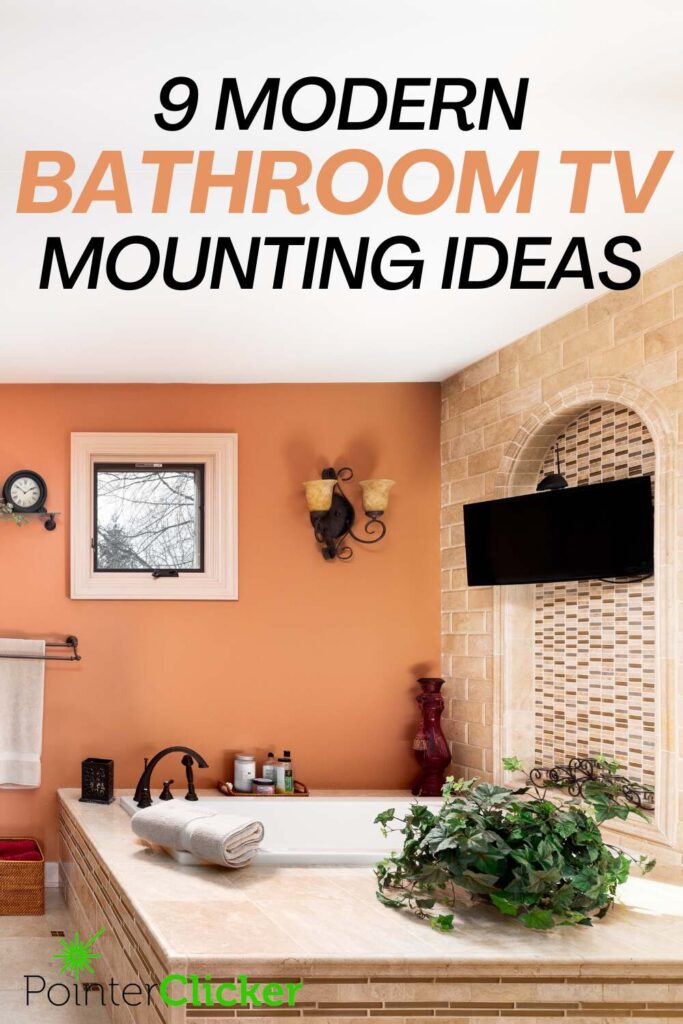 TV Ideas for Your Master Bathroom
Your master bathroom is the perfect combination of luxury and class. With its spacious square footage, there's more than enough room to install a TV in it, and the clawfoot bathtub is longing for an entertainment system to match its timeless eloquence.
These TV ideas will complement your master bathroom's chicness while also not overwhelming its calming energy.
1. Attach Your TV to a Swivel Mount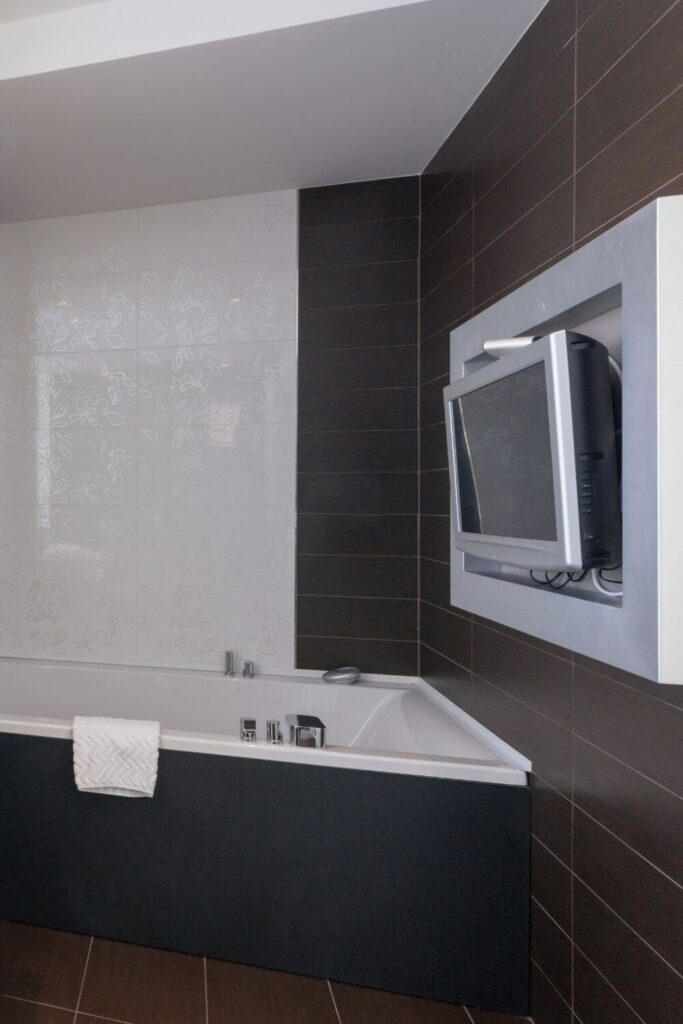 If your master bathroom's bathtub, sink, and toilet are somewhat distant from one another, consider attaching your TV to a swivel mount.
This mount can be placed on any wall of your bathroom, allowing you to tilt the screen to wherever you're hanging out.
For instance, if you're soaking in the tub, you can point it in that direction.
Or, if you're making yourself up in the mirror, you could point the TV towards the vanity.
Swivel mounts are easy to find and budget-friendly, so your bathroom TV setup won't break the bank.
Best of all, affixing a swivel mount to the wall is a simple process, so depending on your wall material and plumbing configuration, you may even be able to mount the TV yourself.
When looking for a swivel mount, be sure to purchase a model compatible with your TV.
Oftentimes, TVs will comply with certain VESA standards, so you can easily purchase a mount that fits your TV.
You'll also be able to easily pull out and retract the TV, so it can be safely nuzzled into a corner of your bathroom when not in use.
There are also swivel mounts for almost every TV size, so you're bound to find one that fits your TV.
2. Mount the TV Next to Your Bath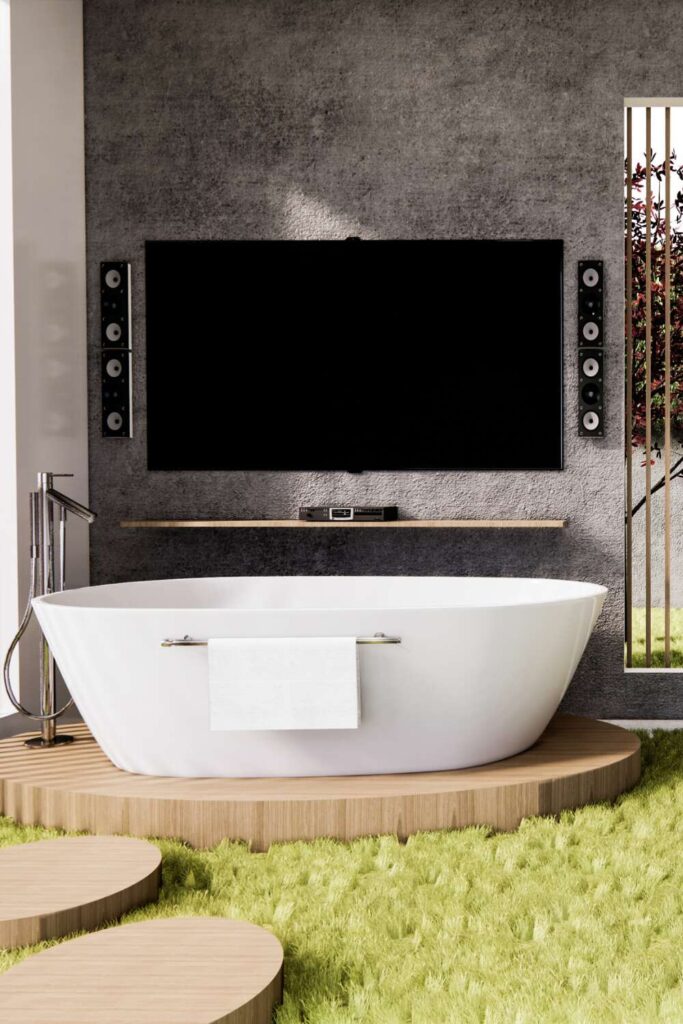 Mounting your TV in front of a bathtub is one of the most popular ways to install an entertainment unit in your bathroom.
The TV will often be recessed into the wall next to or in front of your bathtub, so you can enjoy the suds while watching your favorite shows.
It's especially important to use a bathroom TV for this setup as the unit will be particularly prone to your bathtub's steam and any stray water droplets that may fall on it.
As this setup usually involves a recessed TV, you will have to hire an experienced contractor to install the TV for you.
Otherwise, you risk making a mess of your bathroom tile, bursting a pipe, or damaging your bathroom's electrical wiring.
Still, once the TV is installed, all you need to do is pop on a face mask, grab a fun drink, and chill in the tub.
This setup may be more complex, but it's certainly one of the more luxurious options on this list.
Anyone who uses your master bathroom will be stunned at how seamlessly the TV fits into the rest of your decor.
When it's on, it will add a touch of modernity to your space, but when it's off, you'll scarcely notice it.
3. Accentuate Your TV with a Waterproof Frame
We've all heard of and drooled over Samsung's stunning Frame TV, and it seems like anyone who can afford one, has one.
While Samsung's Frame TV isn't waterproof and will quickly break if exposed to humidity, there is a way you can DIY your own bathroom-friendly one.
Head to your local hardware or craft store and look for a waterproof frame.
These frames could be made of plastic, waterproofed wood, or any other material that will stand the test of time against moisture.
If you don't like the look of plastic, you can paint it to look like wood or another more aesthetically pleasing material, such as marble.
Once you've crafted your frame, simply secure it around your TV and you're good to go!
This simple DIY project will take your bathroom to the next level and you can customize the frame to fit your theme.
If your bathroom is simple and minimalist, choose a white or black frame.
However, if your bathroom is full of rich browns, try a wooden or imitation wooden frame.
Should your TV be recessed into the wall, you can attach the frame to the wall around it using moisture-proof adhesive.
Most waterproof TVs use touch screens, so you won't have to worry about the frame blocking the TV's infrared sensor.
Watch the YouTube short below demonstrating how to DIY a TV frame at home.
TV Ideas for Your Small Bathroom
With homes in crowded cities getting smaller and smaller, your bathroom may not be the presidential palace you'd like it to be.
With scarcely enough room for a shower, toilet, and sink, can you find space to put a TV in there too?
Yes! Don't be fooled by your bathroom's measly square footage. There are a few clever ways you can sneak a TV into it without making it impossible to maneuver around.
These TV ideas are perfect for your compact bathroom and will help transform your space from drag to digital in no time!
4. Mount the TV to the Ceiling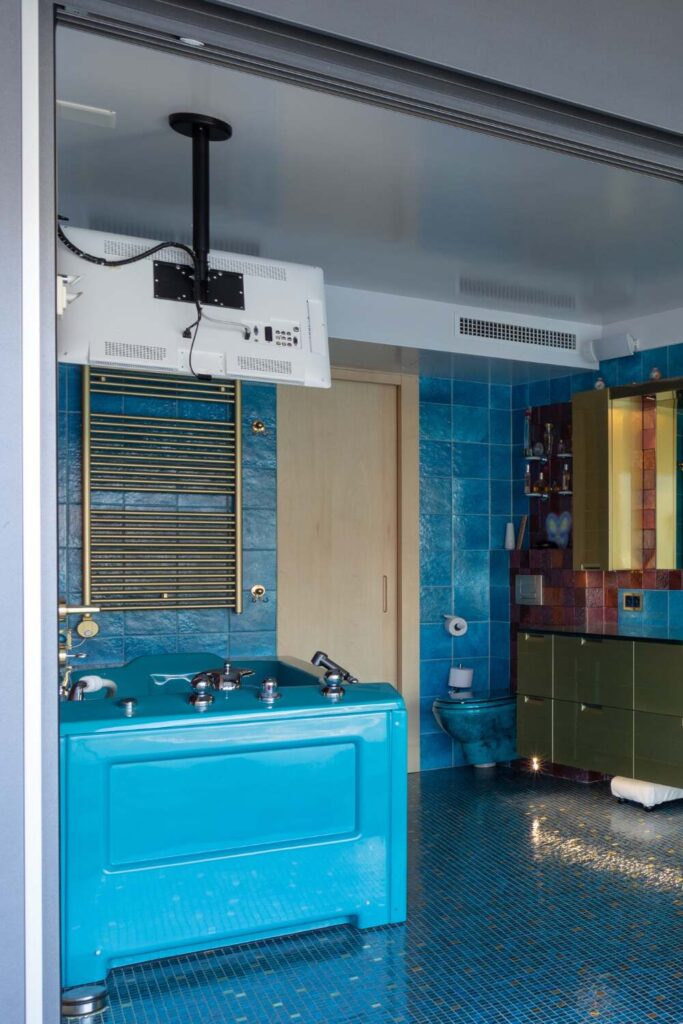 Your wall space may be limited, but your ceiling is completely empty. So, why not use this opportunity to mount a TV to your ceiling?
While ceiling mounting a TV may seem more complicated, it's a fairly simple process given you have the right mount, tools, and measurements.
The last thing you want is for your TV to come crashing down into your shower or bathtub.
So, when mounting it, you must ensure it's securely fastened in place.
If you've never mounted a TV before, I strongly suggest having an experienced technician do most of the heavy lifting for you.
Of course, you likely won't be able to reach your TV once it's mounted, so be sure to purchase a waterproof unit that comes with a remote.
Again, it's crucial to purchase a mount that's compatible with your TV model and can safely carry its weight.
There are many sleek and timeless ceiling mounts on the market and you can choose one that matches your bathroom so the TV appears to be magically floating.
Some TV mounts even change direction or retract with the click of a button, so your TV will lay flat against the wall when not in use.
5. Attach the TV to your Shower Wall
While you may think of TVs in bathrooms solely for the lucky bathtub owner, you can also watch movies or the news while relaxing under the shower stream.
Believe it or not, waterproof TVs can be installed in showers and endure constant contact with water.
One thing to bear in mind is where you place your speakers if the TV doesn't have loud enough built-in ones.
Should the speakers not be waterproof, ensure to place them far enough from your shower to keep them safe from the humidity but close enough so you can still hear them.
Since shower TVs will experience more moisture than ones simply placed near a bathtub, you must ensure the TV is installed correctly and that its wiring is completely covered by your bathroom tile.
Otherwise, you risk electrocuting yourself when touching the TV's touchscreen.
When choosing a TV to mount in your shower, I suggest selecting a small screen as you'll likely be standing fairly close to it.
Too large a TV could be difficult to see from such close proximity and end up giving you a headache.
Make sure to also choose a TV that boasts anti-fog capabilities so you can still see the screen as your shower starts to steam up.
Ocea Touchscreen Bathroom TV
6. Install the TV Above a Floating Shelf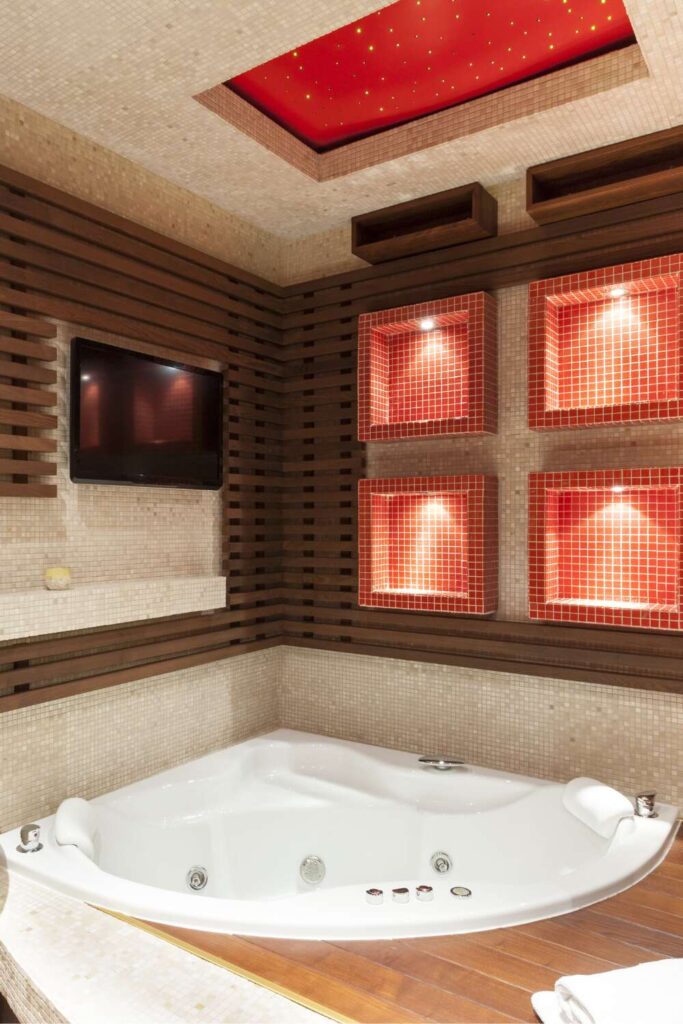 Almost all waterproof TVs are mounted, however, you can give the illusion of a standalone unit by installing the TV above a floating shelf. This shelf can be a simple ledge or contain draws. Either way, it will allow you to seamlessly incorporate your TV into your bathroom while adding some additional storage space.
You can choose a shelf the same color as your bathroom wall or select a take this opportunity to add a pop of color to your space.
This extra design element will also help center your TV in your space, making it look more natural instead of just a random TV in your bathroom.
If you want to add an additional spa-like component, consider decorating the shelf with a bowl or potpourri, rolled face towels, and some electric candles (do not light real candles beneath the TV).
TV Ideas for Your Modern Bathroom
From your brass sink to your clear glass shower, your bathroom is the epitome of modernity. You've customized every detail of your home spa, from the beige, ribbed hand towels to the incense sticks.
While waterproof TVs are a modern luxury, you want to incorporate your digital screen into the bathroom without it taking away from the sleek, minimalist haven you've created.
Luckily, there are a few ways you can add a screen to your bathroom without it looking like you just dragged a clunky TV into the space.
7. Use a Rolling TV
If you've been perusing TikTok or Instagram lately, you've probably stumbled across the popular rolling smart TV. The LG 27-inch StanbyMe Monitor is like a smart TV and tablet all rolled (literally) into one.
It has five wheels and a built-in battery allows you to roll around your home without needing to plug it into an electric socket.
This TV is not waterproof, but if you plan on placing it a safe distance from your tub before your nightly soak, it can be safely used in your bathroom.
Just remember to keep the fans on or open a window so the room doesn't become too steamy.
The best part about this TV is that there's no installation required!
While you will be limited in your TV's placement since it can't come in contact with water, you can freely move the screen around your house after your bathtime.
Just make sure to carefully dry your hands before touching it.
A rolling TV is best for those who don't want to spend copious amounts of cash on a waterproof TV and the professional installation it demands.
StanbyMe TV: The Portable Touch Screen Monitor with Built-In Battery
8. Invest In a Mirror TV
You may have stayed in a hotel with a mirror TV without even knowing it.
These mirror-like TVs are the top-of-the-line of waterproof units with their understated and impossibly sleek appearance.
When turned on, they look like any regular TV.
However, the real magic happens when the TV is off.
As soon as you press its Power button, the screen will transform into a silky mirror, clear enough to see your reflection in!
There are two types of mirror TVs on the market.
The first is a small TV that becomes reflective once turned off, like this unit from the company Bathroom TV.
You may notice that mirror bathroom TVs are typically more expensive than standard waterproof units since their reflective sheen is more desirable.
The second type of mirror TV is the ultimate (and most luxurious) addition to any bathroom.
These stunning units are called vanity TV mirrors and are mirrors with a small built-in screen on them.
As you can see in this example by the company Sèura, the screen illuminates part of the mirror when turned on and completely disappears when turned off.
Needless to say, vanity TV mirrors are incredibly more costly than normal mirror TVs.
That said, if you want a bathroom TV that blows your socks off and aren't bothered spending a pretty penny, a vanity TV is the way to go.
Seura: Vanishing Vanity TV Mirrors for Your Bathroom
9. Install an LED Backlight Behind the TV
If you love taking baths in a dim room, it's a great idea to add some subtle lighting by installing some LED strip lights behind your TV.
As always, you must choose LED lights that are waterproof.
Still, I recommend only using this design element if your TV is installed near your bathtub or on another bathroom wall, rather than in your shower.
You can adjust the LED lights' color and hue depending on what kind of mood you'd like to set.
These lights can be installed behind a mounted TV (not a recessed one), and will not be visible. So, your TV will look like it's floating on the wall surrounded by a colorful halo.
Not only are LED lights modern, but they're also budget-friendly. So, you won't need to make another major purpose to add an extra flare to your space.
As you can see in the video below, waterproof LED lights are completely safe to install near water or even in your shower!
We bet you've never seen bathroom lighting like this before … #bathroomdesign #homedecor #lighting
Wrapping Things Up
Whoever told you there's no classy way to add a TV to your bathroom is sorely mistaken.
Here, I've listed just a few ways you can spice up your space with a bathroom TV, whether you decide to put it in your shower, next to your bathtub, or in the corner of the room.
As always, remember to only install a waterproof TV if you expect it to come in close proximity to water.
Once you've decided where to put your TV in your bathroom, feel free to add some finishing touches like a frame or LED lights.
If you don't have the budget to install a waterproof TV, consider using a rolling TV instead.
As long as you keep it far away from your bathtub and only touch it with dry hands, you should be able to enjoy all your favorite soaking shows for a fraction of the price.
So, how will you add a TV to your bathroom? Do you have any other TV bathroom ideas you'd like to share?
Let us know in the comments below!
Yesenia Achlim is a technical copywriter and editor with a focus on AV equipment. She aims to break down complicated topics and make technology accessible, no matter your technical expertise. When she's not teaching you how to replace a projector lamp, you can find her reading and baking.