Hey there, savvy parent!
We've all been there – long car rides, waiting rooms, or simply places where Wi-Fi feels like a mythical creature.
Not to mention those moments when you want to limit your child's internet exposure.
But keeping those energetic kiddos entertained can be a challenge, right?
Well, breathe easy because we've got you covered.
Welcome to our roundup of the best apps for kids that don't require Wi-Fi. These little life-savers will keep your child happy, engaged, and most importantly, offline.
Stay tuned, because screen time is about to get a whole lot smarter!
Educational Offline Apps for Kids
1. Busy Shape
Busy Shapes & Colors on iTunes, Amazon and Google Play
Recommended Age: 2+
Busy Shape is amazing! It's not just fun to play, it's also educational and specifically designed for toddlers and preschoolers.
My son is learning to recognize shapes and colors while progressing through puzzles of varying difficulty.
He even had to mix colors to complete some levels. He's now figuring out that red and yellow make orange, blue and yellow make green, etc.
I don't let him use the iPad often, but I'm happy to let him play this game every day.
2. Starfall ABCs
Effective Lessons with Starfall ABCs App (iPhone)
Recommended Age: 3+
Starfall ABCs is a super fun and engaging way for little ones to get to know their ABCs. It's packed with cool sounds, stories, and games all about letters.
The grown-ups might need to lend a hand when the kiddos are just starting out on the site. But once they get the hang of it, they'll have a blast exploring it on their own.
The game is like a one-stop shop for everything your child needs to ace the alphabet. Plus, it perfectly sets them up to become early reading whizzes.
Both my kiddos are all about the Starfall apps – they're just so fun and easy-peasy for them to use.
3. Fiete Math Learning for Kids
Fiete Math - App for kids preview
Recommended Age: 3+
Fiete Math is an engaging, color-rich game that employs numerical problem-solving methods designed for children. It simplifies this skill into easy-to-grasp steps, interwoven with a pinch of humor to captivate young minds. It boasts an intuitive tutorial and responsive controls, all set against a charming maritime theme.
Fiete Math effectively simplifies the concept of counting for children.
I appreciate its fun-filled methodology that aids my son in comprehending the fundamentals of numbers. He's especially enamored with the entertaining character who carries a unicorn.
4. codeSpark – Coding for Kids
Coding for Kids - codeSpark Academy with The Foos
Recommended Age: 5+
This app is a total game-changer when it comes to teaching kids the ABCs of coding. Picture hundreds of fun coding games and cool activities all designed to make computer science as easy as pie for the kiddos. It's a thrilling first step into the world of coding and an awesome intro to STEM.
My little one started his coding adventure with codeSpark when he was just 5. Boy, did it spark a love for coding in him! It's been a super educational, yet seriously fun, ride. The game's snazzy graphics are just the cherry on top.
What's more, it even boosts the kids' storytelling skills. They get to craft and narrate their own gripping stories with a cast of charming characters, all through coding. Our friendly battles in Splash Clash have been nothing short of a blast and are totally worth the investment.
5. PBS KIDS Video
PBS KIDS Video App | How-To Download Videos | PBS KIDS
Recommended Age: 2+
If you're looking for a kid-friendly video app, you'll love PBS KIDS Video.
It's a safe space where your kiddos can watch live TV, stream, or even download episodes for on-the-go entertainment. Whenever your family goes on a trip, just download some videos and your kids will be entertained all the way.
This app isn't just a blast, it's a learning tool as well. It's perfect for helping your kiddos learn and develop from a super young age.
And guess what? It's totally FREE! Not just kinda free, but absolutely free. No ads, no banners, no annoying pop-ups. There's nothing to buy, ever. So, you can put your mind at ease about those sneaky charges that creep up in other kids' apps.
Plus, it's all good, wholesome content. No need for those parental worry lines about what your kids are tuning into!
6. MarcoPolo Ocean
MarcoPolo Ocean - Gameplay Trailer
Recommended Age: 3+
MarcoPolo Ocean is a fantastic app for some laid-back learning. It's perfect for letting kids dive into the natural world, fostering their curiosity and creativity.
My little one really enjoys it but wishes the developers would toss in more animals and puzzles to keep things interesting. It's never enough for these curious minds, right?
7. Stack the States
Recommended age: 8+
Stack the States is a pretty cool game where your kids can learn about state capitals, flags, and even some fun facts. It quizzes kids with multiple-choice questions.
For every right answer, the kids get a funky-looking state, and then comes the best part, according to my boy – stacking the states like a Jenga tower.
Honestly, I've got no issues with this game. It's enjoyable, there are zero annoying ads, and it's super educational. My son has a blast playing it.
Plus, I've seen a real boost in his geography smarts thanks to this game.
8. Mazaam – The Musical Genius
Mazaam: The best musical educational app for early childhood development
Recommended age: 4+
Mazaam – The Musical Genius is a cool app composed of 15 different games in five fun animal worlds.
The game has over 140 music tracks to help kids get the hang of things like pitch, speed, and harmony.
One of the worlds is called the "World of Eagles," where kids can help feed some hungry birds while jamming to classical music and figuring out the sounds of different instruments like the violin or flute.
As a parent, I think this game hits the sweet spot – it's a good mix of fun and challenge that my kid just loves.
9. Hopster: Kids Learning Games
Hopster - Kids TV, Nursery Rhymes, Kids Music, Learning Games and more.
Recommended age: 4+
Hopster: Kids Learning Games is a jam-packed app of entertaining, creative, and educational stuff that'll keep your kiddos occupied.
The best part? You can chill out knowing they're still learning in a kid-friendly space.
I've been letting my little one play with this app for over a year now. He was nearly 5 when he started, and the app was a fantastic tool for him to learn about tech while also watching shows on good behavior, science, math, and books. Now, at 6 and a half, he's still hooked on it, with new shows and activities that teach about diversity, kindness, and positive self-image and self-value.
10. Toca Life World: Build a Story
Toca Life World: Create, Design, and Explore
Recommended age: 8+
Toca Life World is a slam dunk for little ones and grown-ups. For the kiddos, it's a great way to flex their creative muscles and learn new skills. Plus, it helps them understand and embrace all kinds of people. For the parents, it's comforting to know that the game keeps things age-appropriate.
But, there's a snag. The game does have a fair share of glitches and it's not just us, others also seem to be tripping over the same issues.
Fun and Entertaining Offline Games for Kids
1. Minecraft
Minecraft: Pocket Edition Trailer 2015
Recommended age: 7+
This sandbox game is really cool because it lets you do whatever you want, with no limits. It's fantastic for kids because it lets them get creative and teaches them about nature, animals, and how to socialize.
Plus, I got to bond with my kiddos by teaming up on missions.
But there's one annoying thing – the joystick controls the Jump button and the potion effect at the same time. So, if I've got a potion effect going on and hit Jump, it takes me straight to the potion screen.
2. Om Nom: Run
Terraria – 1.4.3 Trailer Google Play (ESRB)
Recommended Age: 4+
Om Nom: Run is a delightful arcade action game with a simple, straightforward objective: run, dodge obstacles, and cross the finish line.
I couldn't help but be swept away by its adorable charm. I mean, it's just too cute! My son is completely smitten with the little green monster, who is irresistibly adorable and hilarious.
This game is a heartwarming concoction of cuteness, fun, and solid music, quickly becoming a firm favorite for me. Having played a fair share of endless runners, I can confidently say this one stands out from the crowd.
There's a slight hiccup with ads, but plan ahead for offline play, and your kids will have a blast, guaranteed.
3. Candy Crush Saga
Candy Crush Saga Store Video
Recommended age: 5+ (But kids will encounter great difficulty as they progress)
Candy Crush Saga is a hit, especially with moms, but hey, it's a game for everyone. There are no age limits here.
The game is all about matching candies of the same type to smash them.
You conquer levels by nailing the challenges. It's a fun way for kids to stretch their creative muscles as they figure out how to pair candies to accomplish missions.
The game's vibrant colors and yummy-looking candies are sure to keep the little ones hooked on mission completion.
Plus, if you don't turn on wifi, the game becomes an ad-free joyride for your kids.
4. Find The Differences – Spot it
Find 3 Differences - Spot It | Promo Video
Recommended age: 3+
This game is as simple as the name suggests.
All you have to do is look at the pictures, spot the differences, and tap on them. Each level presents you with two almost identical photos, but don't let that fool you – they're peppered with subtle differences. Your task is to spot them as swiftly as possible.
My little one and I are absolutely captivated by this game! We've breezed through all the existing levels.
However, we've hit a roadblock – there are no new levels left for us to tackle.
So now, we're just hanging around, twiddling our thumbs, eagerly waiting for the game creators to dish out some new challenges.
Just a heads up – you'll need a Wi-Fi connection to get those updates.
5. Cut the Rope
Recommended age: 5+
Check out this game featuring an adorable little green monster! Your job is to feed him delicious candies. Sounds simple, right? Well, there's a catch – you need to cut the rope just right so the candies drop straight into our little friend's mouth.
My son can't get enough of it! He loves the hilarious faces the green monster pulls. When he gets his candy, he's all smiles and giggles. When he misses out? Oh boy, you should see that pout!
Just a heads-up, the ads can get a bit pesky if your kiddos play while connected to Wi-Fi. But switch off the connection and they'll be entertained, captivated by this game for hours on end.
6. Crossy Road
Crossy Road Official Trailer (GP)
Recommended age: 6+
My kiddo is totally into Crossy Road.
The game is full of Disney characters, and his job is to help them dodge traffic, trains, and boats.
But watch out, go too fast or too slow and your character could end up scattered all over the place or splatted on a truck.
The fun part is messing around with all the different looks for the characters – that's what got him hooked.
Just a heads up, though – I'd keep Wi-Fi off while playing.
The ads are a real pain.
7. Kids Preschool Learning Games
Kids Preschool Learning Games - 80 Toddler games - all in one Android App for kids
Recommended age: 3+
Kids Preschool Learning Games is packed with over 150 fun mini-games.
It's got a friendly voice guide, vibrant visuals, and cool sound effects to help your kiddos learn stuff like the alphabet, spelling, numbers, colors, and so much more.
My little guy really got a lot out of KPLG. It helped him learn new things and kept him busy for a while, giving me a bit of free time for my own stuff.
Oh, and here's a tip: you can totally play this game without Wi-Fi. So, if you don't want your kids bombarded with ads, just keep the Wi-Fi off.
8. 2048
Recommended age: 4+
In the game, 2048, you gotta mash numbers together till you get a big ol' 2048 in one box. That means you start off pairing up 2s, then 4s, then 8s, and so on, until you get two 1024s side by side.
The look of the game is super clean and easy to understand. My kiddo really gets a kick out of playing this one – it's tough, sure, but it doesn't drive him nuts, it's just the right kind of challenging.
9. Plant vs. Zombie
Plants vs Zombies App Store Video
Recommended age: 6+
Oh yeah, good ol' Plants vs. Zombies.
It's all about battling zombie attacks, but don't worry, it's kid-friendly, with no blood or gore because of the cool cartoon style.
The game is easy for kiddos to get the hang of it, and they don't even need to read to play.
Of course, reading helps when they're figuring out the trickier parts, but they can learn just by playing.
My kiddo just started playing this game recently and so far, so good – no complaints.
So, it's a thumbs-up from me too.
10. Subway Surfers
FantasyFest Trailer Appstore
Recommended age: 7+
Hey, have you ever heard of Subway Surfers? It's a never-ending running game, similar to Temple Run, but way more fun-loving and less serious.
Picture this: your kiddo is dashing around in a train yard, dodging oncoming trains. And don't worry, there's no scary stuff like blood or gore.
If they bump into any obstacles, they just get nabbed by a guard.
It's a game you'd happily let your little ones play while you sneak in some 'me' time.
My little one can't get enough of this simple yet engaging game. Just a heads-up though – there's been a bit of chatter about a few annoying glitches.
And be on guard, some folks have ended up buying stuff accidentally because the game creators are pretty pushy with their marketing. I mean, some of their bundles are priced crazy high, like a whopping hundred bucks!
What Makes A Good App for Kids
Apps for grown-ups and apps for kids are like apples and oranges – they're just not the same.
So, when you're on the hunt for the perfect app for your little one, here's what you should keep in mind:
Age-Appropriate Content: The content should be educational, engaging, and fit the child's age group.
Safety Measures: It should have parental control features, providing a secure environment where kids can't access inappropriate content.
No Ads or In-App Purchases: Kids' apps should ideally be free of ads and in-app purchases to avoid accidental spending
Educational Value: Ideally, the app should contribute to the child's learning and development.
Engagement: The app should be fun and interactive to keep children engaged for extended periods.
User-Friendly Interface: The design should be simple and intuitive, making it easy for kids to navigate.
Wrapping Things Up
So there you have it, folks!
These are some of the best apps your kids can enjoy without Wi-Fi.
Whether you and your kids are on a long road trip, waiting at the doctor's office, or simply wanting to limit your kids' screen time online, these apps can be real game-changers.
Remember, the digital world can be an amazing place for kids to learn and grow, but it doesn't always have to be connected to the internet. These Wi-Fi-free apps are proof of that.
Until next time, happy offline exploring!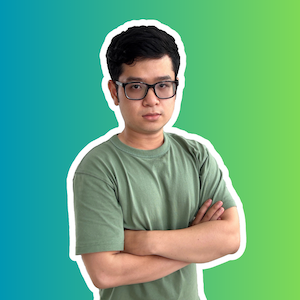 Huy 'Anyxel' Pham is a Pinterest marketer and writer. He's curious about how the human mind works and how people grow mentally. These interests shape his writing, making it useful and valuable. When he's not working, Huy enjoys the peace he finds at his favorite Buddhist temple or while reading a good book.
How was content created? This piece is created collaboratively, with tech editors generating ideas, conducting testing, and proofreading meticulously, while AI assists in fine-tuning.