The HDMI interface has become a part of most digital media devices since 2002. It earned its spot on the leaderboard with its ability to transmit high-bandwidth audiovisual signals over a single cable.
However, like other connectors, HDMI can develop faults. People have reported cases where their TV HDMI ports simply stopped working.
There are several reasons why an HDMI connection may not transmit pictures to your TV screen. It can be due to wrong input source settings, a loose or broken port, or a damaged HDMI cable.
This article explains the possible issues and how to fix them. If you want to figure out why your TV's HDMI port isn't working, keep reading.
How To Check If HDMI Port is Working on TV
If you're transmitting to your TV via HDMI, but the screen remains blank, your first suspicion is that the TV's HDMI port is not working. However, the fault can also be from the HDMI port on your source device or AV receiver.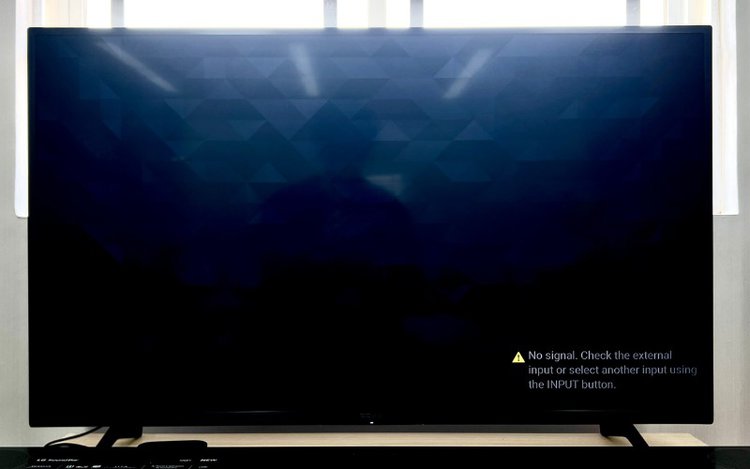 Troubleshoot your HDMI connection to confirm if the TV's HDMI port is working or not.
How to troubleshoot TV HDMI connection:
Step 1: Power on your TV and set the input source to HDMI.
Step 2: Plug an HDMI source device (game console, streaming stick, etc.) into your TV's HDMI port. Ensure the source device is powered on and plugged in properly.
Step 3: If your TV has multiple HDMI ports, ensure you're on the correct input setting. For example: If you plugged the source device into the HDMI 1 port, select the "HDMI 1" input on your TV.
If the TV displays the home screen of the source device, this means the TV's HDMI port is working.
Alternatively, if the TV shows a blank or "No Signal" screen, proceed to the next step.
Step 4: Use a different HDMI cable or streaming stick. If the blank or "No Signal" screen persists, there's a high chance that the TV's HDMI port is broken.
7 Reasons Your TV HDMI Is Not Working: Solutions
1. System Bugs
The issue with your TV's HDMI connection might be a minor glitch or system bug which you can easily correct by power-cycling your TV.
How to power-cycle (soft reset) your TV:
Step 1: Turn off the TV and unplug it from the power outlet.
Step 2: Let it sit and cool for about 15 seconds to 2 minutes (durations vary for different manufacturers).
Step 3: Plug the TV back into the outlet and power on the TV.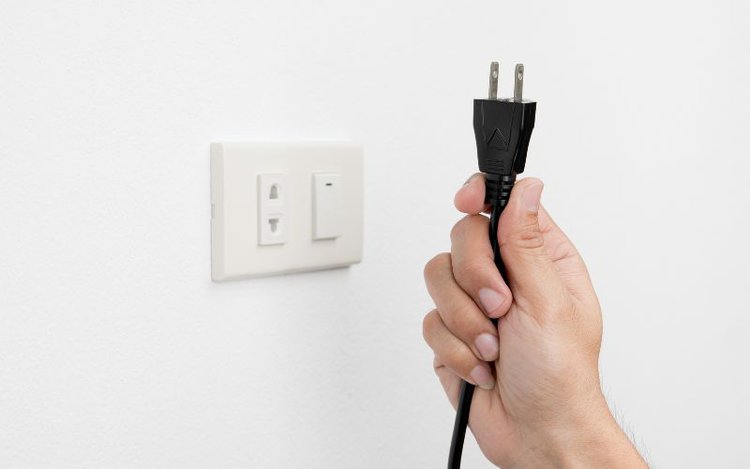 For system bugs and glitches that a restart cannot take care of, try a factory reset.
The factory reset will erase user and cache data, clear stored memory, and restore your TV to its original settings. It also triggers a software update upon reset.
How to perform a factory reset on your TV:
Step 1: Press the Home button on the remote.
Step 2: Navigate to Menu > Settings > General & Privacy > Reset.
Step 3: If prompted, enter the default pin "0000" and press OK.
Note: The steps for TV factory reset vary for different brands. Check your TV manufacturer's manual for more information.
2. Wrong Input Source
Media devices (including TVs) come with multiple connectivity ports to increase compatibility with other devices. Modern TVs may even have multiple HDMI ports.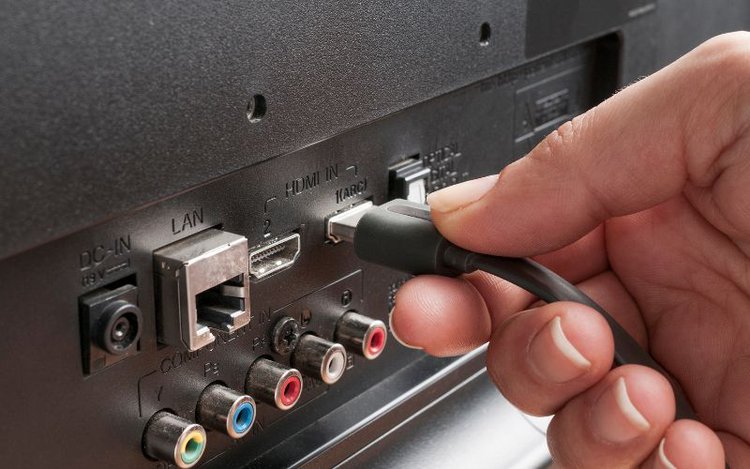 If the input source is set to AV, VGA, or other non-HDMI connectors, the HDMI source device won't transmit data to your TV screen. Ensure you set your TV to the correct input source and specific HDMI port in use.
If there's any device between your source device and TV (i.e., an AV receiver or soundbar), ensure that you set it on the correct input source too.
How to change TV input source:
Step 1: Confirm the specific HDMI port in use by checking the labeling where the ports are located.
Step 2: Turn on the TV and press the Input or Source button on the remote.
Step 3: Select the correct HDMI input.
Step 4: If the HDMI port doesn't work, try switching the source device and input setting to other HDMI ports.
Note: If you're using an AV receiver (or soundbar), the receiver may be faulty. It can also be that either of your devices is incompatible with an HDMI repeater.
If the issue persists, we recommend you plug your source device directly into the TV.
3. Faulty Cable or Source Device
If you plug in your HDMI cable and don't get any picture on your TV, your source device or HDMI cable may be damaged from wear and tear.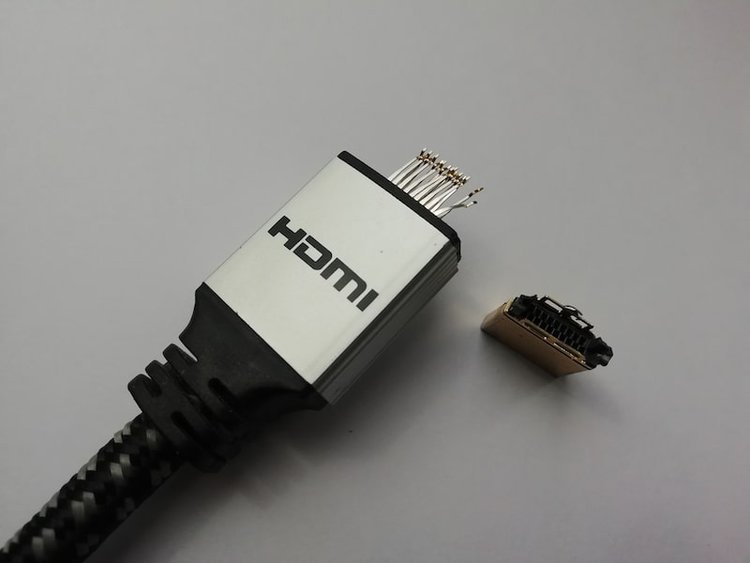 You can avoid this by replacing faulty HDMI cables and using shorter cables that weigh less. Also, if you suspect your source device is damaged, try plugging in a different source device.
4. Outdated Software
Software is a program of codes and basic instructions needed for hardware to function. Smart TVs also run on TV operating system software.
Over a period of time, TV manufacturers release software updates with enhanced features, security improvements, and bug fixes. These updates allow the TV to function smoothly.
Outdated TV software may have bugs that result in lagging, freezing, and HDMI connectivity issues. Most TVs initiate automatic software updates, but you can also perform the update manually.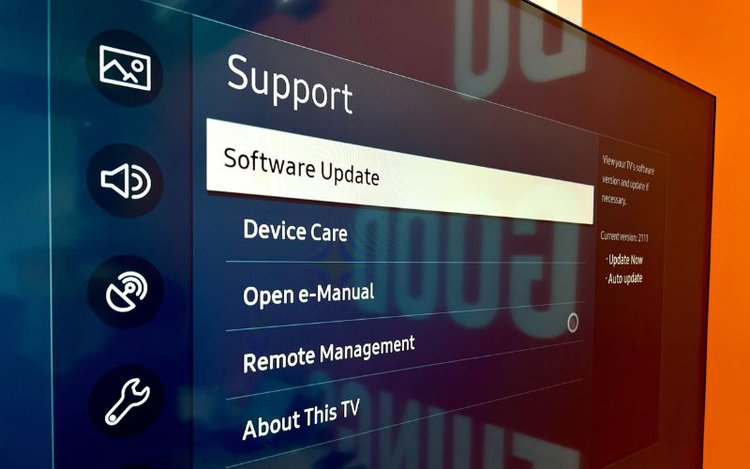 How to update Samsung TV software:
Step 1: Turn on the TV and connect it to a Wi-Fi network.
Step 2: Using the remote, navigate to Settings > Support > Software Update
Step 3: Select Update Now. You can also select Auto Update to enable automatic future software updates.
Note: The stepwise process differs for different TV brands. Check your manufacturer's manual for more information.
5. HDMI Handshake Issue
"HDMI handshake" is the recognition and communication between two devices over an HDMI connection. Handshake issues are often a result of HDCP encryption.
High-Bandwidth Digital Content Protection (HDCP) is a security feature for digital interfaces like HDMI. It serves to protect digital content from piracy.
A handshake error implies that one (or both) of the connected devices does not recognize the HDCP encryption embedded in the HDMI signal/content. As a result, the signals will not be transmitted to your TV.
You need an HDCP-compliant TV to display videos encrypted with HDCP. However, you can bypass the encryption by using an HDCP-compliant splitter.
6. Damaged HDMI Port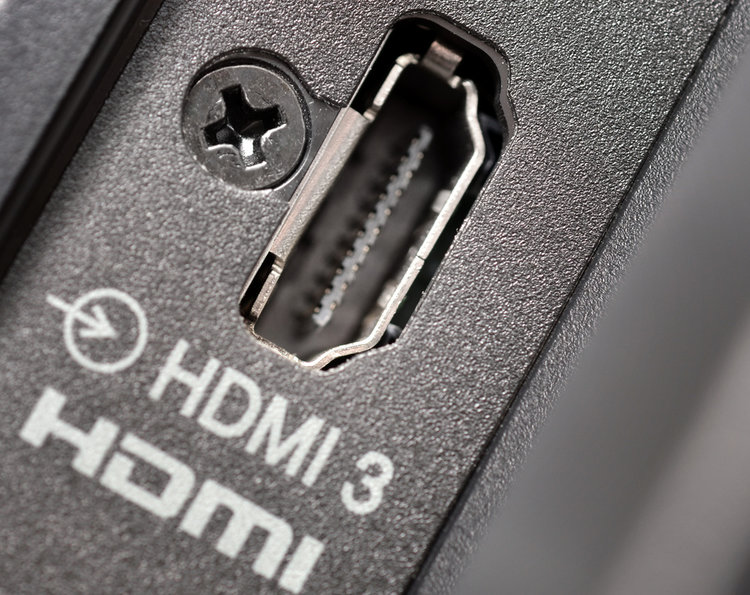 A damaged HDMI will prevent the interface from transmitting any data to your TV. There are two main factors that can damage your HDMI port and we'll explain them below.
Water or moisture can be very damaging to electronic devices. If water gets into your TV ports, it can trigger rust and weaken the connectors to the point where they break off.
Over time, dirt and debris may accumulate in the HDMI port. The accumulated dirt can block the ports and prevent proper connection.
If this is your case, learn how to clean your HDMI port and prevent further damage.
Do you switch input devices or cables often? The friction from regular plugging and unplugging will wear down the HDMI ports or even cause the pins to break.
Also, many HDMI cables have a thick and heavy jacket. When they hang down, their weight exerts pressure on the connection point, causing the HDMI port to expand and fit loosely around the cable.
You can use an HDMI extender to slow down wear and tear. The HDMI extender is permanently plugged into your TV's HDMI port and your source devices are connected to the extender.
Last update on 2023-10-01 / Affiliate links / Images from Amazon Product Advertising API.
In the event of wear and tear, it's easy to replace an HDMI extender. If your TV HDMI port is faulty, we advise you opt for a replacement rather than a repair.
Note: If the problem is just from bent pins, you can try bending them back into place. However, you'll have to disassemble the TV to get to the pins inside the port.
To avoid electrocution or further damage, we advise you leave this to the professionals.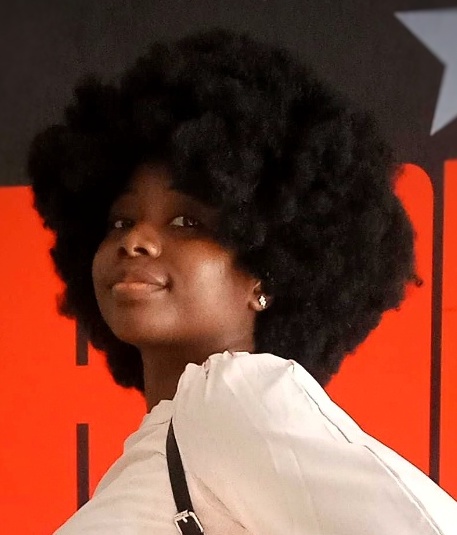 Gabriella 'Diogo is a content writer with a vested interest in tech hardware and equipment. She shares her knowledge and processes in an easy-to-grasp, lighthearted style. When she's not testing or researching device performance, you'll find her writing short stories or rewatching episodes of her favorite sitcoms.