Projectors are becoming a more common appliance in households. They make it incredibly easy to watch shows or movies on a larger scale, making it perfect for those who don't have big TV screens at home.
Traditionally, projectors are mounted onto the ceiling or high on the walls with screws and a sturdy mounting kit. However, if you're renting your space or you're not too keen on drilling holes, don't worry!
Here are 10 ways you can temporarily mount a projector so you can enjoy your viewing experience without making any extra holes in your ceiling or walls.
1. A Projector Stand
Best Projector Stand | Top 5 Best Projector and Laptop Stand in 2022
A projector stand is the best way to safely prop up your projector. It does not require drilling holes or installing mounts on your wall, ceiling, or floor. However, it does require a bit of floor space.
There are models that set up in a similar manner to your regular camera tripod. It may also be height-adjustable to fit the configuration of your space relative to your projector screen.
This mobile projector stand also has a shelf for your laptop to make it super convenient to connect the two devices. It is height adjustable and can be rolled around for maximum convenience.
Purchase a high-quality projector stand to keep your projector safe and secure. It should be sturdy and balanced enough to support the weight of your projector.
Place the projector stand in a place with little to no foot traffic. This can help minimize the chances of anyone toppling over the stand by accident.
2. No-Drill Wall Mounts or Shelves
Easy DIY FLOATING SHELVES No bracket | DIY CREATORS
No-drill wall mounts look like floating shelves compared to the traditional mounts that require drilling into your wall. You can opt to buy a wall mount specifically for projectors or you can use no-drill shelves.
When choosing a no-drill mount, make sure its load capacity can take on the weight of your projector. It is also a good idea to go for heavy-duty mounting adhesive, just to be safe.
You don't want your projector to come crashing down in the middle of your Netflix marathon.
What's excellent about renter-friendly shelves that require no drilling is they can match the rest of your room's decor. You don't have to choose between form and function!
The downside to using no-drill wall mounts or shelves is they aren't adjustable, with the inability to tilt up or down.
You may get away with tilting your projector up or moving it a few inches on either side as long as your shelf has the space. However, if you want to tilt it downward, that might be tricky.
3. TV Wall Mount Bracket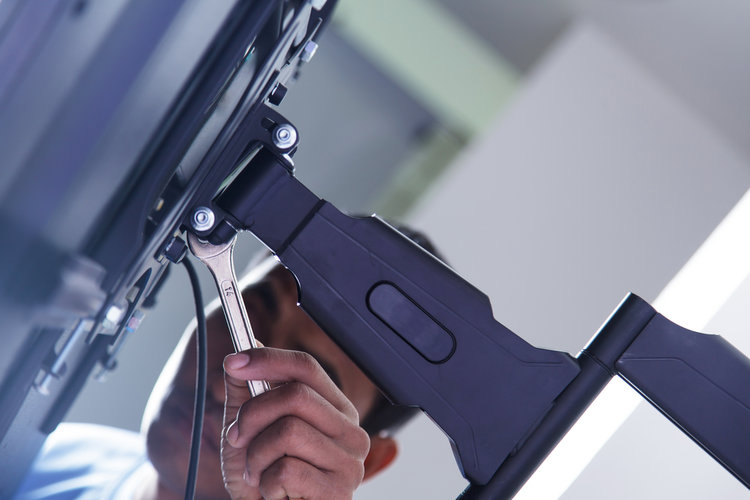 If you live in a place that already has a TV wall mount bracket installed, you can repurpose it to mount your projector. TV wall mounts brackets are sturdy and can surely carry the weight of your projector.
The best TV wall mount brackets to use for your projector are the kinds that can articulate. The extra range of motion can make it easier for you to adjust the projector to display your image properly.
If you plan on using a blank wall with your projector, you have to make sure the wall opposite where you've mounted it is free from decor or windows. If not, you should consider purchasing a projector screen.
TV wall mounts are generally universal and offer lots of areas for you to screw your projector's base to keep everything safe and secure.
4. Clamp Mount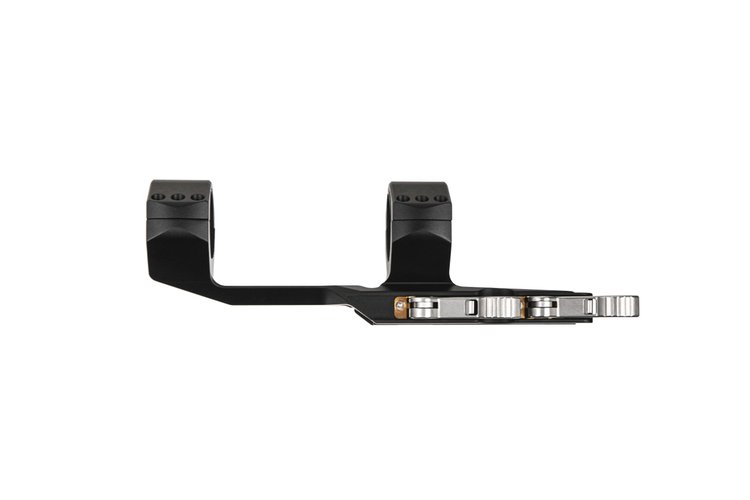 Clamp mounts are incredibly adaptable and can be installed almost anywhere solid.
You can purchase clamp mounts specifically for regular-sized and mini projectors, or you can use wooden beam clamp mounts.
If you have truss ceilings, this projector mount kit is perfect and can be easily installed with no screws or nails to your ceiling.
These mounts can also carry up to 70 lbs of weight, so your projector isn't going anywhere.
You can also use adjustable wooden beam clamps to secure your projector onto a wooden beam on your ceiling.
Be sure that the object or structure you are clamping your projector onto is solidly built and can take on the weight of both your projector and clamp. Your setup should be able to stay stable even after a rather strong bump.
5. Over-Door Mount Rack
Metal, over-door mount racks work in a similar way to clamp mounts.
They hang securely over your door and can support a good amount of weight. However, you might need to MacGyver a little frame or cage for your projector for the whole setup to work.
You could use a piece of wood cut to the dimensions of your projector's base and mount your projector onto that. You can then secure the wood to the over-door mount rack using hooks.
A drawback to this setup is you can't use the door at the same time you use the projector since you'll be moving it when you leave the room. If you have a door to a closet or an unused exit, it may be best to set your projector on there instead.
Just be sure to unmount your projector after you use it so you don't accidentally hit it against the wall when you use your door.
6. Tripod
Universal Aluminum Alloy Projector Stand
This setup is more for when you're in a pinch and you need your projector elevated. Using a tripod you already have for your camera is quick and easy.
It is similar to using a projector stand. Simply screw your projector onto the tripod and you're ready to go.
Using a tripod is great since you can adjust the height of your projector as well as its tilt.
You do have to ensure that your tripod is sturdy enough to carry the projector's weight. Set it up in an area that cannot easily be bumped or hit by accident.
You can support the base of the tripod down with books or small furniture to keep it in place.
I don't recommend going into the market for a tripod specifically to use for your projector. Instead, purchase a projector stand instead so you're sure it can take on the weight and provide the stability your projector needs.
7. Existing Shelf or Tabletop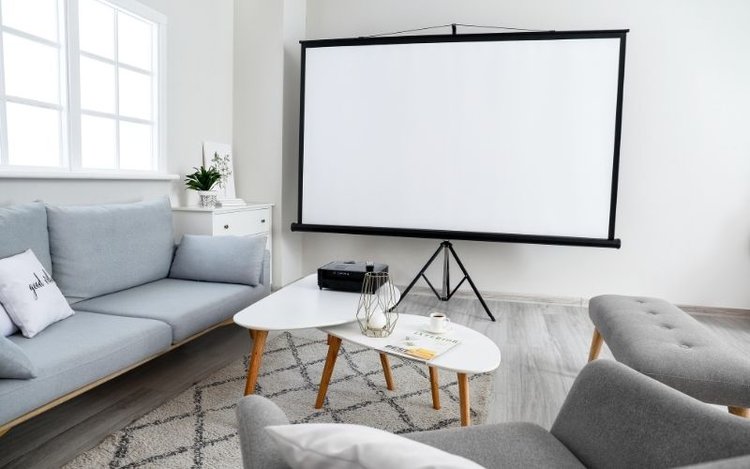 Using a shelf or tabletop is the quickest way to set up your projector. It's also the least expensive, it's basically free.
When choosing a shelf, just make sure it is the right distance from your wall or projector screen. The height doesn't have to be exact since you can use the keystone to adjust the image to be just right.
If you're using a table and want a bit more height, you can always stack books or boxes to achieve the perfect height. Like the shelf, make sure you're putting the projector an appropriate distance away from your wall or screen for the best image.
8. Suction Cup Mounts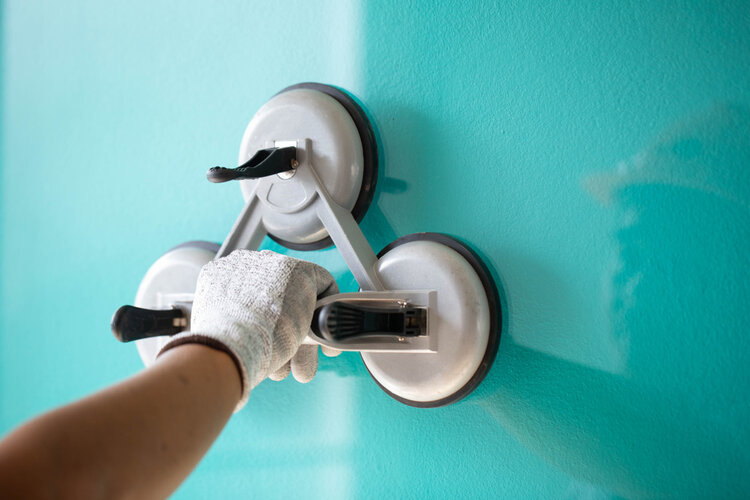 Suction cup mounts are best used when your designated projector screen or wall is across from a window. The smooth surface of the window glass is ideal for the best suction seal.
Be sure to purchase heavy-duty suction cup mounts. These mounts are usually fitted with three or more suction cups for maximum hold.
Before you start using it for longer viewing marathons, test out its holding power to ensure nothing falls by accident.
Using suction cups isn't ideal if you want a semi-permanent setup. The safest thing to do is to only mount your projector up when you need it, taking it down after every use.
9. Existing Hooks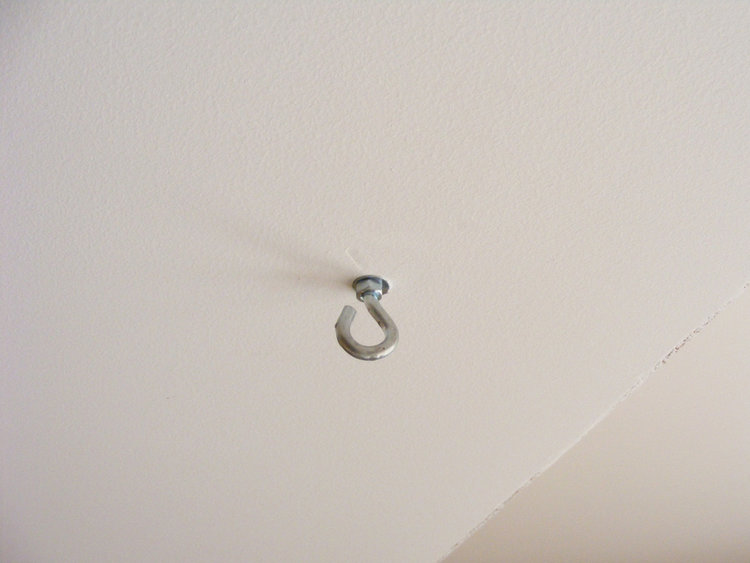 You may have existing hooks around the room already installed. Check for any ceiling fan hooks or wall hooks that feel sturdy enough to carry the weight of your projector.
You can then DIY your mounting platform or cage for your projector using wood and a few additional hooks to securely suspend it in place, similar to the over-door mount setup.
The mounting system may require more effort than the other solutions on this list but you do have the advantage of already having pre-drilled hooks on your ceilings or walls that are sure to be sturdy enough to get the job done.
10. Hanging Strips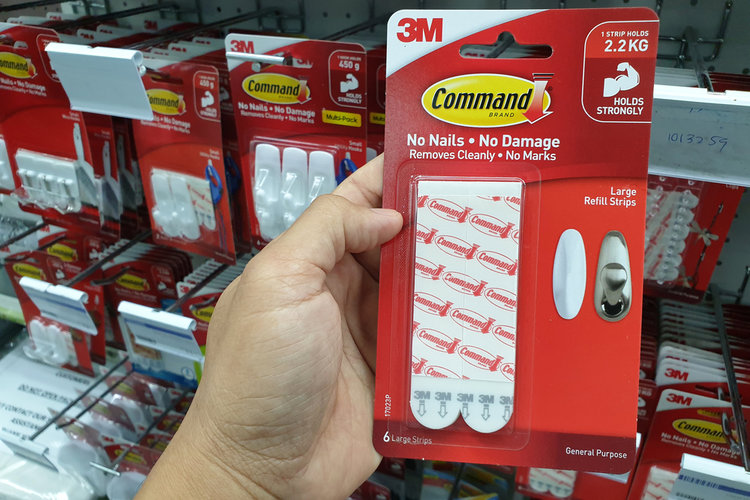 Using heavy-duty hanging strips and hooks from brands like Command or 3M can be an inexpensive temporary mounting solution.
Make sure to buy strips and hooks that can carry the weight of your projector. This also works best with mini projectors as they're not that heavy.
Follow the instructions for your hanging strips. Make sure the surface you're adhering the strips to is clean and non-porous, wait for however long the instructions tell you to, and you're good to go!
It is always a good idea to test the integrity and strength of your mount before keeping your projector on it for extended periods of time.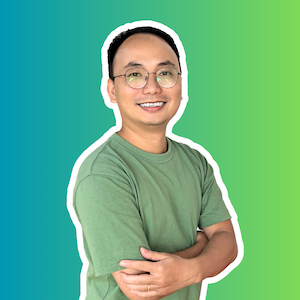 Vance is a dad, former software engineer, and tech lover. Knowing how a computer works becomes handy when he builds Pointer Clicker. His quest is to make tech more accessible for non-techie users. When not working with his team, you can find him caring for his son and gaming.