Are you wondering if it is possible to mount your projector in a rental property without ruining it? Of course! You don't necessarily have to drill holes in a wall to set up a projector.
There are numerous renter-friendly ways to mount your projector on a ceiling or wall. You can use drywall anchors, an L-shaped hook stand, brick clamps, a TV wall mount bracket, hanging strips, and the DIY stand methods to install your projector. Alternately you can opt for a table stand which is practical and portable.
I'll walk you through all the mounting techniques I've just mentioned.
Ready?
If you are one of those people living in apartments where they restrict tenants from making any modifications to the premise, there are ways you can mount your projector to create a home theatre experience.
And the best part? These methods are cost-effective and require minimal effort to install a projector. And because there is no drilling through ceilings or walls, you don't necessarily have to be a skilled handyman to pull it off.
1. The L-shaped Hook Stand Method
An L-shaped hook stand is an excellent method to mount your device without damaging a rental property. Since the L-Shaped stand comes with hooks, you don't have to make holes in your ceiling or wall.
This method is stylish and relatively easy to maintain. It allows you to mount your projector at varying angles. However, there's one drawback: the stand cannot hold too much weight, so you should handle it with care.
It's possible to make a DIY L-shaped stand using wood or PVC: this way, you don't have to worry about the weight and size of your projector stand.
2. The Brick Clamps Method
This method entails the use of brick clips to hold a projector. Brick clips are gadgets you can use to hang things on bricks without permanently wrecking the wall with nails or big holes as shown in this video tutorial.
How to Hang on Brick Wall without Holes | Catherine Arensberg
Brick clips can hold up to 25 pounds, which means they are safe for projector mounting.
To mount your projector using this method, assess the size of the bricks and the depth of the mortar between the bricks so you can purchase the right-sized brick clips.
The surface of the installation should be clean and leveled. Install the brick clips on the wall using their saw-toothed edge side.
The teeth of the clips will firmly grip the bricks so they won't fall. The other end of the brick clips have a hook you can place at the bottom of the brick. After that, attach small plywood to the clips to support your projector.
3. The Drywall Anchors Method
Drywall anchors or wall anchors can sustain the weight of a projector. They are affordable and effortless to use. They also don't leave any debris or damage when removed from a surface.
And that's not even the best part. They allow you to hang your items on your wall or ceiling without worrying about locating studs.
How do you use drywall anchors for installation?
Clean your mounting surface, then measure it to mark the points you intend to install the device. Set up the drywall anchor approximately 2 inches away from the edges of the projector.
After fixing the wall anchors, you'll have to install a small-sized plywood piece below the anchors, which will hold your projector. Here's a video tutorial to guide you better.
How to use the traceless tapes and hooks to fix simple projection screen to the wall?
Although it is efficient, this method is not highly appraised because the wall anchors quickly deteriorate when they come into contact with water. Additionally, if you opt to use drywall anchors, you might incur minimal damage on the wall covering but not the wall itself.
4. The TV Wall Mount Bracket Method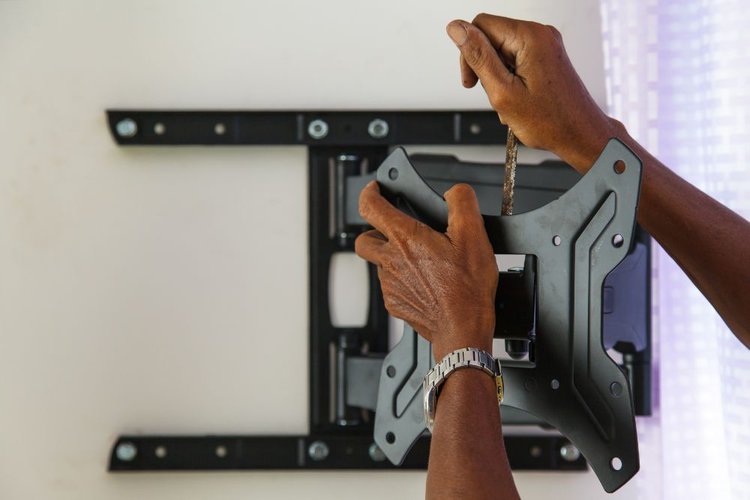 I guess you're thinking it's absurd to mount a projector using a TV wall mount bracket, but the thing is, it works. TV mount brackets are pretty functional with projectors.
You, however, have to fasten your TV wall mount to the back of your projector first, then use drywall anchors to hold the brackets in place and follow the steps below:
Clean the surface where you intend to mount your projector,
Measure and label the exact installation points.
Apply your adhesive and wait a minute or two before attaching your tv wall mount bracket that has already been attached to your projector.
Please note that this method can be risky: you should consider the weight of your projector before trying it out.
5. The Hanging Strips Method
Hanging strips are multifunctional self-adhesive elements mainly used to hold mirrors and photographs in place. They are also ideal for projector installation as they can hold up to 15 pounds.
If you opt for this method, first clean the surface on which you intend to set up your projector and wait for it to dry. Split a hanging strip into two and attach one half to the cleaned surface and the other half to the projector, as shown in this video tutorial.
tesa Powerstrips® Ceiling Hook - the clever, tool-free way of hanging objects
It would be best to wait a few minutes for the glue in the strips to set in before attaching the projector to the wall.
Be that as it may, this method is quite controversial, given that after prolonged usage, your projector can easily fall off the wall and get damaged.
6. The DIY Projector Stand Method
▲ How I Made a Stand for My Projector
It's easy to make a stand for your projector. What makes a stand renter-friendly? It is a hole-less option. A stand can resemble a small stool or footrest. It can also be of any shape and design you like.
You can make a projector mount made of plywood and install it on your ceiling using drywall anchors.
You can also purchase an IKEA Lack Wall Shelf Unit and place your projector on it, as shown in this video here. Projector stands are a clever way to "mount" your projector if you find it hard to set up your device using the methods I've given.
✅ IKEA Lack shelf no drilling no nails on wall
And so, those are the different ways you can mount a projector without causing damage to your rental home. Let's look at some of the important things you should keep in mind before starting your little project.
What Should You Know Before Mounting Your Projector in a Rental Property?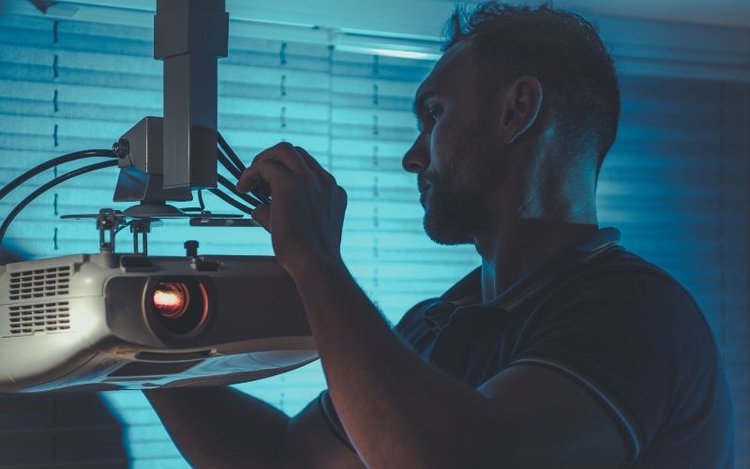 The ideal method to mount your projector depends on the weight and size of your projector. As much as you may be skeptical about damaging someone else's property, take care not to end up damaging your device.
Before you mount your projector, always consider the wiring. Ensure that the place you choose to position your projector is within reach of your VGA or HDMI cables. You should also contemplate investing in cable covers so you have a tidy home.
You don't necessarily need to mount your projector on a ceiling or wall. If you have a good table or a bookshelf, you're sorted. You can mount your device simply by placing it on your shelf or table.
Ensure that you place your projector in a position where you can easily adjust it, which means that your shelf or table shouldn't be cluttered so you can easily reach the projector controls.
As you can see, there are numerous ways to mount your projector without necessarily drilling holes on rental property.
Keep in mind that most of these methods are temporary, meaning they won't last long, so take your time to pick a method that would be easy and work for your space. In case you have any difficulty executing a method, explore the next. Hopefully, this guide has answered all of your questions.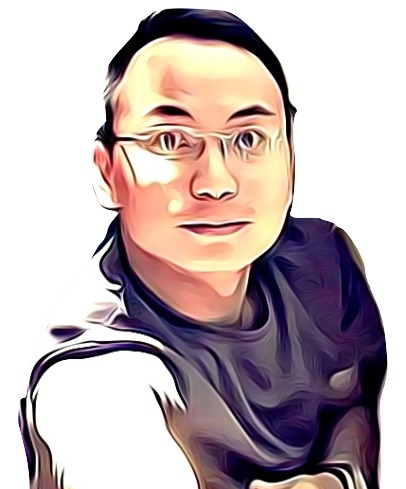 Vance is a dad, former software engineer, and tech lover. Knowing how a computer works becomes handy when he builds Pointer Clicker. His quest is to make tech more accessible for non-techie users. When not working with his team, you can find him caring for his son and gaming.