Weight may not be the primary factor you consider when buying a new Samsung TV. But it doesn't hurt to have a TV that is so light you can move it from room to room at will.
Are you torn between the 55-inch and the 65-inch? Let the TV dimensions decide who wins.
From screen size to weight, height, and depth, these measurements play a big role in defining the TV as we know it.
How do 55-inch Samsung TV dimensions compare to those of the 65-inch? Let's find out.
How Much Does A Samsung 55-, 65-Inch 4K TV Weigh?
Samsung TVs have varying weight values. The difference in weight between one Samsung TV size and the next can be more than 10 lbs.
But when you look at models in any size cluster (e.g., 55-inches), you'll notice that the difference in weight is minimal.
55-inch TVs
Samsung 55-inch 4K TV weight averages between 34 lb. and 39 lb. without a stand. With a TV stand, it increases to approximately 36-48 lb.
There are a few exceptions, like The Serif LED 4K 55-Inch Smart TV , which weighs 58.4 lb. without a stand and 60.8 lb with a stand.
Dimensions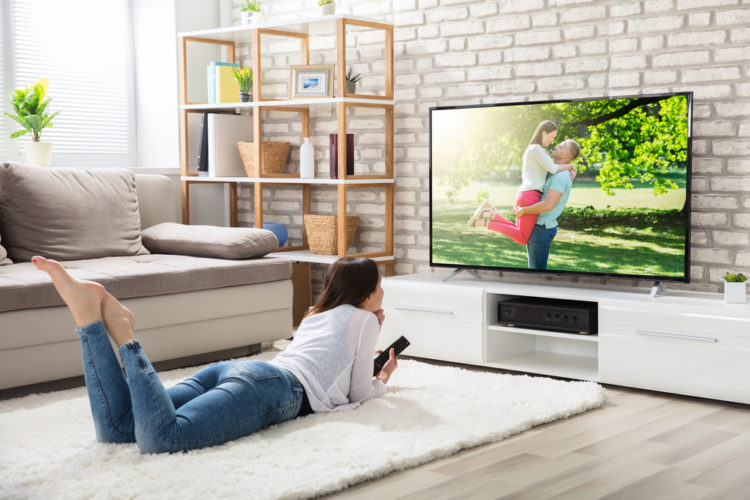 The average 55-inch Samsung TV measures 49″ x 28″ x 1″ without a stand. When you add a TV stand, the sizes increase to about 49″ x 30″ x 9″.
Please remember that each model won't have these exact dimensions. Some are slightly higher and others lower.
The QN85A and QN90A , for example, are among the smaller 55-inch models. They both measure 48.3″ x 27.8″ x 1.1″ without a stand.
Compare that to The Frame, which measures 48.7″ x 27.9″ x 1″.
You can see the difference is negligible. It's the same with many of the 55-inch models.
Remember we mentioned The Serif was an exception when it comes to weight?
Well, the model measures 49.4″ x 29.5″ x 8.7″ without a stand, and the dimensions shoot to 49.4″ x 48.7″ x 19″ when you add a TV stand.
As you can see, its dimensions are comparable to the other models, even though it's far heavier. But when you add a stand, the difference becomes pronounced.
This is why you should consider the dimensions of the TV and compare them to the space you have in the house. Otherwise, you may end up with the perfect TV but not enough room for it.
All 55-inch Samsung TVs have a 54.6-inch diagonal screen. This is the diagonal measurement taken across the screen from corner to corner.
65-inch TVs
Sale
On average 65-inch Samsung TVs weigh about 48-54 lb. without a stand. The TV stand raises the average to 48-83 lb.
Like in the case of 55-inch models, we have exceptions in the 65-inch range, too.
Two TVs that stand out are The Serif and The Terrace , and they weigh 80.7 lb. and 81.8 lb (respectively) without a stand.
Dimensions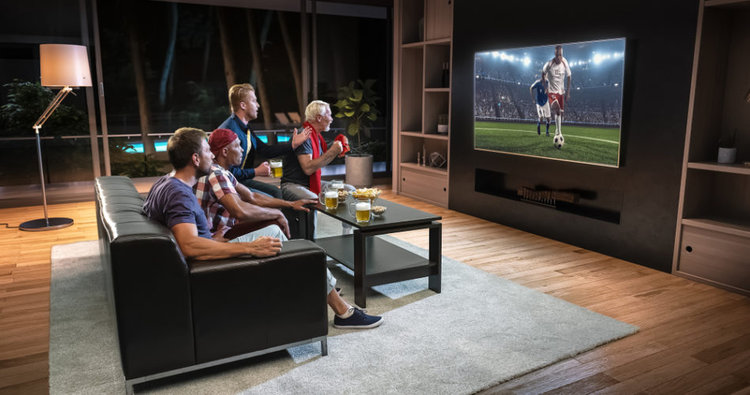 Average dimensions for 65-inch Samsung TVs are 57″ x 33″ x 1″ without a stand and 57″ x 35″ x 11″ with a stand.
Across all 65-inch Samsung TVs, the diagonal screen measures 64.5 inches.
Will A Samsung 55 Inch TV Be Too Big Or Too Small For Your Room?
A TV that's perfect for one room can be inappropriate for another.
Below, we explore four things that can help you decide whether a 55-inch TV is right for your room.
1. Room Size
Ever seen an overly big-sized TV in a small space? It appeared to have taken over the room, right?
A small TV in a large room doesn't fare any better either. It makes you think of a shrub amidst a winding desert landscape, lonesome and almost out of place.
But there is a middle ground that can make your TV look like it was fitted for your family room. And it lies in choosing a TV that's proportional to your room size.
By TV standards, a 55-inch unit isn't too big. But it can look out of place if your space is tiny. Worse, it can make TV viewing unenjoyable.
If space is constrained, you may have to sit right in front of the TV. This is great for 4K TV because you'll get to enjoy the premium picture clarity up close.
But for a Full HD TV, the image may not be as clear when you're seated close to the TV.
The solution: Choose a 55-inch TV if it allows you to sit at least 7 feet away.
2. Viewing distance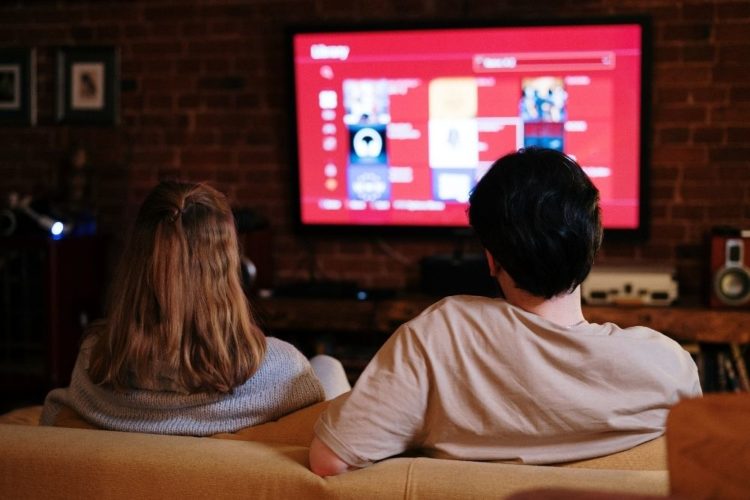 Samsung recommends using your viewing distance to determine if the TV size is right for your space.
And to do so, they say, you should divide the viewing distance (in inches) by two. The diagonal size of your TV should correspond to the answer you get.
So if you like sitting 9-10 feet away, a 55- or 60-inch TV would be ideal.
1 foot = 12 inches. So 9 feet is equal to 108 inches. And 10 feet is equal to 120 inches.
Divide 108 by 2. You get 54.
Divide 120 by 2. You get 60.
As per Samsung, a TV within the 54- and 60-inch range should be fine.
But this is not a strict rule you have to follow. It's just a formula to give you an idea of the TV size range that would complement your space.
You can go higher or lower, but staying close to the range may be best.
3. Screen Resolution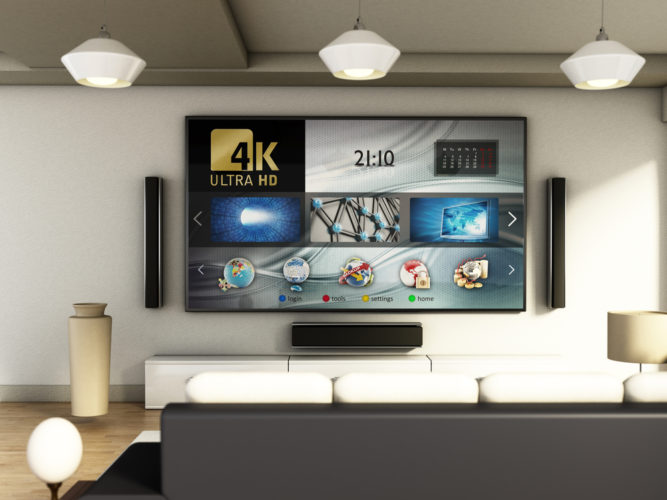 Consider the screen resolution.
When buying an HDTV or Full HD TV , you'll need to remember that:
If you sit too far away, the images may not be clear.
Solution: Go bigger. A 55-inch HD TV may be too small for you if your TV room is huge and you prefer sitting far from the screen.
If you sit too close, the images may look grainy. But when you move your couch a few feet away from the TV, the image quality should improve.
Solution: If your TV area is small- or medium-sized, a 55-inch TV can work for you. You only need to place your couch at a comfortable distance—not too far and not too close.
If the TV is 4K, you'll enjoy superb picture quality at any distance.
If anything, the high Ultra HD picture quality is more noticeable the closer you are to the TV. So the TV size shouldn't be an issue.
4. TV Placement
Do you intend to place the TV on a stand or mount it?
Mounting the TV makes it seem farther away. By contrast, a stand makes the TV seem closer.
Mounting the TV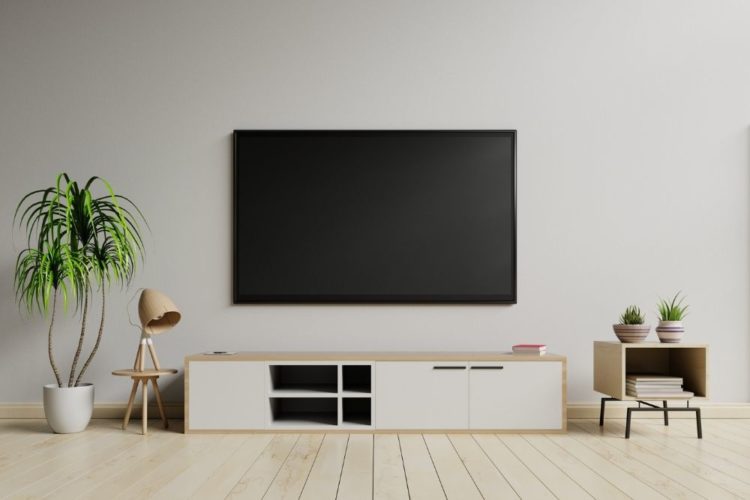 TV mounts only takes a few inches of space. Moreover, some TVs sit flush against the wall when you mount them. So they won't eat into your viewing distance.
Using a TV stand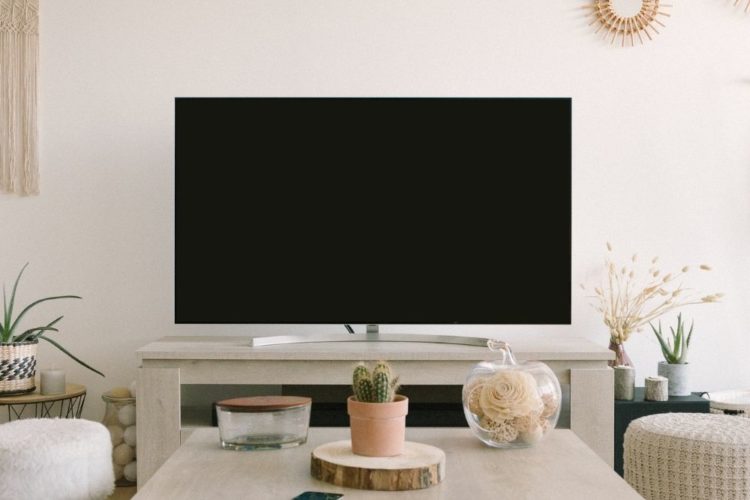 Depending on its design, the TV stand can take up a good amount of space. The same goes for TV consoles and cabinets.
A TV stand or console shortens the distance between you and the TV, so you end up sitting close to the screen.
Solution: If you have limited space, opt to mount the TV on the wall. But if you have plenty of room to spare, you can go for a TV stand or console.
How Do 55, 65-Inch 4K TVs From Samsung, Sony, And LG Compare?
Samsung, Sony, and LG are among the biggest brands in the TV industry. But how similar are their 55- and 65-inch products?
Let's compare dimensions across the three brands to find out.
Diagonal screen measurements
55-inch TVs from all three brands measure 54.6 inches.
65-inch TVs from all three brands measure 64.5.
Weight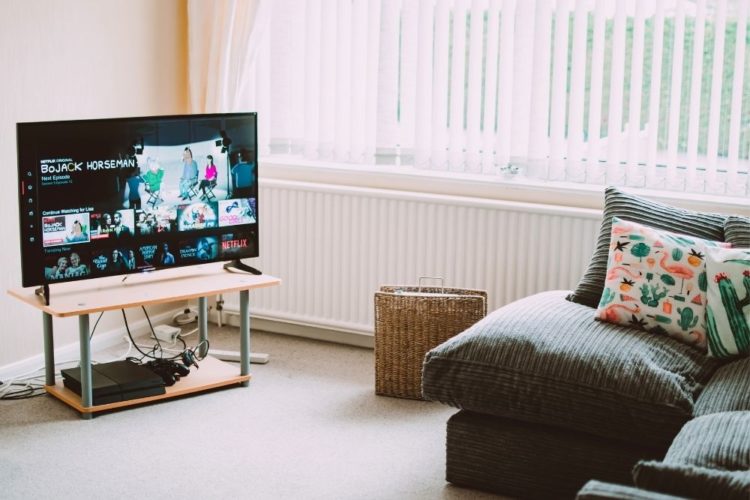 For 55-inch TVs, Samsung and Sony are somewhat comparable, as most models weigh about 36-39 lbs. Most LG TVs are lighter, with many models ranging between 31 lb. and 40 lb.
For 65-inch TVs, Samsung and LG models weigh between 48 lb. and 55 lb. A few outliers weigh 60-80 lbs.
Most Sony models weigh approximately 50-55 lb.
Dimensions
Across all three brands, 55- and 65-inch TV dimensions are very similar.
Without a stand, 55-inch models measure about 48/49″ x 28″ x 1″ or 2″, while 65-inch models measure about 57″ x 33″ x 1″ or 2″.
The dimensions increase to about 48/49″ x 30″ x 9″ to 13″ when you include a TV stand.
Here's a comparison table showing the approximate dimensions for 55-inch and 65-inch TVs across the three brands:
Diagonal Screen

(inches)

Av. Dimensions with Stand

(inches)

Av. Dimensions without Stand

(inches)

Av. Weight with Stand

(lb.)

Av. Weight without Stand

(lb.)

55" TV
65" TV
55" TV
65" TV
55" TV
65" TV
55″ TV
65" TV
55" TV
65" TV
Samsung
54.6
64.5
49x30x9
57x35x11
49x28x1
57x33x1
36-60
48-83
34-58
46-80
Sony
54.6
64.5
48x30x13
57x35x13
48x28x2
57x32x2
39-42
53
37-40
50
LG
54.6
64.5
48x30x9
57x35x10
48x28x1.8
57x33x2
31-50
48-66
30-48
47-62
FAQs:
We've covered ideally everything you might want to know, however, here are a few more questions you might be having
Does The Weight Of TVs Impact The Quality?
No, not at all.
Think of older TVs—the CRTs and plasmas. They were all far heavier than modern LED TVs. And yet, today's LED TVs are more technologically advanced, hence of superior quality.
In the past, TVs would be heavier partly because the designs were bulky. Plus, the bigger the TV was, the heavier it would be.
TV technology wasn't as advanced as it is today. But with newer technology, manufacturers now have better designs. And they can use fewer, lighter materials.
The quality of a TV depends on three things: materials, features, and expert assembly.
Let's look at each in greater detail.
1. Materials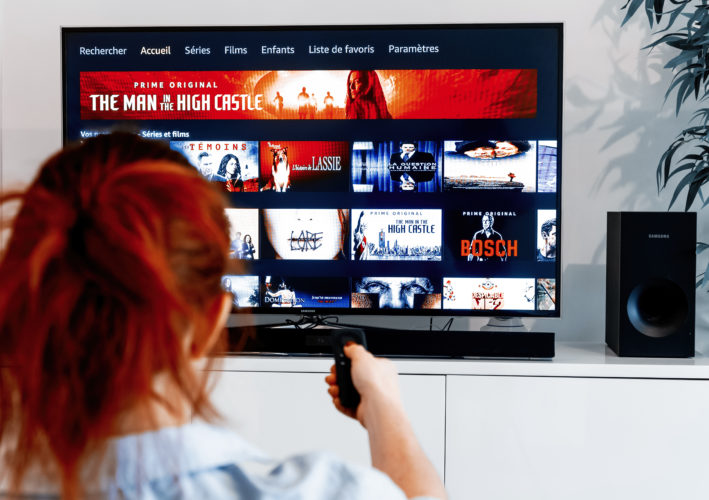 Quality materials produce quality TVs. The manufacturer has to choose a high material grade to ensure durability.
The average customer replaces the TV after seven years, mostly to upgrade to newer TV technology.
And even then, the TV is often still in good condition. This only happens when the device is made from solid materials.
2. Proper Assembly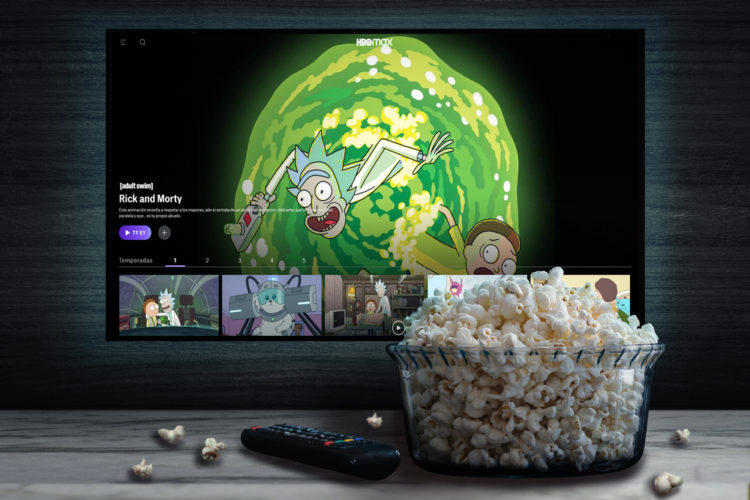 It's not enough to develop a slim and sleek TV design. Manufacturers have to assemble the TV right so that everything works together.
Without this, your TV would keep breaking down.
3. Features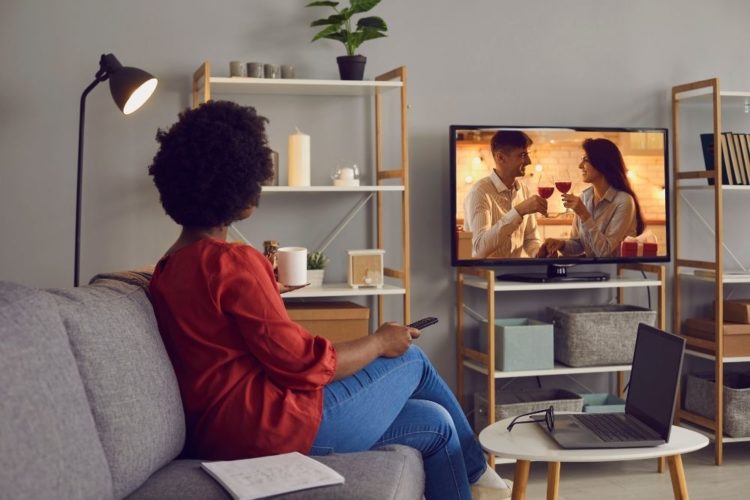 It's no coincidence that the best quality TVs also have the most advanced features.
Visit any electronics recycling center, and you'll see all kinds of TVs now turned junk.
Many of the pieces you find there may still be in good condition. It's just that they're running on obsolete technology, which makes them pretty useless in today's world.
By contrast, newer models have multiple ports that connect to all kinds of devices. They have the latest connectivity technology. And they allow you to do more than watch TV programming.
All these point to the TVs' superior quality and make them desirable to most people.
Conclusion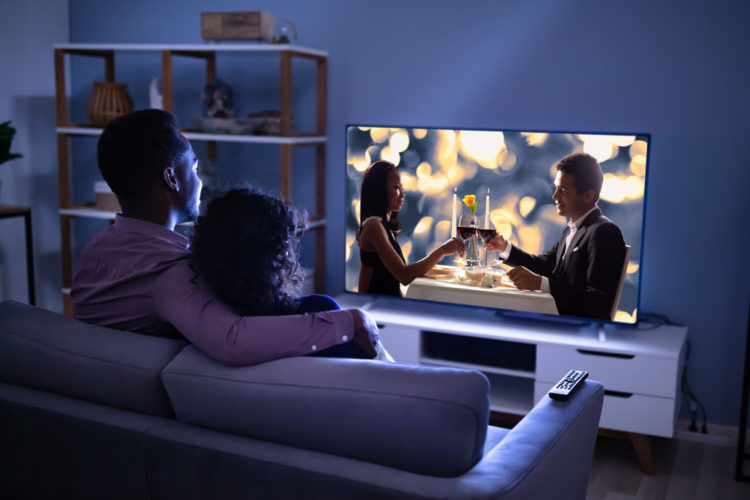 55-inch and 65-inch TVs, even those from different brands, are similar in many ways.
Yet the differences in their dimensions make some TVs better suited for certain spaces, but not others.
The dimensions of the TV determine where we position it in our homes and how far we sit from the screen.
The screen size, on the other, determines how big the images look.
Last update on 2022-07-03 / Affiliate links / Images from Amazon Product Advertising API.