Few things are as frustrating as having your TV picture cut off while streaming your favorite program. It's right up there with 'biting your tongue while eating a spicy meal' and 'sudden power outage.'
There is no image on your TV screen, a blinking blue indicator light is flashing on your Roku player, and you need to figure out the issue. If you're installing a new Roku player, you're in the right place — we can help.
The blinking blue indicator light is confusing because it shows up for various reasons. It may be warning you of poor network connection, issues with connectivity ports/cables, or even insufficient power supply.
Thankfully, none of these issues are permanent. If you can pin down the cause of distress, you can fix it. This article explains the causes and presents 7 solutions to the blinking blue indicator light on your Roku player.
Why Is There a Blinking Blue Light on My Roku Player?
As stated earlier, several different issues can cause this indicator to come on. We'll outline these potential issues in this section.
1. Poor Internet Connection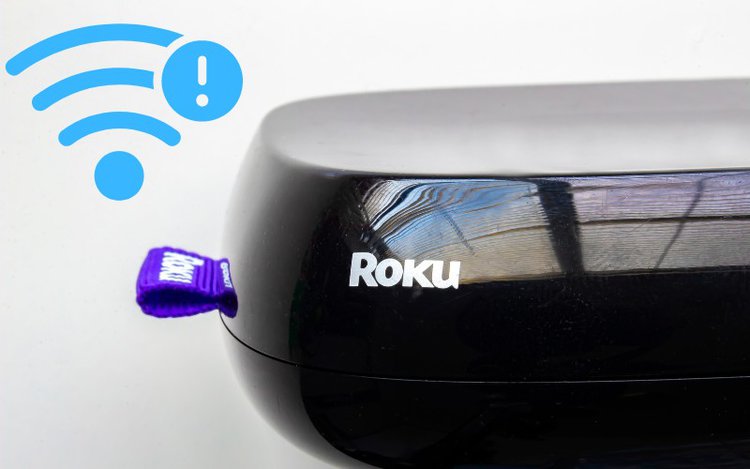 The blinking blue light on your Roku player can indicate that the Roku player is having trouble with the internet connection.
If you're using a router, there may be connection issues between the Roku player and the wired or wireless router. The network issues can result from the network strength of your internet provider, the distance between your router and Roku player, or a faulty network cable.
2. Incompatible Network Band
The Roku Express models (SE, LE, 3930, and 3931) are incompatible with the 5 GHz WiFi network band.
If you own one of the Express models, and your network router is on a 5 GHz band, your Roku will not connect to the network.
3. Insufficient Power Supply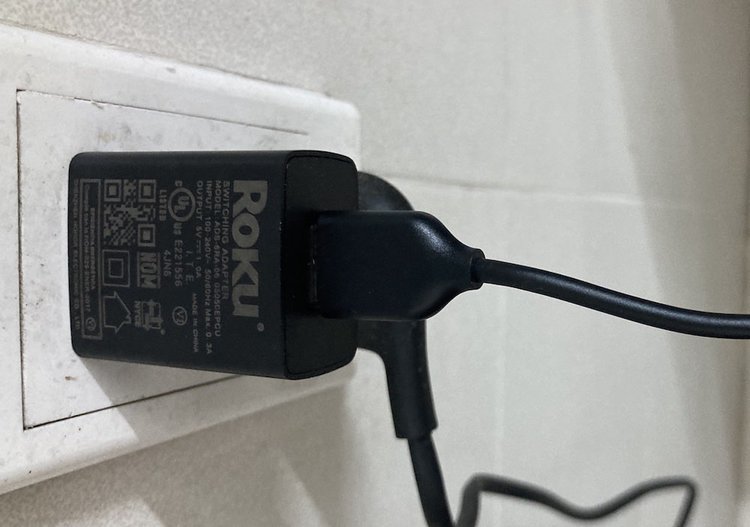 Another possible reason for your Roku player to display a blinking blue light is that it is not getting enough power.
The Roku player is powered via a micro-USB port. It uses a micro-USB cable that connects the player to a power adapter. In turn, the power adapter goes into the AC outlet.
If the micro-USB power cable or adapter is faulty, the Roku player may display a blinking blue light to indicate an insufficient power supply.
4. Faulty HDMI Connection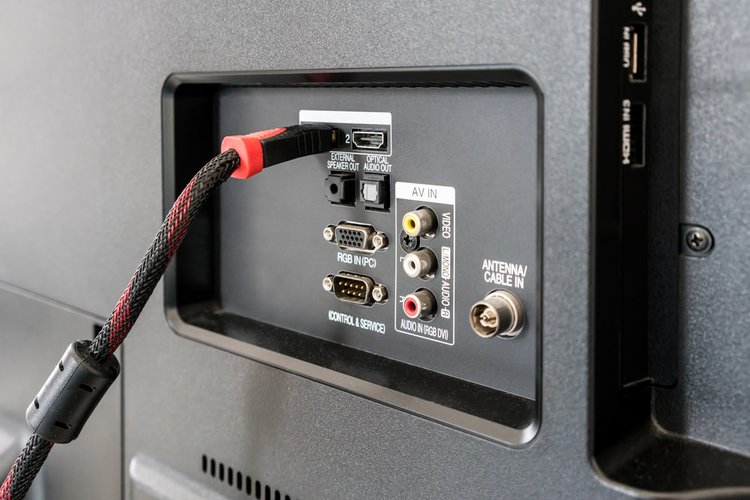 The HDMI cable connecting your TV and Roku player allows transmitting data between both devices. Sometimes, if the cable or connector port develops a fault, this connection can become glitchy.
These HDMI cables are manufactured with a lifespan of around 20 years. However, the numbers do not account for external influences like damage (to the pins or other parts of the cable) from misuse or overuse. Also, some cables come with manufacturing defects.
Amazon Basics Premium-Certified Braided HDMI Cable (18Gpbs, 4K/60Hz) - 10 Feet
IN THE BOX: (1) 10 foot premium-certified HDMI cable (A male to A male); supports Ethernet, 3D, 4K...
DYNAMIC USABILITY: Connects Blu-ray players, Fire TV, Apple TV, PS4, Xbox One, Xbox 360, Roku,...
CONNECT MULTIPLE DEVICES: Allows for sharing an Internet connection with multiple devices—no need...
Last update on 2023-09-30 / Affiliate links / Images from Amazon Product Advertising API.
Whatever the case, faulty cables and ports can cause HDMI signal problems between the TV and Roku player, causing the blue indicator light to blink.
5. Broken HDMI Adapter
If you have an old non-HDMI TV, you probably use an HDMI adapter cable to connect your Roku player to the TV's RCA port.
Sadly, most HDMI-to-RCA adapter cables don't work—so you won't be able to establish a connection between both devices.
7 Solutions To Roku Player Flashing Blue Light
Most problems have a solution, and they all start with identifying the cause of the problem.
With Roku players, you have several possible problems to sift through. However, the rest of it becomes easy once you know where to look.
In this section, we'll walk you through the troubleshooting process to help you identify and solve the issue with your Roku player. Let's go!
1. Reboot Your Devices
This is the default first step in every troubleshooting process. Rebooting has proven to be very helpful in correcting certain issues with technological devices.
The brief rest can clear cache data and boost your Roku player and internet router performance. Follow the steps below to reboot both devices.
Router
Step 1: Disconnect the router from its power source.
Step 2: Wait for 1 minute while power drains out of the router and the memory clears completely.
Step 3: Reconnect the router to its power source and wait while it connects to the network.
NOTE: This manual reboot works for all kinds of routers. You can check your manufacturer's manual to find other ways to reboot your router.
Roku Player
You can use a remote or the Roku mobile app to navigate a system reset process.
Step 1: On the home screen, scroll to Settings ⚙️.
Step 2: Select Settings and go to System > Power
Step 3: Under Power, you'll find the System Restart option. Click on it.
NOTE: This System Restart process is different from a Roku player factory reset.
Also, instead of going through the Settings, you can reboot Roku players by unplugging them from their power source. Plug them back in shortly after.
2. Switch to a 2.4 GHz Network Band
If you have a 2.4GHz-only Roku Express, set your router on the 2.4 GHz network band. However, there's more to be done if you use a cable ISP (Internet Service Provider) like Xfinity, Cox, or AT&T.
Their most recent firmware update has an issue with speed protocol settings that causes the TV screen to display an error code: 014.30. You need to change both the network band and the Protocol settings.
Change Wifi Band of any router (2.4Ghz/5Ghz) | 2-minute instant Tutorial
Log into the router admin to change protocol for Xfinity, Cox, and AT&T. Change the Mode/Protocol from g/n to b/g/a.
How To Find The Default Gateway for Your Router
You need the IP address of your router's default gateway to access its online admin tools. When you enter the address into your browser, the router's admin login page will pop up.
Below is how to find the default gateway on Mac and Windows. Ensure you're connected to the network before you proceed.
For Mac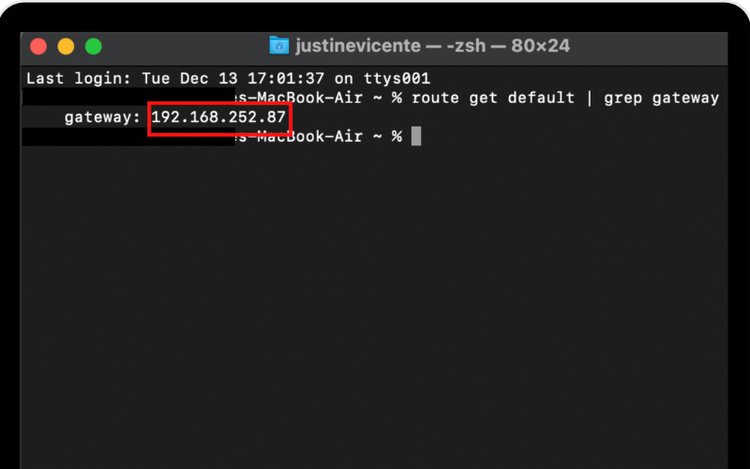 Step 1: Open the Terminal app.
Step 2: Input the command "route get default | grep gateway."
Step 3: Find and copy your router's default gateway.
For Windows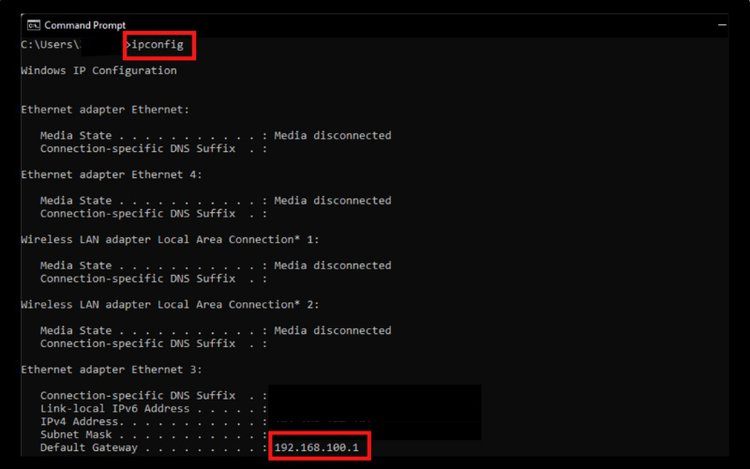 Step 1: Find and open Command Prompt.
Step 2: Input the command "ipconfig."
Step 3: Find and copy the router's default gateway.
3. Check the Router's Internet Connection
If a problem with the internet connection causes the blinking blue light, chances are your network is down [inactive] or weak. If the network is down, you'll have to contact your internet service provider and make a complaint.
Alternatively, if the internet connection is merely weak, here are three things you can do:
Shorten the distance between your Roku player and router
If the router is far from your Roku player, it'll reduce its data rate to keep the connection steady. We recommend you keep both devices less than 15 feet apart.
Reduce the number of devices on the network
Your internet router may not have enough bandwidth to carry many devices at once efficiently. Identify those you aren't using currently and disconnect them from the network.
Wired networks are typically more stable than wireless networks. With Ethernet cables, you have less chance of losing connection or experiencing latency.
You can connect your Roku player to the home network with a USB-to-LAN adaptor stick and an Ethernet cable.
Last update on 2023-09-30 / Affiliate links / Images from Amazon Product Advertising API.
However, if you own a Roku Ultra, you won't need an adaptor stick. The Roku ultra comes with a built-in Ethernet port.
4. Check the Power Supply
Fix Roku Blinking Blue Light & NO Image On TV (Not Showing On Screen Flashing Connecting
The first thing to do is ensure that the power source is steady and current flow is high. Use a surge protector or power conditioner to control power fluctuations.
Most Roku players need 5V/1-1.5A of power. If you want to power your Roku player with TV USB, ensure you use a high-performance USB cable, which sustains power delivery.
Last update on 2023-10-01 / Affiliate links / Images from Amazon Product Advertising API.
Check the Roku's USB power cable and power adapter if the blue indicator light keeps blinking when the power supply is steady. Here's how to do it:
Start by checking Roku's USB power cable. Replace the cable with a working one and check if the indicator light goes off. If it doesn't, move on to the next step.
Replace the Roku player's power adapter with one that works and see if the indicator goes off.
If the indicator is still blinking blue, replace both the power cable and adapter because the problem may be with both parts.
On the other hand, the Roku Ultra requires 12V/1.5A and uses a non-USB power adapter. Replace your Roku Ultra's power adapter with a working one and see if it fixes the issue.
Last update on 2023-09-30 / Affiliate links / Images from Amazon Product Advertising API.
NOTE: Replacing a faulty power cable not only fixes the blinking blue indicator but also saves your Roku player from any serious or permanent damage that can result from overheating.
5. Check Your HDMI Cable for Dust/Damage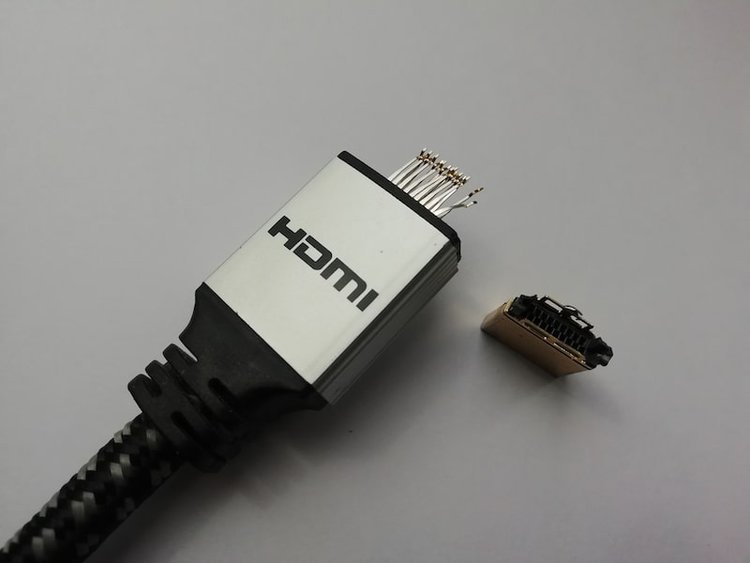 A damaged HDMI cable or port can cause glitches in the connection between your Roku player and the TV.
Dust in the HDMI plugs or ports can also compromise the connection. Below are two ways to address this issue.
Step 1: Switch off and disconnect both devices from their power source.
Step 2: Unplug the HDMI cable from both devices and check for dirt inside the ports.
Step 3: Carefully clean out any dirt in the ports. Be gentle so that you don't damage the port/plug.
You can remove dirt from your HDMI ports with a soft brush, a few shots of compressed air, or a piece of cotton wool soaked in an alcohol solution.
Step 4: After cleaning, reconnect both devices with the HDMI cable and power them on.
If you can still see the blue indicator light blinking on your Roku player after cleaning the HDMI ports, consider the possibility that the HDMI cable is faulty.
Replace the cable with a new one and reconnect both devices.
6. Switch to an HDMI Converter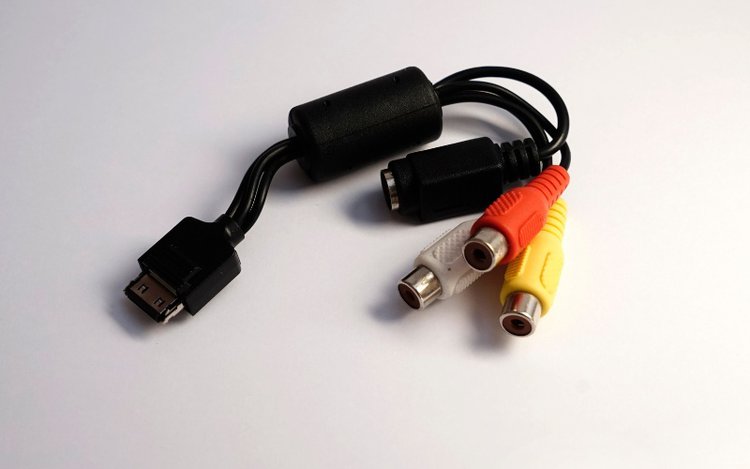 Use an HDMI to RCA converter instead of an adapter cable.
Sale
Last update on 2023-09-30 / Affiliate links / Images from Amazon Product Advertising API.
If your TV has just one HDMI port use an HDMI splitter to create room for more HDMI connections. This will ensure that the connector does not wear out from frequent device switching.
Sale
Last update on 2023-10-01 / Affiliate links / Images from Amazon Product Advertising API.
Take a look at our guide to using HDMI Adapters For your Old TVs.
7. Test the Roku Player With Another TV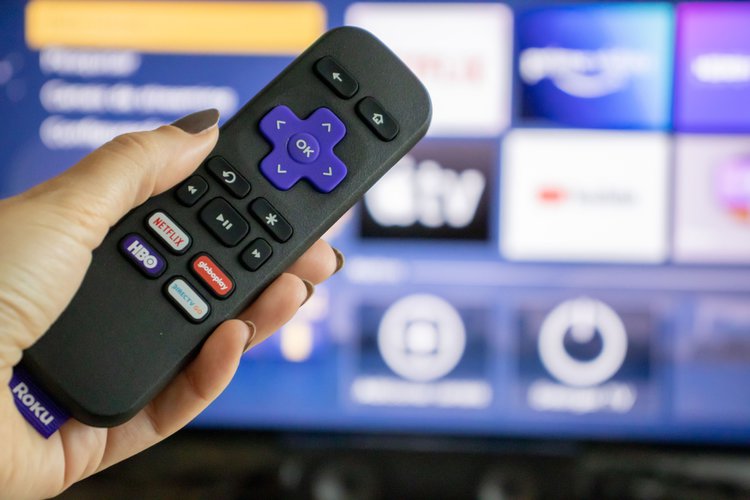 If all the solutions above fail, there's a good chance that the connection issues are from your TV. Connect your Roku player to another TV and see if the indicator bulb goes off.
Apart from helping you pinpoint the source of the problem, switching TVs will also initiate a form of data reset. The new connection rids the Roku player of bugs and glitches from the initial connection.
Follow the steps below:
Step 1: Turn off your TV and Roku player.
Step 2: Unplug one end of the HDMI cable from the TV.
Step 3: Plug the free end into the HDMI port on another TV.
Step 4: Turn on the new TV and Roku player.
Step 5: Follow the on-screen instructions to set up your Roku player.
Step 6: Check to see if the blinking stops with the new TV.
Step 7: If it stops, disconnect the new TV and reconnect to the old TV.
NOTE: Chances are the data reset has fixed the bugs, and the blinking will not resume with the old TV. However, if the blue light resumes blinking again, it simply means that your (old) TV is faulty. Consult a technician.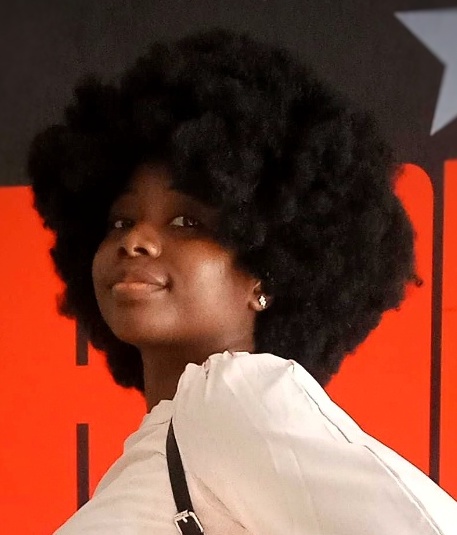 Gabriella 'Diogo is a content writer with a vested interest in tech hardware and equipment. She shares her knowledge and processes in an easy-to-grasp, lighthearted style. When she's not testing or researching device performance, you'll find her writing short stories or rewatching episodes of her favorite sitcoms.