Presenters can transform and elevate their presentations by using a digital laser to highlight details on-screen.
No physical light source is required!
If you're new to the world of digital lasers, what they are, and how they work, check out our article Can You Use a Laser Pointer on a TV Screen (LED/LCD)?
But, one question remains: which digital laser pointer should accompany you to your next company meeting? You head to Amazon but, to an untrained eye, they all look the same.
We've compiled a list of the three best digital laser pointers for 2023, complete with a Buyer's Guide so you know what to look for in this new and improved presentation aid.
Let's get started!
IN A HURRY? HERE ARE OUR TOP PICKS
Last update on 2023-12-05 / Paid Link.
Three Digital Laser Pointer Recommendations
1. Logitech Spotlight Presentation Remote
Last update on 2023-12-05 / Paid Link.
Nothing says sophistication like a compact, high-tech, and chic presentation aid.
The Logitech Spotlight Presentation Remote encompasses all three of these characteristics, combining them into the sleekest remote you've ever seen.
In addition to its attractive aesthetics, this digital laser pointer also boasts several smart features.
Simply download the Logitech presentation app where you can customize your remote's timer to buzz when you have a few minutes left of your presentation, then again when your time has run out.
You can also change the pointer from a spotlight, which magnifies items on-screen, to a small outline of a circle, which comes in handy with busy charts.
You can also use the pointer as an on-screen cursor, select items on-screen, change the slide, and play videos.
To use this stylish laser, charge it with its USB-C charging cable and then plug the USB dongle into your laptop's USB port.
You won't have to worry about finding a charging dock at the meeting's location since this digital laser can keep its charge for up to three months.
It can also be used up to 30 meters (98.4 feet) away from the TV, and can even be used with projectors.
What we like
We love how long this digital laser pointer keeps its charge.
It has an impressive 30-meter range.
Its design is absolutely breathtaking.
What we don't like
Some MacBook users have complained that it's not compatible with certain MacOS versions.
2. ASiNG Advanced Digital Laser Remote
Last update on 2023-12-06 / Paid Link.
While the ASiNG Advanced Digital Laser Remote may look like your everyday run-of-the-mill remote, it packs quite a punch!
Highlight areas of the screen with its spotlight mode or point at items on-screen with its pointer mode, which looks like a traditional laser's red dot.
Additionally, you can adjust the spotlight's size depending on your preferences.
You can switch the remote's mode with a simple flick of the switch found on the side of the pointer.
Presentations are all about holding your audience's attention and nothing does that better than interactive diagrams on screen.
You can use this digital laser's electronic marking function to draw on-screen, keeping your presentation fun and engaging.
Like the Logitech remote, it also has a cursor feature. So you can select clickable icons on-screen even if you're meters away from your laptop or tablet.
I may not be much of a talker, but when nerves get the best of me, I begin to ramble. Luckily, this remote has a time management feature to keep you on track by displaying a digital countdown timer.
The forgetful presenters out there will appreciate this gadget's anti-lost function which reminds you to unplug the remote's USB dongle from your laptop once your presentation has finished.
You can also save files on the USB dongle, which includes up to 128GB of storage.
What we like
We love this digital laser's electronic marking function that allows you to draw on-screen.
We like how you can adjust the spotlight's size to fit your presentation's graphics.
The digital countdown timer is discrete but helpful.
What we don't like
Some users have complained that the remote's design is a little bulky.
3. Norwii N95 Presentation Remote
Last update on 2023-12-05 / Paid Link.
Sleek and simple is the name of the game for this Norwii N95 Presentation Remote. Its design is similar to that of the Logitech remote but at a slightly lower price point.
Like all of the other digital lasers, the Norwii laser pointer connects to your computer via its USB dongle.
The best thing about this stylish remote is its multitude of buttons that all serve practical functions.
You can change the pointer mode by double-clicking the pointer key, so you can switch from highlight mode, to pointer mode, to magnifier mode in the middle of your presentation.
This remote's pointer mode looks like a red dot on-screen.
It also features an air mouse which allows you to click on anything from the screen, including hyperlinks to other pages.
The two outward-facing arrow buttons not only allow you to go from one slide to the next but also enter/exit full-screen and black out the screen.
The blackout screen feature is particularly impactful since few people enjoy seeing the "End of slide show, click to exit" screen at the end of a PowerPoint presentation.
Have you ever played a video in the middle of your presentation, only to damage your audience's eardrums with the insanely loud volume?
If so, you'll love this laser's volume control buttons which allow you to quickly adjust the volume level right from the remote!
The Norwii's E-draw and erase buttons also allow you to draw on-screen and then quickly erase it with the click of a button!
It has a competitively long 50-meter (165 feet) range, so you can take a stroll around the stage or auditorium without losing the signal.
Additionally, you only need to charge it for two hours every few weeks without worrying about the batter dying.
f the battery is low, have no fear! You can quickly plug it into your laptop's USB port with its USB-C charging cable before your meeting.
Like the ASiNG model, this digital laser also stores files on its USB dongle, so your presentation aid and files are all in one place.
What we like
We love how easy it is to switch this digital laser's modes.
The volume control is an added bonus.
Its design is simple but stylish and professional.
What we don't like
Some users complained that their remote's software glitched at times.
Buyer's Guide
You're new to the wonderful world of digital lasers so, when browsing models, you're not sure what's important.
Additionally, many models boast similar features, so it can be difficult to find which one will best suit your needs.
Don't worry – we've got you covered. We've come up with a list of the top three things to keep your eye out for when digital laser shopping.
Ensure the Laser is Digital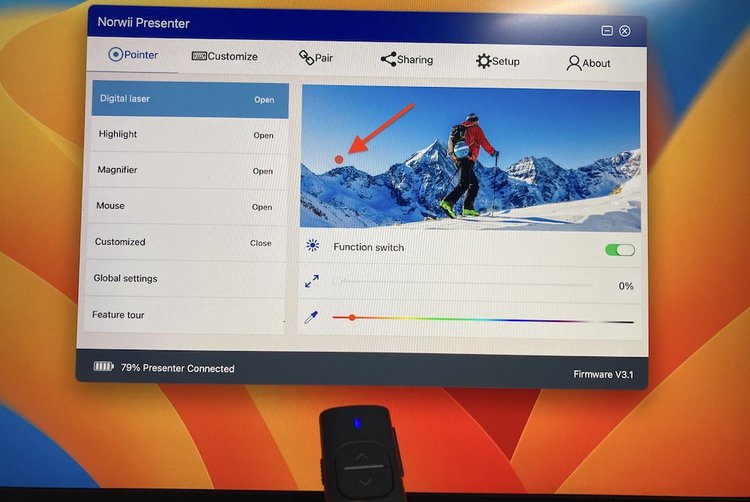 It's important to differentiate between digital lasers and wireless ones. Digital ones display a spotlight or dot on the TV screen, preventing any damage to the screen's pixels.
Wireless lasers, on the other hand, still project a traditional physical light.
So, while they do connect to your laptop via a USB dongle, allowing you to use the remote to change slides and control other features, they do not display a digital laser.
To avoid any confusion, ensure the product description specifically says "digital laser" in it and states it's safe to use with LED/LCD TV screens.
Long Range
What's the point of using a digital laser pointer if you can't venture more than a few meters away from the TV screen?
To make sure that you can move freely around the room, ensure that your digital laser pointer has a decent range.
How long the range should be will depend on your preferences and the size of the space you plan on presenting in.
Compatibility
This issue is most relevant to prospective buyers who plan on using their digital lasers with their monitors or laptops.
While some digital laser pointers boast compatibility with all operating systems, others do not.
So, it's important to check that the OS you plan on using is supported by the remote.
Some digital laser pointers are incompatible with certain OS versions, so check which version is installed on your device.
If it is incompatible, consider updating it to a compatible version if possible.
Wrapping It Up
There's so much to consider when purchasing a digital laser pointer and with all of the remotes listed above being excellent choices, it's hard to choose a definite winner.
That said, our top choice is the ASiNG Advanced Digital Laser Presentation Remote.
Last update on 2023-12-06 / Paid Link.
While not as sleek as the Logitech or Norwii remotes, its added features make it stand out from the crowd.
It's compatible with all operating systems and very few users reported problems with the software glitching.
The switch on the side makes it easy to shift between modes and it offers an electronic marking function so you can draw on-screen.
Additionally, its digital countdown timer is invaluable to any presenter who struggles with time management.
It also has a moderate price point, demonstrating that you don't have to break the bank to look (and feel!) like the professional you are.
Have you ever used a digital laser pointer before? Which of our top three digital lasers would you choose?
Let us know in the comments below!