"Connect my iPhone to a BenQ projector? I'd like that, but how does one do it?"
You're not alone. At one point, we were in your shoes.
Any non-tech-savvy person looking at the two devices would want to give up on finding a way to link the two.
But as the saying goes, "where there's a will, there's a way." You only need to stay focused to find it.
Luckily for you, someone already went ahead and mapped out the way. And all we're doing today is pointing it out to you.
So join in and learn how to connect the iPhone to a BenQ projector.
Connect an iPhone to a BenQ Projector Using a Lightning-to-HDMI Adapter & a HDMI Cable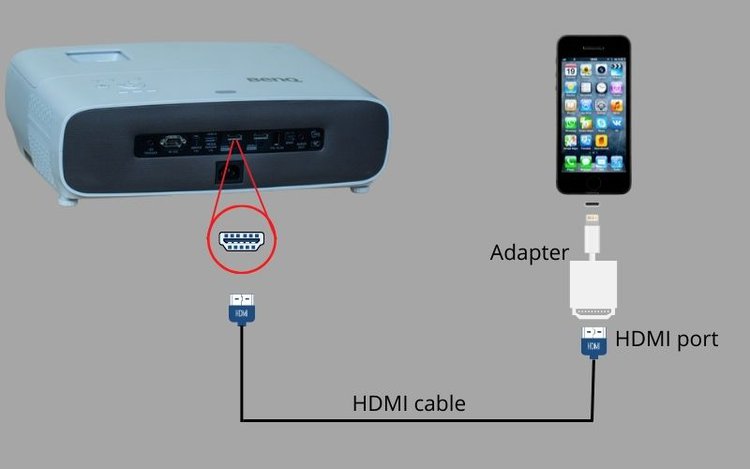 BenQ projectors have HDMI and USB input ports. So any input must go through either of the two ports.
By contrast, the iPhone only has one port, the Lightning port.
The ports on both devices couldn't be more different.
But thanks to the genius innovation that is the adapter, it's possible to connect the two devices.
What you need is a Lightning to HDMI adapter and an HDMI cable.
The Lightning side of the adapter is IN, while the HDMI side is OUT.
The adapter will be converting the video signal to HDMI, so it needs ample power to support the operation. Most Lightning to HDMI adapters come with a power port to fulfill that need.
How to connect:
Plug the Lightning end of the adapter into your iPhone. Usually, it's a short, non-removable cable.
Plug one HDMI cable end into the adapter.
Insert the other end of the cable into the projector HDMI port.
Connect the adapter to power.
Turn on the projector.
The projector will detect the iPhone and mirror what's on the iPhone screen. You can cast photos, videos, slideshows, websites, etc.
Will the adapter mirror streaming apps?
Most Lightning-to-HDMI adapters, especially those made by Apple, mirror streaming apps just fine. However, not all do.
Some have a disclaimer saying they don't support streaming apps but will stream all kinds of files on your iPhone. So it helps to do a bit of due diligence when buying an adapter.
How To Connect an iPhone to a BenQ Projector Wirelessly?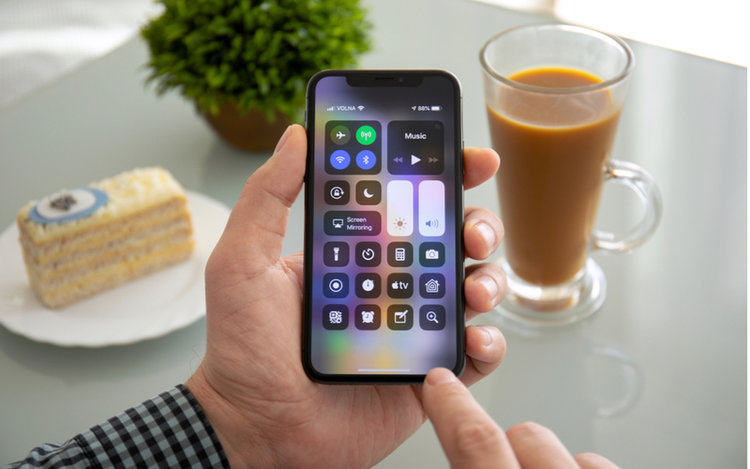 There are various ways to connect an iPhone to a BenQ projector wirelessly.
The wireless option is great because it eliminates the mess that using many cables creates. But, it only works with projectors that support wireless screen mirroring.
This is something only the manufacturer can control. They decide whether to add wireless casting support during the design and development process.
All you can do as an end-user is choose which of their designs serves you best.
You may find yourself in situations where you have no choice but to connect to a projector wirelessly. That could be because none of the cables you have are compatible with the phone. Or because you don't have a suitable adapter for the connection.
So it helps to choose a projector that works with wired and wireless mirroring solutions.
Here are three wireless solutions for connecting an iPhone to a BenQ projector:
AirPlay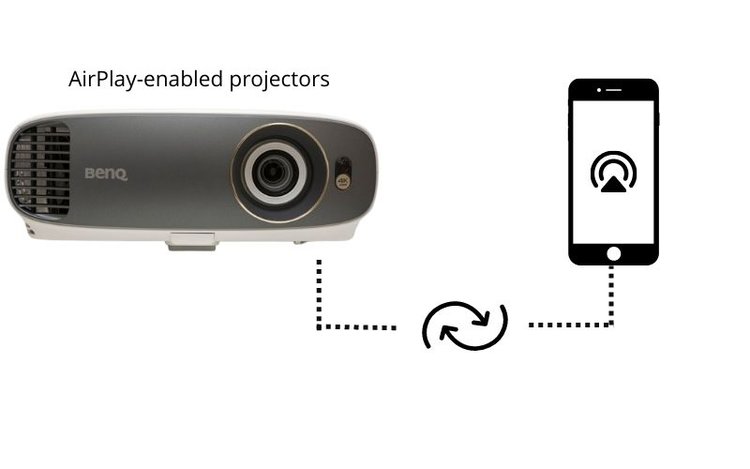 AirPlay-enabled projectors like the EH600 have AirPlay built into the projector. For you, that means an easy, straightforward, and foolproof connection to AirPlay.
To cast your iPhone screen on an AirPlay-enabled projector:
Switch on the projector.
Go to AirPlay on your iPhone. You should see your projector listed under Screen Mirroring.
Tap to connect. You should see your iPhone screen mirrored on the projector screen.
If using a smart projector that does not have AirPlay built into it, do this:
How to Cast & Mirror the iOS/macOS to BenQ Smart Home Projector? | BenQ
Select Wireless Projection from the projector menu.
Select iPhone from the choices presented.
You'll receive a prompt on the screen to connect your iPhone to your wireless network.
Tap to connect.
Open Settings on your iPhone.
Go to WiFi and connect to the same network as your projector.
Go to Control Center. Tap Screen Mirroring on AirPlay. Your device should be on the list of available devices.
Tap your device name to start mirroring.
Select Stop Mirroring to halt the process.
Chromecast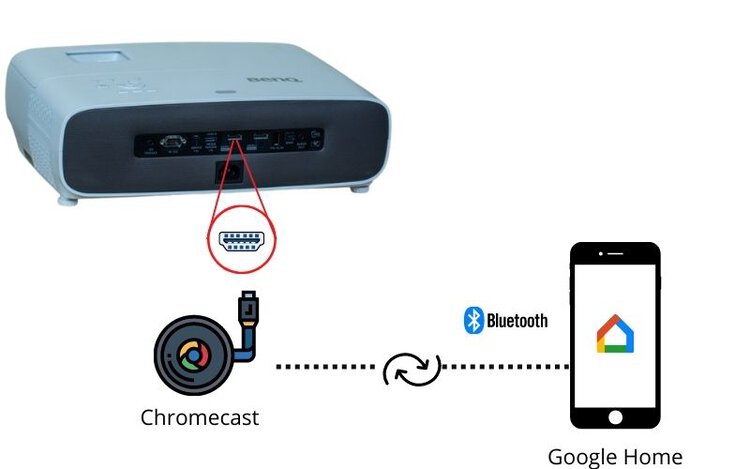 Chromecast is the other option you can use to mirror your iPhone to a BenQ projector wirelessly.
Chromecast may be a Google solution, but it's not limited to Google products. It's compatible with Apple products and the iOS platform. So you'll have an easy time using it to mirror your iPhone.
You'll need a Google account to use Chromecast and the Google Home app.
Here is how to connect an iPhone via Chromecast:
Plug your Chromecast into the projector.
Download and Install Google Home from the App Store.
Turn on Bluetooth on the iPhone.
Open Google Home. The app should find devices connected to your local network.
If Google Home doesn't locate any devices, go to Settings > Bluetooth, then turn on Bluetooth.
Go back to Settings > Privacy > Local Network. Go to Google Home and tap to turn it on.
The app should now detect Chromecast and send prompts to set up the device. Tap to follow the steps and complete the setup.
If you don't get any prompts to set up Chromecast, tap Add at the top left corner of the Google Home home screen.
Go to Set up device > New device and follow the steps to complete the Chromecast setup.
Your iPhone and Chromecast are now linked. You can begin mirroring the content on your iPhone screen to the projector.
InstaShow S
InstaShow is a screen mirroring solution from BenQ. The company has a PC edition and a mobile edition of InstaShow.
The mobile version is InstaShow S , and it only requires a receiver host to work.
This video shows how to connect an iPhone to a projector using InstaShow S:
[BenQ FAQ] Projector_How to do wireless presentation with WDC20 by iPhone and surf the internet
Set up the Host. That means connecting it to:
a power source
the internet
the projector HDMI port
Note down or copy your WiFi SSID and password.
On your iPhone, bring up AirPlay from Control Center. Tap Screen Mirroring and select your WiFi network.
If prompted to enter the password, use the password you noted down earlier.
Once it connects to the network, your iPhone will start casting to the projector.
Tap Stop Mirroring when you're finished.
Conclusion
You can link your iPhone to a BenQ projector with a wired or wireless connection.
A wired connection involves using:
the iPhone's Lightning port
a Lightning-to-HDMI adapter
an HDMI cable
A wireless connection requires:
a projector that supports wireless casting
a wireless screen mirroring solution like AirPlay, Chromecast, or InstaShow S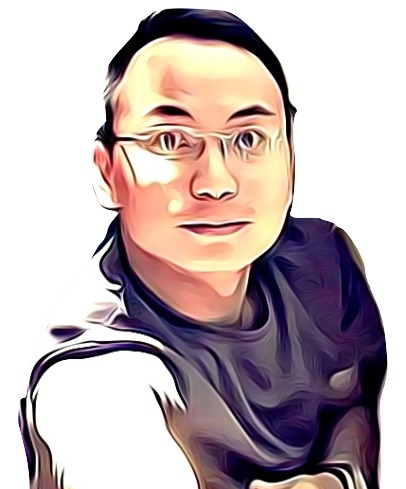 Vance is a dad, former software engineer, and tech lover. Knowing how a computer works becomes handy when he builds Pointer Clicker. His quest is to make tech more accessible for non-techie users. When not working with his team, you can find him caring for his son and gaming.